The Best Effective Instagram Story Ideas to Increase Your Brand Engagement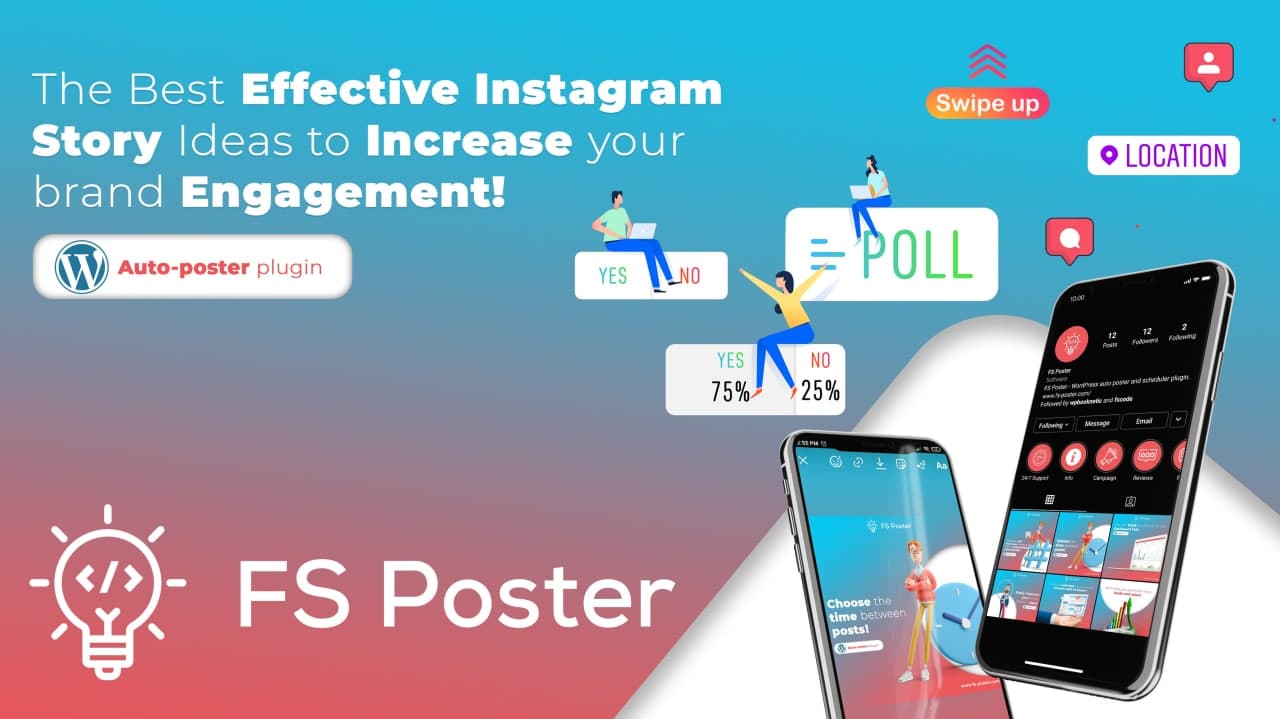 Social Networks
Feb 15, 2021
Instagram posts are still viral and successful. More and more brands are using the Instagram story. Stories on Instagram have proved to be a more personal, interactive, and relatable way to communicate with customers. Here in our blog, we shared the best effective Instagram story ideas.
The more static conventional Instagram posts are probably good, but you have the opportunity to "tell your story" with an Instagram story. A compelling message is sent by marketing your brand through stories. Users would like to see who you are. They want some insight into the ideals and past of your brand.
The best thing about integrating stories from Instagram into your marketing campaign for your brand is that getting started is super fast. Not to mention, this is your chance to have fun and interact with your potential customers with a few social networks.
Instagram stories are the best way to do precisely that, whether you're trying to advertise a new product or service or raise brand recognition in general. The question is, for example, how do you go about selling the new product? What is the perfect way to bring attention to your story and get viewers to watch it?
In terms of making an Instagram post, the best way to start is to get a grip on your followers first. You ought to build the kinds of stories that would attract them, after all. Sharing stories regularly helps to increase likes on an Instagram post and reach out to larger audiences. How do you captivate the audiences you intend to turn to consumers and entertain them?
First of all, you would want to do a little research on social media. Check to see what sort of stuff your followers prefer to share. What stories and blogs have the most significant commitment? It would be an invaluable springboard for your own Instagram story to consider their browsing habits and your followers' patterns regarding how, where, and with what sort of content they connect.
When you know what kind of content your customers want to see, you are now able to build your first story for Instagram. Below are suggestions for Instagram stories that can not only help you make a splash on social media but also improve interaction with customers and future followers:
Answer followers' questions
This method is one of the best effective Instagram story ideas. Rate dedication by answering questions from your audience that matter to your company. You can inquire about something. A question sticker with the words "ask me anything" is an easy way to start. Your viewers can engage with your Instagram story in this way, and you can show yourself as an expert on the subject.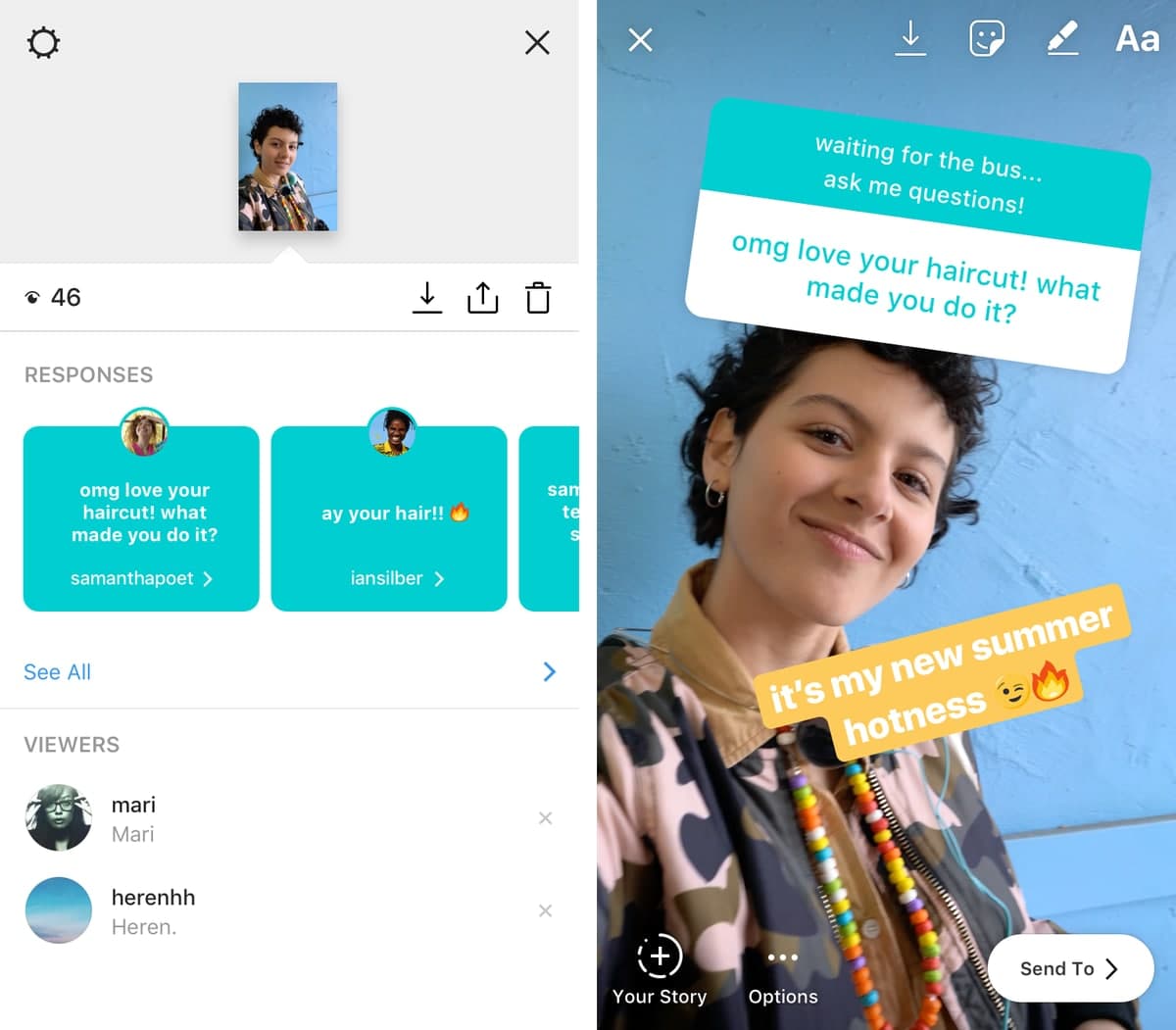 Instead of posing an open-ended question, if you want to direct your audience on the response front, consider doing a survey or a quiz. For this, stickers will assist you.
Engage the audience with a multiple-choice answer. This enables individuals to connect with your post by clicking a button rather than typing a reply. When posting something worthy of the hype, a sliding reaction is equally easy and efficient.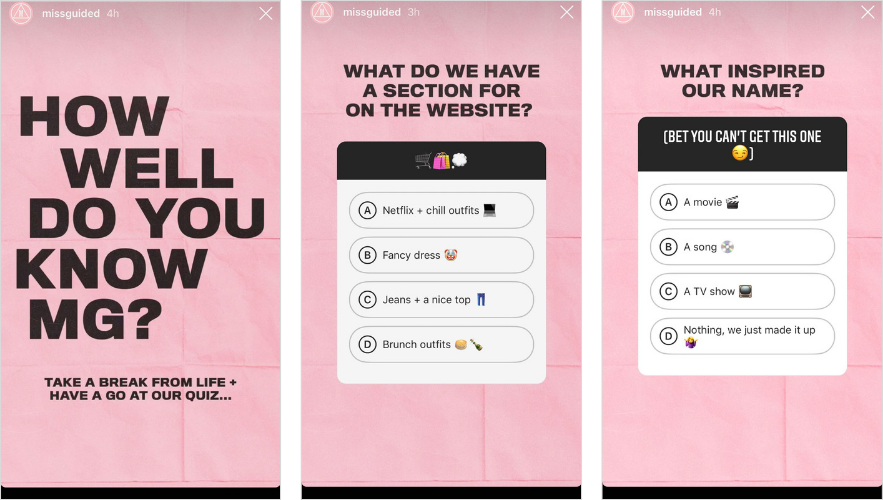 Add location sticker to your story
Via inserting a location sticker, get found on Instagram. Stories with these would be added to the streams of people around them, drawing in new audiences you would not usually receive. Basically: do so anytime you feel it's necessary to share your location.
Quotes are short, sharp, and can be exchanged more noticeably. Motivational, engaging, motivational, humorous, critical, or just about anything else for your company. For a quote that takes your fancy, scours the internet, makes sure it suits your brand, then copy and paste it into your Instagram post.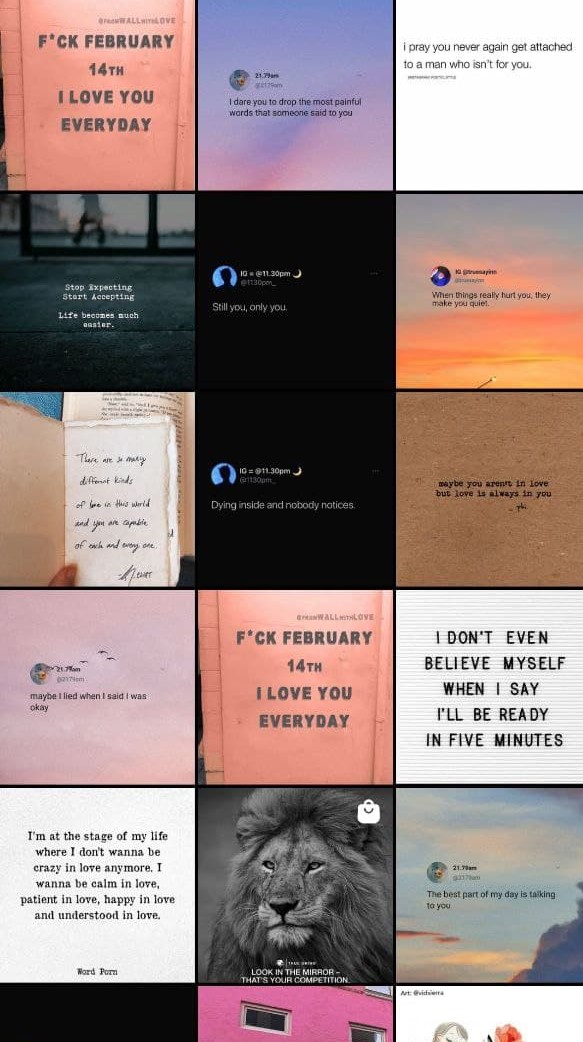 Promoting your product or service with an Instagram story is a surefire way to create buzz and raise brand awareness, enabling you to sell to your followers without having to fork out promotional cash.
To drive the viewers straight to a purchase website, use product stickers. It is important to remember that on Instagram, product stickers are only open to licensed firms. Alternatively, to connect your Instagram story to an external website, you can use the more conventional "swipe up" feature.
Showcase and shoot videos on how to use the items from various angles.
Create short videos describing what you are doing and why your clients must run a service. Be very specific about the importance of the service and its advantages.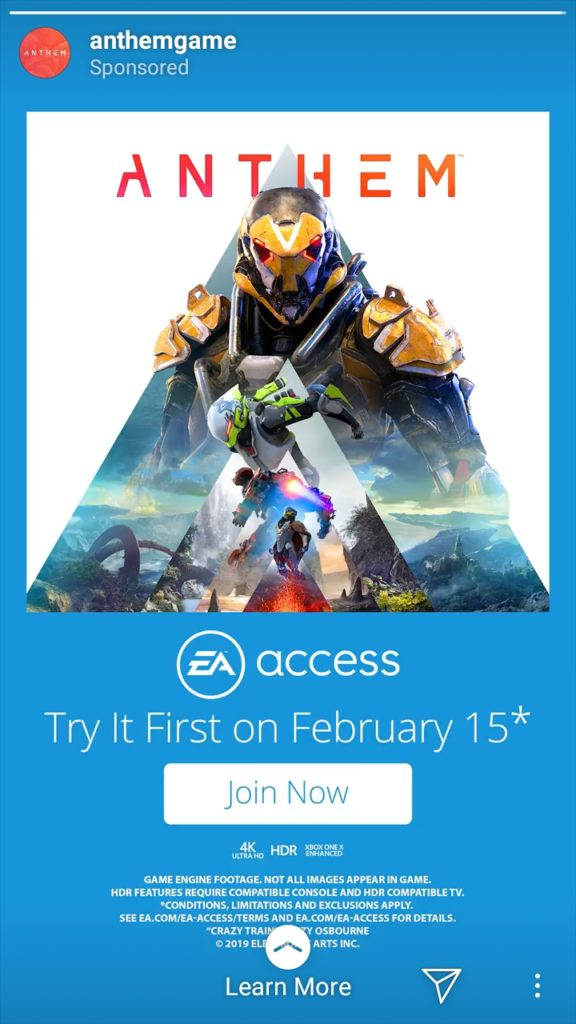 It's a perfect way to create positive relationships with individuals you like and share common content with you. Also, if you've spent a lot of time creating the beautiful Instagram feed, don't you want to share screenshots of someone's feed right there?
The best thing about stories is that they don't have to look fabulous. They have to articulate the message and have a powerful call to action.
The Swipe up function in Instagram Stories is only open to accounts with 10k + fans. If you're an author or an opinion maker, the Swipe up option is excellent for sharing your new content. Of course, you should be innovative and push traffic, giveaways, etc., to your product page. Hire a designer or editor to apply some animation to the swipe-up arrow if you want to spice it up a level. This would make the swipe rate more noticeable and improve it.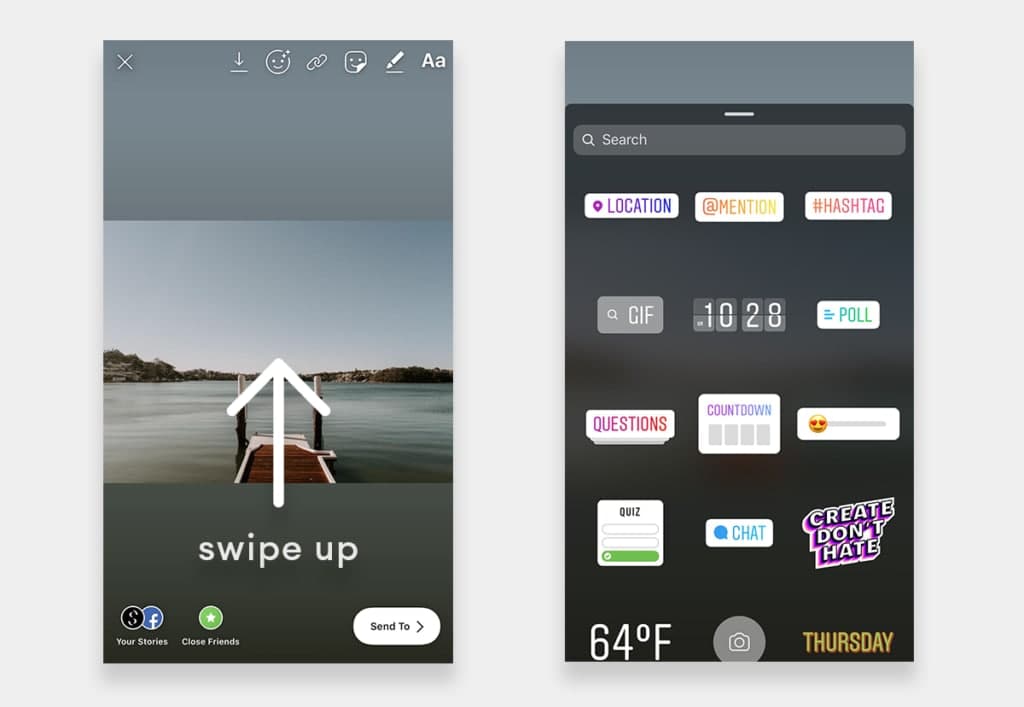 If you don't want to go all out on editing, adding music to your videos brings an impressive layer to your videos. There are also several various free software that you can use on your computer for easy video editing. So, take videos and images with a camera on your phone. To bring the best of these clips to your video timeline and add audio, use the time while commuting. Mind to retain per clip the 15 second time limit.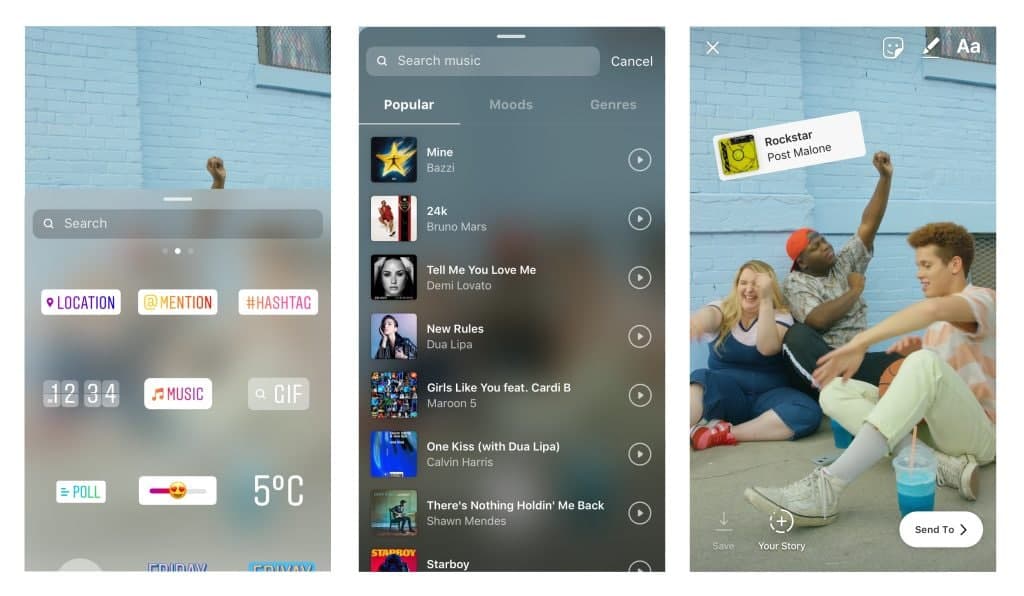 Use photos for simple messages
It doesn't need to be a video any time you try to say something to your audience. An image with text does the job just as well.
Even with the editing, you do not need to go crazy. Instagram now provides story backgrounds, making it even easier to write an update, share some insight, or say "Good Morning."
Share screenshots of customer feedback
If you're working with clients, make sure you can include some of that social evidence in your Instagram Stories. One of the easiest ways to achieve this goal is to display screenshots of the honest reviews. It makes it sound authentic.
It would be best to go the extra mile to invite your clients to give a video testimonial that you can share on Stories. If you lack the time and people give their testimonials without asking, then the best way, to begin with, is to create easy screenshots.
A showoff nobody wants. Is it all right to show a little? Yes.
Instagram is very much about lifestyle marketing. Share it if you're doing well with your job, life, love, etc. Inspire to let audiences see what you have done.
It would be best if you struck a nice mix between showing off and being modest, based on your niche.
Are you an artist, a filmmaker, a producer, or someone who makes something?
Instagram can be a fantastic place for the work to be seen. To advertise your portfolio, use Instagram Posts. There are more than a few ways to get around it. You can start by taking a short video talking about your latest project or simply uploading a picture of the finished product.
Show your followers how you work
If people follow you because of who you are and what you do, it would not be wrong to demonstrate how you work. It might not be the most natural thing to take photographs and videos at the same time you work, but the more you practice, the better you get at it.
Use a handheld tripod to make a timelapse of yourself during the day while you're sitting at an office table, and this is the fascinating part of your career. Before you post, don't hesitate to add audio.
It may be a brilliant idea even to make related posts for them if several people are working for you and your brand.
It doesn't matter whether you run a personal account or a brand account; a perfect Instagram Story concept is generated through product feedback.
Share your truthful opinion in video format or write about the product's functionality and advantages using the backdrop style.
Make sure to add a hashtag to the product you're evaluating and name it. There's a possibility to see your review and give you a sponsorship. So make it interesting, high quality, and truthful for your review.
Try to promote your hashtag
Any brand should create a hashtag of its own. It can be the name of a product, brand name, or symbolizing a trend in which your target market can associate. Also, using the right number of hashtags helps to increase the story view and engagement on your posts.
And it is not enough to show your work and portfolio. Your followers would like to know whether your desk is dirty and messy or on the tidy side. That says a great deal about a personality. If you're more of an artistic guy, it's not wrong to show off a messy desk. Is all right as it should be? So don't pretend to be someone you're not.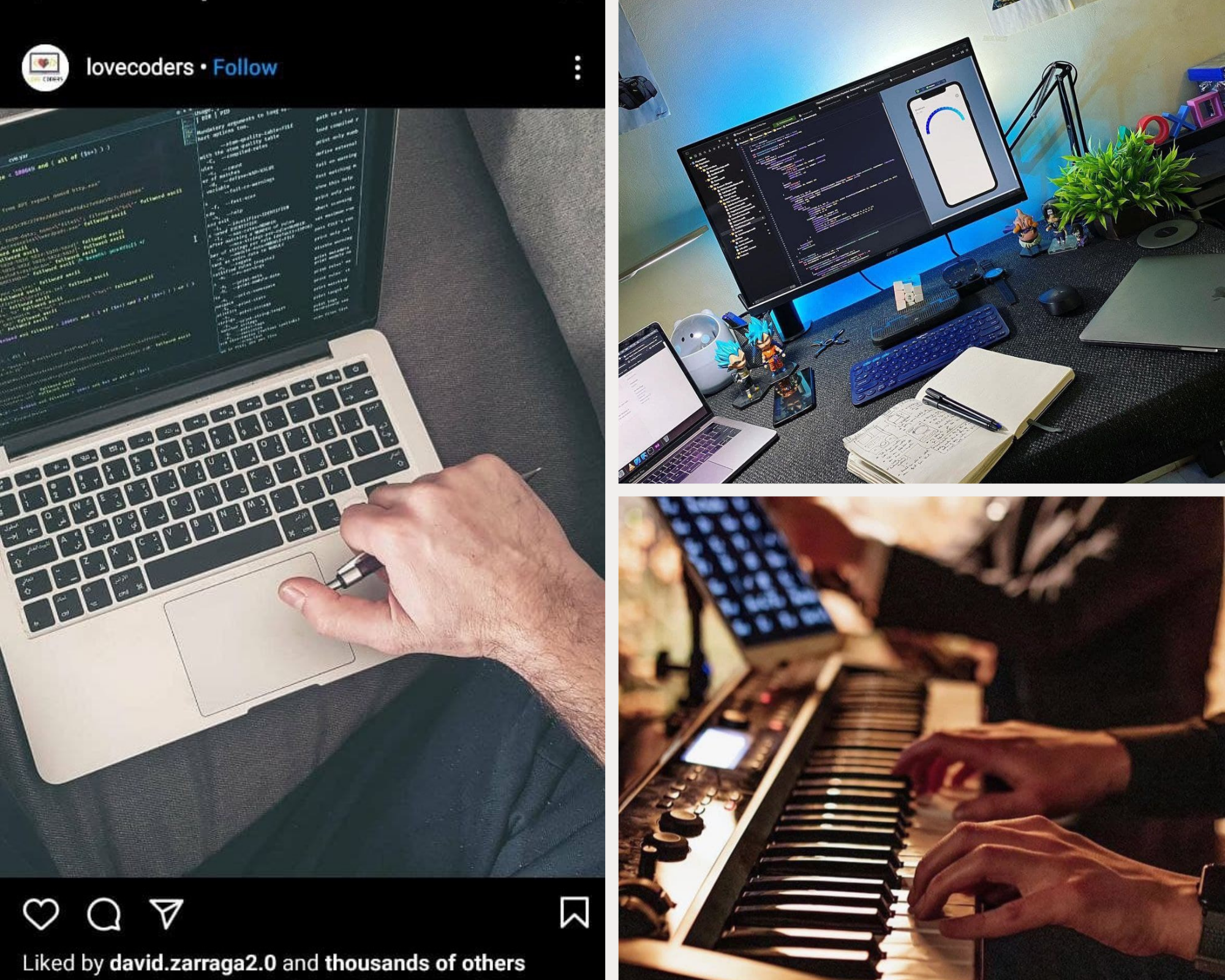 Promote your other accounts
Instagram isn't the only platform out there for social networks.
You're losing out if you haven't been developing a profile on other networks. Today, we also believe engaging with the audience is one of the most important social media sites. We've seen some significant changes on Instagram over the past year, and it's not as fun as it used to be for our brands and advertisers.
We recommend listing the other channels on occasion; even if you're not super active, it's necessary to diversify.
Hosting giveaways is one of my best tactics if you want to speed up your Instagram growth. You either host it alone or do it with some other brand, which is much easier to have a reasonable reach with another account. So shoot a story that announces the giveaway, add a swipe if you can, and add this story to your highlights for the time being.
It is fun to have new stuff delivered to you. If you're excited, so there'll be your followers, too. So film your stories about unboxing the nifty new gadget you purchased from Amazon.
Maybe it's about your career, something? You can explain, even better, briefly how you can use this to make you more efficient and have better support.
Brands will give you their items all the time because you have tens of thousands of subscribers, so you can find no lack of material for unboxing.
Is your business about some transformation?
Fitness trainers, designers, and anyone who can "before and after" present their work can make their Instagram glow. We have always thought about sharing your portfolio and success stories with clients.
Before and after, these two items mix beautifully in between. So make sure you shoot a lot of content before you start working on something, so if you edit it all together, you'd have the "before" stuff.
Educating the fans increases involvement; there's no doubt about that. It also helps to put yourself in the industry as an authority. So keep making essential tutorials and guides. Care of diet and exercise schedules if you're a fitness instructor.
If you're in an industry where nothing is fascinating about making a tutorial, so actually speak to the audience. See if you can help your followers with something and use it in a good Instagram story.
Giving them a look behind the scenes keeps the fans up to date on what's happening. All loves being part of exclusivity and watching how things pan out. Let's presume you're planning a product launch, posting it, creating a story, or bringing together new tactics.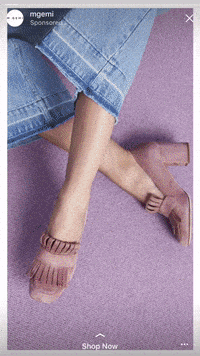 Source: M.Gemi
You need to hold live sessions if you want to receive a big following on Instagram. Not just Instagram, but all sites on social media are promoting live streaming. Let your followers know you're consistently doing it (daily/weekly).
A live video is also a perfect way to chat with your fans. If you have like 10 to 20 viewers initially, don't worry. You actually won't get too many views if you go live for the first time.
If you haven't done it yet, then it could be an excellent start to host a live together in your niche with someone else. You can do a split-screen live with anyone who is watching your live video.
Don't forget to use stickers
Use stickers when you are feeling crazy. By just using stickers in Instagram Posts, you can do some funny stuff.
Are you planning the introduction of a product? That's fine! Doing teasers is a perfect way to fire up the crowd for the upcoming launch. You can use video and picture posts for both.
Sometimes show your daily mood
Stories can be honest and natural. Don't try to be flawless all the time.
Just let the viewers know what's going on when you're in a pinch and why you're not sharing everything.
If you don't feel like putting together anything extraordinary, it's all right to say that. On the other hand, it still depends on the niche. You do not want to come off as slow and moody in certain instances.
Ask people to turn on alerts for posts
Asking users to activate their post updates is another perfect way to improve your involvement. And they will get a message any time you post something. This raises the number of shares and feedback that you get.
Motivate users to send you messages
Now, depending on what you'd like to see, Instagram is trying to serve content. If you open your feed, you're likely to see content from users you know and connect heavily with.
It's a compelling indication for Instagram to provide a clear contact message with others. It shows them that your contact is the one you're interacting about, not just a random account you used to follow in 2016. Ask people, then, to send you a message. It would be best if you also were sincerely interested in having genuine relationships with your supporters and clients.
Conclusion
We shared the best effective Instagram story ideas to increase your brand engagement. This guide will help you in your brand awareness process.
But maybe you don't have time for posting your WordPress blog posts on Instagram. In this period FS Poster auto-poster plugin can help you. You will be able to share posts directly from the plugin to your social networks. If you don't want to waste your time in sharing process install our plugin focus on the creative part of your work. See demo version of FS Poster.