How To Auto-Post To Reddit From WordPress [A Complete Guide]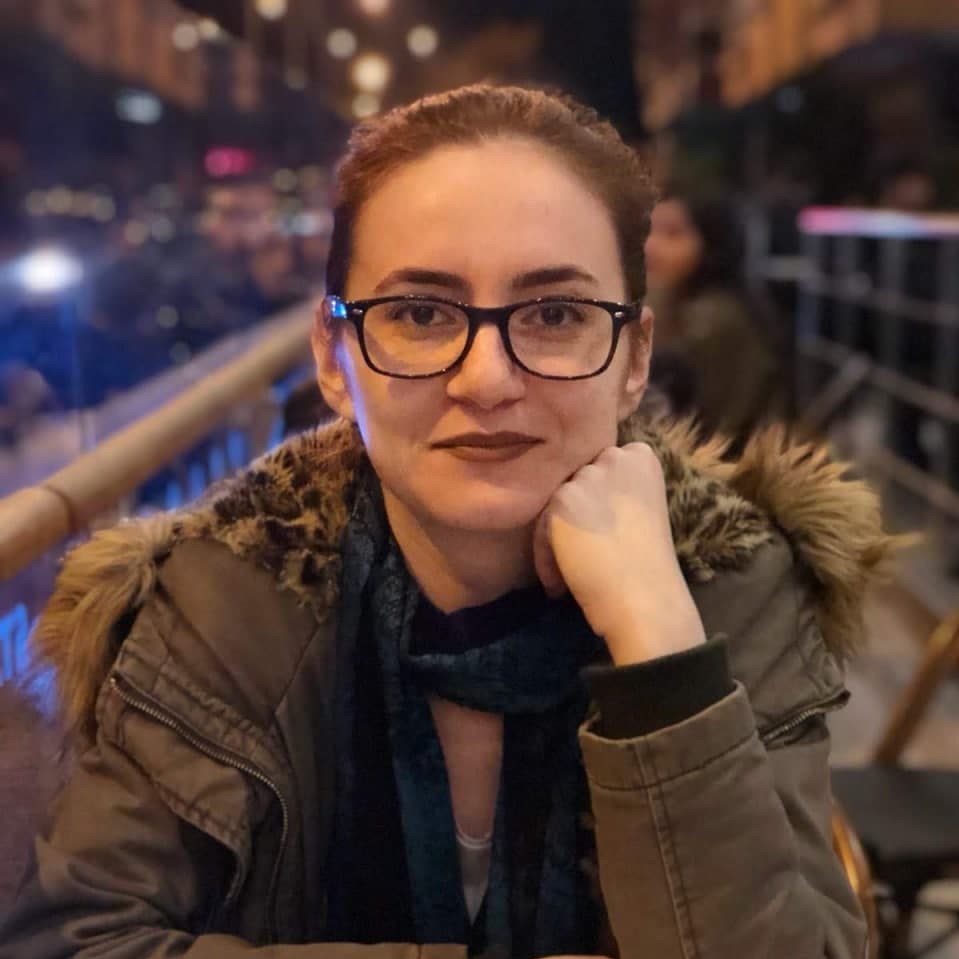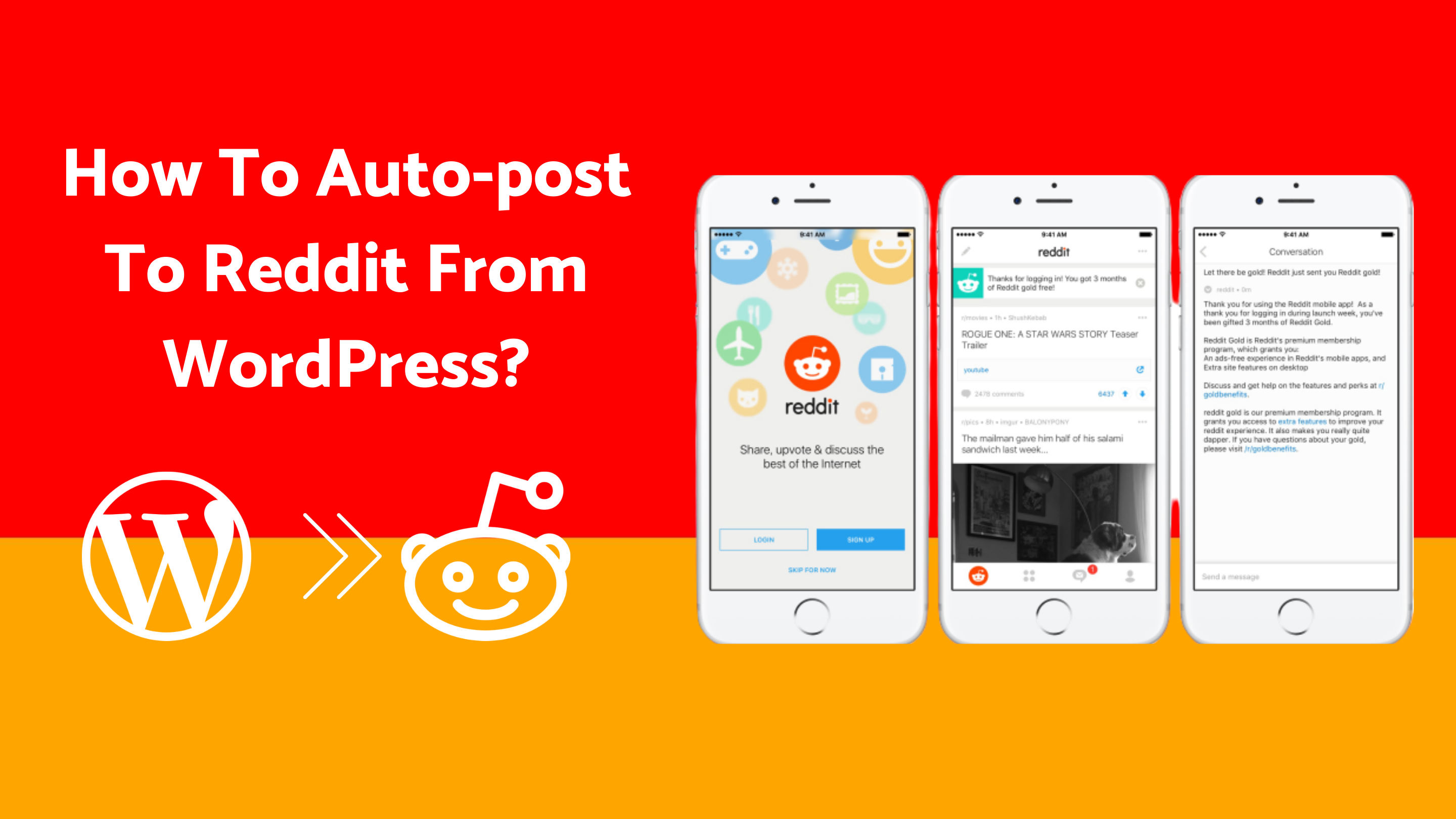 Social Networks
Sep 16, 2020
Reddit is a social news aggregation, web content rating, and discussion website.
It is basically a large group of forums that users can talk about news, sports, technology, movies, literature, and so on.
What makes Reddit is so cool is that you can create your own forum as a subreddit on the Website and discuss your brand, niche, hobbies, products with your fans, customers, etc.
You can also join other super popular subreddits and share your blog posts, news, and products as long as your posts are related to the subreddit topic.
There are more than 300 million users and more than a million subreddits on the Website.
Those people are real readers of blog posts, and we can get those people to our Website by sharing our posts on those subreddits.
As a blog writer, I do not have more time to share my posts on those subreddits. That is not all. Because I also need to share the posts on other Social Networks like Facebook, Instagram, Twitter, etc.
I came up with a solution, and we developed a plugin. Now, I want to share our solution with you.
Here is how I submit my new articles on Reddit and some subreddits automatically.
How to Add Accounts for Auto-posting
After installing the plugin on a website, we need to add our accounts to the plugin.
You can also try the demo version of the plugin while we are discussing the steps.
Please note that every hour, the plugin gets its initial state. So, your accounts might be deleted from the plugin at the end of each hour.
We can add our accounts for each Social Network on the dedicated menu, and the menus are labeled as the name of the Website.
Each menu contains an ADD AN ACCOUNT button. We can add accounts by clicking it.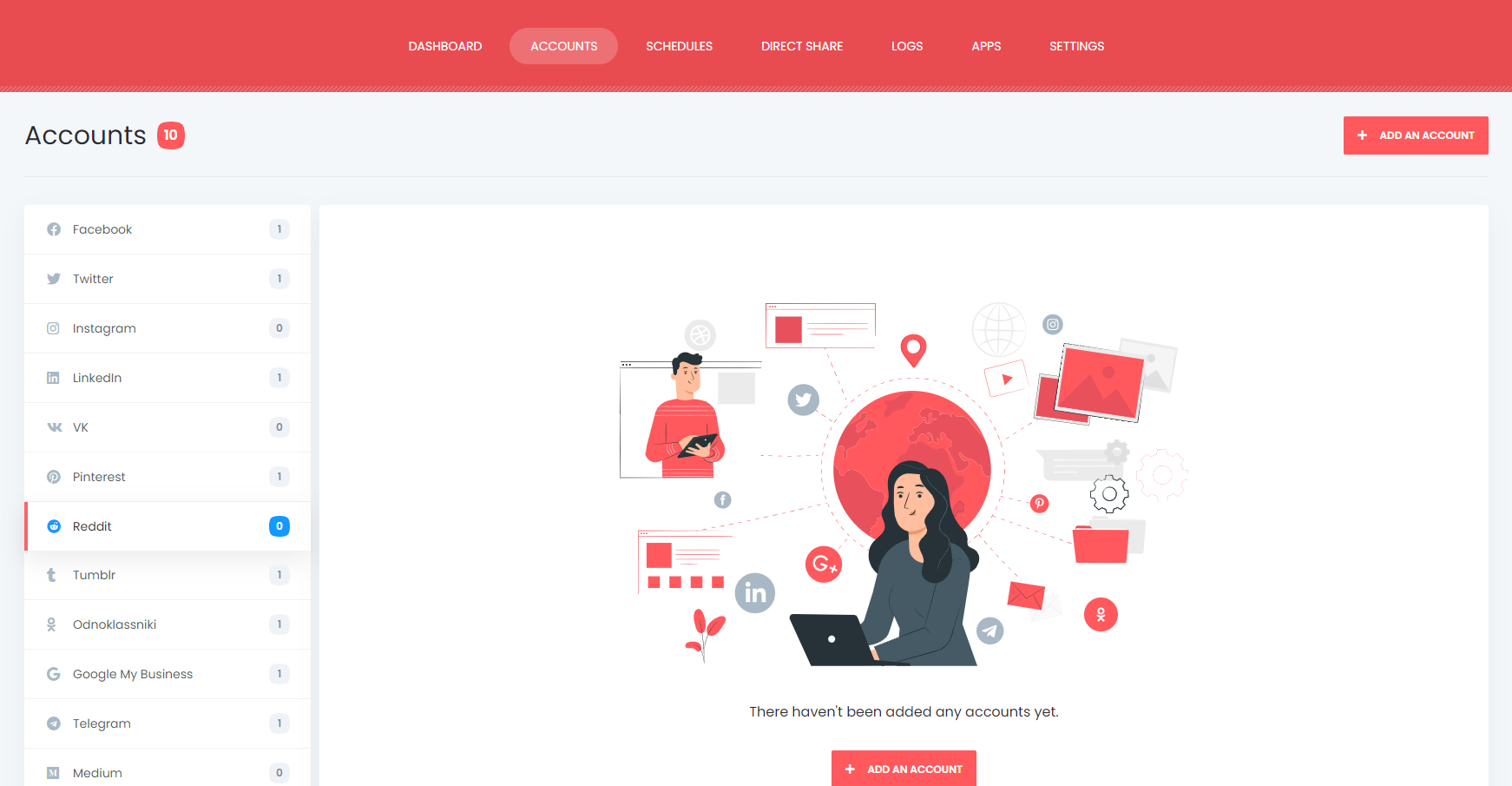 One thing I like the most about the plugin is that there is no limit for adding accounts. We can add as many accounts as we want.
Adding an account to the plugin requires only three clicks because Reddit's official API is integrated into the plugin, and we need to authorize our account.

I fed up logging to my accounts to share a post every time before the plugin. Now, we need to add it once and enjoy publishing.
After adding our account, we can add our own subreddits as well as other subreddits that we have joined.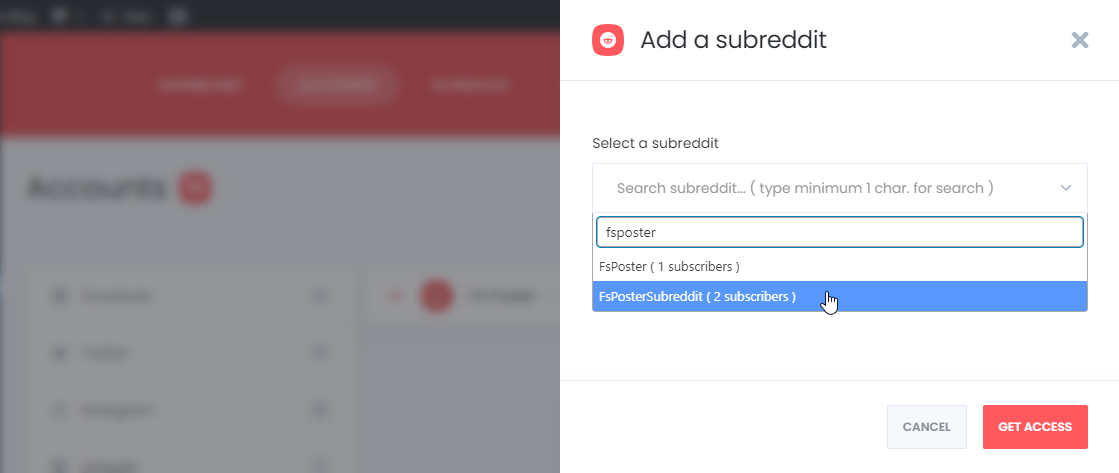 Sometimes we might need to use a proxy for Social Networks because of company rules, or we would like to hide our IP addresses.
It sometimes happens to some people that Social Networks block their servers IP addresses. For this reason, or any other reason, if you would like to use a Proxy, the plugin also supports proxies.
If we need to auto-post to those accounts, we need to activate them.

We may deactivate some accounts not to automatically share the posts on them for a specific period of time.
There is also an activate condition feature, which I like a lot.
I have a subreddit named Blogging and a Blogging category on my WordPress website. I use the feature to share only the new posts of the Blogging category on the Blogging subreddit.
Then I also have other category posts that need to be shared on only specific accounts. I am very happy with this feature because I activated my accounts by condition, and the plugin does the rest for me.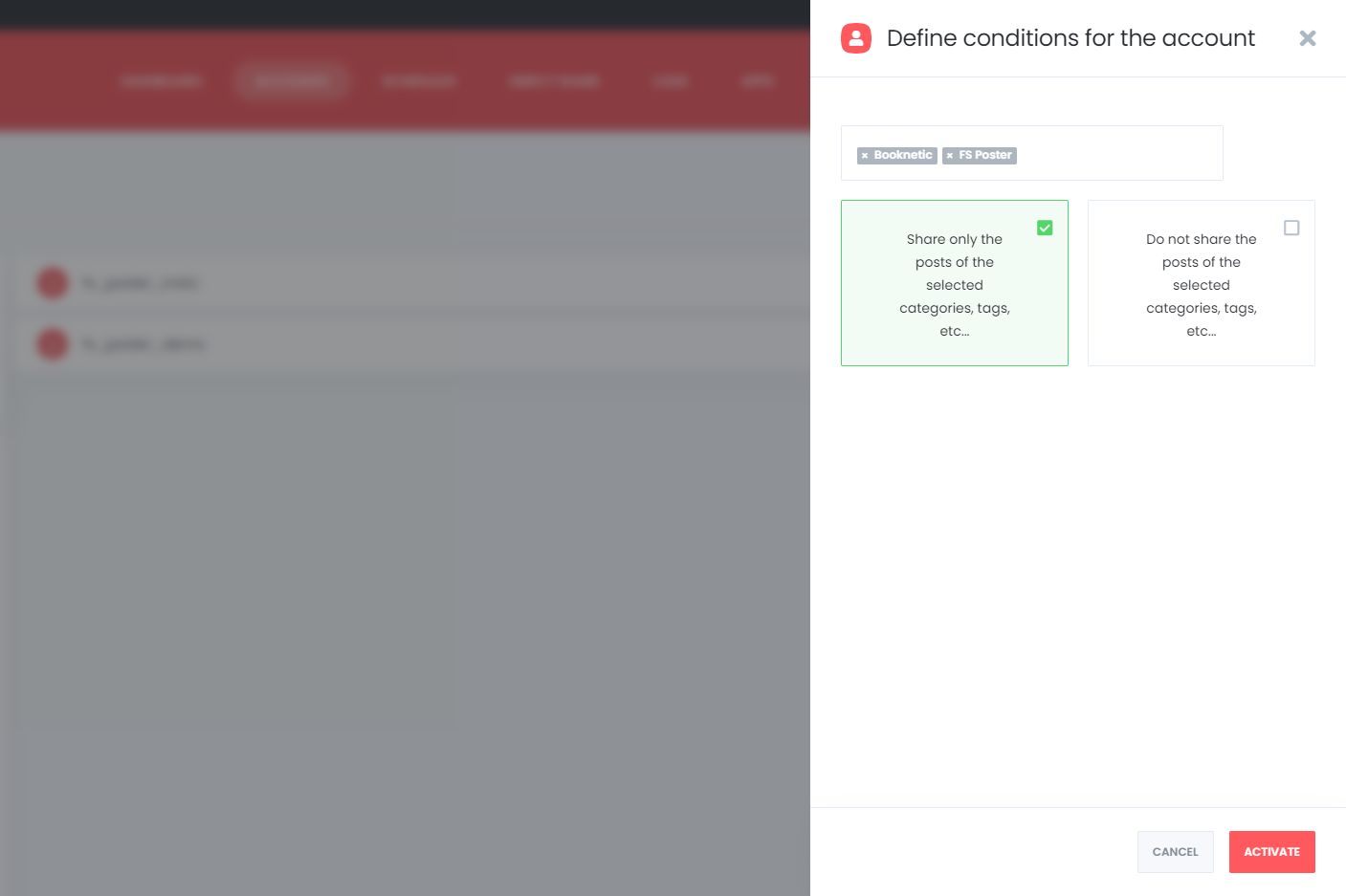 The plugin supports the multi-user platform. Each WordPress users can add and manage their own social accounts. One WordPress user cannot share any post on other's accounts.
That is great because sometimes we have many users on the Website, and we do not want to mess the accounts.
But if you want to share your posts on the other users' accounts, they can Make their accounts Public. As a result, you can post on those accounts by activating these accounts for auto-post.

The plugin has a setting tab where you can configure the plugin and Social Network settings.
You can use many ready keywords and some text to share your custom message.
You can also share the post as Link card view, Title + text, or Custom message + featured image.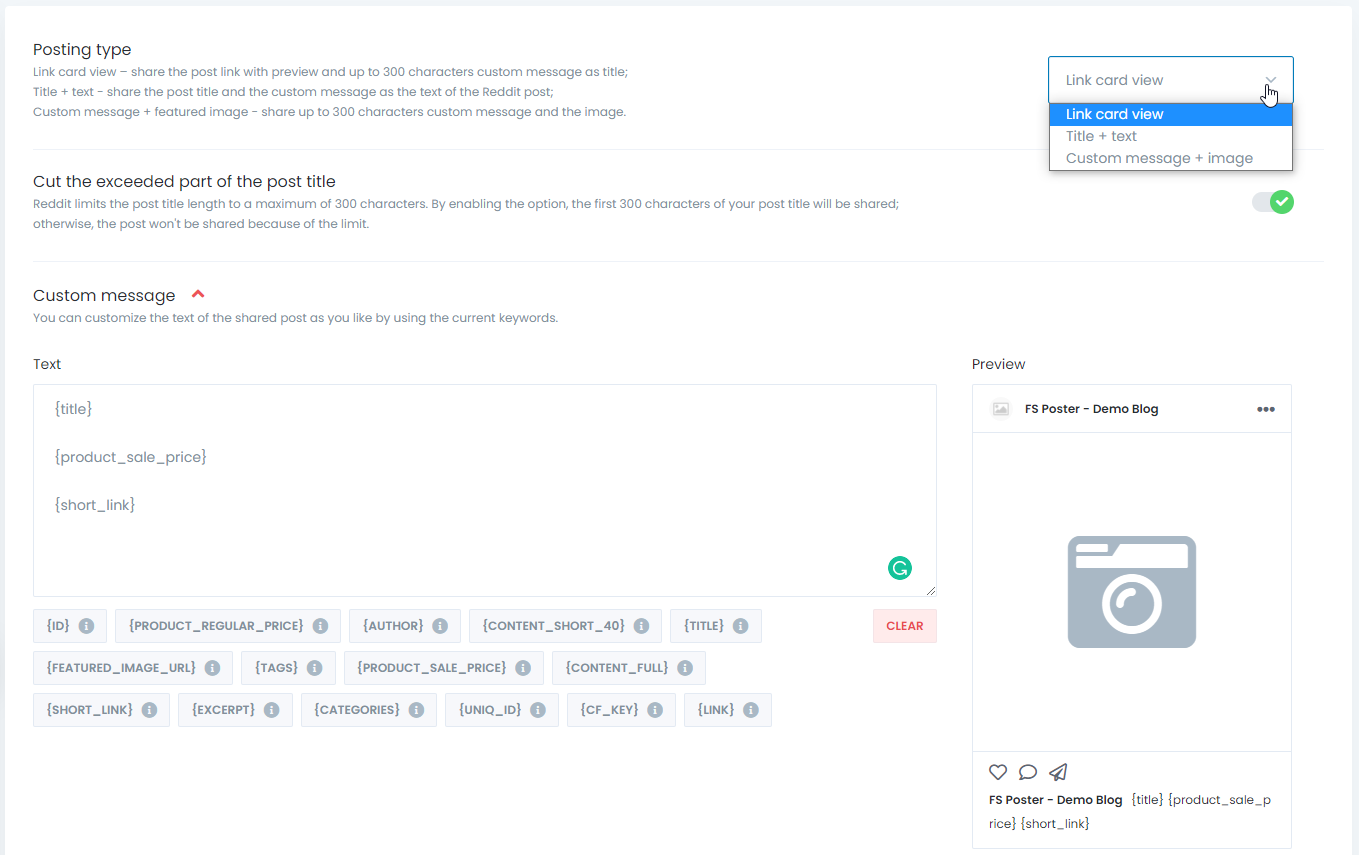 If you have already added your accounts, we can try to submit a post to Reddit automatically.
The plugin has a setting where you can set the plugin to share posts in the background. That allows us to continue our work on the Website. I disabled it to show the result visually. I usually enable it.
The plugin shared the post on a Reddit and two subreddits within 8 seconds.
I used to log in to each of my accounts to share a post, and it took me hours to share my single post on all my accounts.
I have seen a customer who has 400 Facebook groups, many Facebook pages. I cannot imagine how they used to handle it before the plugin.
We can set a custom message for our posts in the settings, as we discussed earlier. We sometimes would like to change the custom text according to the post. That is natural, and we can do it when we publish a post as well.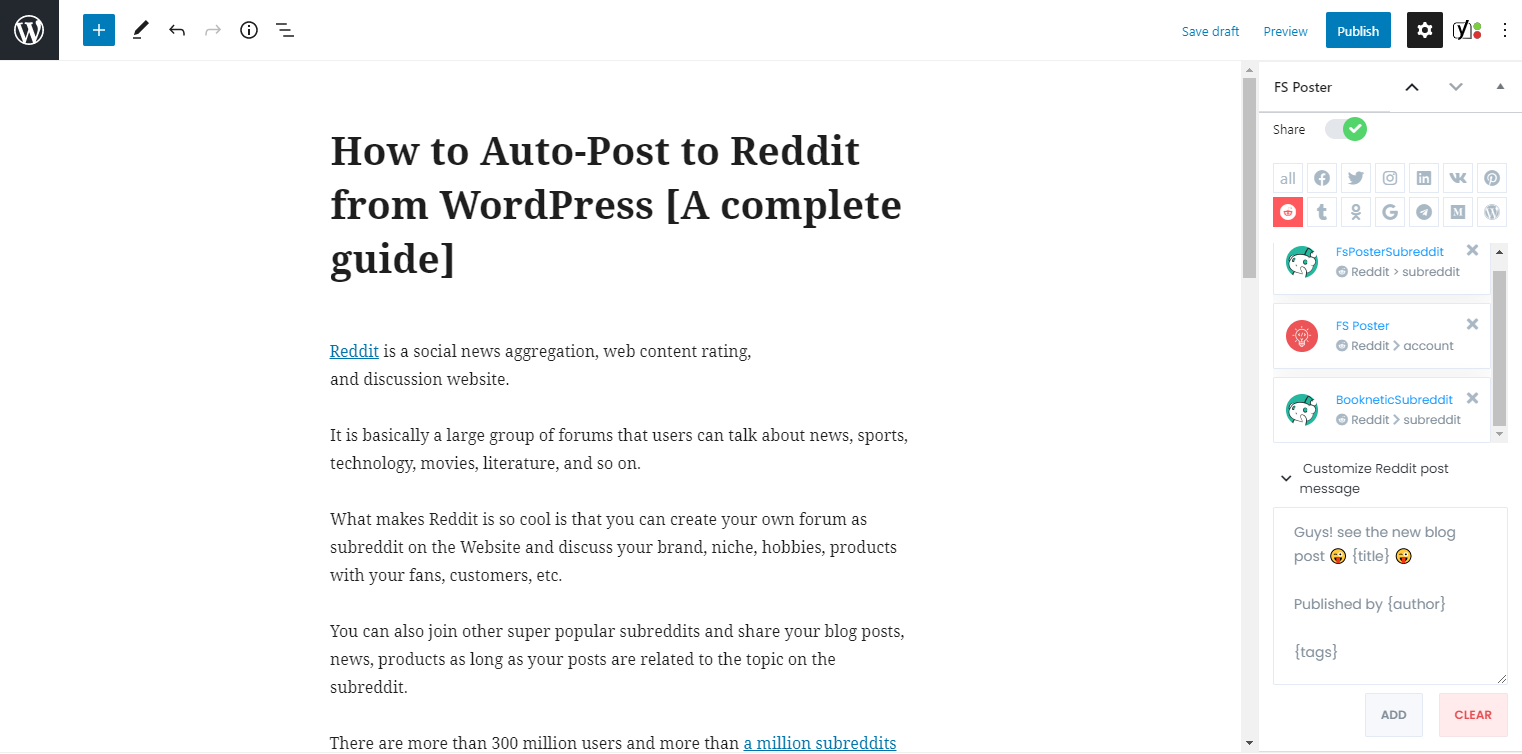 When we activate our accounts and subreddits, they will be listed in the plugin section automatically. We can add deactivated accounts or delete the activated ones in the lists as well.
Click the Add button to add your previously added accounts to the list.
After the auto-post, we can see the post on our account, share the post after a while, or schedule the post to a specific time.
That helps online stores because the seller needs to share their products many times.

The plugin also allows you to share, schedule a post, or bulk schedule some posts from the post table.

How to schedule posts on Reddit from WordPress
There rush hours for each Social Networks. If you know your blog readers' or customers' rush hours or want to share your posts at specific times, you can use the plugin's schedule module to share your previously published posts on your account.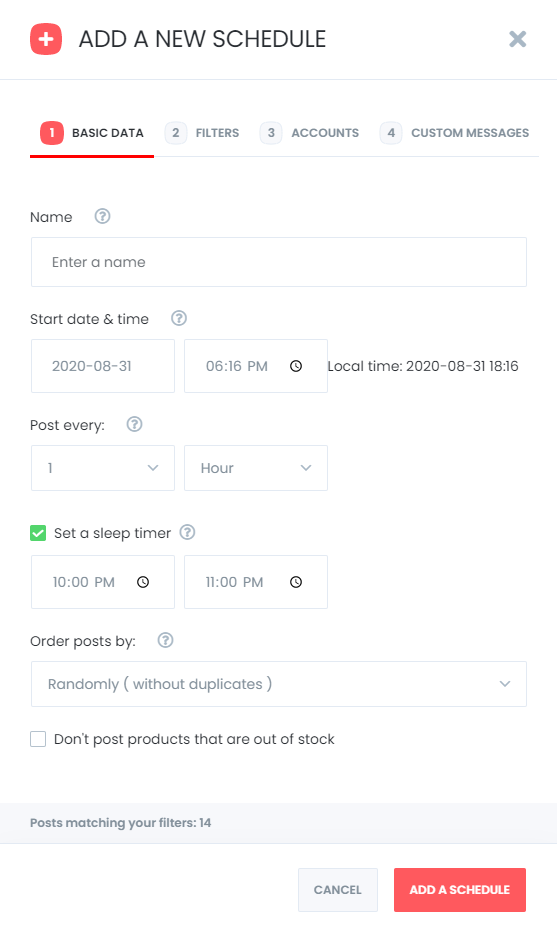 You can set an interval time for each post in the "Post every" section.
The " Set a sleeper time" allows you to exclude a specific time period when you do not want to share.
You have four options to order post by:
- Randomly (without duplicates): shares each of your posts once;
- Randomly: shares all your posts. If you do not stop the schedule, it will share posts repeatedly;
- Old posts first: start sharing from the old one;
- New posts first: start sharing from the new one;
There is a filter option where you can filter posts by time, type, category, tag, and id.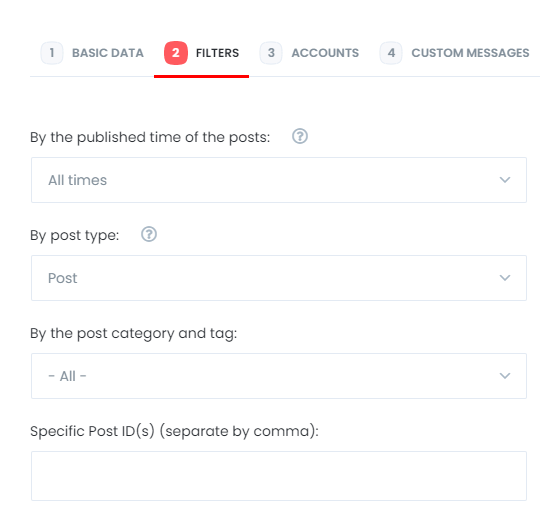 The activated accounts will be in the Accounts tab automatically. You can add or delete the accounts depending on your posts.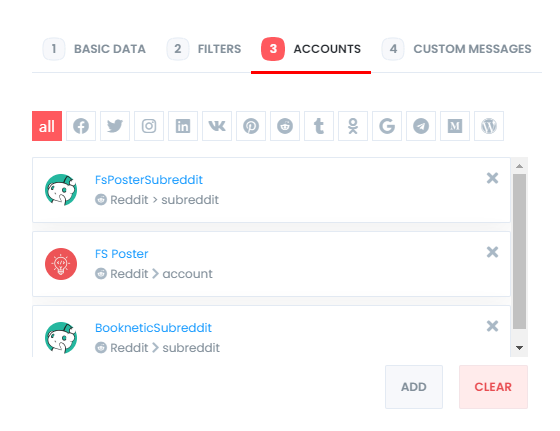 If you need to add custom messages for the schedule, the tab will let you enter your text for each Social Network.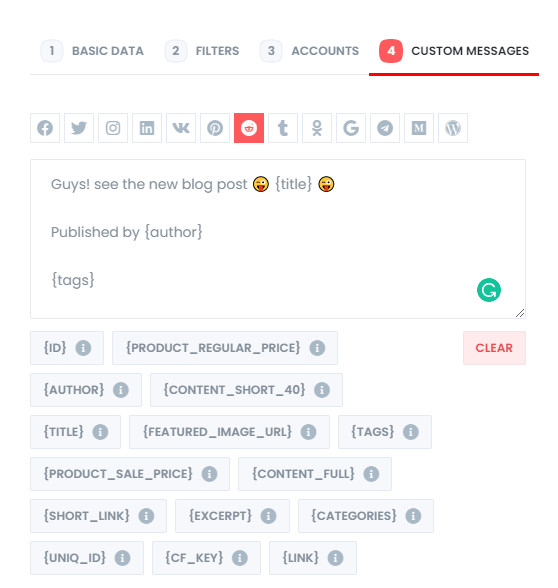 You can edit, re-schedule, pause, and delete schedules.

When your posts are shared, you can track them in the Logs tab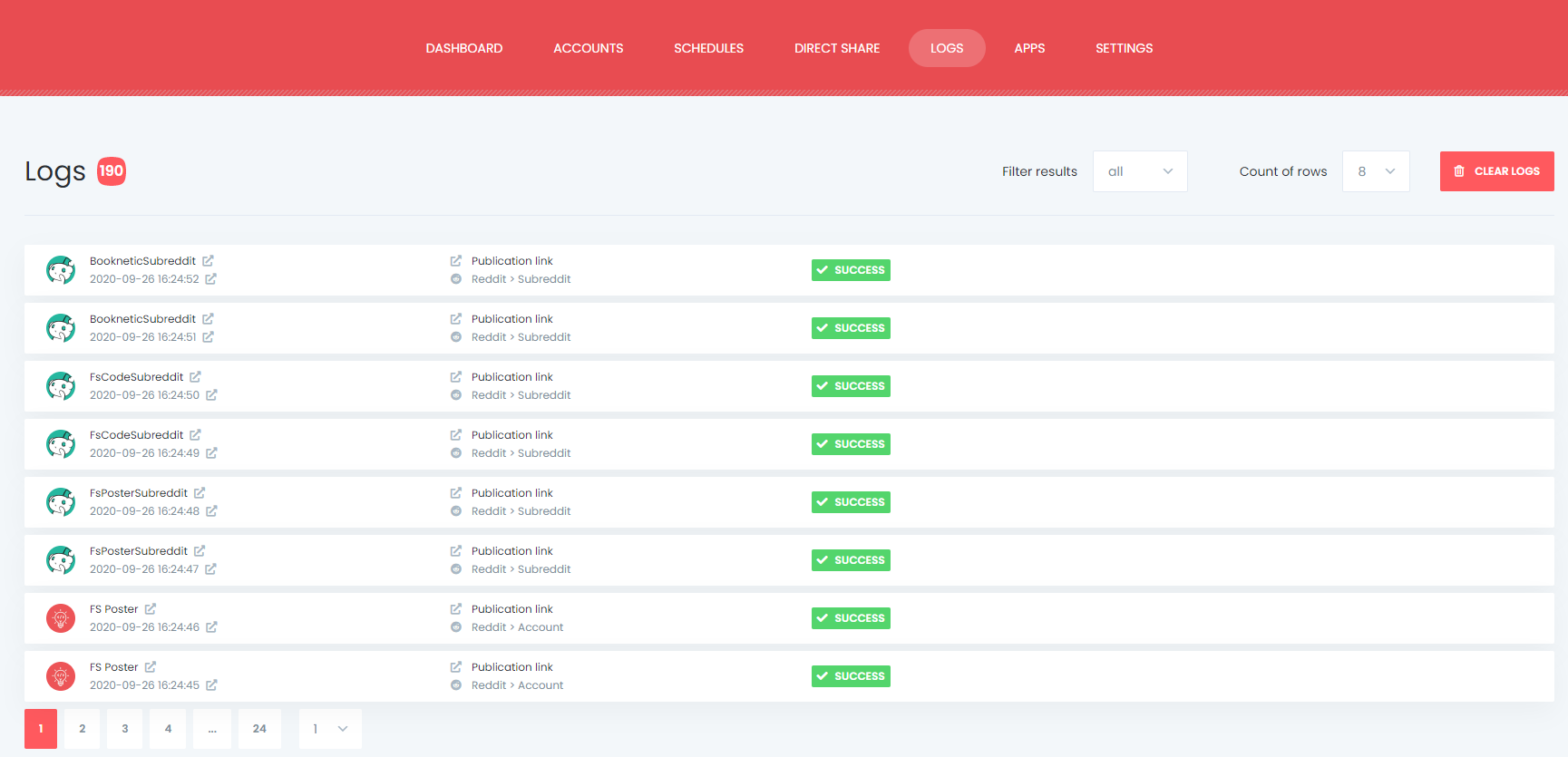 The calendar view allows you to see all Scheduled posts.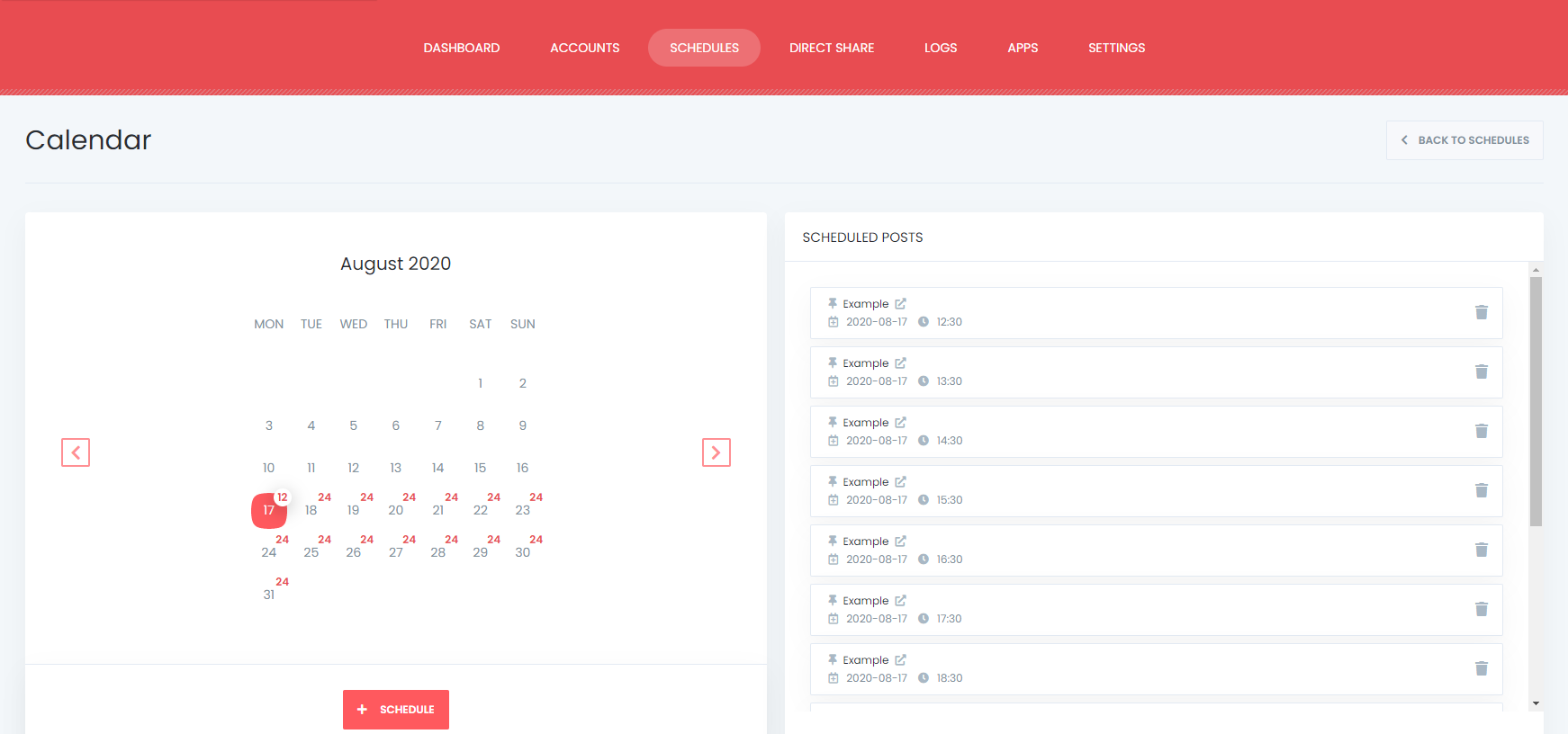 How to share or schedule posts to Reddit without creating a WordPress post
There are times that you do not want to share a blog post, but you have something like images, quick announcements, etc. to share on Reddit.
The Direct Share Panel allows you to share images, links, and some custom messages to your accounts without creating a WordPress post.
You can also save these FS Poster posts to share them later again and again.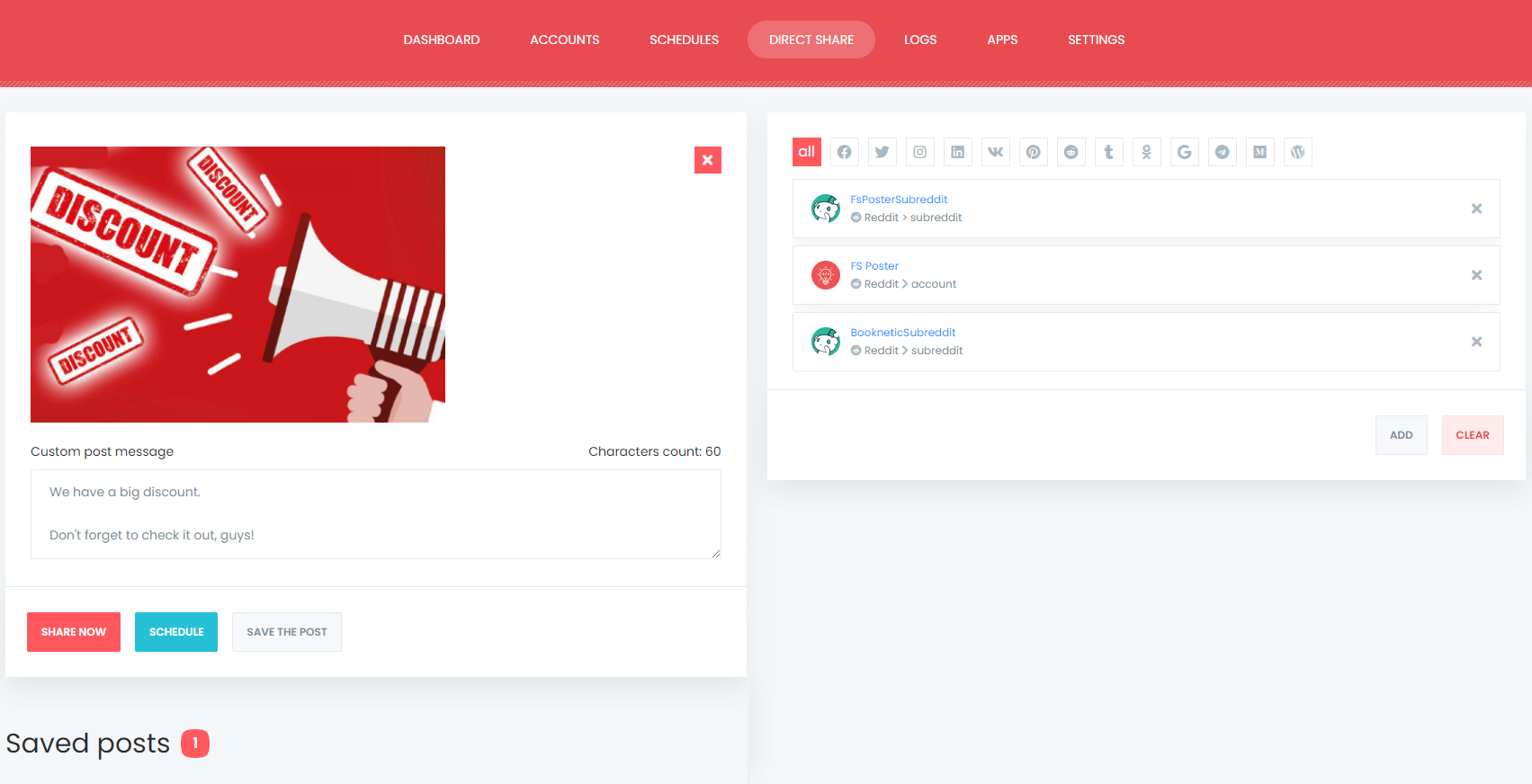 The Dashboard tab allows you to view shares count, clicks count, and comparison of social networks.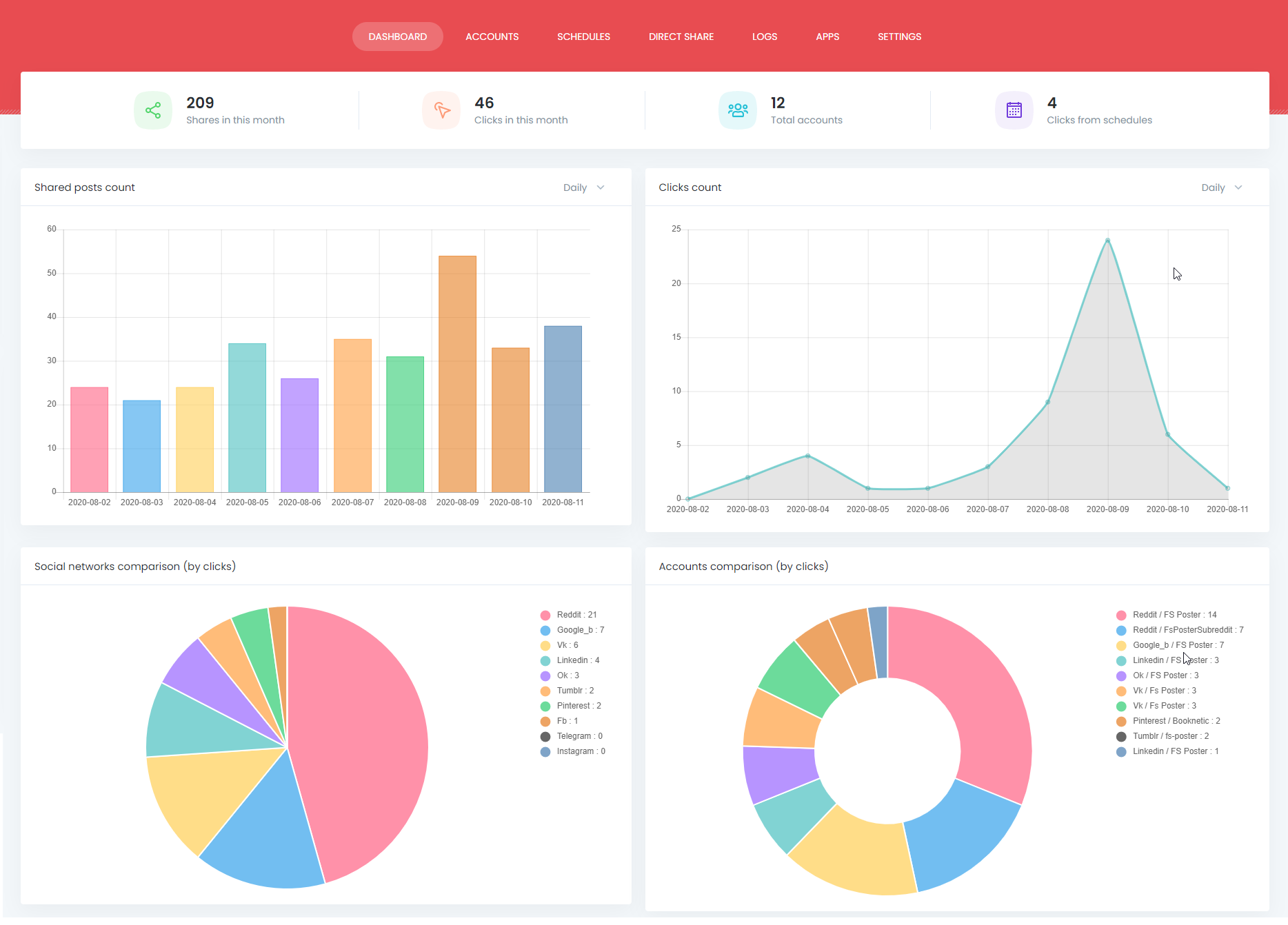 Conclusion
This article discusses how to auto-post to Reddit from WordPress using the best auto poster plugin, FS Poster.
You can check out the core features or full guide of the plugin
Contact us for any pre-sale questions: [email protected]
If you decided to continue with FS Poster, you can check out the sale page.