How To Auto-Post To LinkedIn From WordPress [A Complete Guide]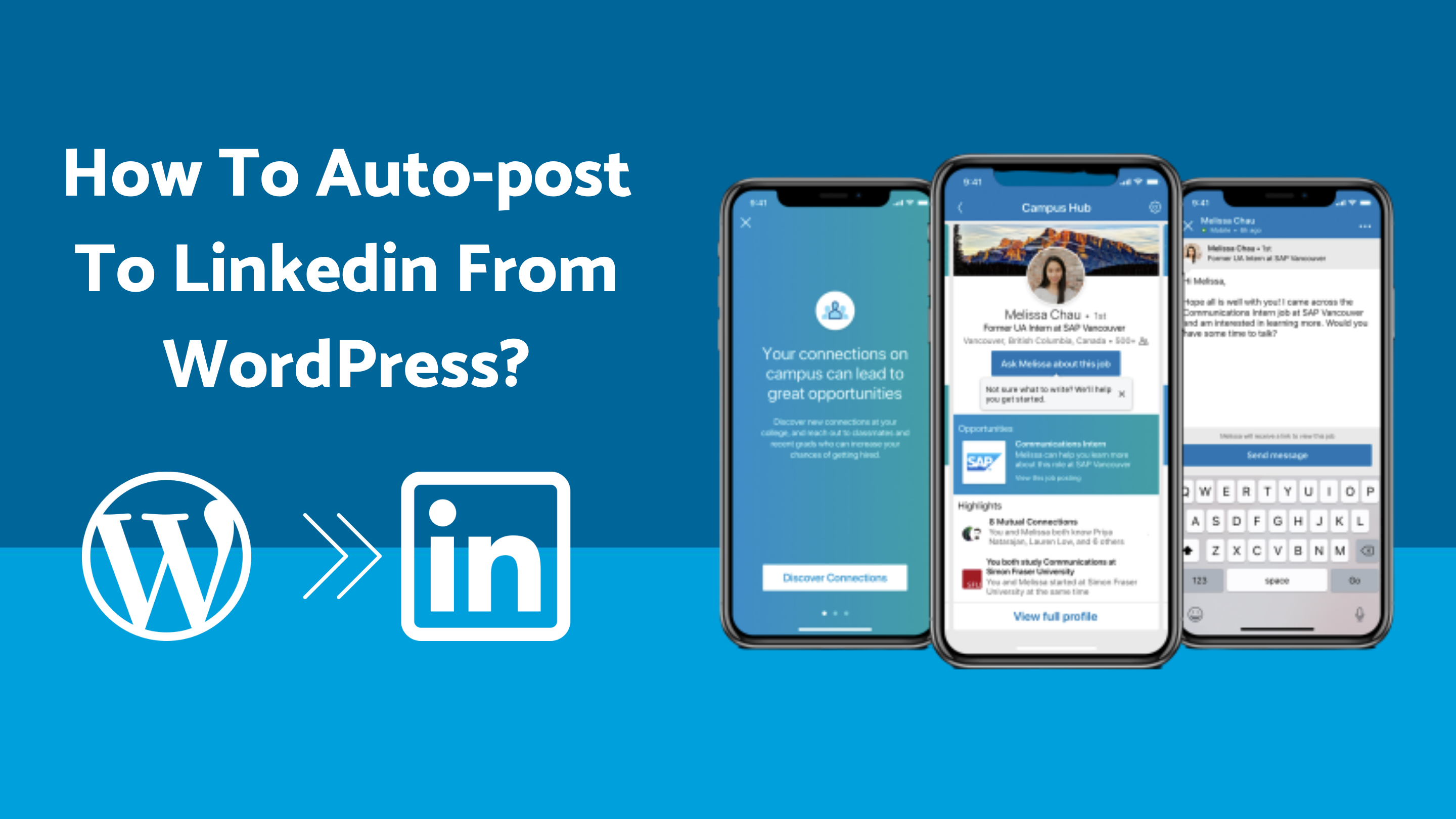 Social Networks
Sep 26, 2020
Updated at: Jan 18, 2023
LinkedIn is a job-related social media platform. If you're a professional, you probably have blog posts, and you want to share your posts on LinkedIn to get people to your website. If you want to do it and don't have enough time to do it manually, FS Poster is here for an automation process.
Your content is aimed at people who you are connected with on LinkedIn, but they do not see your posts because most people do not search for it.
Therefore, posting from WordPress to LinkedIn automatically will save you time, and you will get traffic to your website.
Furthermore, publishing posts to Social Networks frequently keeps your accounts fresh.
So, if you need a plugin that can share your posts on LinkedIn automatically, you need to check out FS Poster.
Here is how FS Poster auto-post from WordPress to LinkedIn.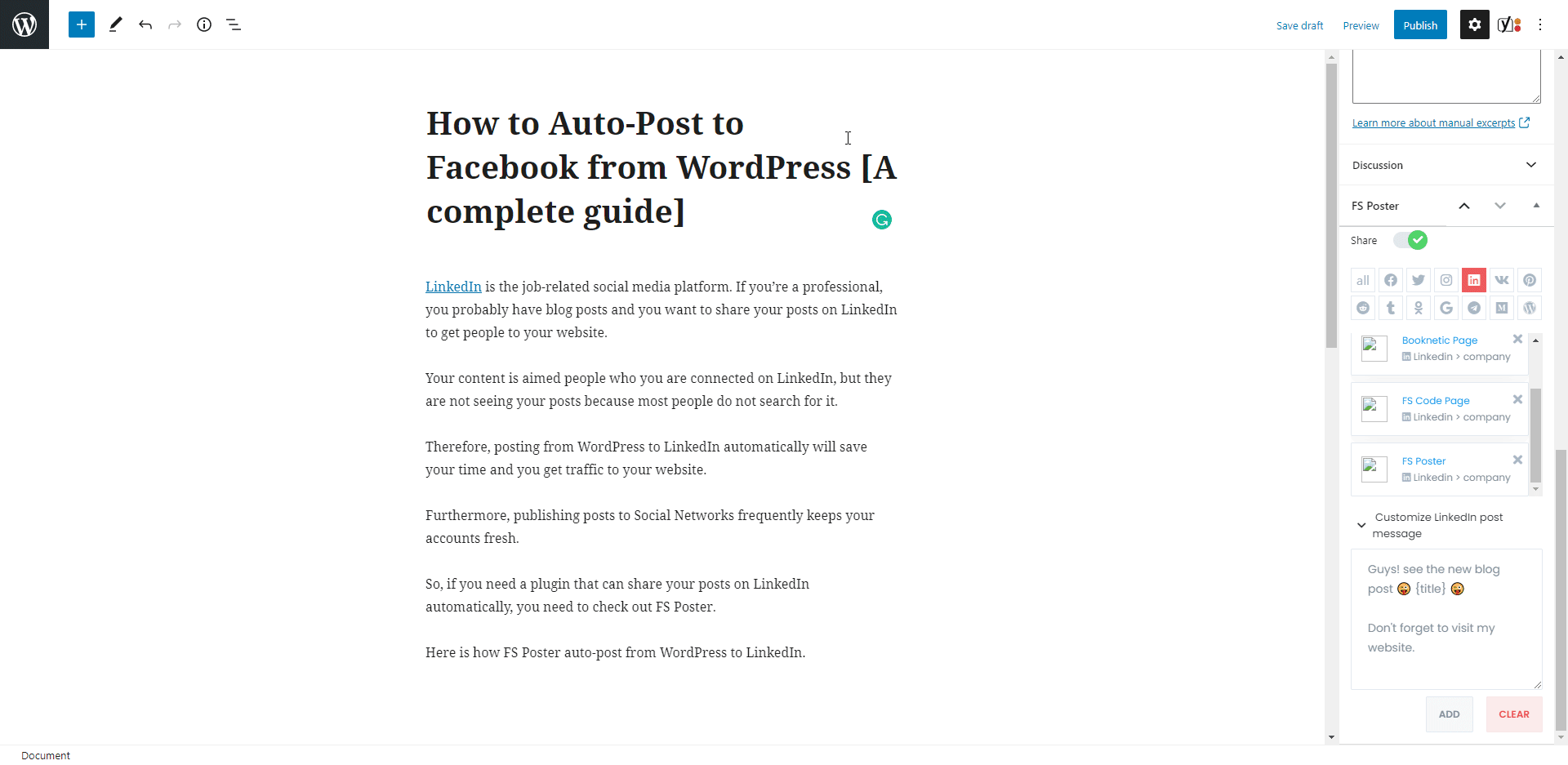 In this article, we will show you how to automate your post to LinkedIn from WordPress.
How to Add Accounts to FS Poster for Auto-posting
The first step we need to do is add LinkedIn accounts to the plugin.
Adding accounts to the plugin once allows you to get rid of logging into your account each time to share a post.
While you are reading the article, you can also try the demo version of the plugin.
Add your LinkedIn account to the plugin on the LinkedIn menu of the Accounts tab.
Luckily there is no limit to adding accounts. You can add as many accounts as you want.
Click the ADD AN ACCOUNT button.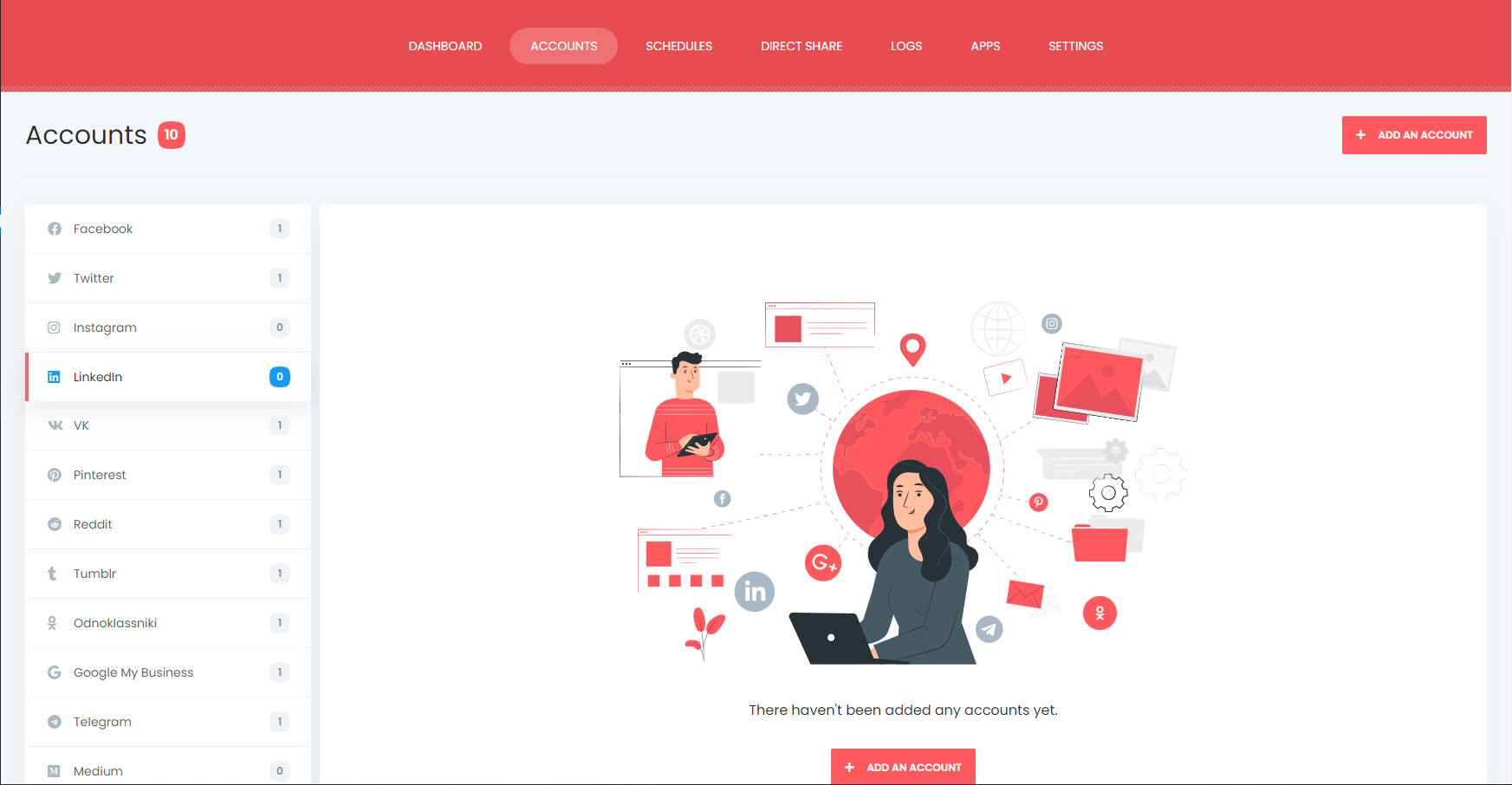 Next, you need to click the Get access button to authorize your account. The plugin has a standard LinkedIn API to add your account.

When someone shares many posts from the same IP address in their home or office, they might get banned.
Therefore, it is advisable to use your own country-specific proxies. By doing this, you will reduce the likelihood of being blocked on social networks.
Luckily, the plugin allows you to add a proxy to the plugin so that you can enjoy having many accounts.
You will be able to share your posts on activated ones automatically. If you do not want to share posts for a specific time, you can deactivate them.

Let's say you have Finance related account and a Finance category on your WordPress website. Therefore, you want to share only the new posts of the Finance category on this account.
Use the conditioned feature to share your specific posts on specific accounts.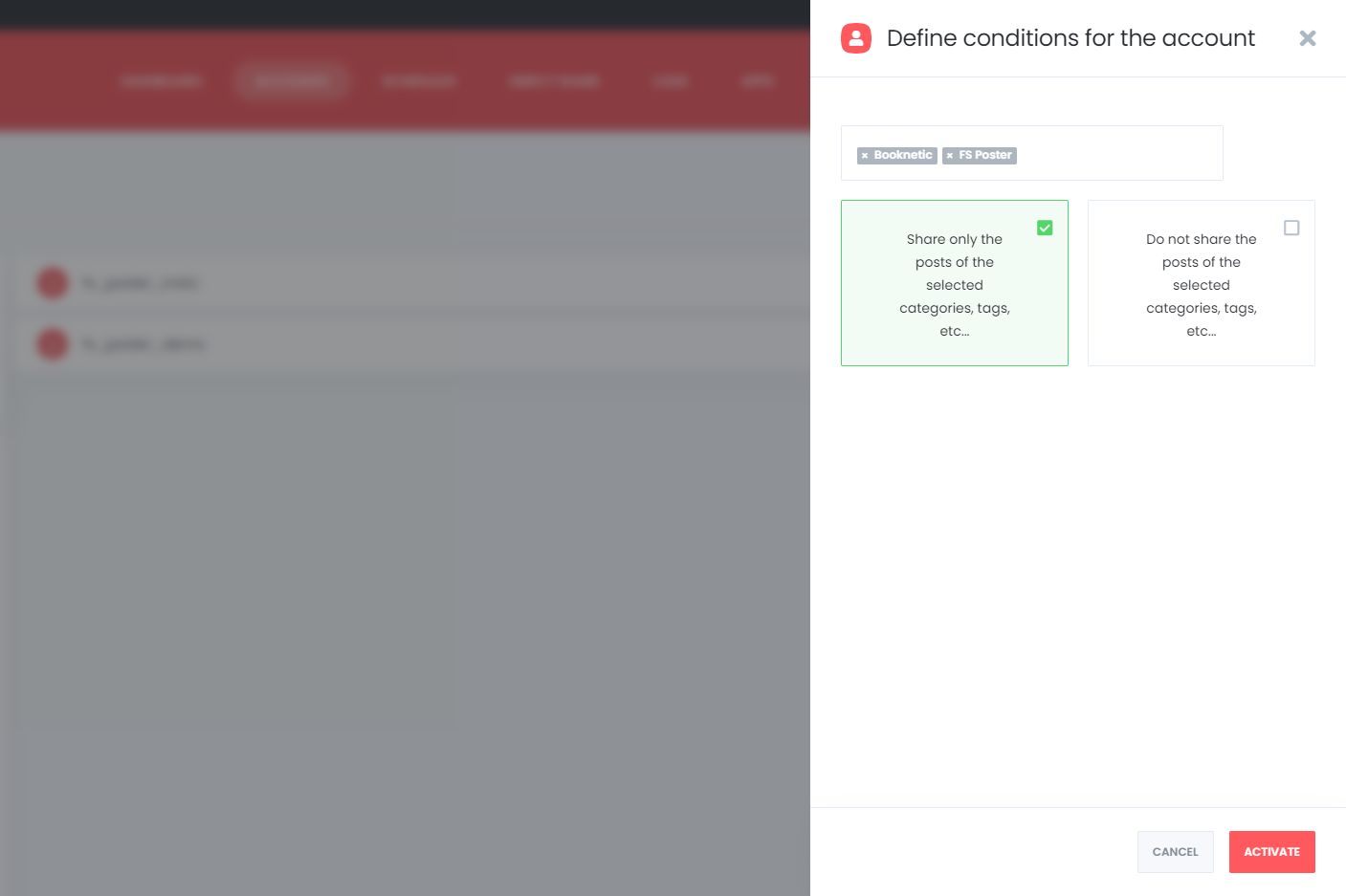 The plugin supports the multi-user platform. Each WordPress user can add and manage their own social accounts.
However, if you need other WordPress users to share posts on common accounts, you can make those accounts public for them. After activating these accounts, your authors also will be able to share posts to the accounts.

The plugin allows users to customize the message of the post. You can also use ready keywords and emojis to make your posts more attractive.
The "Posting type" option allows you to choose a method to share your posts.
You can share a post with the link card view, which contains a link to your post. In this option, the plugin copies your post URL and share it on the Social Network. As a result, the Social Network fetches the image and title related to the post.
You can also set the plugin to upload and share featured images or upload and share featured images and all attached images as an album.
Here is the essential part; sharing your posts to your LinkedIn account automatically.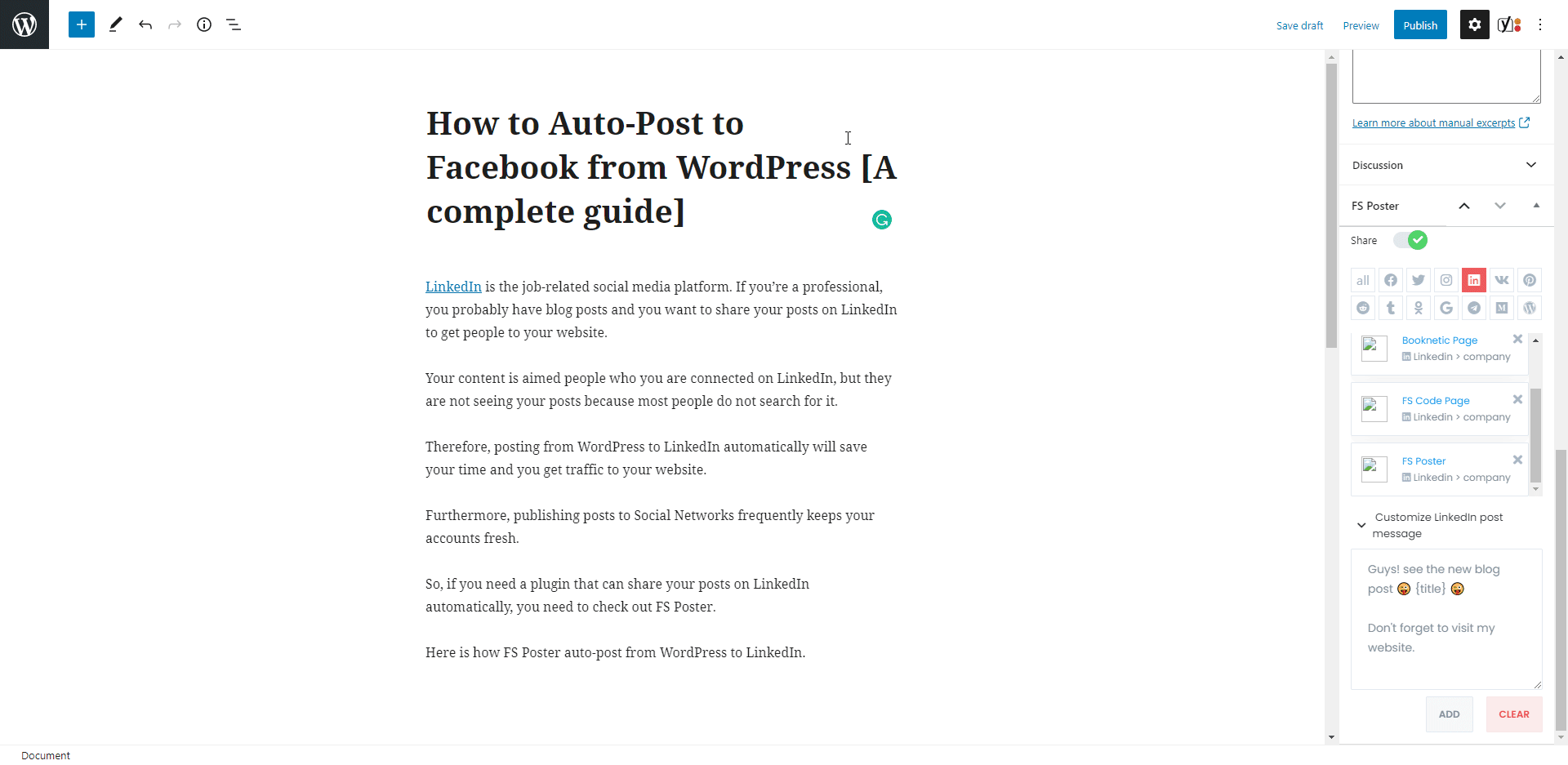 I disabled the "Share in the background" option because I wanted to see the result visually. You can enable the option and continue posting. The plugin will share the post on Social Networks in the background.
The plugin shared the post on the account and three companies in about 10 seconds. How long does it take when you log in all those accounts one by one and share your posts? Of course, it depends on how many Social Media accounts you have.
I have seen a customer who has 400 LinkedIn groups, and that is not a joke.
If you want to make the custom post text different from the custom text in the settings, you can add the custom text for each Social Network.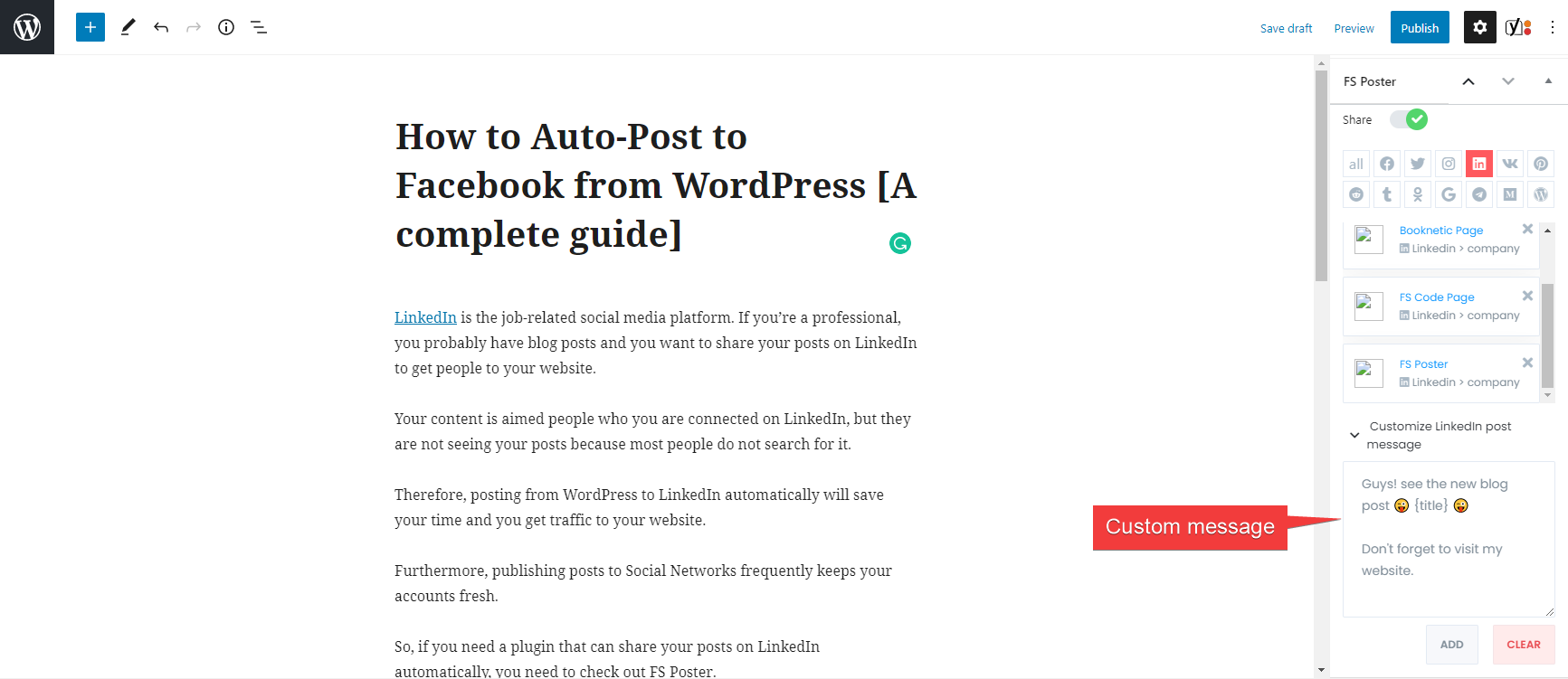 The activated communities are on the list automatically. You can add or delete them, depending on your post.
You can also go to the post link, share the post again, or schedule the post again after sharing.

You can also share, schedule a post, or bulk-schedule some posts from the post table.

How to schedule posts on LinkedIn from WordPress
You can use the FS-Poster Schedule module to share your posts on accounts automatically. That is simple and takes almost no time.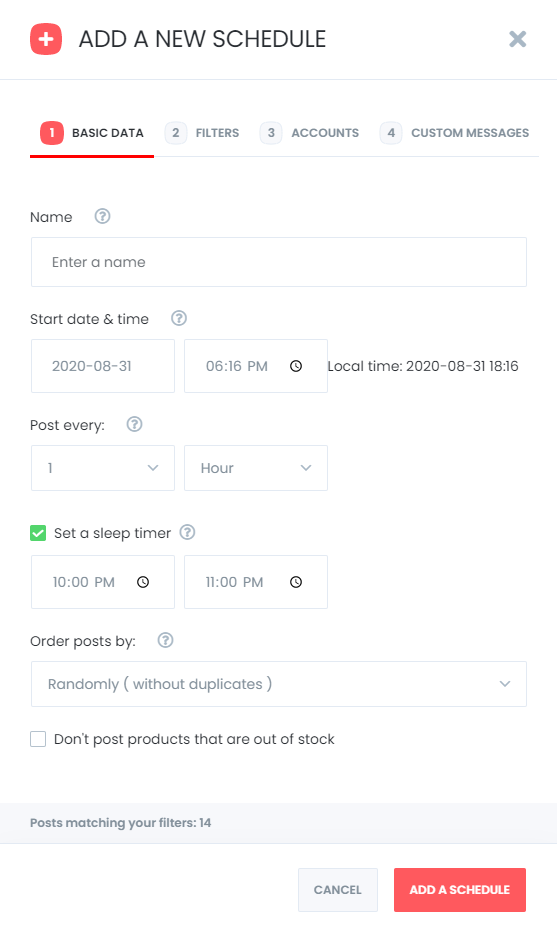 You can set an interval time for each post in the "Post every" section.
The " Set a sleeper time" allows you to exclude a specific time period when you do not want to share.
You have four options to order post:
- Randomly (without duplicates): shares each of your posts once;
- Randomly: shares all your posts. If you do not stop the schedule, it will share posts repeatedly;
- Old posts first: start sharing from the old one;
- New posts first: start sharing from the new one;
The second tab will let you filter posts by time, type, category, tag, and id.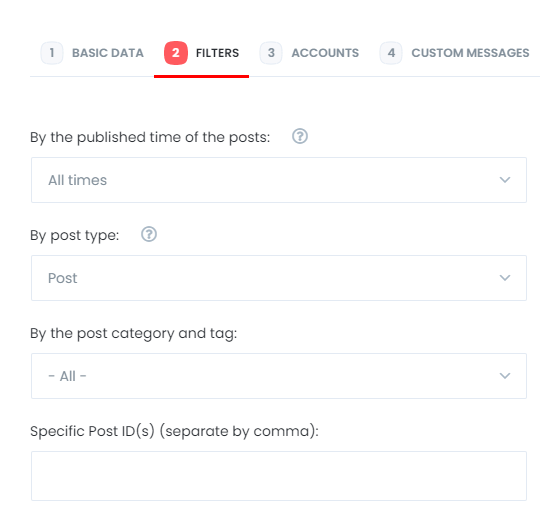 Select your accounts in the Accounts tab. You can add or delete them, depending on your posts.
And customize your post message.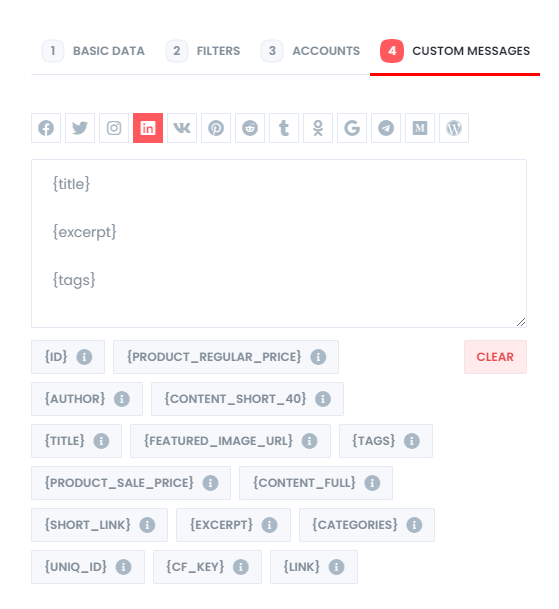 You are able to edit, re-schedule, pause, and delete schedules.

The log tab will let you track shared posts.

And you can see all Scheduled posts in the Calendar view.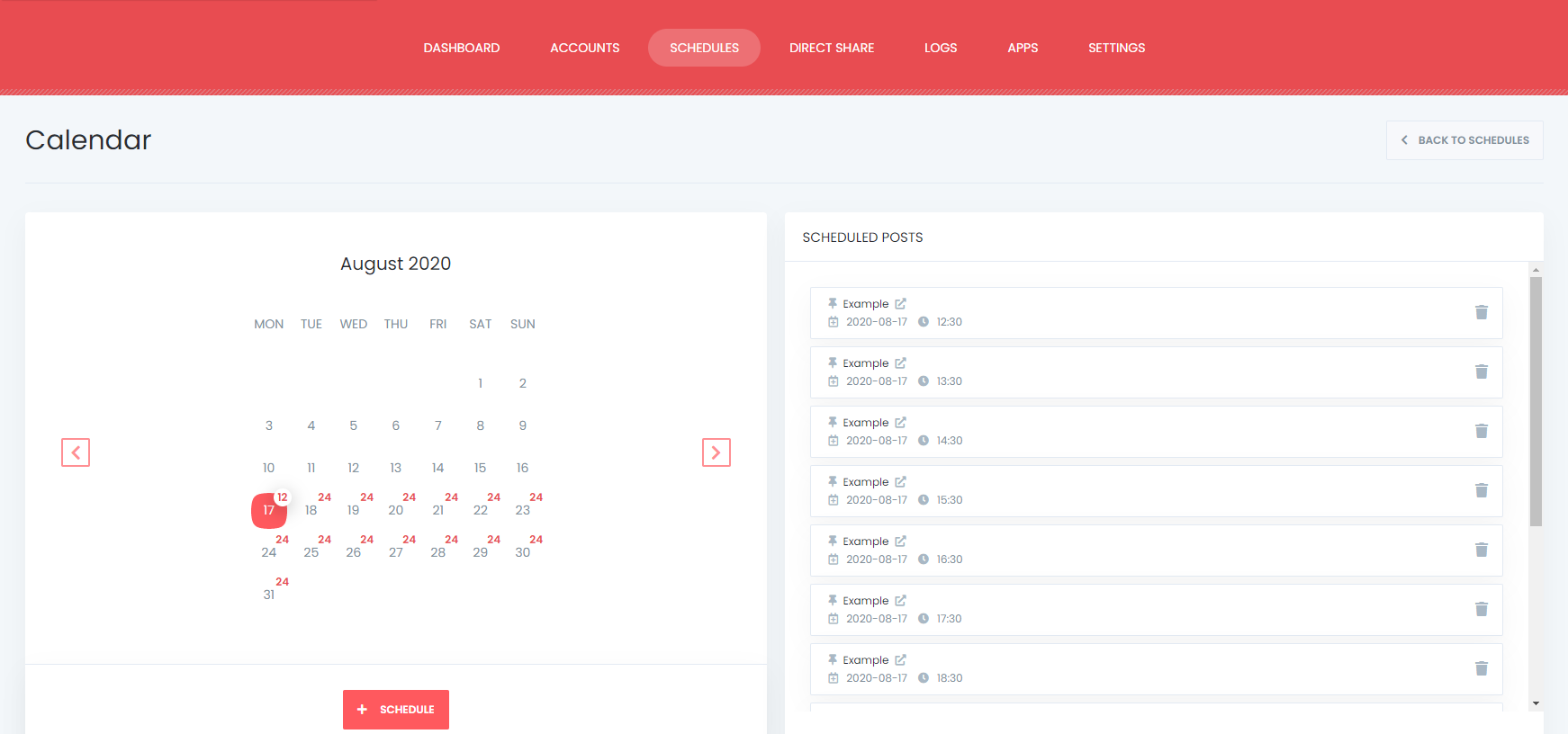 How to share or schedule posts to LinkedIn without creating a WordPress post
If you do not want to share a post on your blog but you would like to share or schedule custom content, images, and links on your account, you can use the Direct Share Panel to achieve your goal.
You can also save these FS Poster posts to share them later again and again.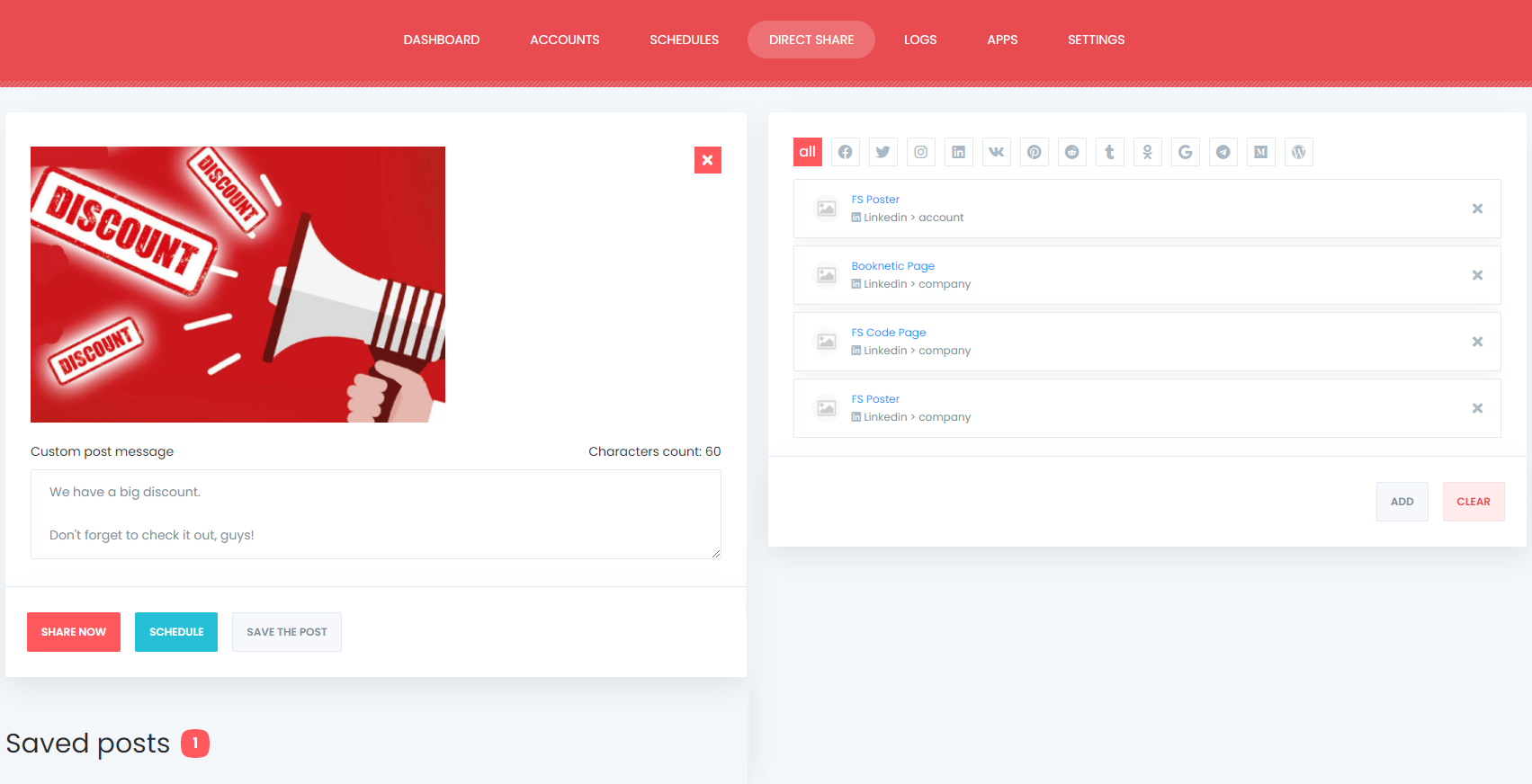 The Dashboard tab allows you to view shares count, clicks count, and comparison of social networks.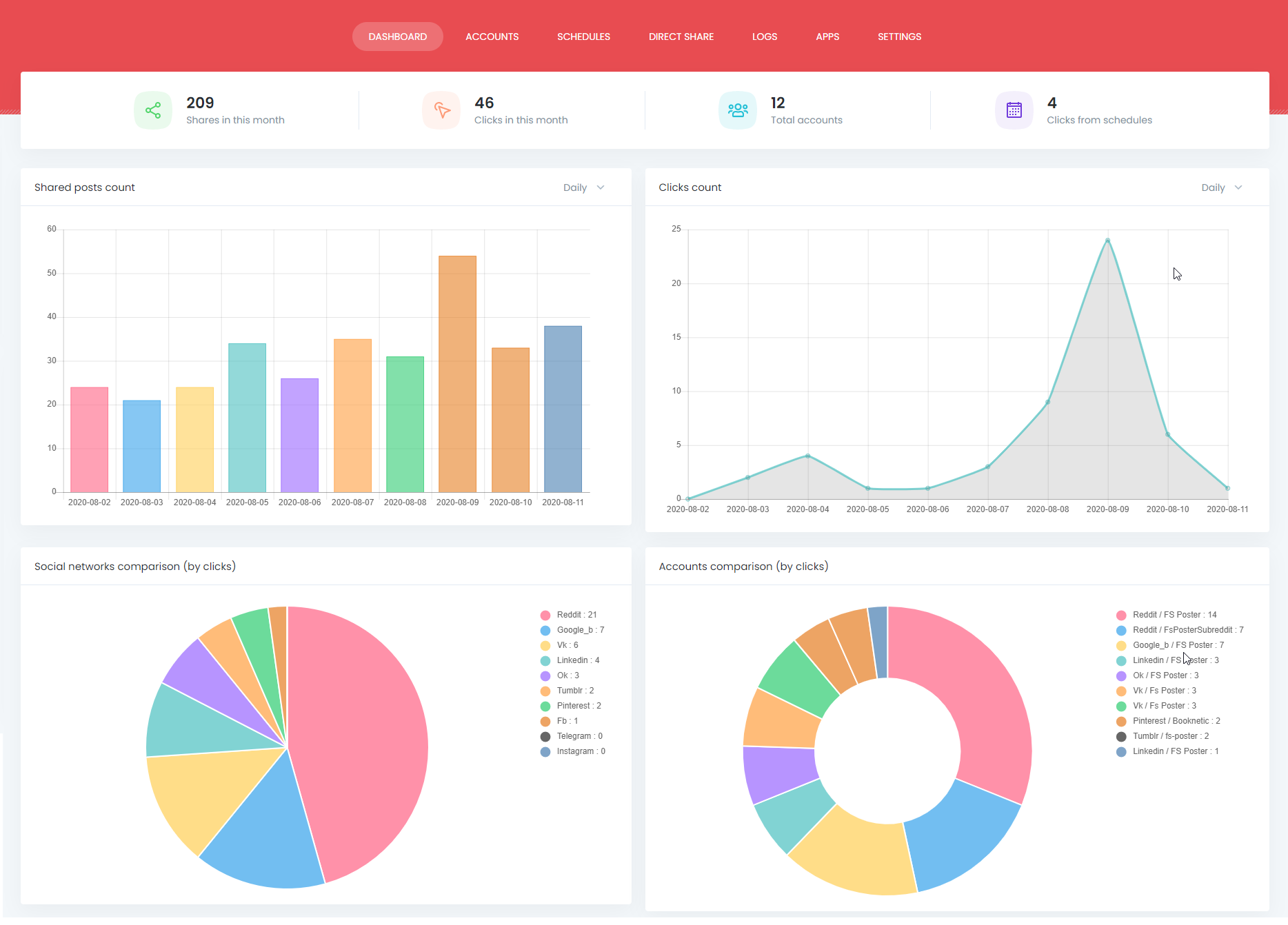 Conclusion
This article discusses how to auto-post to LinkedIn from WordPress using the best auto-poster plugin, FS Poster.
You can check out the core features or full guide of the plugin
Contact us for any pre-sale questions: [email protected]
If you decide to continue with FS Poster, you could check out the sale page.