How to Auto-Post to Instagram from WordPress [A Complete Guide]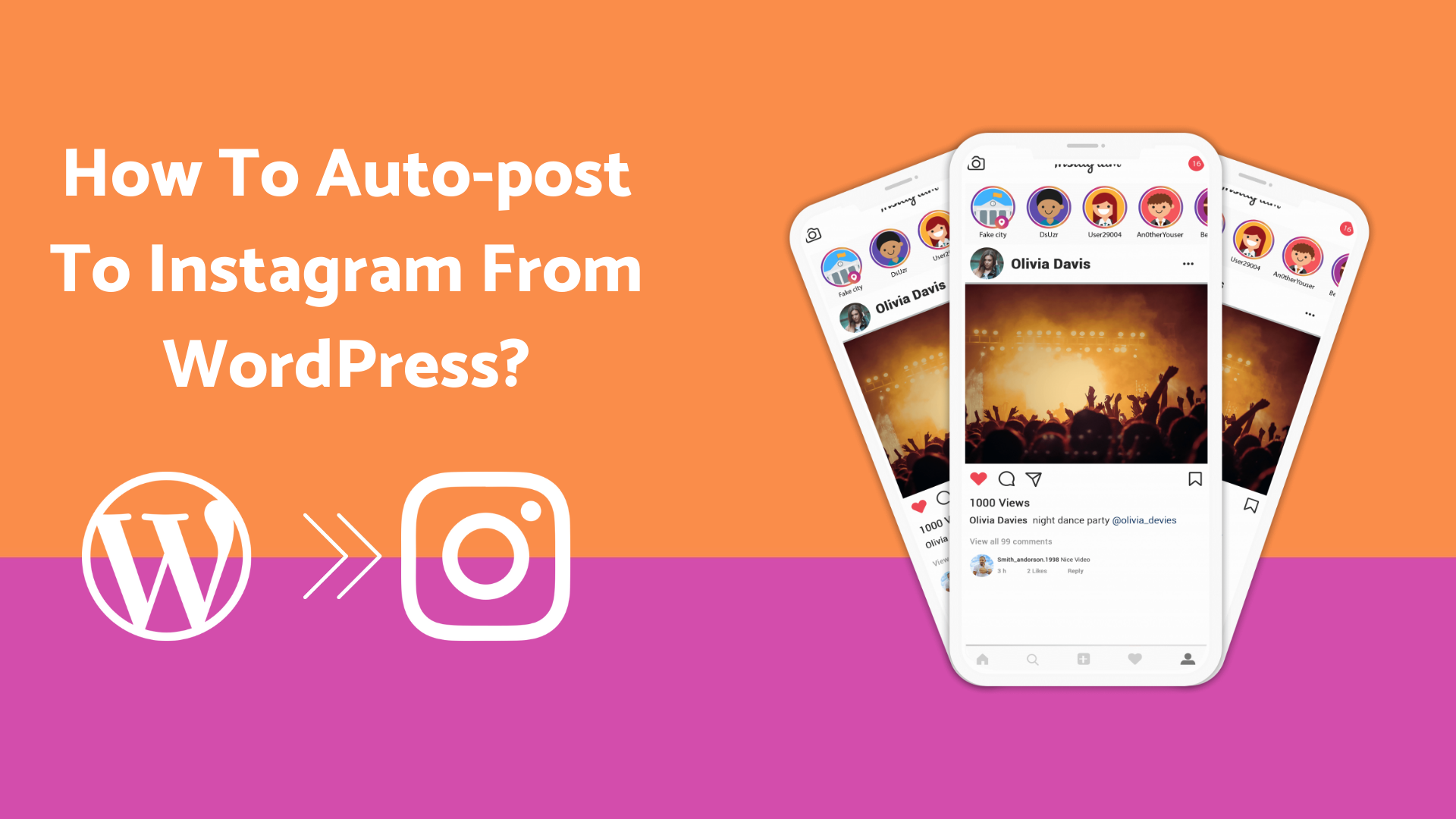 Social Networks
Jun 07, 2020
Do you post your blog posts or products from WordPress to Instagram? If you do not, it is not too late to become successful on Instagram. You can promote your products and services, boost your brand, and increase sales on Instagram.
Don't you have enough time to do it manually? What about auto-posting your blogs to Instagram? If you say yes, FS Poster is here for you. FS Poster will let you auto post and schedule your posts from WordPress to Instagram.
Instagram is one of the most popular social media platforms, and you should consider using the platform.
Many people create posts or products on their WordPress websites and share posts on Instagram. Instagram plugins help businesses to connect their website to Instagram, use templates to design according to style, show business widgets without using extra design tools and fill their feed with customs designed posts.
So if you also have a WordPress website but do not have time, or you do not like to manually share your posts to Instagram every time you create a new post.
Here is good news for you. Now you can automatically share WordPress post to Instagram with FS Poster. FS Poster is dedicated to automatically posting and scheduling WordPress blog posts as well as all custom post types on Social Networks like Instagram.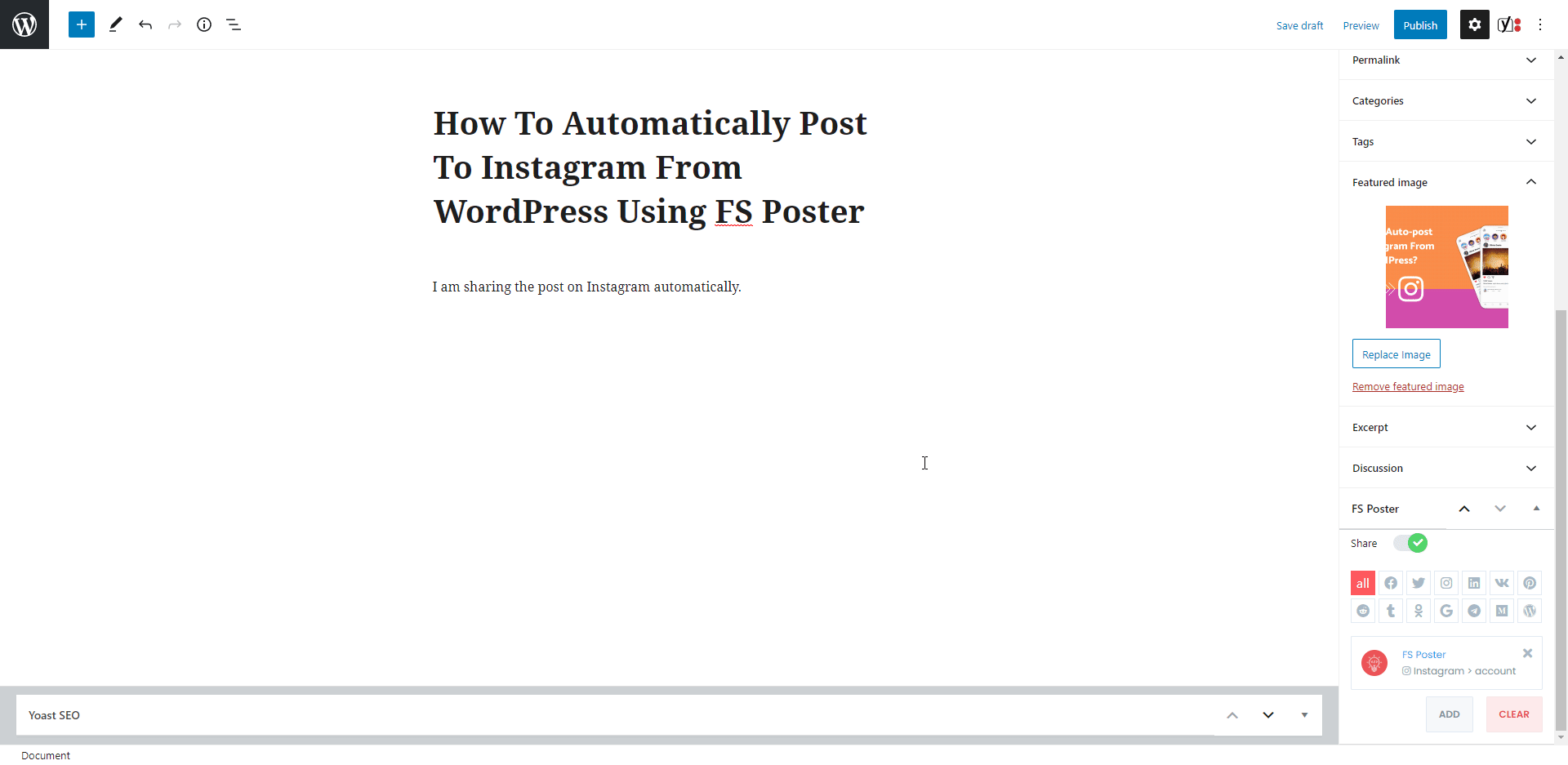 Here is the step by step on how to post from WordPress to Instagram automatically.
Adding Instagram Accounts For Auto-posting
Let's start by adding our accounts to the plugin in order to share the posts on those accounts.
Once we added our account to the plugin, we do not need to log into our accounts every time we share a post.
You can try the now and demo version of the plugin at the same time you read the article.
Please note that every hour, the plugin gets its initial state. So, your accounts might be deleted from the plugin at the end of each hour.
We will add our Instagram accounts to the plugin on the Instagram menu of the Accounts tab.
Luckily there is no limit for adding accounts. You can add as many accounts as you want.
You can add your accounts to the plugin by clicking the ADD AN ACCOUNT button.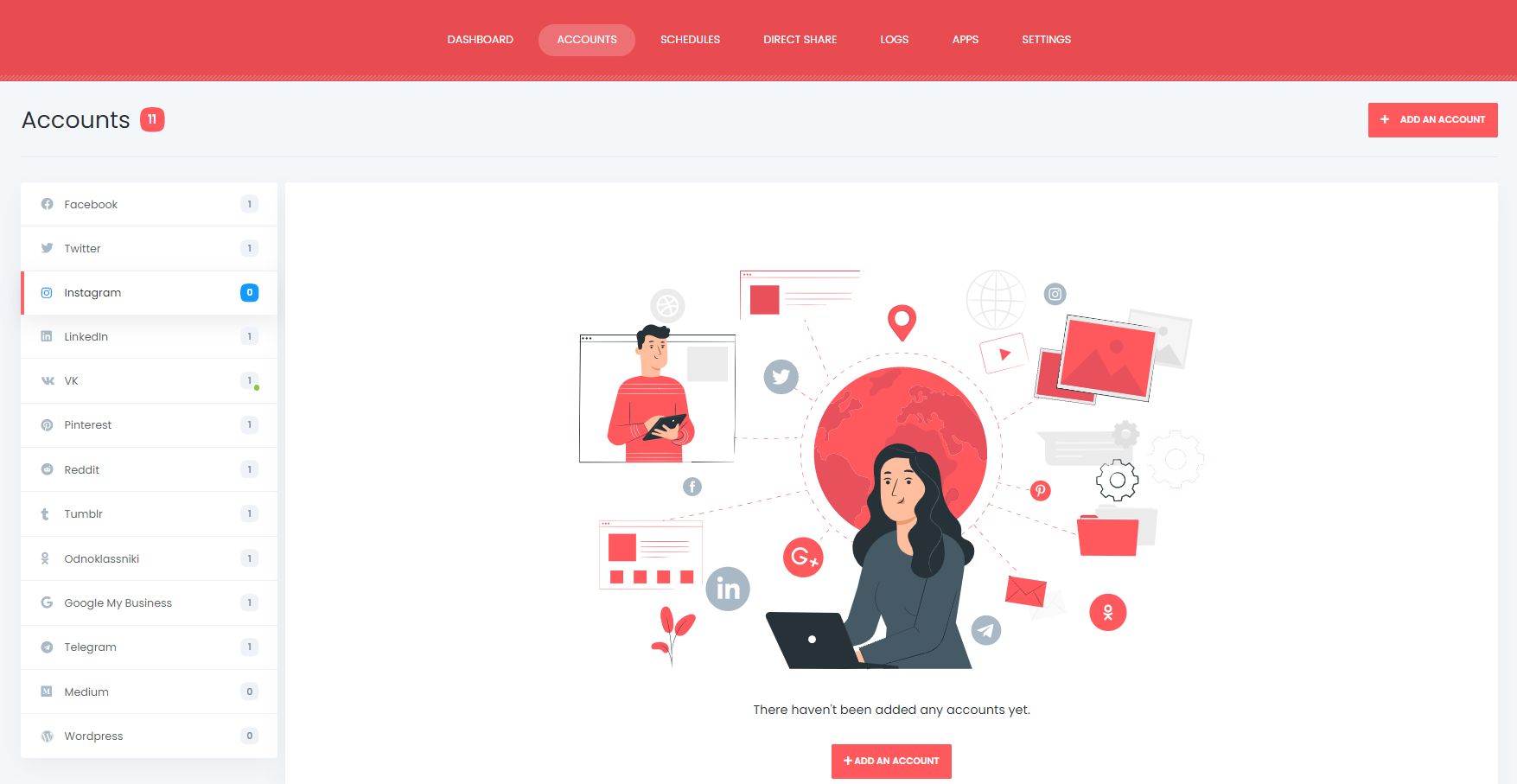 There are two methods to add your Instagram account.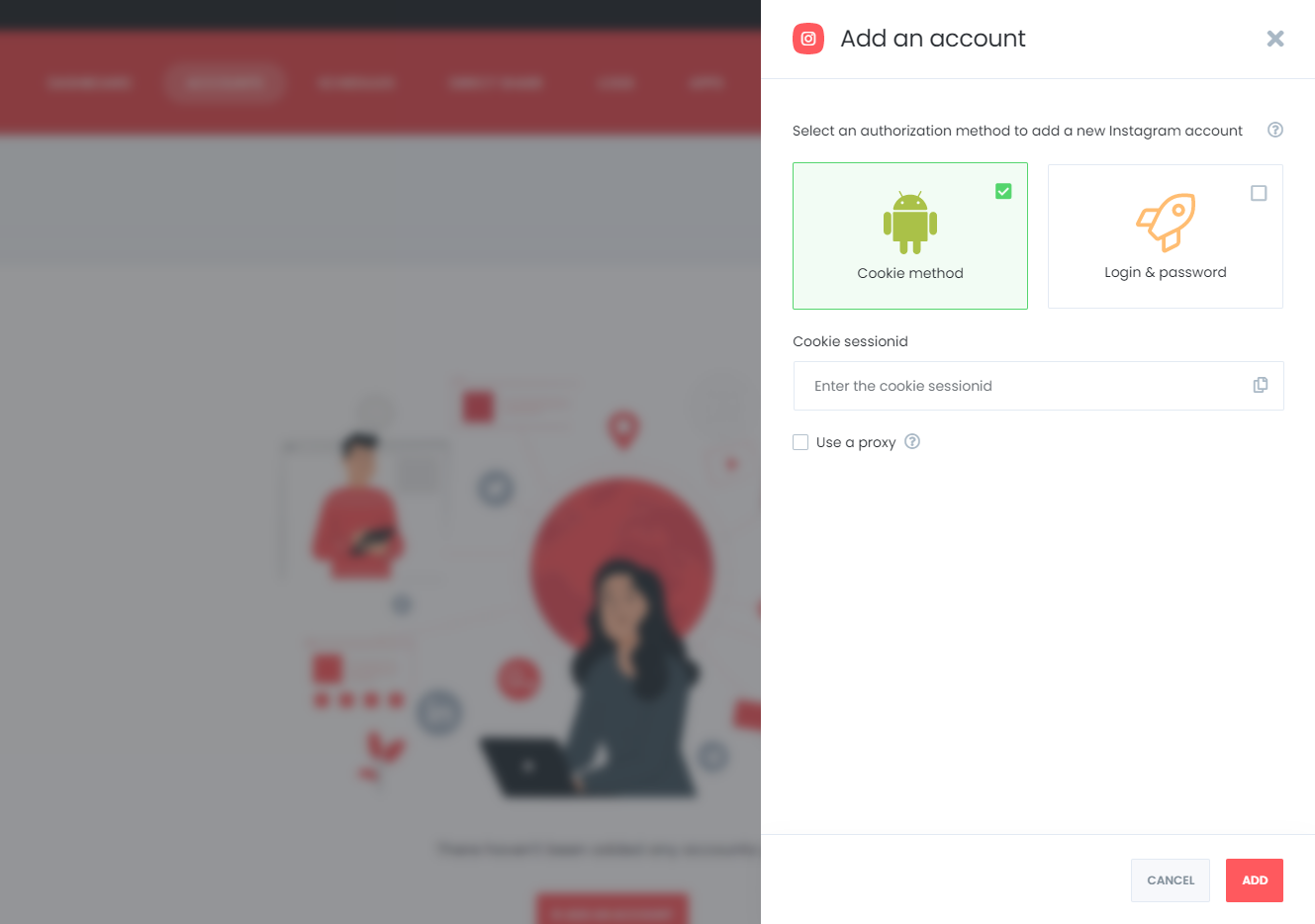 We recommend the Cookie method for adding an Instagram account. It is more convenient than the Login & Pass method.
You need to log in to your account on the incognito mode, copy your session id, and close the browser without logging out.
As a result, the session will not expire, which lets you share your posts on the account for a long time.
Otherwise, your session might expire when you log out of your account on the regular browser window. Consequently, you may need to add your account to the plugin again.
The second option is the Login & Pass method. The advantage of the Login & Pass is that it allows you to share your posts link on your story if you have more than 10k followers.
Instagram might want you to complete some challenges like sending a code for verification to your email address or phone number.
If you have a few accounts, and you share a few posts daily, it is acceptable by Instagram. However, if you or your business have a lot of accounts, and you need to share too many posts, you might need to use a proxy.
Also, some countries like China blocks access to Social Networks.
In any case, you need to use a proxy. The plugin gives you the ability to use the proxy.
You will be able to share your posts on activated ones automatically.
If you do not want to share posts on any of your accounts for a specific time, you can deactivate them.

You might have an Instagram account all about cooking, and another account all about gardening. And, you would like to share the post of the Cooking category on the Cooking account and the post of the Gardening category on the Gardening account.
You can achieve it by activating your account using the condition feature.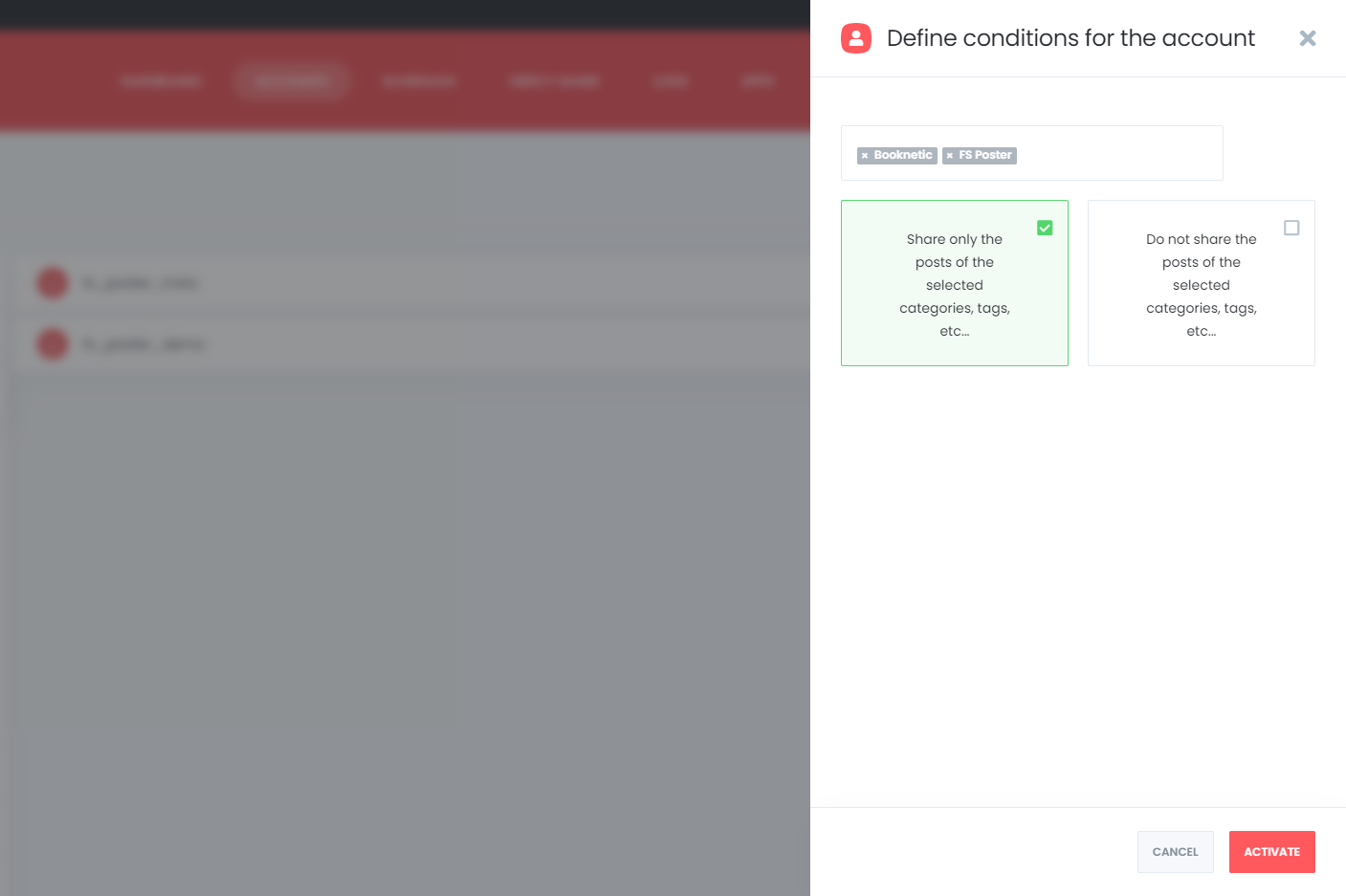 If you have many users on your website, and you want all users to use the plugin, you are lucky because the plugin supports the multi-user platform.
Each WordPress users can add and manage their own social accounts.
You also have the option to hide the FS Poster plugin for specific user types.
If you have a business account and you want all users to be able to share posts on this account, you can make the account public.
As a result, it will be available for all users.

How To Automatically Post To Instagram From WordPress Using FS Poster
After adding our accounts, we can share our posts on those Instagram accounts automatically.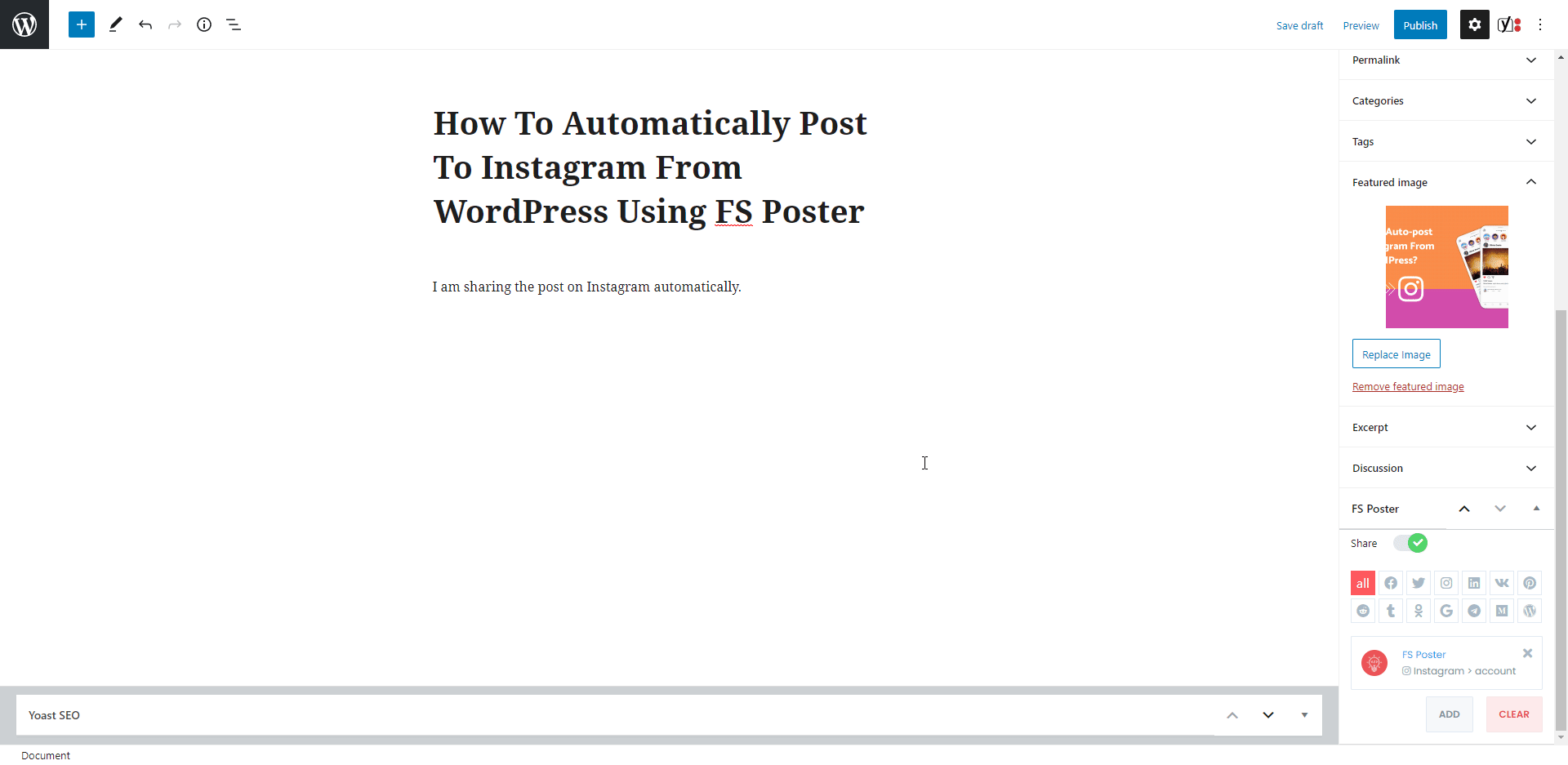 The plugin shared a post on an account for a few seconds.
Now, I am sure if you want to share this post on all your accounts, you need to log in to each one individually and share the post.
I have seen a customer who has 400 Facebook groups and that many pages.
Of course, no one has so much time to share the post on those groups and pages.
You can share custom messages along with the post.
There are ready keywords in the settings. The ready keywords will share part or full of your post. You can also add some text, emojis, hashtags, etc.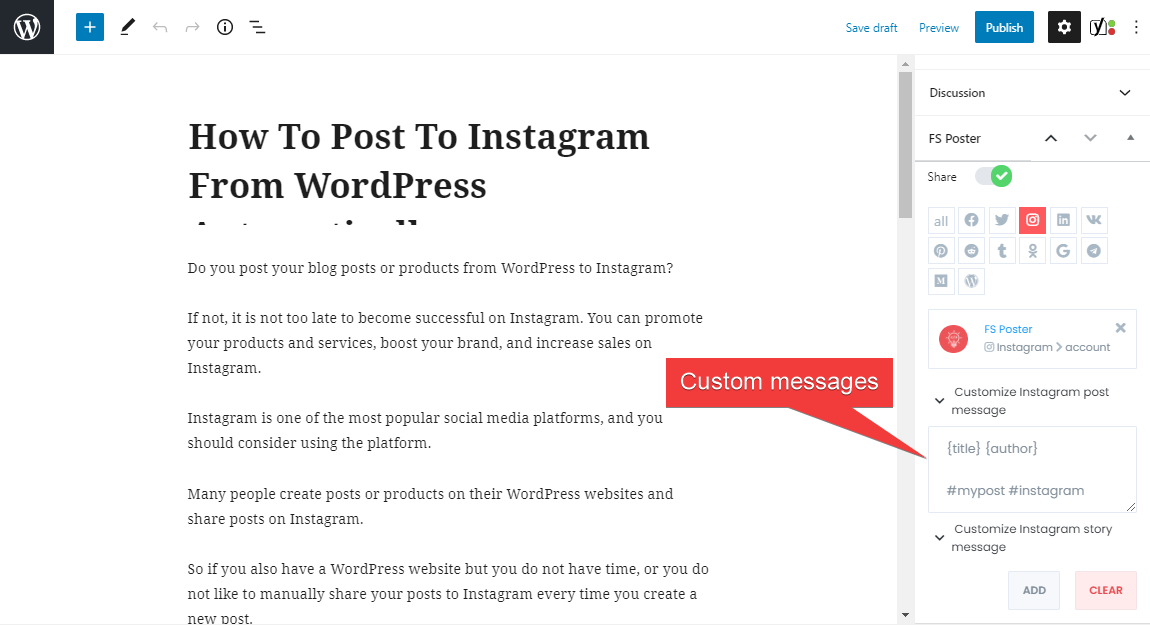 After adding accounts and activate them, the activated accounts will be on the list automatically when you try to publish a WordPress post. You can add or delete them, depending on your post.
You can go to the post link, share the post again, or schedule the post repeatedly.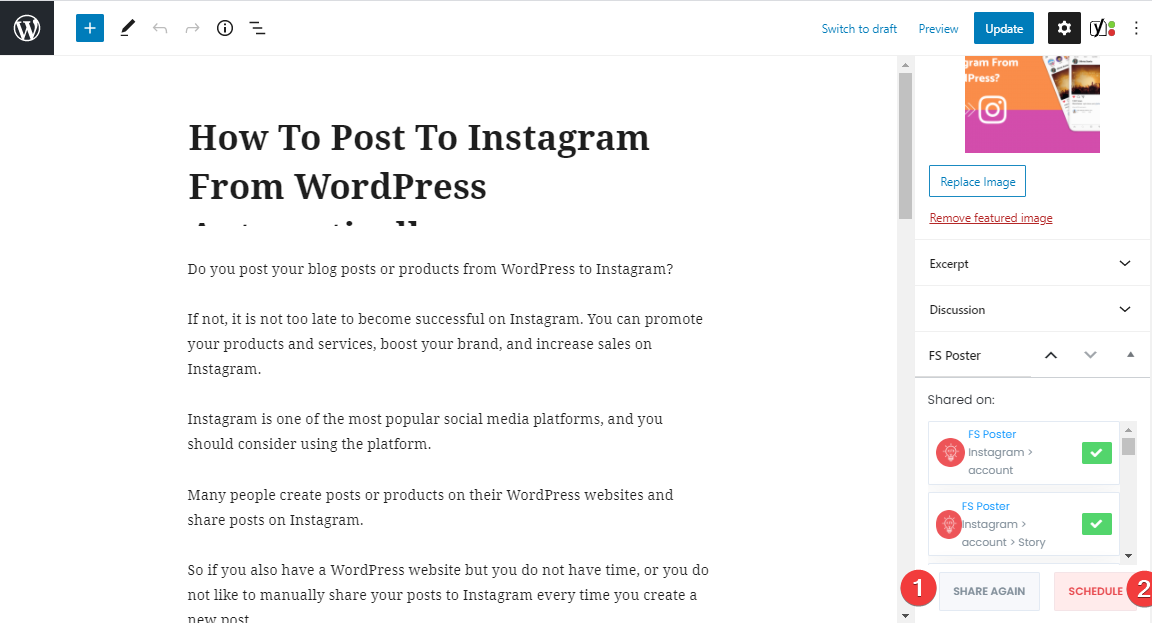 You can also share, schedule a post, or bulk schedule some posts from the post table.

How To Schedule Posts On Instagram From WordPress
Unfortunately, there is no option to schedule an Instagram post on Instagram as Facebook has. That means, if you want to share a post on a specific time, you have to be online on Instagram and push the Share button.
However, you can schedule WordPress posts, products, etc. to be shared on Instagram using the FS-Poster Schedule module.
Or you have already hundreds of products posted on your website, but you have not shared them on Social Networks, use the FS Poster schedule module to save your time.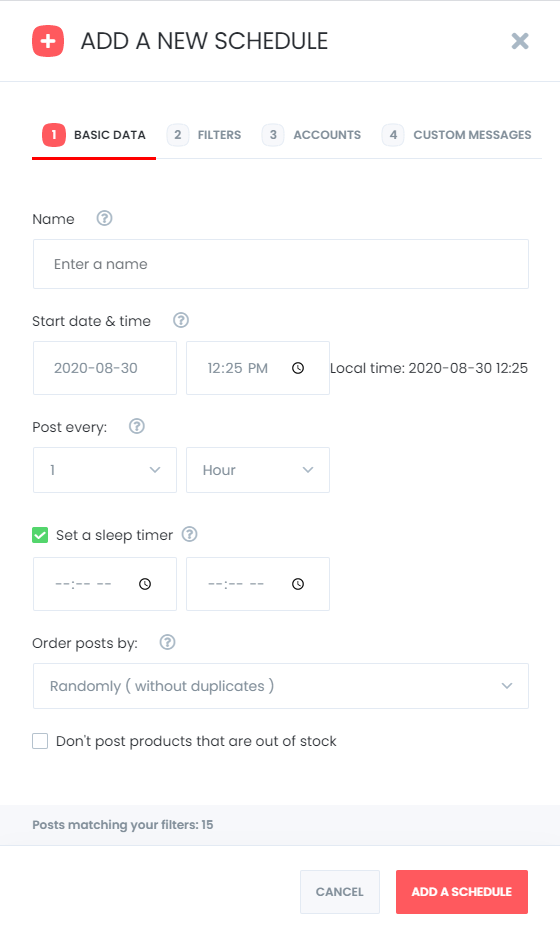 Let's imagine we have 300 hundred products shared on our website, and I want to share all of them on Instagram.
We need to create a schedule.
In this example schedule, I want to share a post every hour, and if I do not want to share posts during a specific time, I can set a sleep period.
Then I set the plugin to share posts randomly but one time.
You can also set it Randomly, which shares all your posts. If you do not stop the schedule, it will share posts repeatedly.
Old posts first, which start sharing from the old one.
And New posts first which start sharing from the new one.
I can filter posts by time, type, category, tag as well as id.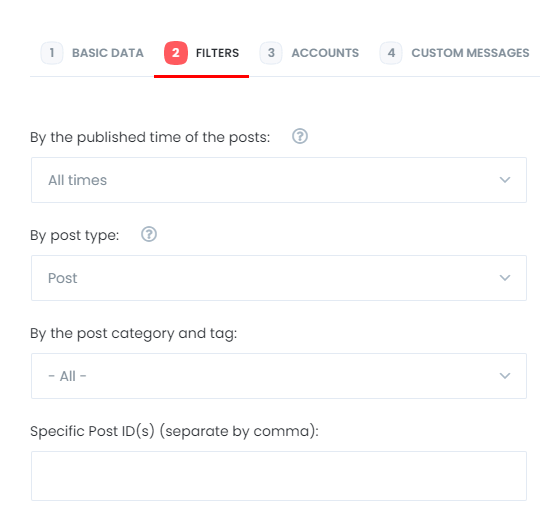 My activated accounts are on the Account tab. If I want to remove or add other accounts according to the post, I can replace them here.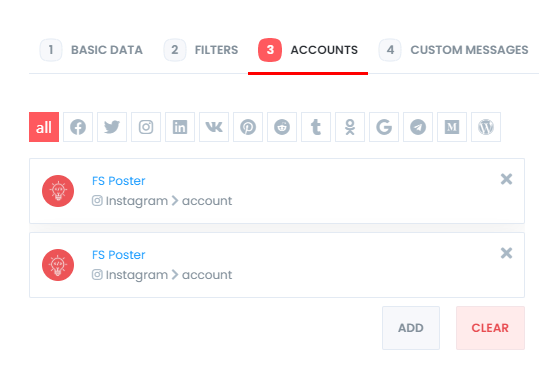 The Custom messages tab allows you to add custom text for Instagram Post and Instagram story.
Note that custom text in the settings is not applied to the schedule. So, if you want to add a custom text to the scheduled posts, you need to add the text to the Custom messages tab.
Alter creating the schedule, we can edit, re-schedule, pause, and delete schedules.

And look at the logs of the schedules.

The calendar view will let you see your schedules in a calendar.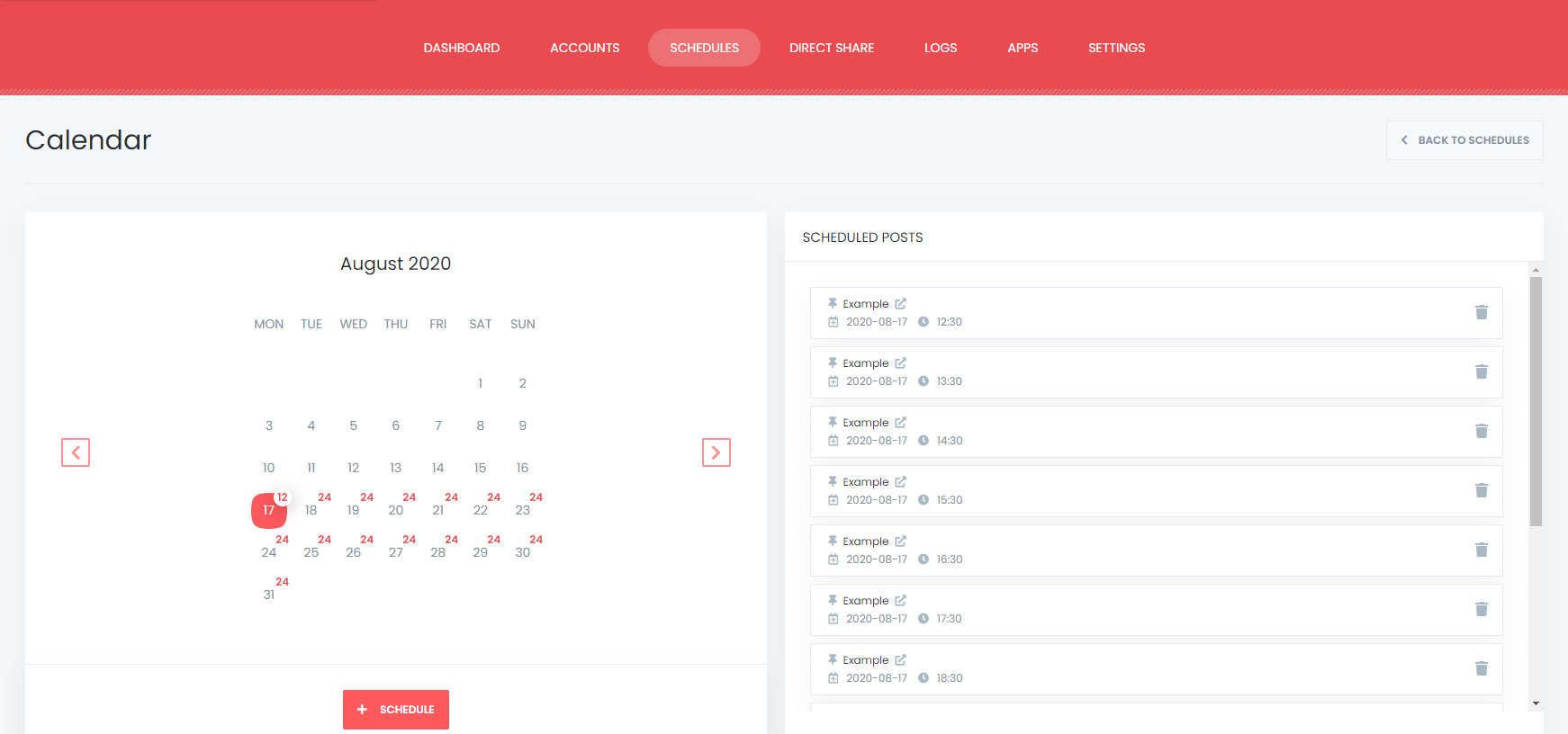 How To Share Or Schedule Posts To Instagram Without Creating A WordPress Post
We might have some products to share on Instagram. But for some reason, we do not want to share it as a WordPress post.
Or we might have a quick announcement for our followers. We can share them on Social Network from the share tab.
We can share links as well as custom messages to Social Networks that support links and simple text.
You can also save the FS Poster posts to share or schedule them later.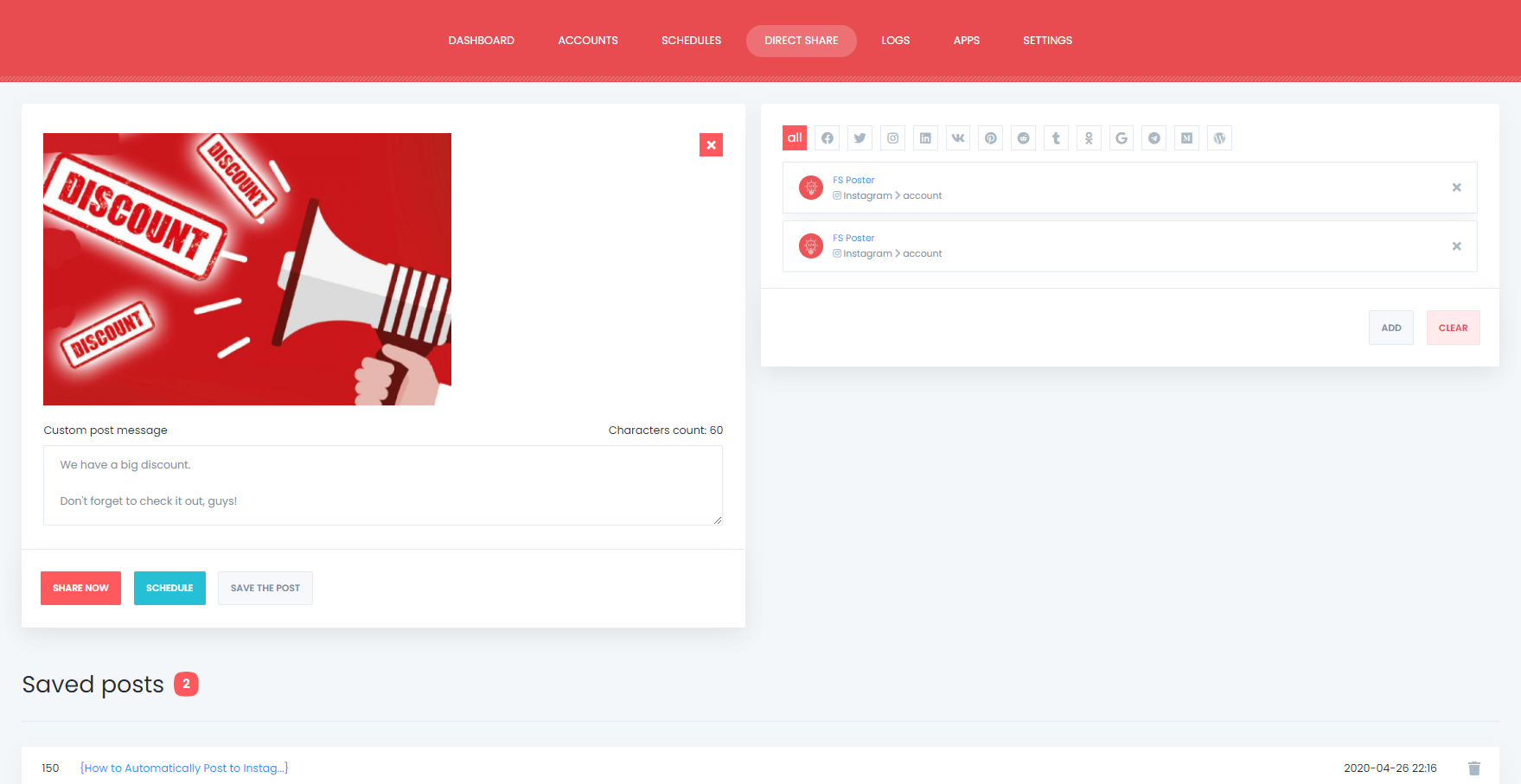 The dashboard tab allows you to view shares count, click count, and comparison of social networks.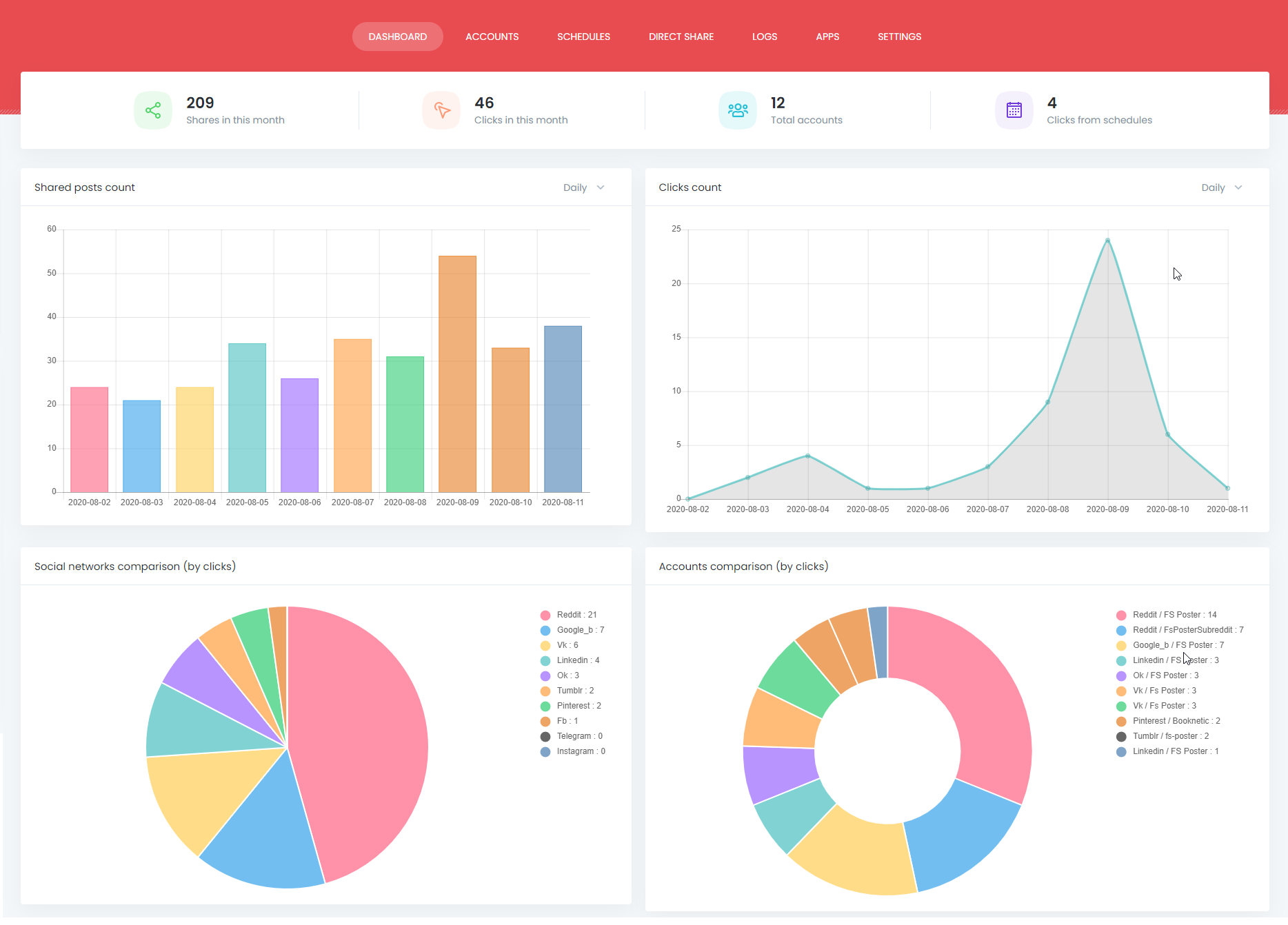 Instagram Settings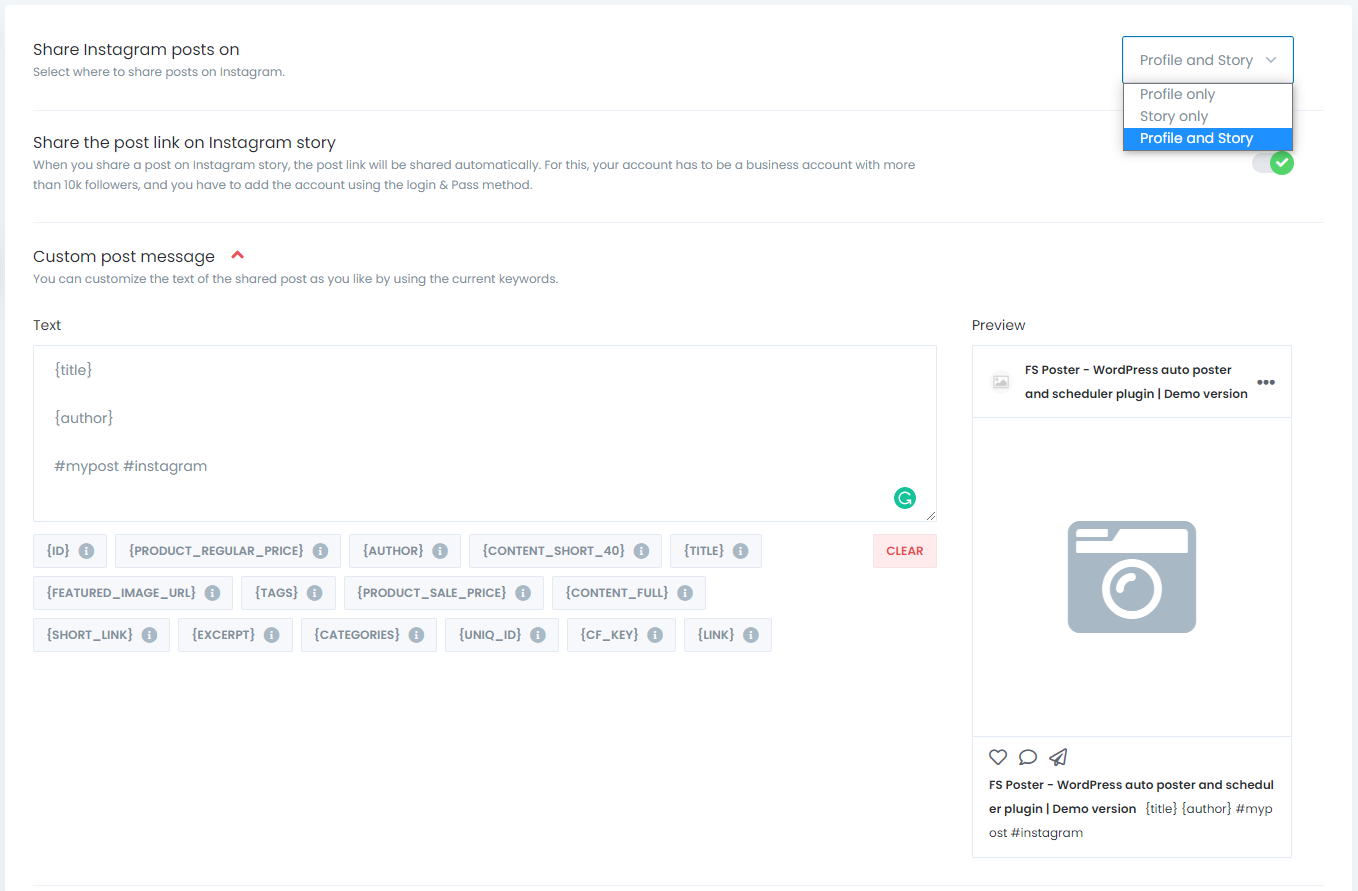 You can set the plugin to share posts either on your account or Instagram story or both of them.
You can customize the text of the shared post as you like by using the current keywords. You can use text as well as tags to make your post more attractive.
As we mentioned earlier, by enabling the option, you can share the post link on your Instagram story if your account is a Business account, and you have at least 10k followers.
The plugin also allows you to customize your Instagram story image.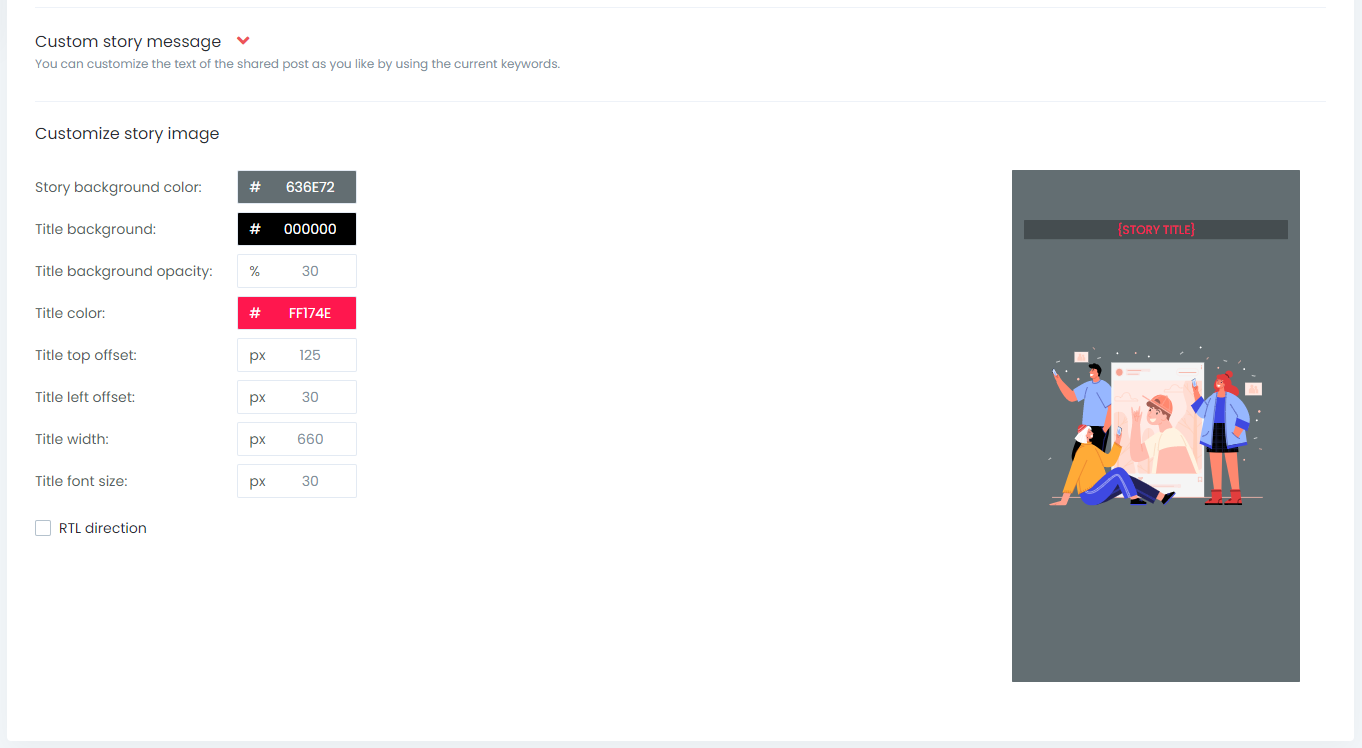 Instagram carousel scheduling
As we know, carousel posts are crucial on Instagram. If you want to increase your engagement on Instagram, you can use carousel posts. FS Poster lets you share and schedule your carousel posts. If you are wondering how to do Instagram carousel scheduling, check our screenshot below.

Instagram link in bio feature
FS Poster allows you to schedule and automatically distribute links to website posts in your Instagram bio! Instagram link in bio function can be readily activated in the settings section of your plugin that relates to Instagram.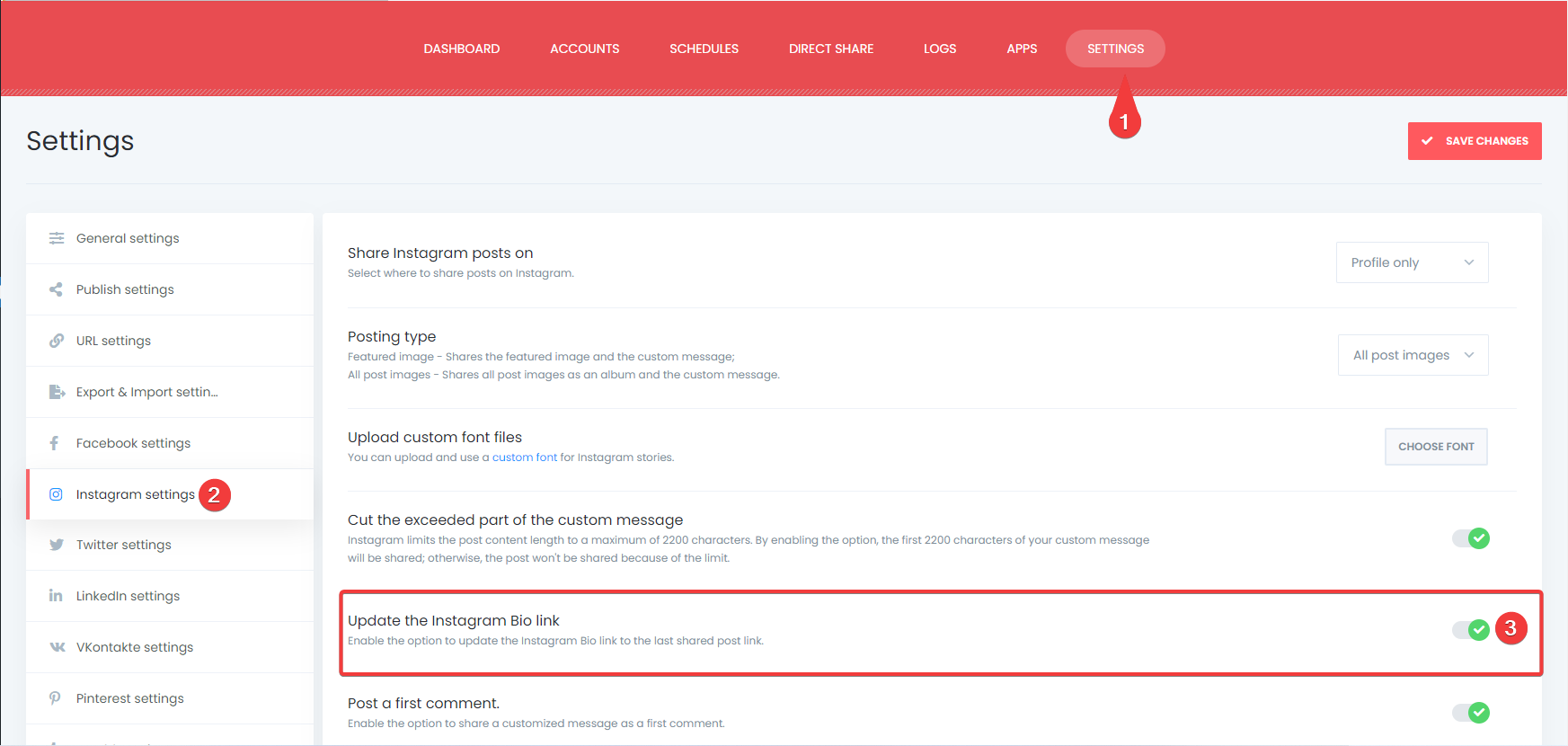 First comment feature
With FS Poster's first comment feature, you now have the ability to publish your very first remark on a post on social media networks such as Instagram, Twitter, and Reddit. In the section of the social networks devoted to settings where you may customize your experience, you will find the opportunity to turn on this feature.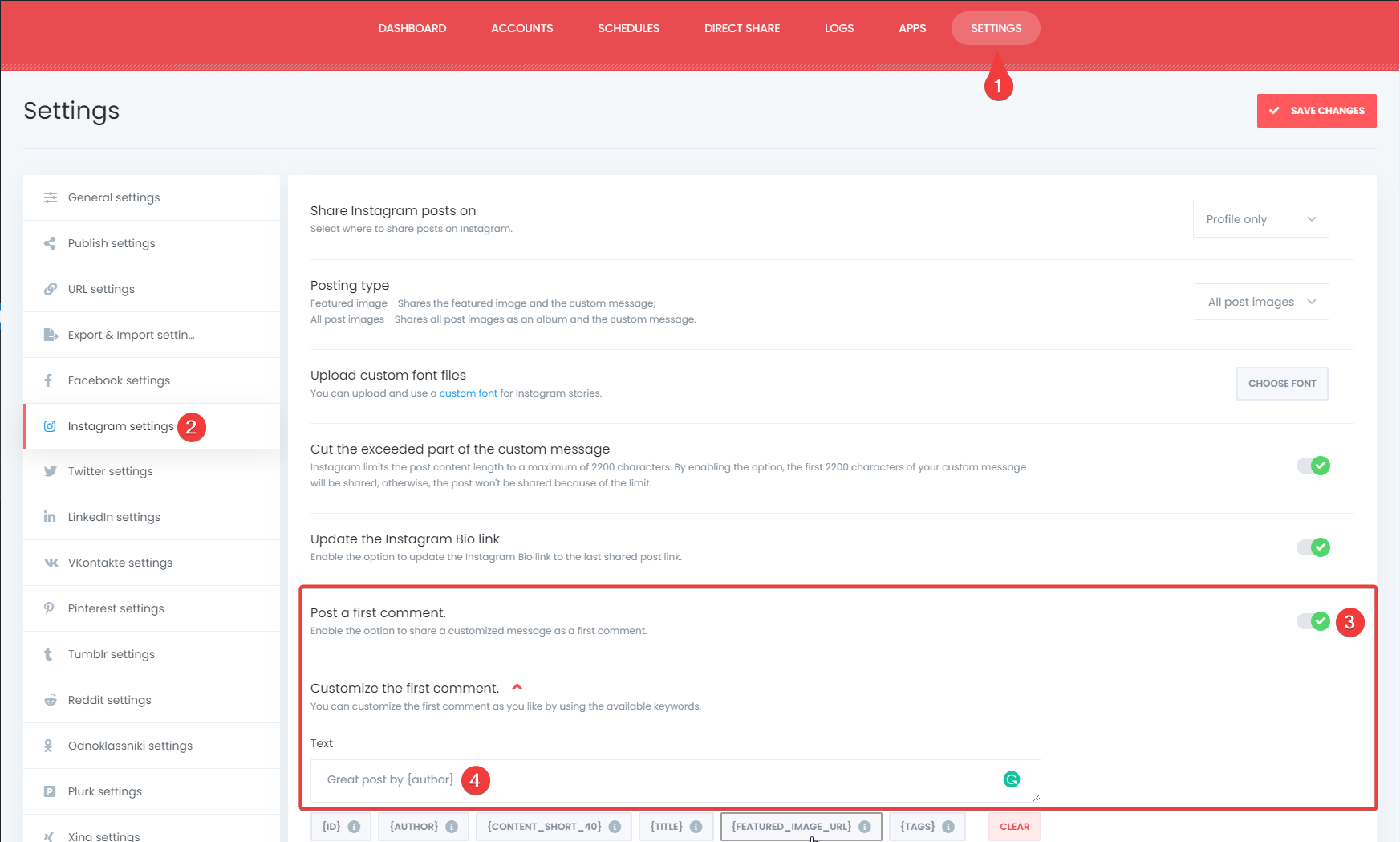 Conclusion
This article discusses auto post from WordPress to Instagram with FS Poster social media auto poster.
You can check out the core features or full guide of the plugin
Contact us for any pre-sale questions: [email protected]
If you decided to continue with FS Poster, you can check out the sale page.