How to Auto-Post to Facebook from WordPress FREE [A Complete Guide]
Social Networks
Feb 10, 2022
Do you want to automatically post your new WordPress blog posts to your Facebook profile or page? It's easy to do with FS Poster and only takes a few minutes to set up. In this article, we will show you how to auto-post from WordPress to Facebook with FS Poster auto-posting plugin.
What is auto-posting from WordPress to Facebook?
Auto-posting is a feature that allows you to automatically post your WordPress blog posts to your Facebook Timeline or Page. This can be a great way to save time and ensure that your content is seen by your audience. A few different plugins offer this functionality, so you'll need to choose one that best suits your needs. Once you've installed and activated the plugin, you'll need to connect it to your Facebook account. After that, you can start creating posts in WordPress, and they will be automatically published to Facebook.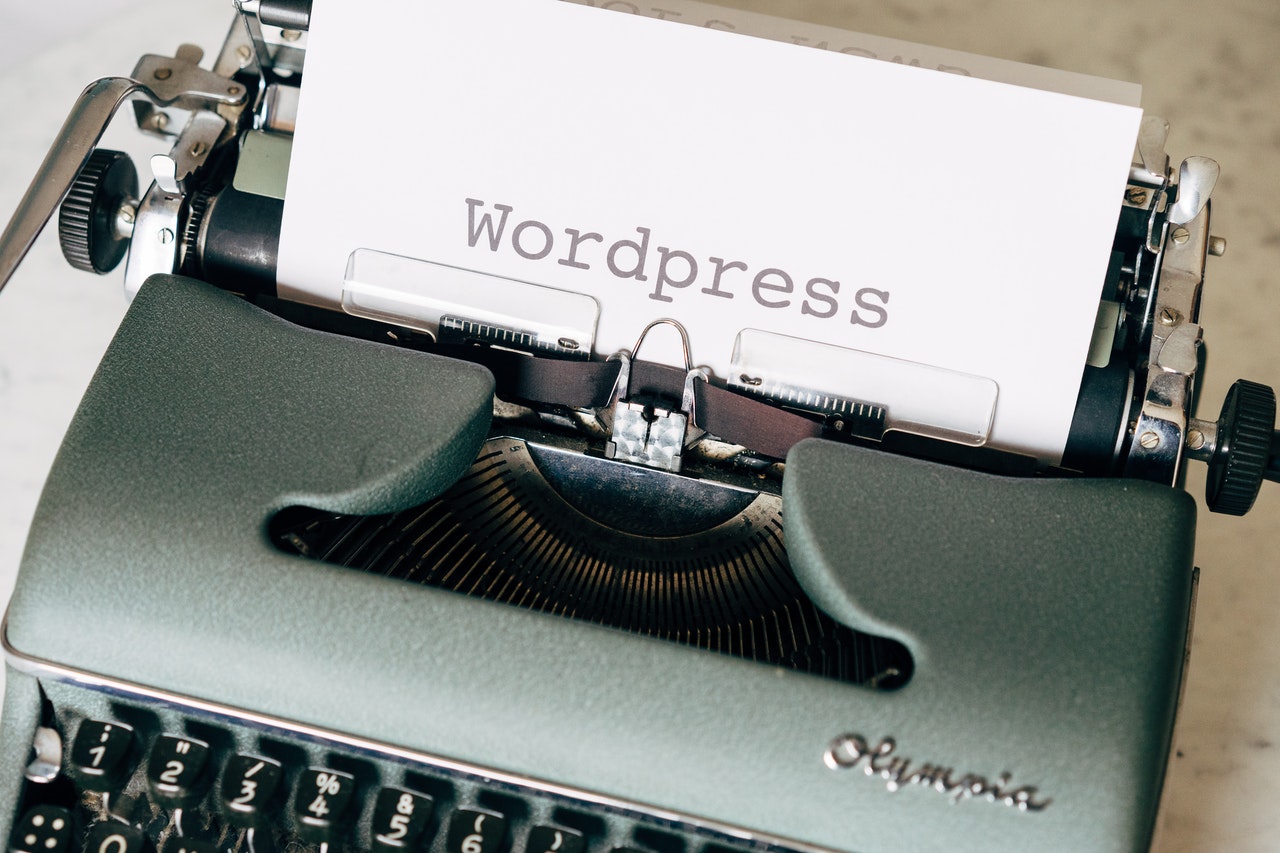 How to choose the best plugin for auto post WordPress to Facebook?
When it comes to choosing the best plugin for auto-posting from WordPress to Facebook, you need to consider a few things. First, what is your budget? Some great free plugins like FS Poster Lite are available, but if you have a little money to spend, some premium options can offer more features and customization.
Second, what features are you looking for? Do you need something simple that will just post your content to Facebook, or do you need something more robust that can help you customize your posts and track your results? Lastly, how comfortable are you with using WordPress? If you're not very familiar with the platform, it might be worth choosing a plugin that is easier to use and has fewer features.
Once you've considered these factors, you can start looking at some of the best plugins like FS Poster for auto-posting from WordPress to Facebook.
Why auto post to Facebook?
Although Facebook was initially designed and launched as a means of communication, it went beyond it, and its power was discovered by companies and businesses over the past years. Now, most people earn money on Facebook.
Facebook is the largest and most popular social networking website, with more than 1.6 billion users. Learning how to auto post from WordPress to Facebook page, profile, or group
can increase visitor traffic to your WordPress website. It is one of the SEO tips that most people get the benefit of it.
However, manually sharing every blog post to Facebook can become a time-consuming task. And it is also tedious to share your post to each of your Facebook profiles, pages, or groups one by one when you have many Facebook profiles, pages, and groups.
Luckily, with FS Poster plugin for WordPress with Facebook, it becomes so much easier to link WordPress blog to Facebook. FS Poster is dedicated to sharing WordPress auto post Facebook and all custom post types on Social Networks like Facebook.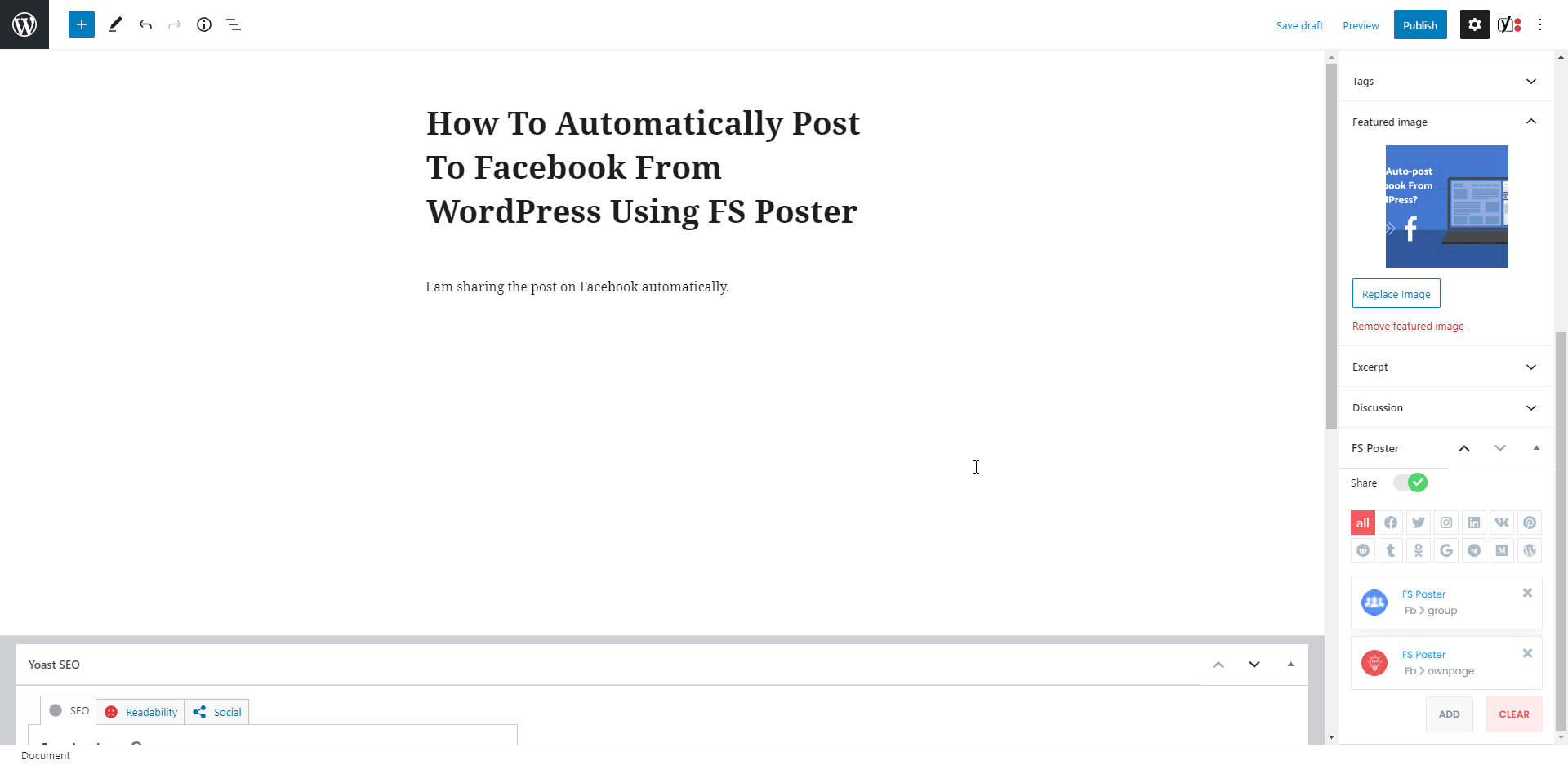 If you are asking, is it that simple? Yes. It is that simple to share your posts on Facebook using FS Poster.
This article will show you how to post and schedule Facebook posts from WordPress automatically.
How To Add Accounts For Auto-posting From WordPress to Facebook?
First, we need to add our accounts to the plugin to autopost WordPress to Facebook accounts.
You are adding accounts to the plugin once, allowing you to get rid of logging into your account each time you share a post.
While you are reading the article, you can also try the demo version of the plugin.
Please note that every hour, the plugin gets its initial state. So, your accounts might be deleted from the plugin at the end of each hour.
You can add your Facebook account to the plugin on the Facebook menu of the Accounts tab.
Luckily there is no limit to adding accounts. You can add as many accounts as you want.
Click the ADD AN ACCOUNT button.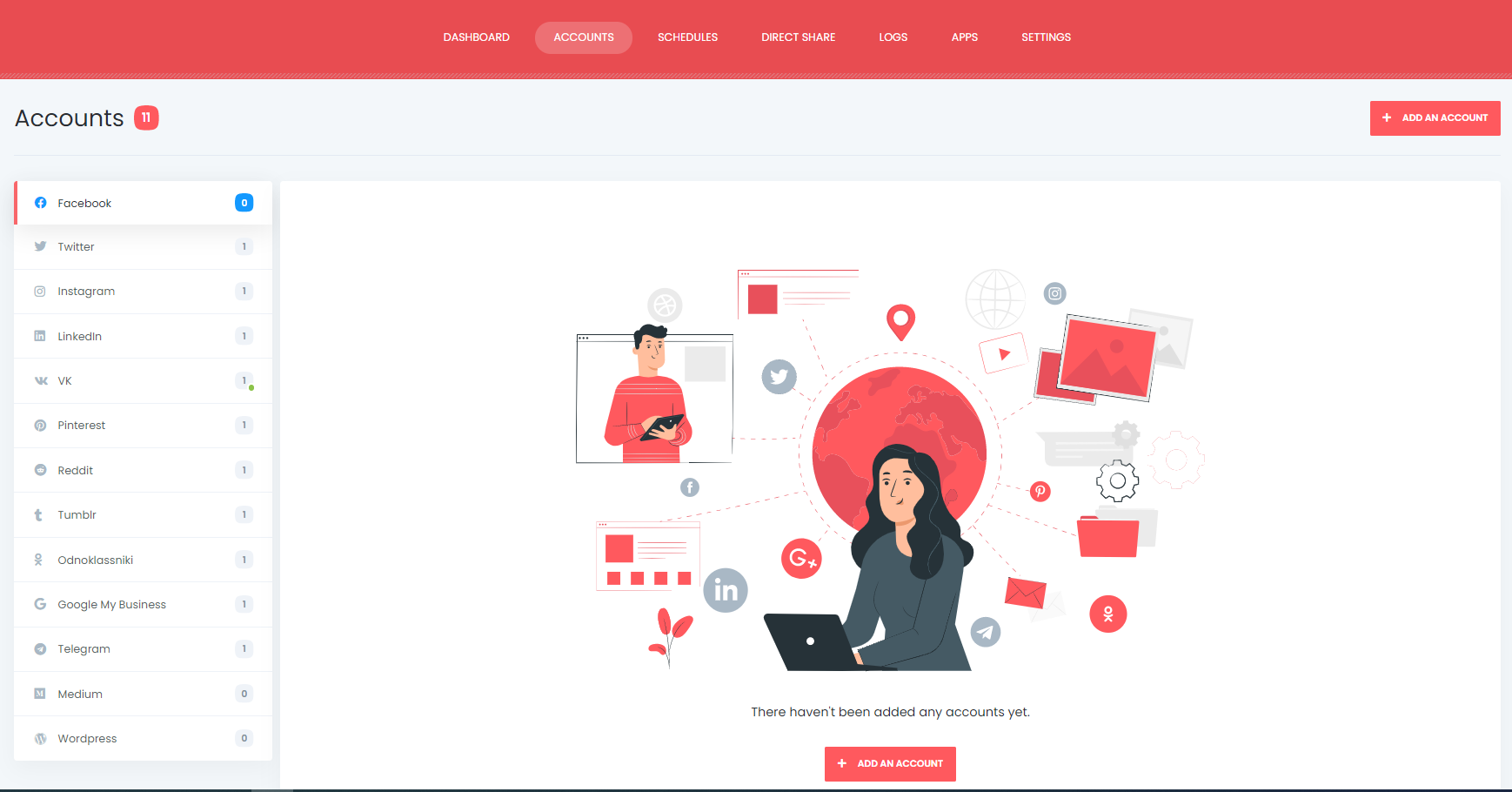 Next, you will see two methods to add your account.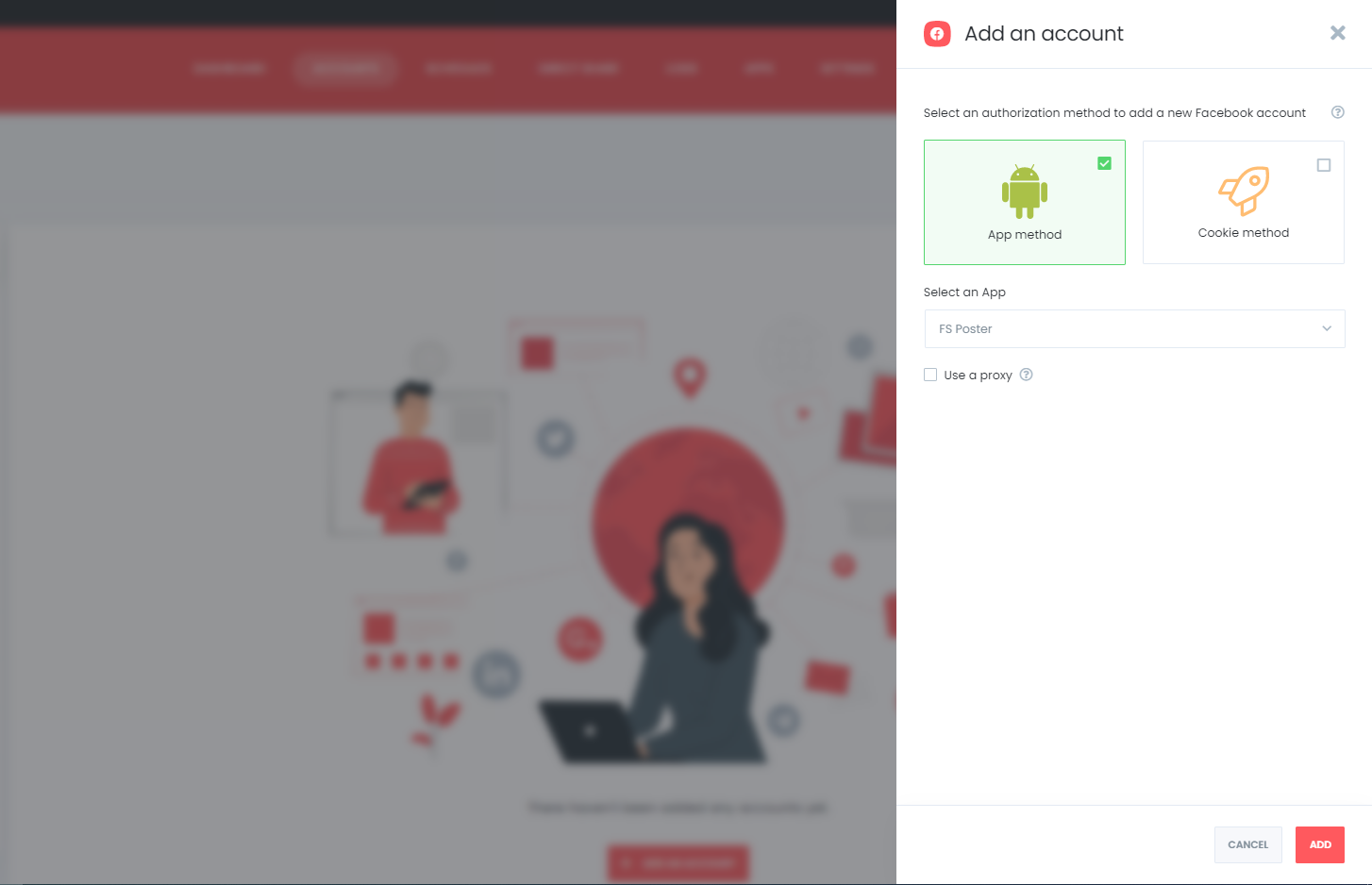 We recommend the App method for adding Facebook profiles. It is more accessible and more relevant. You need only three clicks to add your account.
Facebook allows users to share their groups and pages using a Facebook API.
If you say that I want to share my posts using my account API, you can also add your API to the plugin.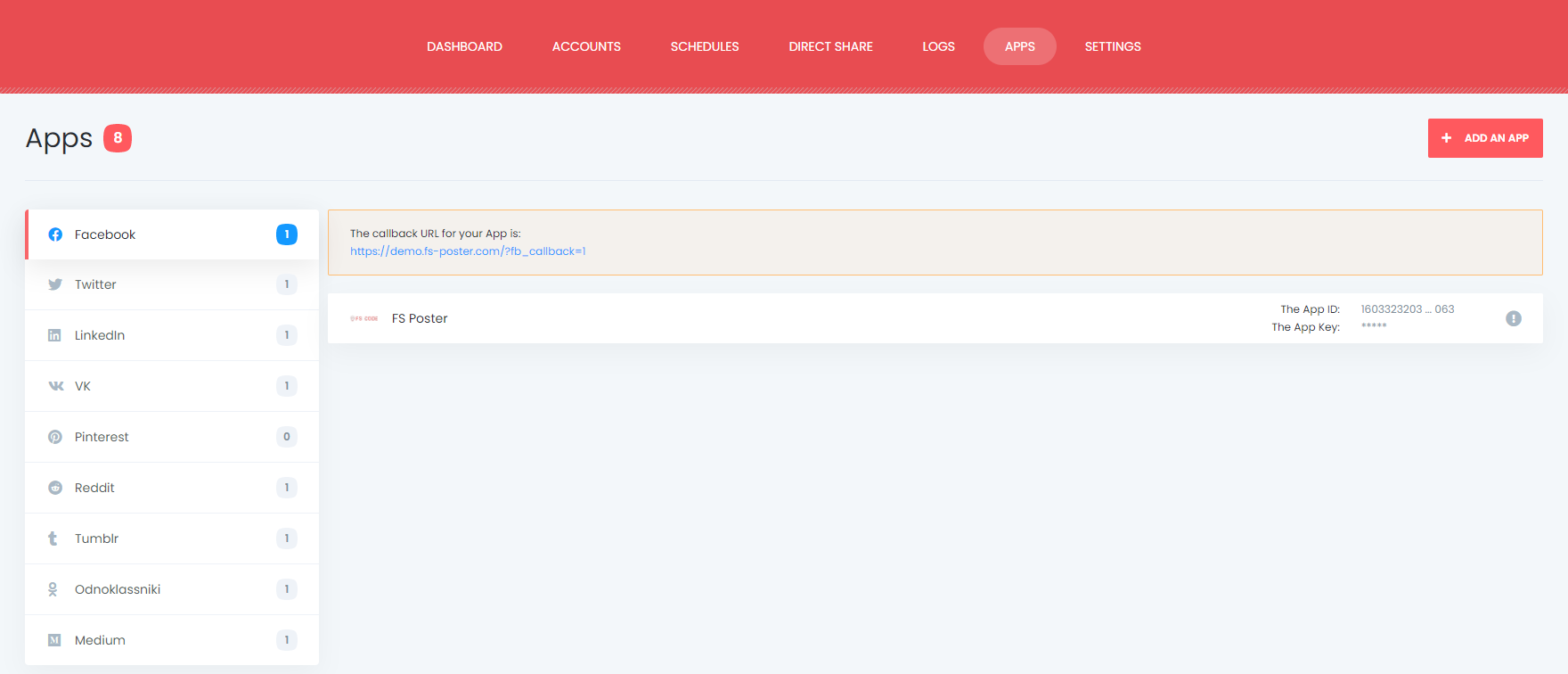 The second option is the Cookie method, which allows you to share your posts on your account timeline, your pages, schedule personal Facebook posts, your groups, and groups that you are a member of.
The Cookie method is not allowed by Facebook; therefore, Facebook sometimes might create troubles. For example, you might need to delete and add your account to the plugin after a while.
If you use the app method, you have a few accounts, and you share a few posts daily, it is acceptable by Facebook. However, if you or your business have a lot of accounts and you need to share too many posts, you might need to use a proxy.
When someone shares a lot of posts from the same IP address in their home or office, they might get banned.
Therefore, it is advisable to use your country-specific proxies. Doing this will reduce the likelihood of being blocked on social networks.
Luckily, the plugin allows you to add a proxy to the plugin so that you can enjoy having many accounts. This feature enables you to create custom post ID Facebook will not ban once you auto post bulk
The proxy also allows you to use the Cookie method without having issues with Facebook.
When you add your accounts, your pages and groups will automatically be added to the plugin.

By activating your pages and groups, you will know how to auto post to Facebook groups. If you do not want to share posts on any of your Facebook profiles, pages, or groups for a specific time, you can deactivate them.

Let's say you have a Barcelona fan club page and a Real Madrid fan club page. Therefore, you want to share the post of the Barcelona category on the Barcelona fan club page and the post of the Real Madrid category on the Real Madrid fan club page.
By activating your account using the condition feature, you benefit from it.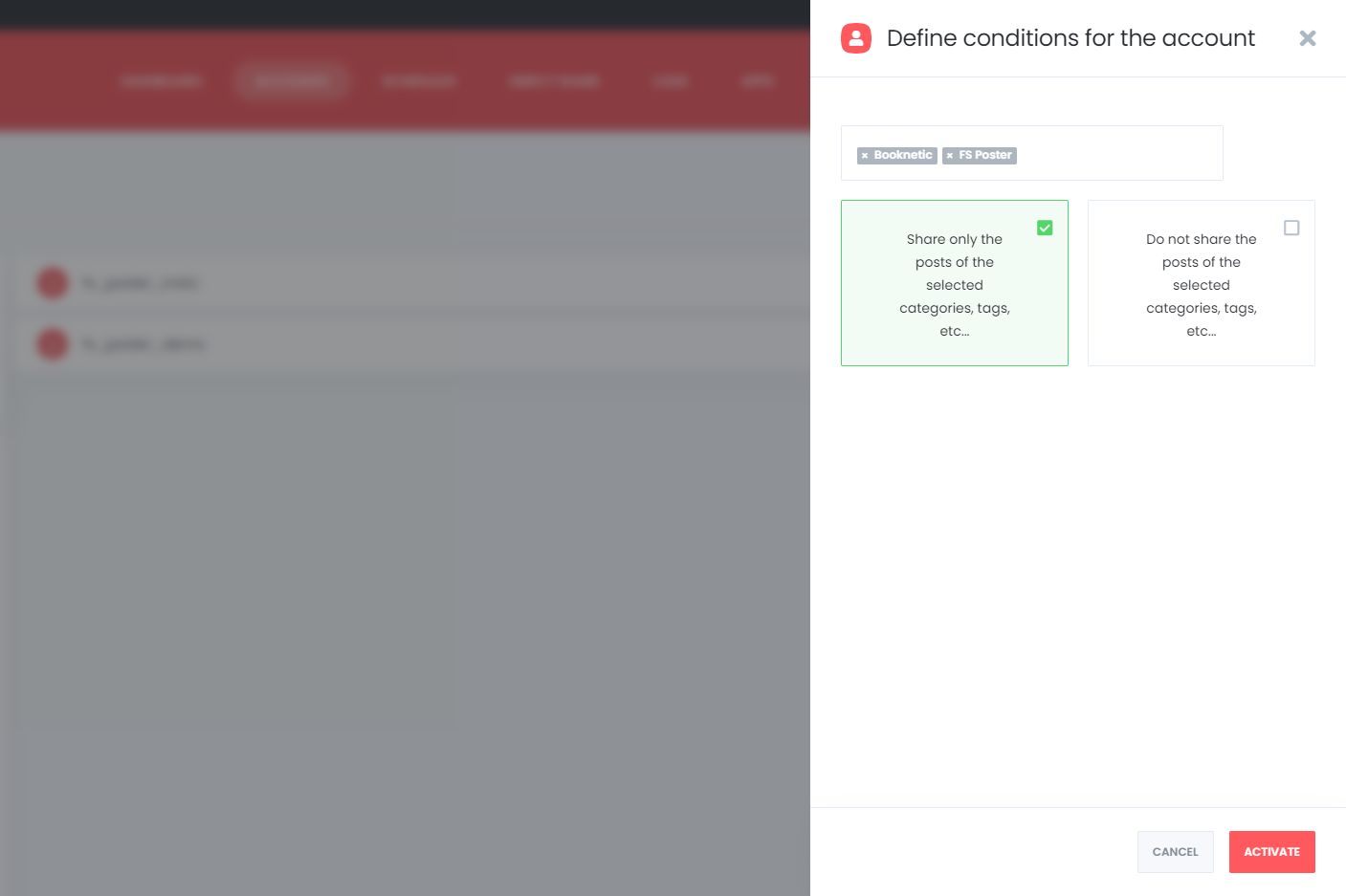 The plugin supports the multi-user platform. Each WordPress user can add and manage their social accounts. One WordPress user cannot share any post on another's accounts. But you can make your accounts public for other WordPress users. For this, you should activate the Make Public option. As a result, other WordPress users can post on those accounts by activating these accounts for the auto post.

If your users work independently, they can use the plugin for only their accounts.
If you have a company page and every user needs to share posts on this page, you can allow other users to share posts by making the page public.

After adding your account, you need to add the FS Poster app to the group settings to share posts on your managed groups. Go to your group > click More button > Edit Group settings > Add apps. Search for FS Poster.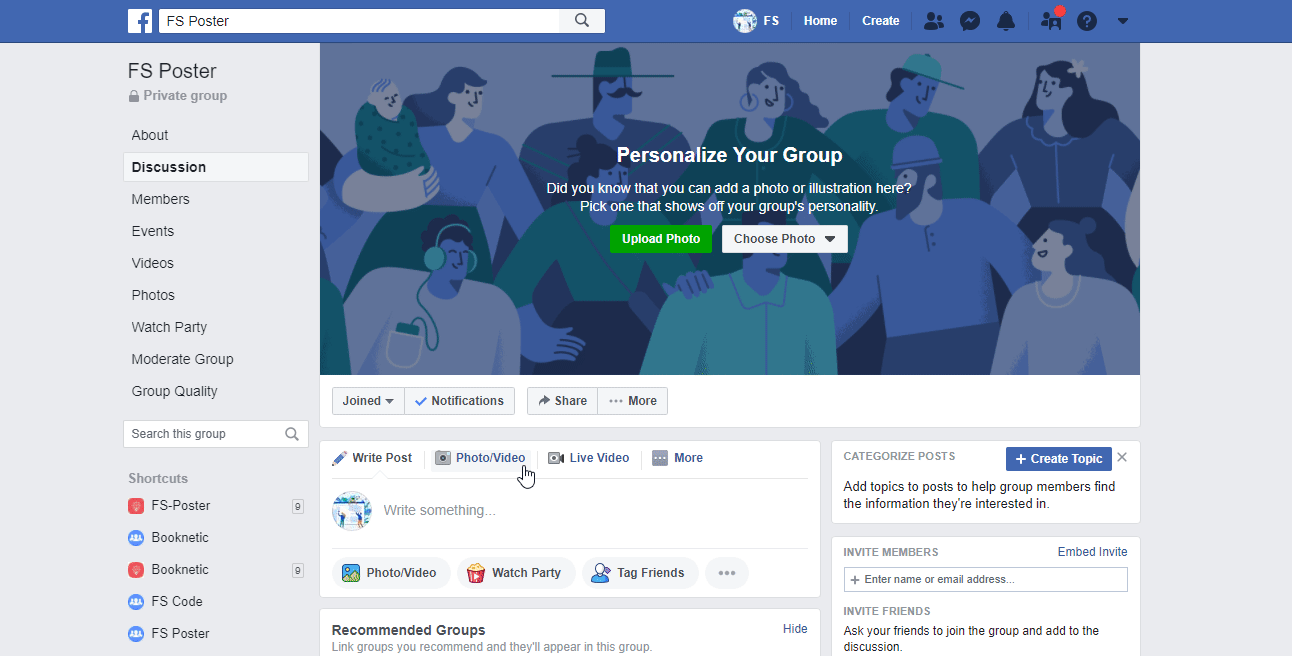 Do not confuse other Facebook auto posting apps with our standard app. This is the Standard FS Poster App.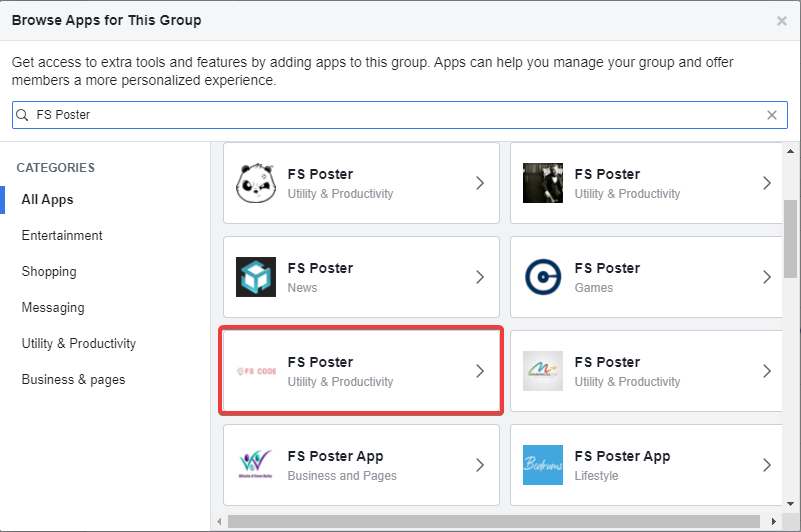 You can also share your WordPress post to Facebook groups on behalf of a Facebook page.
How To Enable WordPress Auto Post to Facebook Using FS Poster?
We have added accounts to the plugin. It is time to enjoy the plugin. I created a sample post, and here is a fantastic result.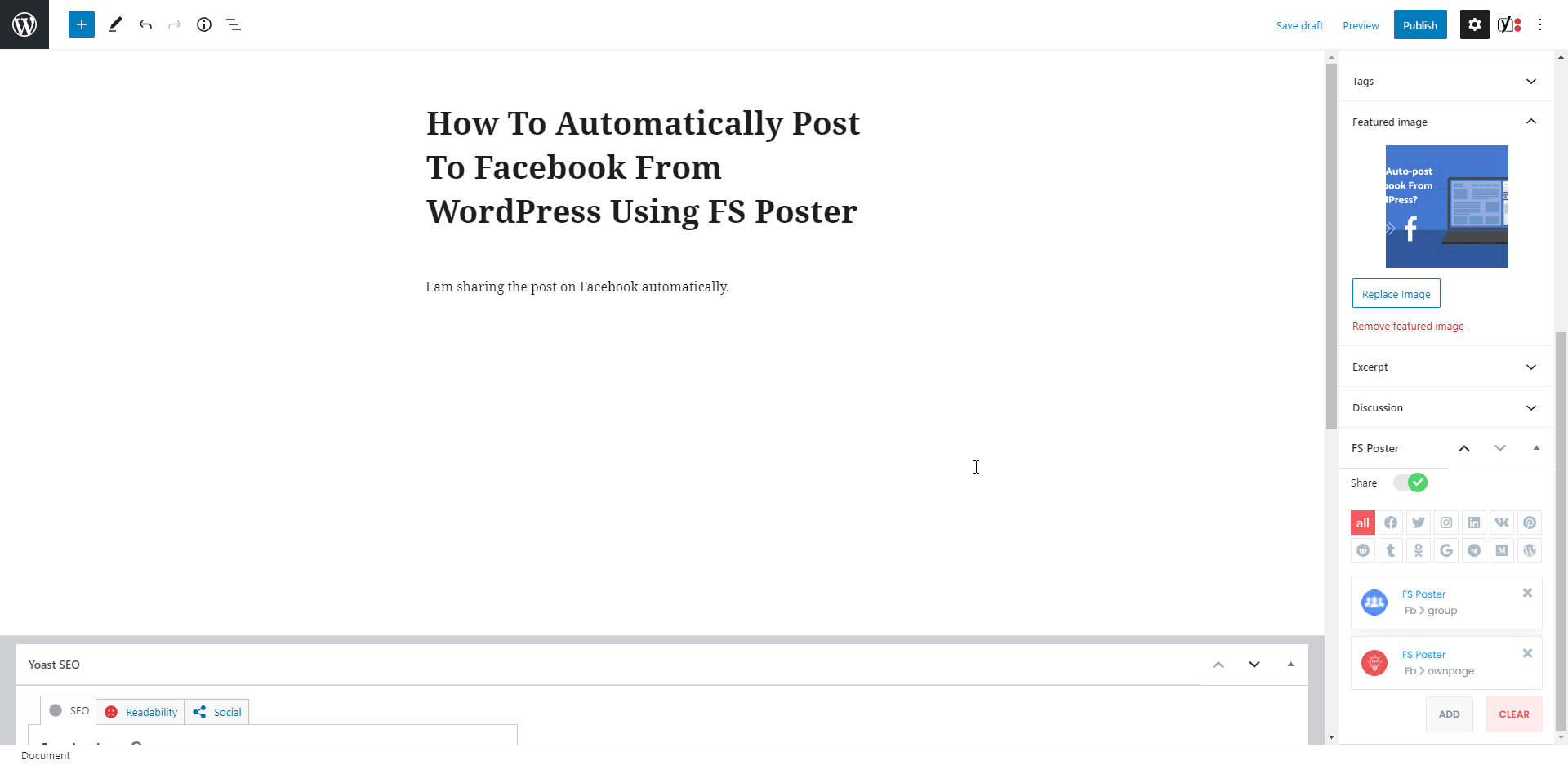 If you want to see the shared post on Facebook, click the Post link.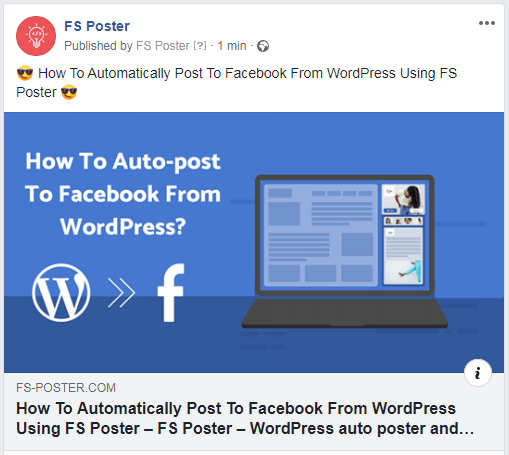 I disabled the "Share in the background" option because I wanted to show you the result visually. You can enable the option and continue posting. The plugin will share the post on Social Networks in the background.
The plugin shared the post on a page and a group in 5 seconds. How long does it take to log in and share all those accounts one by one? I am sure it takes at least 10 minutes. And that is not all; because you might have hundreds of groups, pages, etc.
I have seen a customer with 400 Facebook groups, which is not a joke.
If you want to make the custom post message different from the custom message in the settings, you can add the custom message for each Social Network.
The activated communities are on the list automatically. You can add or delete them, depending on your post.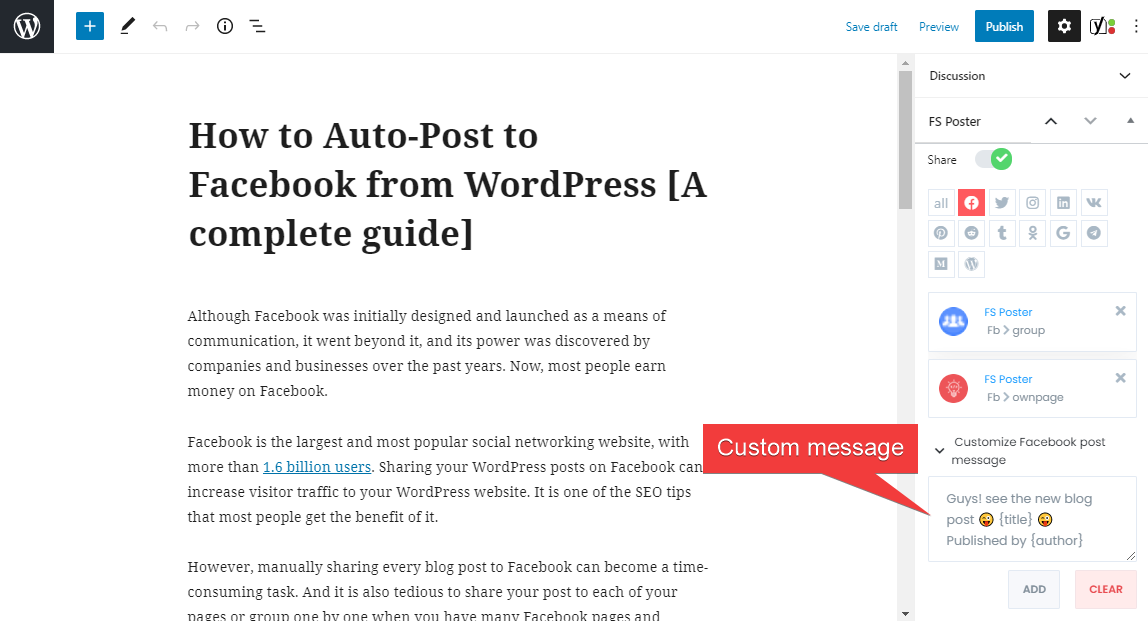 You can also go to the post link, share the post again, or schedule Facebook posts again after sharing.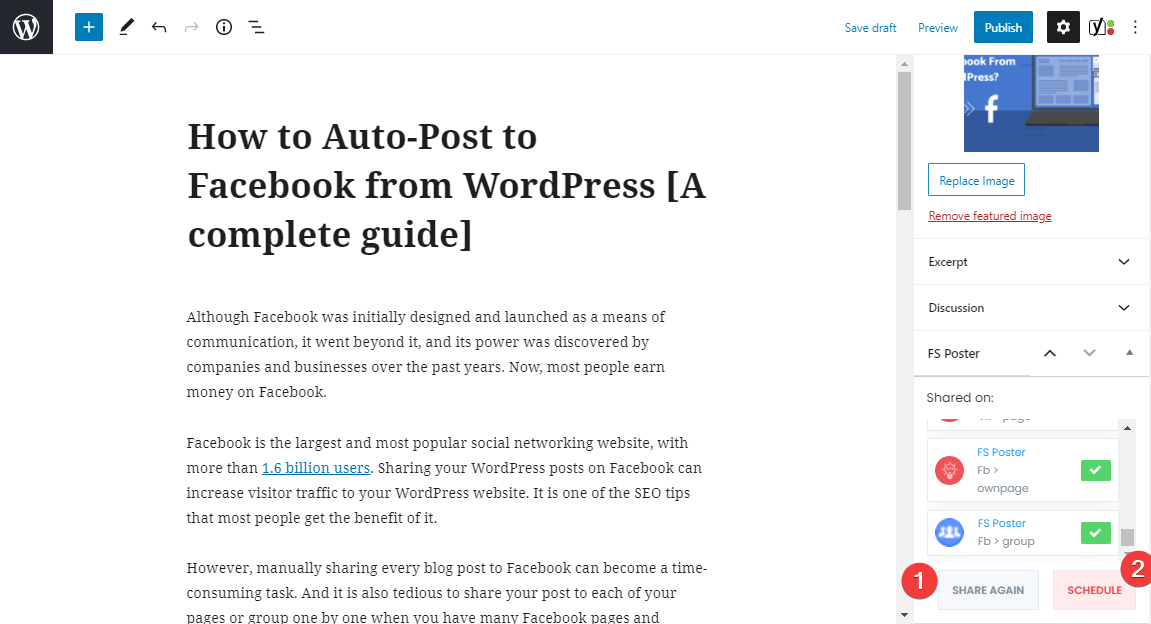 You can also share, schedule a post, or bulk schedule some posts from the post table.

How To Schedule Posts On Facebook From WordPress?
You can schedule previously created WordPress posts, products, etc., to be shared on Facebook using the FS-Poster Schedule tool.
However, you need to note that Facebook might accept posting rapidly as spam. Therefore, less than 20 minutes post-intervalis not recommended.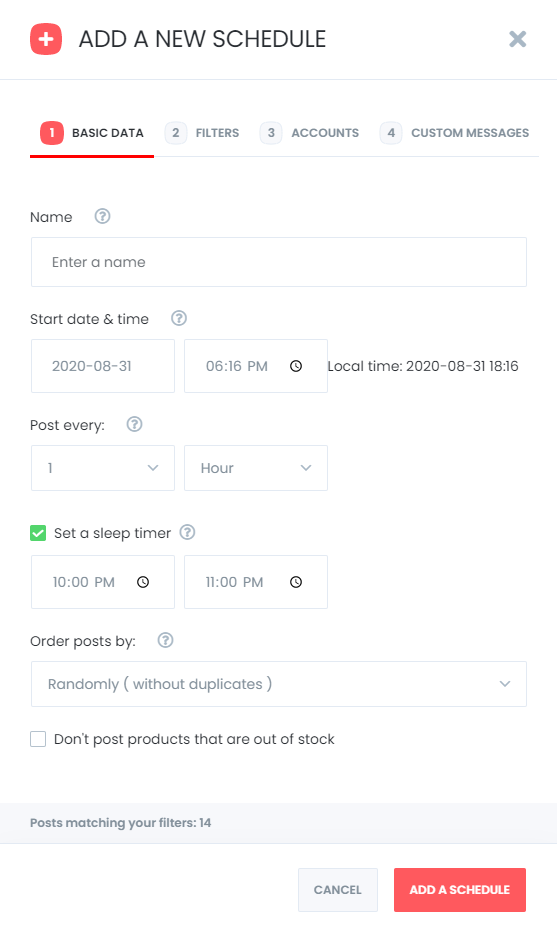 You can set an interval time for each post in the "Post every" section.
The "Set a sleeper time" allows you to exclude a specific period when you do not want to share.
You have four options to order post by:
Randomly (without duplicates): shares each of your posts once;
Randomly: shares all your posts. If you do not stop the schedule, it will share posts repeatedly;
Old posts first: start sharing from the old one;
New posts first: start sharing from the new one;
You can filter posts by time, type, category, tag, and id.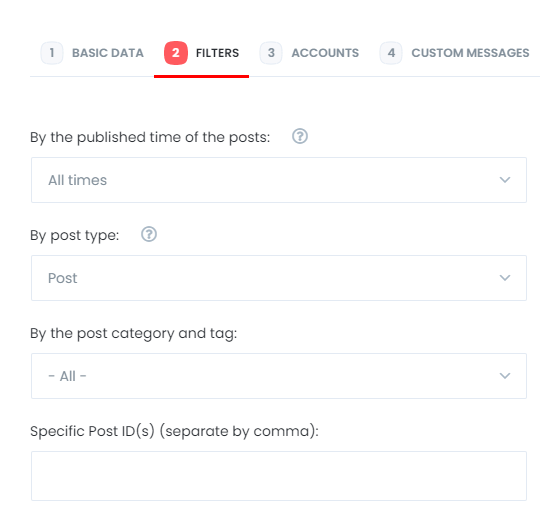 The Accounts tab allows you to choose accounts. You can add or delete them, depending on your posts.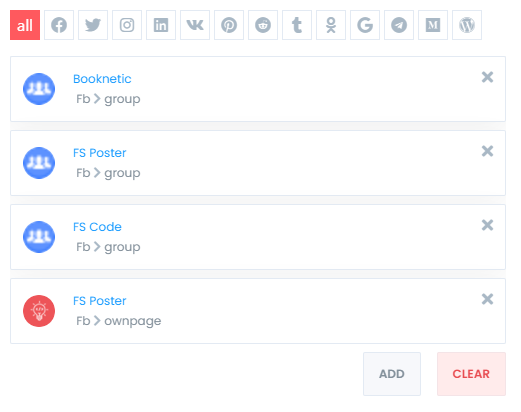 And the Custom messages tab will enable you to add custom text for each Social Network.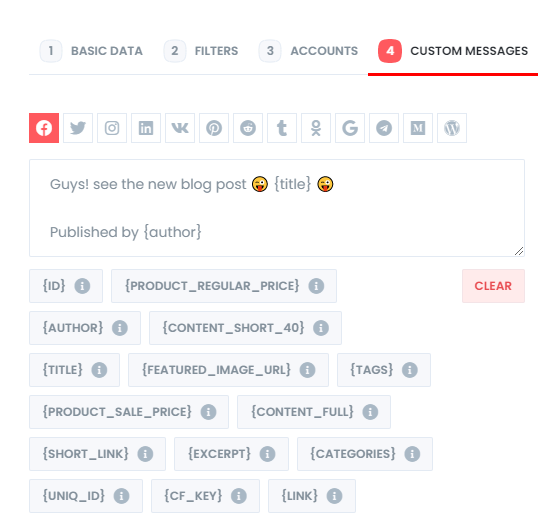 Note that custom text in the settings is not applied to the schedule. So, if you want to add a custom text to the scheduled posts, you need to add the reader to the Custom messages tab.
You can edit, re-schedule, pause, and delete schedules.

You can look at the logs of the schedules and auto posts.

And you can see all Scheduled posts in the Calendar view.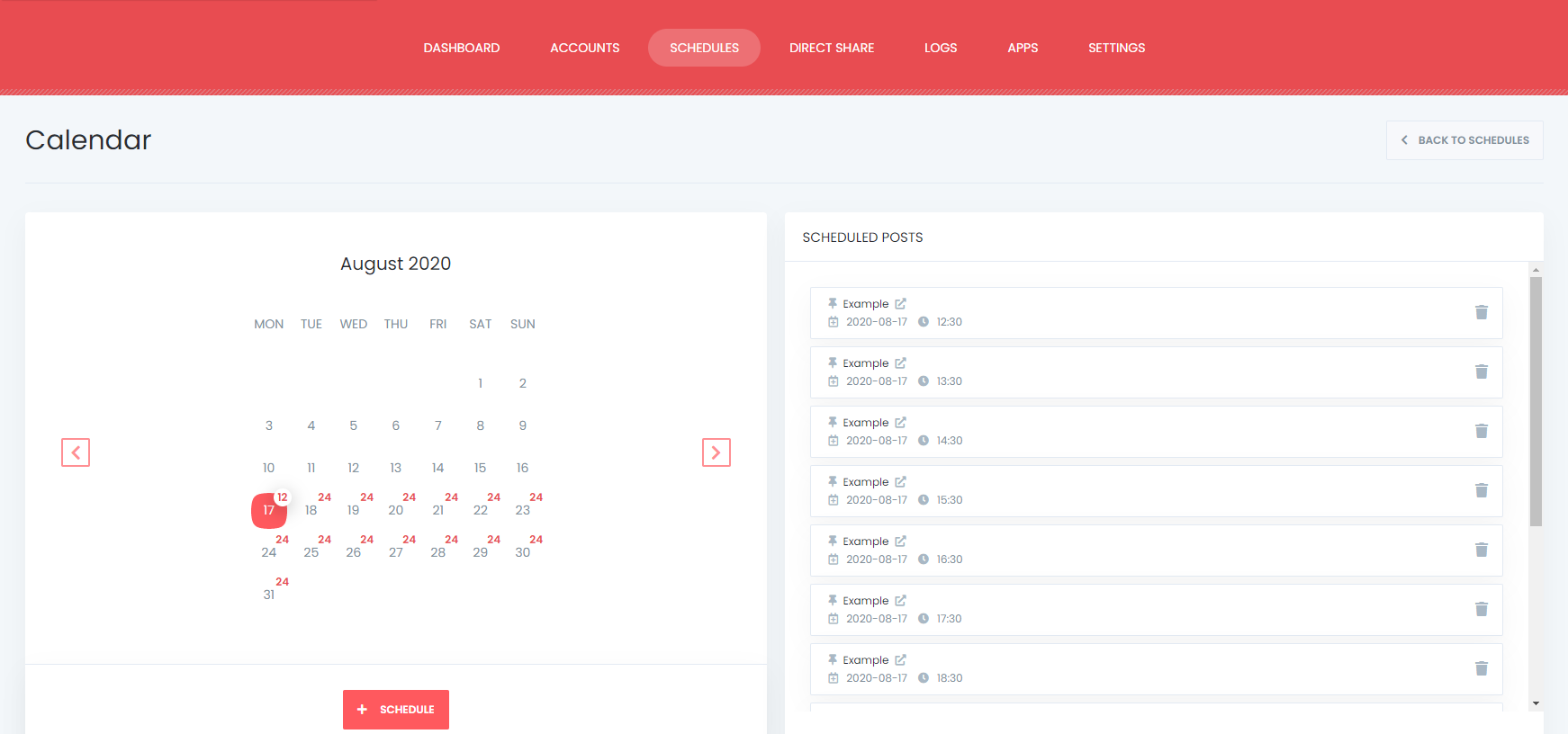 How To Share Or Schedule Posts To Facebook Without Creating A WordPress Post?
There are times that you do not want to share a blog post, but you have something like images, quick announcements, etc., to share on Facebook.
If you do not want to share a post on your blog, but you would like to share or schedule custom content, images, links on your account, you can use the Direct share to achieve your goal.
You can also save these FS Poster posts to share them later again and again.
The dashboard tab allows you to view shares count, click count, and comparison of social networks.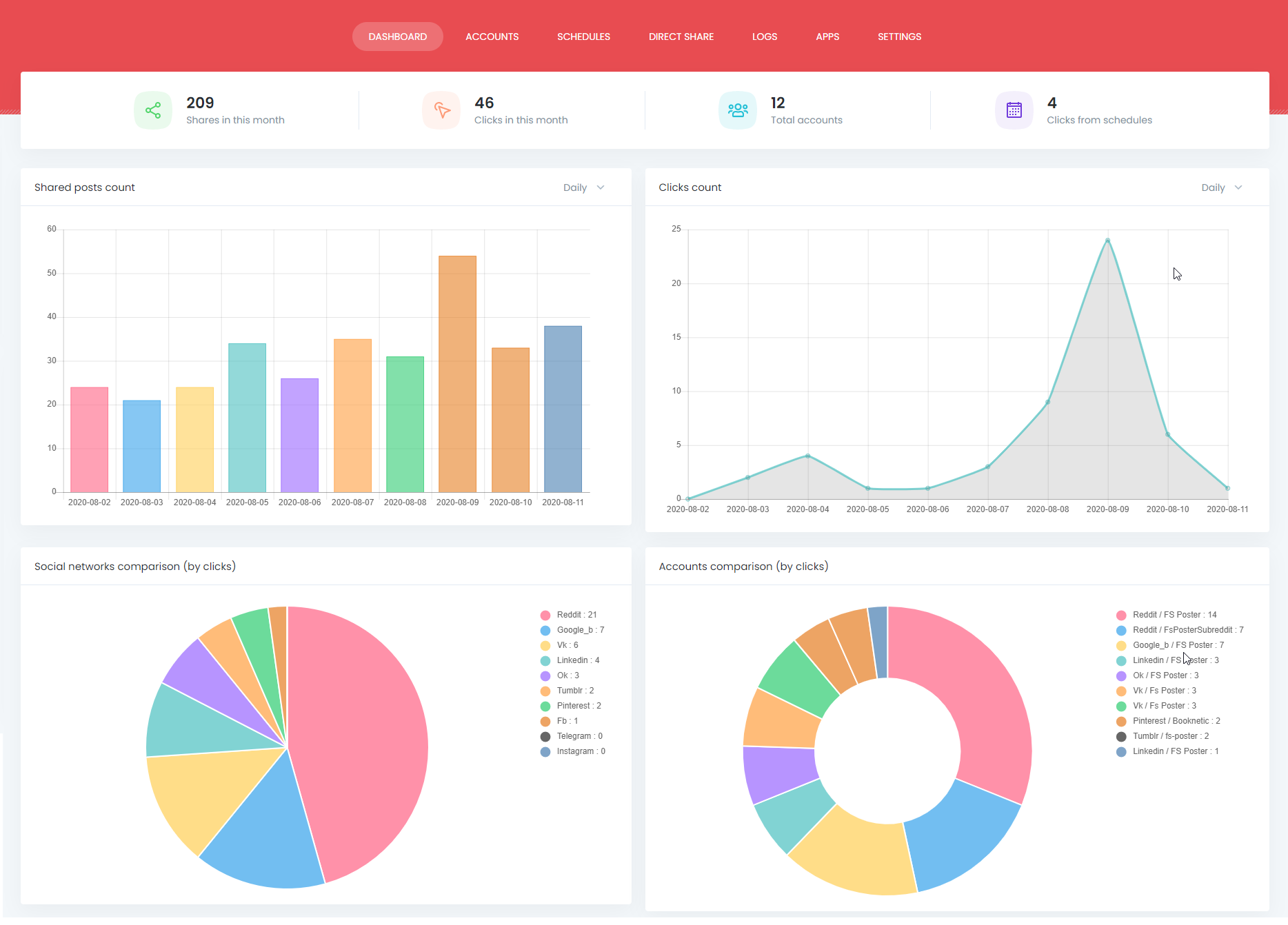 Facebook Settings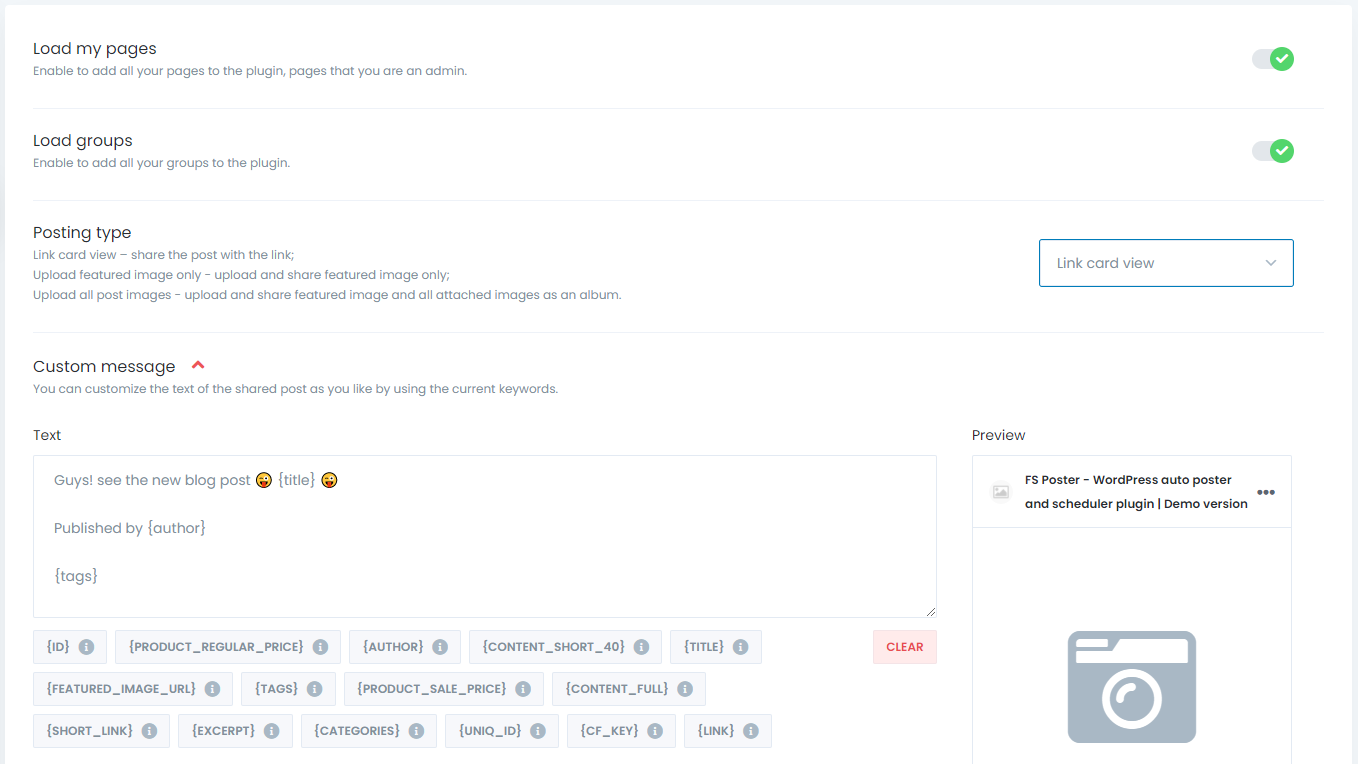 You can customize the text of the shared post as you like by using the current keywords. You can use text and tags to make your post more attractive.
The "Posting type" option allows you to choose a method to share your posts.
You can share a post with the link card view, which contains a link to your post. The plugin copies your post URL and shares it on the Social Network in this option. As a result, the Social Network fetches the image and title related to the post.
You can also enable Facebook featured image WordPress feature. Now you can upload or share featured images or upload and all attached images as an album.
Conclusion
In this article, we discussed how to auto post on Facebook from WordPress using the best auto-poster plugin, schedule tool, FS Poster.
You can check out the core features or full guide of the plugin.
Contact us for any pre-sale questions: [email protected]
If you decide to continue with FS Poster, you can check out the sale page.
Share with us how do you use FS Poster Facebook auto poster feature in the comments below.