How to Auto-Post To Blogger From WordPress [A Complete Guide]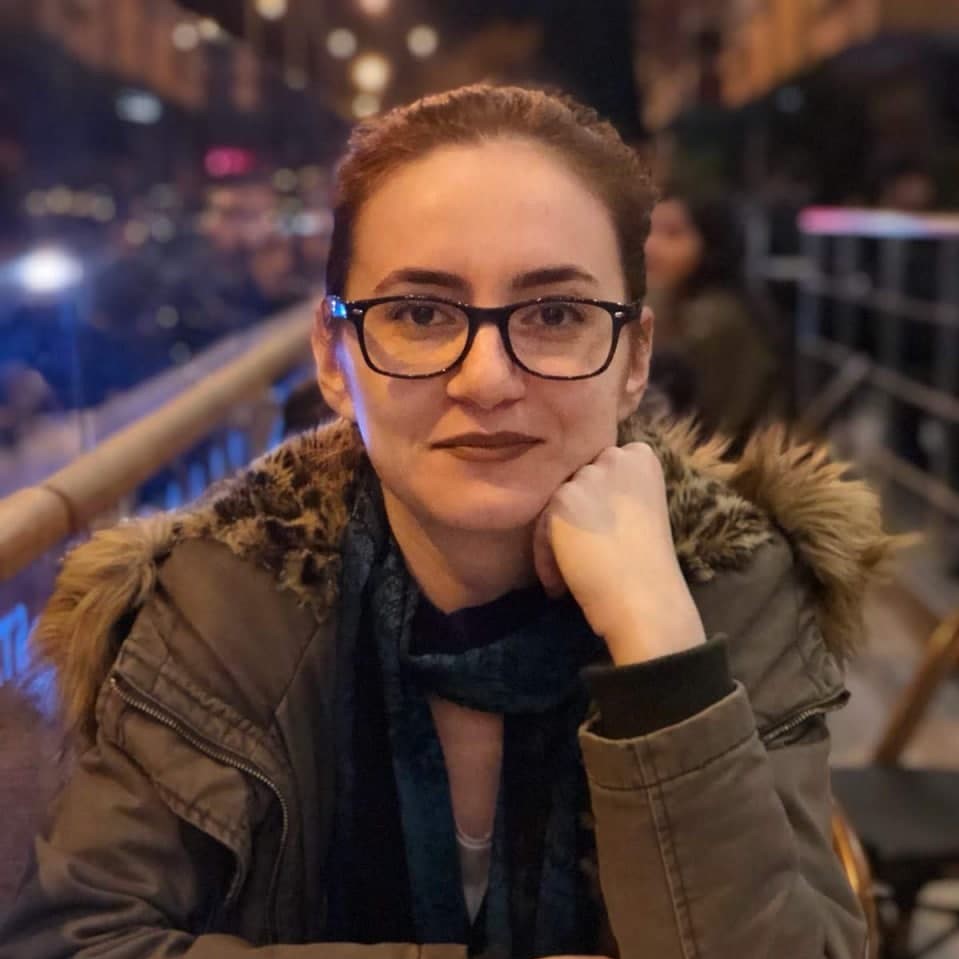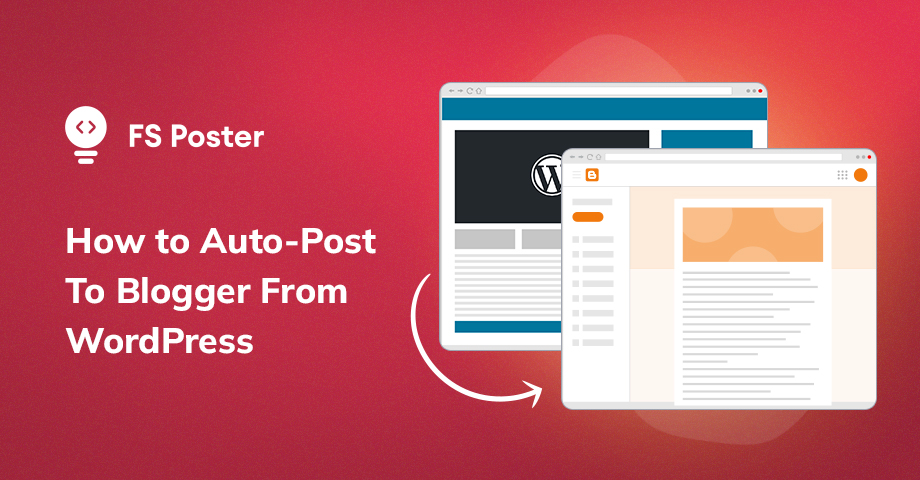 Social Networks
Oct 21, 2022
What exactly is the Blogger? It is a website that hosts your material and makes it possible for you to post it on the internet in an area set off just for you. In its most basic form, Blogger is a website housed within another, more comprehensive website. Blogger is a perfect platform for starting blogging for the first time. But if you are a professional, you may need auto-post your blogs from WordPress to Blogger. If you don't have enough time to do it manually, you can use WordPress plugins like FS Poster. So this article will show you how to auto-post to Blogger from WordPress using FS Poster.
Even though there are more complicated blogging tools, the fact that Blogger is free and simple to use makes it a compelling alternative. This is true whether you are using it to keep friends and family up to date on your life, to host your own advice column, or to discuss your political views. You are not limited to being the sole contributor to your blog; others may join in, and you can even use Blogger to create podcast feeds.

Creating a user account
Blogger is an online application and platform for blogging that is relatively easy to use. When you first log into Blogger, the ability to immediately post blogs is available to you. To start blogging, you don't have to have your account set up with your appearance and theme selected first. A Google account is required to sign in, and your blog will be ready to go after you've done so.
After you have published your first entry, you will need to give your blog a name. You should give it a personal name, such as your own name or one associated with the subject matter of your blog. The next step that you should take is to set up your entire blog site, including the pages, style, and theme that you have selected.
After you have established your blog and have begun adding entries to it, you should begin promoting it throughout the rest of your social media platforms, particularly when you make new blog posts. Because of this, your site and individual pieces will receive a greater amount of visitors.
When you initially start using Blogger to create your blog, they will provide you with a domain name that ends in "blogspot.com." This is the URL that Blogger uses by default; however, you are free to use either your domain name or a domain name purchased from Google Domains.

Why use Blogger?
Learning the ins and outs of blogging is made easier by beginning with Blogger and using its free features. Since it is unlikely that you will become the next big thing on the internet overnight, you do not need to spend all of your money on hosting costs. When you become successful, you may transfer your archived blog entries to any location you see most appropriate for them. Additionally, your feed may be transferred. The idea that you cannot use your URL while publishing a blog on Blogger is a roadblock that prevents many individuals from beginning a blog on the platform provided by Google.
Why use a blogger for marketing?
There are a few key reasons why you might want to use Blogger for marketing purposes:
-It's owned by Google. This means that your content is more likely to be found by potential customers through search.
-It's free. You don't have to pay anything to set up or maintain a Blogger blog.
-It's easy to use. Even if you're not tech-savvy, you should be able to figure out how to use Blogger easily.
-It has built-in features that can help with marketing efforts, such as social sharing buttons and the ability to password-protect specific posts.
Why auto-post to Blogger from WordPress?
There are a few reasons you might want to post your WordPress content to Blogger automatically. Maybe you have an existing blog on Blogger that you want to keep active, but you're finding it easier to produce content in WordPress. Or, perhaps you're starting a new blog and want to use WordPress as your primary platform, but you also want to have a presence on Blogger.
Whatever your reasons, there are a lot of ways you can automatically post your WordPress content to Blogger. But today, we will show you how to do it using FS Poster.
Here are the steps:
To integrate your Blogger accounts with the FS Poster plugin, please follow the instructions below:
- Navigate to FS Poster > Accounts > Blogger, then click there.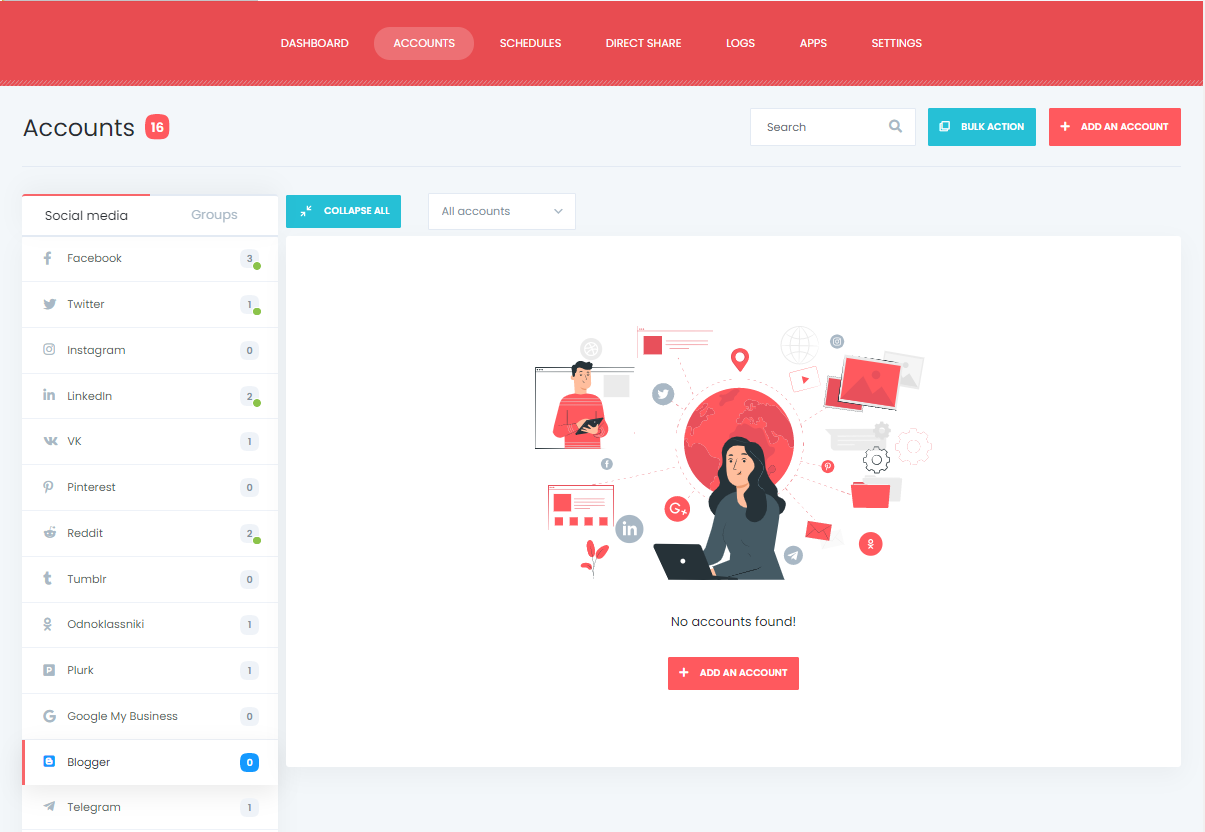 - Select the option labeled "ADD AN ACCOUNT." By default, it will utilize the Standard App, which you cannot access because it is hidden. If you do not have a custom app, there is no need to choose the box that says "Use a custom app";

- To gain access, click the GET ACCESS button, and then ensure that all of the necessary checkboxes are selected in the new window that has opened;
Simply adding the account to the plugin requires you to select the Continue option.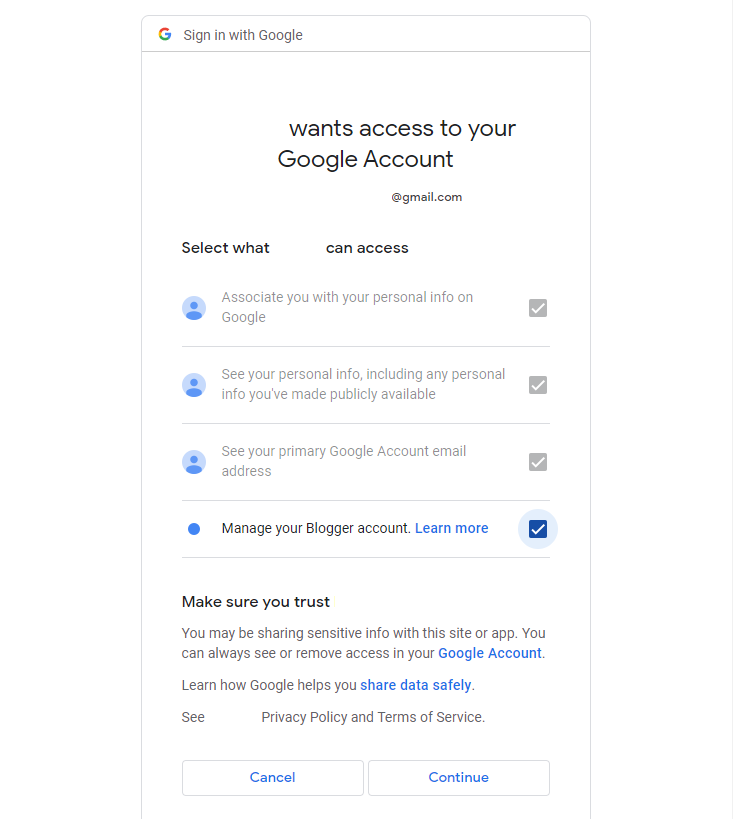 You'll need to activate your account to start sharing content on Blogger.

Conclusion
So there you have it – your complete guide to auto-posting from WordPress to Blogger. Hopefully, this will make the process a little less daunting and help you get your content into the world more easily. Be sure to visit our website for more helpful tips on digital marketing, and keep an eye on our past posts on how to auto-post from WordPress to WordPress-based sites and 18 social networks!