Best Reddit style wordpress themes to use in your websites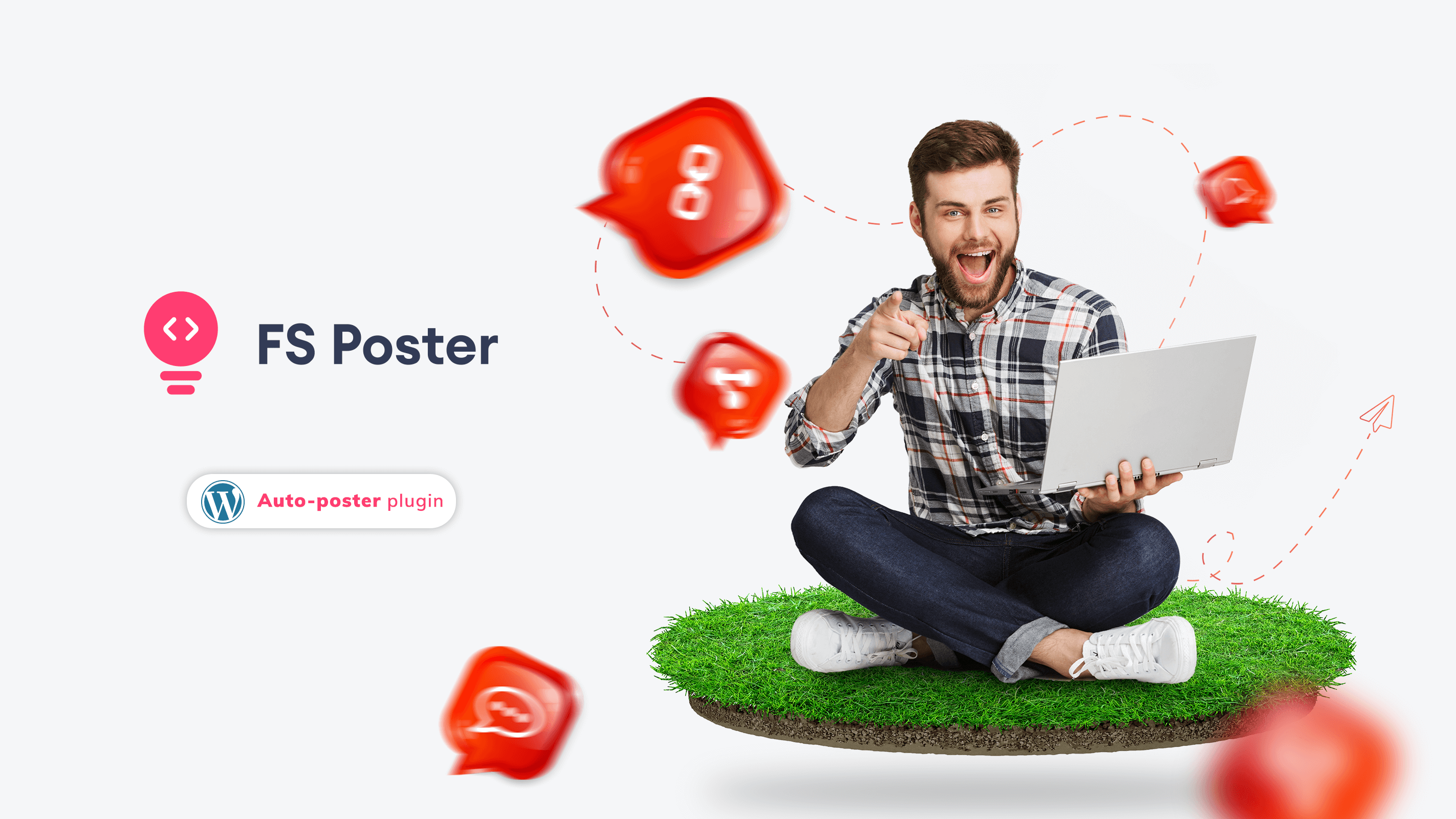 Social Networks
Sep 25, 2021
Best Reddit style WordPress themes can turn any typical website into the hottest internet page in minutes.
When the internet was becoming the digital equalizer of society, Reddit became the voice of society. Today, with over 51 billion active users, Reddit is still among the most engaged social networks on the internet. When it comes to finding a genuine answer to your questions, Reddit discussions come first to check. It is not only used for finding answers but to promote your content, enlarge audience size, and bring more website traffic.
What do you need in Reddit style WordPress themes?
There are certain criteria that you should check for while turning your site into a platform like this:
Content sharing. It is needless to mention the importance of cross-device compatibility for a community website. What we highlight here is the availability of front-end submission. This allows users to register their content of their to the community sites.
Voting system. The essence of Reddit style WordPress themes is a voting system that enables users to mark their favorite content and share their feedback.
Trending post section. Another must-have feature for Reddit style WordPress themes is the trending section that grabs more eyeballs to your blogs and boosts engagement around them.
Social media integration. Social media sharing buttons to simplify sharing blog posts. Indeed, a social media scheduler will hand you on sharing website content to multiple platforms in a single time.
By using FS Poster WordPress scheduler plugin, you can schedule website content on 15 social networks including Reddit itself. The plugin allows users to auto-post an unlimited number of posts to subreddits, add inside images, and see their statistics through the insightful Dashboard. Visit the Demo page to know more about its features.
Best Reddit style WordPress themes
There are a variety of Reddit style WordPress themes to build a viral website without sacrificing your company budget. Here are a few of them to know.
1. Upvote
Got inspired by Reddit and Digg, Upvote is a social bookmarking WordPress theme for creating viral articles. Its built-in upvoting feature enables users to bookmark their favorite content. Helping its users on many aspects, this Reddit-like WordPress theme supports multiple registration forms. This allows users to register from default WordPress or simply log in through Facebook or Twitter. Furthermore, it also has Facebook comment support that takes user engagement one step ahead.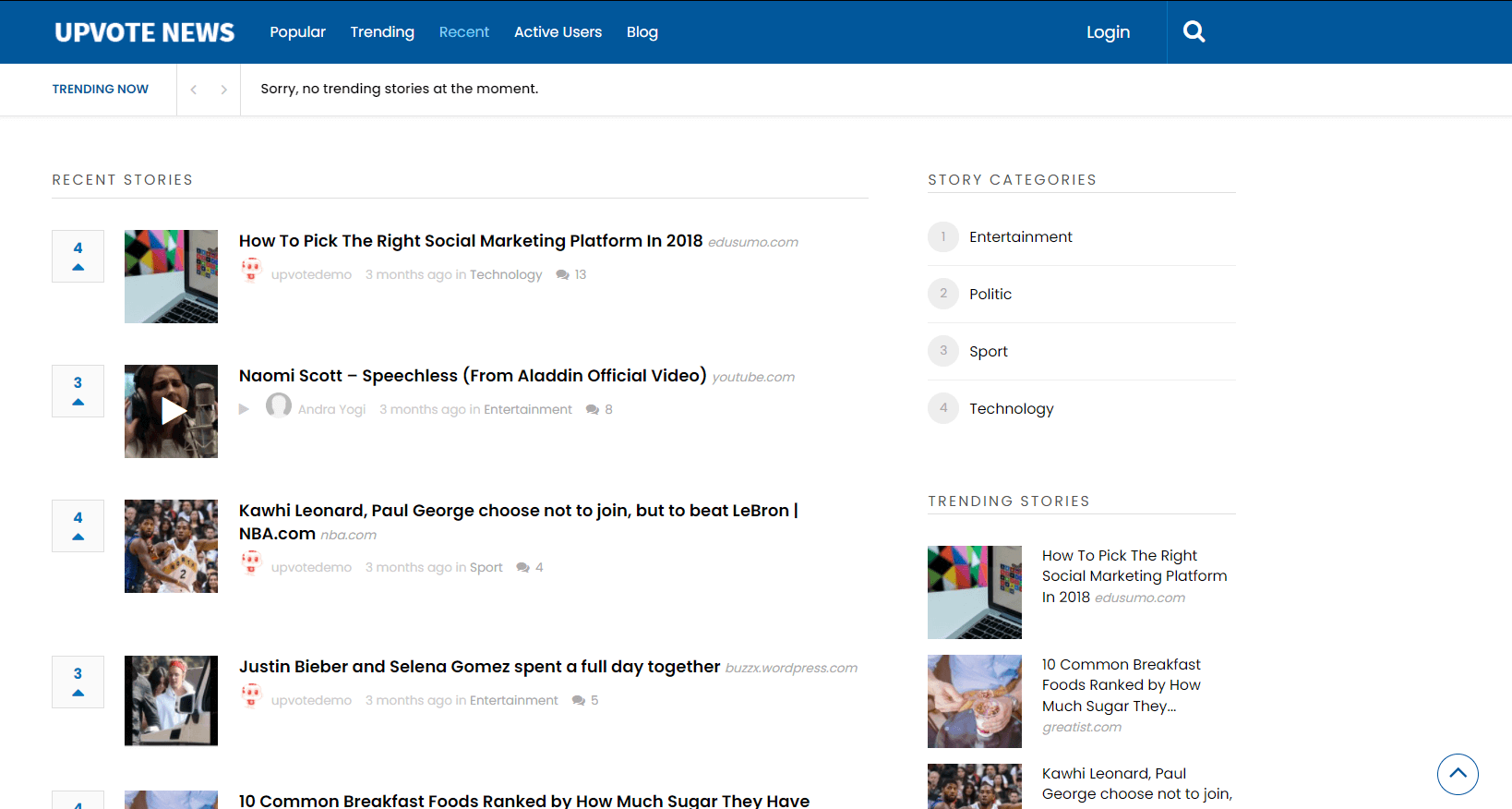 Unlike many Reddit style WordPress themes, it comes with a custom-build plugin that lets users easily share their posts on the website. With this, registered users can submit story links, and the theme automatically fetches the post title, description, and featured image from the open link.
Its responsive layouts and cross-browser compatibility ensure your websites will be available for all users. Using trending, recent, and popular shortcodes you can differentiate various content for better accessibility and higher reach. Like all best Reddit style WordPress themes, it has customization options to choose typography, color schemes, use different widgets.
Price: The theme is offered at $49 at Envato market.
2. Gutentype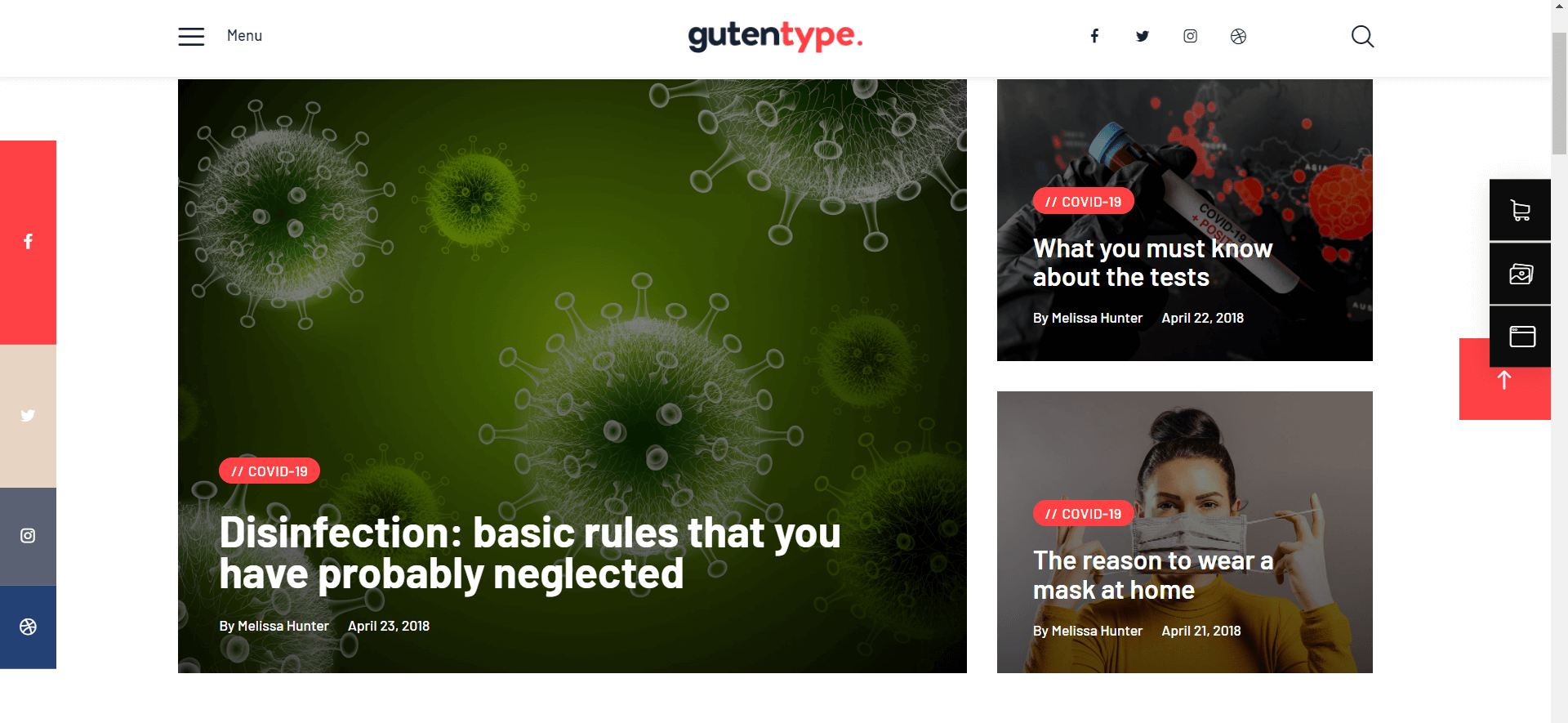 Developed with Gutenberg editor, Gutentype - Reddit like WordPress theme helps users to flawlessly post and represent their blogs. Coming with 18 different ready layouts and 6 header styles, it allows businesses from all backgrounds to choose the best-fitting representation option. Contact Form 7 and social media integration facilities to link communication channels.
It also supports various post types where you can add photo galleries, videos, hold contents, live stream, post queries, survey, or review content. As an exception to the majority of Reddit style WordPress themes, it has light & dark modes that you can adapt. Combined with website monetization support, it scales up its place among the best Reddit style WordPress themes. By using MailChimp integration, you can reinforce lead generation practices. Its WooCommerce compatibility enables the direct sale of website content.

Price: It takes $59 to get full features alone with future updates. Hitting 4.9 ratings at Envato, it is one of the best Reddit style WordPress themes that you can look for a multipurpose theme.
3. Buzz Stone
Buzz Stone is an attractive theme for publishing clickable blog posts. Bundled with WPBakery Page Builder, it offers one-click installation and a codeless design. Reddit like WordPress theme is suitable for media, entertainment, cryptocurrency, freelance, and affiliate-based businesses.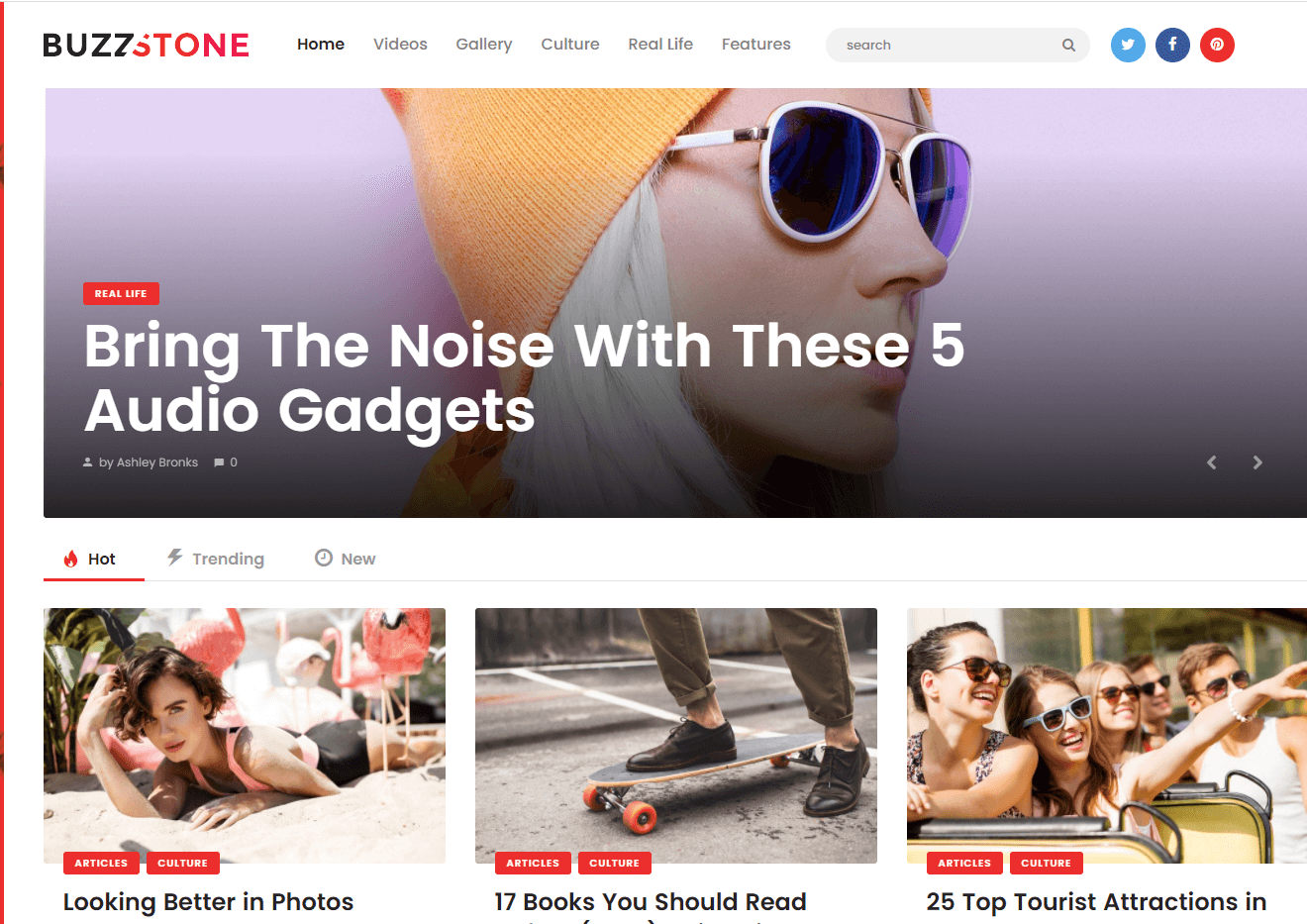 With 10 home page templates, you can decide to choose the best option to present your content. You have a variety of options to post galleries, videos, long stories, or short blogs. The theme can be utilized for showcasing listings, infographics, checklists, DIY posts, events, ads, and many more content types. Using sidebar settings you can display more content on a single screen view.
Price: Like most Reddit style WordPress themes in this blog, Buzz Stone charges $59 including future updates and customer support.
4. Bazinga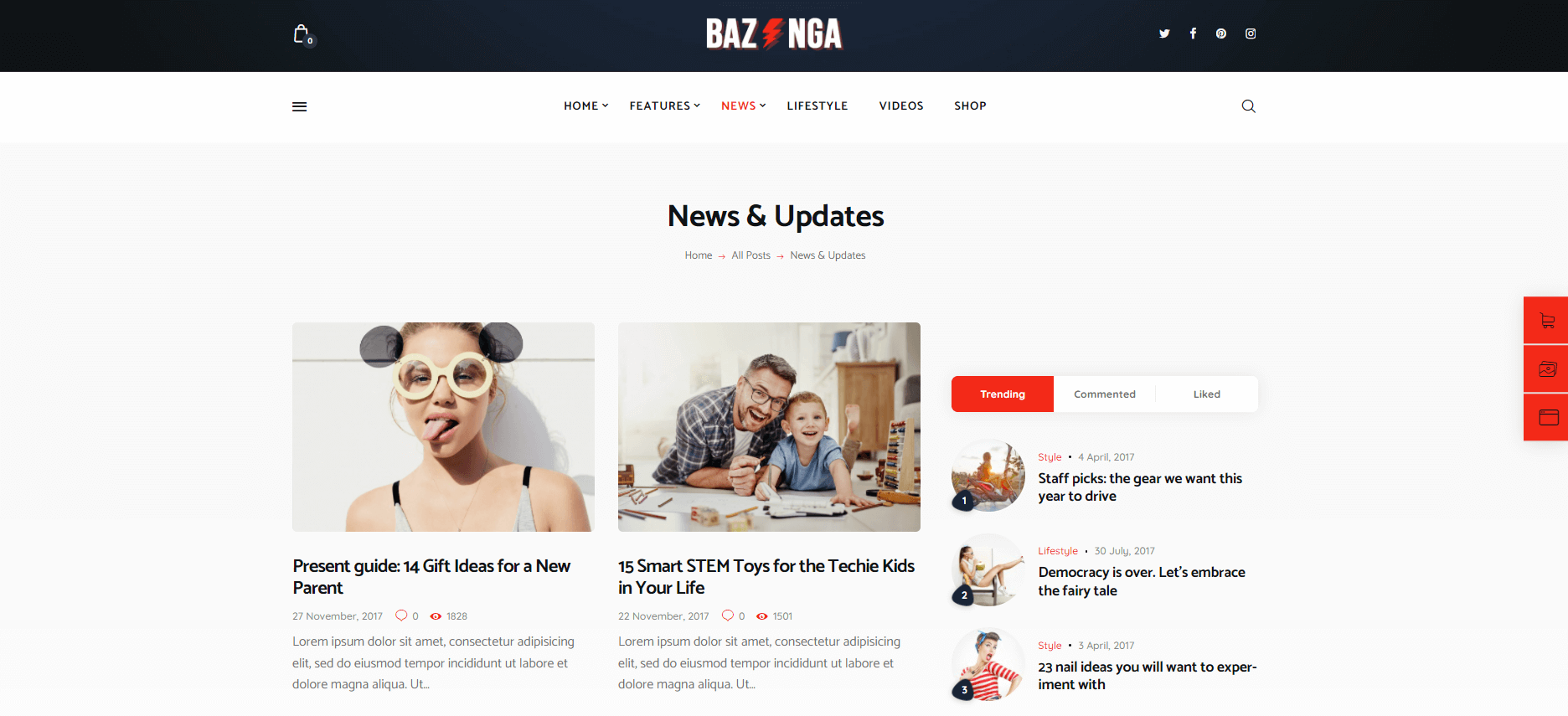 Another theme for creating a modern and attractive blogging website is Bazinga. Its pre-built design can be used to create any type of website from fitness coach to business. Due to its drag and drop builder, you can easily alter ready layouts with more customized and attention-grabbing styles. A combination of masonry and list post styles can be utilized to create a more enticing outlook and easier navigation between pages.
Additionally, you can use the sidebar manager to showcase ads, opt-in forms, or blog posts. Emailing to subscribers or existing leads made easier with MailChimp integrations. Additionally, you can use WooCommerce compatibility to sell your services right from the website.
Using customization options you can turn it into Reddit like WordPress theme. As part of this, website content can be streamlined in polls, reviews checklists, or cheat sheet forms. To make your blogs more captivating, you can categorize them under hot, recent, trending, favorites categories and embed posts like & comment counts into them.
Price: The theme charges $59 for all features and future updates.
5. BoomBox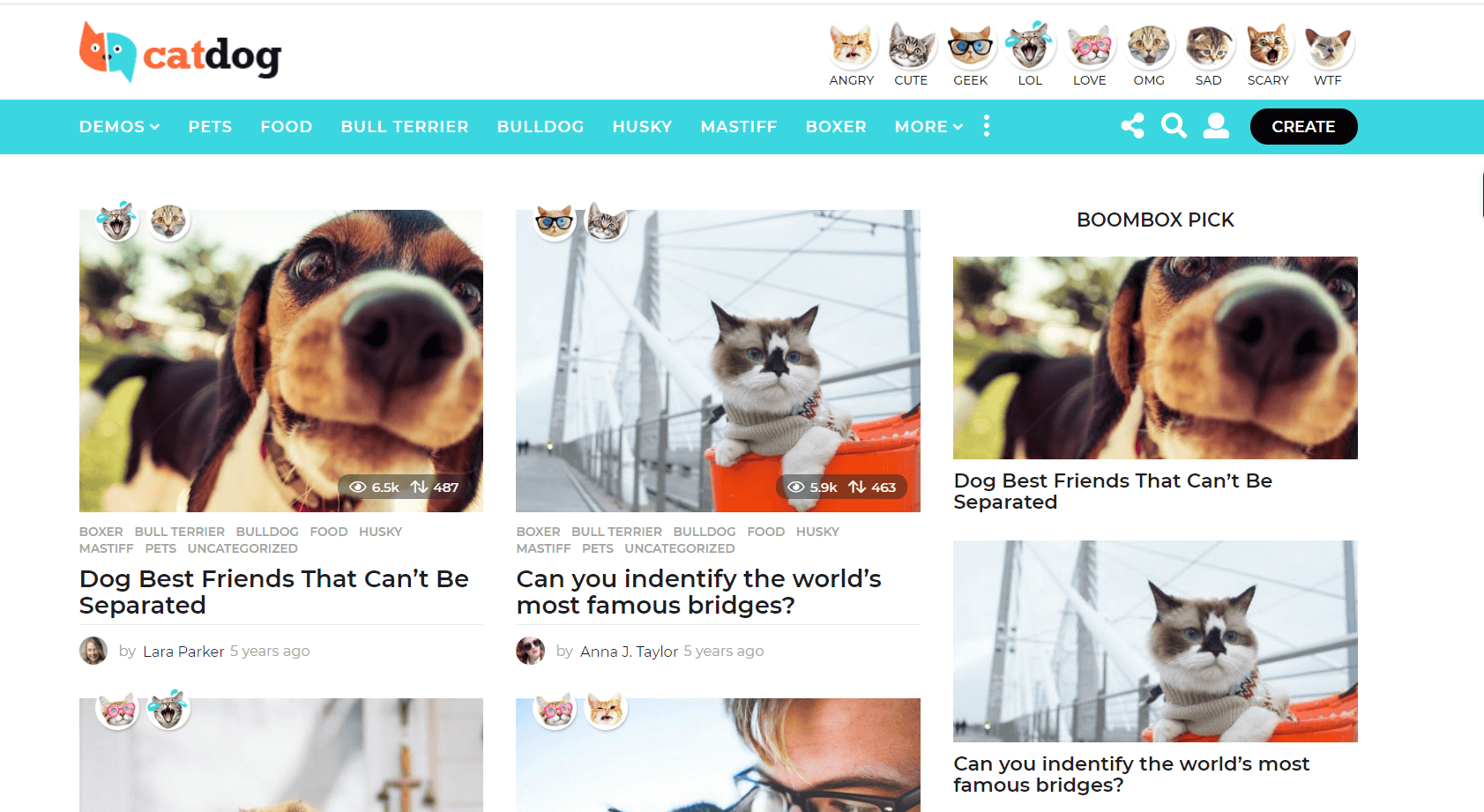 Developed for multi-use experience, BoomBox is one of the best Reddit style WordPress themes to create viral blogs on the internet. It comes with 16 pre-made demos for creating affiliate, magazine, BuzzFeed-style webpages. The theme allows to upload of brand logos, customize layouts, use advanced typography options, and enable sidebar settings.
This Reddit like WordPress theme supports text, audio, video post formats, and different listing styles like a single page, or masonry. Alongside content publishing, you can use frontend forms to create polls, quizzes, and display ads. As part of the rating system, visitors can make use of emojis to give feedback. You can adjust to display post views, shares, and even fake the results to help them attract more interest.
Post ranking option is also available within BoomBox which can be considered as the best Reddit style WordPress theme. Depending on your choice, you can decide to display various posts under certain bundles such as trending, popular, most viewed, most clicked, most voted.
Price: For these functionalities, BoomBox offers $59 on a one-time basis. Due to its sales statistics, it comes at the top rows of Envato's Reddit style WordPress themes.
6. Maxify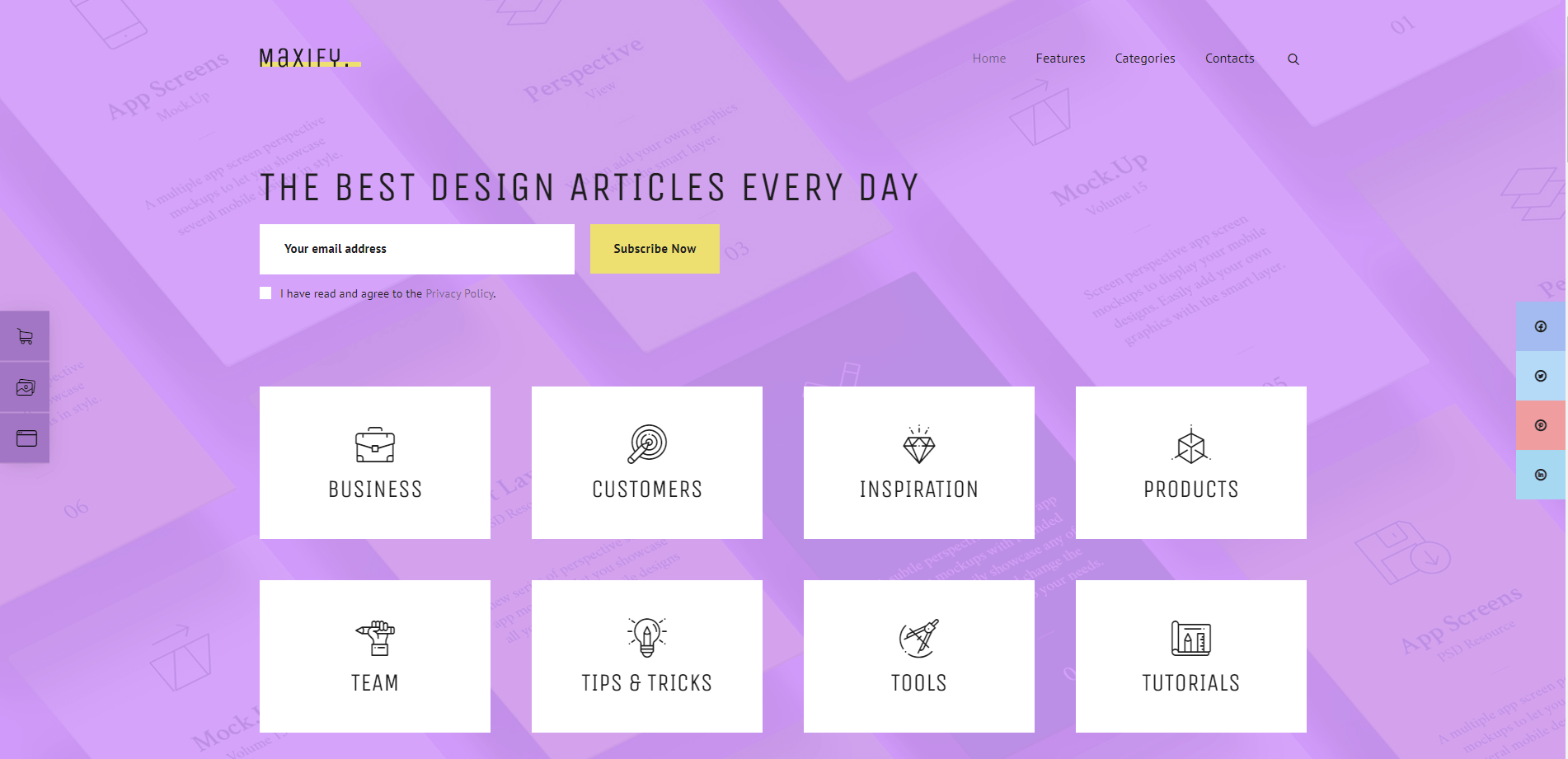 Maxify is a clean and modern theme for creating corporate or personal web pages. The theme is perfect for startups, agencies, companies, or freelancers. Plus to articles, you can post polls, surveys, case studies, reviews, or tutorials by adjusting the theme features. It comes with 10 premade homepages and lots of blog templates. Moreover, you can customize it with the help of shortcodes, Google Fonts, most importantly drag & drop builder.
It features grid style and list style posts depending on the page. For a captivating website look, it combines full-width or boxed style features across all pages. You can use animation effects to create more dynamic and enticing websites. As an example, you can embed counters to display statistics of posts like comments, views, social shares, or likes.
As part of advanced blog settings, Maxify includes blog feed customization, related post section, and manageable sidebar.
Price: It costs $59 to get all features along with customer support. Among other best Reddit-style WordPress themes, Maxify received a 5-star rating from users.
Wrap up
The right theme can make a big difference to your website. Developing interactive, imagery-rich websites is not a big deal due to the best Reddit style WordPress themes. They do not only help design viral websites or blogs but make it possible to build a community of readers that come back after the first visit. So, if you wish to be the heart of an ever-growing community of readers, pick the one that perfectly matches your requirements. The rest is to create content that will fill out the layout.