FS Poster is Now a Monster's Award 2023: Support Our Plugin Here and Now!
Hi there! We have wonderful news for all WordPress enthusiasts. Monster's Award 2023 is here. This prestigious and much-anticipated award is ready to celebrate the best people in the WordPress community once again. So, get ready to vote for professionals who make this sphere better in different aspects, from web development to video tutorials.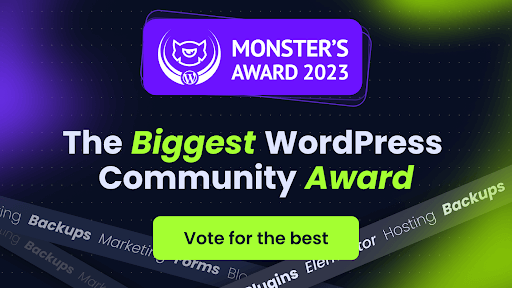 It is the third time that the TemplateMonster Digital Marketplace recognizes diverse talents who contribute to the WordPress industry. For this reason, it is incredible to know that FS Poster turned out to be one of these genius minds. We are nominated in the Marketing WordPress Plugins category. What is so special about our instruments? What are the key features that deserve your attention? Let us explain.
First of all, our plugin shares your WordPress posts on your social network accounts automatically.
You are also free to create various schedules. They will allow you to share your blog posts within the chosen interval. You can also select the necessary filters.
A direct share panel makes it possible to schedule or share your custom content, images, and links without creating any WordPress posts.
There are different custom post types to choose from. You will also be ready to control a post frequency with a special option.
To shorten your post URLs, turn to Bitly or TinyURL services. It will make the user experience more comfortable and pleasant.
In addition to this, it has integration with 22 social media networks. Furthermore, you will be ready to configure unlimited social network accounts, pages, groups, and communities.
Without a doubt, it will be effortless to view post visits, compare social accounts by link click, and complete more insight tasks.
It also has a bunch of Instagram-related tools. For example, it is Instagram carousel scheduling or Instagram link in bio.
Do not forget about Facebook comments on the website comments and sharing your content to the YouTube community automatically.
Other wonderful options include translation support, Emoji support, calendar view, and hashtags.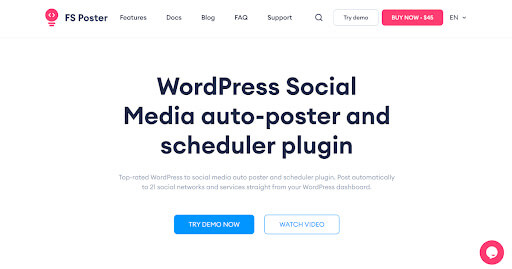 Your votes are important, so make sure to support FS Poster and help us become better.