How to Create Social Media Persona?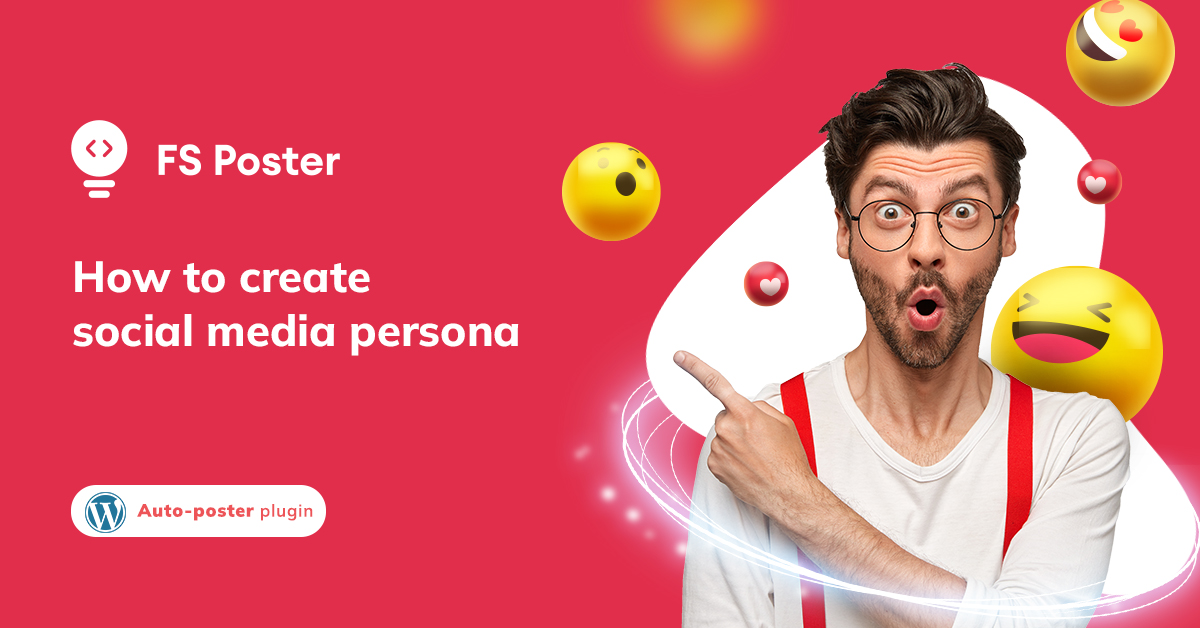 Social Networks
Nov 17, 2021
All people have different personalities, needs, and demands. If you want to increase sales, conversion, or simply brand awareness you should approach each person individually. When you don't know who you sell, how can you sell your products?
Here is when the buyer persona comes to the runway 😉
A buyer persona, also known as a "brand advocate" or social media persona is an idea of what type of customer you would like to have.
It's important to know who you are talking to before addressing the needs of your market. There's nothing worse than trying to address an issue that doesn't exist or speaking on behalf of someone else without realizing it. You must create a buyer persona template for all types of audiences so they can be tailored accordingly, which will help keep marketing efforts focused where they should go-to reach potential customers with relevant messages capable of getting results quickly.
Creating a buyer persona is useful for understanding who your customer is and what they need. Marketing, sales, or support teams can use them to better understand the type of material that will resonate most with each individual user/customer on an emotional level while also getting some insight into how this affects conversion rates! There's no right answer when creating a new persona - just make sure it reflects reality as closely as possible so you know which strategies work best-in-market.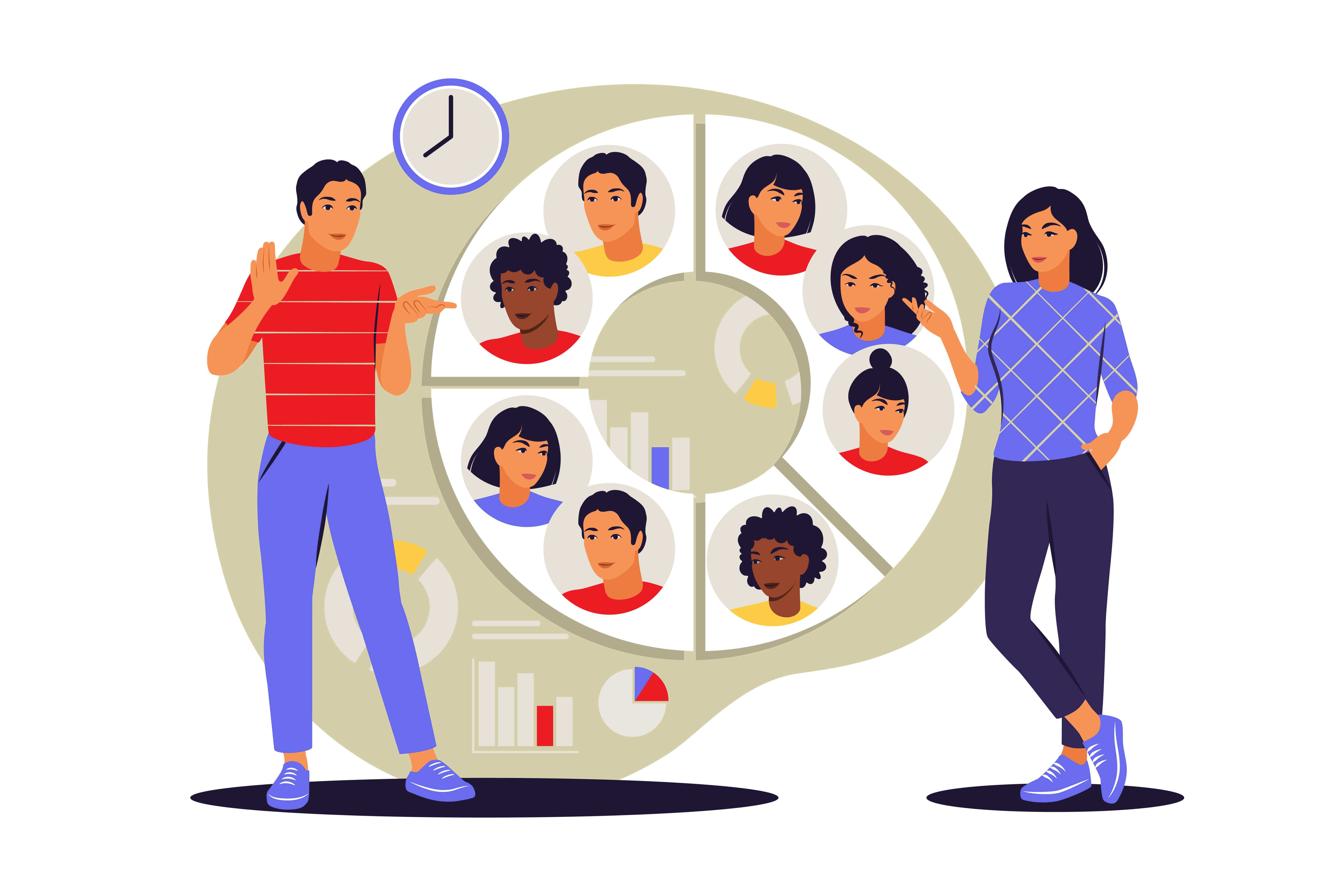 Why creating a social media persona is necessary?
Knowing your customer's personas is the key to success. Not just knowing their age and gender, but also understanding where they spend time online - this will help you get a better idea of how best to communicate with them as well as reach new customers. You can use that information for content creation or marketing campaigns too; it might even provide inspiration on what type of things should be done in different situations.
To sum up:
· You'll be more successful by knowing who you're talking to
· Determine which projects, campaigns, and initiatives are worth your time and money
· You'll create fans in the short term and brand advocates in the long term
As a consequence, you'll be able to better serve your consumers and provide them with an unforgettable experience.
How to create a buyer persona for your business
1. Get to know your audience
Once you begin creating a buyer persona, it's important to have an honest and open conversation with your team. From salespeople who will be speaking directly with customers about their products or services all the way up through executives in charge of marketing messages; everyone can bring something different but necessary for this process.
Actually, your sales team is your best resource for understanding customer needs and pain points. They'll have the most up-to-date information on what challenges customers face when it comes to making purchases, so rely heavily upon them.
Your marketing staff also understands how your consumers react, generally through indirect rather than direct contacts. They may tell you how they learned about the brand and what piques their interest or disinterest by providing feedback through various methods.
You can ask such questions as, which pages do customers visit, most viewed pages on sites, keyword research, as well as which ads get most views and interaction, and vice versa, too.
The other way of how to create a buyer persona template is asking from the Customer Service staff. Customers directly ask questions from the support team while making a purchase. So, based on these questions may lead you to create one customer model.
Your service department is on the front line of communication, and it's a place where customers can always count. It's important to document both negative and positive feedback, too, so that it can help shape your personas.
2. Interviewing
It's always a good idea to interview your customers in person, over the phone, or via other systems. Learn about your consumers by asking them a few questions and soliciting their feedback. Because of this direct knowledge, you will be able to better assist them.
A detailed buyer persona profile is required to understand your consumers' behavior. This will aid in the formulation of effective interview questions as well as ensure that all client demands are addressed throughout each engagement.
The beginning of crafting your personas is when you start collecting demographic information. This helps paint the clearer, more personal picture that customers want and need.
Next, you want to ask about their personal background. What are their roles? How has this person achieved success both work and personally over time - what have been some highlights of their career or goals that were accomplished recently?
You can also go deeper into how someone spends his/her free days by asking questions like "What is your daily routine like when working from home", "Do you have any particular hobbies?" etc.
If you're having difficulty arranging interviews, look at your social media followers and see what type of information you can glean from them. You may also utilize this to gather feedback on the types of messaging that resonate the best with their audience - for example, if they are already following brands in relevant sectors or other brands' profiles.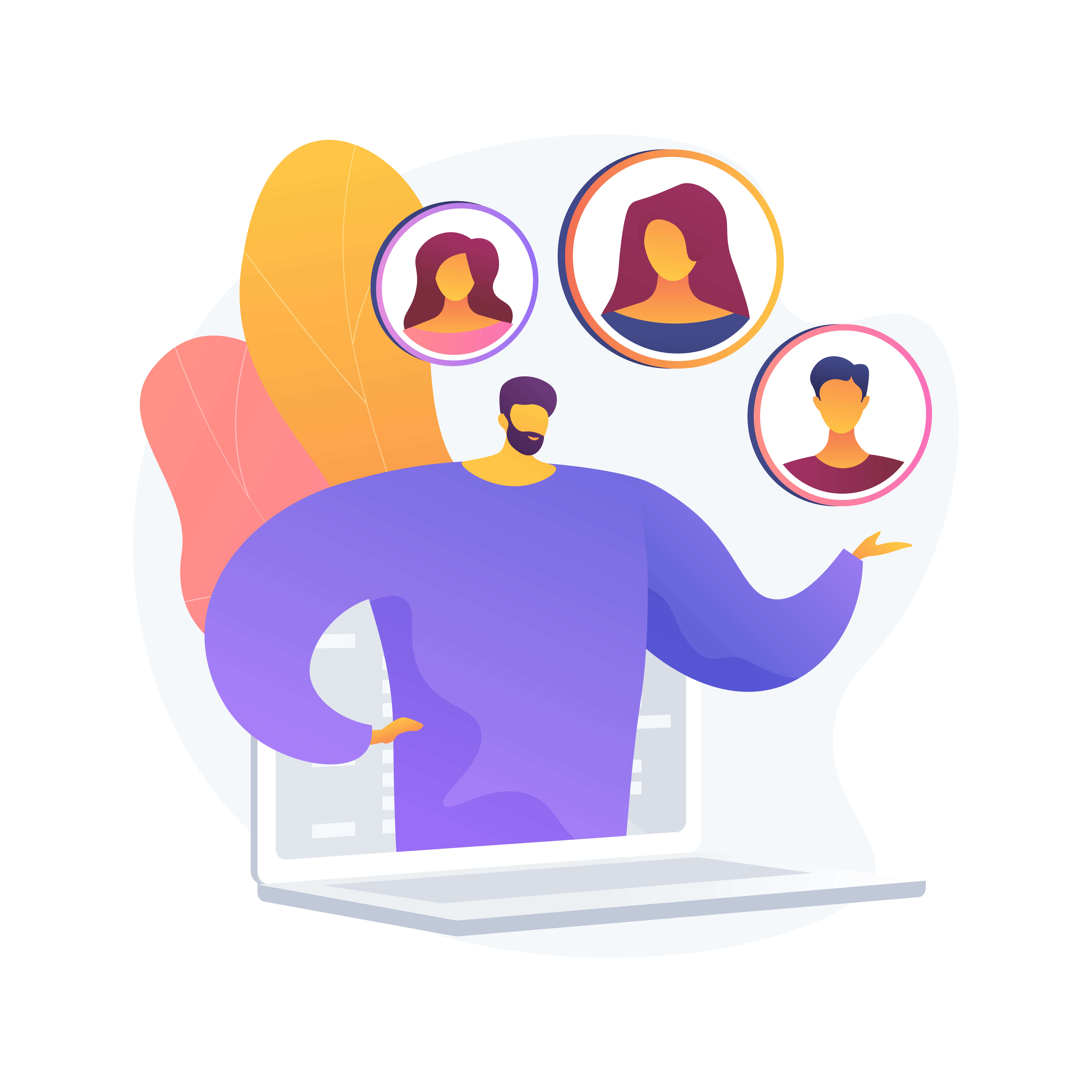 3. Use analytic tools
With the amount of data available to marketers, it is important that you use analytics programs in order for your business idea or product design to succeed. This will provide demographic information about who browses on-site and social media pages including location, age range, etc., so they can be tailored accordingly.
It can be social media listening tools (Sprout Social, Buzzsumo, Hubspot), Social Media Analytics tools (Facebook Insights, Twitter Analytics, Pinterest for business analytics, Buffer, Hootsuite), Surveying tools (Survey Monkey, Google Forms), or Google Analytics.
The power of Google Analytics has been proven time and again. It's a great way to segment site visitors by keyword, which can help you uncover similarities in search traffic so that teams are able to group buyers into themes or categories and then present them with content offers suited for their needs.
4. Which information to include?
A marketing persona is like the personas of our customers, depending on what we need to do for them. If you want to know what information should go into your persona, the best thing to do is just include anything that will help your company.
But what is crucial about creating a buyer persona?
Name – Give your persona a name, a real name.
Picture - It is important to have an image that corresponds with each persona.
Demographics - There are a lot of questions that need answering when it comes to demographics. What is your customer's age? Is he male or female, single with children from previous relationships - these details will have an impact on what products they might buy.
How much money does she make annually and where in the country do you sell most frequently? Do customers come in via email contact more than by phone call, so there needs to be some adjustment done here too based on data collected during outreach efforts?
Psychographics - The more you know about your buyer the easier it will be to engage them. The first step in engaging a customer is getting an understanding of their habits and values, so by describing hobbies or interests we can find out what makes this person tick.
Motivations - A lot of people think they know what a customer's motivation is from looking at them, but the truth is that it can be difficult to read. It helps you understand your customers better by understanding how their personality traits impact this decision-making process and vice versa.
Internet use - Keep an eye on your buyer's social media and online activities. Know where they get their information from, know what websites or books are popular with them in general terms (not just ones relevant to the product), pay attention to how often news outlets post articles about certain topics, be aware of all these things when creating content for people who use different platforms than you so that it is more likely to resonate deeply rather than surface-level engagement like ads do nowadays.
You can easily construct well-rounded social media buyer personas from the information you have so far. From this, it will be easier for your company to understand who its consumers are and what strategies would work best with them.
5. Use tools to create a buyer persona for your business
There are various tools that build a customer persona. You can just simply fill the gaps, leads, and steps, then download and share!
Our suggestions are, Make My Persona by Hubspot, Smaply, Live Persona by Delve AI, Xtensio.com, and so on.
How to create a buyer persona for your business step-by-step
· Research - Researching your buyer personas should include everything from speaking to your team, and even talking with customers
· Analyze - Identify the key attributes of your customers from analyzing and use them to build a buyer persona.
· Build – Include all the data you have found, from name to how many pets do they have,
· Share - After you have created a personality for your brand, share it with the team. They should know what kind of personas are expected and give suggestions if they think something needs changing.
Here 2 types of buyer persona examples by us:
Simple
Name: Tom Henry
Location: Australia
Age: 28
Job: CRM Manager
Salary: 3K
Marital status: Single
Hobby: Racing
It is one of the simplest templates of social media persona.
How about this one?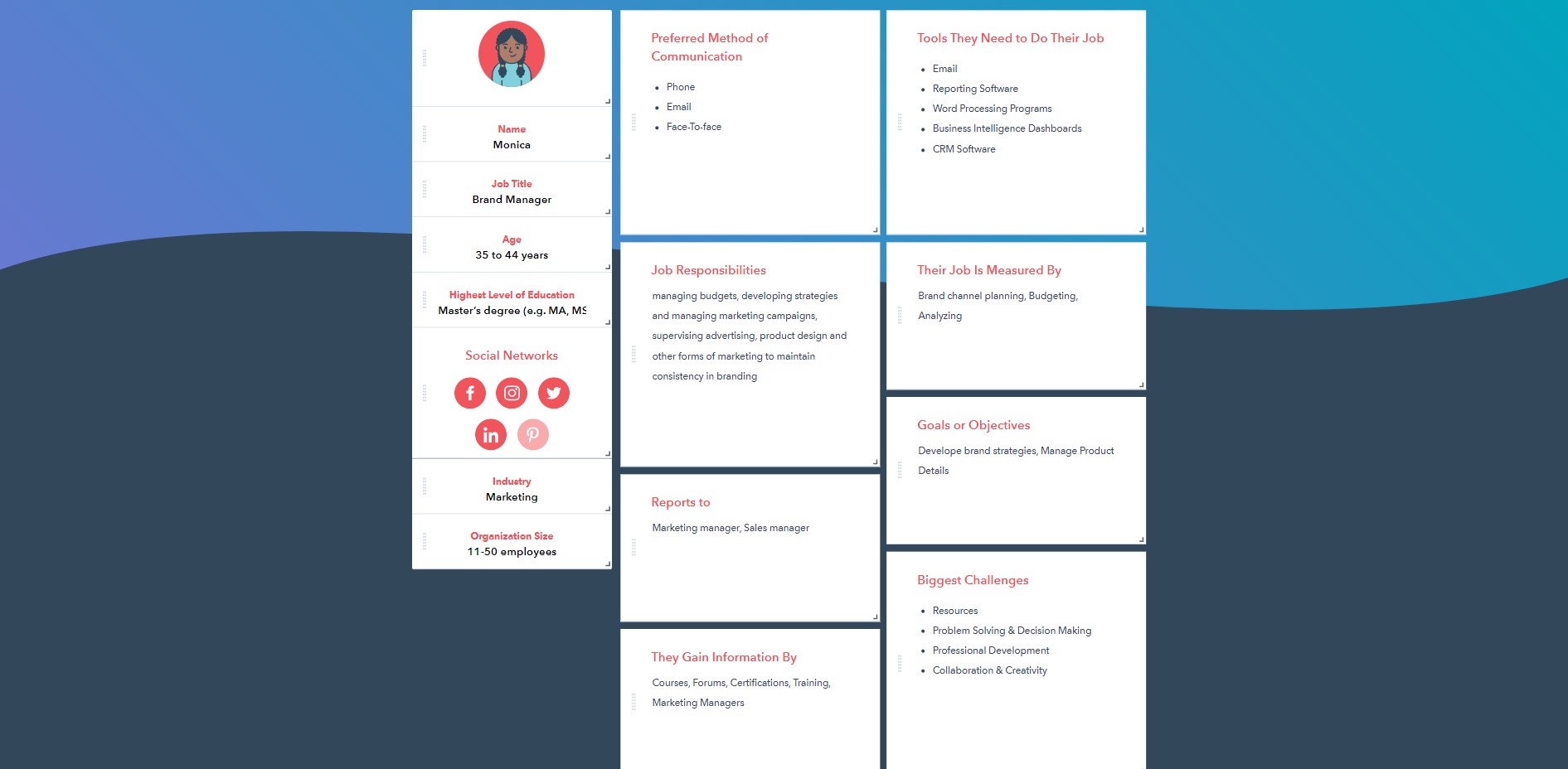 Name: Monica
Job Title: Brand Manager
Industry: Marketing
Age: 36
Highest Level of Education: Master's degree
Preferred Method of Communication: Phone, Email, Face-to-face
Tools needed for work: Email, Reporting Software, Word Processing Programs, Business Intelligence Dashboards, CRM Software
Job responsibility: Managing budgets, developing strategies and managing marketing campaigns, supervising advertising, product design, and other forms of marketing to maintain consistency in branding.
Job is measured by: Brand channel planning, Budgeting, Analyzing
Goals: Develop brand strategies, Manage Product Details
Reports to: Marketing Manager, Sales Manager
Biggest challenges: Resources, Problem Solving & Decision Making, Professional Development, Collaboration & Creativity
Gain information by: Courses, Forums, Certifications, Training, Marketing Managers
Social Networks: Facebook, Instagram, LinkedIn, Twitter
By checking and analyzing, you are also able to simply create a buyer persona template by yourself.
In Conclusion
One of the most important aspects of effective marketing is understanding who you are talking to and how they want to be talked about. This starts by creating a social media persona so that every company can have its own distinct customer base in mind when designing ads or other pieces of content. What makes a great company is knowing your customer and addressing their needs.