8 Content Organization Tools Every Marketer Needs in 2023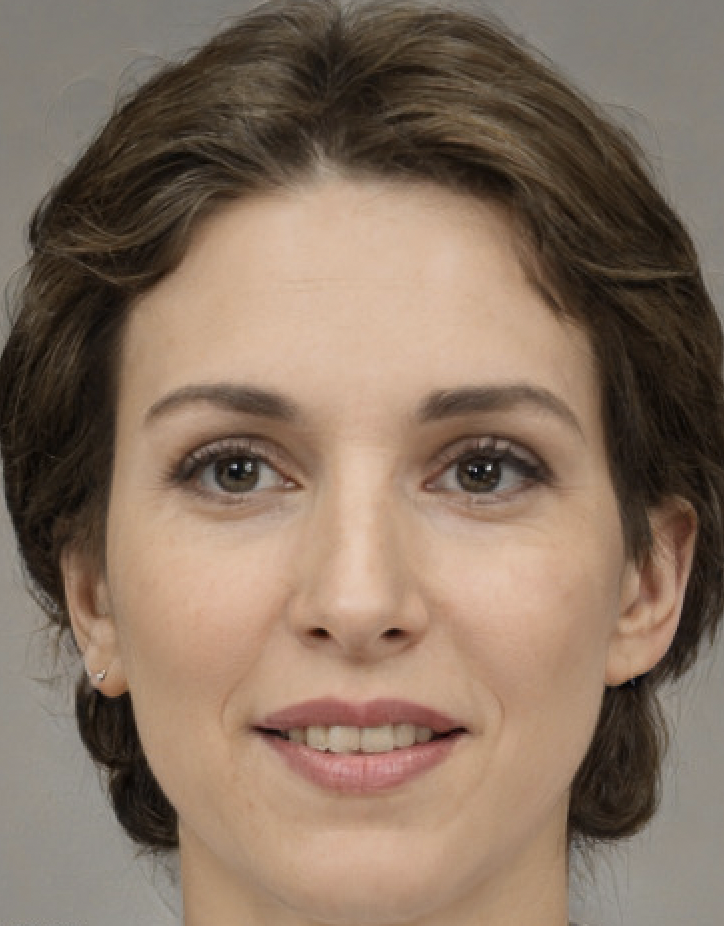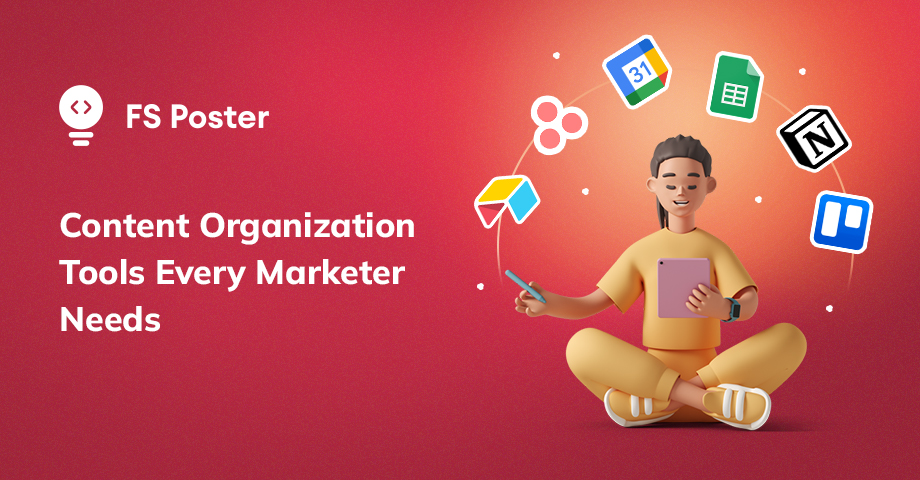 Digital marketing tips
Dec 12, 2022
Updated at: Jan 20, 2023
Organizations rely on marketers to promote their products or services. They need to create strategies that can help them boost revenue by selling more. Content marketers can increase their productivity thanks to content organization tools. They help marketers plan, edit content, or create new content.
By using the tools, they reach more audiences and keep them engaged. The right use of these tools determines the level of success in digital marketing. Marketers use them to generate leads, increase conversions, and improve audience relationships. Here are the best-rated content organization tools every marketer must have to make 2023 a highly productive year.
Most important features of content organization tools
Marketers help improve the public relations of an organization. They plan, create, and execute marketing campaigns to increase an organization's reach to potential customers. A marketer's job description includes the required education, experience, and soft skills that give them success in their work. Content organization and productivity tools designed for the Mac help them achieve targets and stay organized. Marketers require instruments that contain the key features that help them increase productivity. The most important features to look out for are as follows:
Content planning features
Content planning begins with a marketing idea and progresses to development and management. Your organization decides the content initiatives to use, the structure to create, and the platforms to publish. When shopping for the top content organization tools, the first thing to consider is the content planning features the tool provides, such as:
Goal setting features
Setting target audiences
Information Research
Content creation and editing
Creating content goals
Notifications
Buyer persona creation
Creating scheduled posts
Robust integrations
No matter how many features your content organization tools have, you still need various integrations to enhance the content marketing experience. Your marketing team needs to add third-party applications to the workflow. The tools must allow integrations with APIs, web-based apps, social media apps, automation, and CRM software.
Success analytics generation
Marketers cannot measure the success of marketing campaigns by the number of emails sent, and blogs created, videos published, etc. Success is measured by the total emails read, videos watched, links clicks, leads, and conversions. The team leverages tips for more effective content writing and tools to organize their content. However, successful analytics generation provides them with a 3600 view of marketing success. The best content planning tools should effectively generate marketing analytics.
Online Security
Online security is major challenge organizations are dealing with in modern times. Data breaches cost companies millions in losses annually. A content marketing tool that leaves security gaps is an easy target for cybercriminals. No organization should overlook the importance of online security when choosing the best content planning tools.
Ease of use and content automation capabilities
The content organization tool should be easy to use by everyone in your organization. These instruments allow marketers to administer multiple websites and platforms. Their main task is to help specialists keep a consistent track of content and monitor activities. The tool must have content automation capabilities to make creation, distribution, monitoring, and analysis easy. This feature should be available in both premium and free content planning apps.
The most necessary content organization tools every marketer needs in 2023
Whether you manage an e-commerce store, create blogs, or take care of a company website, using the best content planning tools makes your work easy. The market contains content management tools, each with unique features that serve multiple business needs. Here are the most necessary content organization tools to use in 2023.
1. Trello
Trello helps marketers track tasks and manage workflows and projects. It is used to create files, automate tasks, and can be customized to fit your organization's needs. The tool simplifies communication across the entire organization.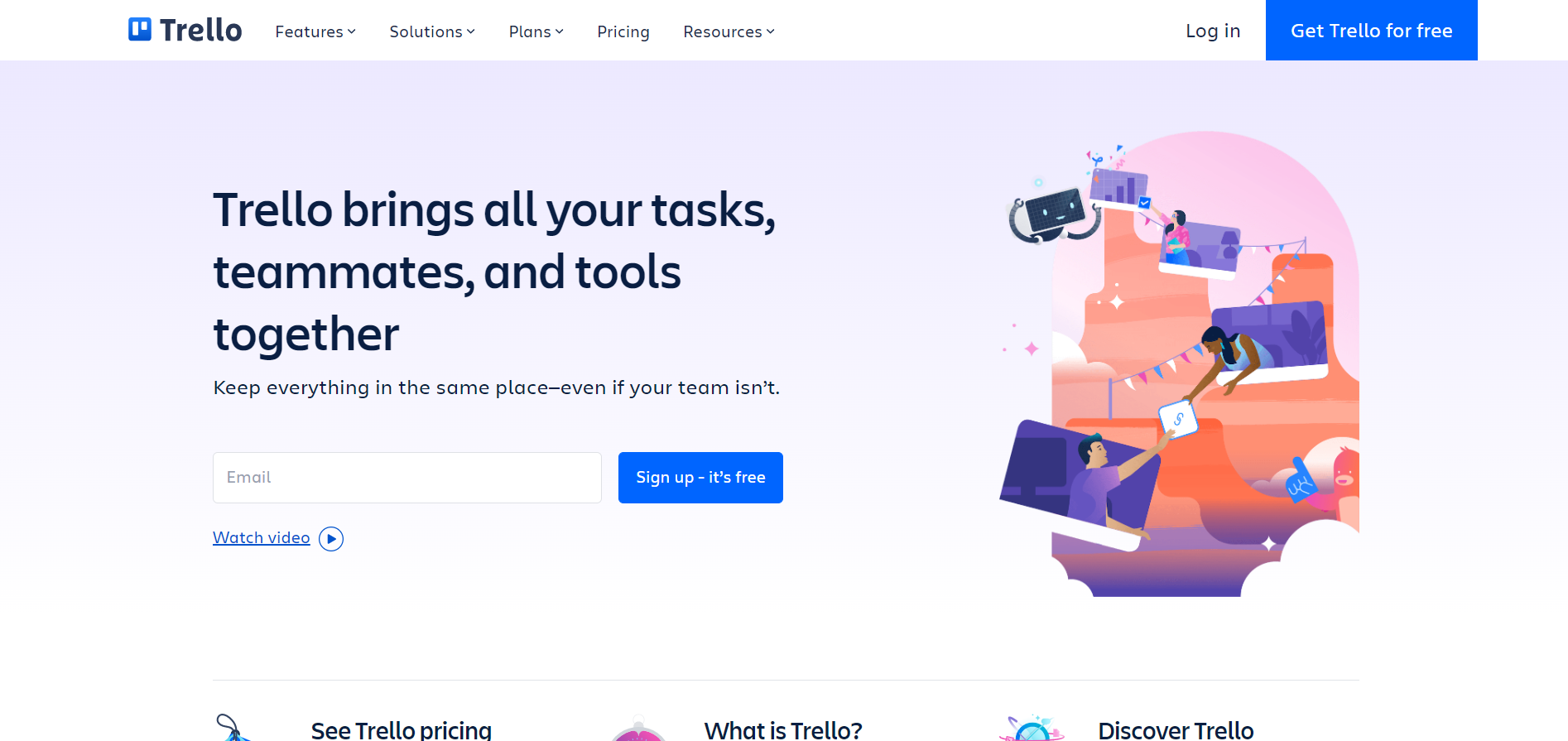 1- Source: Trello.com
Features:
Has an activity log to keep your teams updated
It includes boards, lists, and cards for managing projects
The Butler feature helps your teams automate repetitive tasks
24/7 customer support and mobile-friendly views
Pros:
Easy-to-understand user interface
Allows automation using the Butler feature
Mobile optimized
Allows collaboration, project, and task management
Cons:
Relies on data to work
Limited storage of up to 250 MB
Best fit for smaller projects
Pricing: Users get a free trial and then pay $5 monthly.
2. Google Sheets
Google Sheets helps marketers create, update, and improve spreadsheets. It is a web-based app with intuitive features that make marketing easy.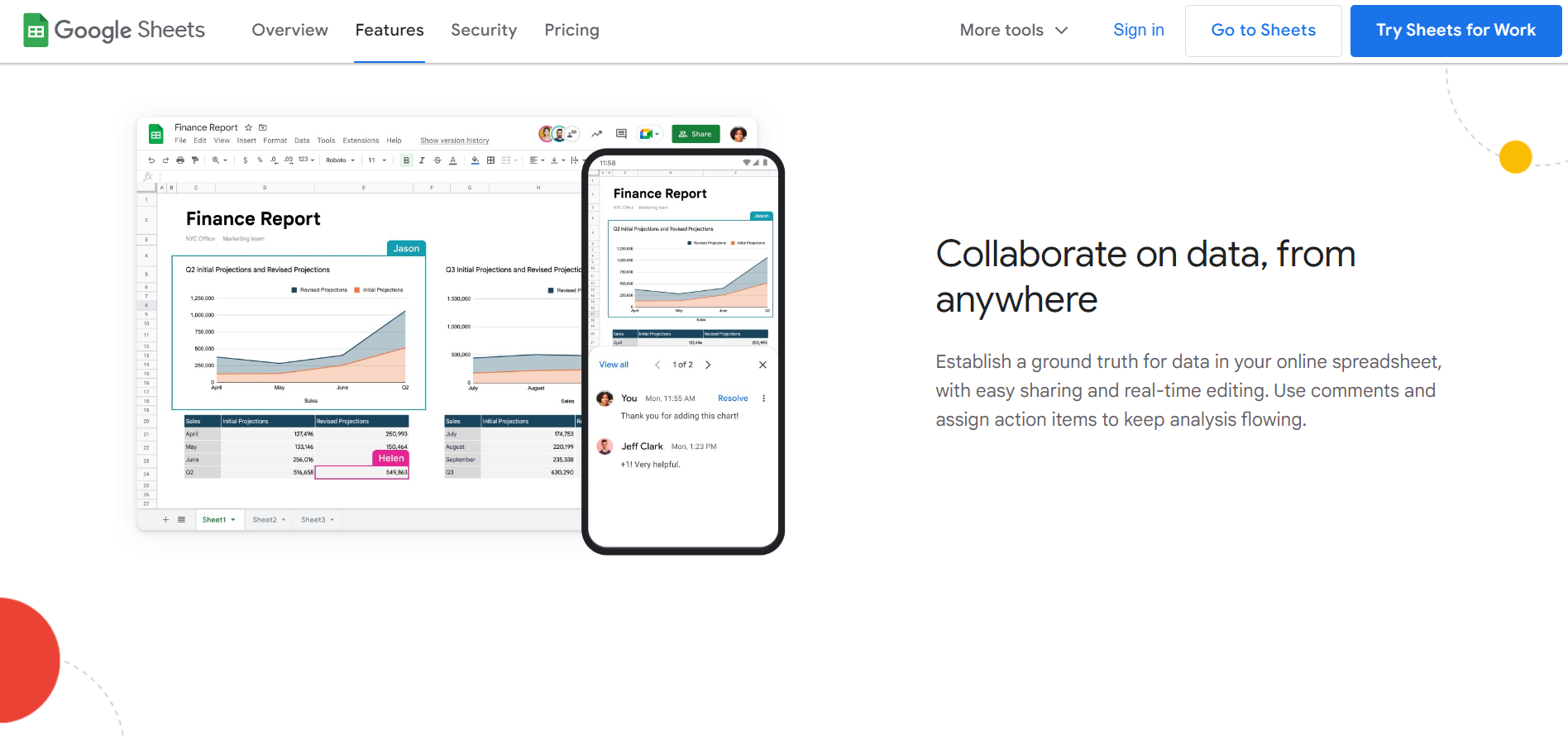 2 - Source: Google.com
Features:
Editing and formatting of spreadsheets
Allows visualization of data
Allows offline spreadsheets editing
Strong security
Collaboration and product integration features
Pros:
Easily accessible
Allows sharing and collaboration
Scalable
Integration with multiple applications
Can link to Google Slides
Cons:
Requires skills to learn its Syntax
Lacks strong online security
Offers limited analytical functionality
Pricing: Available for free. Corporate users may choose the standard package at $12 monthly.
3. Google Calendar
Google Calendar can be integrated with CRM tools to make the marketing experience better. It is used to schedule meetings, create calendar templates, and set up recurring events. It sends reminders and can be shared among users.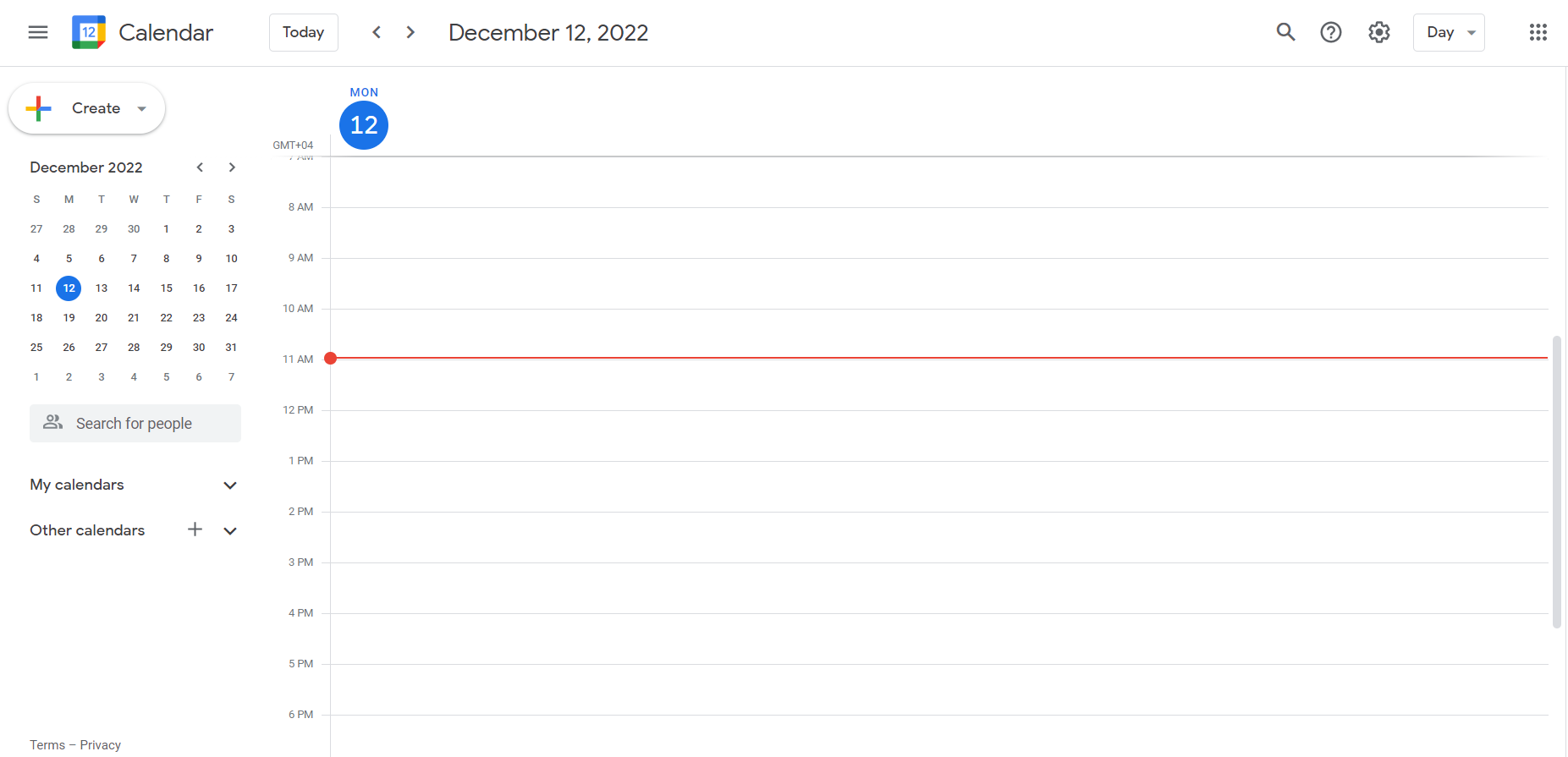 3- Source: calendar.google.com
Features:
Use different colors to create various calendar views
Add files
Synchronize calendars from multiple gadgets
Schedule meetings and define your availability
Pros:
Arranges all your schedules neatly
Easy-to-use features
Keeps track of future events
Enhances team collaboration
Cons:
Fails to integrate with some email platforms
Hard to change colors to mark different events
Pricing: Basic package is available for free. Premium package at $4.60 monthly.
4. Notion
Notion is popular with note-taking and storing data in databases. It is useful for creating marketing content, contact lists, and managing information. Marketers use the tool to organize campaigns, teams, and content across multiple channels.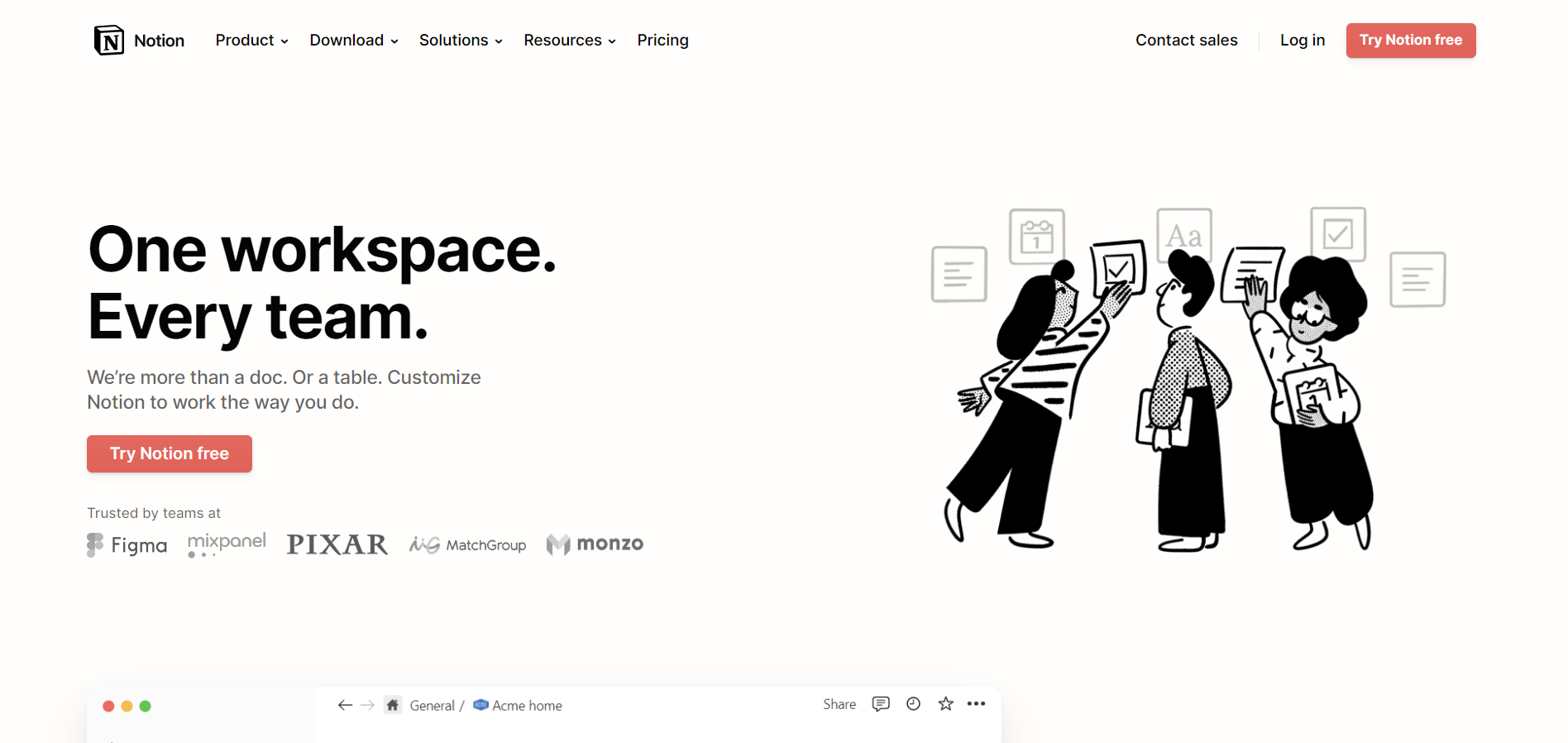 4 - Source: Notion.com
Features:
AI-powered features
Multiple templates to create docs, schedule meetings, and manage projects
Customizable icons for viewing databases
Sync feature for syncing databases
Drag and drop feature
Unlimited pages and blocks
Pros:
Records minimal lag issues
Easy to use
Customizable templates
Allows editing by different users
Flexible tool
Cons:
Non-intuitive text formatting feature
Not easy to navigate, especially for new users
Set-up takes a lot of time
Pricing: Personal package is free. Personal Pro is $4 monthly, and Team Package at $8 monthly.
5. Asana
Asana is a marketing management software that helps promote brands and launch campaigns. It helps marketers reduce planning time by 66%. They use the tool to scale campaigns from about 40 to 200 marketing campaigns every quarter.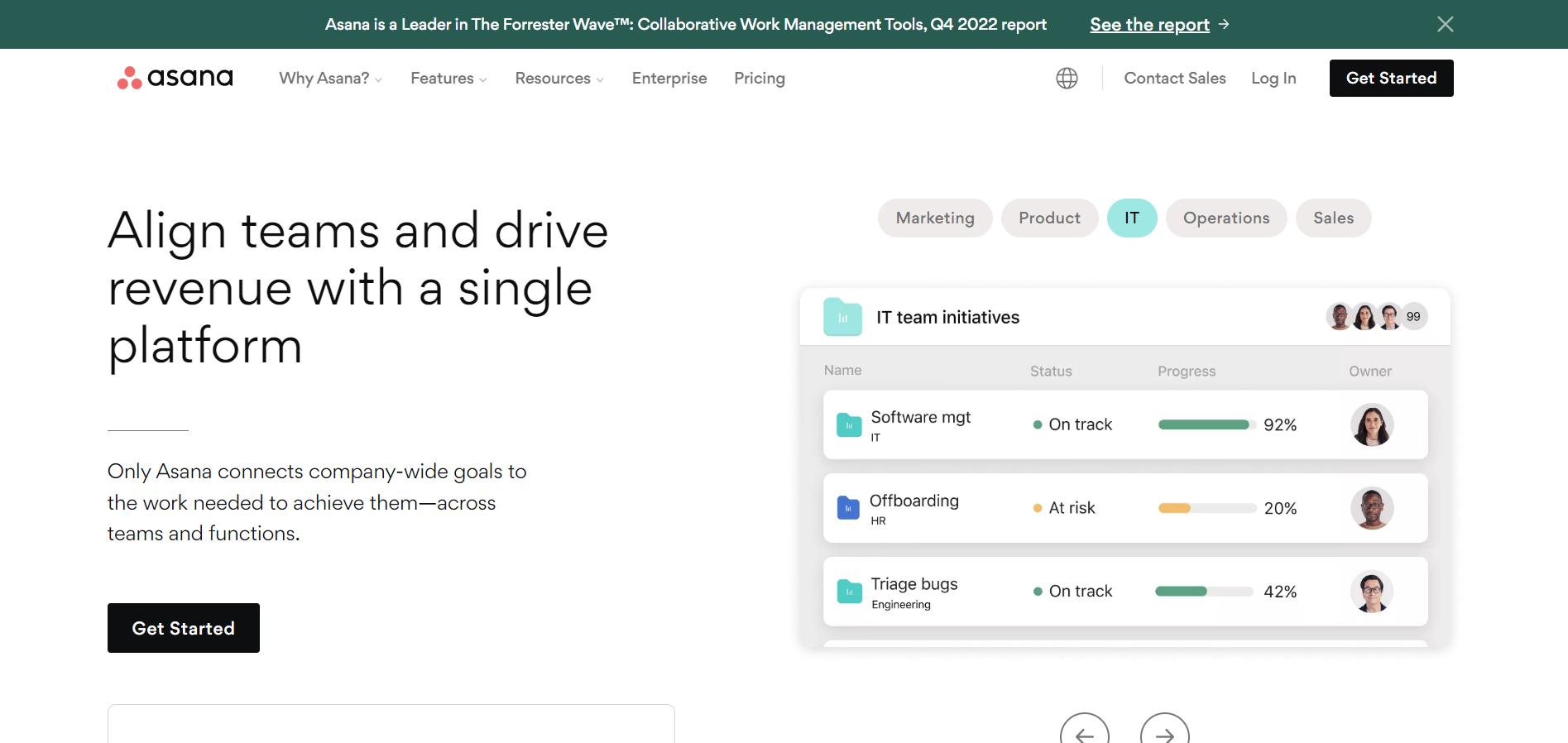 5 - Source: Asana.com
Features:
Mobile optimized
Team management features
Top integration tools
Task analysis and reporting
Work, task, and project management feature
Pros:
Flexible
Customizable
Excellent features
Allows multiple integrations
Have a free and premium plan
Collaboration focused
Cons:
Its features are complicated and require some experience to use them
Allows limited assignments
It is not ideal for small teams and single projects
Pricing: Available for free for teams of a maximum of 15 users. The premium cost is $19.99 per user per month.
6. Microsoft 365
Microsoft 365 provides marketers with email marketing features. It allows visualization of the customer journey, leads, and flawlessly connects with sales and marketing processes. It is AI-powered to enable automation.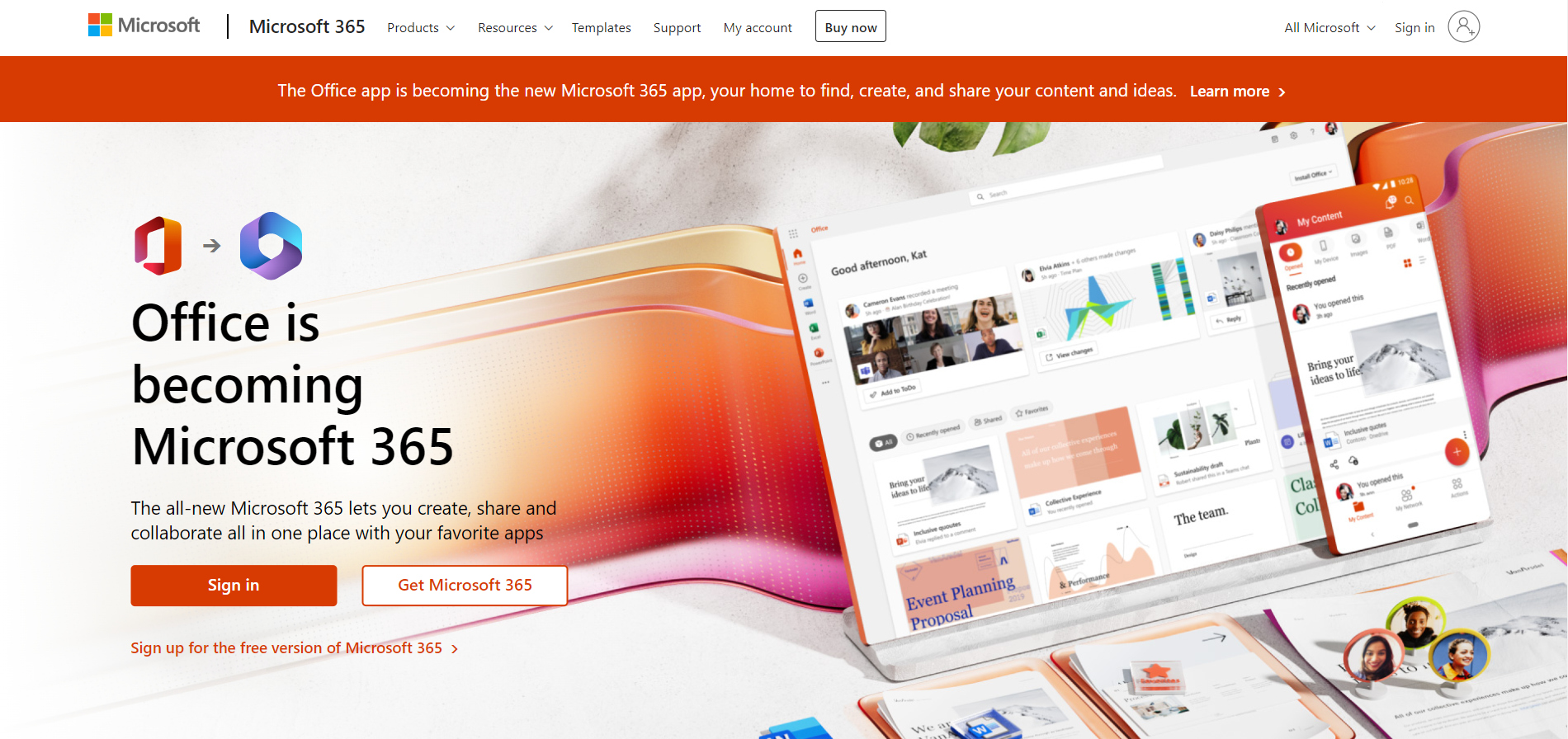 6 - Source: Office.com
Features:
Emails customization
Calendar customization
Strong online security
1 TB storage
Web-based office applications
Contain spreadsheets and databases
Pros:
Extensive technical support
Advanced online security
1 TB of cloud storage
Contains Word, Excel, PowerPoint, OneNote, etc.
Cons:
Some users experience compatibility issues
Subscriptions are not available for everyone
Pricing: Subscription at $70 to $100 per annum. One-time purchase of $149.99.
7. Airtable
Airtable is a one-stop marketing platform that is easy to use. It allows marketers to create strategic marketing goals, do planning, track content, and compile reports.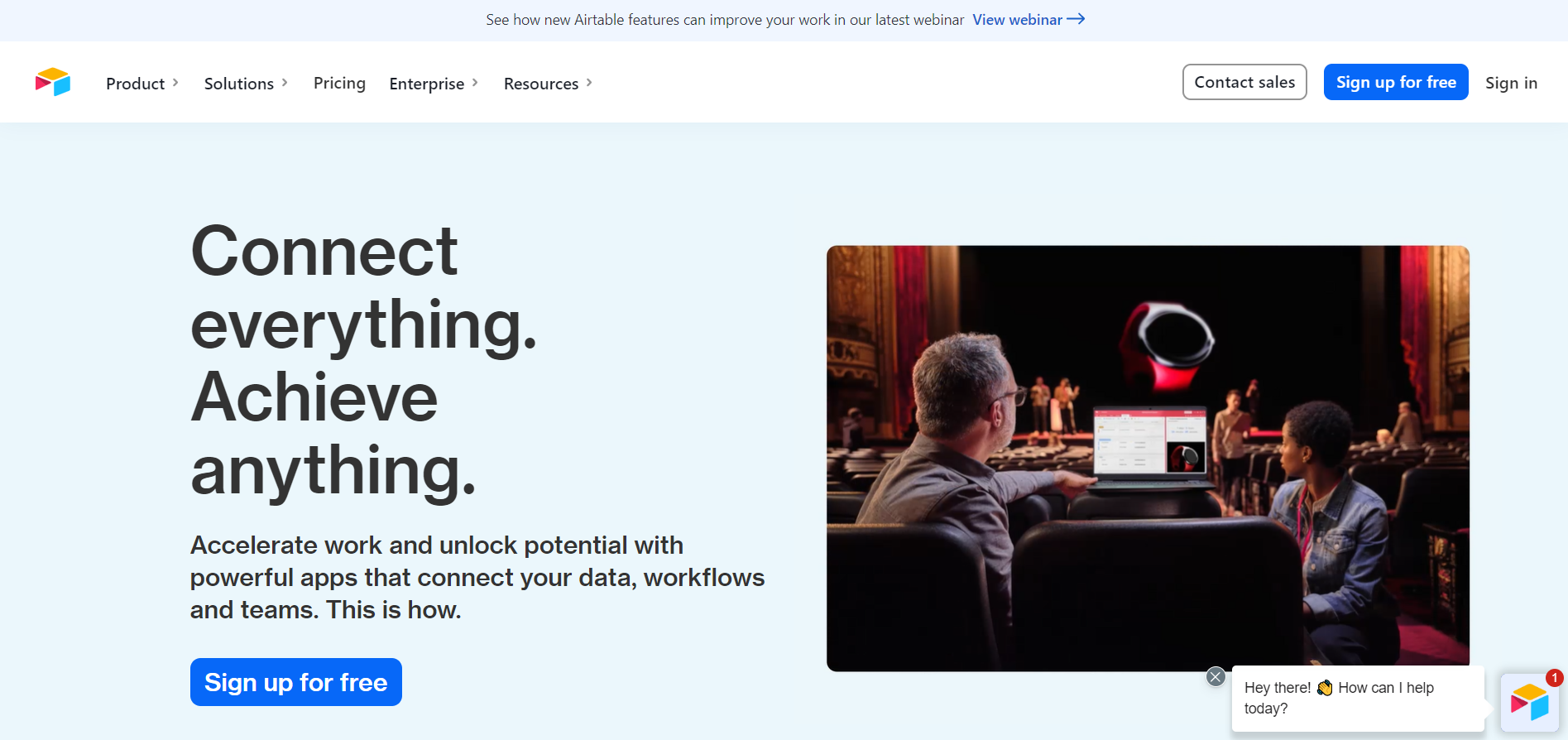 7 - Source: Airtable.com
Features:
Beautiful user interface
Workflow streamlining
Data synchronization
Multiple data views
Pros:
Easily customizable
Includes several apps, integrations, and automation
Pricing is based on the number of users
Promotes collaboration
Cons:
Costly for large teams
Limited integrations
Pricing: Free trial and then $10 or $20 for three extensions per user.
8. Apploye
Apploye helps track time and monitor employee productivity. It assists in tracking time for search engine optimization and other tasks that help a marketer stay productive while working.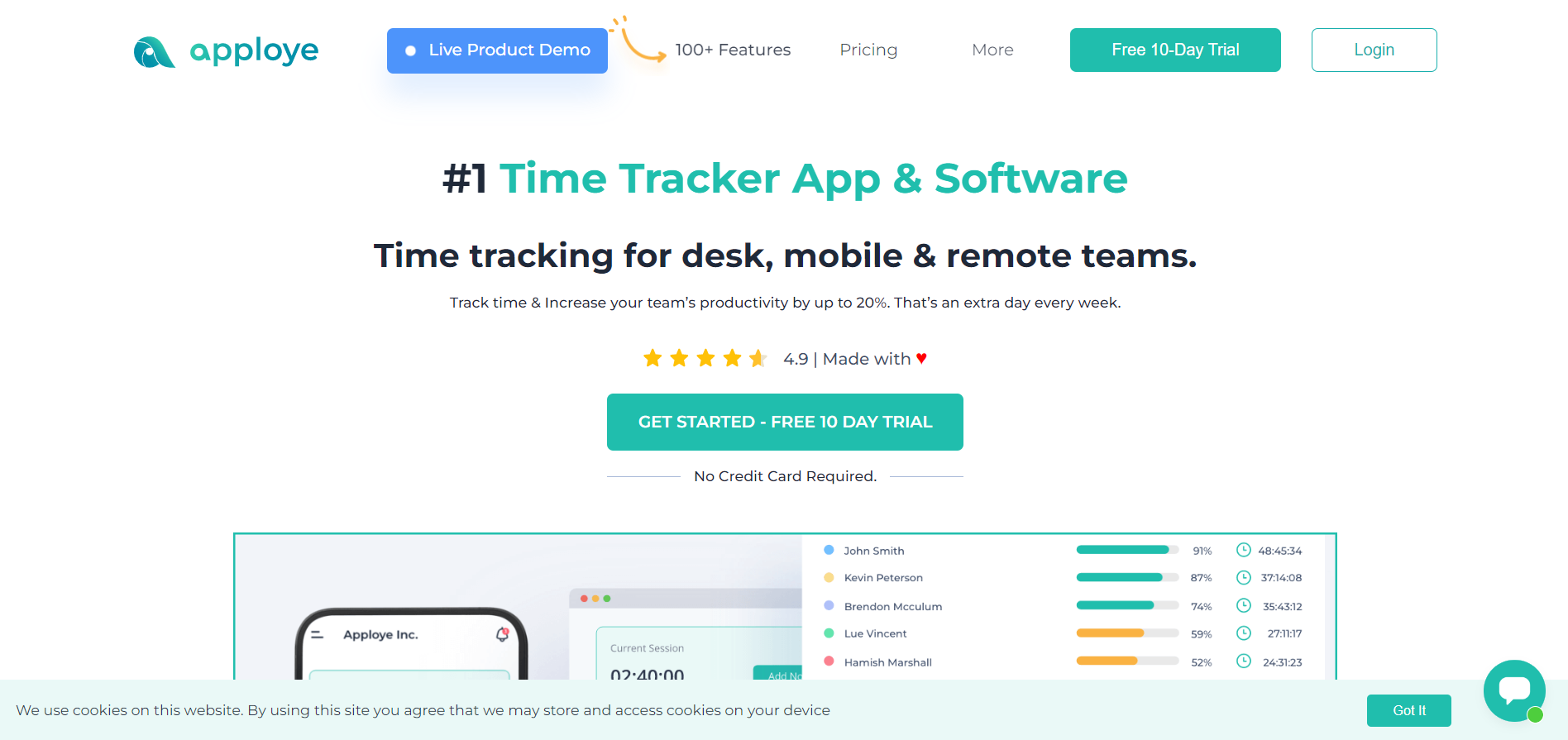 8 - Source: Apploye.com
Features:
Compatible with iOS and Android
Time tracking feature for tasks and projects.
Screenshots, Apps, and URLs tracking
Employee GPS Tracking feature
Pomodoro time tracker
Idle time tracking
Pros:
Flexible
Keeps company time tracked
Eliminates micromanagement
Improves project management
Cons:
Allows limited integrations
Pricing: Free for 10 days. One user at $2 monthly. $2.5 to $3 per user for corporate
Why is content organization crucial in content marketing?
Content in marketing is crucial, but sometimes it can be way too scattered across multiple platforms and databases. Scattered content is more challenging to manage or measure success. Keeping your content organized makes it easy to locate. It brings similar content into one place, which makes it easy to share with your teams.
Your marketing team should organize content based on target audiences, type, and publishing schedules. The entire team should have access to every piece of content to add ideas, critique, or share with other stakeholders. It limits the chances of sending content to the wrong audiences or adding bad visuals.
Summary
The purpose of content organization is to help marketers easily find information and segment it based on target audiences. The use of content organization tools helps marketers reach the right markets, send the right content, and share it with other team members. If you can track your results and evaluate the success of marketing activities, your team gets a well-rounded understanding of how to move forward to the set goals. Some of the most important tools include Asana, Notion, Trello, Google Sheets, and Google Calendar. Marketers may choose to use premium or free content planning apps. As we see, a successful content marketing strategy is comprehensive. It's not just about texts and timely posting. Specialists need time-tracking, financial, and organizational tools to manage this process and achieve results.