Best WordPress Social Media Feed Plugins for Your Website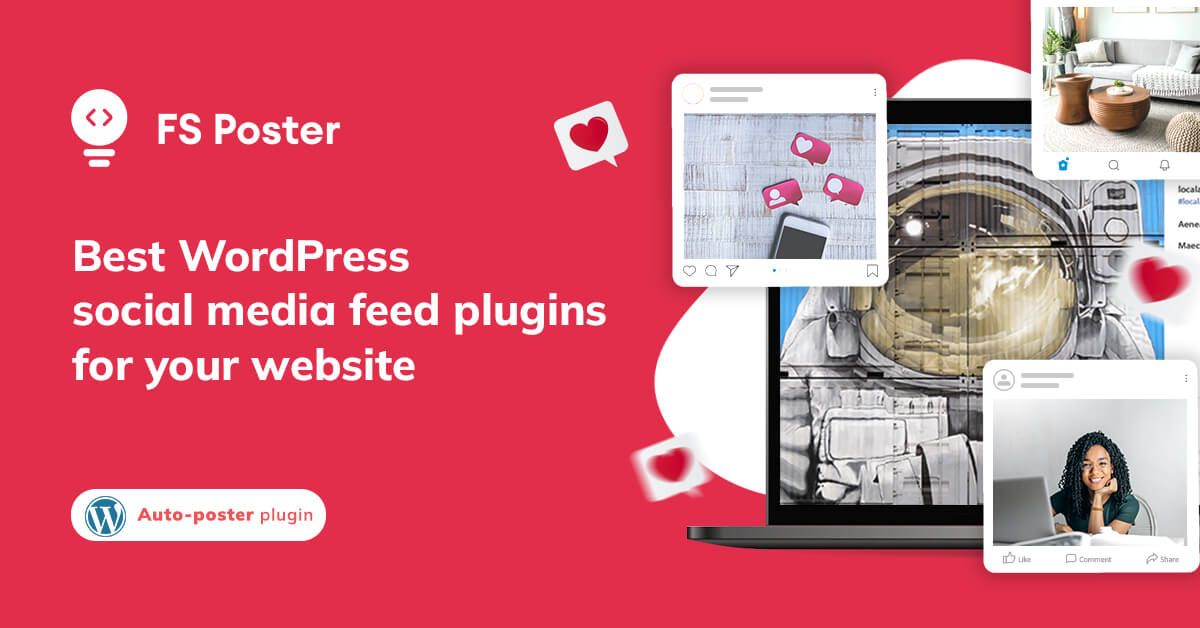 Plugin for WordPress
Dec 13, 2021
There are tons of ways to take advantage of social media. The WordPress plugin offers a quick and easy way to view all your links. Both premium and free options offer a stylish way to encourage change without being overbearing. We've rounded up some of the best WordPress social feed plugins for you.
Take these into account when choosing the best WordPress social media feed plugin
First, the best social feed plugins need lightning-fast performance so they don't slow down your website.
Some plugins only support Facebook, while others only integrate with Instagram. You need a great social media plugin that can integrate seamlessly with different social channels.
Look for features like variable site grids and flexible images that can be translated to non-desktop devices. A responsive theme can be one that can be easily translated on a mobile device without any glitches.
Don't Choose A Theme With A Hard-to-Read Font
How can I install a social feed plugin for WordPress on my website?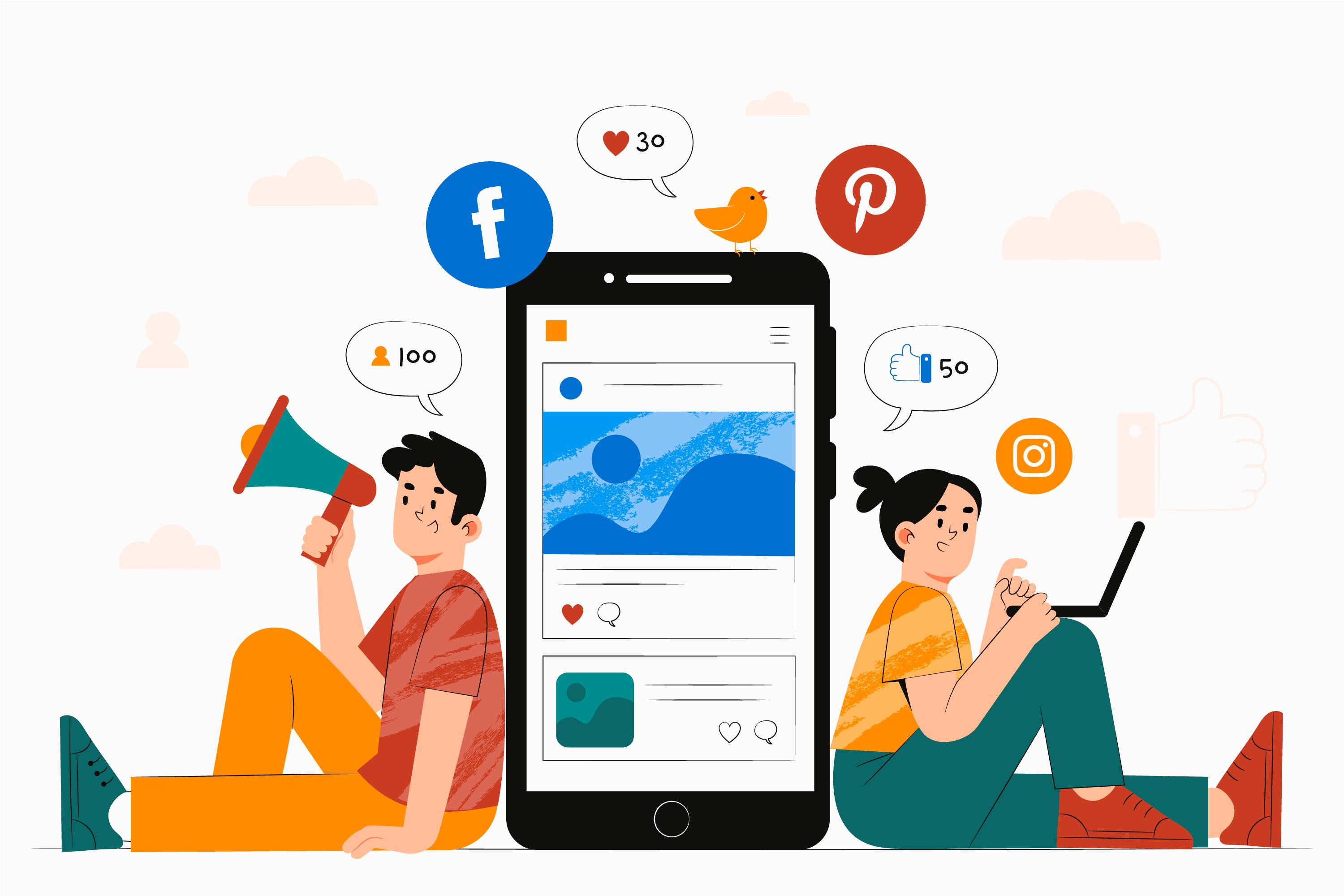 If you have a WordPress-based website, you can activate the social sharing plugins we recommend for you within 2 minutes. Here is the step-by-step installation of the social sharing plugin;
• First decide on the plugin you want to use.
• Enter the add-ons section from the administration panel.
• Click on the new add-on button.
• Search for the plugin you intend to install from the page that opens.
• Press the Install Plugin button.
• After the plugin is installed, click the activate button.
After your plugin is installed, go to the settings section of the relevant plugin, enter your social media accounts in the relevant fields and make your settings according to you.
With that in mind, let's talk about the best social feed WordPress plugins that can help you add social media content to your WordPress.
1. FS Poster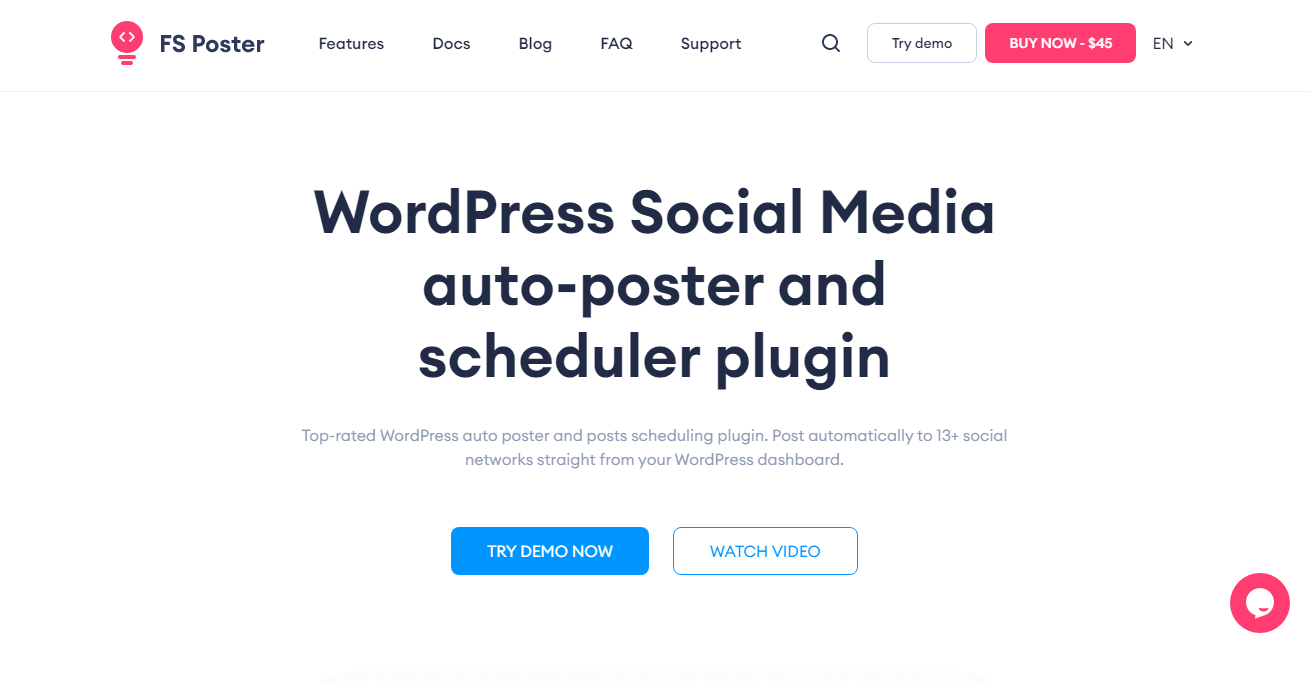 FS Poster gives you a great opportunity to automatically publish WordPress posts on the most popular social networks, making FS Poster the best WordPress social media feed plugin. In addition to adding new blog posts, this plugin can set a date for your blogs to be published earlier, and you can republish old posts. Plugin, including Facebook, Instagram, Twitter, Pinterest, Linkedin, Telegram, Tumblr, VK, OK.ru, WordPress, etc supports more than 13 major blogs such as. The plugin supports automatic posting on 14 social networks and WordPress-based websites.
Now that we have briefly explained to you what FS Poster is and why you should use it, let's move on to the main features of the bride plugin. Because it's not over yet:
I think one of the best features of the plugin is that you can automatically post blog posts to social media profiles with advance planning. All you have to do is write a blog and note the date of publication, and when choosing a date, you can also specify on which social platform it will be shared. This will save you time
Proxy support: To explain in simple terms for those who ask the question of what is a proxy, Proxy acts as a kind of intermediary between you and the internet. When using a Proxy server, your request first runs on the Proxy server (which changes your IP address) and then connects to the website. Proxy has its own IP address, so when your internet requests are processed through a Proxy server, it processes the web request on your behalf. While the proxy server collects responses from web servers, it passes it to you, providing enhanced levels of privacy as your real IP address is not revealed.
We can have hundreds of accounts, pages, and groups. Of course, all objections will come from the same source and we want to hide it. Some countries have blocked many social platforms like Instagram in their countries. However, thanks to this feature, you will be able to log in easily even if it is blocked. Proxy support will help you with this.
Tracking Link Clicks: Tracking Link Clicks: After you share your posts on Social Media, you can track their monthly, daily clicks and you can also see the comparison of accounts.
You can connect an unlimited number of social media accounts for each platform
Price: FS Poster is a premium plugin available at CodeCanyon. You can buy it now for $ 45, and get a 12-month package for an additional $15.
2. Novashare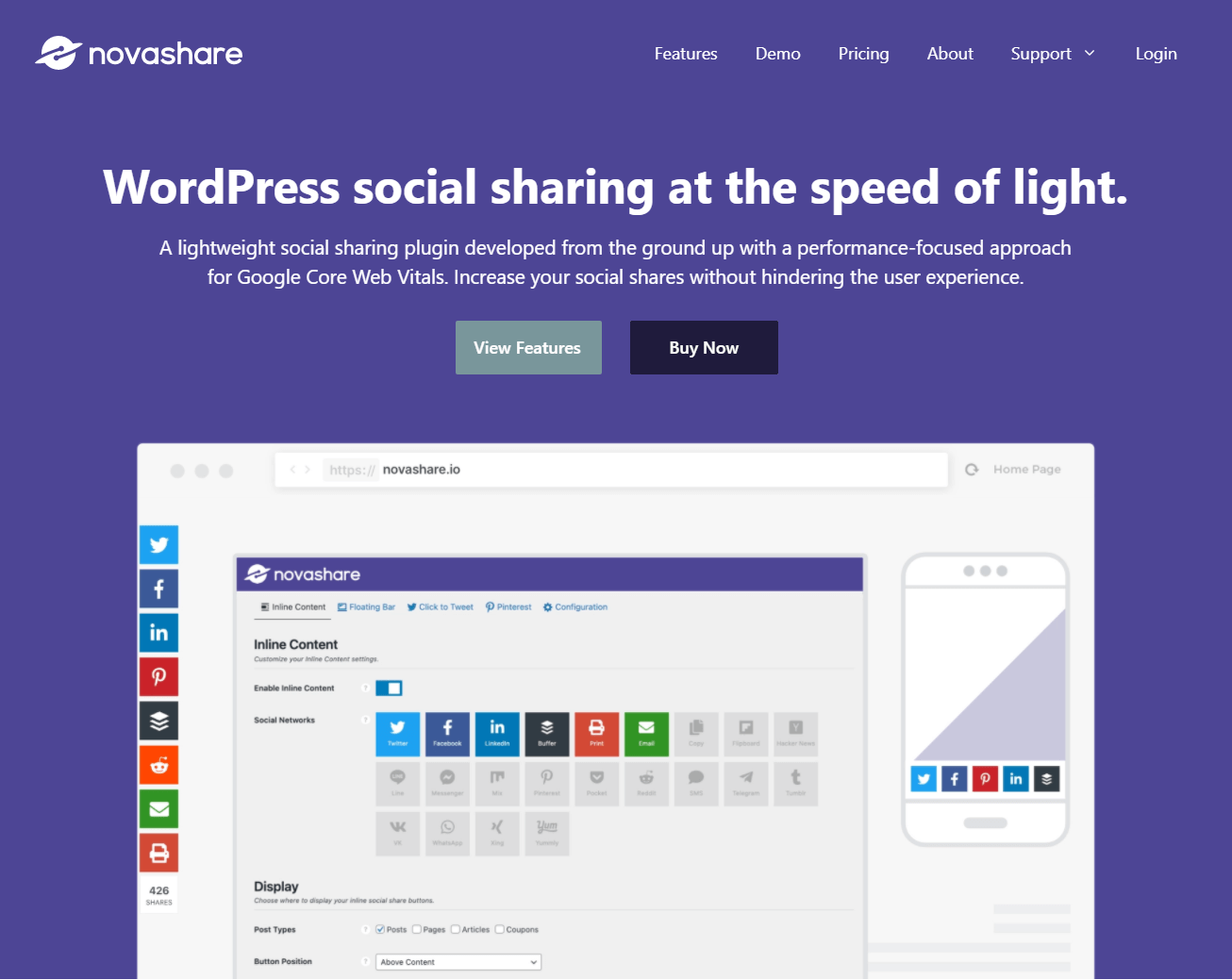 Novashare is a social sharing plugin released in 2020 that primarily focuses on speed and performance while offering a beautiful look and a wide range of features. The Novashare plugin is suitable for beginners.
Here are the notable features of Novashare:
Novashare, Using in-line SVG icons instead of third-party apps makes it one of the best WordPress social media feed plugins in the market; This means that you do not need an additional library or DNS search for icons only. There, the update speed options use a step-by-step approach, which is best for performance because it keeps API calls low. This makes it even faster!
Light and fast: Novashare is well optimized for speed. They use inline SVG icons instead of third-party icons; this means that no additional libraries or DNS lookups are required for icons only. Clever!
Easy User Interface: They use native WordPress style which makes Novashare quick and easy and easy to start configuring settings.
Responsive: If this was a theme I would put more emphasis on responsiveness, but again, that doesn't mean it's not important for a plugin
Novashare scales across all devices and works on all devices, from desktop computers to mobile phones.
Click to Tweet block: Novashare offers a Click to Tweet block that you can add to posts by clicking "Add block" in the block editor.
Analytics and link shortening: Gives you the data you might need, such as: Which social networks are driving the most traffic to your site.
Pinterest image highlight pins: This allows visitors to easily pin any image they like to Pinterest while browsing your website.
Price: 1-year premium support & updates, $24.95 per year
3. Monarch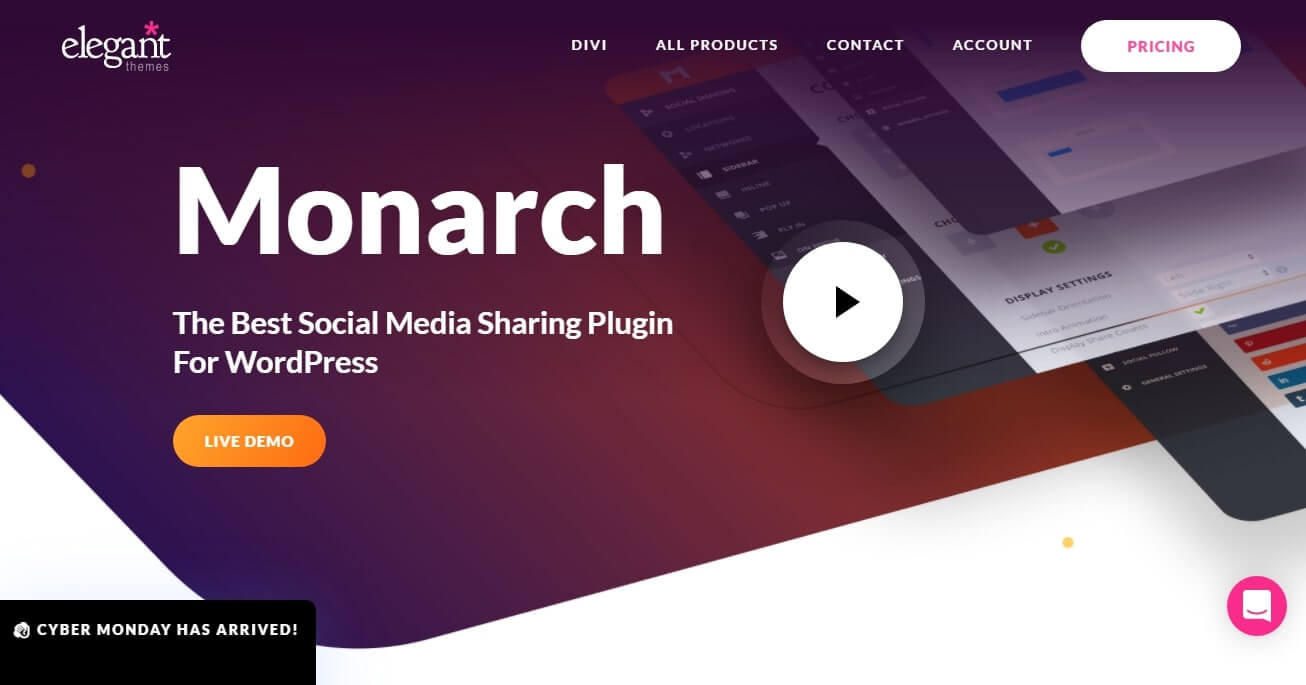 Created by Elegant Themes, Monarch is a beautifully crafted best WordPress social media feed plugin. Monarch can enable sharing options following a visitor's comments on your website, after a purchase, or after a period of inactivity by the viewer. Monarch offers easy customization for 40 different social networks and sharing options with 8 different layouts.
Here are the notable features of Monarch:
It includes more than 20 social media platforms.
It can be placed in 5 different positions.
It has aesthetic sidebar placement.
Quality statistics interface.
Easy to manage admin panel
Cute flying window view.
And with many more features, Monarch is sure to meet the performance you want
Price: 1-year premium support & updates, $64
4. Flow-Flow Social Media Stream

Facebook comments plugin is a great tool that will allow you to show your visitors Fb comments on your website. At the same time, this plugin is very useful for improving your website traffic from Facebook. By providing the important part of social optimization it becomes the best social media feed WordPress plugin in the market. This is why most websites use it on their website.
Here are the notable features of Flow-Flow Social Media Stream:
This premium WordPress plugin brings all of your social media feeds together into one compressed space. This is a great way for your website visitors to see what you are posting. Best of all, it is beautifully designed and looks elegant and modern.
Advertising & Branding: Monetize your social media with the Flow-Flow Advertising & Branding add-on. With it, you can sell featured spots on your social network, insert ads, or even create hero cards for your social media campaigns.
Flow-Flow Social Stream creates streams from over 40 different social networks. Of course, there are customization options available to get that perfect look. Website owners can also embed Google Adsense and Sponsored Content right on their sites.

Price: 1-year premium support & updates, $49
5. Smash Ballon Social Photo Feed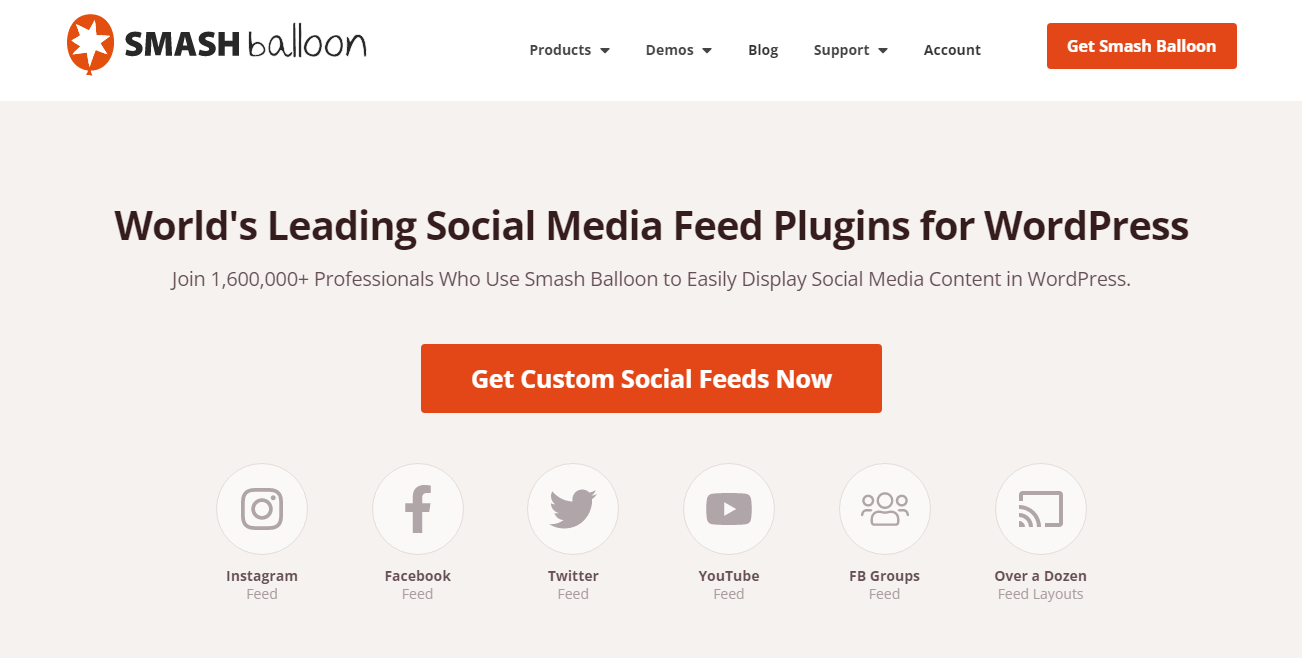 As the most powerful and easiest to use Instagram feed plugin for WordPress, it helps you display customizable Instagram feeds on your site in a Short Time!
Here are the notable features of Smash Ballon Social Photo Feed:
Smash Balloon Social Photo Feed lets you display your Instagram photos beautifully in WordPress.
After you create an Instagram access token, you can use existing shortcodes to display the feed anywhere on your site, including posts, pages, or sidebar widgets.
Smash Balloon also offers a Facebook feed plugin, YouTube feed plugin, and Twitter feed plugin.
GDPR compliant: Automatically integrates with many popular GDPR cookie consent plugins and includes an easy one-click GDPR setting.
You can edit colors, font sizes, or ribbons without the need for CSS codes
Price: Unlimited Pro Feeds, Photos & Albums, Videos (HD, 360o, Live), Display Facebook Event, Popup Lightbox, Likes, Shares, & Reactions, Comments and Replies, Filter Posts, Post Layouts, Load More Posts into Feeds, Advanced Feed Layouts, Performance Optimization, Pro Support- so many functions for only $49
6. Revive Old Post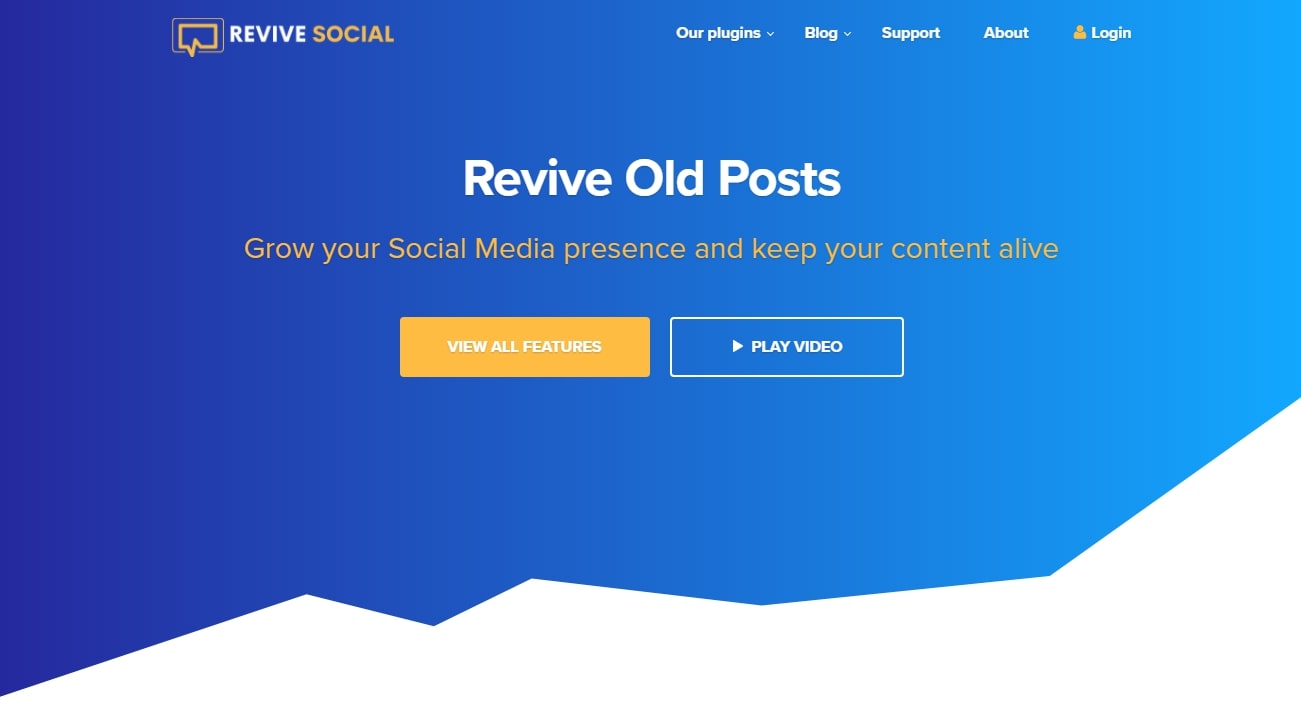 It is one of the best WordPress social feed plugins that automatically share your new and old posts in the WordPress social feed plugin. Revive Old Post has many great features that allow you to carefully share specific articles at specific time intervals. Some things you can customize: spacing between posts, age of posts, number of posts shared per day, how many times the same post can be shared, the format of posts, and more.
Here are the notable features of Revive Old Post:
In FS Poster, you can specify who you want to share your posts with on what day and at what time. However, unlike FS Poster, this feature in Revive Old Post is only available in the business version.
When there is a problem with any blog post, you will be able to see why it is not shared
You can also create a custom scheduling and monitor the traffic generated through this plugin in Google Analytics. Revive Old Post is a true hands-on solution, meaning you only need to set it up once and you're done with all that social sharing stuff. It works for Twitter, LinkedIn, Xing, and Tumblr.
Price: 1-year premium support & updates, $75
7. Social Share Locker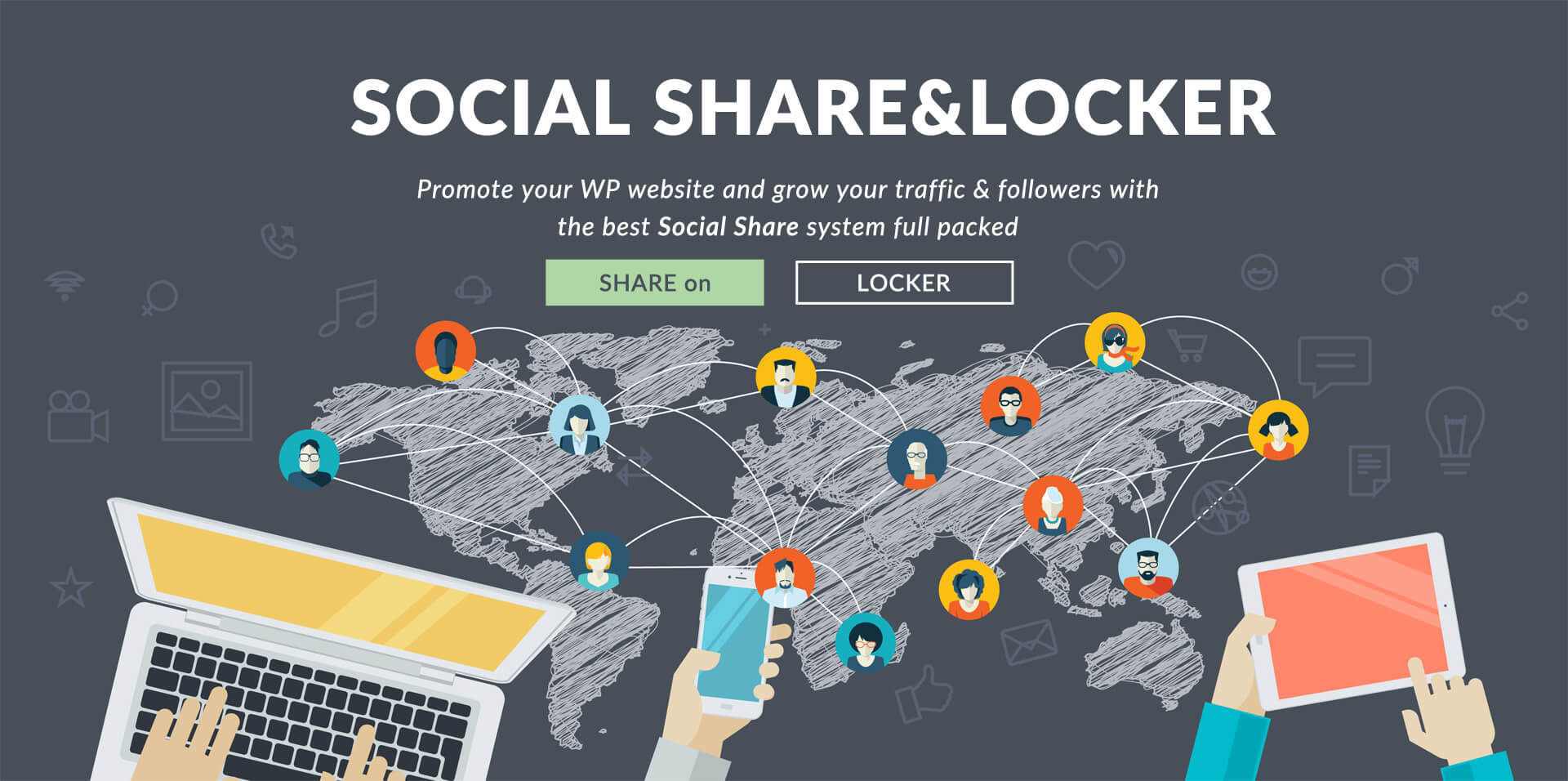 We can say that Social Share Locker is a great invention for the best social media feed plugins for WordPress trend which is becoming more and more popular nowadays. If you want to create your own trend, you should definitely share your visitors with him. In this, you have to get them to share your articles.
We could say that it is one of the best social media feed WordPress plugins for incentivizing website users. This plugin allows you to force your visitors to share in order to access your content. If you produce really quality content and are confident in yourself, this plugin can play a big role in increasing your follower count. Make sure it's a must-try plugin!
Here are some features of Social Share Locker:
9 different layout options.
Responsive feature,
Total share counter,
Identifying fake share count,
Support for 44 different social media platforms,
Beautiful button styles,
Interesting and fun button animations,
Auto unlock feature.
Price: 1-year premium support & updates, $20
8. Feed Them Social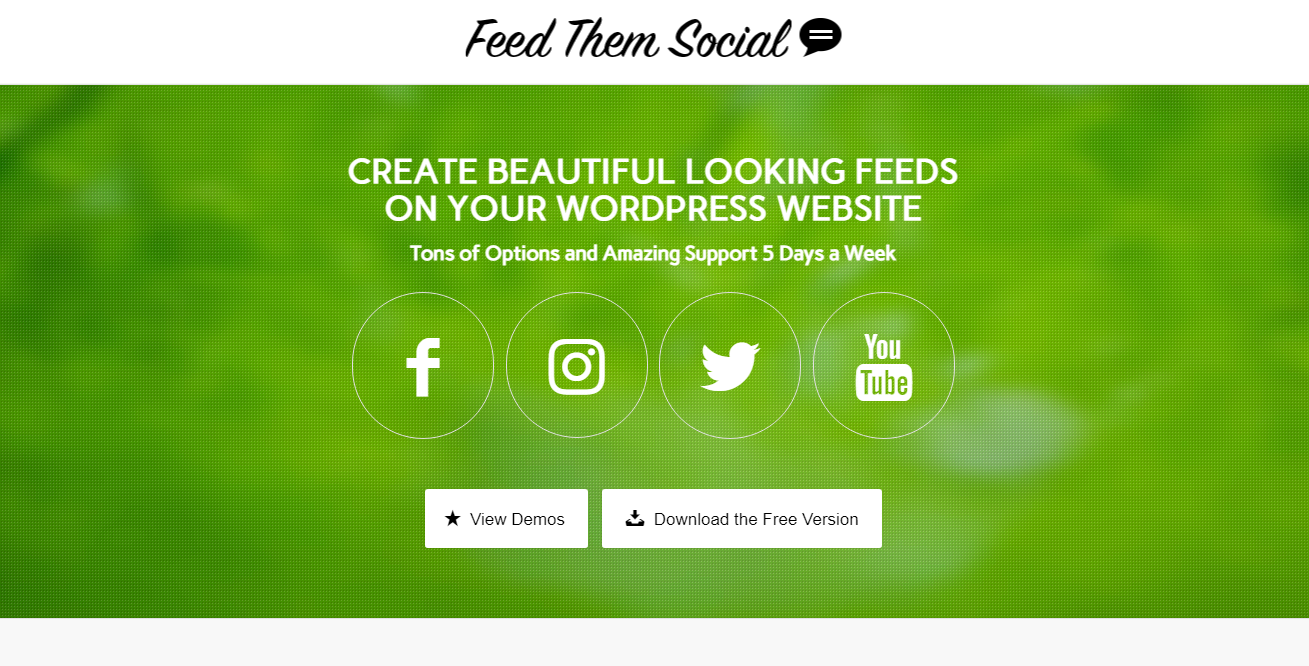 Feed them Social is the best social media feed plugin for WordPress that lets you get perfect results. Feed Them Social prepares you perfect videos, albums, images for your Instagram, Facebook, Twitter accounts. It is free for general use, but you can also use premium.
Here are some features of Feed them Social:
Even if you do not have programming knowledge, you can easily use this plugin
Let's say you share a post on Instagram. But thanks to this plugin, you can also import to your site from other social platforms
Feed Them Social is fully responsive and works great on desktops, tablets, and mobile devices.
Feed Them Social also lets you add like or follow buttons to increase followers.
Price: Single Site $50, Premium Site $200.
9. Social Stream Designer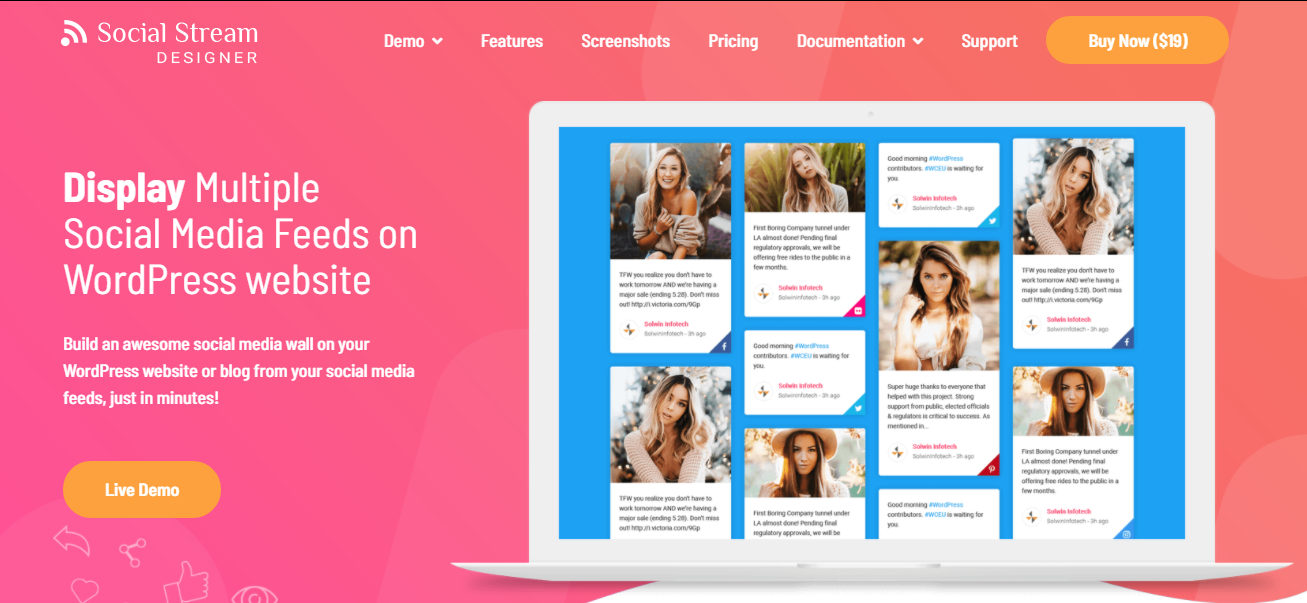 Social Stream Designer imports what's new on your social media profiles to your site.
This plugin has more than 10 layout styles. It is also one of the best social media feed plugins for WordPress with a free version of WP Social Stream Designer with a limited list of features in WordPress repositories.
Here are some features of Social Stream Designer:
Fancybox Interaction
Auto Refresh API
Using this feature, you can display posts from different social networks and combine them in a single feed
Price: $19, Extend support to 12 months at $5.25
Disclosure
This is our list of the 9 best social media plugins for WordPress. All of these have certain features that can help your visitors share your content more easily, drive more traffic to your site, increase activity on your site, and make it easier for your visitors to interact with you. The plugin you choose will depend on what you want to achieve
We hope this article helped you find the best social media feed plugin for the WordPress site. Do you have any favorite best WordPress social feed plugins listed or not listed above? Feel free to leave a comment below and suggest your favorite.