Top 10 WordPress SEO Plugins to Improve Rankings in 2023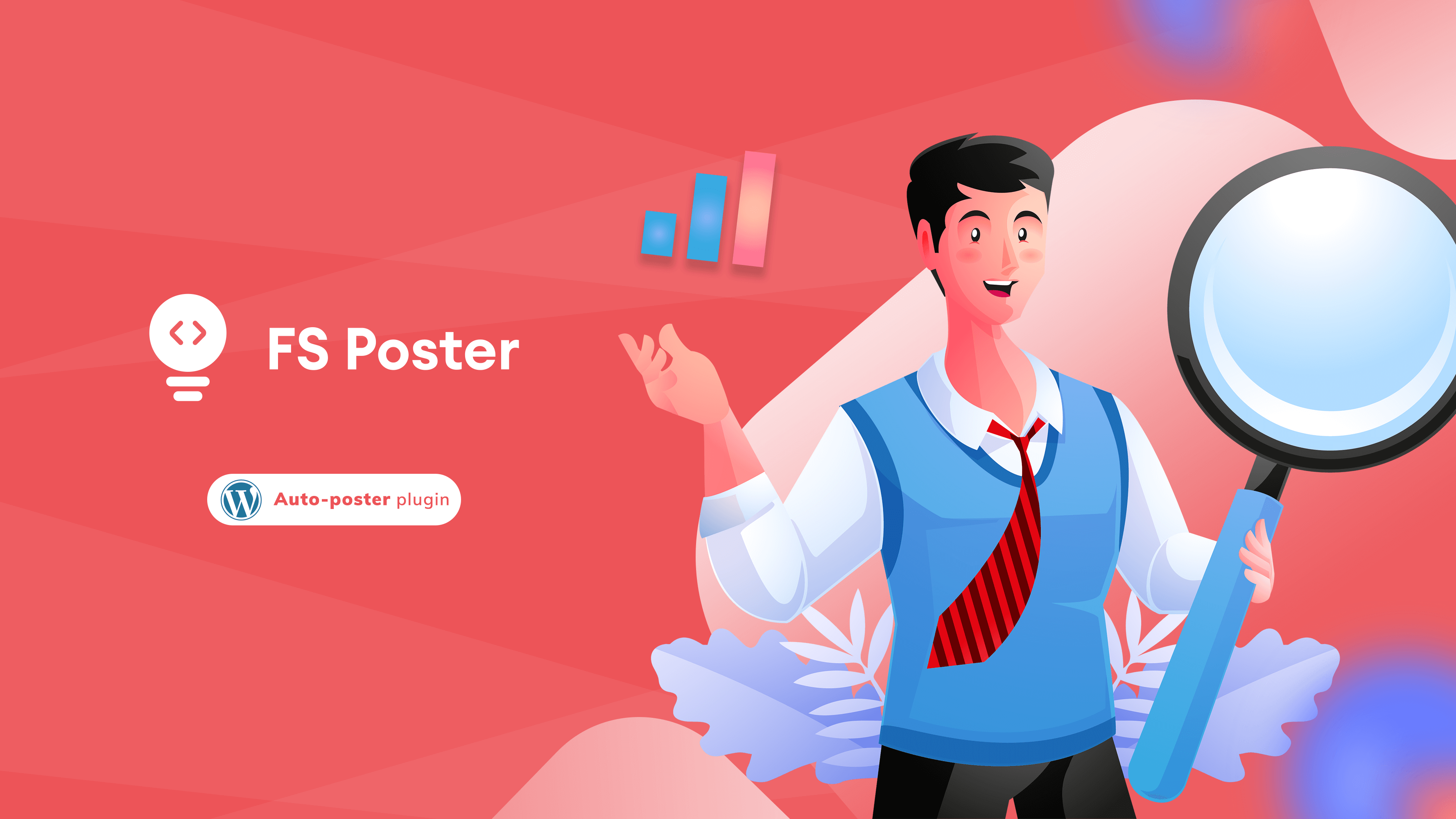 Plugin for WordPress
Feb 10, 2022
Updated at: Dec 26, 2022
By matching the needs of WordPress users and the requirements of ever-changing search engines, WordPress SEO plugins provide users with practical solutions to improve their website performance.
What food is to the stomach, SEO is to the website's health. SEO optimization is an ongoing practice requiring tight content curation, semantics, keyword mapping, and technical improvements. Understanding the basics of WordPress SEO is crucial to implementing a successful SEO strategy.
We researched the market to find out to best search engine optimization plugin for WordPress.
Top 10 WordPress SEO plugins to improve rankings
1. FS Poster
Great SEO starts with fresh and quality content. FS Poster social media scheduler helps achieve it without spending time on unnecessary tasks. FS Poster integrates with 15 popular social networks. You can either auto-post new WordPress posts or schedule existing content by determining their post dates and times.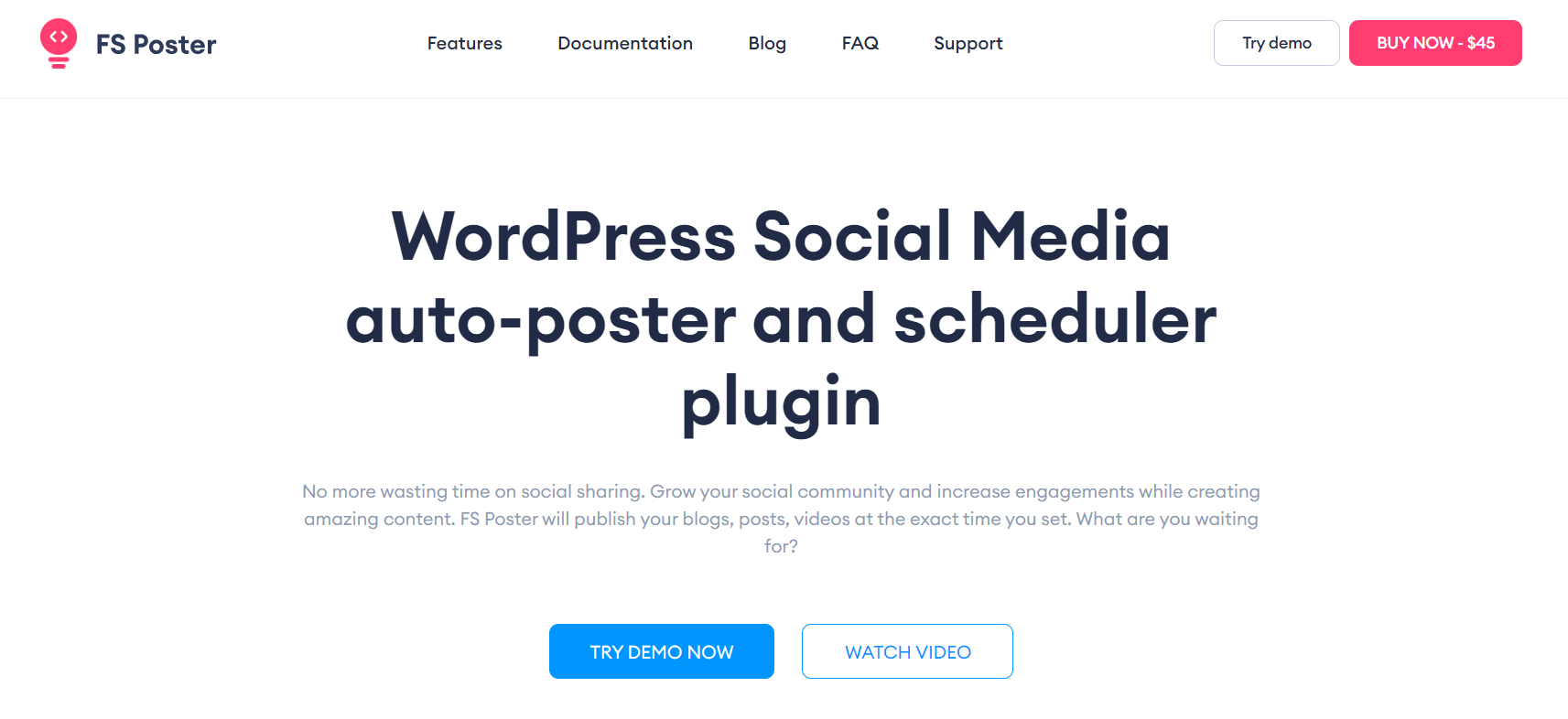 Plus, you can create custom posts like WooCommerce products and quotes for website articles and schedule them on social media. If you do not want to create a separate website post, you can prepare custom posts like announcements and design directly from WordPress.
Measure the performance of published posts by tracking their clicks, KPIs and comparing platform statistics with others. Additionally, it has URL shorteners and a custom URL generator that helps to avoid duplicate posts and optimize them for keywords.
The great thing about the plugin is that you can connect unlimited social media groups, profiles, and pages to the plugin within a single license. The plugin ensures to grow website rankings via increased visits from various traffic sources.
Price: You can purchase the plugin at $45 for lifetime usage, including future updates and support. To know more about its features, check Demo.
2. Yoast SEO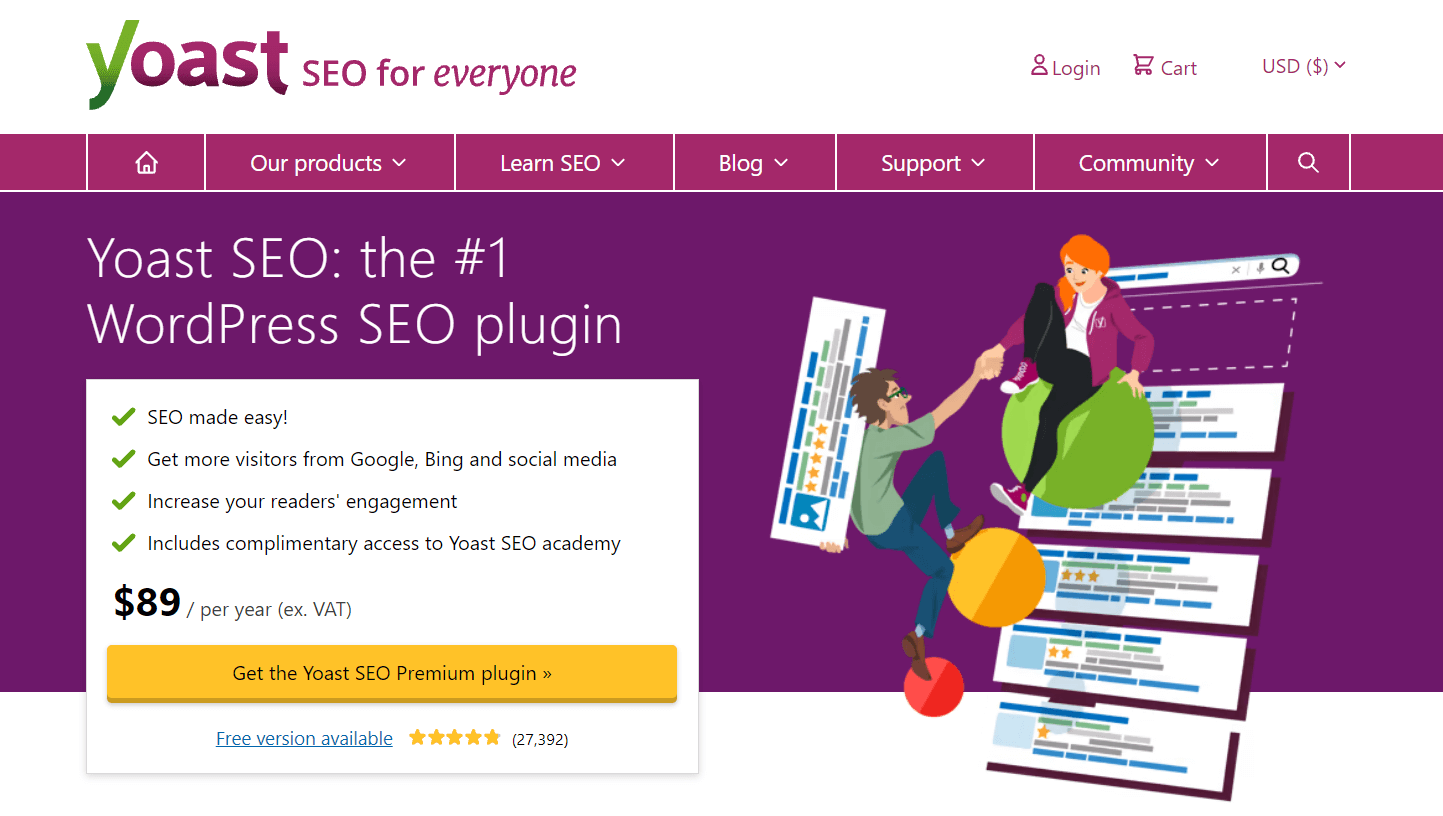 As one of the most downloaded SEO plugins for WordPress, Yoast SEO helped millions of users to optimize their sites for search engines. The free plugin has everything you may need to manage your site performance. By using the plugin, you can add titles, SEO titles, meta descriptions, and alt tags for all your website posts and pages. It automatically generates XML sitemaps which help algorithms to crawl your website easily.
Readability and SEO analysis ensure that your content is understandable for both humans and search engines. By selecting the focus keyword, the Yoast WordPress keywords plugin guides you to structure your content, track keyword density, suggest related keywords, optimize your URLs for that keyword, and so on.
Additionally, Yoast has a very competitive blog that curates necessary digital marketing, content marketing, and WordPress development topics.
Price: By this time, you might be asking how much does Yoast Seo cost? Although the free version covers your basic SEO needs, you can upgrade to the Premium plan to make the most out of it. At an $89 yearly charge, Yoast offers advanced features covering technical SEO. Its redirect manager prevents 404 Pages by automatically referring to a new page when the page URL is changed or deleted. Internal linking, tables of content blocks, and subpages clock are crucial features that you would look for in WordPress SEO plugins.
3. Hubspot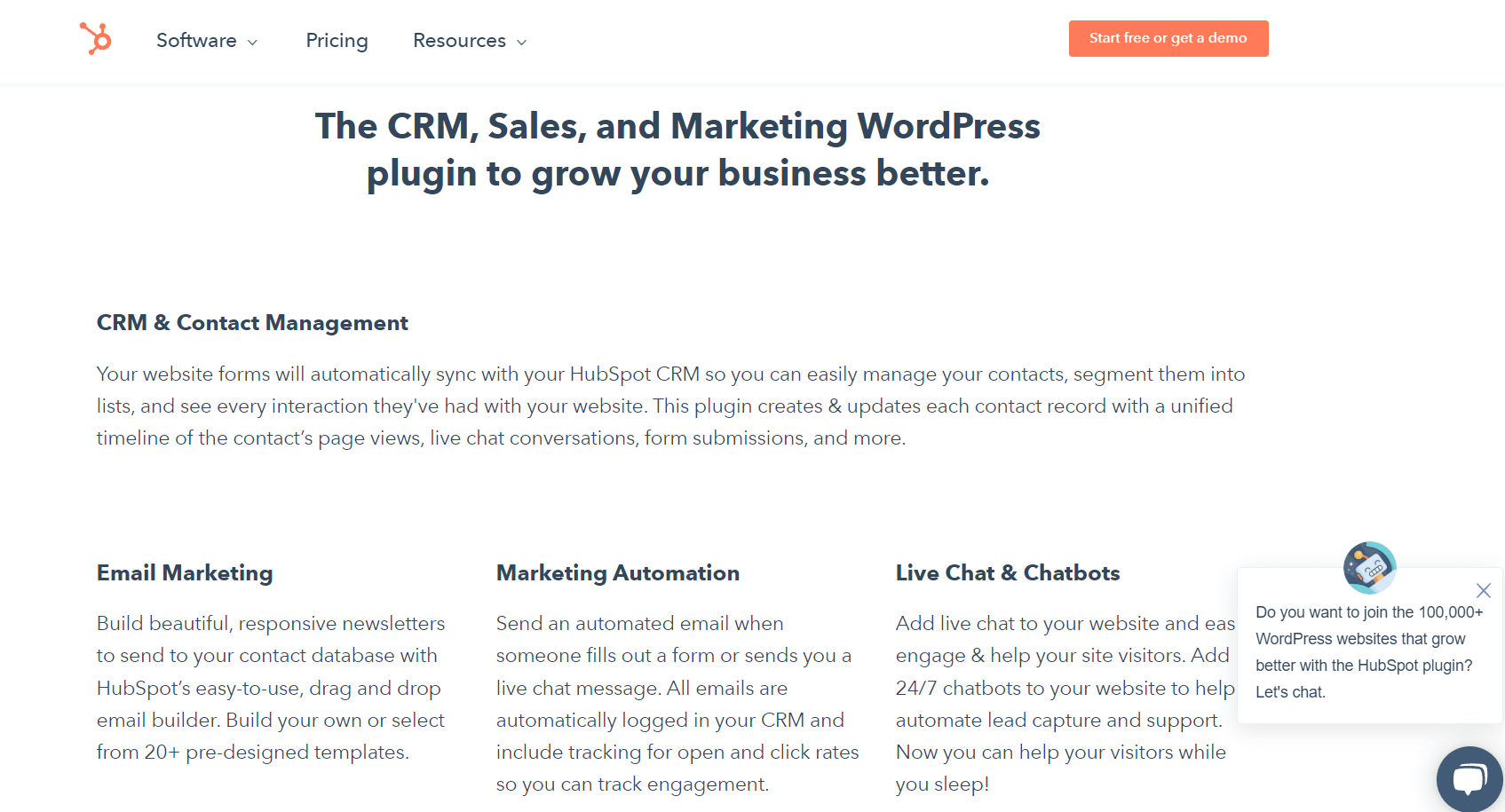 Although HubSpot is mainly a customer management tool, it also successfully integrated its functionalities for the needs of various hosting users. The free plugin lets you take advantage of HubSpot features within your WordPress site. Due to its advanced features, HubSpot brings its name to the top SEO plugins for WordPress.
You can monitor the quantity and quality of your pages or look at the entire website's performance. Advanced analytics helps understand the source of traffic and curate content toward the visitors' lead.
Due to its built-in lead generation solutions, HubSpot stands ahead of many WordPress SEO plugins in the market. With drag-and-drop email blocks, you can launch automated email campaigns within seconds. CRM, website live chat, pop-ups, and forms reduce your time to connect with visitors or prospects.
It also integrates with WooCommerce, Stripe, and Gravity Forms which help to monetize your site practices. Compared to other SEO plugins for WordPress, HubSpot draws attention from content to data collection, focusing on sales perspectives.
Price: HubSpot offers these features free of charge, but you can upgrade to paid plans to combine CRM with marketing.
4. SEOPressor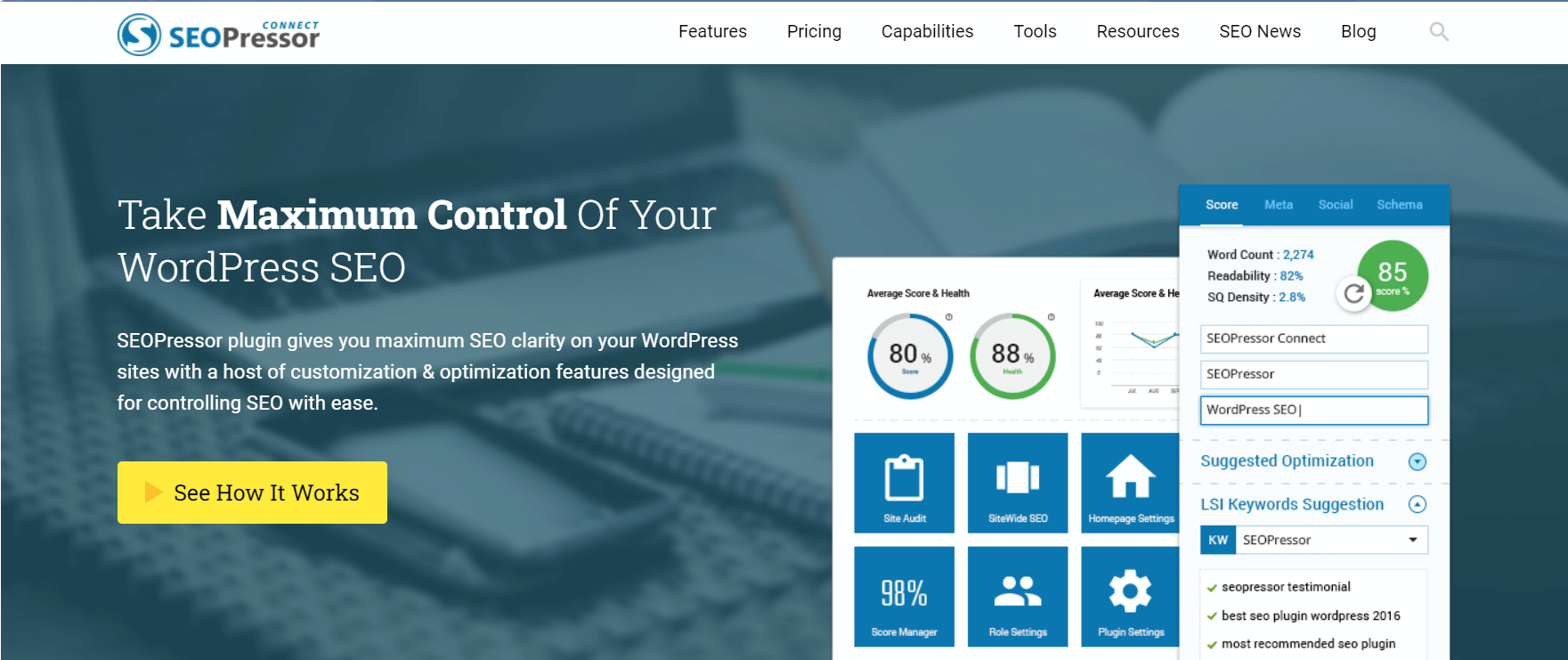 By offering content customization options for your site, SEOPressor is developed to control your website. An on-page SEO checker lets you understand the health of your site.
With its comprehensive semantic builders, you can quickly improve the search relevance of your content. You can select up to 3 keywords and track their performance. Bringing SEO scores for your writings lets you see your tone, readability for machines and users, and the density of keywords throughout blogs. You can use the link manager to build an excellent browsing experience for users and reduce your bounce rate.
Plus, technical SEO solutions are also provided by this SEO analyzer WordPress plugin. It tackles the technical SEO issues by giving XML Sitemap generator, URL redirection, and canonical links that are important to be found in SEO plugins for WordPress.
Price: By paying $9 per month, you can use SEOPressor on multiple sites.
5. Broken link checker
Broken links are monsters inside websites. They adversely affect your SEO performance leading users to unworking pages.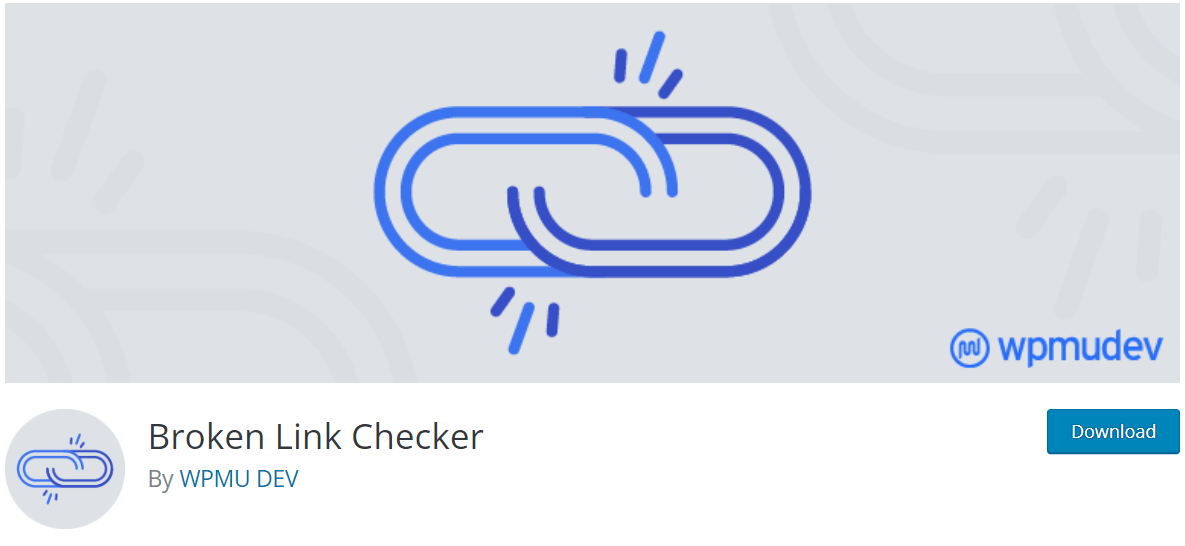 Broken Link Checker scans internal and external links used on your site. As a WordPress SEO checker, it monitors and tests links on your posts, pages, comments, images, and customs fields. The plugin notifies admins either through the admin or email messages by detecting missing images or dead links. You can search links by URLs or anchor texts and edit them manually or automatically from the plugin. Additionally, it allows you to create custom filters to view links used in specific pages or comments.
It prevents search engine spiders from crawling your sites for broken links additionally helping your SEO score.
Price: You can download the plugin for free. Unlike full-service SEO plugins for WordPress, you can activate Broken Link Checker periodically.
6. SEMrush writing assistant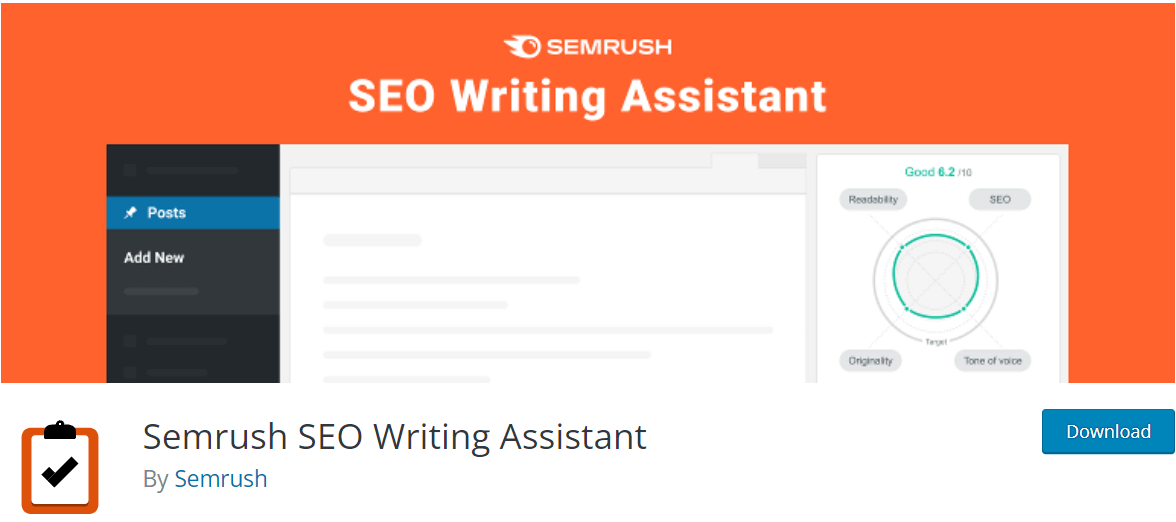 As a giant SEO platform, SEMrush pinned its name to the best WordPress SEO plugins list. Improving your website content lets you beat the competition. It provides you with recommendations based on your writing and competitors' practices. Once you enter the keywords, the plugin lists performance indicators for your content.
It has all the necessary metrics for content-focused SEO plugins for WordPress. By checking readability, the structure of texts, the proper use of keywords, and voice tone, it evaluates content performance. Additionally, the SEMrush plugin for WordPress brings related keywords used in high rankings and links that you can refer to in your writings.
Price: You can use free or premium plans depending on your needs. But, to activate the plugin, you first need to register at SEMrush and then connect it to your site.
7. Rank Math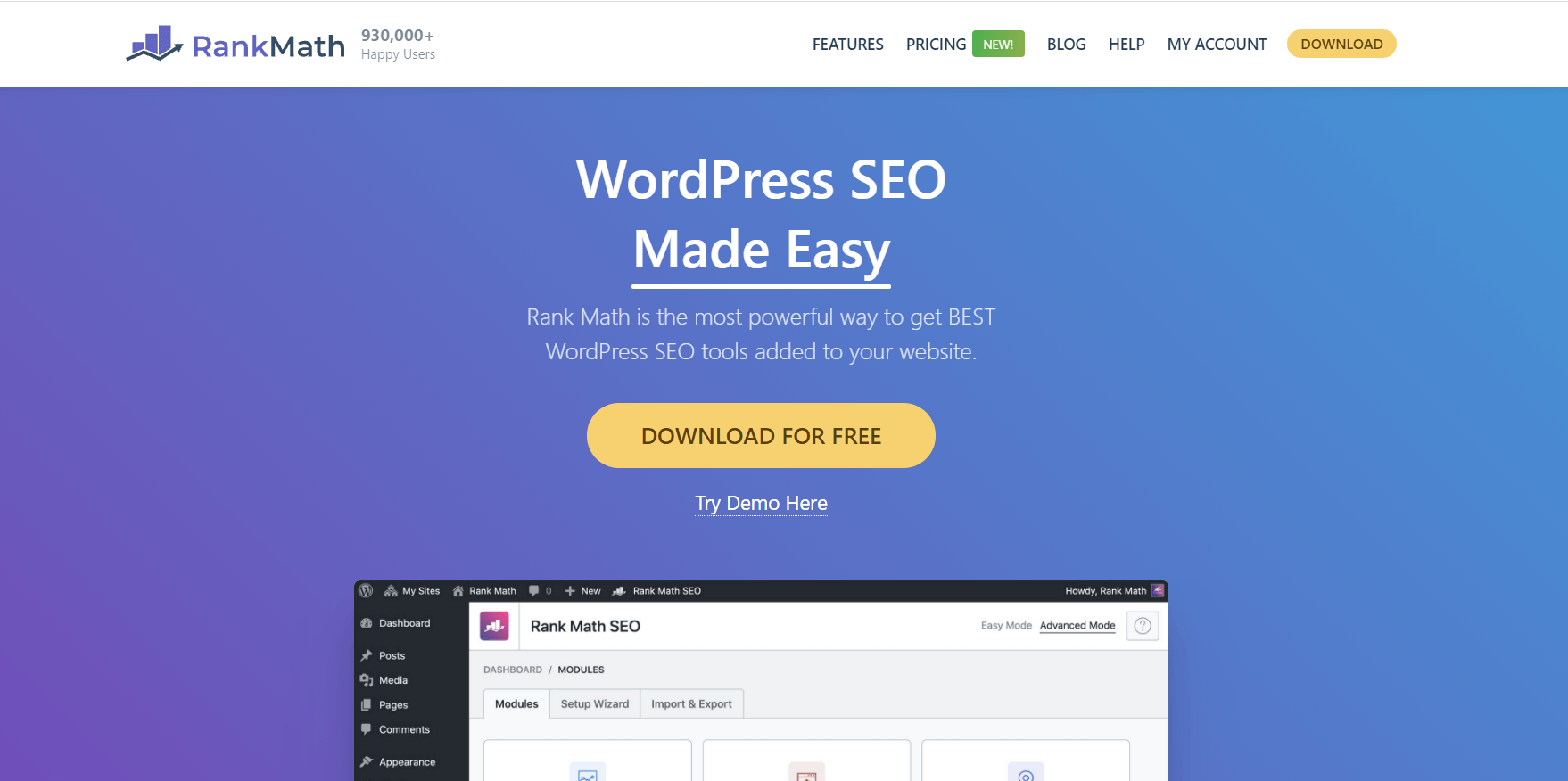 Rank Math is another excellent WordPress SEO plugin that handles the overall SEO performance of your website. It practically configures itself using a setup wizard and has a one-click import from other WordPress SEO plugins. Integrating with Google Schema markup (Rich Snippets) helps search engines crawl your websites.
Unlike other SEO plugins for WordPress, it lets you optimize unlimited keywords for pages, and posts. The keyword tool brings multiple variations of your keywords to attract more eyeballs to your blogs. Additionally, it has a redirect manager, linking suggestions, and breadcrumbs for reducing bounce rates.
With local business SEO, your site will appear on the front pages of search results. Integrating Google Analytics and Search Console lets you monitor every crucial SEO metric within the WordPress interface.
Price: The cheapest version starts at $59 per year, and you can access unlimited personal websites.
8. Redirection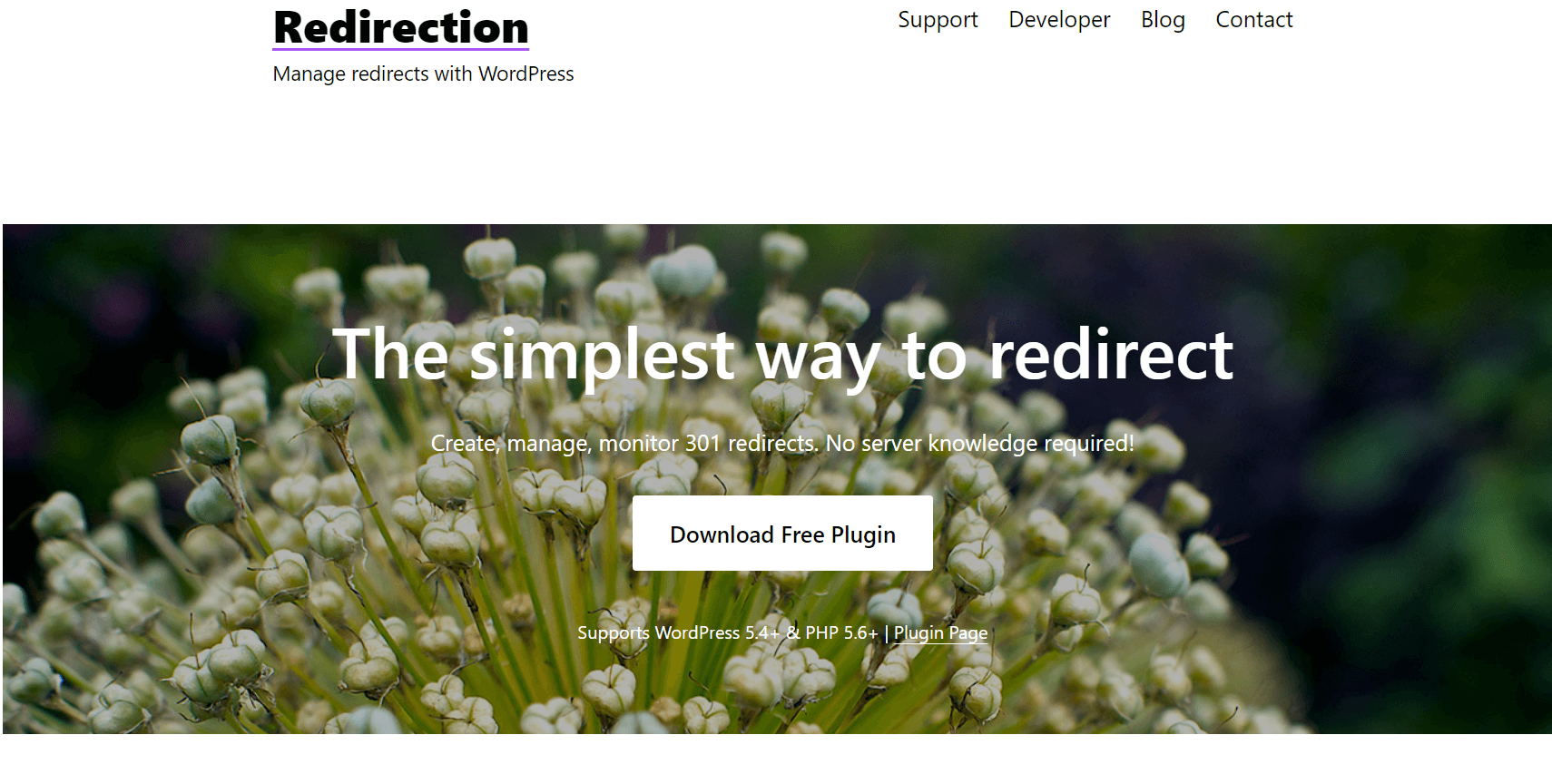 Redirection helps you manage your redirects and fix errors so that no link change can negatively affect your rankings. 301 redirect points crawlers out the new page.
The plugin also detects 404 errors and groups them into categories, helping you focus your attention. You can configure the plugin when you change post or page permalinks, and it will automatically direct you to the new URL.
As one of the data-miner SEO plugins for WordPress, it tells you the source of all redirects, including visitor's browser, the referrer, and geolocation by its IP address. Plus, you can redirect to the precise URL matching based on the cookies, HTTP headers, login status, server, or page type.
Price: It is an entirely free plugin with no premium plans ahead.
9. All-In-One SEO
Despite its comprehensive toolkit, All In One SEO allows users with no SEO experience to get high-ranking pages. Due to its easy-to-use features and the complexity of application areas, many WordPress marketers find the best SEO plugin for WordPress. You can easily configure the plugin by explaining the purpose of your website. It constantly audits your site, prioritizes issues, and notifies you about missed opportunities.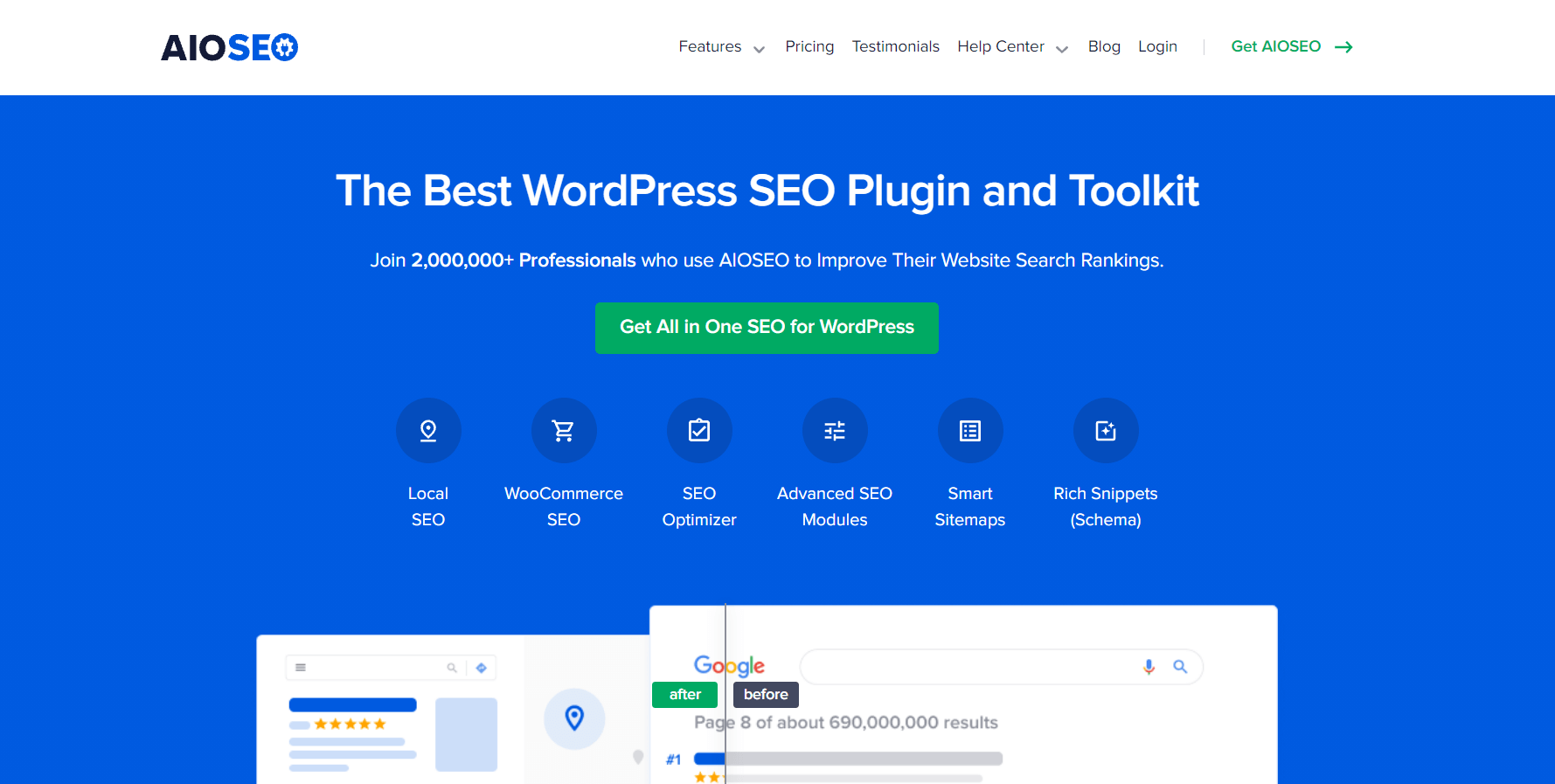 Packed with Gutenberg and Classic editor, users can quickly optimize blog posts and pages for keywords. By automatically generating XML sitemaps, it notifies search engines of any updates. It allows you to add unlimited keywords, optimize titles and meta descriptions, and create custom titles for your posts. Advanced eCommerce SEO is integrated to optimize product pages for search results.
Compatibility with cross-browser webmaster tools like Baidu webmaster and Yandex webmaster is the most highlighting feature differentiating from the rest of WordPress SEO plugins.
Price: With AIOSEO Lite, you can use these features for one domain. It is a favorable choice if you are looking for time and money-saving SEO plugins for WordPress. At the same time, premium plans offer more comprehensive functionalities perfect for agencies and large businesses. They cover rich snippets, social media integration, video SEO sitemaps, redirect manager, and SEO custom roles for page users.
10. SEOPress
SEOPress is an easy-to-use plugin to optimize your site for search engines. The installation wizard allows you to quickly set up the plugin or import\ export your metadata from \ to CSV files. It combines basic keyword optimization with comprehensive insights to generate the highest-ranking pages.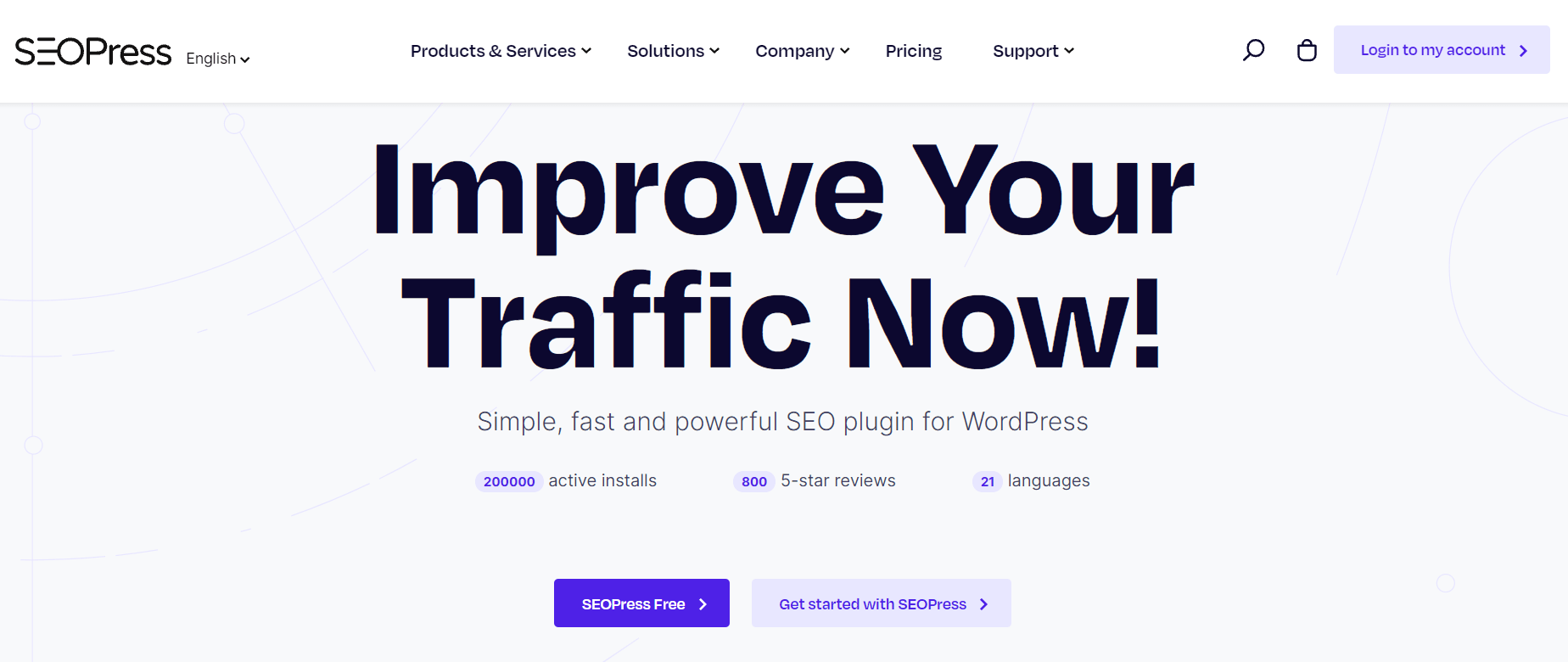 The content analysis includes unlimited keywords, dynamic meta descriptions, titles, and custom fields. It integrates with Google Tag Manager and Google Analytics, where you can view site analytics without stepping out of your website.
Price: SEOPress has three-tier plans. The free plan includes necessary features like analytics, XML sitemaps, mobile \ desktop previews, and canonical URLs that you may need. By paying $39 per year, you can use the plugin on unlimited websites. This plan includes advanced features like internal linking and Google suggest video XML sitemaps. Ecommerce analytics. If you want deeper insights, you can opt for the Insights plan. It offers backlinking, search volume, and Google Trends.
Wrap up
Search Engine Optimization is a complicated process requiring consistent examination of technical and content side evaluations. By providing solutions for various purposes, WordPress SEO plugins improve the quantity and quality of website traffic. To understand which SEO plugin is best for WordPress, you need to evaluate your website objectives and understand your needs.