How To Auto-post WooCommerce Products to Social Media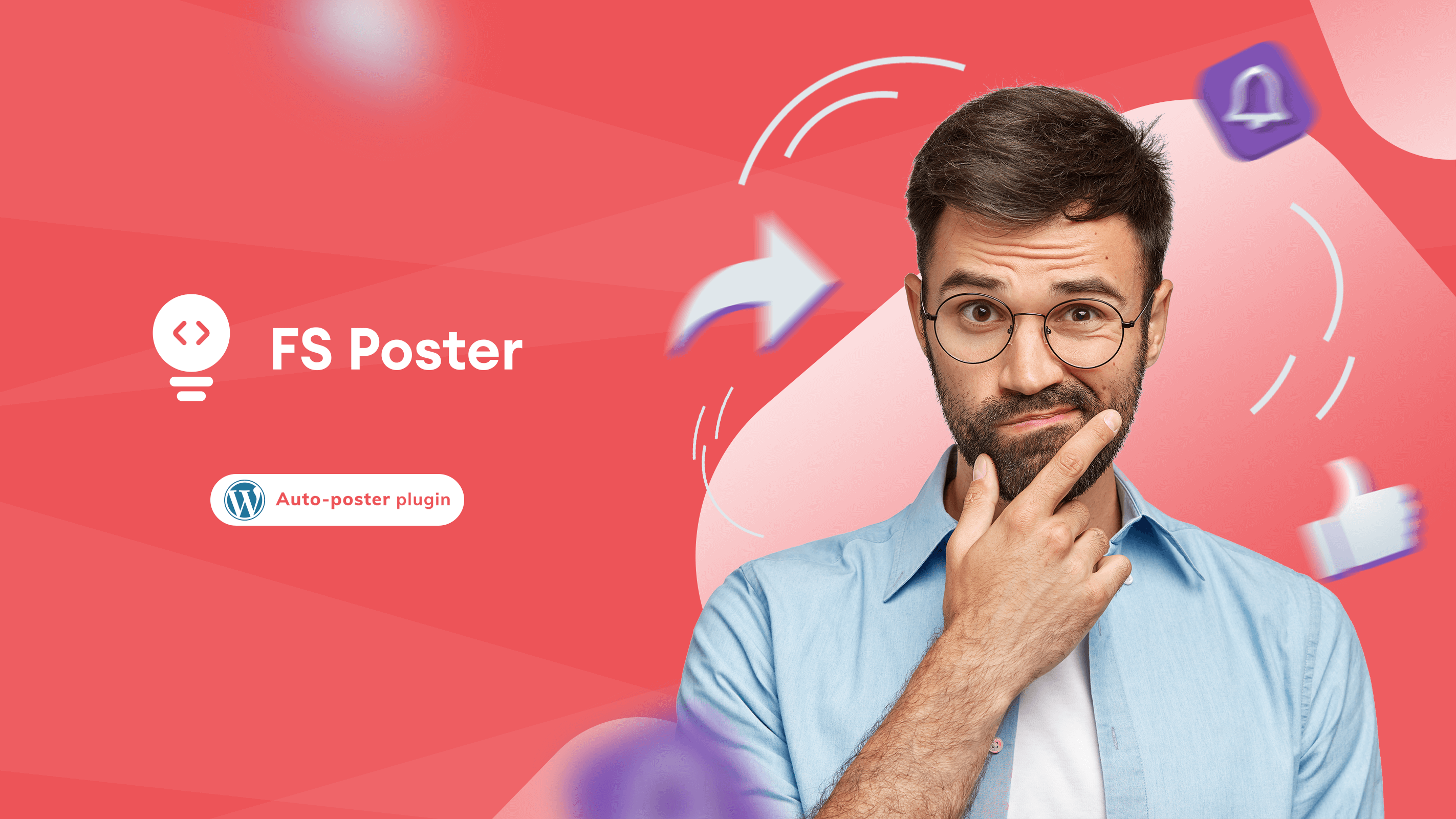 Plugin for WordPress
Sep 28, 2021
By knowing how to auto-post WooCommerce products to social media you will increase the popularity of your online store and boost its sales through expanded awareness.
Why auto-post WooCommerce products to social media?
Although the preliminary purpose of social networks was to digitally connect end-users with friends, colleagues, and like-minded individuals they never even encountered in real life, it went beyond the limitations to turn into a highly converting business machine. Social media acts as an engine for the promotion of businesses helping them to increase website traffic, brand visibility through a wider audience, and last but not least, trigger sales. Now, individuals, organizations including social networks are making millions of dollars every day.
Auto-posting to social media saves a lot of time and energy that can be invested for more rewarding business practices. It is especially important to auto-post WooCommerce products to social networks that have in-built purchasing triggers mechanics. Platforms like Pinterest, Facebook, Instagram, LinkedIn have enormous opportunities to link your online shop, spread the awareness of your products, and capacity increase sales.
On the other hand, manually sharing each of your WooCommerce products to social media, can be time-consuming. It becomes even more tedious when you run multiple social media accounts, different pages, and groups inside of them.
You may be wondering is it easy to auto-post WooCommerce products to social media?
Yes. It is simple when you pick the right plugin.
In this article, we will show you various ways on how to auto-post WooCommerce products to social media.
How to auto-post WooCommerce products to social media?
By meeting the specific needs of eCommerce businesses, these plugins help to enhance the potential of your online store.

#1 Share Your Purchase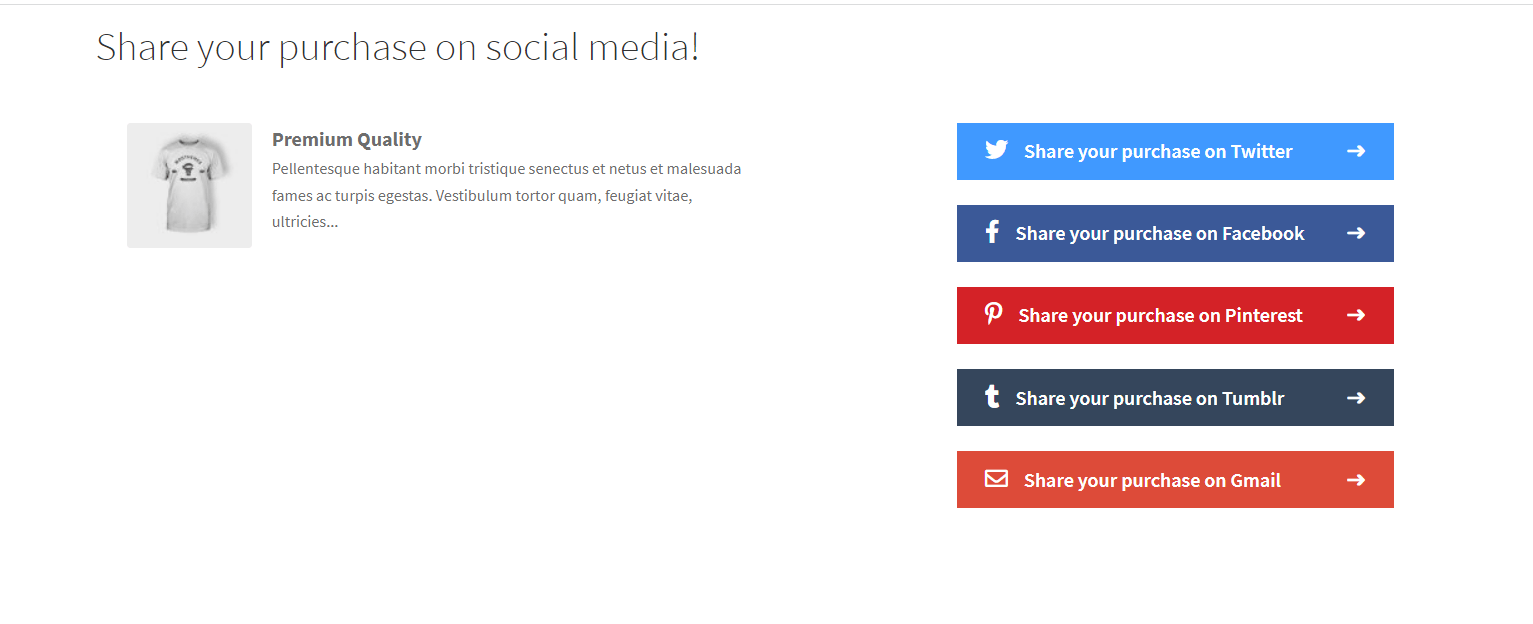 Share Your Purchase is an extension for WooCommerce that lets customers share their purchases with their social media followings. This way you can organically attract more customers to your products. Since these posts are shared by actual customers, the possibility of getting positive responses from visitors is high.
Once you install and activate the plugin, you can set social sharing buttons on your Thank you page. You can set up 6 social networks including WhatsApp, customize the CTA label, color, as well as text messages that will show up in the post description.
Price: The plugin is sold at $29 on annual basis including yearly support and updates. It is a creative way to auto-post WooCommerce products that will make your products go viral and increase social credibility
#2 YITH WooCommerce Share for Discounts
If you are wondering how to auto-post WooCommerce products to social media that will prompt sales, YITH WooCommerce Share for Discounts will do the job. It enables you to create custom coupons to share with clients. You can decide on the type of discount, which pages to display buttons, and, the placements of buttons on the pages. Customized texts and shortcode support are also provided within the offer.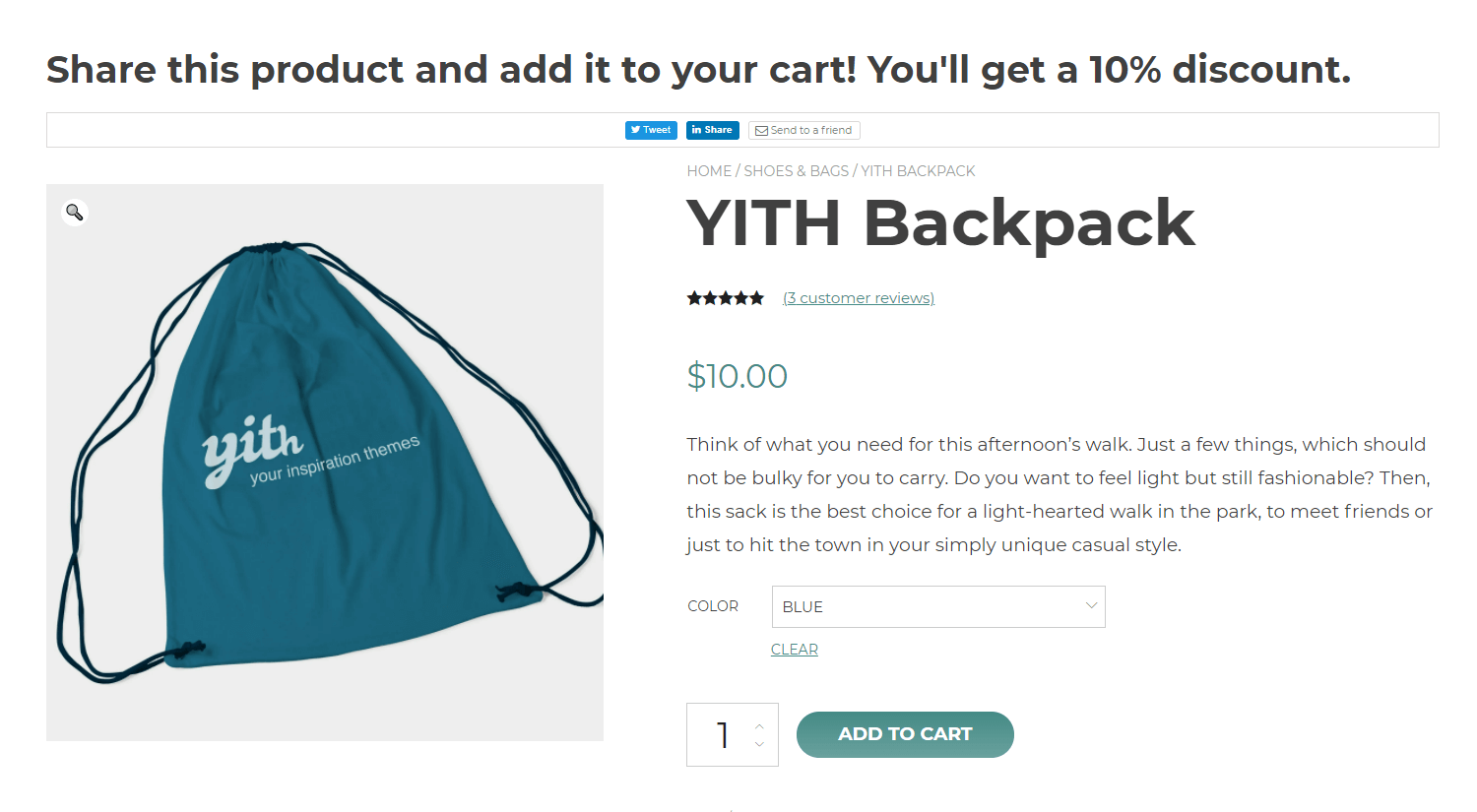 Plus to social media sharing, customers can share discounts through emails allowing them to decide on the preferred channel.
Price: YITH WooCommerce Share for Discounts offers $60 on a yearly basis. The plugin provides an optimum way for potential clients to auto-post WooCommerce products to social media that will trigger more sales.
#3 AutomateWoo - Refer A Friend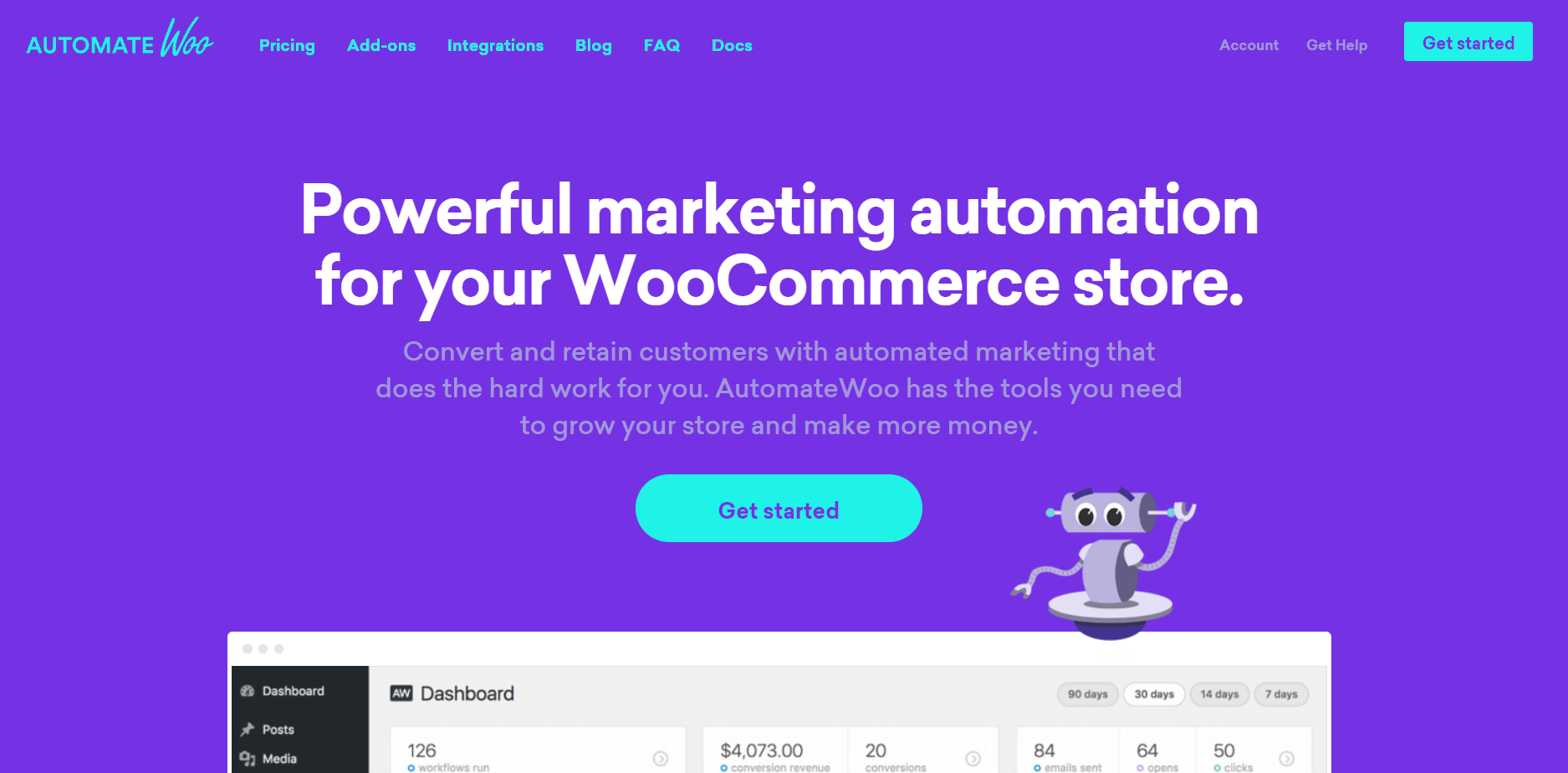 Another winning solution to how to auto-post WooCommerce products to social media is evoking referral programs. AutomativeWoo plugin enables you to run referral programs from the WordPress admin dashboard. The plugin lets you choose manual or automated programs, where fraud prevention measures are enabled for each case.
It has two options for affiliate offers. In the coupon-based program, the advocate will share a unique discount code with friends and give credit to the online store. While in a link-based program advocate will share the affiliate link to your online store. Furthermore, it has additional tabs for controlling the performance of programs. Reporting, advocate profiles, and workflow management tabs help to analyze the process and give extra triggers for campaigns.
It is also flexible for advocates to choose from social media, email, or WhatsApp.
Price: It costs a yearly payment of $79 to get the plugin.
#4 StoreYa Facebook
If you do not want to limit your WooCommerce auto-posting to just for online visibility, consider opening an online shop on social media. StoreYa is a WooCommerce plugin for importing your online store to your Facebook fan page. This allows to open a new online shop and increase conversions. It also automatically imports your online stores from Pinterest, Instagram, Twitter onto Facebook.

The Facebook shop gives you a chance to better know your audience, narrow targeting for promotional activities, and see the effectiveness through the dashboard.
Price: StoreYa has various subscription options based on theme support and product limit. The cheapest plan starts at $10 with a 500 product display limit and twice product update for website syncing.
#5 FS Poster
While these plugins are great to represent your store on several platforms, they may not be enough if you are present on multiple platforms. FS Poster provides a holistic solution to increase the website traffic and potential of your online shop.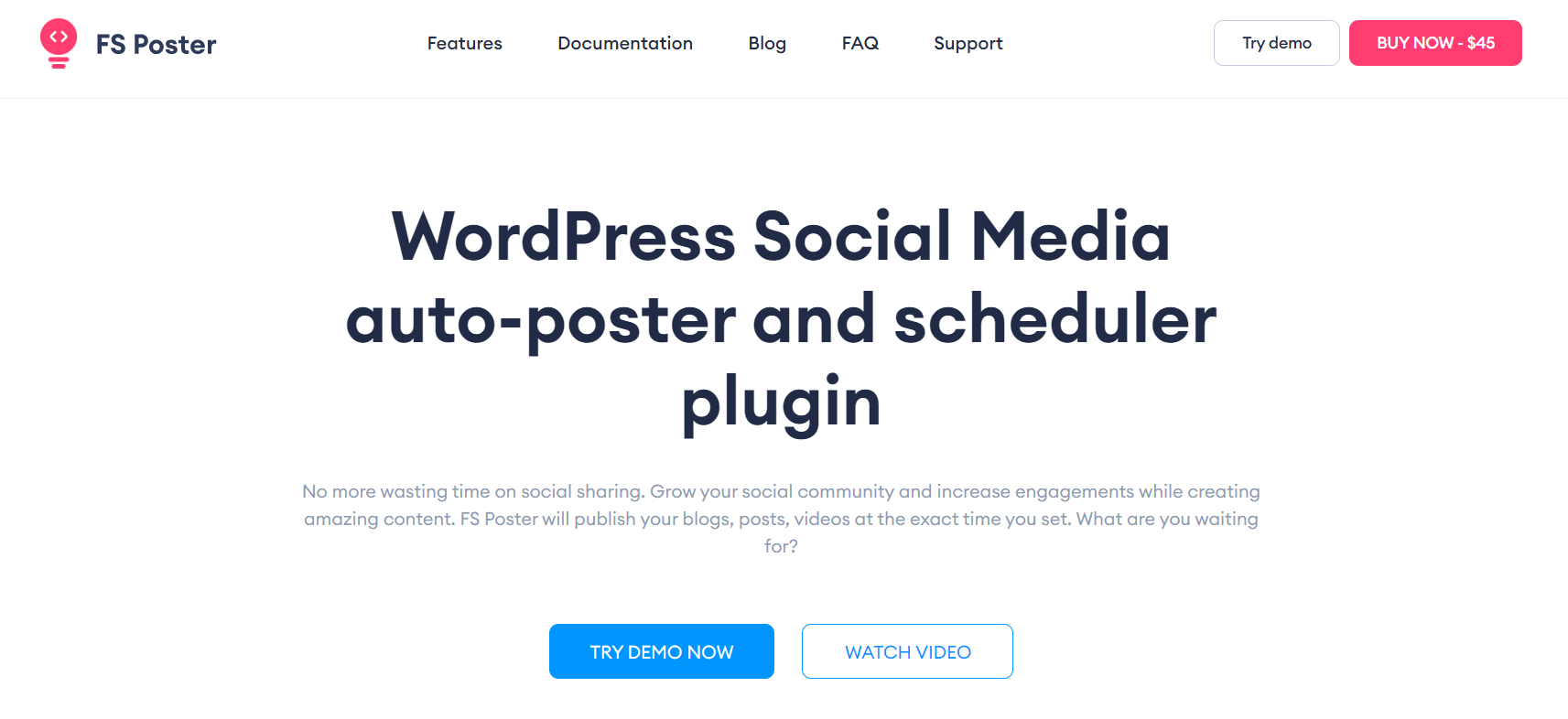 Social media scheduler helps to auto-post WooCommerce products as well as your website blogs. The plugin supports 15 social networks including Facebook, Instagram, Pinterest, Reddit, Twitter where you have direct sales links.
To start auto-posting you need to firstly add social media accounts. The good news is you can add unlimited social media accounts, groups, or profiles to the plugin. However, if you run many social accounts it is better to use the proxy support that FS Poster provides. Because if you post too many posts from the same accounts, there is a possibility that your account will be banned.
Once you activate groups and accounts, you will be able to auto-post WooCommerce products on them. With multi-user support, each user can manage and auto-post from only their accounts. But if you have a company page, you can give access to multiple users by clicking the Make public section.
Price: As of one-time payment, FS Poster offers $79 for full automation of your social media posting. You can check the Demo version to make things more clear.
How to auto-post WooCommerce products to social media from FS Poster?
How long does it take you to post WooCommerce products to multiple pages? 5 minutes, 10 minutes? It goes up when you add more accounts. But with FS Poster it only takes a few seconds to auto-post on all accounts you choose. The posts are automatically added to communities that are active in the plugin. You can add or delete them depending on the post.
You can either use the read custom message from settings or create a new custom description for each post.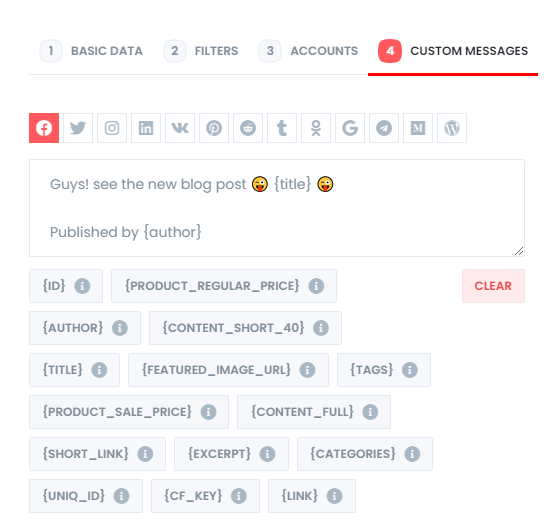 In addition to auto-posting, the plugin allows you to schedule WooCommerce products from the post table. Here, you can schedule previously created WordPress posts, WooCommerce products to be shared on platforms you pick.
For the effectiveness of your scheduling practice, you can set posting intervals and sleeper time for each bulk. Here, you have four filtering options:
Randomly without duplicates - shares each post once
Randomly - shares all of the posts. If you do not stop the schedule, the plugin will repeat to share the posts
Old posts first - shares posts starting from old ones
New posts first- shares posts starting from the latest ones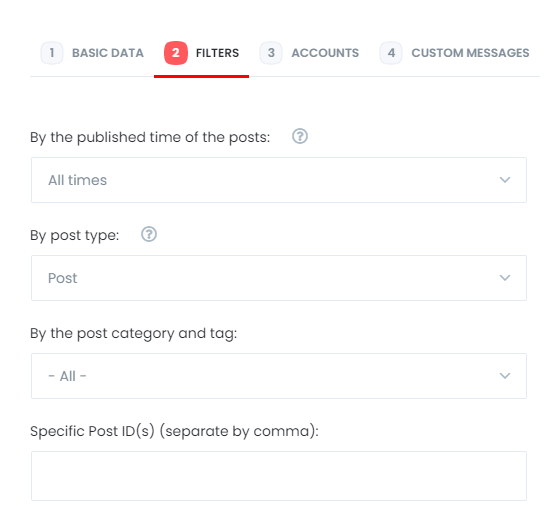 How to schedule WooCommerce products to social media from FS Poster?
Although sharing your custom posts is great to drive more attention to them, there are times that you need to go out of your regular posting routine. Like discount offers, quick announcements, image posts that are better stayed on social media. If you do not want to create a WordPress post or share WooCommerce posts, you can use FS Poster's direct share panel. Same as regular posts, you can add links, images, custom messages to share or schedule on your social accounts.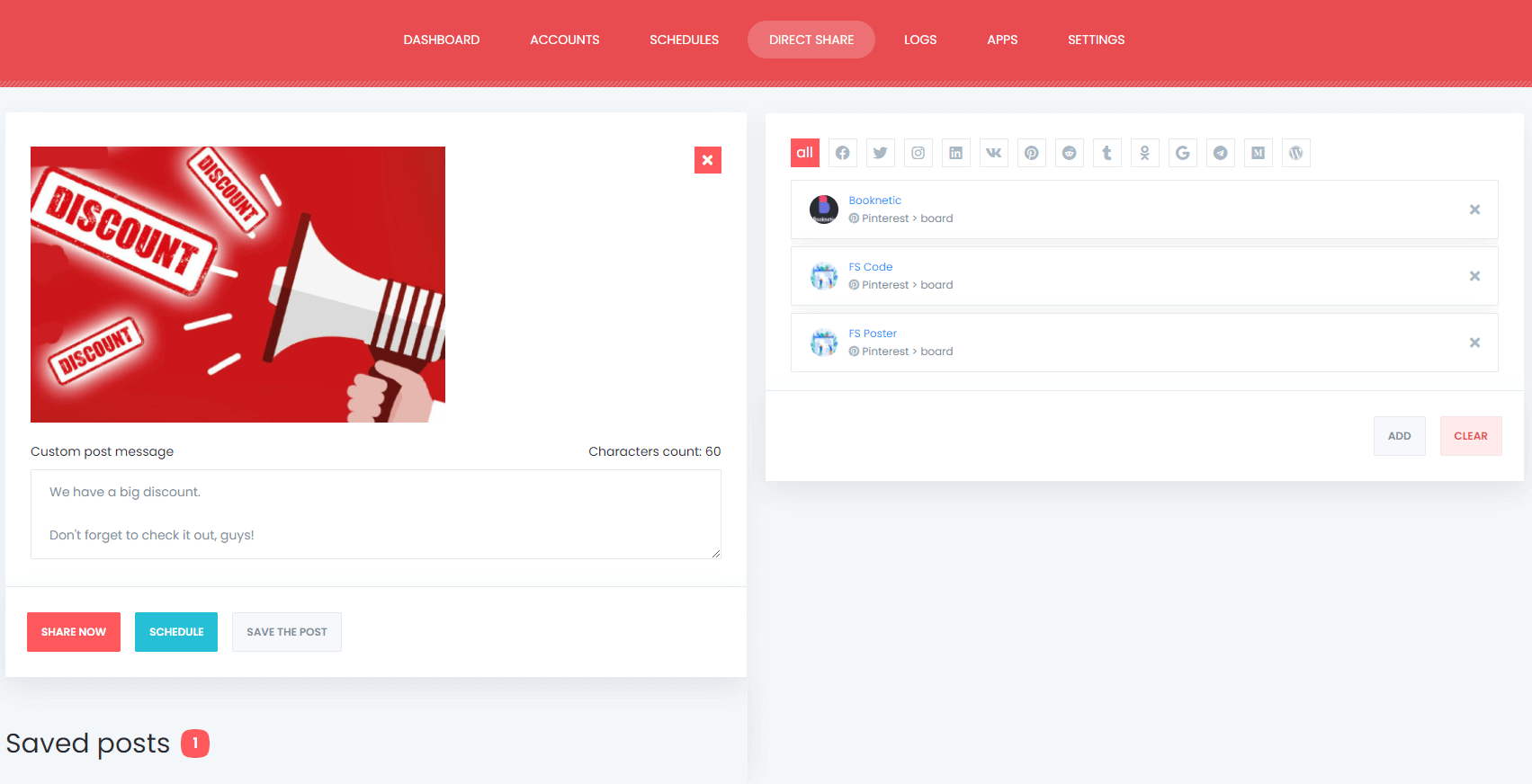 Auto post woocommerce products to Facebook
When it comes to marketing your Woocommerce store, Facebook should be one of your top priorities. After all, it is the largest social media platform in the world, with over two billion active users. That's a lot of potential customers!
One great way to take advantage of this massive audience is by using a plugin to post your Woocommerce products to Facebook automatically. This will save you a lot of time and effort and ensure that as many people see your products as possible.
FS Poster is a great option for this. It is a powerful plugin that can automatically post your Woocommerce products to Facebook with just a few clicks. It is also straightforward to use, even if you are not a tech-savvy person.
There are several benefits of using FS Poster to auto-post your Woocommerce products to Facebook. First, it will save you a lot of time. You can set up the plugin once and then forget about it – it will take care of the rest for you.
Second, it is an effective way to increase traffic to your store. People who see your products on Facebook will be more likely to click through to your website and make a purchase.
Third, it can help you build relationships with potential customers. If people see that you are regularly posting new products on Facebook, they will start to view you as a trusted source of information. This can lead to them becoming repeat customers or brand ambassadors for your business.
Bottom line
Indeed, how to auto-post WooCommerce products to social media is a two-sided question depending on your purpose. If you are approaching this from the credibility perspective, customers in mind plugins will handle the job. They provide an excellent way to encourage customers to share their purchases which directly increases your sales. But, if you want to support your existing store with new and dynamic social media channels, you can opt for traffic or sales-oriented plugins. They act like your next customer support channel helping you to provide sales at customers' convenience.
Or, you can mix up these solutions to scale the visibility of your online store and boost sales on every platform you can reach.