FS-Poster vs. Revive Old Posts | Which is better for you?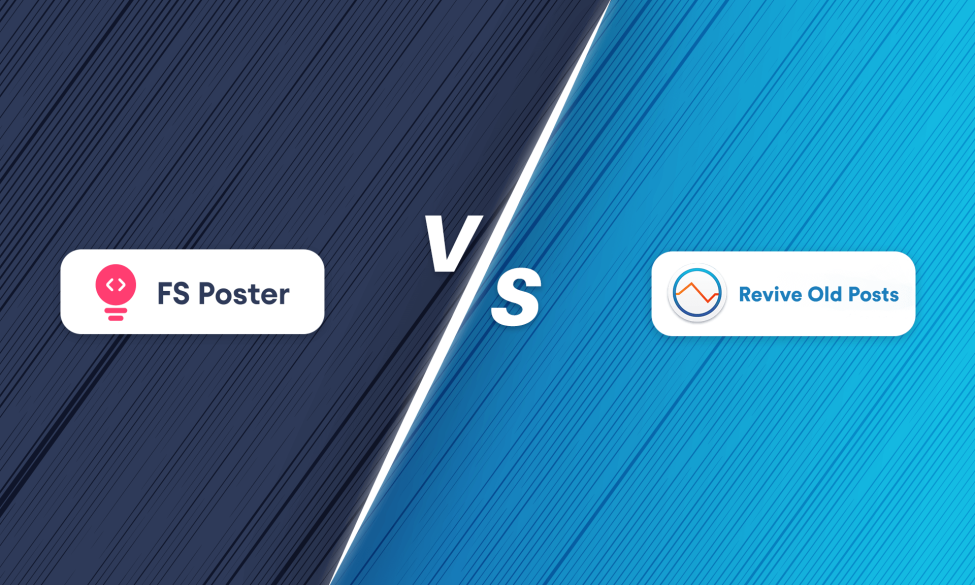 Social Networks
Aug 17, 2021
Being a social media manager is a pretty tough job. You should manage all social platforms, answer the questions, analyze the data and the most important, post correctly and in time.
Here comes auto-posting, scheduling plugins for the websites that were built on WordPress. Scheduling keeps you organized and saves your time for other crucial tasks.
Today we are going to talk about two plugins: FS-Poster vs Revive Old Posts.
Come, have a look at their features separately, first.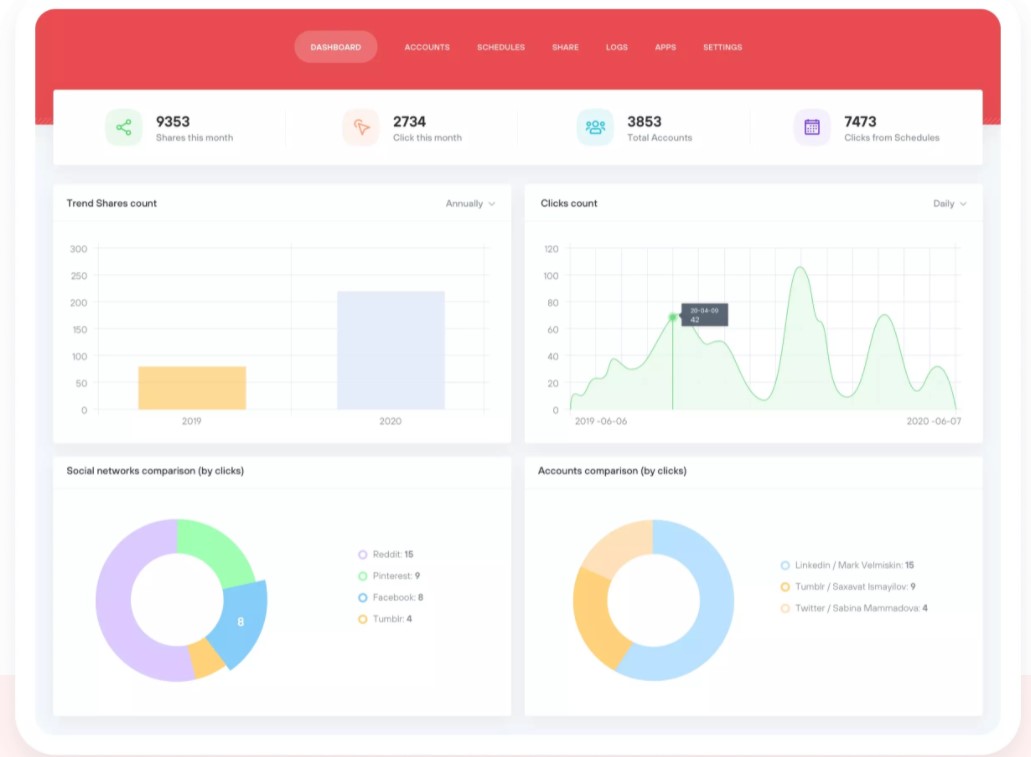 FS-Poster
You may use FS-Poster to publish your posts to the most important social media networks. You may also schedule new blogs, republish previously published material, and enable direct sharing of individual posts on all platforms.
After installing and activating the plugin, you must link your social network accounts. Simply select the preferred social media platform, click Add Account, and follow the steps to provide the plugin access to your social network profile. It is quick and simple.
Benefits of using FS-Poster
Conserve your time. You will be able to save time by automatically sharing your WordPress content.
Enhances the site's SEO You will be able to boost the number of links to your website from social media platforms.
Maintain your social media presence. By using the Schedule module, you will be able to keep your social accounts fresh by publishing regularly.
Increase the number of visits to your website More shares will increase the number of visits to your site.
It promotes adaptability. Create keyword-based messaging for each platform and connect them to the appropriate social media postings.
KPIs are measured. Through planned postings, the social media scheduler monitors the performance of each additional network and account.
Revive Old Posts
Previously known as Tweet Old Post, Revive Old Posts is a social media posting and scheduling plugin for WordPress. ROP is designed to assist website managers to increase website traffic, increase social media followers, and keep existing followers engaged by automatically sharing posts from their website.
It has both free, but limited and pro version, which comes with additional useful features for your social media. Revive Old Posts helps you to schedule, auto-share, even more than once, social media analysis, content curate, filter and so on.
It all starts pretty simply. Go to the backend of your WordPress website, go to the plugins tab on the left side of the dashboard and search for the Revive Old Posts plugin. To proceed, click the Install button and then activate it.
FS-Poster vs. Revive Old Posts similar key features:
1. Auto-posting
Both FS-Poster and Revive Old Posts have auto-posting characteristic features. Auto publishing is a useful tool for people who wish to share their post on social media as soon as they finish producing them.
Just simply create your blog article as usual, then publish it or schedule it for later. While scheduling your post, you can choose which social media sites you want to share your freshly published post on.
Revive Old Posts allows you to share on Facebook and Twitter on its free version, on the other side after buying the pro version of the plugin you will be able to share your posts on Instagram, LinkedIn, Tumblr, Google My Business and Vkontakte.
Besides, FS-Poster lets you share your post on up to 15 social media platforms, from Facebook to Vkontakte, Reddit to Telegram, Plurk to Medium, Pinterest to Tumblr and so on.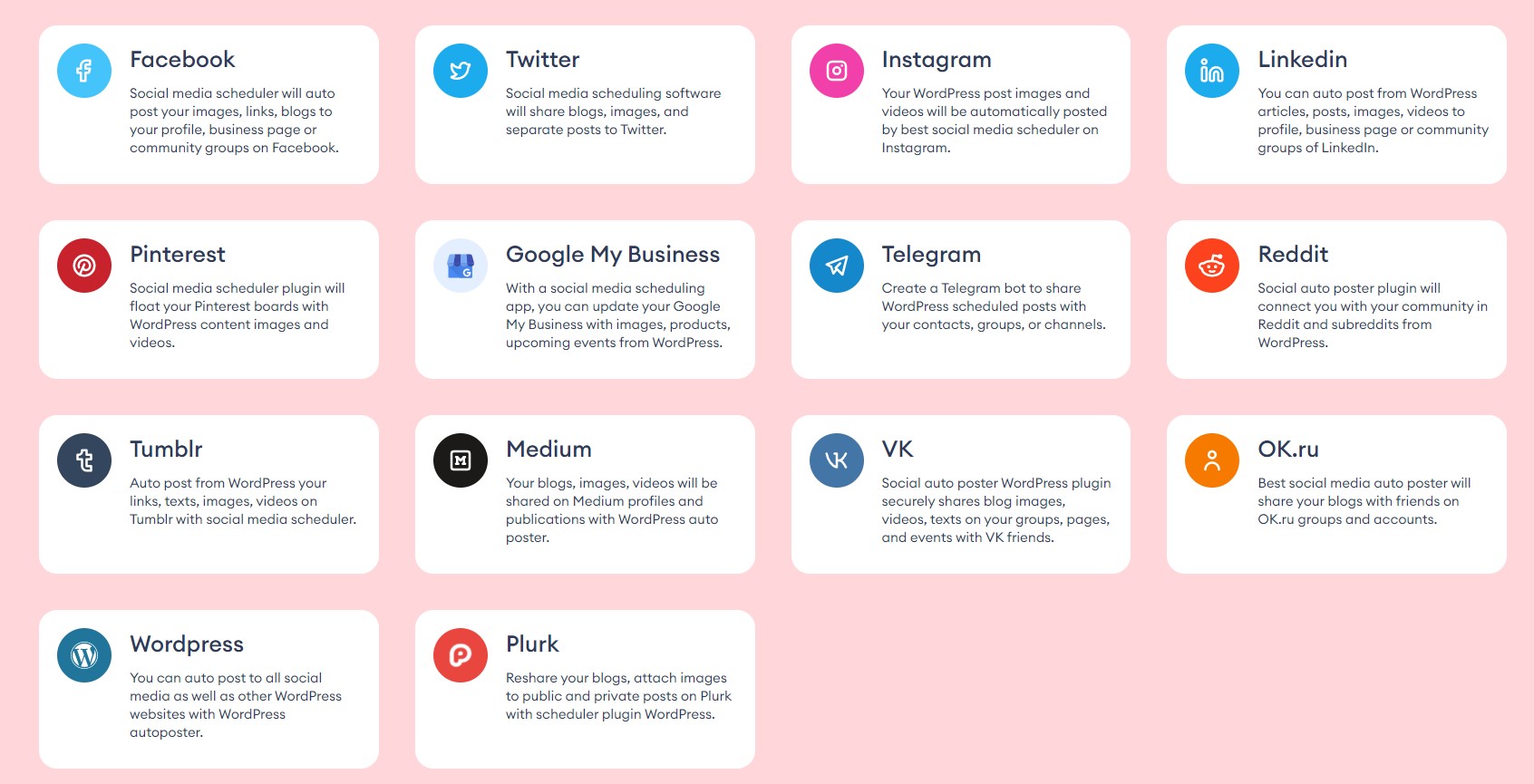 2. Scheduling
With Revive Old Posts you may create a timetable for how frequently you want your older and current content to be shared on social media, which is a completely free option. Only set the amount of time between posts or go deeper into scheduling (PRO) by specifying the time of day and days of the week you want the plugin to publish to social media.
Via the pro version you can do custom schedule. This feature is only available on Business and Marketing accounts and allows you to create a separate post schedule for each social media account. For example, you might send a tweet to your Twitter account every hour on the hour, but only publish one Facebook post every five hours or so.
FS-Poster includes a scheduling tool that allows you to schedule your content. There is no limit to the number of posts you can schedule on your social media profile. This means your posts on social media will be active even if you aren't there to manually share content.
Also with the FS-Poster scheduling module, you may choose to distribute particular categories or all of your blog articles, independent of category. The plugin allows you to share your content once or repeatedly. This allows you to fine-tune how your posts are shared as well as how frequently a certain category is shared.
3. Analyse
FS-Poster and Revive Old Posts let you analyze and track your shared content on social media. However, FS-Poster has its own insights, while Revive Old Posts can do it with Google Analytics integration.
Revive Old Posts automatically includes UTM tags in social media shares to assist you to determine which social networks your traffic is originating from. Within Google Analytics, you can easily observe how much social network auto-publishing is assisting your website traffic.
The FS-Poster plugin provides an easy-to-use dashboard that allows you to easily check how many articles have been shared and how many hits you have gotten. You may get insights for each day, month, and year, as well as clicks from schedules. This allows you to adjust the timetable and choose which posts should be kept and which should be eliminated if they aren't generating enough interest.
Furthermore, you may compare each platform side by side to determine which receives the most engagement. Knowing which platform produces the best results allows you to rethink your social media approach and cease interacting on sites that aren't producing excellent outcomes.
If we look through FS-Poster vs Revive Old Posts we can also consider that both support all post types, posting frequency can be controlled by interval, URL of posts can be customized, and shortened.
FS-Poster vs Revive Old Posts comparison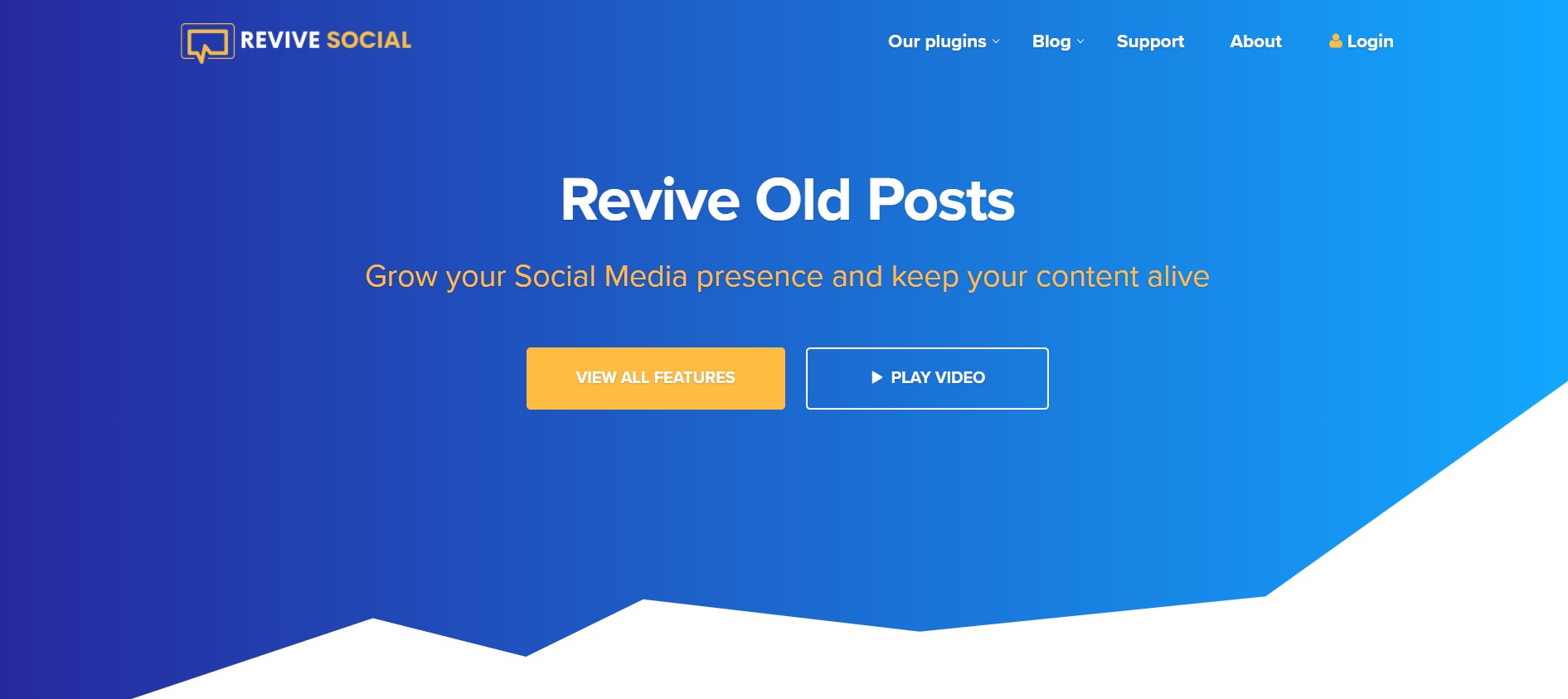 Revive Old Posts
1. Sharing RSS feeds Share feed items from ANY website to your social network accounts that are linked. All of this is achievable using the Revive Network plugin. Set the maximum and minimum ages for posts that can be shared.
2. Make a list of hashtags that everyone may use to publish their posts and create hashtags for post shares automatically based on tags, categories, or custom parameters. For extra variety, Revive Old Posts allows you to add several custom text and hashtag variants to your posts. Find the finest converting captions for your social media posts and convey your message in a variety of ways.
3. Use the WPML example to share articles in multiple languages ​​on each page, share English articles to English social media accounts, and share Spanish articles to Spanish social media accounts. (Pro version)
4. Add additional text in front or after your post content (Pro version)
5. Share different content variations to your social networks (Pro version)
FS-Poster
1. Schedule action in bulk. With the bulk action, you will be able to pick WordPress articles and schedule them.
2. View of the calendar. In the calendar, you will be able to examine your schedule history.
3. Keep track of link clicks. You will be able to compare your social networks and measure post link clicks as well as weekly or monthly hits.
4. WordPress multi-site is a website that has many sites. The plugin will also be compatible with WordPress multi-site platforms.
5. Support for Proxy. For each social account, you will be able to utilize a separate Proxy.
6. Emojis are supported. Emojis will be supported in custom post messages.
FS-Poster vs Revive Old Posts pricing
FS-Poster is a paid plugin that can be found on CodeCanyon. The plugin is currently available for $45 and includes 6 months of support and updates. For an extra $15, you may extend the support period to 12 months. Support includes the author's availability to answer questions regarding the plugin, assistance with reported bugs and difficulties, and assistance with third-party assets. You can use their support system to file a support request.
The free version of Revive Old Posts should be sufficient for most people, but there are some advantages to upgrading. If you want to use it on one website, you'll pay $75 per year for a personal license, $150 per year for a three-website business license, or $299 per year for unlimited websites.
Conclusion
This article demonstrated differences and similarities of two scheduling plugins, FS-Poster vs Revive Old Posts. Hopefully, this will guide you in selecting the optimal one for your needs. In fact, based on the variety of features and pricing, FS-Poster should be your first pick. Try Demo to check through all of them before making a decision!