The best plugin for auto-posting from WordPress to Facebook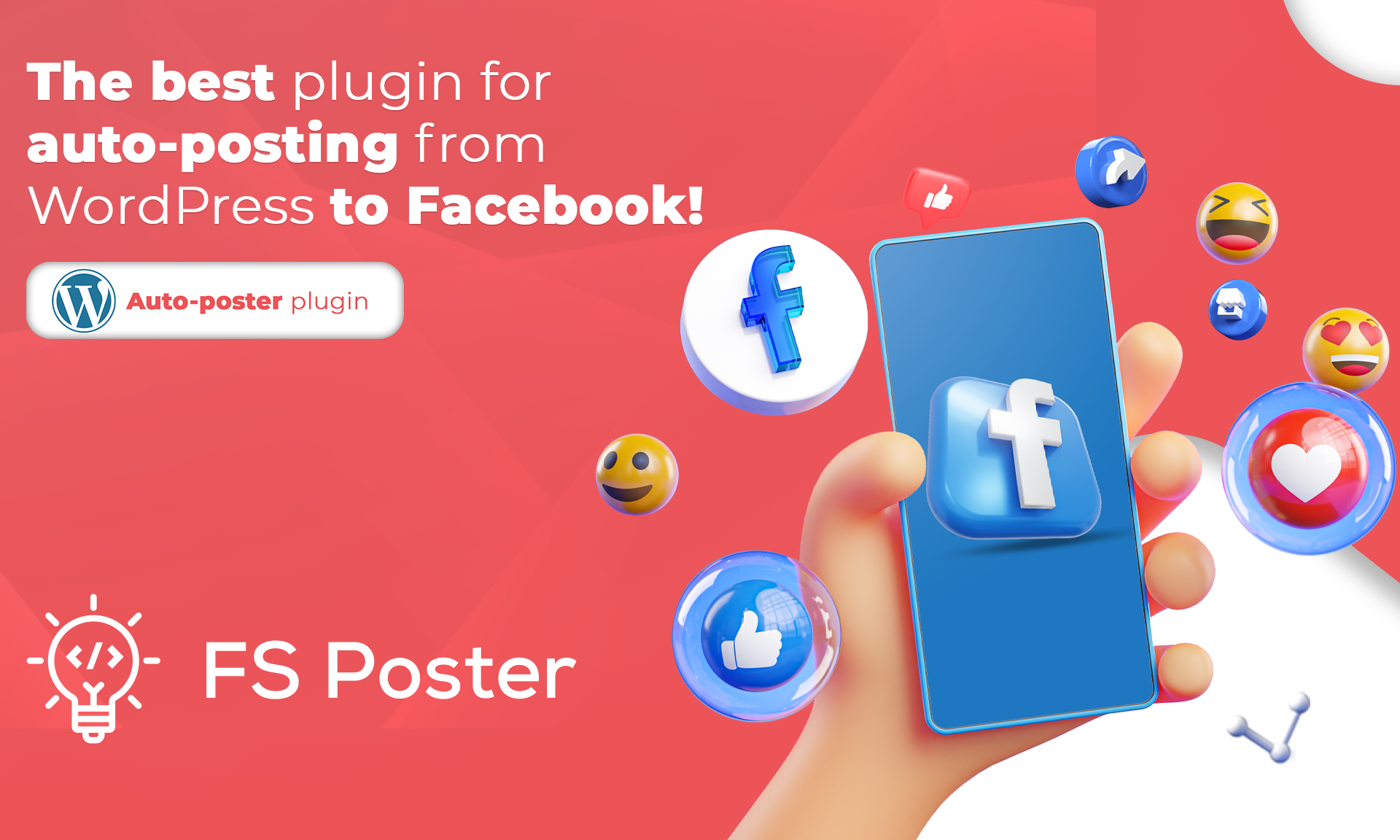 Social Networks
Apr 08, 2021
Do you want to share your blogs with auto-posting from WordPress to Facebook? With over 2 billion active users, Facebook is one of the most popular social networking platforms globally. It's still one of the most important sources of traffic for several websites.
Have you ever said to yourself, "My post is fantastic; I need to upload it on Facebook," but feel compelled to do so manually, post by post, day after day? If that's the case, you've come to the correct location! You'll learn how to post automatically from WordPress to Facebook in this step-by-step tutorial.
Let's look at some figures if you're unsure why you should share your content on Facebook. WordPress has over 75 million active bloggers and over 400 million monthly page views, while Facebook is one of the world's most popular social media sites with over 2.4 billion users. As a result, if you make your WordPress posts discoverable and available to even a small percentage of Facebook users, you can see a spike in pageviews on your blog (in other words: traffic). It's as plain as that, so take advantage of the chance. If you don't, your opponents can.
It's worth noting that there are several ways to post from WordPress to Facebook automatically. The following are some of the most common choices:
Make use of web resources like IFTTT.
Use auto-posting plugins to your benefit.
Let's look at whether instantly posting from WordPress to Facebook is a brilliant idea now that we've gained a greater understanding of the scale of the potential.
Why Auto-Post from WordPress to Facebook?
Here are some reasons why auto-post from WordPress to Facebook:
To take advantage of Facebook's massive user base
To save your resources, meaning both time and energy: Think about how time-consuming and tiring it would be weighing what to post, when to post it, and posting it on the exact time and date you want. All of those troubles will go away with auto-posting. Then, you can put more of your time and energy into doing something that adds more value to your business.
To save money: One of the most important assets you have now is your leisure. It's one of the things you can't get back and can't buy. However, you can make the best of it if you use it wisely. So, when you see how much time you'll save by automatically posting from WordPress to Facebook, you'll know why it's such a good investment. You might, for example, use the time to write a new blog, sketch a new business plan, devise an SEO strategy, or make a tutorial film. Any of these things could produce revenue and aid in the growth of your company.
Auto-posting from WordPress to Facebook with online tools
Since you don't have to download something to use online apps, they're effortless. Here are some fantastic tools for instantly posting from WordPress to Facebook.
IFTTT (If This Then That)
IFTTT is a two-end magic wand that allows you to bind any two Internet accounts. You name it: Slack, Pinterest, Instagram, Dropbox, Gmail, and Spotify. It can do so thanks to a program known as an applet. Since an applet binds two accounts, whatever you do on one will also happen on the other.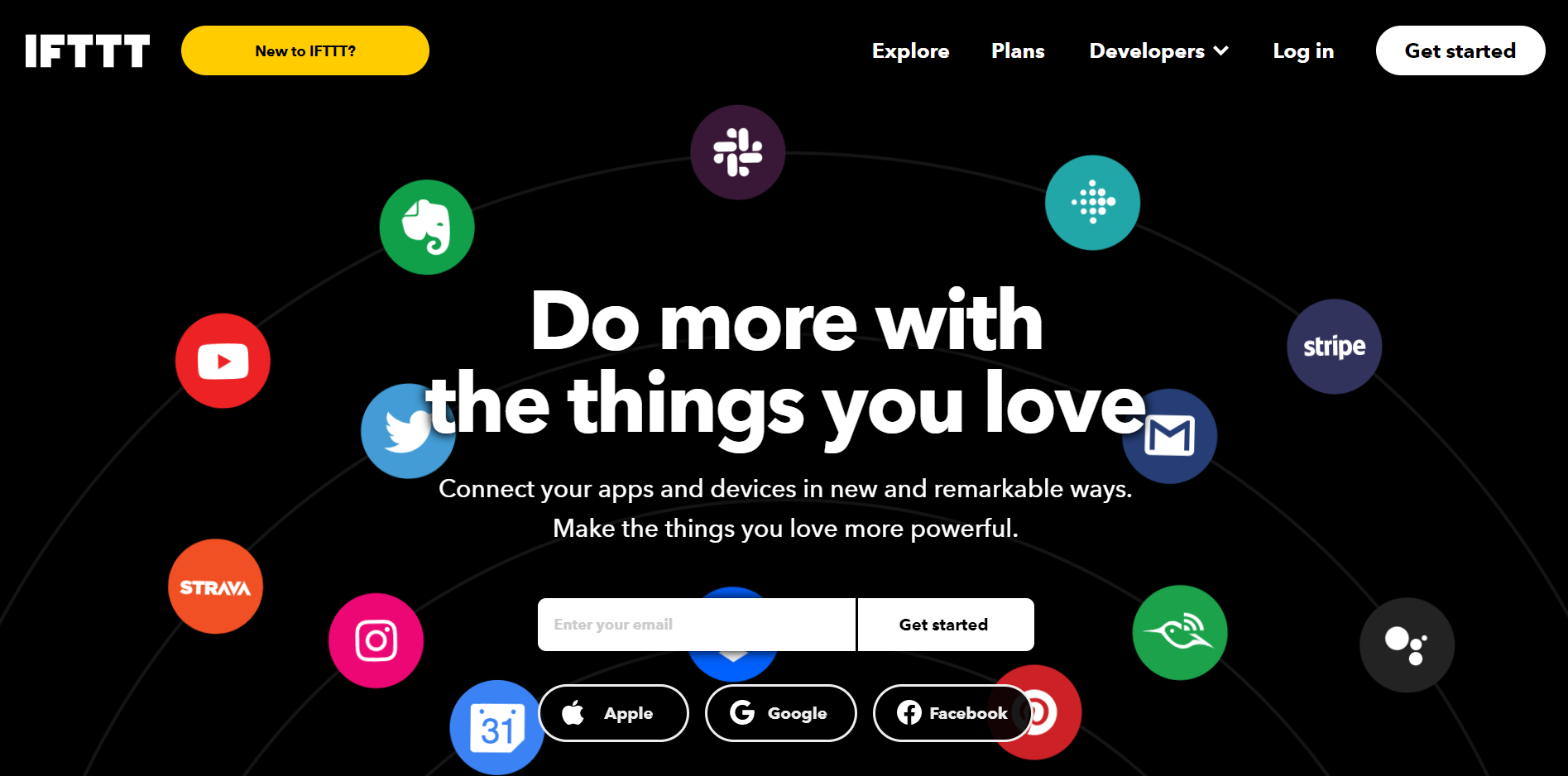 The best thing is that IFTTT is very simple to set up and use. Take these guidelines to do so:
For the beginning, go to the IFTTT website and sign up for an account. You can save time by connecting it to your Facebook account.
Then, on the top-right drop-down menu, choose to Create. You'll be led to the generating tab, where you'll see a plus sign next to If This Then That (next to This).
Then, after clicking it, add it to your WordPress account. The URL, username, and password must all be entered.
IFTTT will take you to the If This Then That site after you've finished with the WordPress options, except this time you'll see a plus sign next to That instead.
Click it and add it to your personal or business Facebook profile.
Make a press release. Make a post with links.
Choose how you want your WordPress post to look on Facebook, and then click Create action to complete the settings.
Use the auto-posting plugin
Of course, you can use a WordPress plugin to upload to your Facebook profile automatically. If the IFTTT applet process isn't versatile enough for you, check out how to set up this helpful function with a plugin instead. There are a lot of auto-posting plugins for WordPress websites.
FS Poster is one of the best plugins for auto-posting from WordPress to Facebook.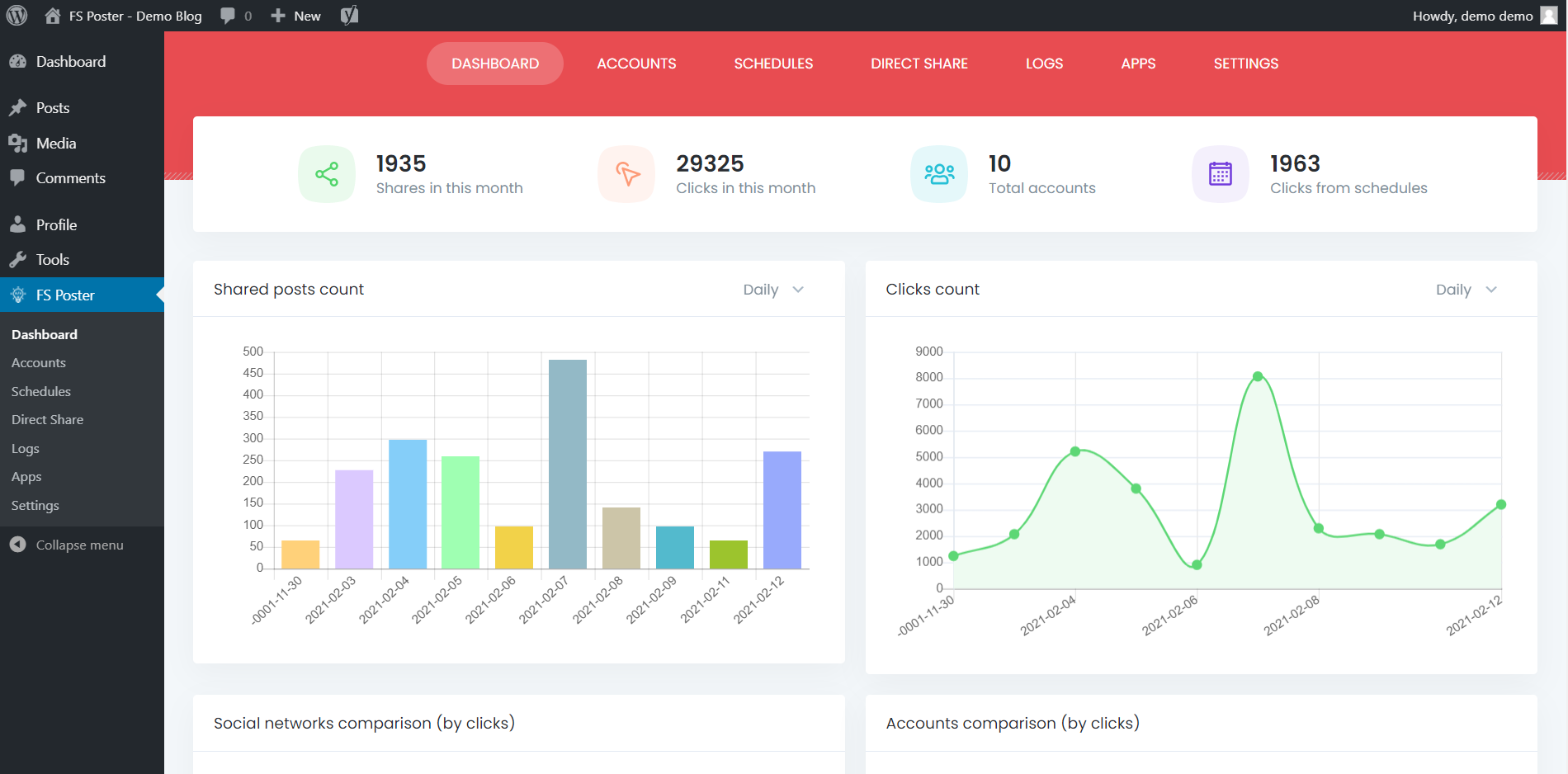 There are a lot of benefits of using FS Poster:
Make the Most of Your Time
You would be able to save time by automatically uploading your WordPress entries.
Improves the site's search engine optimization
You would be able to increase the number of social media connections to your website.
Increase the number of visitors to your website
More shares would increase the number of people who visit your website.
Maintain the Freshness on The Social Media
Using the Schedule module, you'll be able to keep your social profiles fresh by posting regularly. FS Poster allows you to share WordPress blog posts and other custom post styles on social media sites, including Facebook.
How to Set Up Auto-Posting Accounts in FS Poster
To share the posts on those pages, we must first connect our accounts to the plugin.
You will avoid signing into your account each time you want to share a post by adding accounts to the plugin once.
On the Facebook menu of the Accounts page, you can link your Facebook account to the plugin. You are free to create as many accounts as you want. Select ADD AN ACCOUNT from the drop-down menu.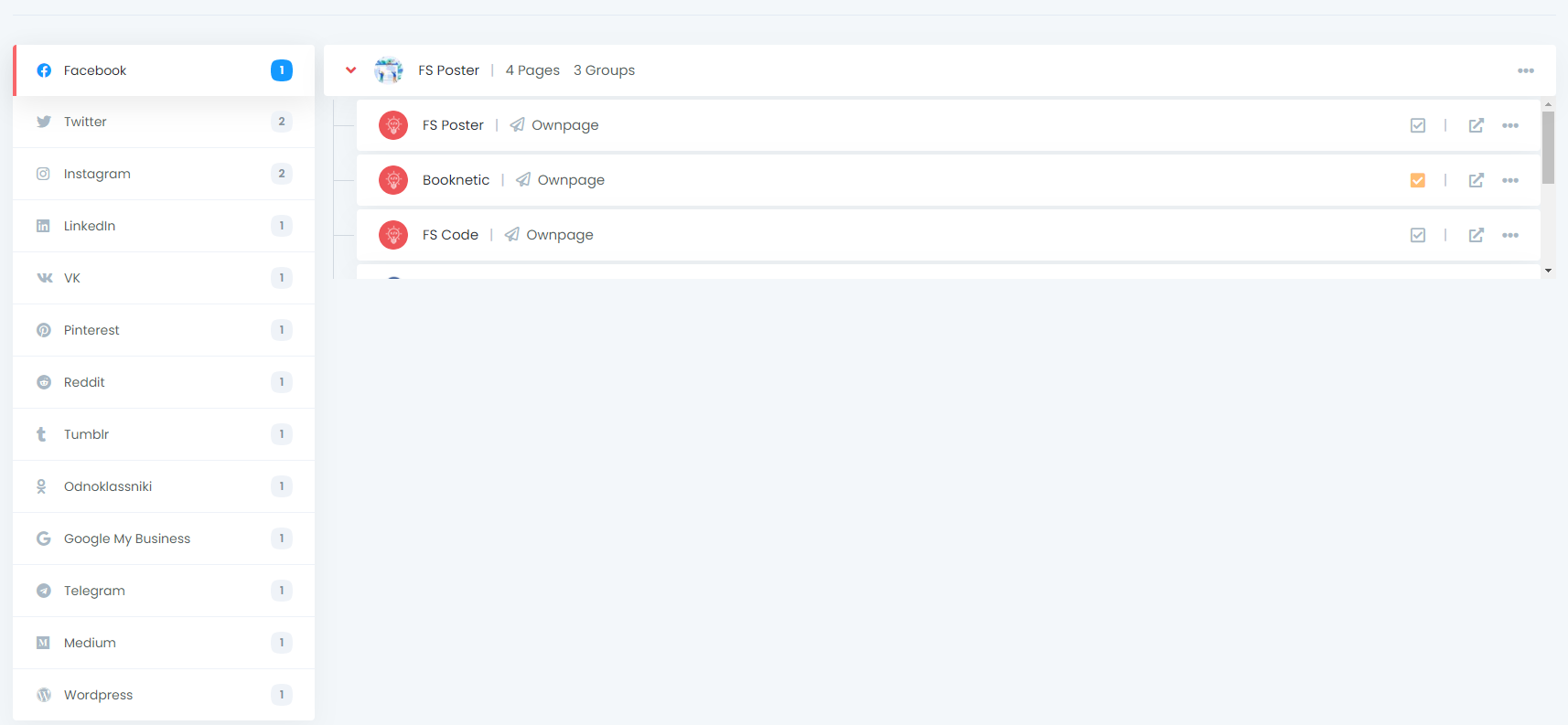 Following that, you'll see two options for adding your account. For adding a Facebook account, we suggest using the App tool. It is less time-consuming and more critical. To connect your username, you need to make three taps.
Using the Facebook API, users can post content on their communities and accounts.
By activating your pages and communities, you will be able to share your posts on those that have been approved instantly. You will deactivate all of your pages or groups if you don't want to exchange updates for a certain period.

The FS Poster plugin supports the multi-user platform. WordPress users can add and maintain their own social media profiles. One WordPress user cannot share a message on the accounts of others. You can, however, make your accounts visible to other WordPress users. You'll need to enable the Make Public alternative for this. As a result, by allowing auto-posting on certain pages, other WordPress users would be able to post to them.
Using the FS-Poster Schedule module, you can schedule previously made WordPress updates, items, and other content posted on Facebook.
Conclusion
One of the most effective methods to direct visitors to your website is via social media. Users would be more likely to follow and access your blog if you have valuable content to share with them.
You will expand your audience by automatically sharing your messages, brands, and brand on Facebook. When you cross-post and share all of your posts on your Facebook accounts, forums, and communities, you will connect with consumers and prospective clients more often.
Though engagement cannot be automated, you can automate your blog material posting on your Facebook page or profile.
FS Poster is the best plugin for auto-posting from WordPress to Facebook. Try our demo version and see other features in our plugin.
If you liked this article, you might also like these: