Best Facebook Carousel Ad Examples To Look in 2023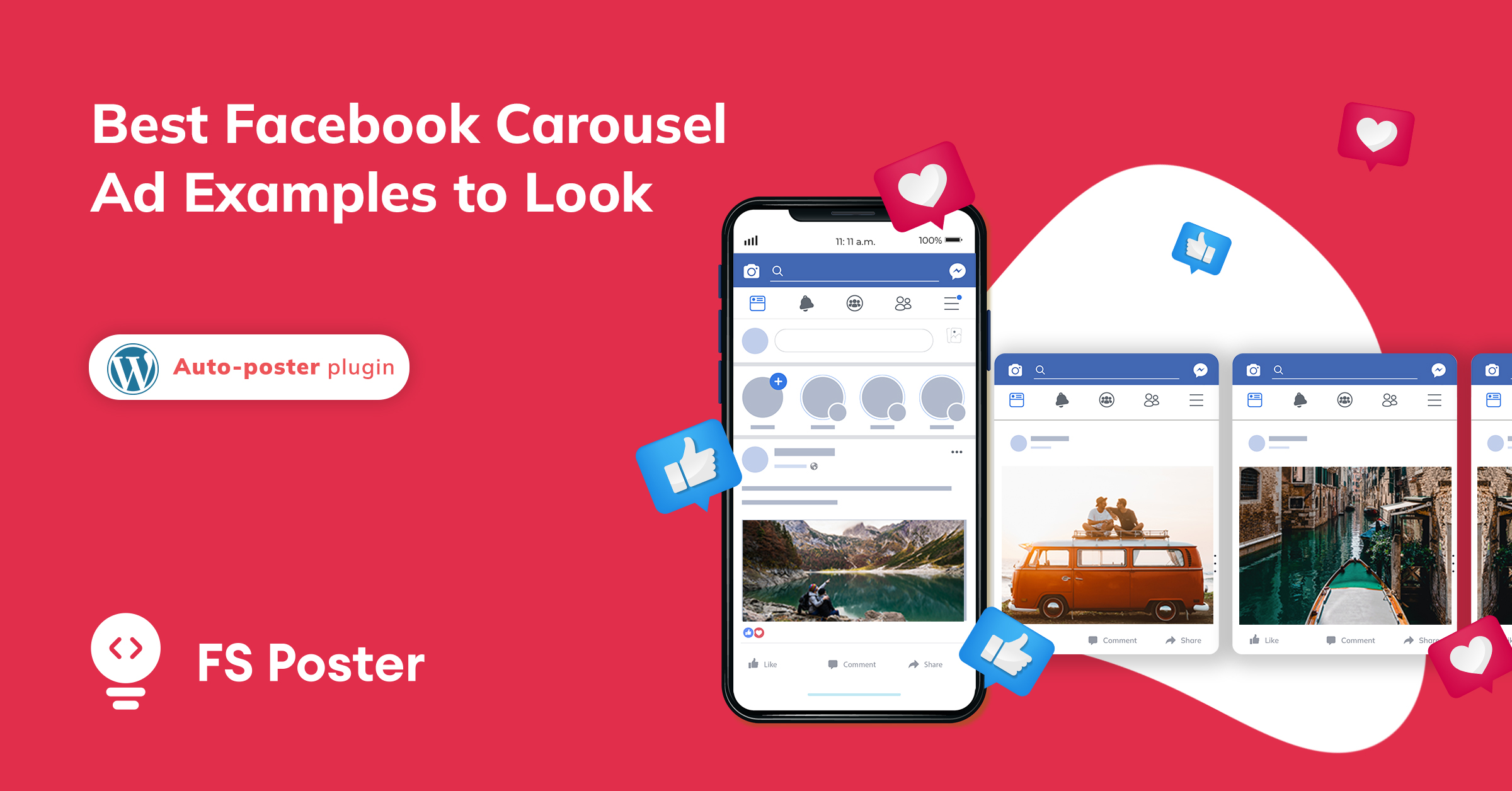 Social Networks
Jan 10, 2022
Updated at: Jan 13, 2023
Ad; It is the whole of written, visual and auditory works to encourage people to benefit from a product or service voluntarily and draw their attention to the product, service, or brand. The advertisement, which means convincing the target audience to use and try the product from the brand, must have unique content.
But what are Facebook ads?
This blog will tell you what Facebook carousel ads are and Facebook carousel examples.
Facebook ads are paid messages that brands and businesses can reach the audience they want to get by using the sentences that best describe themselves. Those who want to advertise can promote and support their specific campaigns by using the most suitable Facebook ad type for their purposes.
Pay attention to the following features when designing Facebook Carousel Ad:
The minimum number of cards should be 2, and the maximum number of cards should be 10

Resolution, 1080 x 1080 pixels recommended

Make sure the image's maximum file size is 30MB

You can choose a video length of up to 240 minutes, but 15 seconds is recommended.
You can offer video sizes up to 4GB
Notice that the text in the ad is 125 characters, the title is 40 characters, and the link description is 25 characters.
How to Create a Carousel Ad
Sign in to Ads manager
Click the green button Create in the upper left corner.
Select a destination that supports the returned format.
You can only use the carousel format with the Video Views intent for the Instagram stories placement, but you can't use the engagement target in the carousel format, sorry.
Select audience and budget: You can apply the location for the country you want or for all areas. We choose the age "range and gender."
Select the exact account that will create a FaceBook carousel ad in the ID section if you have more than one account.
And in the last part of the ad setup section, select the media, text, and destination for your ad. You can also customize your media and text for each placement.
Why use Facebook carousel ads?
You can meet the many requests of your audience in a single ad
Get noticed with different videos, and eye-catching images in just one ad
Allows you to lower your cost per click
It will also help you to explain any process step by step.
Avoid other common Facebook marketing mistakes you have made previously
You can use it to highlight the features of any of your products with details.
Best Facebook Carousel ads Examples
1. DigitalMarketer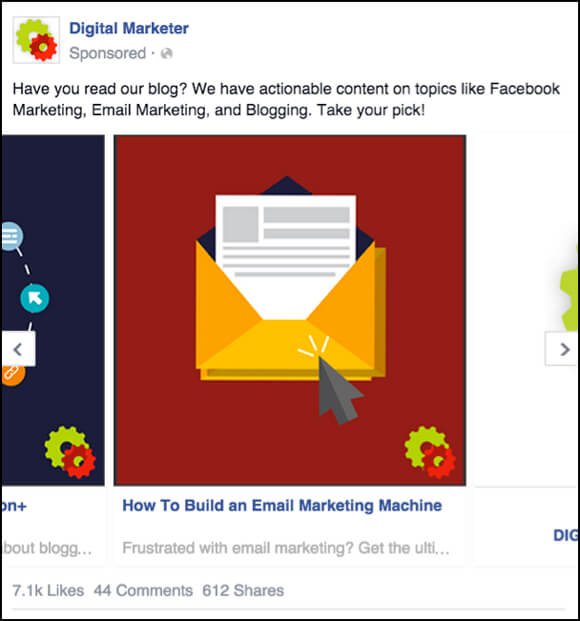 DigitalMarketer shares its blog content in Facebook carousel ads. It uses each frame by clicking on the same page to talk about a different benefit of a particular offer. DigitalMarketer also uses them to highlight various testimonials for its business or products and retarget people who visit its sales pages but don't buy. They use the ad loop ad type to promote four different blog posts, with each frame being sent to a different URL
2. BarkBox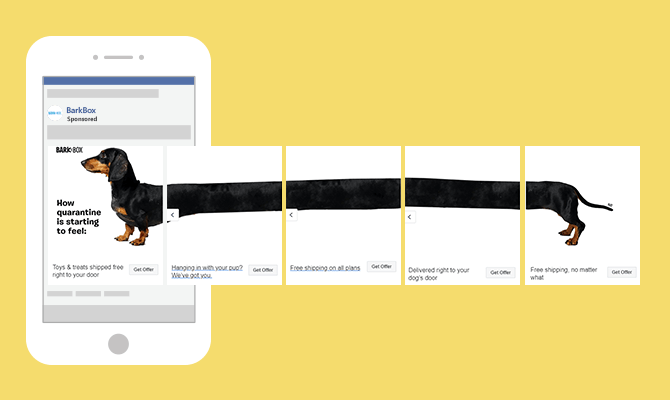 The feature of splitting the panoramic image into several cards, which is one of the carousel ads, is reflected in this service. You have to scroll all the pictures to the end to see the whole picture. You can use it to increase the interaction and optimize the spinning cards. BarkBox has used this ideally in its Facebook carousel ads.
3. Shein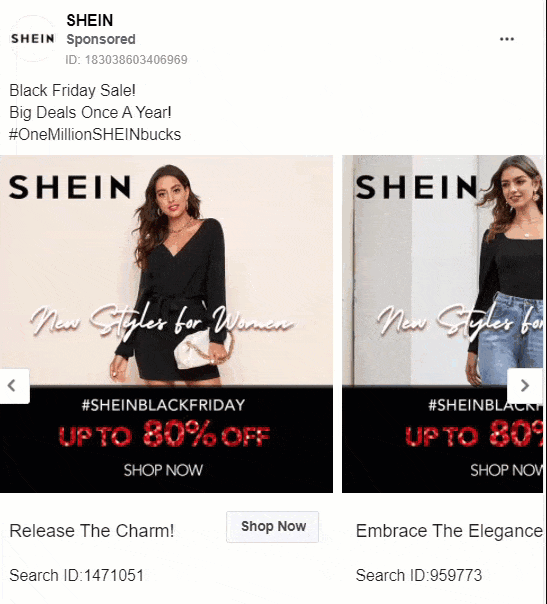 Shein talks about his products in his Facebook carousel ads. She examines how her products are used and reviewed. Each card itself has separate impressive titles for sale. It shows the ID number of each product on each card.
When they have discounted products, they offer them in their advertisements. A description is essential here, as with any carousel ad, because your target audience must understand what the ad is about
4. Nike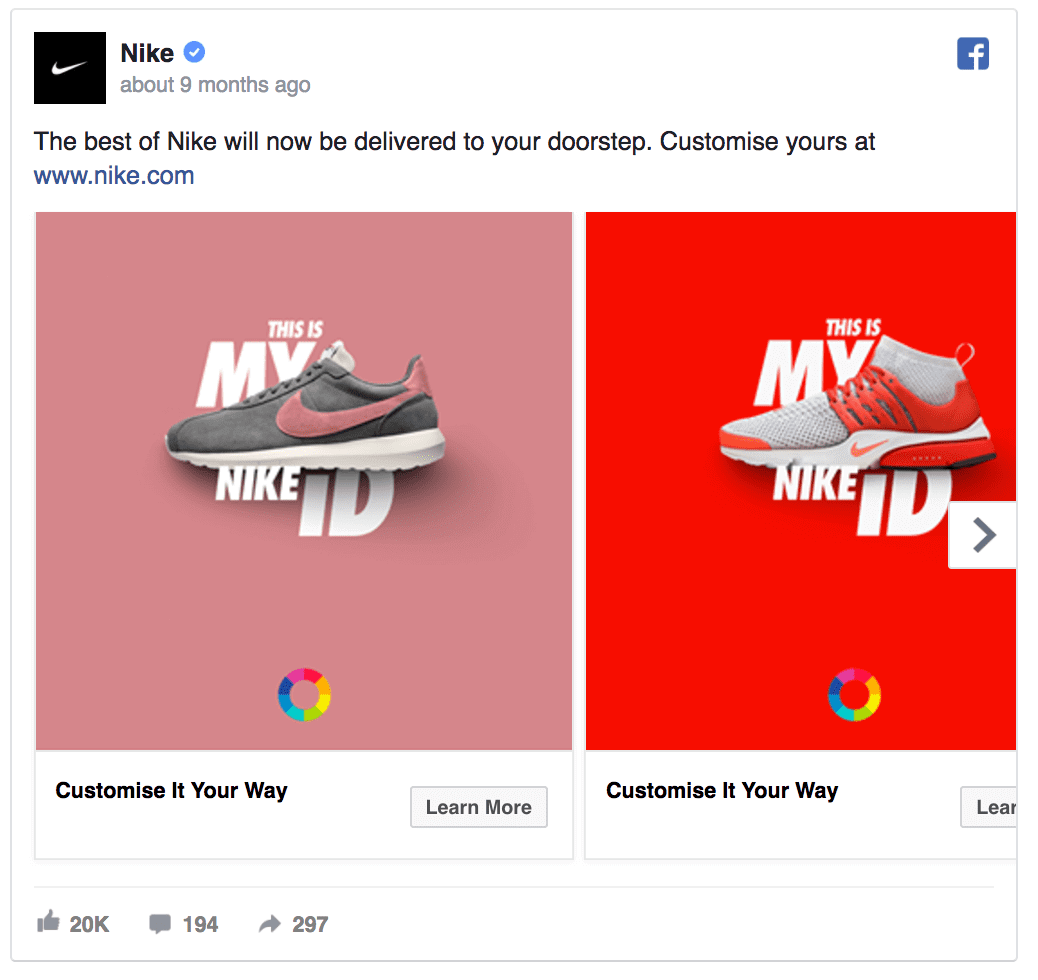 These Facebook carousel ad examples are not just for adults but also for kids who love to play sports.
Nike offers its products with Facebook carousel ads. It perfectly attracts people with impressive CTAs. A list of product benefits is available to viewers.
Nike uses simple ads but shares original content and headlines that link to products shown.
5. Blinkist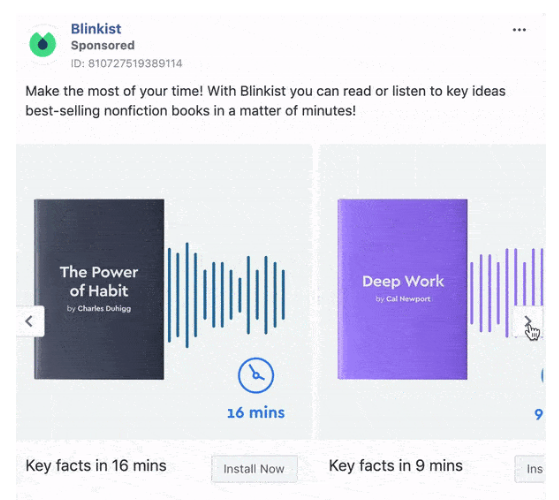 Blinkist is one of the Facebook carousel examples with a great brand design that allows you to read more than 300,000 short book summaries in 15 or fewer minutes.
In Blinkist's advertising cards, although the covers of the books are of different colors, they are all the same in design.
This provides a beautiful and minimalist look. The ability to use the text field to write down the amount of time people spend reading book summaries is an excellent thing, in my opinion. It gives a button to download the whole book from the description section.
6. SamCart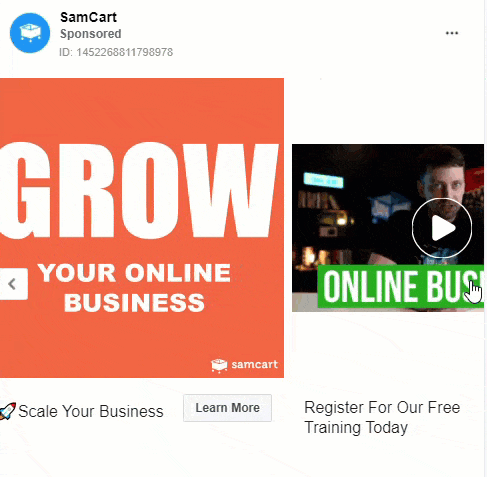 SamCart offers its products in its own Facebook carousel ads. The title of each card talks about the benefits of its products. It also presents its courses to advertisements in videos and blogs. The description section gives a URL to the site of each product or course.
7. World Football Summit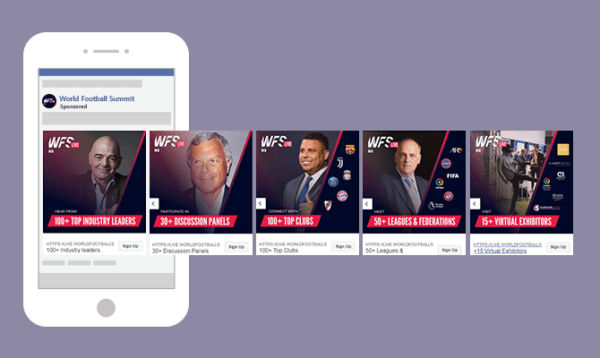 Any sporting event is an example of a Facebook carousel that provides information about an event such as football.
This carousel advertisement shows speakers and other information such as the date, time, and place.
Keep in mind that if an ad is engaging enough to make the customer stop, they will likely scroll to see the rest of the ad.
8. ParcelLab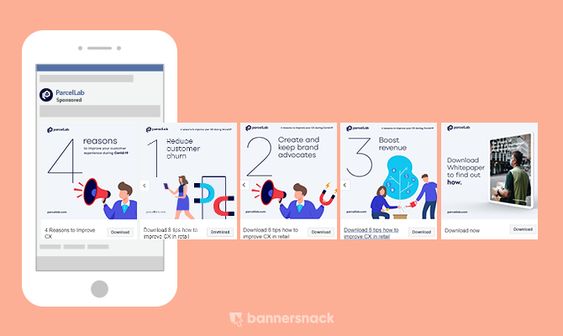 In the ParceLab carousel ad format you see, product service features are displayed or presented as a how-to manual.
In this rotating advertisement format, you can use it in your accounts and show the features of your product or service or how we can use it from the service. You need to prepare more engaging content in these ads as new viewers get new and preview your brand. They will visit your page to discover more.
In conclusion,
Facebook carousel ads allow you to showcase multiple products or any of your brands in a single ad. The more creative you are in ads, the more interactions you will have and the more viewers you will gain.
We hope the examples we have given in the best Facebook carousel ad examples will be helpful to you. Don't forget to let us know and check out our other blogs if you like our blog. And if you are new to Facebook marketing, you should know about the details of boosting Facebook posts and getting great results.