Common Facebook Marketing Mistakes To Avoid In 2023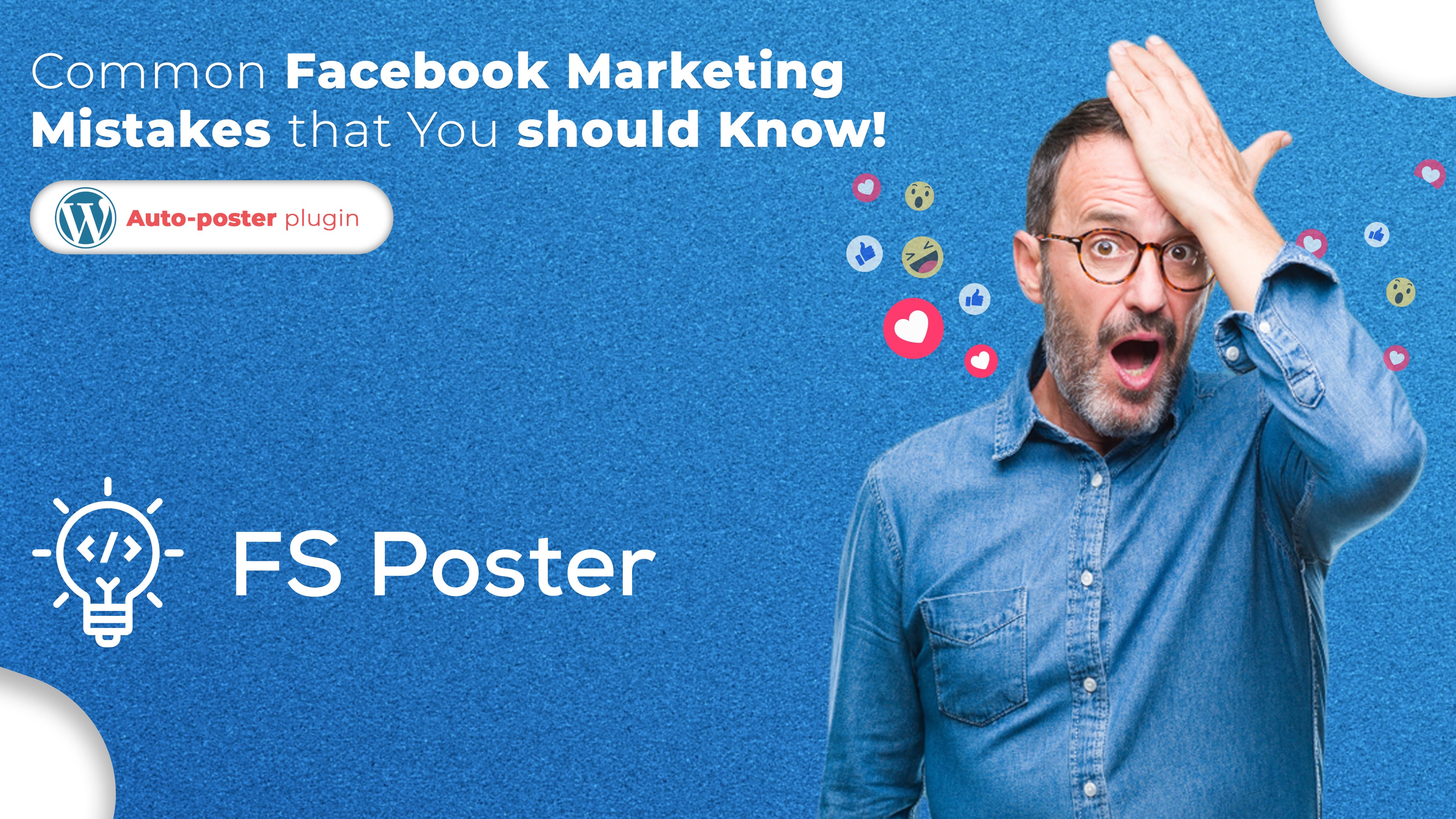 Social Networks
May 20, 2021
Updated at: Dec 26, 2022
With more than 90% of marketers using social media and investing more than $13 billion per quarter on Facebook alone, the competition for consumers' attention on the web has never been fiercer. It's a pay-to-play website, so if you're going to spend money to get your message heard, make sure to spend your money in the best way. This entails perfecting every aspect of your Facebook marketing strategy.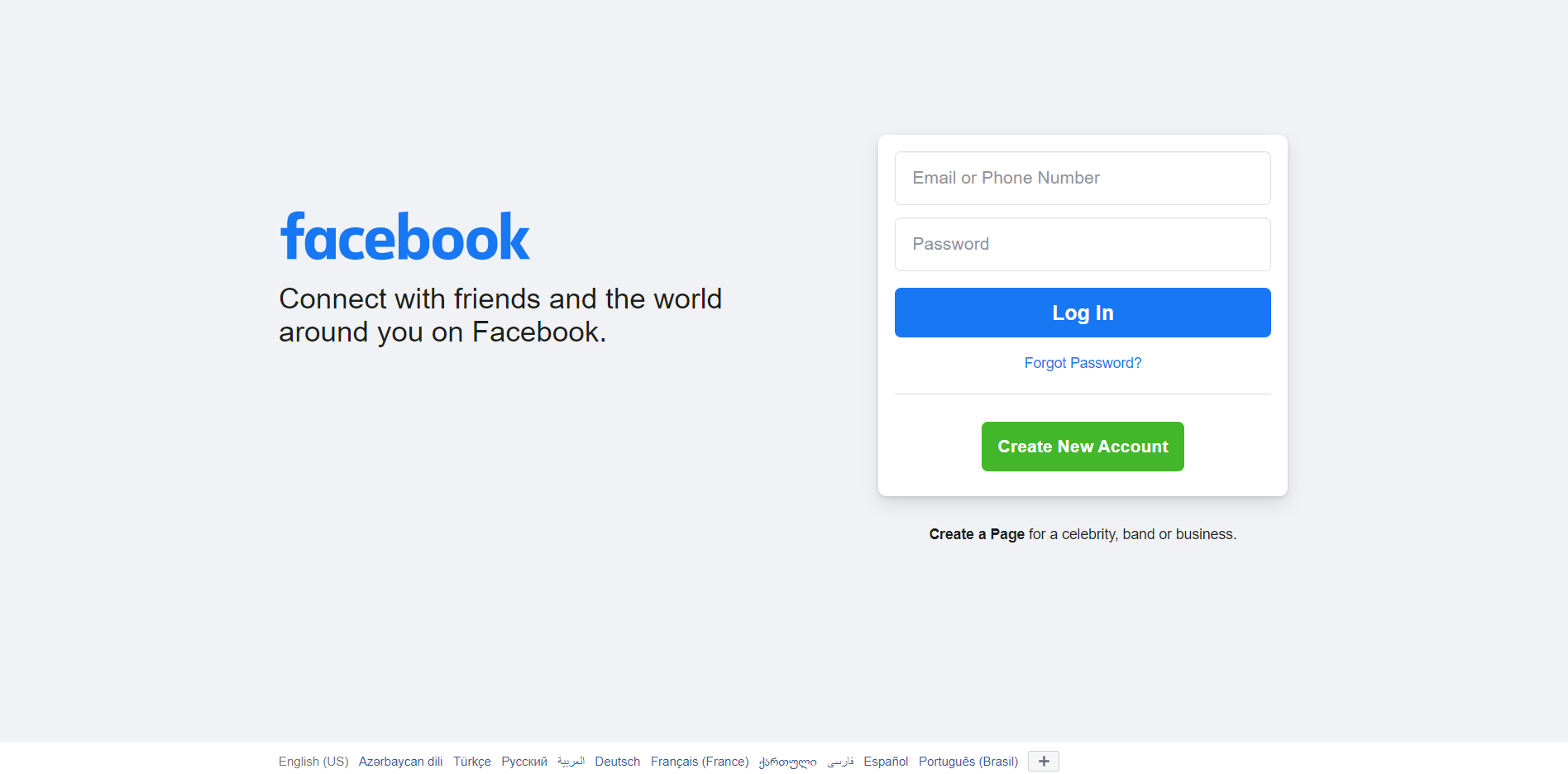 Despite this, many brands continue to make mistakes.
Common Facebook Marketing mistakes to avoid
Here are the common Facebook Marketing mistakes and our recommendations on how to stop them:
Choosing the incorrect form of the article
This is one of the common Facebook marketing mistakes. Many people make mistakes on Facebook because they lack basic training. Photo Posts, for example, are often published with links in the description. This decreases the post's scope (Facebook penalizes hybrid posts) and promotes dead-end clicks, such as users clicking to expand a picture instead of visiting the desired website connection.
Posting an excessive number of links
Many businesses publish an excessive number of connection posts or only posts that provide a link. This goes against the needs of the majority of Facebook users, who prefer to remain in-channel, resulting in disengaged fans and (ironically) low website clicks.
Invest in Facebook ads if you want more web clicks. You can maximize your returns by publishing fewer links, more "just for fun" content, and promoting in-channel interaction.
Low-quality image
Facebook posts are often published without custom or appropriately sized photos (for example, simply pulling the image from a linked page), discouraging users from engaging. The quality of images could be significantly improved using an image formatting/creation platform (such as Canva, pictured above) or allocating a few design resources.
Posting frequency is essential
You may not know how often you should post on social media. Most businesses use Facebook 1-2 times a day, Instagram 1-2 times a day, and Twitter 3-5 times a day. Many Facebook pages are underserved regarding the number of updates they get, which is a lost opportunity. Other businesses will occasionally post too often, with 4-6 Facebook posts sent out 24 hours. Over-posting days confuse fans who want consistency and draw negative feedback (unliking, hiding).
Auto-posting plugins can keep frequency. You will be able to share and schedule your WordPress blogs directly on Facebook. FS Poster is one of them. Our plugin has a lot of features. Try our demo version.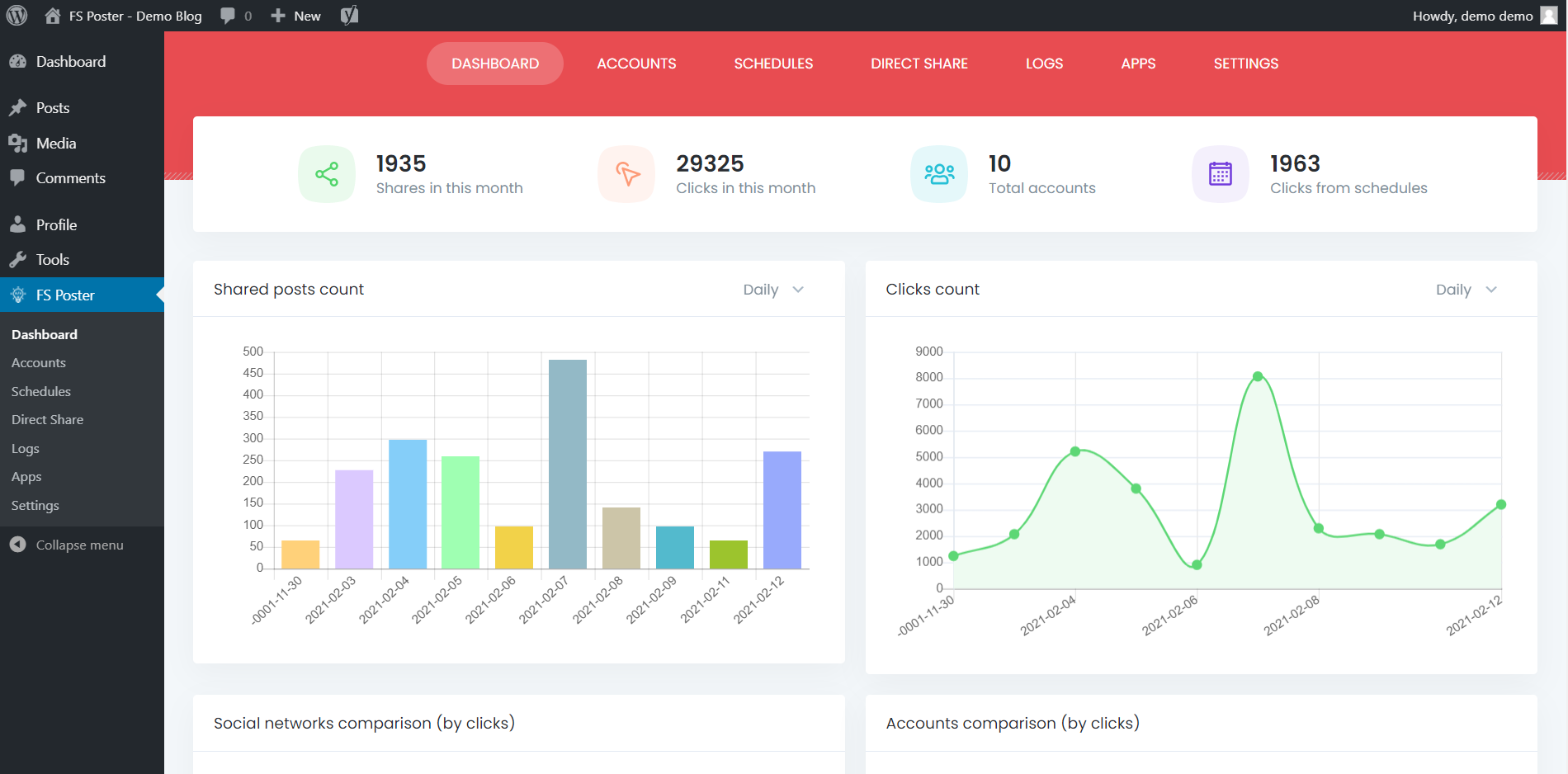 Unsuitable content selection
Too many businesses post news and material on Facebook when only interested a small portion of their followers. This is a common issue for companies with a lot of local material. The rule is simple: if you can't appropriately target your niche content, don't publish it.
Failure to take advantage of Facebook ads
Most advertisers believe that Facebook Likes are now regarded mainly as a vanity measure. Your posts are only likely to hit up to 5% of your fans organically due to Facebook's Edgerank algorithm.
This means there are only two ways to reach your followers: reliable, high-quality posts and constantly boosting posts to maximize reach artificially.
Boosting posts is a relatively inexpensive way to increase reach. It also has the side effect of increasing engagement, which increases the chances that your fans will see your next post organically.
Using a tone of voice that isn't acceptable
On some Facebook Pages, the tone of voice alternates between fun and more formal post-by-post. This is likely to cause confusion among fans and reduce interaction. You may help to mitigate flip-flopping by developing a playbook with suggestions of the types of content and tone of voice to use for that particular audience.
Negativity is not dealt with properly
Surprisingly, the most popular reaction to negativity on Facebook is still to ignore it or, in some cases, to hide or delete the comment. Having approval for answers to difficult questions will take time in larger organizations, but there are ways around this (e.g., pre-approved FAQs). It will erode your fans' confidence if you take too long to answer or ignore the issue.
Not having a content plan that everyone agrees on
The most common social media content is emotion-driven and created specifically for social media for any brand. You won't get the best results if the content is unmotivated or not optimized for social media. This will necessitate the hiring of a copywriter or designer. Although there is a cost associated with investing in your content marketing campaign, it will be worthwhile if you are serious about achieving results on Facebook.
When you run so many ads on a tight budget
Creating overly complex Ad accounts is a common blunder made by most businesses, tiny ones. You'd see a single Ad account with so many Ad sets and many campaigns going.
This will only minimize productivity and create a great deal of uncertainty. It would not be easy to keep track of all that is going on if you have a detailed Ad account.
You'll need at least 50-100 conversions per ad set per week to fully benefit from the Facebook algorithm. To do so, you'll need a substantial budget so that Facebook can effectively fuel your advertising.
If you want to convert $5 per lead, you'll need to budget at least $35-$50 per day. So, if you were to make three Ad packs, your daily advertising budget would be $100-$150.
Spend a good chunk of money on your ad campaign. This will result in higher conversions and a higher return on investment. This will result in higher conversions and a higher return on investment.
Value proposition problem
One of the most significant factors to consider in marketing is the value proposition. It can be harmful to your campaign if you ignore it.
Your value proposition can persuade customers to do business with you or use your product over a competitor's. It states explicitly from the start what benefits you can provide to them.
Unfortunately, many companies do not bother making their value proposition clear in their Facebook Ad campaigns or do not even know its value.
If it takes time to react to customers
Most brands today understand the importance of responding to negative feedback and customer questions. The degree to which Facebook will share your response times is something that many people are unaware of.
Facebook requires companies to assist and respond to their customers. It believes that this demonstrates your genuine concern, and it is correct.
As a result, any brand with Facebook Messenger turned on will see a pop-up appear whenever a customer visits their website, clearly displaying the usual response times.
Not using Facebook Insights
This is a mistake that far too many businesses make. Facebook Insights is a powerful tool that can help you understand how your posts are performing and who your audience is. If you're not using Insights, you're missing out on valuable information that could help you improve your Facebook marketing. Make sure to check Insights regularly and use the data to inform your decisions about what content to post and when to post it.
Not having a clear goal for your Facebook marketing campaign
Not having a clear goal is one of the most common mistakes businesses make. Without a clear goal, measuring your success and determining whether or not your campaign is working can be difficult. Make sure to set a clear goal for your campaign before you begin, and make sure all of your team members are aware of that goal. This will help everyone stay focused on achieving the same objective.
Focusing on vanity metrics rather than real business results
This is another common mistake businesses make on Facebook. It's easy to get caught up in likes, shares, and comments, but those things don't necessarily mean anything for your business. Instead of focusing on vanity metrics, focus on the things that will actually help you achieve your business goals. For example, if you want to increase sales, focus on creating ads that lead to product pages. If you want to increase website traffic, focus on creating posts with links to your website.
Not testing and measuring
Testing and measuring are essential elements in every part of marketing. Not testing and measuring is the final mistake we'll discuss in this blog post. It's important to test different strategies and measure the results so you can determine what's working and what's not. Without testing and measuring, you won't be able to improve your results over time. Make sure to test different tactics and track your progress so you can continually optimize your Facebook marketing.
Conclusion
These Facebook ads suggestions are best for not making common Facebook marketing mistakes in 2021. It would be best to determine what works and what does not for your business. The bottom line is that instead of concentrating on increasing the number of fans on your Facebook page, you can use it to build a group of people who have similar interests. After that, the numbers should fall into place.
You may also want to read our other blogs: