Automation of Your Social Media Marketing/ How to Schedule and Promote Your Content Automatically?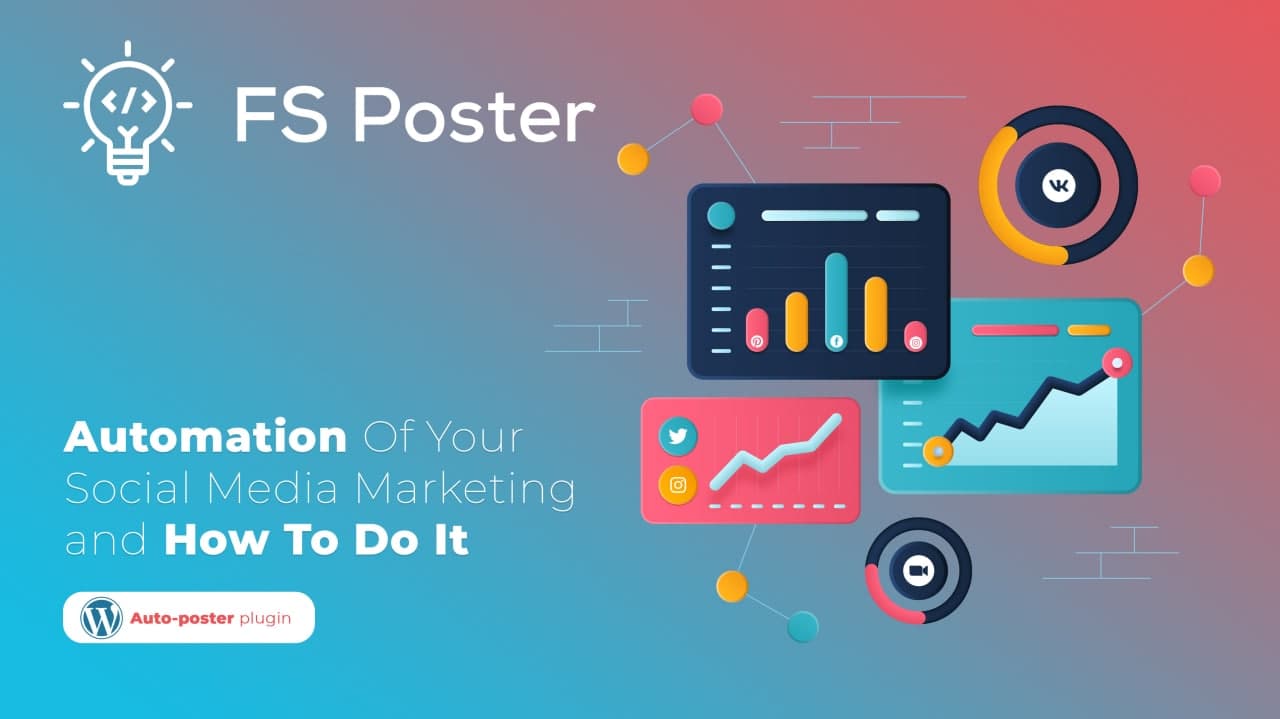 Plugin for WordPress
Jan 28, 2021
For a long time, social media has been around. Most people use social media in their everyday lives nowadays. That's why businesses make use of social media for their business. Marketing on social media is now so familiar and relevant. But often, running too many campaigns is challenging at the same time. This is why so many organizations use tools for social media automation.
Perhaps you will want to post them on your social media accounts if you share articles on your website. You could also have no time for a day to post your blogs on your social media accounts. So how can you schedule and promote your content automatically? You can use the social media automation plugin for your WordPress website this time around. There are several WordPress automation plugins for social media. Among these plugins, FS Poster is one of the best plugins. So you will get so many opportunities with this plugin.
What is social media marketing automation?
The brief definition for this question would be the tool that allows the user to monitor the automatic posting of your website's contents on linked social media platforms.
As we said above, maybe you do not have time during the day or concentrate on your work. You won't share your blogs on your social media pages this time. But with these automation systems for social media, you can automatically schedule and promote your content. The FS Poster plugin will help you automatically organize your social media posts. The best experience will be provided to you by this plugin.
How can your social media marketing become automated?
Plugins will help you in this process. It's swift to use WordPress plugins to automate your social media marketing. It will make your work very simple, especially the FS Poster plugin. Without having any special courses, anyone can use this plugin. You need to install the plugin and follow instructions. Whenever you need to answer your questions, our customer service will be ready.
Tips for the effective automation of social media marketing
You need to know your clients to create efficient marketing automation for your social media accounts—most of the critical things you have to know about them. For example the social media platforms they use, which hour during a day they are engaged in social media, what they want, do in social media, what they want to see from you, etc.

Here are some tips for the effective automation of social media marketing:
Pick the time when your clients are online
In preparing and promoting your content, choosing the right time is essential. Your campaign would be more successful if you share your posts at the right time. If you want to share your blog with so many others, try to learn at the right time.
Choose the best WordPress plugin for your need.
There are several plugins for WordPress that can assist you in automation. Some of these plugins for WordPress are free, and some are paid for. You can check them out and pick the best for your website. We recommend you try the FS Poster WordPress plugin for the best experience. Try our demo version if you want to see the difference.
FS Poster supports 13 social networks: Facebook, Twitter, Instagram, Linkedin, Pinterest, google my business, telegram, Reddit, Tumblr, medium, vk.com, ok.ru WordPress based websites. FS Poster increases site traffic from social networks, saves your time, keeps your social media updated.
Don't schedule your posts too far.
It's so important here. Don't plan your posts for the near future. Try to keep the current news up to date.
Do not add the same message to all of your social networks.
So maybe you're wondering why? It's quick to add similar messages to all of your social networks. You don't need too much time to use this method. Yet, there are different demographics and expectations of your customers on various social networks. And you should think about what consumers want from you if you don't want to lose your clients. Therefore, consider adding different messages to various social networks.
Check your scheduled post before publishing.
Automation tools simplify our lives. But they may make errors for some time. If you don't want to be in that position before publishing, you should review your scheduled post.
Using a tool with built-in, flexible approval processes to make sure that your posts are copied, on-brand, and have no humiliating errors, whether you're an entrepreneur or part of an extensive corporate team.
Select a WordPress Plugin that allows you to track link clicks
This feature is crucial for you if you want to track link clicks from your social networks. Analyzing each post's effectiveness on each social media platform will give you insight into your clients and their needs.
These analytics are given to you by FS Poster. You can see from which social platform your clicks are coming from. FS Poster has a log tab that gives you more information about shared posts. With FS Poster, measure your performance advanced functionalities.
Choose a plugin that allows you to customize the URL of your posts.
You have many Facebook pages and groups, for example, and you want all your pages and groups to share the same post. But Facebook will think you're dubbing your content. That's a huge issue. You need a plugin for each position that has a URL customization feature. This particular feature is provided by FS Poster. You will be able to use the FS Poster to customize your URL.
Pick the emoji-supported plugin.
One of the most significant social media focus factors is Emoji. That is why emojis have to be enabled by your plugin.
Choose the plugin that supports different languages.
Most plugins provide an interface in English. You may want to use plugins in your language. The plugins do not all have different language features. So, pick a plugin that has this function. FS Poster supports various languages. You can read tips about how to change plugins` language.
The plugin must have 24/7 customer support.
24/7 customer service is better for you whether you work at night or early in the morning. Because you may have some problems during that time and can't fix them, you can solve your problems with customer support.
It's better to get a plugin that has a multi-site feature.
You don't have to install a plugin for all different sites with this feature. There'll be one plugin enough. You will be able to share your posts from multi-sites to your social media accounts. With this feature, you will save your money. One of the plugins with multi-site functionality is FS Poster.
Choose a Proxy-supported plugin.
Why do we need a proxy? Because there are numerous social media sites, we use. There are a lot of accounts we can have. Our IP address can be blocked by social media platforms if we login to these accounts from the same IP. That's why our plugin needs a proxy. So, try to select a proxy-supporting plugin.
Pick the right time zone.
It's crucial to reach the right audience at the right time. Perhaps your target audience and your time zone are different from one another. You should know the correct time for posting in your client's country. This is very important for the success of campaigns.
Conclusions
Here are the 13 tips for social networks - automatically schedule and promote your content. Maybe you're in the decision phase and searching for your website's best plugin. We recommend you try the FS Poster. This plugin has more features within it. On our website, we have a demo version. After that, you can try to make a decision. This plugin will boost your social media strategy, and you will be able to do your tasks very quickly.
The FS Poster Plugin has a dashboard that is easy to use. So you can do the scheduling process in a couple of minutes. That`s is why you don't have to learn all the complicated WordPress stuff.
You can keep a good schedule of posts with the FS Poster WordPress plugin. This plugin can allow you to plan and spend a lot of time on creativity and less time posting tedious tasks.
Our plugin is rated at 4.96. We have 4000 customers from all over the world who are pleased. Our plugin has been installed 4500 times.
Automation of social media is an ideal way to boost social media channels for your business's progress. Please take full advantage of social industrialization, choose the right automation tools and follow our tips. If you are in a decision, this blog would be helpful. Try our FS Poster WordPress plugin and see the difference, as we said above.