Effective Social Media Marketing Plan: What's The Best for Organizing Your Marketing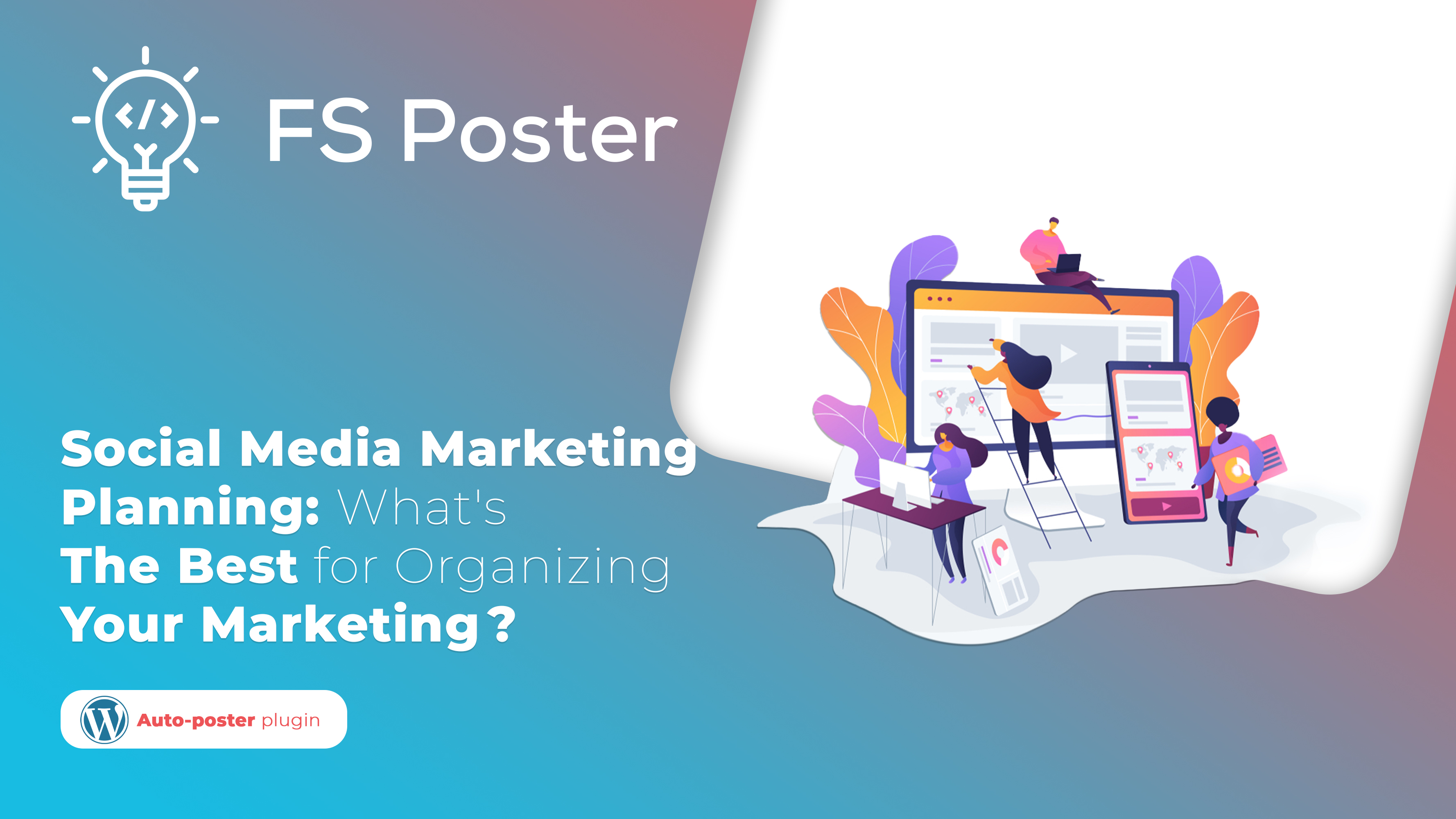 Plugin for WordPress
Feb 01, 2021
The most critical aspect of consistency is social media marketing planning and scheduling your social media posts. It is necessary to share your posts at some point because of social media algorithms. Social media updates need to be organized and scheduled before posting them not to waste too much time.
I know you are SMM and want to know how to create an effective social media marketing plan. I got you. Here in this blog, I will let you know the best ways to an effective social media marketing plan.
What should a social media plan include?
Are you wondering what you should include in your social media plan? Here are they:
The metrics used as a baseline
Establishing a baseline is vital, even if nobody is interacting with your Facebook fan page and only your workers are sharing your information on Twitter. This does not change the fact that it is essential to do so. Sometimes the primary rationale for setting a baseline—no matter how horrible the figures may look—is to set up the plaudits for when those numbers improve. This is true even if the numbers themselves are improving.
The standards set by competitors
Do not attempt to imitate someone else by doing this. You should do this for the same reason you acquire the baseline measurements in the previous item on this list (number one). It is not always simple to determine what you are pursuing with your social media campaign; thus, competitors make an obvious (and enjoyable) target.
Goals and aims for the future
Because the return on your investment in social media is not, and may never be, as straightforward as the return on investment in something like a PPC campaign, this is typically the most challenging aspect of the planning process. As a result, you will discover that you are attempting to defend certain objectives that feel "soft" while also trying to justify other goals that appear unachievable.
Naming strategy
Although it may seem like a little point, the manner in which and the names you give your social media sites are equally as significant as the domain you decide to use for your company's website. If your company already has a distinctive name, things will go smoothly. In the event that it is not a distinctive name, you should be ready for a procedure that will include the following steps:
Thinking of possible names
Looking for those names
Thinking of possible names again
Searching for those names again
Reaching a consensus
Eventually, making a choice
Plan for staffing
To put your social media strategy into action, you are going to require the help of other individuals. You got that correctly. It should be people, not individuals.
Even if you run a small company that is just beginning to test the waters of social media, it will still require the efforts, influence, and guidance of more than one person to bring your strategy to fruition. It's possible that you just have one person "doing the work," but every social media strategy worth its salt depends on a group, not just one person, to handle the bulk of the plan's responsibilities.
Content calendar
No substance, no social media. There is no plan for marketing content and no strategy for marketing on social media. Your message and strategy for using social media will be ineffective at best and completely useless if your social media plan does not revolve around some kind of content schedule.
The Concepts
If your strategy is simply focused on tweets, status updates, followers, friends, and day-to-day operations, it may be well structured, but it won't accomplish anything particularly noteworthy.
Not the day-to-day strategies, but social media marketing campaigns produce special results. Create a full campaign to locate and interact with the target audience if your goal is to get in touch with a certain group of people.
Examples
You are going to have to convince your superiors, potential investors, or coworkers to buy into this strategy at some point. There is a good chance that the majority of people won't understand the business case for social media, and they will question whether or not your proposal makes sense in comparison to other company projects.
Showing examples of how other businesses with similar structures have utilized an organized social media plan to achieve specified goals and objectives is, without a doubt, the simplest and most effective method to overcome these concerns.
Reporting and research
Determine what you want to measure first, taking into account your overall goals and objectives. The second step is to determine how you will measure your progress toward those goals and objectives.
6 steps to creating a social media marketing plan
Here are the 6 steps to creating an effective social media marketing plan:
Establish marketing objectives for social media
Setting the goals and objectives that you want to attain is the first step that has to be taken before anything else can take place. Because of this, completing the other phases will be a piece of cake, and you will have reasonable expectations for the success of your strategy.
Most of the time, most businesses on social media aim to boost their sales. They are not permitted to approach someone and request that they purchase the company's wares. To be successful in turning a visitor into a paying client, they require a plan that encompasses a number of different components.
Conduct research on your intended viewers
If you have an established company, there is a good possibility that you are already familiar with the people that make up your ideal customer base. If all you are doing is making minor adjustments to your social media marketing strategy, however, you may skip this stage.
However, if you are developing a strategy to launch a new product or if this is your very first strategy, you should make an effort to identify your target demographic.
Determine and choose your primary social media networks
The next action, while not absolutely necessary, will involve a significant amount of work from you. There is some duplication in terms of functionality, but each social media network has a very well-developed core use case. Each social media network has its audience as well as "best practices."
Make a schedule for your posts and a calendar
One of the most important aspects of a strategy for marketing on social media is developing and adhering to a posting schedule for the account. If you don't have anything to share on social media, your strategy isn't going to amount to anything anyhow.
You really ought to have a game plan for what you are going to post throughout the first month. In this situation, the best thing to do is conduct a fast search on Google to find the best time to post on the social media you are targeting. Or you could simply conduct experiments based on our findings!
Examine, investigate, scrutinize, and improve
Now comes the time to reveal the truth!
At this point, you will put your strategy for marketing via social media into action. Follow your strategy to the letter for the first couple weeks and note the outcomes on paper. Conduct an analysis of the outcomes and evaluate how well you are performing overall.
Ideally, a social media management solution that gives you access to platform-specific statistics is the best way to go about things. You should generate reports in order to evaluate the success of your plan.
Automate, and get people involved
Assistance and a follow system make up the last component of a successful social media marketing approach.
You just do not have the capacity to upload, schedule, and keep track of everything on your own. A powerful and effective social media management tool will come in handy at this point.
Conclusion
The ultimate social media marketing planning of successful content on social media is not easy. Detailed research is necessary for someone who wants to start promoting their product on social media. You should follow the tasks we write above after making assumptions about the strategy.
Find us on social media networks and wait for our new projects.