Maximize Your Marketing: The Top 10 Social Media Management Tools For Startups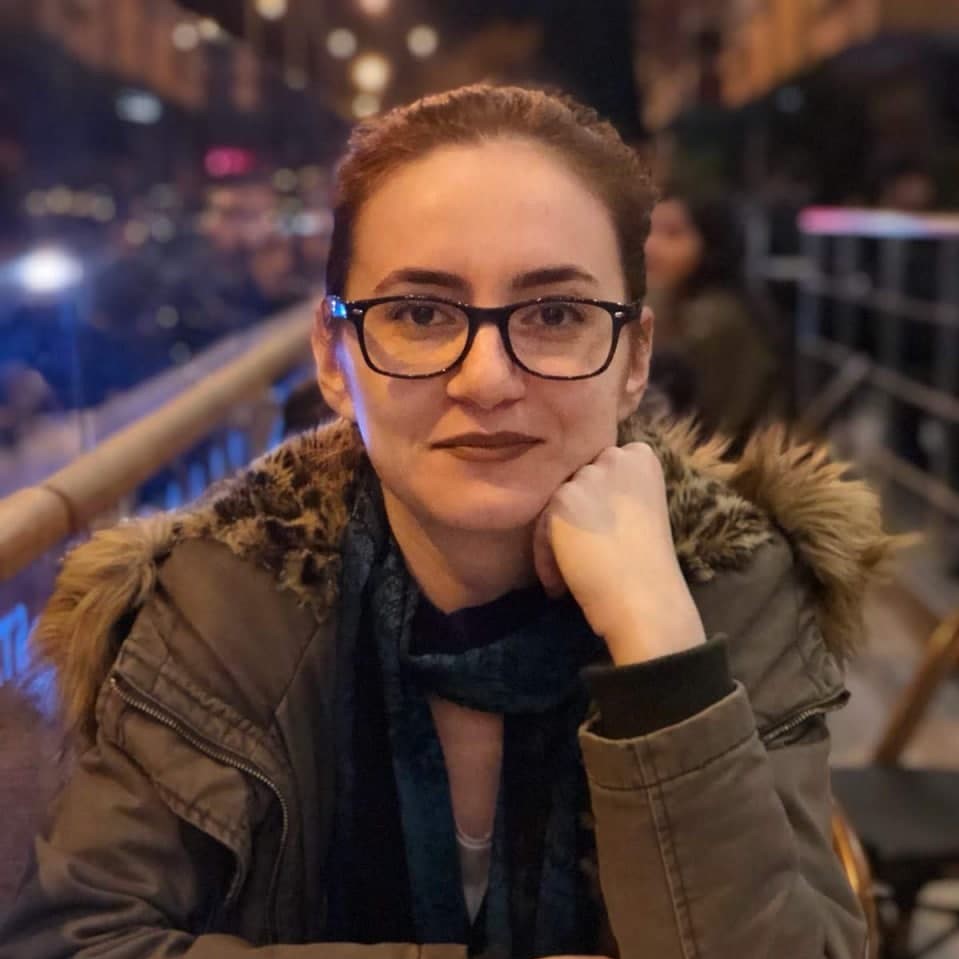 Social Networks
Apr 22, 2022
Updated at: May 03, 2023
"Social media can be a powerful tool to listen to, engage with and gain access to customers that you would otherwise not be able to connect with." — Carol Roth
Social media marketing is one of the most important tools for any startup. To begin with, it's free to use and you just need to invest your time into the set-up of an account. However, once you get going, you may find that you need to up your game and take better control of your marketing on social media.
This is where social media tools come into play.
There are literally hundreds of tools for creating, posting, scheduling, replying, monitoring, and reporting available online. The key is to find the tool that has the right features for your needs and fits with the way you operate. Price is also an important element because budgets for startups are usually tight, and every cent spent must see a return.
Features to look for in social media management tools for startups
Not all social media tools are created equal.
It's vital to get one that has all the features you need now, as well as the features you will probably want in the future. There's no point in familiarizing yourself with a platform only to have to change because it can't accommodate your growing requirements as you scale up.
Just some ‌features you need to look out for include:
Ease of use - Can you use the tool without having to spend hours learning how it works?
Pricing - Is there a freemium model that grows with you?
Integration - Does the tool integrate with the platforms you want to use?
Functionality - Are the functions you need all available?
The best social media management tools for startups
Now that you know what to look for, let's ‌look at the best social media tools on the market today:
FS Poster
Automation is key to freeing up time and increasing productivity, and FS Poster social media auto poster lets you do exactly that. You can create social media and blog posts ahead of time and schedule them for automatic publishing at a later date. This means that you can create content in bulk, and then release it on a predetermined schedule.
Posting to more than 18 social media networks and services from your WordPress website ensures that you have excellent content coverage and that there's no risk of forgetting to post or losing momentum. You'll also have access to insights that tell you where you're getting the most click and engagement, and what social media platforms are driving the most traffic to your website.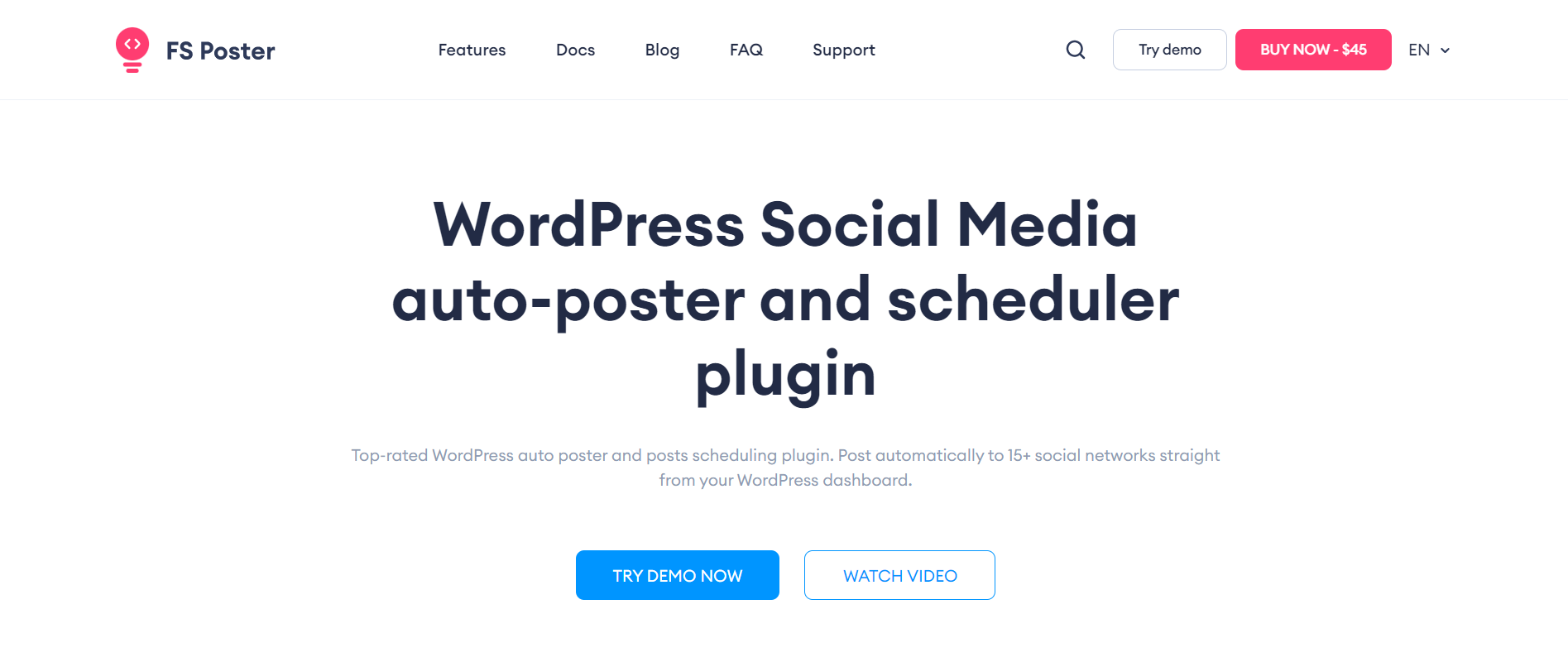 Planly
Planly is a freemium social media scheduler tool. With Planly, it is possible to schedule or instantly share posts and their special features to social media platforms such as Instagram, TikTok, Twitter, Linkedin, Pinterest, and Facebook. With its various integrations and user-friendly interface, Planly is a friend of social media managers. Some features make Planly superior, such as team management, drag and drop calendar, and customizable pricing.
At the same time, when scheduling Instagram posts, carousels, videos, and reels, no notification goes to the user. It is possible to use the Planly free plan forever. And without any credit card required. Other paid plans start at $15, each with a 14-day free trial.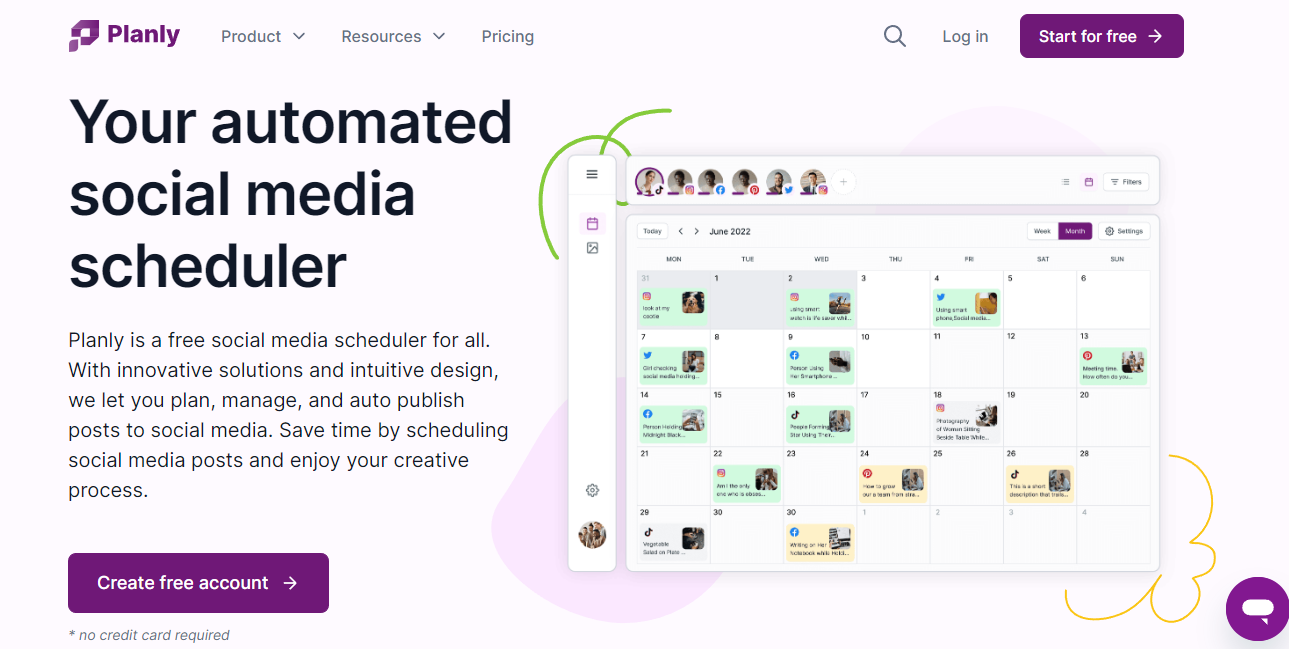 Canva
Creating eye-catching content is a massive part of social media marketing. You need to have the right visuals to go with your copy, otherwise people won't take note of what you're sharing, and they certainly won't engage with it. Canva is a great app that gives you so much for free, and even more with a paid subscription.
You can design elegant images using their templates or vast library of stock images. You can also create videos, slide shows, and GIFs that are ideal for Facebook or Instagram stories. The entire process happens online on the Canva website. You can even share the content to your social profiles directly from the Canva website. Additionally, you can add other people to your team, allowing them to edit, download, and share the content created.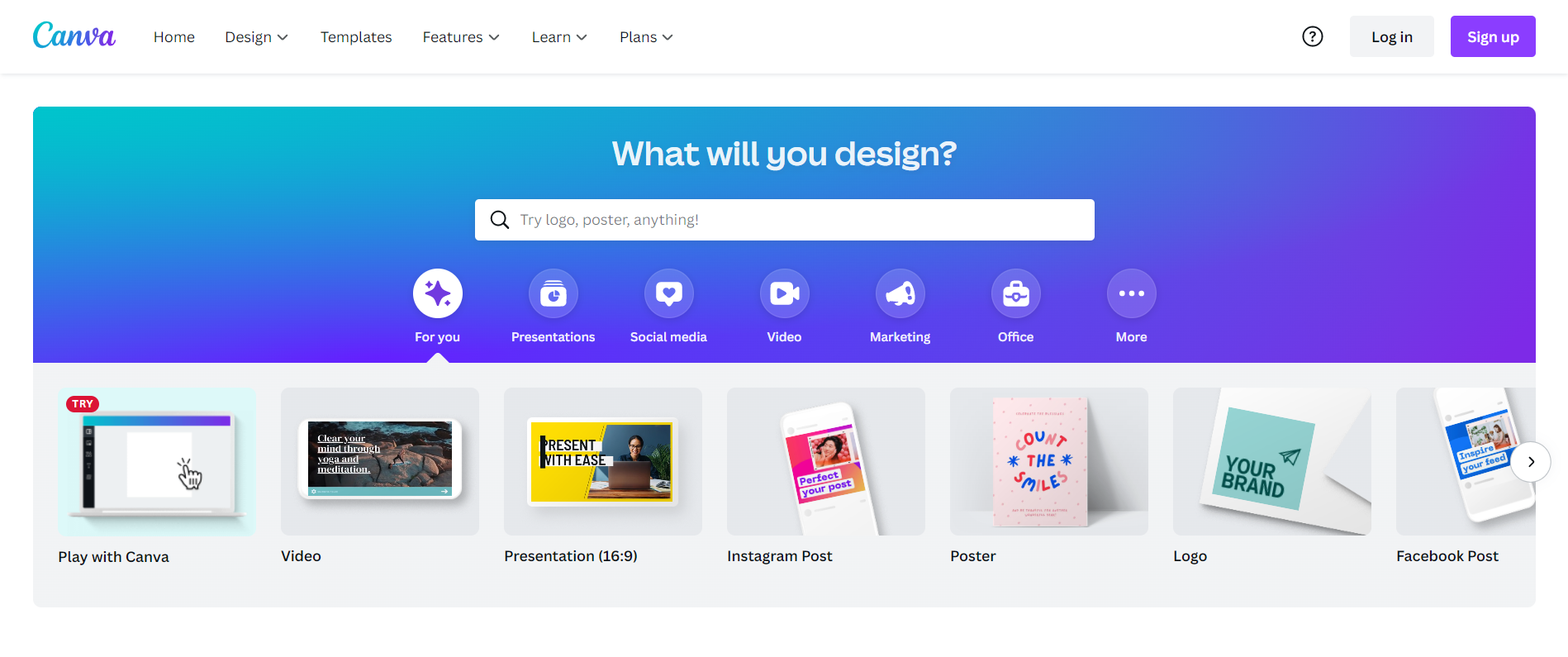 Bitly
Bitly is a link shortening tool, which is great for a number of reasons. On platforms like Twitter, where the character count is limited, a Bitly link can give you that extra space you need to get your point across. On other platforms like Instagram, where you can't put clickable links in your post captions, you can use a customized Bitly link that people will remember and be able to retype easily. In times when you have a long, unwieldy link with lots of random characters, a Bitly link will simply look neater and more reputable.
With a business profile subscription on Bitly, you can organize all of your links on your dashboard and analyze the clicks you're getting for each one. You can also create completely customized links, replacing the Bit.ly at the beginning with whatever you choose. You don't need to go for this option right away, but as your business grows, you may want to consider it.
Social Champ
For every marketer looking to merge their content and social media in a single dashboard, you can go right with Social Champ.
Social Champ is a well-rounded social media management tool that recently grew its social media clan by adding a ninth social platform, Mastodon. The tool is power-packed with versatile features that let you create, edit, schedule, and analyze your content on nine huge social media platforms. Beyond the capabilities of scheduling and publishing, Social Champ is wrapped up with automation features such as Auto RSS, Bulk Scheduling, Best Time to Post, Monitoring Analysis, Content Curation, a sleek social media Calendar, and much more!
Moreover, Social Champ offers a cutting-edge Champ AI Suite powered by ChatGPT. You can convert your text into visuals using AI Imaginator, create meaningful captions with AI Content Wizard, and set the tone of your post using Sentiment Analysis.
The best part, Social Champ offers a full-fledged mobile app so you can schedule your posts on the go.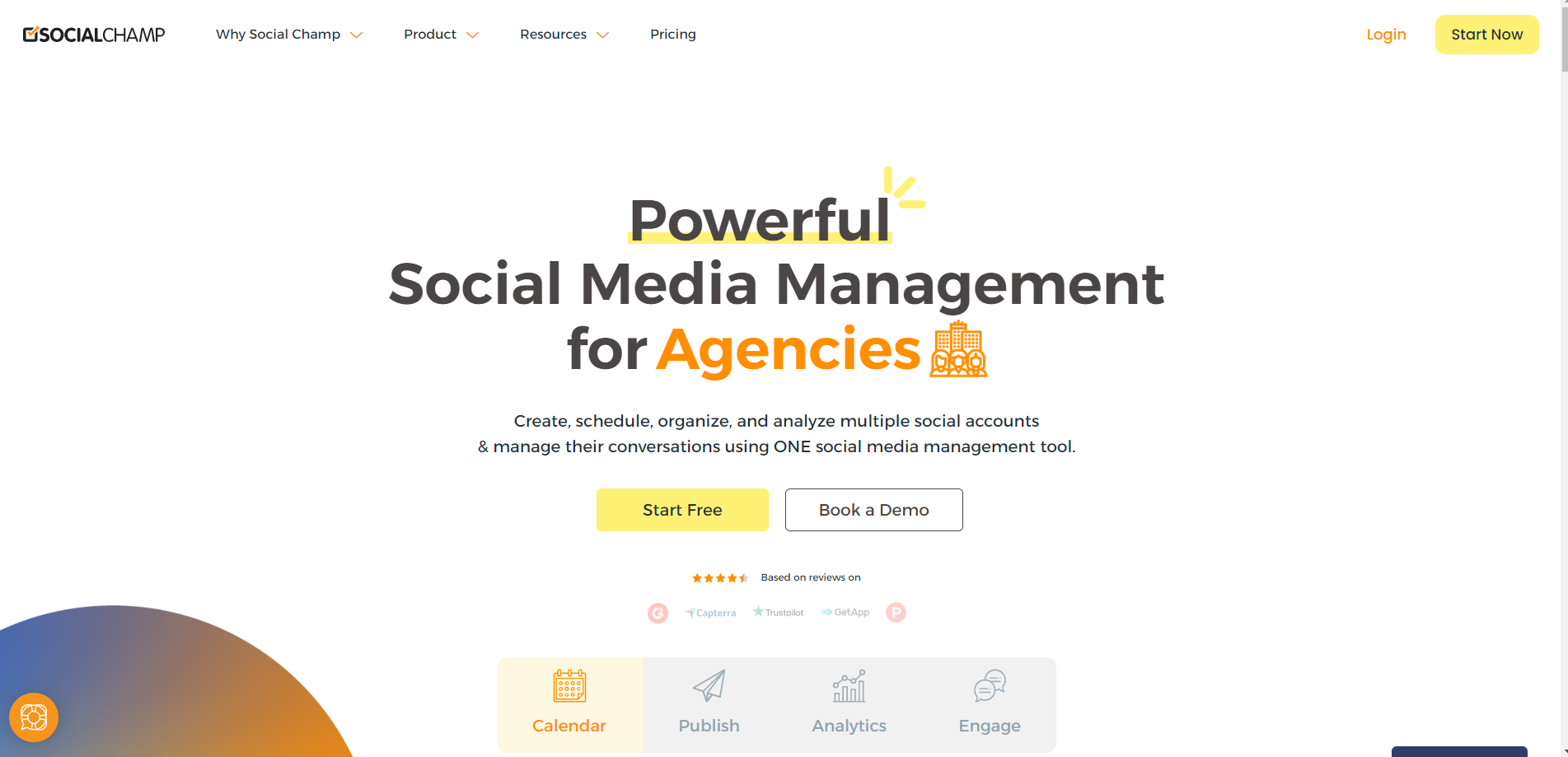 SocialInsider
Social media marketing is nothing without analytics and SocialInsider is a great tool for helping you see what is going on with your marketing strategy. It also provides industry benchmarks, which allow you to compare your content performance with others in the world. You can set it to compare your social profiles' performance to that of your competitors, giving you greater insights into how you could improve your social presence.
With a paid subscription, you can pull real-time reports as well as long-term reports. It's incredibly useful to be able to see both a snapshot of how you're performing right now, and a long-term view of how you've been performing historically.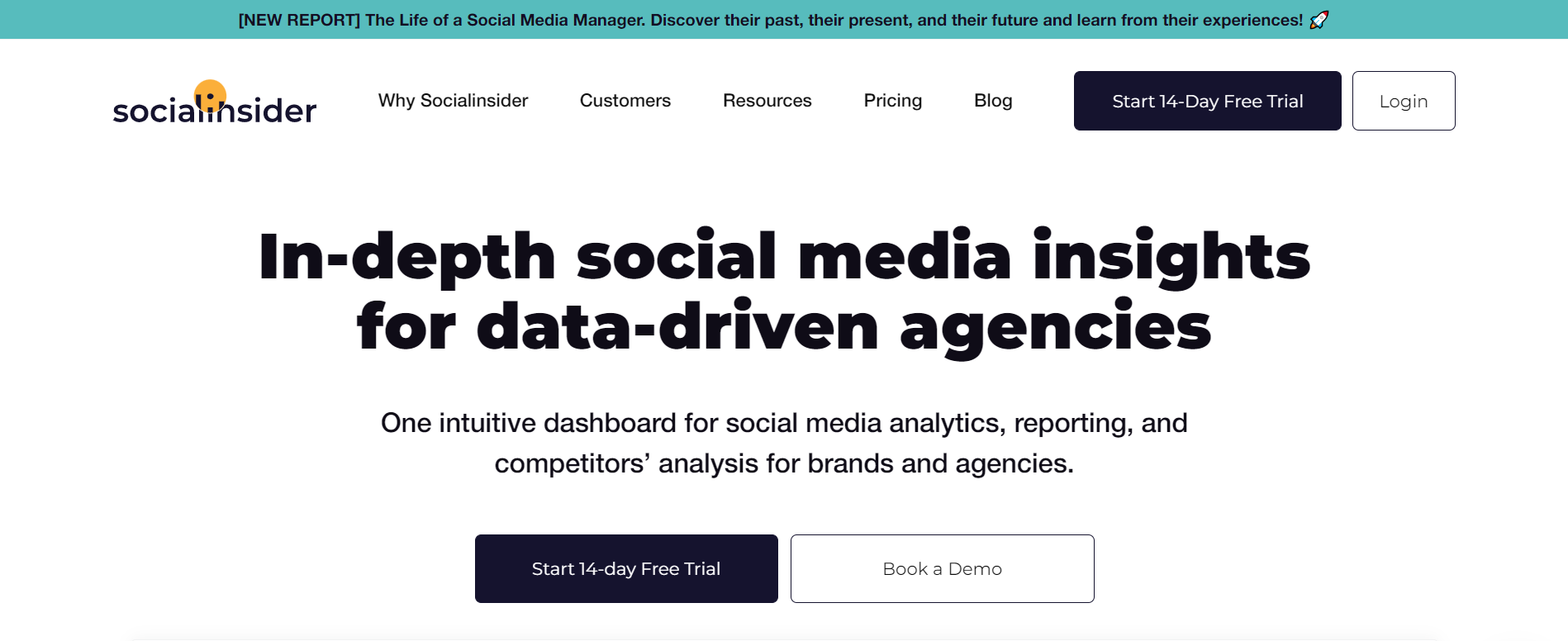 Feedly
Finding content to post on social media can be a time-consuming process. However, solutions like Feedly make this a lot easier. It works by curating the content from all the sources you specify into one place. You can list your favorite blogs, industry news sites, and any other websites that share relevant content. From the Feedly dashboard, you can then read through the content and find articles to share with your followers.
The best function is that you can organize your curated content into different feeds. This way, you can easily find the latest news or funny memes, allowing you to find a range of content quickly for posting.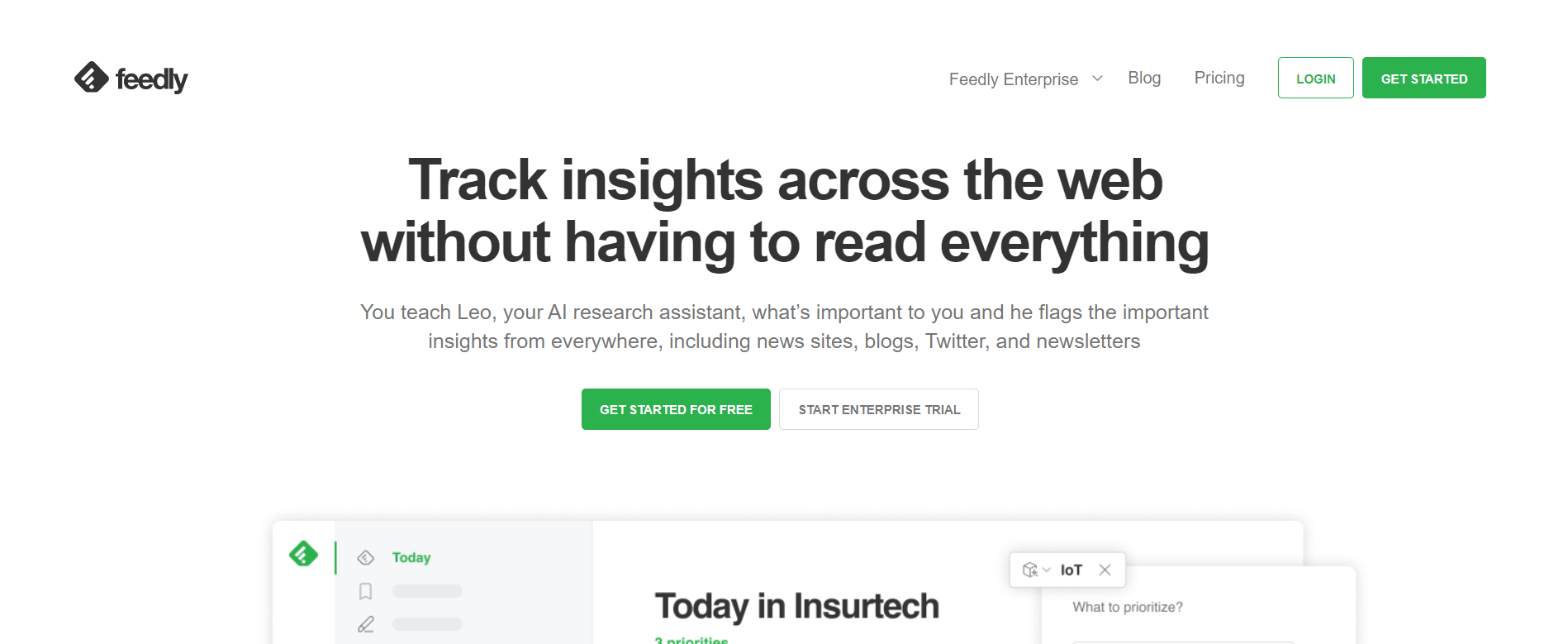 CoSchedule
You and the rest of your team will be able to manage and collaborate on the creation of social media posts, content, events, and tasks when you use CoSchedule.
Marketers that want to coordinate all of their initiatives (social media, content, events, emails, etc.) in one spot will find that CoSchedule is an excellent tool. Their ReQueue tool allows you to determine the optimum times to publish on social media automatically and fills in any blanks in your posting schedule with your most compelling content.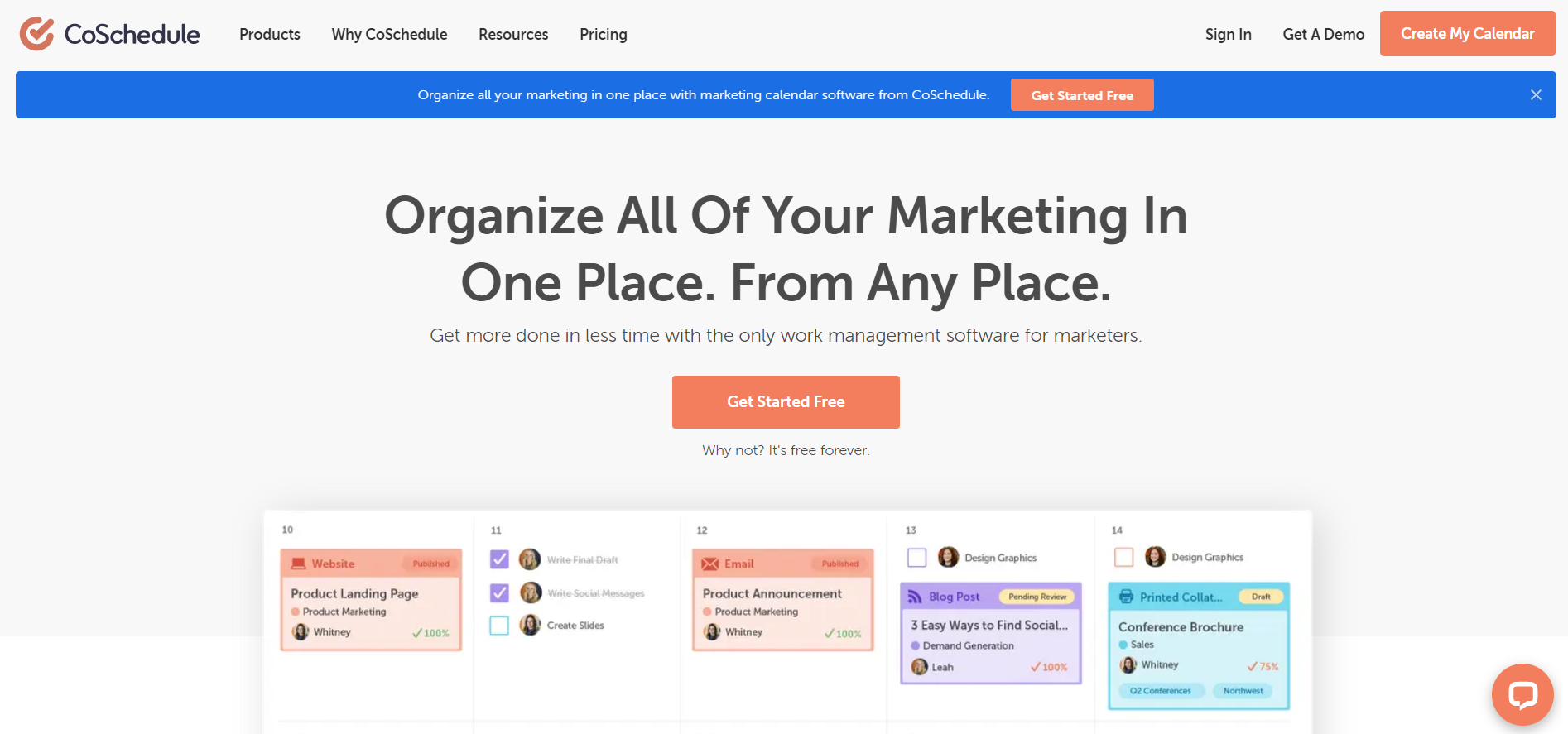 Tailwind
Pinterest and Instagram users might benefit from using Tailwind because it is a social media management tool. In addition to assisting you in the scheduling of posts, monitoring of discussions, and evaluation of outcomes, Tailwind also offers suggestions for increasing the performance of your Pinterest and Instagram accounts.
A Tailwind is a tool for Pinterest and Instagram marketers. It offers a variety of capabilities that are unique to these visual platforms. These features include the promotion of content on Pinterest and the administration of user-generated material on Instagram.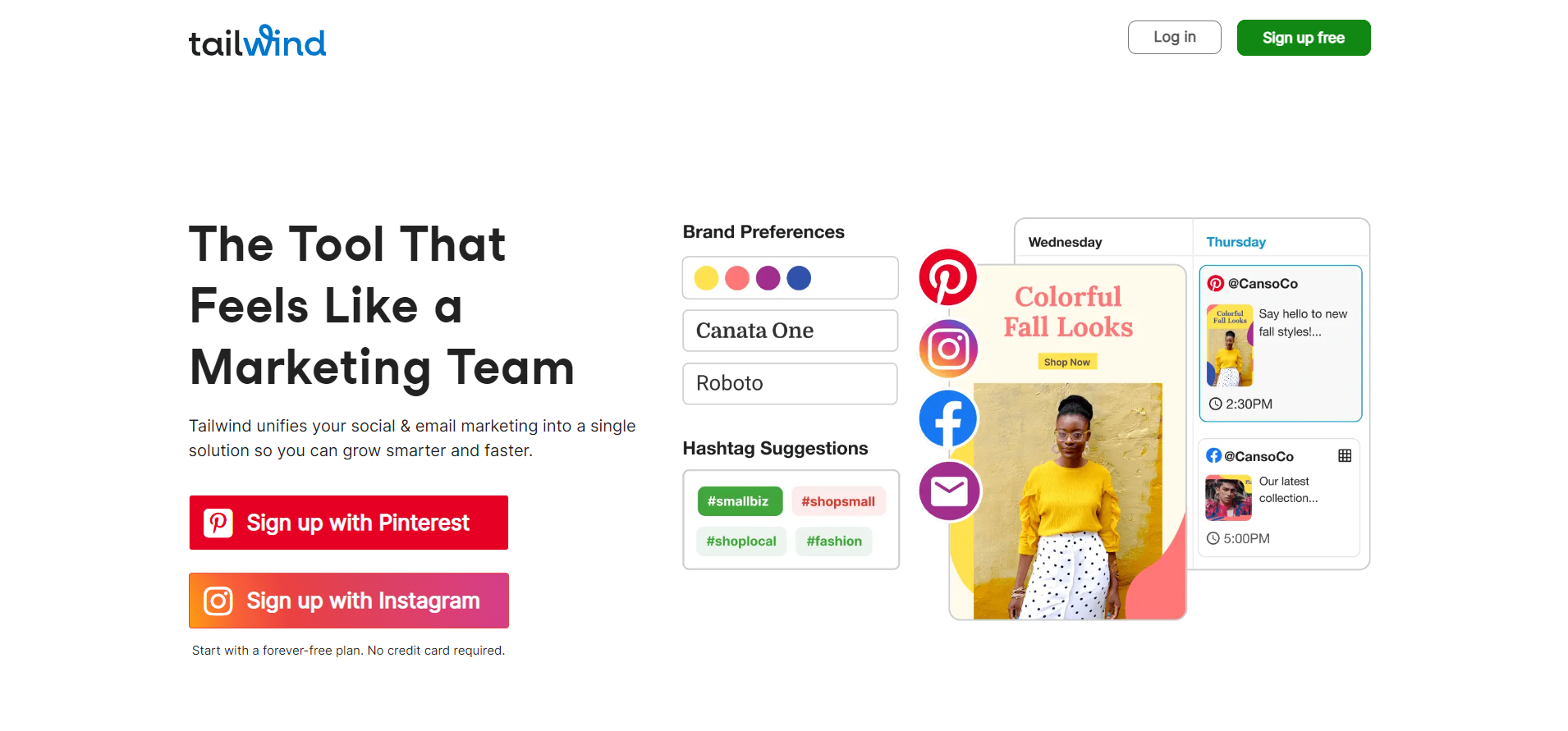 BuzzSumo
One of the most important aspects of a social media marketing strategy is providing high-quality material. Having said that, BuzzSumo is a valuable research tool that enables you to determine which content categories have the greatest impact on the audience you are trying to reach.
In addition, it provides you with a content analysis for a certain domain. Not only can you use this tool to examine how well your material is doing, but you can also use it. More importantly, you are able to investigate the material that is offered by your rivals and identify the pieces that are most successful in order to copy and paste them into your own website.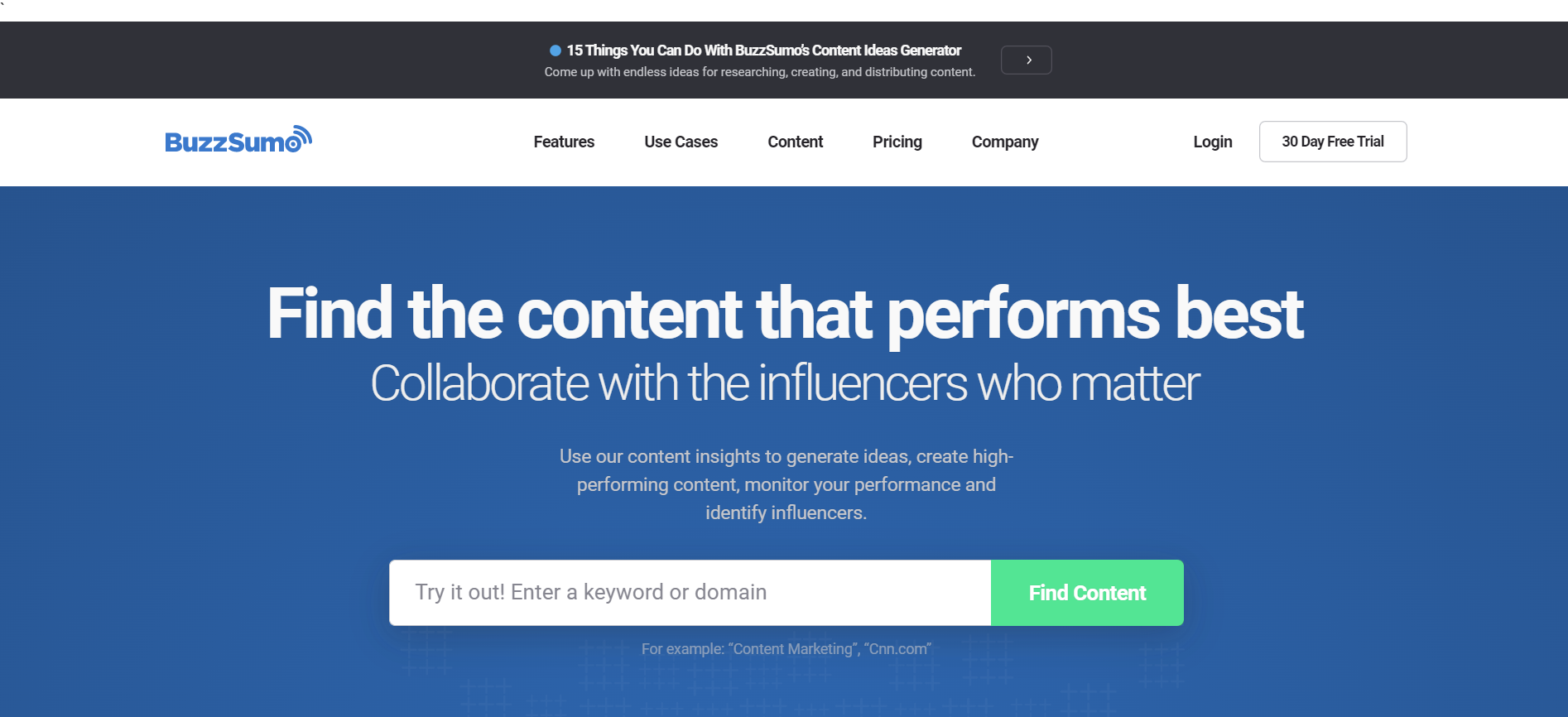 SocialOomph
SocialOomph was first developed as a scheduling tool that was only compatible with Twitter. Previously, it was known as TweetLater.
Even though the primary focus of its free version is still on providing you with an effective method to plan tweets to be sent out at the most appropriate days and times, the application's premium edition has recently been updated to incorporate scheduling functions for Facebook and LinkedIn. It also gives you the ability to delete posts from Twitter and Facebook that are no longer relevant or obsolete.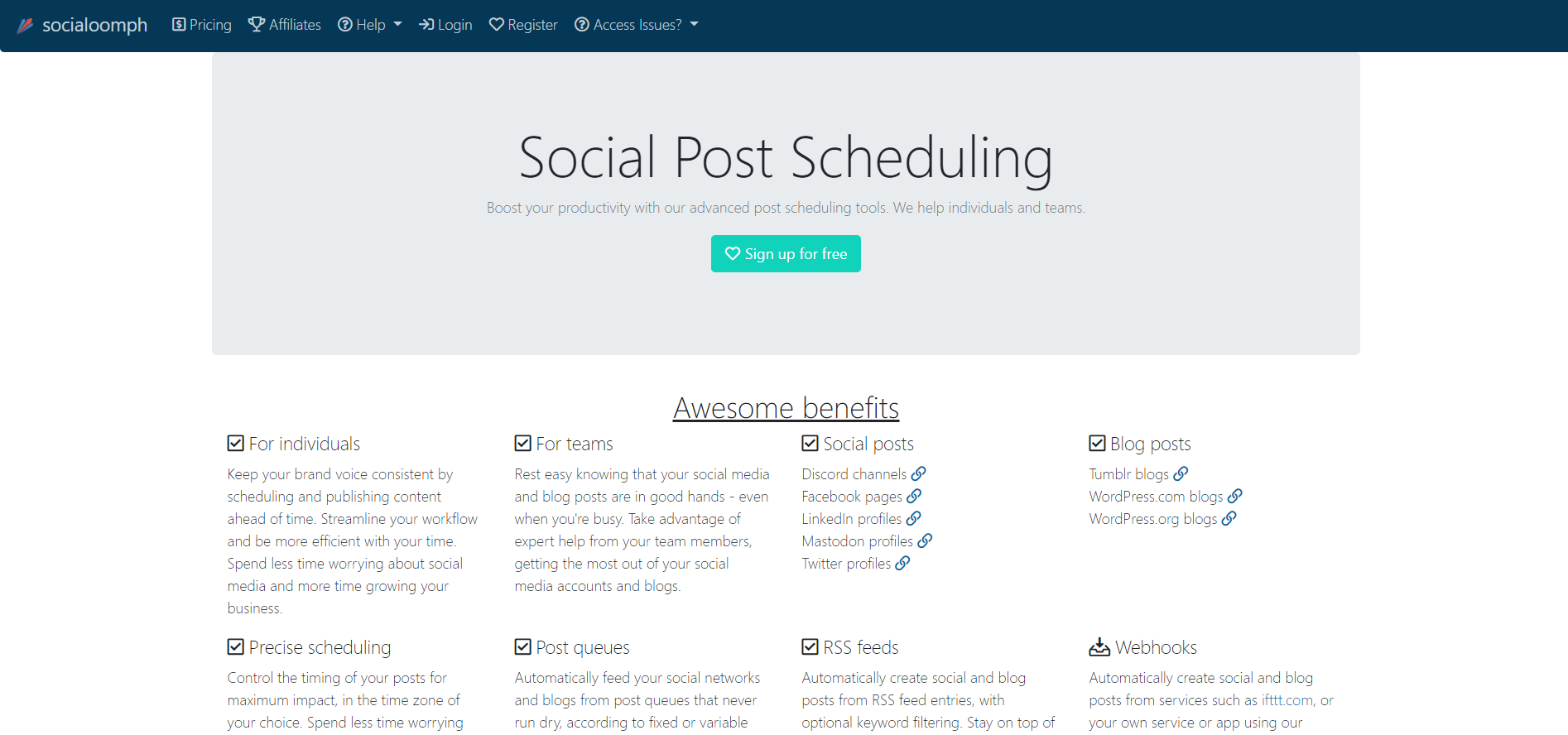 Conclusion
If you are looking for social media management tools to help your startup maximize its marketing potential, look no further. We have provided a list of the top 10 tools that can help you take your social media marketing to the next level. Each of these tools has unique features and benefits that can make your job as a marketer easier and more productive.
Be sure to check out some of the top business startup blogs if you're seeking more amazing resources to assist you to locate social media management solutions. Visit our blog frequently for further guidance on how to enhance your marketing plan. Thanks for reading! 😍