Best Free Social Media Sharing Plugins for WordPress 2023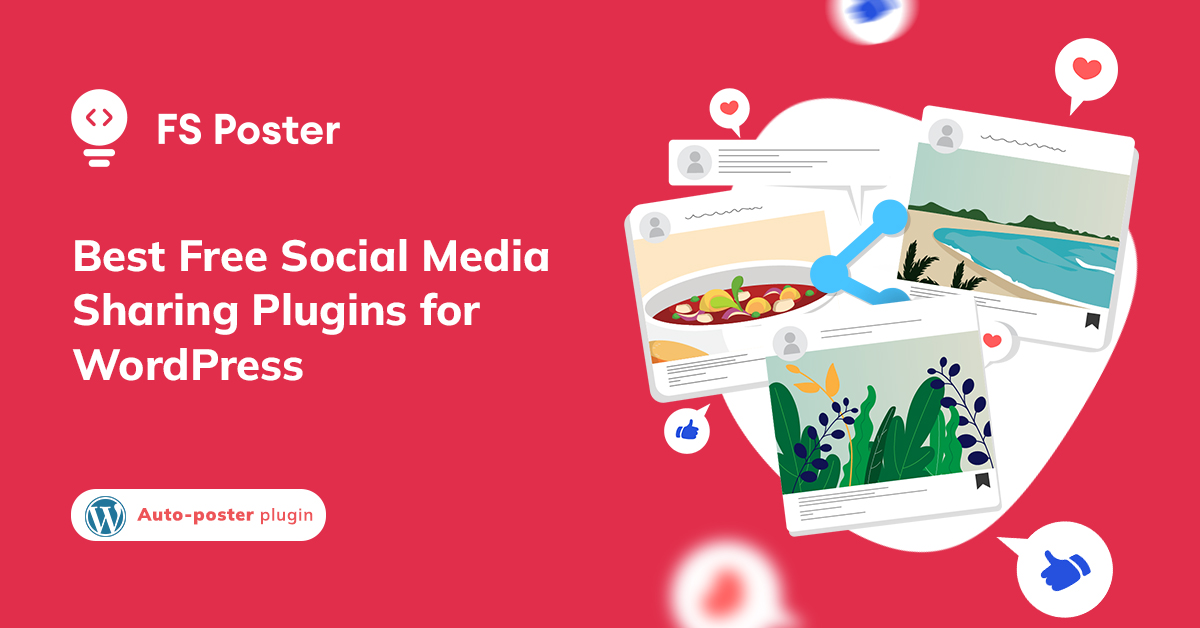 Plugin for WordPress
Dec 16, 2021
Updated at: Dec 26, 2022
It can be intimidating to pick the right plugin among the plethora of best free social media sharing plugins for WordPress. Because the concept of best becomes relative to how you define it.
Based on your requirements, plugins can be marked as the best free WordPress social media plugins, or more specifically, the best social media icons widget plugin, the best Pinterest plugin, the best free social media share plugin WordPress, etc.
What is a social media share plugin WordPress?
The social share plugin WordPress aims to increase your content reach and bring more website traffic in the end. Social sharing is an integral part of growing in the digital age. By putting share buttons within your content, you call visitors to share the content on their social accounts.
Creating killer content is half the way through. Delivering that content to the target audience is the most demanding and trickiest part. With tons of information on the internet, it becomes more difficult to persuade people to read and share your content. And social sharing plugins give an arm to WordPress website owners to fulfill their digital strategies.
Once a visitor finds your content and shares it with her peers, correspondingly, more users will be interested in your content and visit your site.
Social media sharing vs. social media feed vs. social media icons plugins
Although sharing and feed plugins share the same purpose. The significant difference is that in social media feed plugins, website content is shared by website authorities. Social media sharing plugins are also different from social media icons plugins. They aim to increase your social media followers with direct follow-me buttons.
The thing about the best free social media sharing plugins for WordPress is that they allow you to utilize the power of social media using your resources. You can connect with your audience without spending a penny.
Best free social media sharing plugins for WordPress
FS Poster is a social media scheduler and sharing plugin for WordPress that will automatically distribute your blog content across various social media platforms. This helps you expand both the size of your online community and the number of engagements you have.
A social media scheduler gives marketers the ability to publish their blogs automatically, republish previously published material, schedule numerous posts at once, and distribute individual pieces directly on the most popular social networks. Users of WordPress are granted the ability to upload movies, images, or infographics from their blogs to specialized websites for sharing visual information.
The social media scheduler is compatible with sixteen different social networks, allowing you to broaden your audience and boost your search engine optimization by encouraging more people to visit your website. It is possible to create personalized postings for each user account with the assistance of third-party integration solutions. If you are able to share as many posts as you like, you will be able to maintain a regular online presence and achieve the objectives you set for your social media marketing. Your social media strategy is evaluated using real-time analytics, which compares how well it performs on different platforms, the number of people who interact with your postings, and the number of hits those posts receive.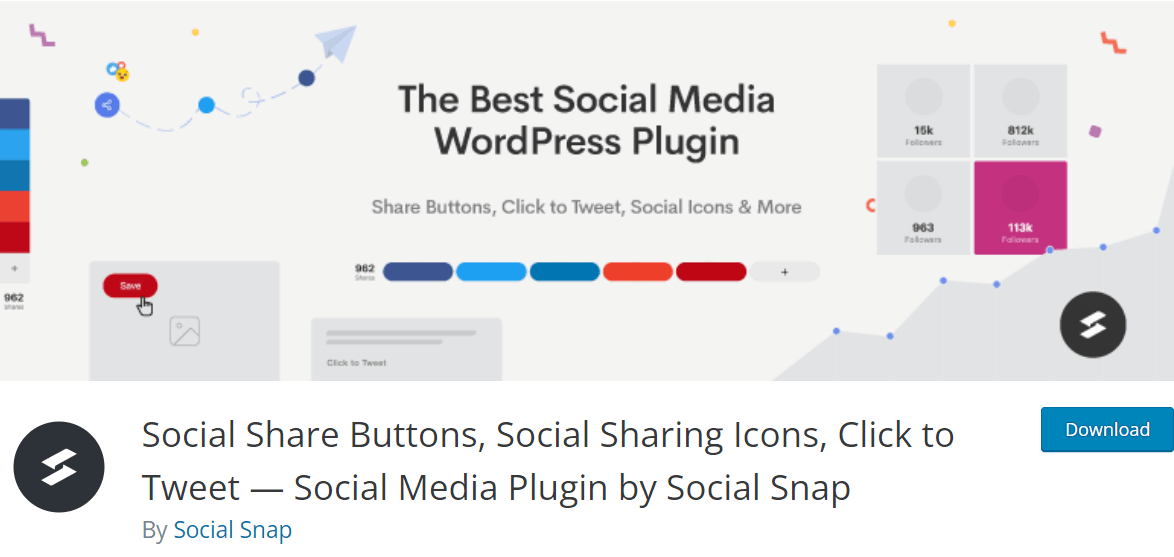 Social Snap is a practical and free social media share plugin WordPress users can utilize to drive more traffic and engagement. It gives you the freedom to select which social networks to display and customize button styles.
Facebook, LinkedIn, and Twitter share buttons, email links, and copy links are available buttons you can use to increase your content interaction. The plugin lets you choose which buttons to show on mobile\desktop to provide a better website experience to users.
It also provides a range of options to place social media share buttons. This includes the above\below content, a floating sidebar, on-media share buttons (Pinterest save button), use of template tags or shortcodes to add website layout.
In terms of user perspective, its easy-to-use interface and intuitive design put it among the best free WordPress social share plugin. The plugin uses asynchronous loading and vector icons which ensures that social share buttons will not slow down your website operations.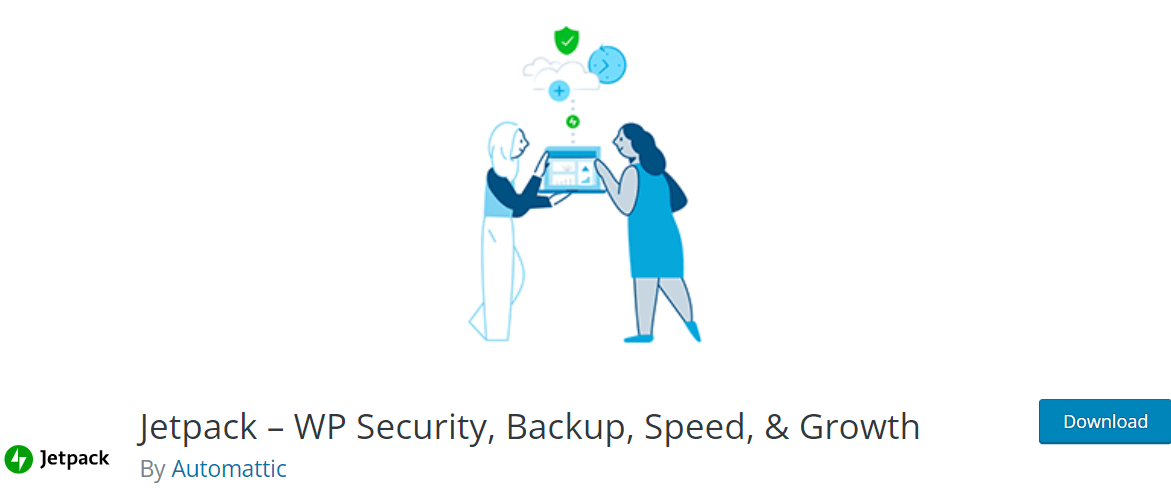 With 5 + million active installations, Jetpack is one of the most used WordPress plugins in the market. It is a multi-purpose plugin that addresses different aspects of a website, such as design, performance, and marketing.
Security features include automatic backups, easy restores, and malware detection and protection. Partnering with Google AMP and implementing lazy load technology makes sure that your visitors will be pleased about their website usage and ready to share your content.
Social media sharing features include auto-publishing blogs and website content to Facebook, LinkedIn, and Twitter. Also, it allows you to embed your Instagram feed into your website and connect both platforms. With the help of SEO analytics tools, you can better understand user behavior and optimize site content accordingly.
Due to versatile application areas and security concerns, we assume Jetpack as the best free WordPress social media plugin. Having it on your website, you can solve different issues you would otherwise do with 2 more plugins installed.

Shared Counts is another social media share plugin with an extra practical feature. As the name suggests, it enables you to put content share counts alongside the platform buttons. This is an emotional yet powerful way to trigger your website visitors to share content before leaving the website.
Because some users are suspicious about whether to share content or not, seeing peer users' approvals and reposts to their personal accounts can prompt them to share and increase total engagement at the end.
The supported social share buttons include Facebook, Yummy, LinkedIn, Twitter, Tweet, and Pinterest Pin it buttons. You can also add an email button to connect easily with users. Plus, it comes with a print button where users can get a hard copy of your content with a single click.
The free social media share plugin WordPress does not use any tracking scripts or use cookies to store user data. So, your users' data will not be collected or stored after sharing your content.
If user interaction and real-time results are on-top criteria, Shared Counts is the best free social media share plugin WordPress users can find.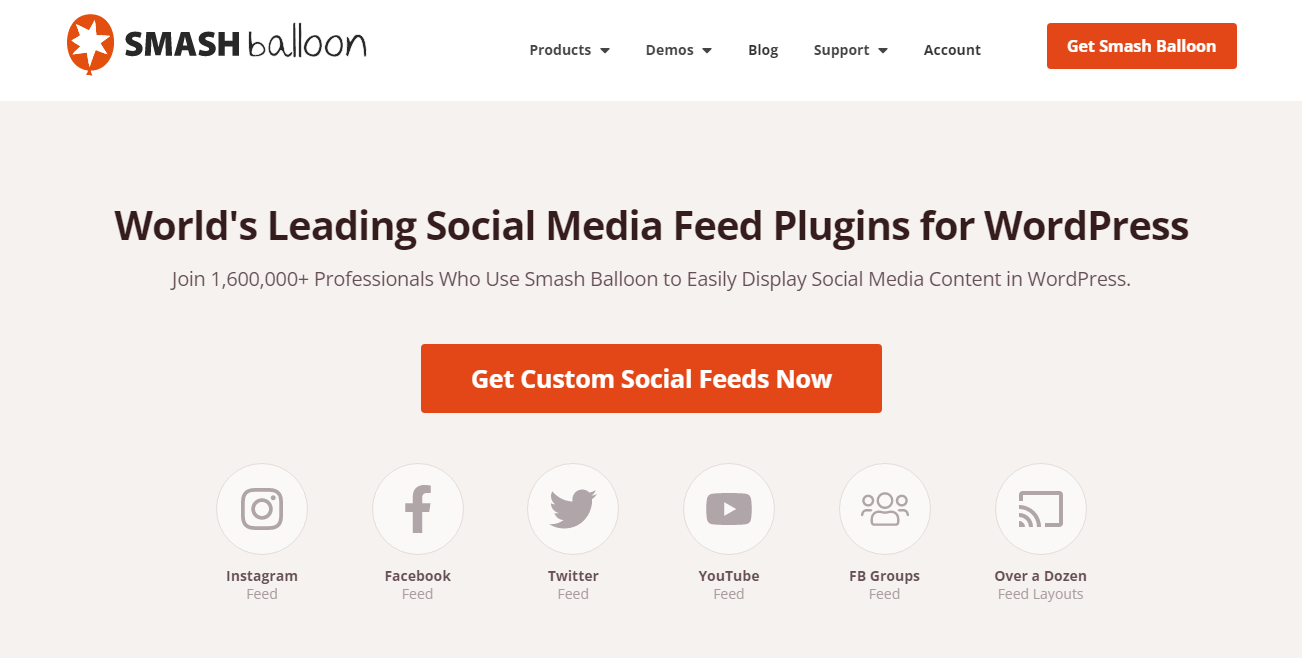 The next free social media share plugin WordPress is Smash Ballion which targets more specific users than general social media platforms. Smash Balloon, previously known as Instagram Feed, lets you display Instagram photos from single or multiple accounts. This enables you to import from a range of Instagram sources and enrich your website content.
You can further add a follow button underneath the feed and show the number of shares or followers. Having your Instagram feed on your websites makes it much faster for visitors to follow and share content on their accounts.
It is also one of the best free WordPress Instagram plugins in the market. So that it gives you control over how your website feed will look like, you can adjust the number of posts per feed, their screen sizes, and whether to display thumbnails or full-size images. The plugin powers old and new Instagram embeds on sites.
By bridging crucial functionalities of Instagram to a website, Smash Balloon positions itself as the best free social media share plugin WordPress for Instagram.
As long as you have a non-private account, you can use the plugin.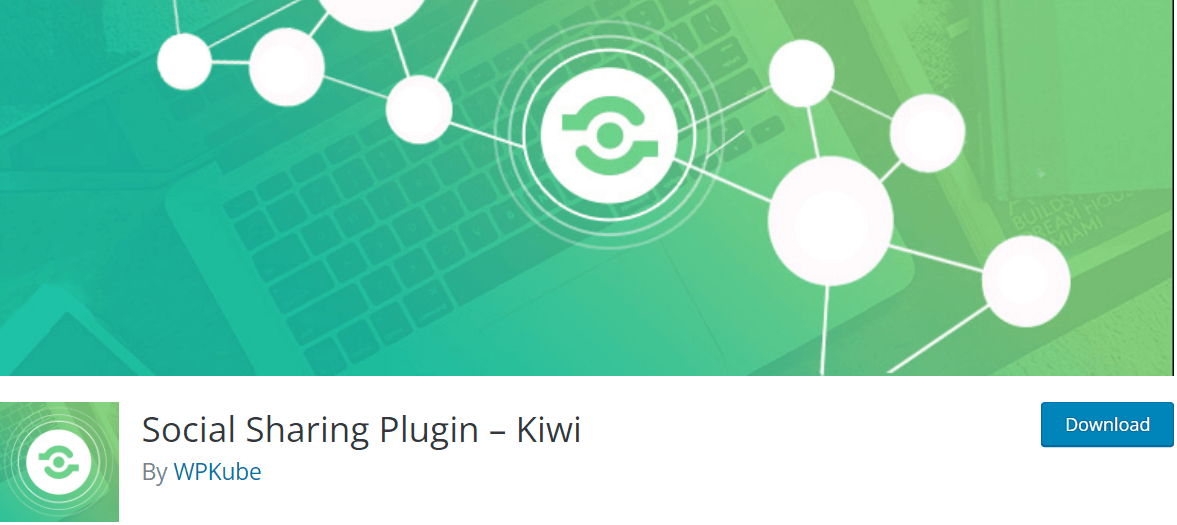 Yet another user-friendly plugin for social sharing is Kiwi. Compared to the mentioned best free social media sharing plugins for WordPress, it supports fever social networks. Facebook, Twitter, LinkedIn, Pinterest, and Flint are the available platforms.
Instead, the plugin gives you a variety of options to display and style those buttons. You can enable\disbale each platform individually or add social identities. It has 4 different skins for button color choice.
You can display buttons in a floating bar, before\after content, or both. Tracking user behavior is also provided within the best free social media plugin for WordPress. Kiwi integrates with Google Analytics to track visitor interaction.
If you have a fever for social channels and are looking to improve engagement within those platforms, Kiwi is a decent choice to try.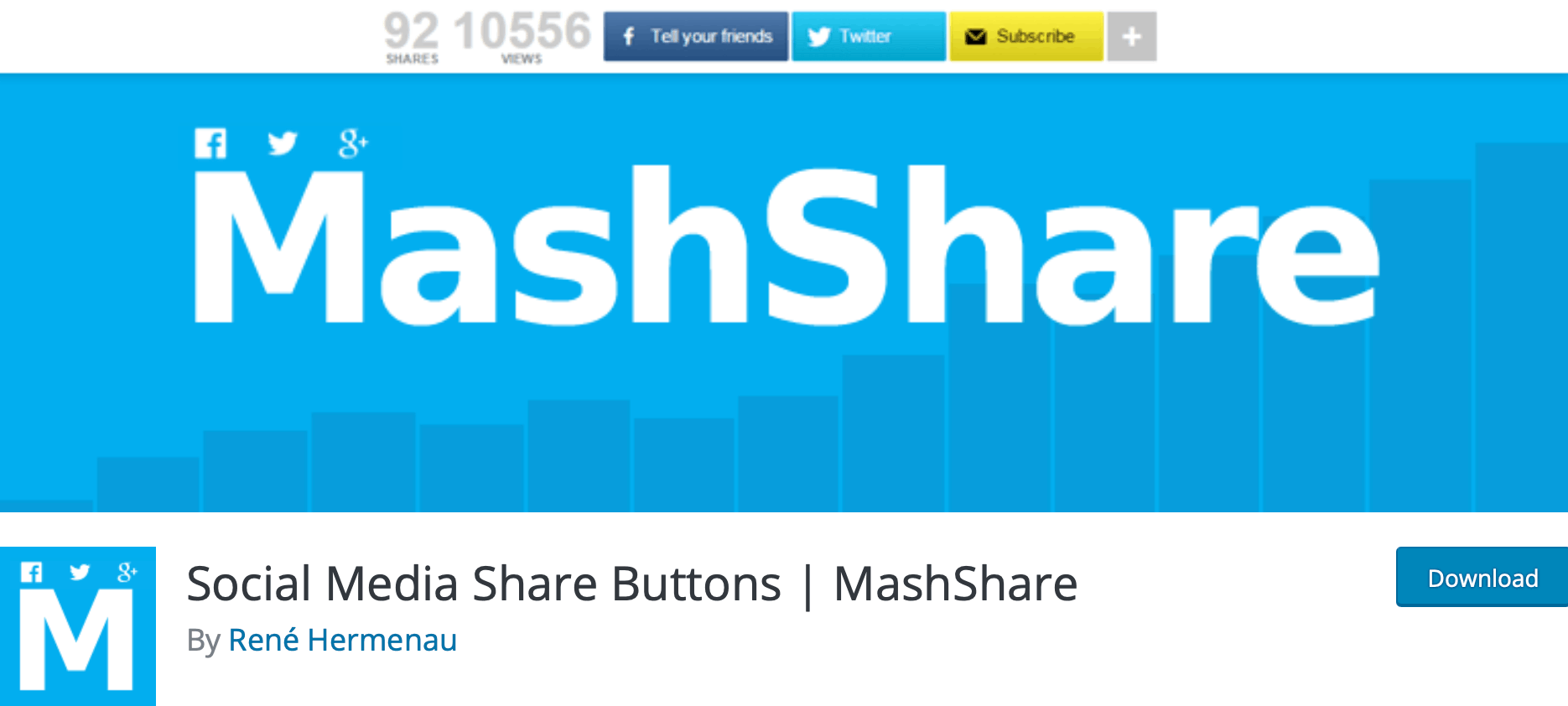 MashShare is a customizable social media share plugin to optimize your content value. Although the free version has limited social network support, it compensates for this with a range of other valuable features. Such as, it has a dedicated widget that shows the most shared posts.
Also, it comes with various free add-ons to share content images, Twitter hashtags, post titles, and descriptions.
MashShare does not use any external script to store your visitor's data. URL shortening integration is also included in the free plugin.
Putting content value as the top priority makes it the best free WordPress social media plugin. If you aim to elevate the value of your content across social media, you can try MashShare.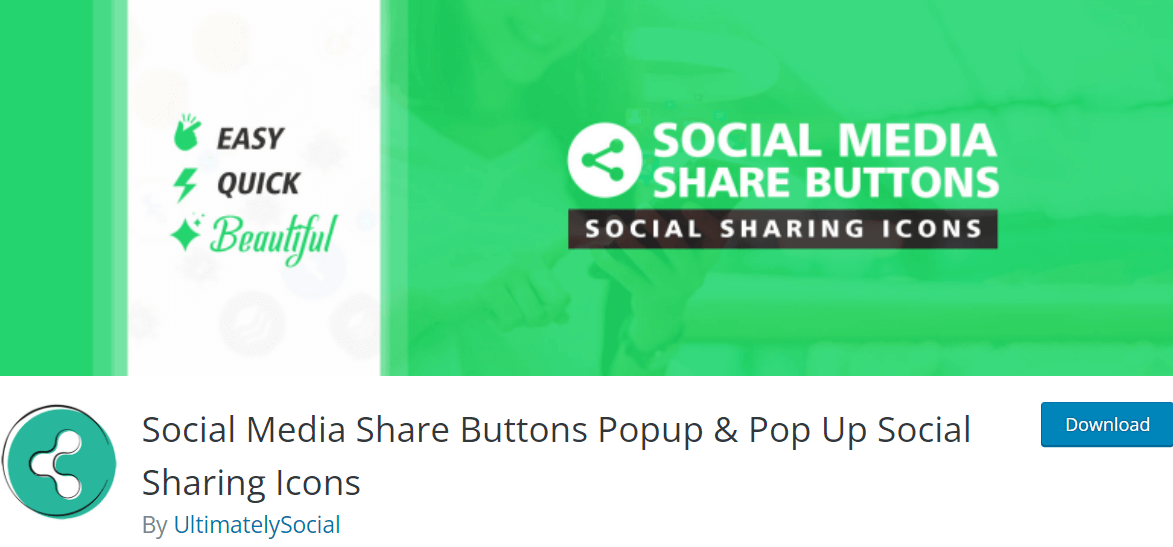 Social Media Share Buttons is another multi-purpose social media plugin for connecting your website with social media platforms.
Wide coverage of social media platforms puts it on top of the best free social media sharing plugins for WordPress. The plugins support over 200 general social purpose and task-specific networks.
It comes with 16 different social media icon styles for sharing buttons. Also, you can use animation effects, and make them float or sticky to create more dynamic share buttons. Upon your will, you can show share counts or hide them.
In addition to social sharing, it also has social media icons widget features. You can place follow or like me buttons on pop-ups or fly-ins to invite visitors to follow your social accounts.
Social media icons widget functionality is also provided by the best free social media plugin for WordPress. This enables you to invite visitors to follow your social pages.
Having this plugin installed on your website, you will deliver various social media engagement strategies at once.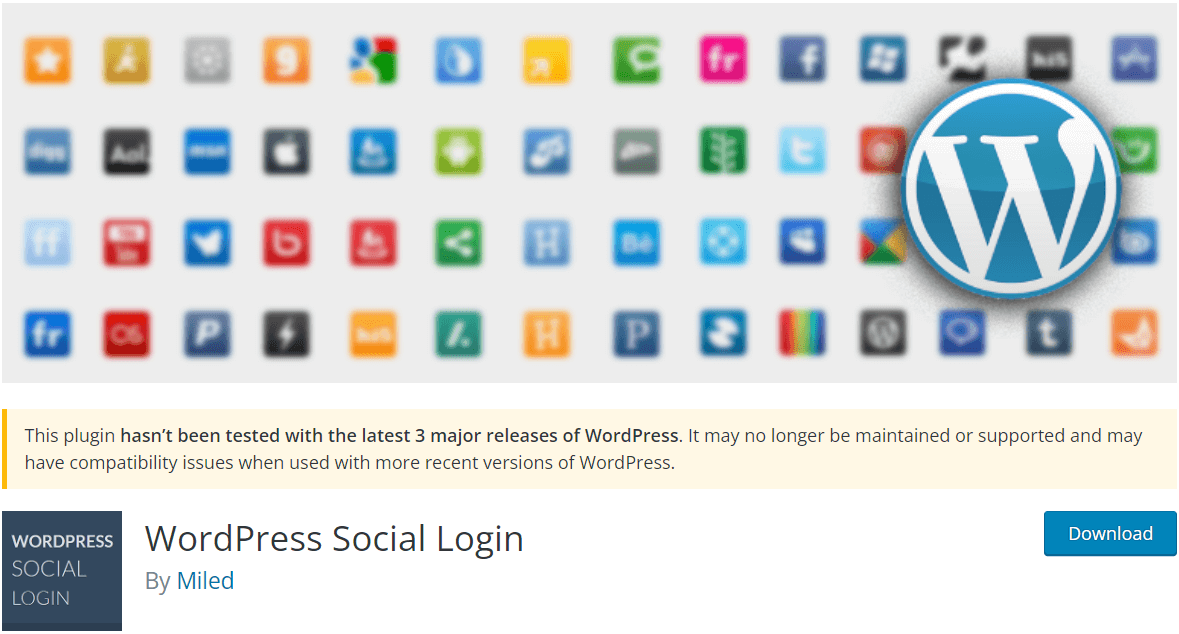 WordPress Social Logins remove the hassle of user registration. It lets your visitors register on your site with their existing social media accounts and share content directly from there. The plugin gives you full control over users' access to the website and has a full list of rules for that.
Depending on your target audience, you can choose the right platforms from a wide variety of providers. In addition to popular social networks, the free social media share plugin WordPress also supports GitHub, Dribble, Foursquare, Goodreads, Skyrock, and more.
On top, it allows you to import the list of users' contacts from Facebook, Gmail, and LinkedIn. Because of lead generation optimization, this can be taken as the best free social media plugin for WordPress
Note: If you are implementing lead-generation techniques, check out our blogs on how to generate leads on Facebook and LinkedIn.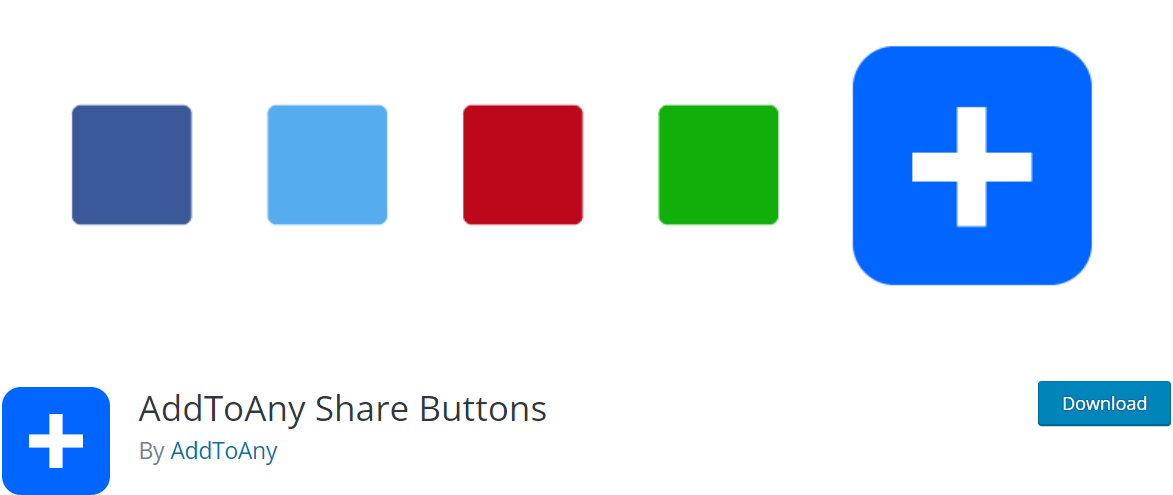 Yet another plugin to increase website traffic and engagement is AddtoAny. Being around for 15 years, it hit over 500K active installations. Image sharing is an extra feature that is offered by the best free WordPress social media plugin.
AddtoAny lets you select your favorite platforms from 100+ social networks. You either place standard share buttons attached to each content or use a floating bar for more customizable options. Plus, add share counts to trigger more shares.
It provides shortcodes or widgets to put buttons on your website's theme layout. You can choose template tags for adding buttons programmatically. On top, it lets you add follow buttons and customize them as well.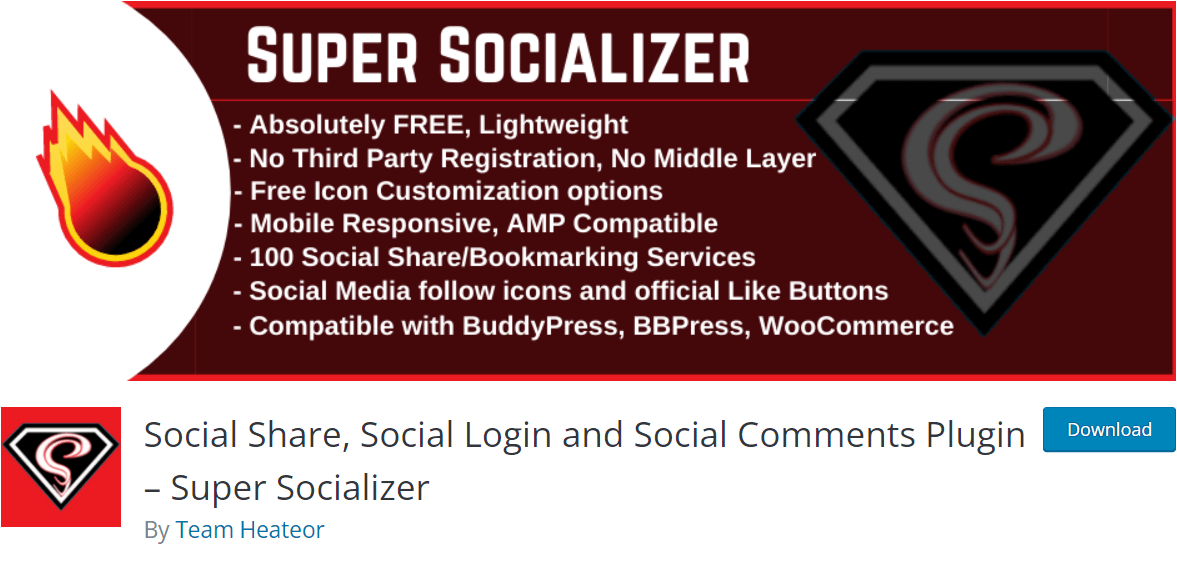 As its name suggests, Super Socializer is a super plugin that comprises social login, social sharing, and social comments features into a single platform. It comes with around 100 social networks for sharing features. Share counts are also supported for selected platforms like Twitter, Reddit, Odnoklassniki, and Vkontakte.
Icon customization options are free. You can specify icon shape, size, layout, and placement on the website. Further, it lets you shorten and customize URLs for shared content.
Packing with social login and social icons widget features, Super Socializer facilitates fast signup, increased user traffic, and higher conversions through social comments. If you do not want to hassle with different plugins for each feature category, we highly recommend giving it a try.
It is the best free social media plugin for WordPress if you want to trigger engagement, increase social followings, and expand your content reach.
Final words
The best free social media sharing plugins for WordPress are there to empower the growth of your online presence. They encourage your website visitors to share content on their social media accounts and engage with your content. In the end, your site gets a larger exposure and user engagement.
Yet, if you want to take the lead in the process of expanding your reach and increasing website traffic, there are far more options with premium plugins. As a social media scheduler, FS Poster allows you to have your content posted on social media while you concentrate on more brainy tasks.
It has a freemium offer to schedule posts on specific platforms, groups, and pages. Or, you can purchase the pro version to get lifetime access to features.
All you need to do is select posts and platforms and set the date and time to share them. FS Poster will do the rest.
You can auto-post or schedule your blogs, page content, or custom post types like WooCommerce products. The best thing is there is no limit on the number of scheduled posts, accounts, or platforms.
You will not have to worry about their performance indicators. The plugin gives an extensive view of shared posts along with their earned engagements.
Click here to can check the complete list of features and their application areas.