The Best FREE and Paid Marketing Automation Tools to Automate your Workflow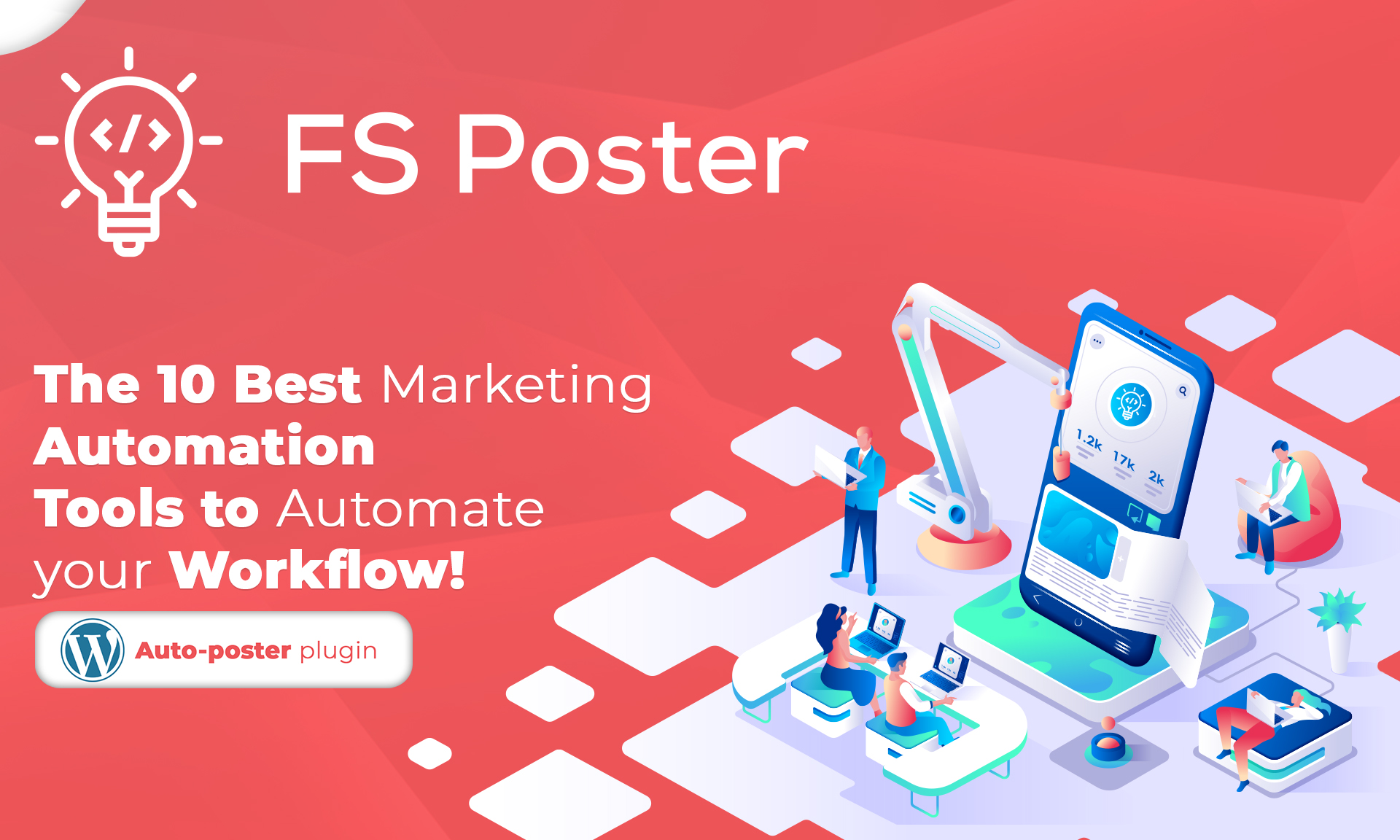 Social Networks
Mar 11, 2021
Recently, marketing automation has undergone a significant transition. Marketers, growth hackers, and entrepreneurs have begun to use various media platforms to promote their businesses.
When it comes to finding an integrated marketing approach for your workflow, marketing automation tools have proved to be very successful. In fact, with all of the automation solutions currently available on the market, digital marketing automation has reached a new stage.
What are the advantages of marketing automation for your company?
Let's start with the advantages of marketing automation before moving on to the tools.
Humans have been saving time for centuries thanks to automation. There is no exception. If the marketing staff saves time by automation, they can focus on other projects more effectively.
Increases customer relationship
You will concentrate on lead cultivation and consumer partnerships by automating the marketing activities. Here are few marketing automation tools that can help you understand how a customer navigates your website. You may determine the exact goal of each customer and handle them accordingly.
Allows you to make choices based on results
When you have concrete evidence on every plan in your business, you will make educated decisions. You don't have to fire arrows in the dark any longer; now, you can use your marksmen to ensure a perfect fit every time.
Assists you in getting the best of the budget
You may save enough money if you use the right tool because you will not recruit a new person for your squad. By adding workforce from your investments, you will make the best of your marketing budget. Marketing automation software is not costly and will offer outstanding value for money.
You may assume that marketing automation is only appropriate for big foreign firms, but there are inexpensive local marketing tech options available to support any local organization.
How to decide which marketing automation software is right for you?
It's possible that a marketing automation system with a narrower focus would work better in small and medium-sized businesses and business-to-consumer settings, while large B2B and enterprise organizations could require a platform with more capabilities. When comparing different marketing automation software programs to choose the one that best meets your needs, here are some essential factors to take into consideration:
Determine your budget and business needs
If there is one benefit of automation that can be summed up in a single sentence, it is this: It will make you more efficient so that you may focus on the jobs that you like doing the most and that have the highest return. Keeping this in mind, you will want to weigh pricing and skill while making your decision.
A simplified system may be sufficient for small and medium-sized businesses as well as business-to-consumer companies whose primary focus is on email. On the other hand, when it comes to meeting more complex requirements, enterprise software—which often carries a larger price tag—proves to be the most cost-effective option over time.
Make sure to pick a service that has prices that are affordable while still having the ability to expand alongside you as your requirements shift. After all, one of the most critical aspects of efficient scalability is the reduction of bloated activities.
Analyze how simple it is to use the software
Because the automation process is not easy to begin, you need to ensure that the program's user interface will assist you rather than hinder you. Check to see if there are any screenshots of the user interface (UX) available so that you can evaluate how user-friendly it appears.
Because automation might include complex technological processes, it is essential to choose service providers who offer extensive knowledge bases, tutorials, and other forms of client assistance.
Investigate your options regarding analytical reporting
You will want to be able to monitor the performance of any drip campaigns that you currently have going, so you should make sure that the automation software you use will keep track of the metrics that are most important to you.
You may also want advanced reporting capabilities in B2B and business contexts with numerous stakeholders, such as customized dashboards or automated reporting through email. These capabilities may be found in enterprise software.
Research mergers and acquisitions
How effectively does the marketing automation software work with the other products that you already have? Integrations enable better management of data and more value from your tools.
Consider potential limitations
On some software systems designed for automation, the number of operations you are permitted to perform in a given month or the size of your database may be capped.
Before beginning any review, you should clearly know the number of contacts you already have, the specific number of emails you send each day, and the goals you have for the program. Because of this, you won't be able to underestimate how much your automation software will cost grossly.
Request a Demo
Before making a final choice, you might want to explore contacting each service provider's sales staff to request a demonstration or sign up for free trial offers. You can better decide which aspects of a marketing automation solution will meet your requirements if you test-drive the software before making a purchase.
These are only a couple of the simple advantages that any organization can find after installing paid and free marketing automation tools for small business. If you are wondering which marketing automation tool is the best, continue to read this blog. Here are the best marketing automation tools to automate your workflow:
The Best Social Media Automation Tools
The way marketing is done shifted as a result of social media. It has resulted in a paradigm change in how ads promote brands. Here are few tools to help you simplify your social media ads.
FS Poster
FS Poster is the best WordPress social media auto poster plugin. You can share your WordPress blogs directly to social media accounts. Also, you can schedule and share your social media posts in the FS Poster plugin. This plugin has a lot of features that will help you in the automation process.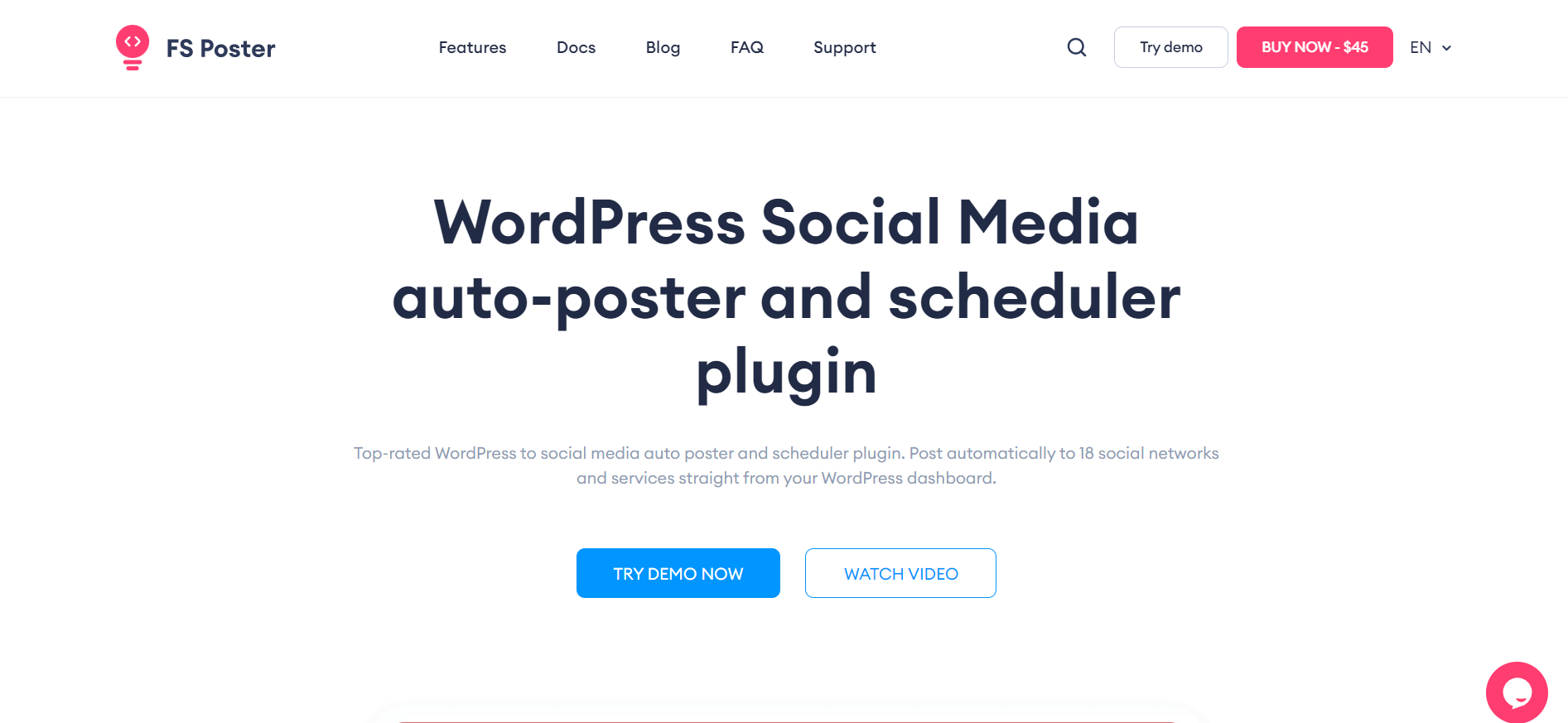 FS Poster lets you share your post on 18 social media networks and services. You will be able to customize messages for each post. You can use hashtags and emojis in your posts. For having more information about this plugin visit our website and try our demo version.
Planly
Planly has quickly become the most powerful and user-friendly free planner currently available for TikTok and Instagram. Additionally, it is compatible with both of those platforms. With the assistance of Planly, you will have the capacity to plan and schedule automatic postings on social media platforms such as Instagram, TikTok, and Twitter. When you submit anything to your Instagram accounts, such as stories, Instagram carousel posts, reels, and videos, you have the ability to pre-schedule when that content is posted to your account.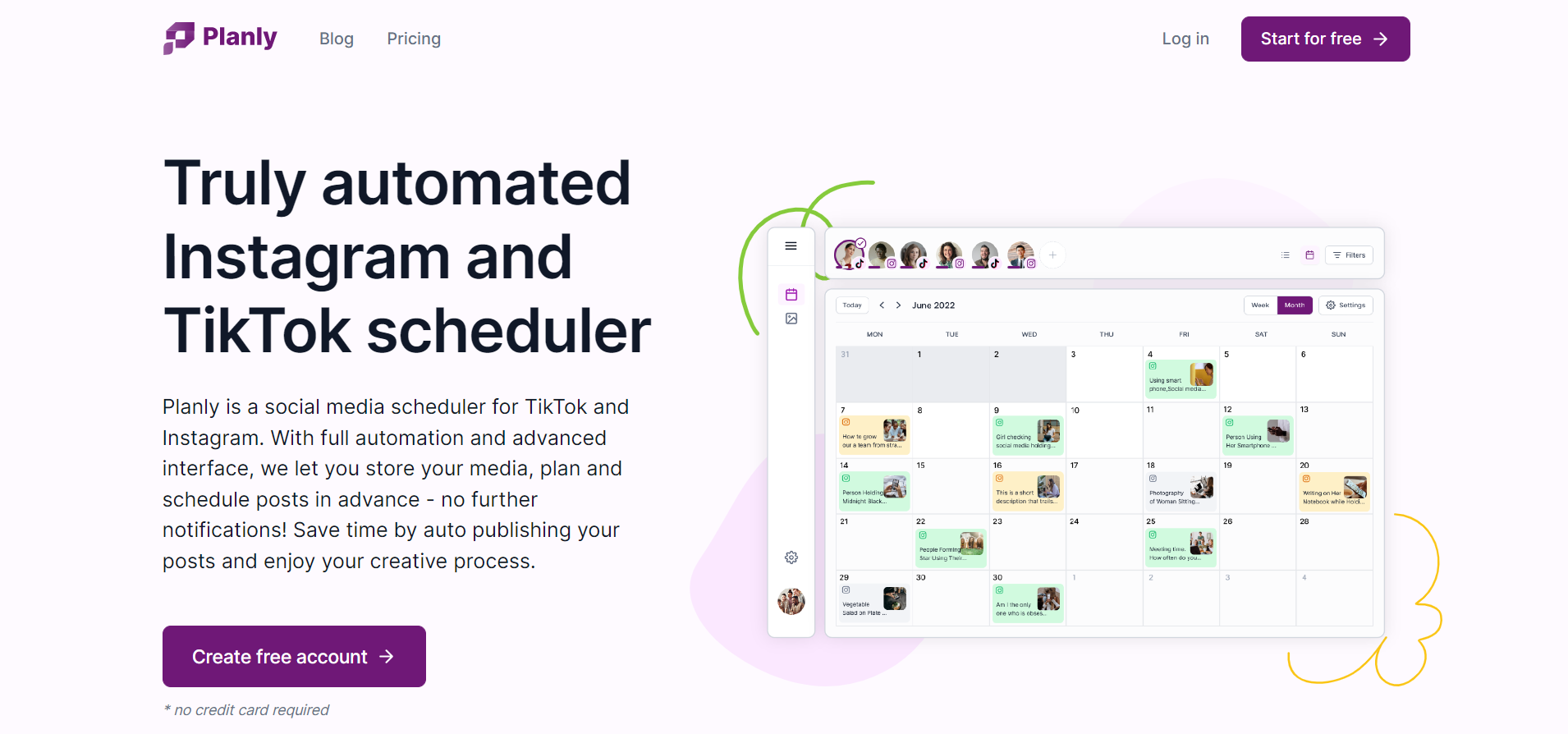 Planly grants access to extra features, such as the ability to "pin" a post and to be the first person to comment on an Instagram photo or video. Other additional features include the ability to "pin" a post. TikTok allows its customers to switch on a duet or stitch and provide them with other creative alternatives when they are thinking of uploading content to the platform.
Hootsuite
Content scheduling and curation, interaction tracking, and other simple functionality are available via Hootsuite. To put it another way, you get everything you need to get started online and build your social media followers and network. From a single dashboard, you can handle multiple social media networks at the same time.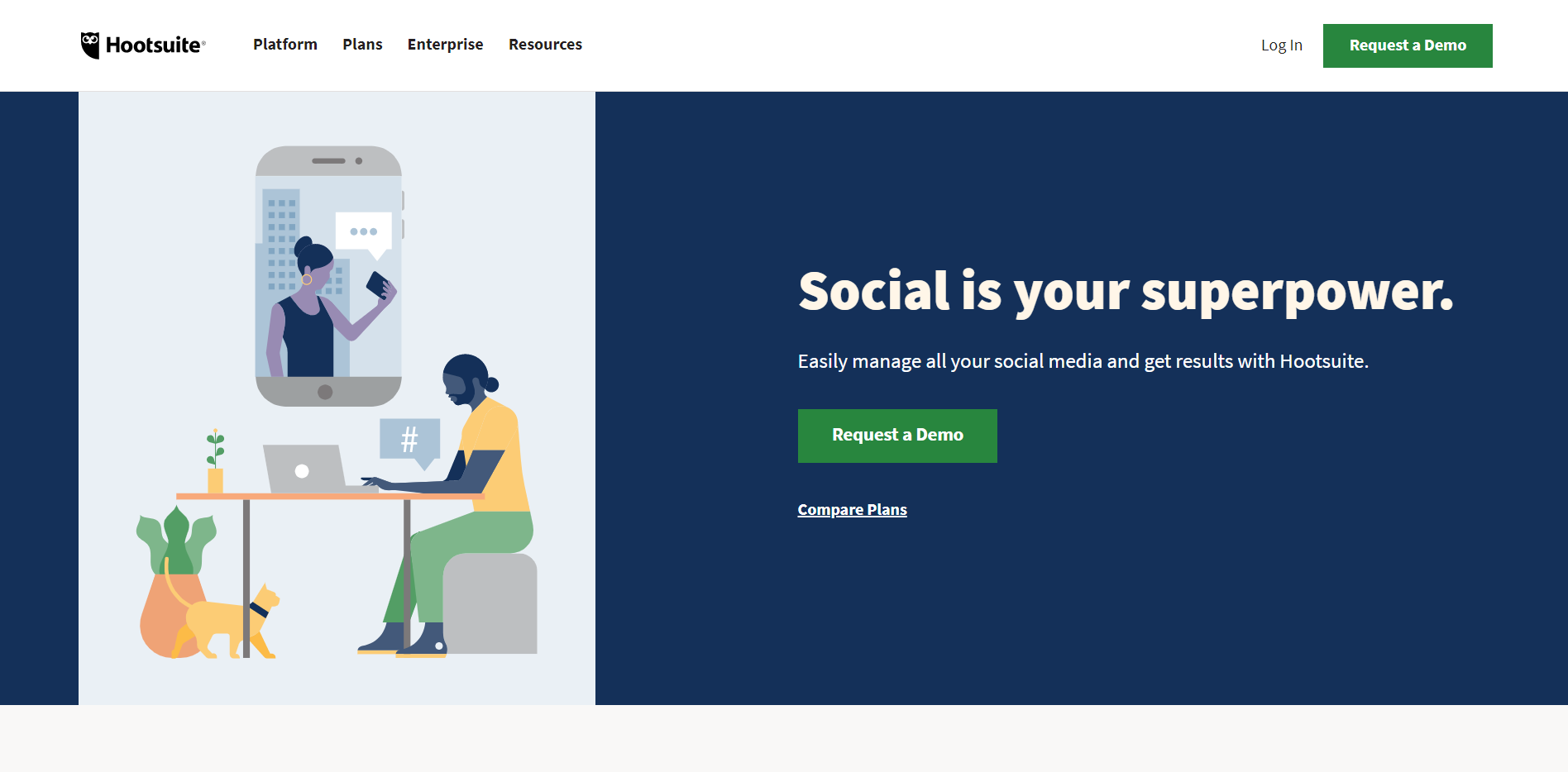 You'll be able to find user-generated content almost immediately and either repost it on your website or respond to complaints quickly because you'll be receiving updates about all that happens in real-time.
CoSchedule
This tool is designed to help you schedule your social media activities by organizing updates and keeping track of your plans days, weeks, months, and even years ahead of time. You can even go back and reuse material that you've already written.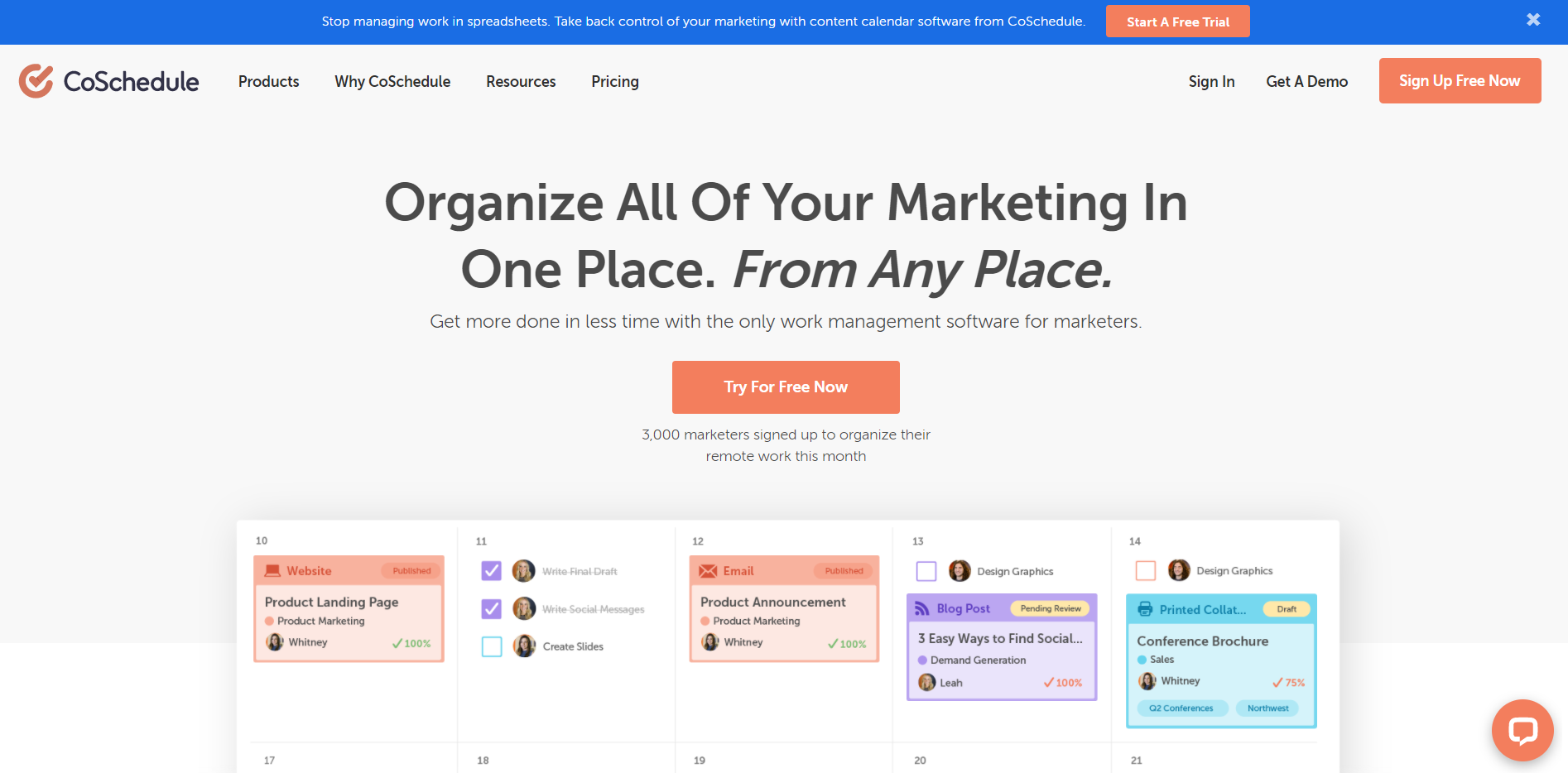 CoSchedule helps you to handle several social media pages through several channels, allowing you to have it in one place. The app enables you to plan up to 60 posts at once and display your calendar in an immersive format. CoSchedule's most helpful feature is that it helps you view data on any of your posts to review their results and determine what to do next.
SocialPilot
Social Pilot is a social media scheduling platform developed especially for small companies and digital marketing firms. It has tools to help you plan posts and monitor analytics on Facebook, Twitter, LinkedIn, Google Business Profile, Pinterest, Instagram, TikTok, and Tumblr.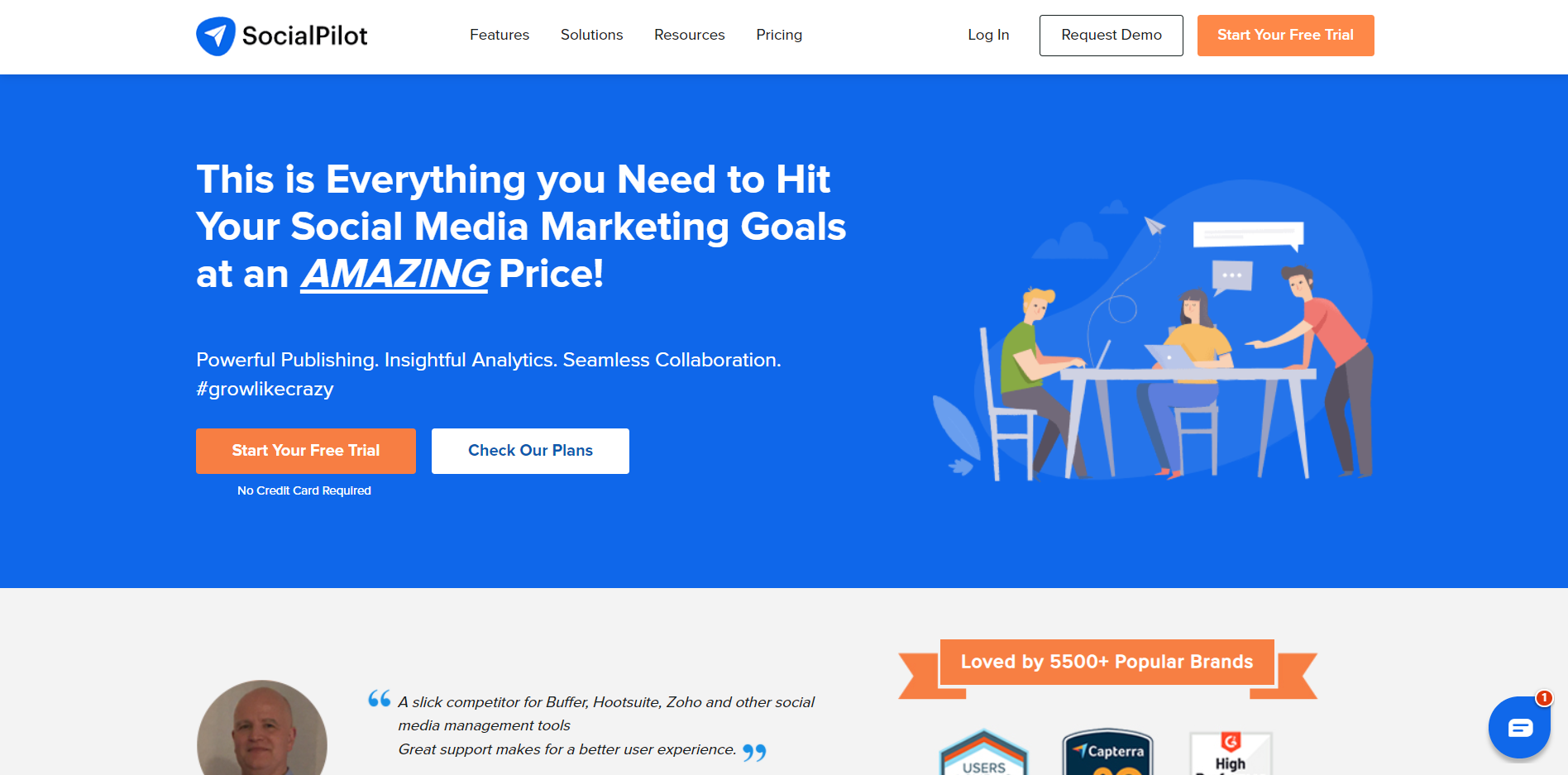 Buffer
Buffer is a social media monitoring tool that helps you increase social media interaction and results. Its functions can assist you in developing and scheduling social media posts. If required, you can control several accounts. It also runs on Android and iOS, enabling you to access your social media pages from anywhere.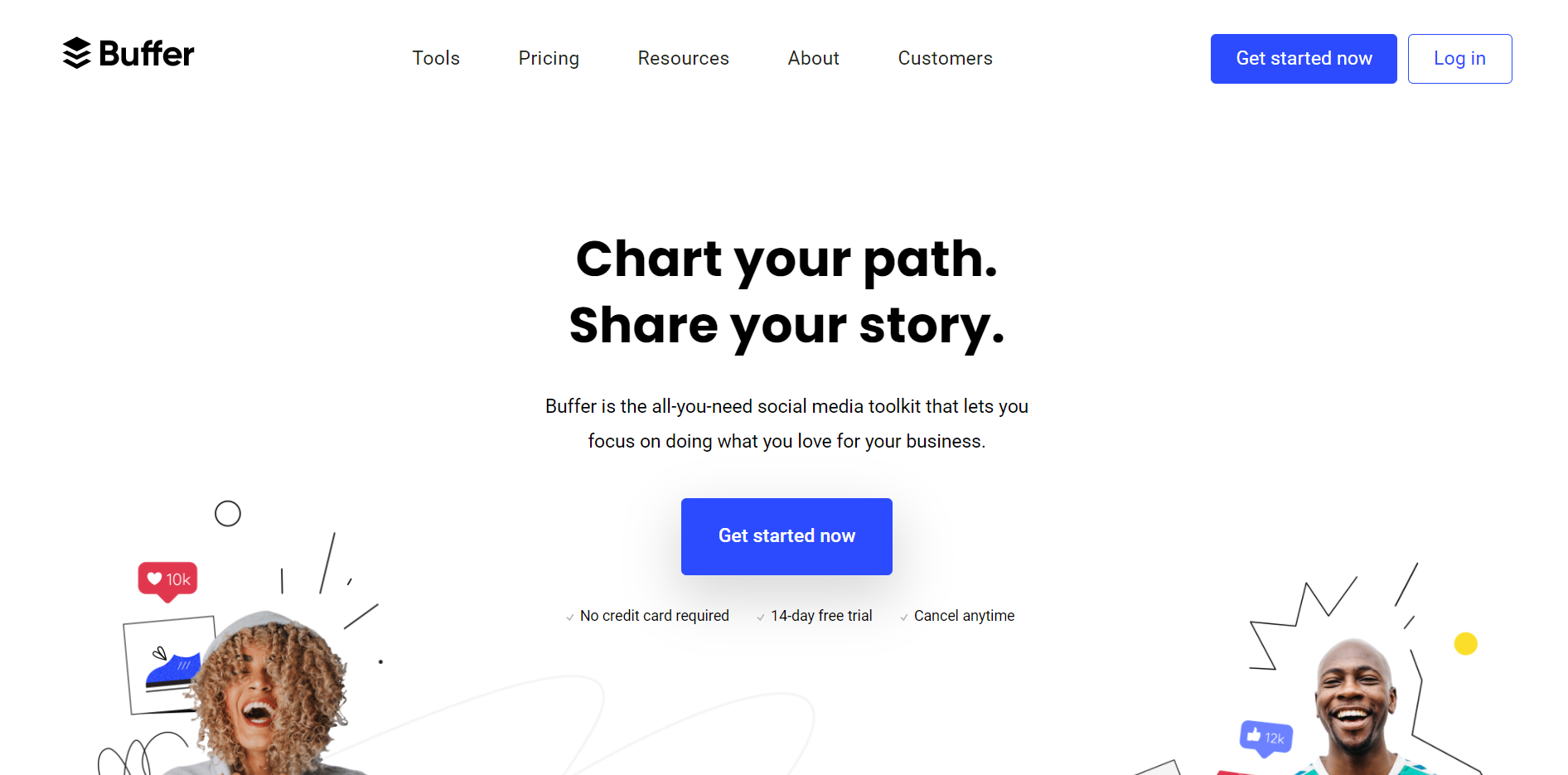 EngageBay
EngageBay is an additional marketing automation platform that caters exclusively to the requirements of small and medium-sized enterprises. This program offers a wide variety of capabilities, such as website chat, social media management, and email marketing.
Other noteworthy capabilities include drag-and-drop builders for landing sites and emails, A/B testing, SMS marketing, push notifications, abandoned cart retrieval and reminders, autoresponders, prepared answers, and more.
EngageBay's pricing structure includes a free plan for small enterprises and three advanced premium plans that scale with the demands of your business and begin at $10.39 per user per month.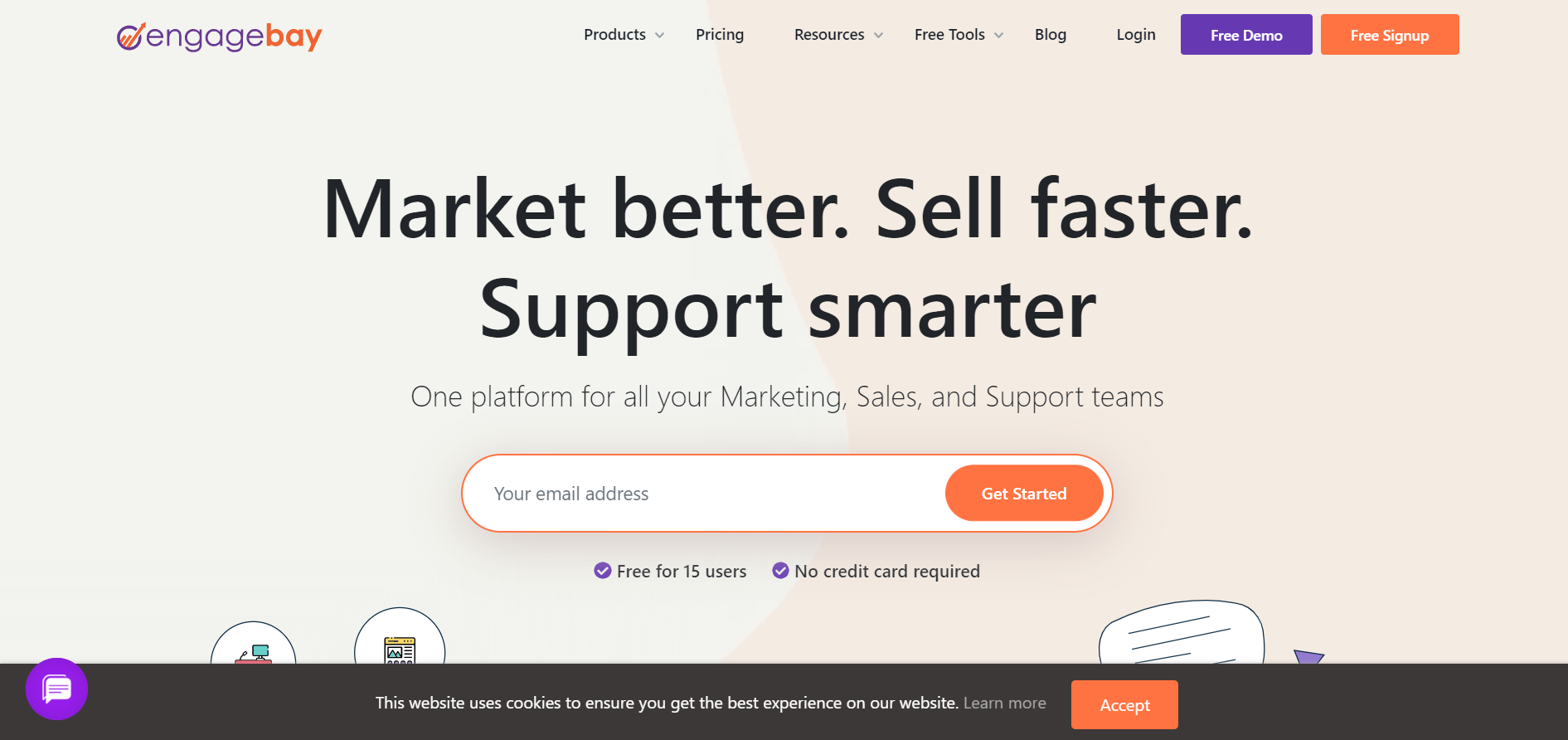 The Best Email Marketing Automation Tools
If you have an email list that you've created through your business, email marketing automation software is fantastic. Instead of buying pre-made email lists, you can start designing your email list from the ground up. These tools help you to simplify your contact with them.
MailChimp
About everybody has come across MailChimp in some form or another. This approach is optimized for email marketing and helps you automate many activities without losing a substantial portion of your budget. On the other hand, MailChimp is steadily expanding and beginning to provide functionality for both email and other forms of marketing.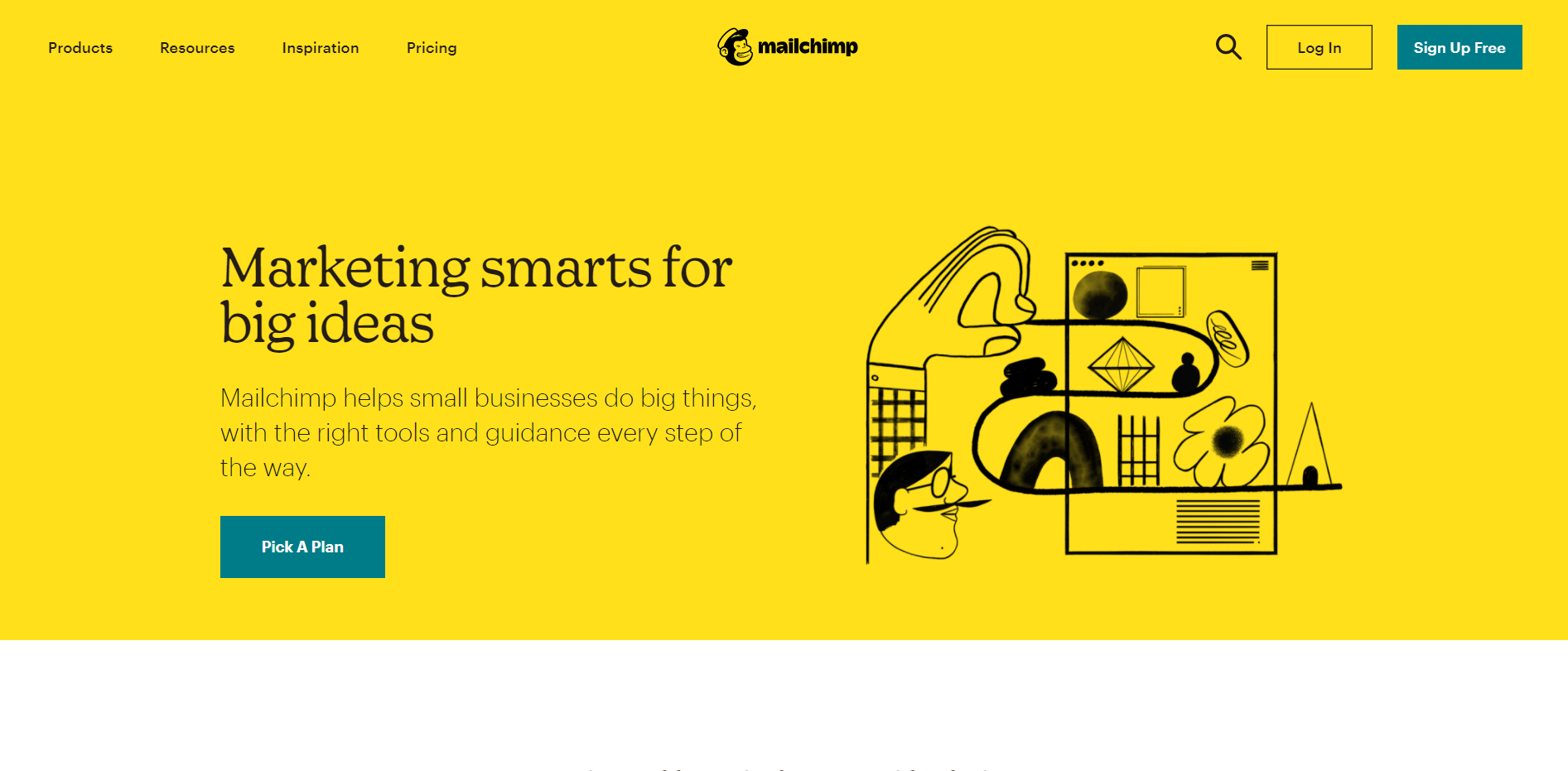 MailChimp can provide you with all facets of email marketing. It will first help you reach out to new and current clients to convince them to retain you on their subscription list. Then, to keep sending fun emails, you'll need things like welcome email automation, interaction management, behavioral targeting, and so on.
You may also use logic programming to deliver emails in response to actions taken by your customers. Customers who frequently search your website for discounted goods, for example, could receive a "Discounts & Sales" notification. The best part is that MailChimp's pricing starts at $0 if you have less than 2,000 contacts; even if you're just getting started, you'll be able to take advantage of all of these unique features for free.
SendInBlue
SendInBlue is best known for email marketing automation, but it also has features for CRM, SMS marketing, and chatting, among other things. SendInBlue, for example, helps you segment your audience to personalize your emails and even send subscribers to landing pages.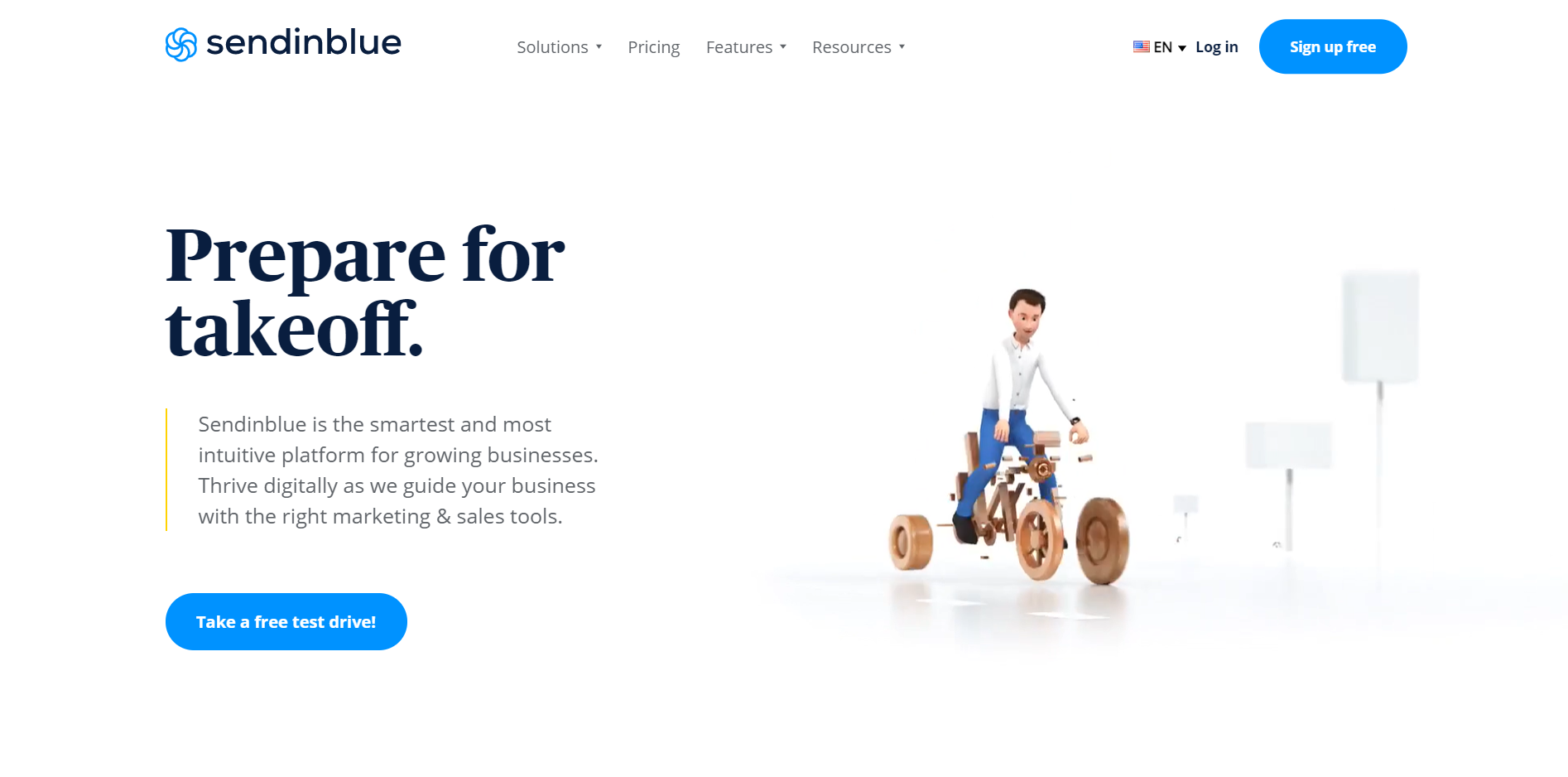 This tool also has several standard features that are important for email marketing. Lead scoring and monitoring, for example, would provide you with information about your email campaign.
PersistIQ
It's a website that lets you submit email promotions, email sequences and track them all with the ease of a chrome extension. It has a free plan to offer a three-stage email series and play with a few emails. The free package also provides an email tracker and email finder. Once you've used the box, you can expand it. This is yet another sales-friendly method that can assist you in capturing further leads through cold email campaigns.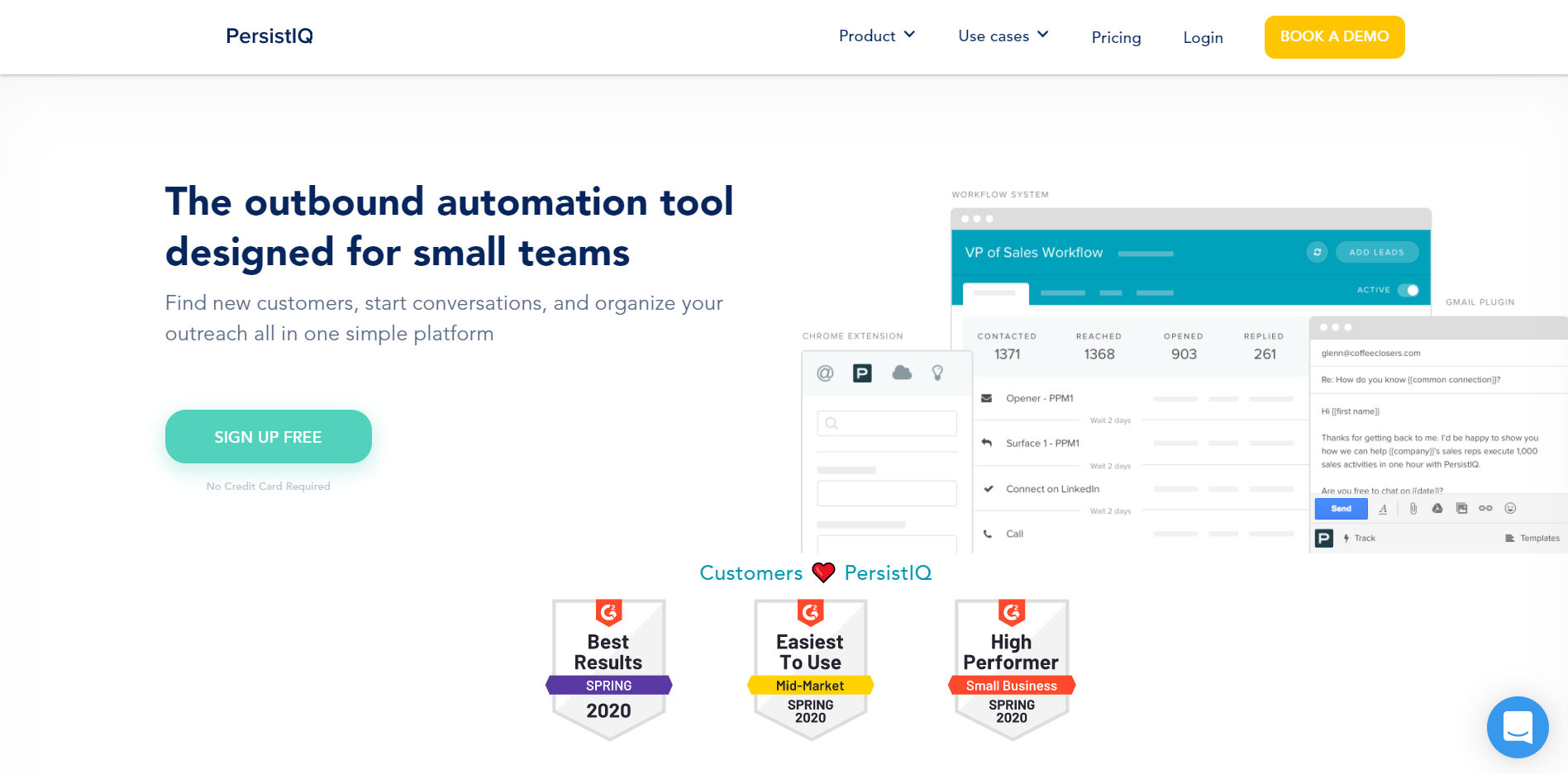 Omnisend
The Omnisend platform is an omnichannel marketing automation tool developed specifically for online retailers. You can get up and running quickly using pre-built templates designed with online retailers in mind and the sophisticated automation workflows they provide.
Omnisend uses a user-friendly visual builder and templates, which expedite and simplify the process of developing workflows, forms, landing pages, and pop-ups. Omnisend is a free plan that automates the most fundamental aspects of email marketing. This plan is ideal for small organizations just starting with email marketing.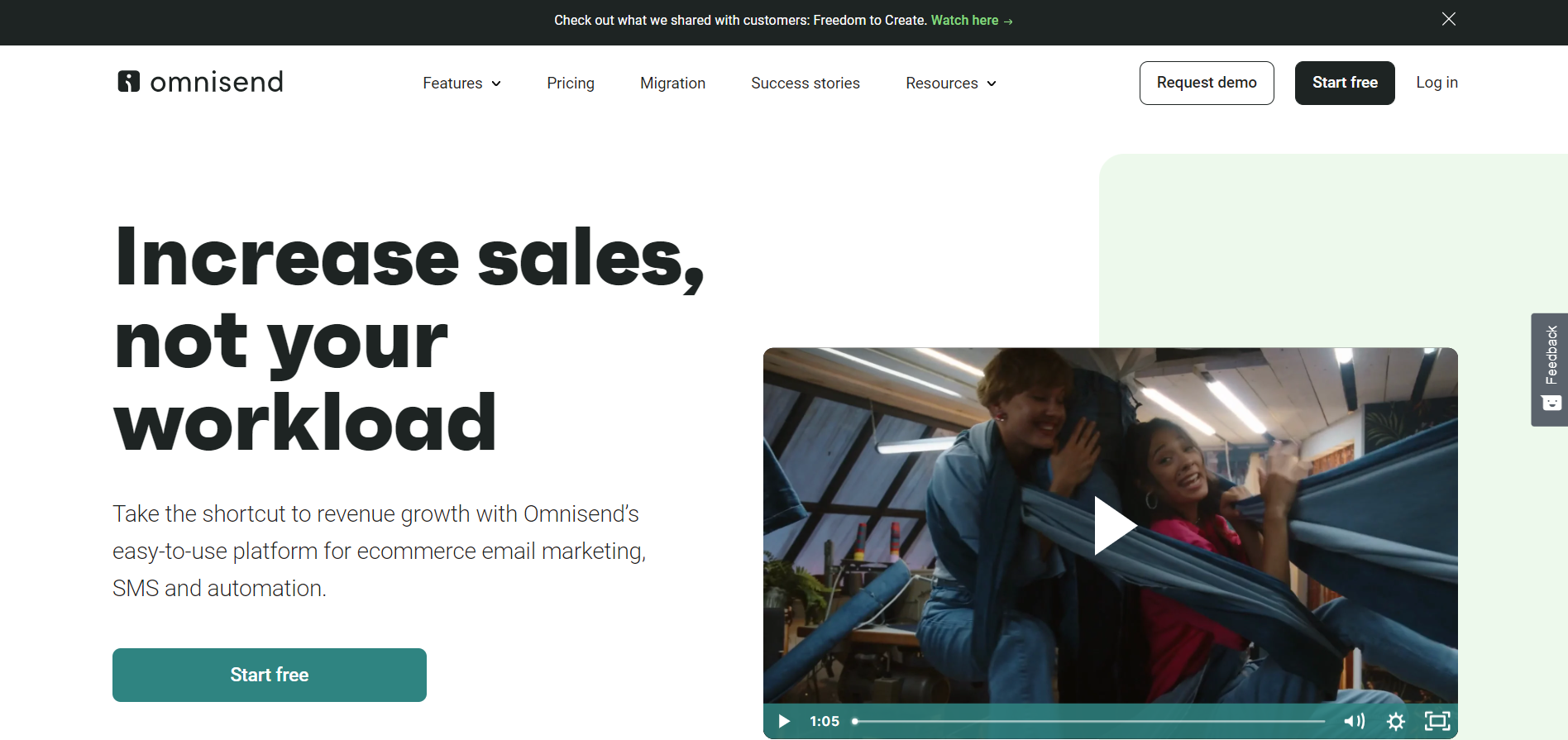 Customer Engagement Tools
To begin, customer engagement software gives you the ability to take action based on your data in a relevant manner.
You may construct in-app experiences to enhance user engagement with a variety of features at each stage of the user journey by looking at the insights gleaned from your users' behavior and applying those learnings to your app design.
In the long term, this results in greater client uptake as well as retention rates.
Now that we have that out of the way let's talk about the characteristics of a strong customer engagement tool that you should look for.
Essential components of a software program for engaging customers:
Comprehensive analytic work
In order to give the very best experience to your customers, you need to know who they should engage with and when. Customer journey analytics can provide you with this information.
Tracking of the following should be possible with a decent program for customer engagement:
Data about a person's demographic characteristics, which are often self-reported characteristics such as firm size and user characteristics such as location, browser language, etc.
User identification data, which is based on the so-called "user attributes" (who your customers are) – for example, users of Linux as opposed to users of Windows, an individual account as opposed to a company account, a user on a basic plan as opposed to a user on a pro plan, login frequency, and so on.
User engagement data (what the users do in your product) is data that is based on so-called "custom events" (events that happen in your product) or feature tags, such as button clicks, code installations, feature use, frequency of use, and so on. Include specific user characteristics, such as the number of web pages seen during a session and the total number of online sessions.
User sentiment data is information on what a user thinks about a product, such as the Net Promoter Score (NPS) or the replies to a micro survey.
User engagement software allows you to divide your consumers into groups according to how they interact with your product. As a result, you will be able to target particular segments with particular messages depending on particular event triggers.
In the context of software as a service (SaaS), "personalization" is sometimes misunderstood to mean simply "adding the user's first name to communications." However, "personalization" should genuinely mean targeting the correct user with the appropriate message at the right time.
Customer engagement automation
Of course, you don't have to automate your client interaction experiences. You have the option of employing a large number of Customer Success managers who will take turns monitoring your user analytics tool throughout the clock. Then, when a user reaches a specific milestone, you will be able to dash to your email or customer engagement platform and deliver a compelling next-step experience to them.
Integrations from third parties
Why should you be concerned about whether or not the software you use for client engagement interfaces with solutions provided by other parties? If you can connect the tools in your marketing stack, you will be able to use the same user data across numerous channels, allowing you to get the best possible outcomes.
For instance, by feeding data about users hitting certain milestones in their user journey or having engaged with certain features into a CRM like Hubspot or Salesforce, your Customer Success team would be able to assist users who are having difficulty. Your Sales Team would be able to reach out to users who appear to be ready for an upsell.
Under the umbrella of customer engagement software, there are a few various types of tools. These automation systems support you in managing the client relationship and communicating with them in every way. Here are a few methods for automating consumer experience.
Here are the best tools:
Hubspot
Hubspot is a giant platform that allows you to automate your companies fully. However, the platform we're about helps deal with consumers. All of the consumer communications will be consolidated into a single universal inbox. Ticketing, live chat on your website, and chatbots are all open to you.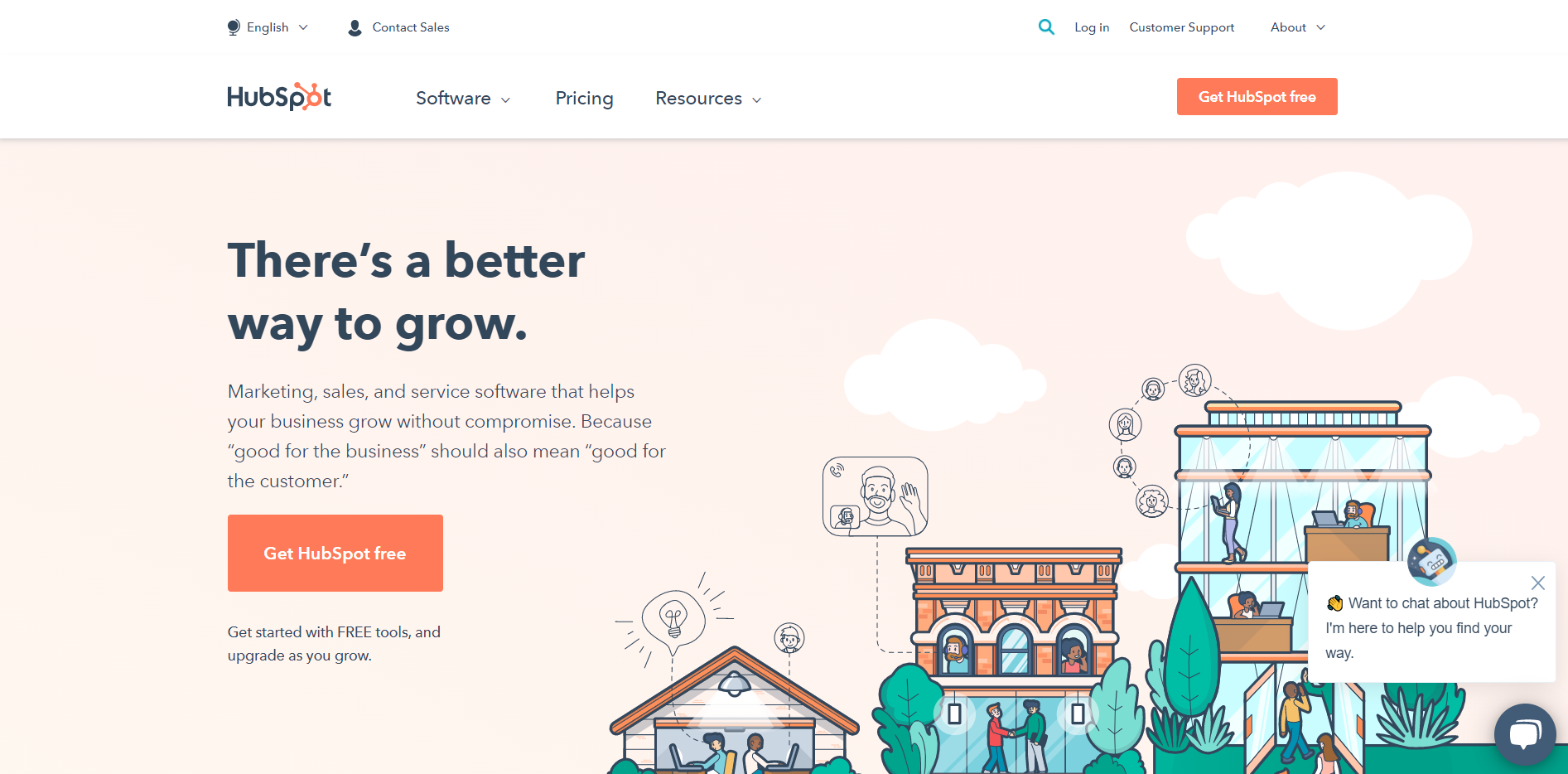 ActiveCampaign
At an affordable price, ActiveCampaign blends the functionality of a CRM and a marketing automation solution while also offering a wealth of features. The characteristic of ActiveCampaign that sets it apart from the competition is that it does not focus solely on automation, as other marketing automation platforms do. Rather than automating any of the activities, it helps you and your team strengthen their acts by automating a portion of them.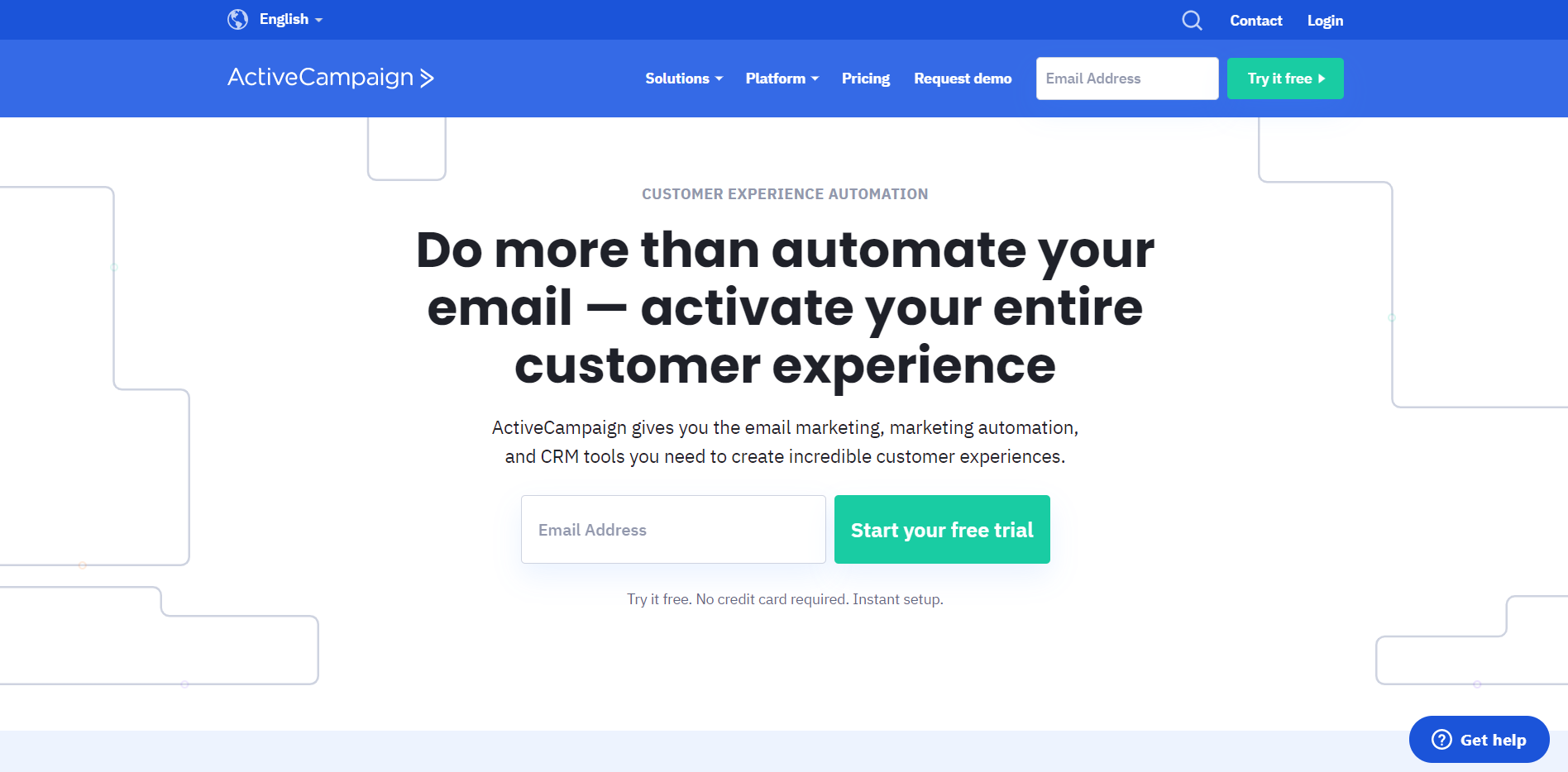 Since marketing technology won't fix all of the problems, it's crucial to discern between activities that need human interaction and those that can be automated. ActiveCampaign uses things like reminder emails to keep the human workers updated on their activities. They will also assess the automatic tasks to see if there are any problems. In other words, these warnings are a precautionary measure.
Drip
Drip is a marketing automation platform that focuses on eCommerce automation. It does this using email, SMS and interfaces with third-party services, which assist businesses in genuinely driving their income.
The analytics tab in Drip contains a number of reports and metrics that allow you to assess your work in Drip's impact on your customers and your business. These reports and metrics can be accessed through the analytics tab. You have the ability to examine consolidated email analytics, critical export metrics that are particular to your reporting, and more. View clicks made by new users and existing subscribers, keep tabs on events and conversions, and keep an eye on recent activity.
Drip allows you to customize the marketing your audience receives so that it is specific to their previous interactions with you and their interests. Clearly, marketing to each subset of your audience is possible with the use of individualized campaigns and procedures.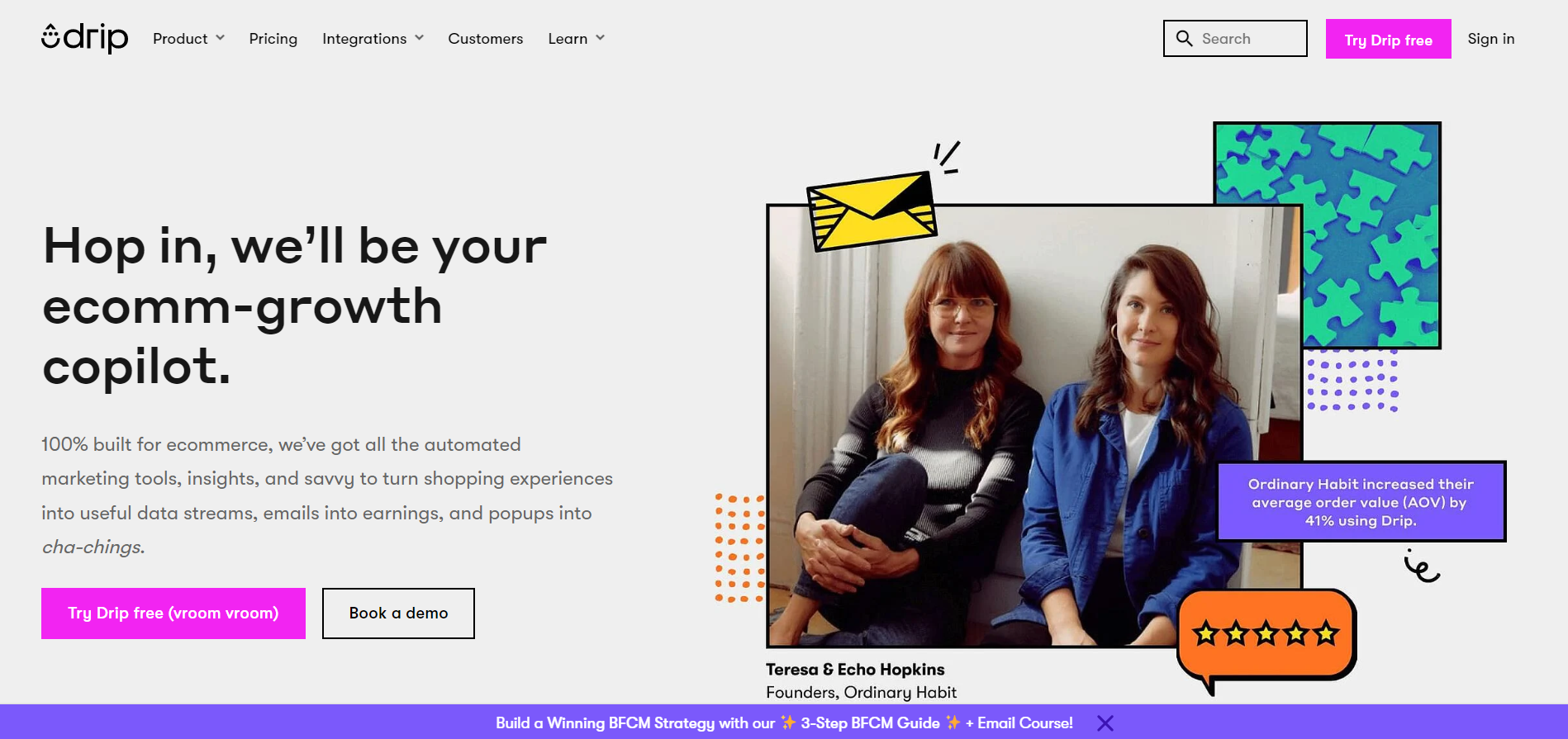 The Best Local Marketing Automation Softwares
What exactly does it mean to use software for automation in local marketing? It is easiest to think of it as a piece of software that "automates" some aspects of the workflows and procedures involved in local marketing. The following are some of the benefits that a local marketing automation solution should deliver:
Make it possible for community members to produce their own marketing by providing access to print and digital templates.
Make it possible for local marketers to coordinate their messages with those of the national brand.
Make it possible for companies to save and organize information, including photographs and videos.
A powerful local marketing automation system should also provide essential capabilities similar to those in digital asset and product information management platforms.
It is essential to understand that the various local marketing automation systems do not all function in the same way. As a result, it is necessary for you to determine your own software needs.
In the event that you have not yet made an investment in a local marketing solution for your multi-location business, or in the event that you are looking to upgrade, the following companies should be your top priorities:
Pageflex
Pageflex makes it simple to carry out multi-channel marketing campaigns that have a significant impact. Users can log on to this distributed marketing solution to order, customize, and personalize marketing materials for both print and digital media. This solution is distributed marketing.
Characteristics and Advantages:
Organize and disseminate assets by means of a library that may be searched.
Create marketing print and digital marketing templates that are of great value.
Manage who has access to marketing assets and how they are customized.
Keep tabs on how marketing assets are used and how effective they are.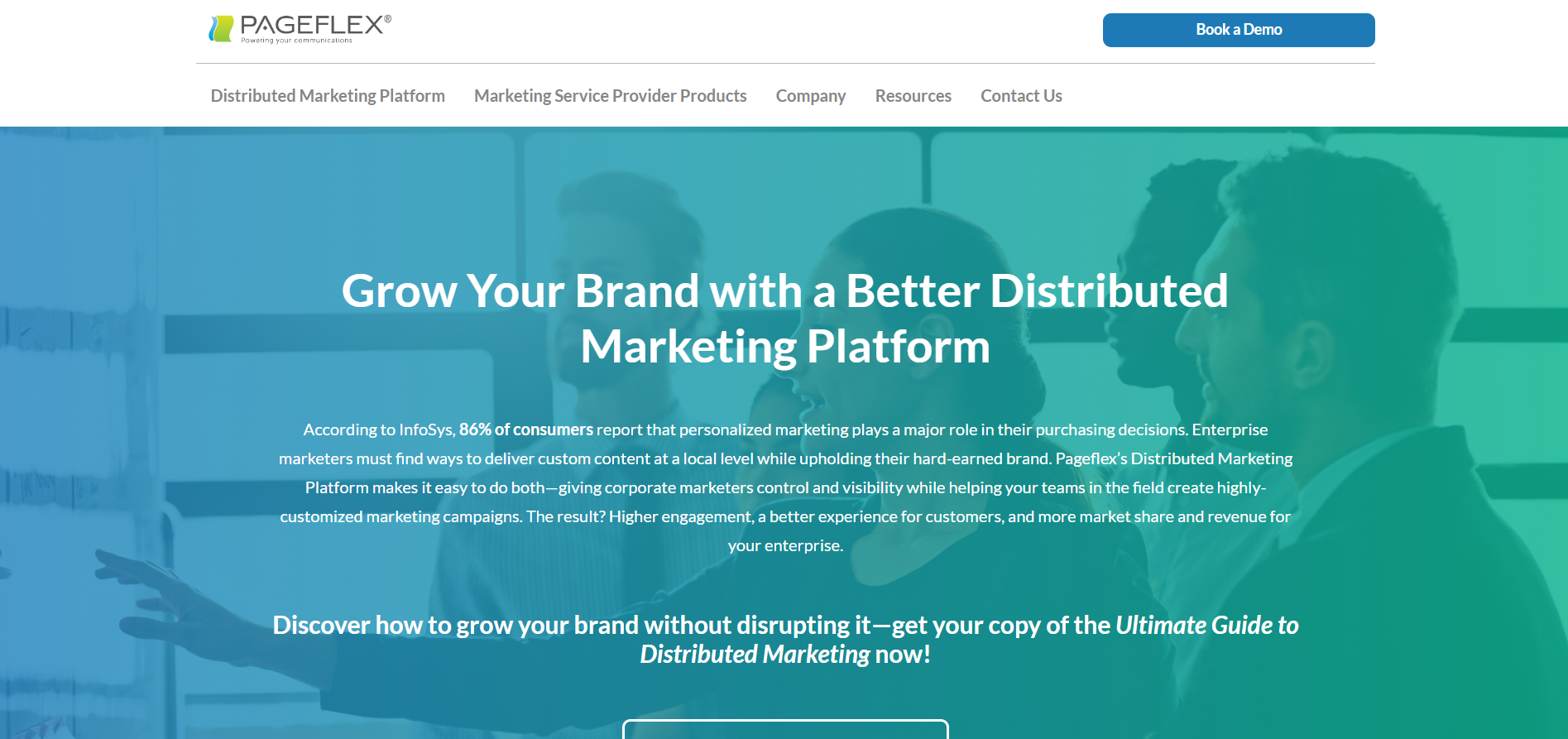 Strata Company
The marketing resource management system provided by Strata Company acts as a single source of truth for businesses that operate in several locations. This solution is tailored specifically for your one-of-a-kind multi-location brand and can be scaled to match the specific requirements of your constantly evolving brand environment.
Characteristics and Advantages:
Variable and data-driven marketing templates
Uncapped user roles and access levels
Personalization of dynamic content using automated processes
Proofreading and approvals can be done online.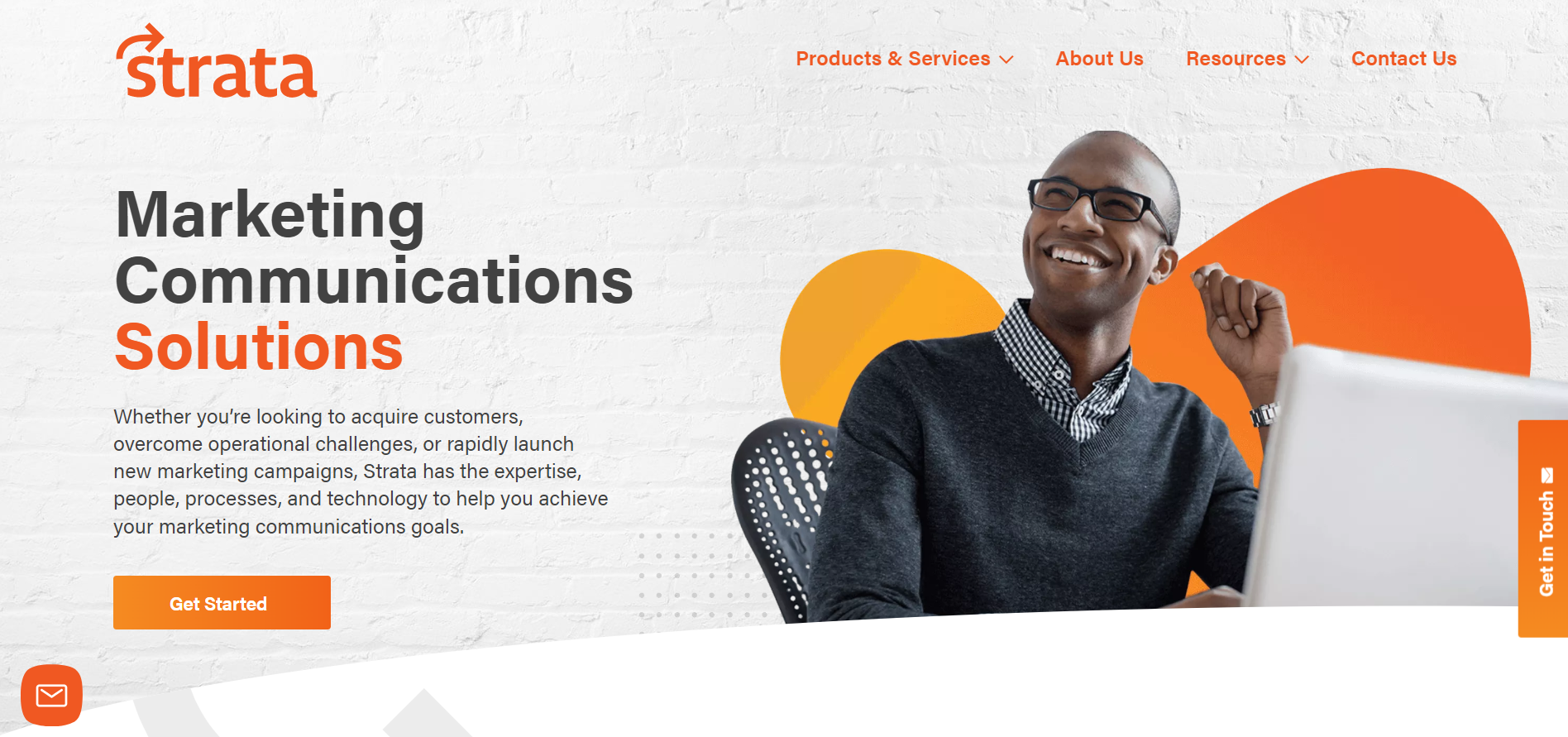 CampaignDrive
CampaignDrive assists industry-leading multi-location companies with several locations to produce efficient local marketing through highly modifiable templates. This all-in-one solution makes it possible for local marketers to develop highly quality and relevant marketing to audiences in their area. Affiliates have all they need to create tailored client experiences that audiences adore when they engage in effective local marketing.
Your local affiliates can locate everything they need in a matter of minutes, and they can easily implement basic adjustments at the local level thanks to dynamic and straightforward automation. In addition, having fast access to high-value marketing templates ensures that local marketing will always conform to the messaging and design standards of the corporation.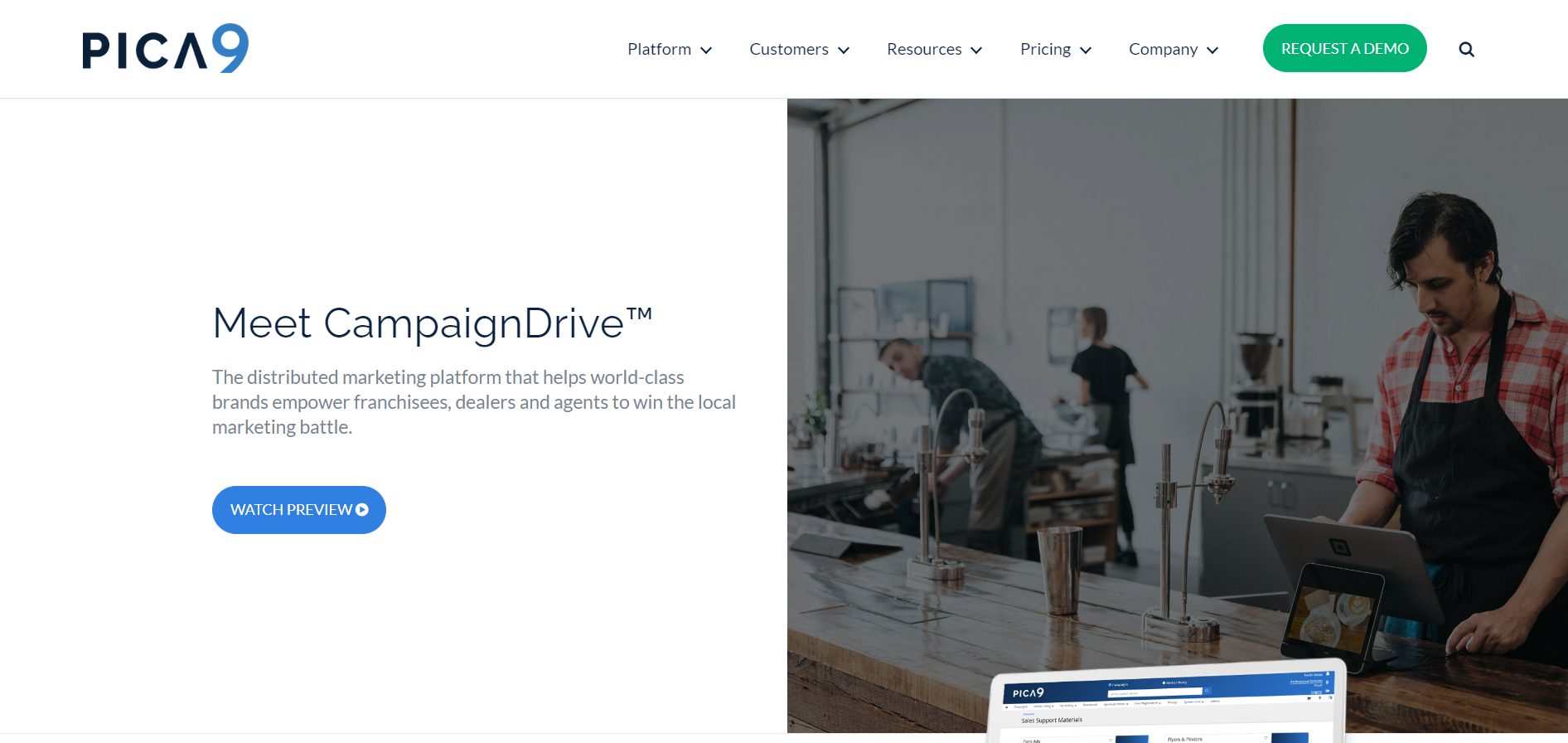 BrandMuscle
BrandMuscle is the industry leader in local and channel marketing that is integrated. Executing cross-channel marketing and design for the brand is something that BrandMuscle, which is an integrated media planning and buying team, does.
Characteristics and Advantages:
Dynamic, data-driven templates
Services of an original design made to order
Interactive and powerful tools covering local marketing expenditures and information on campaigns
Programs that are both flexible and MDF-based.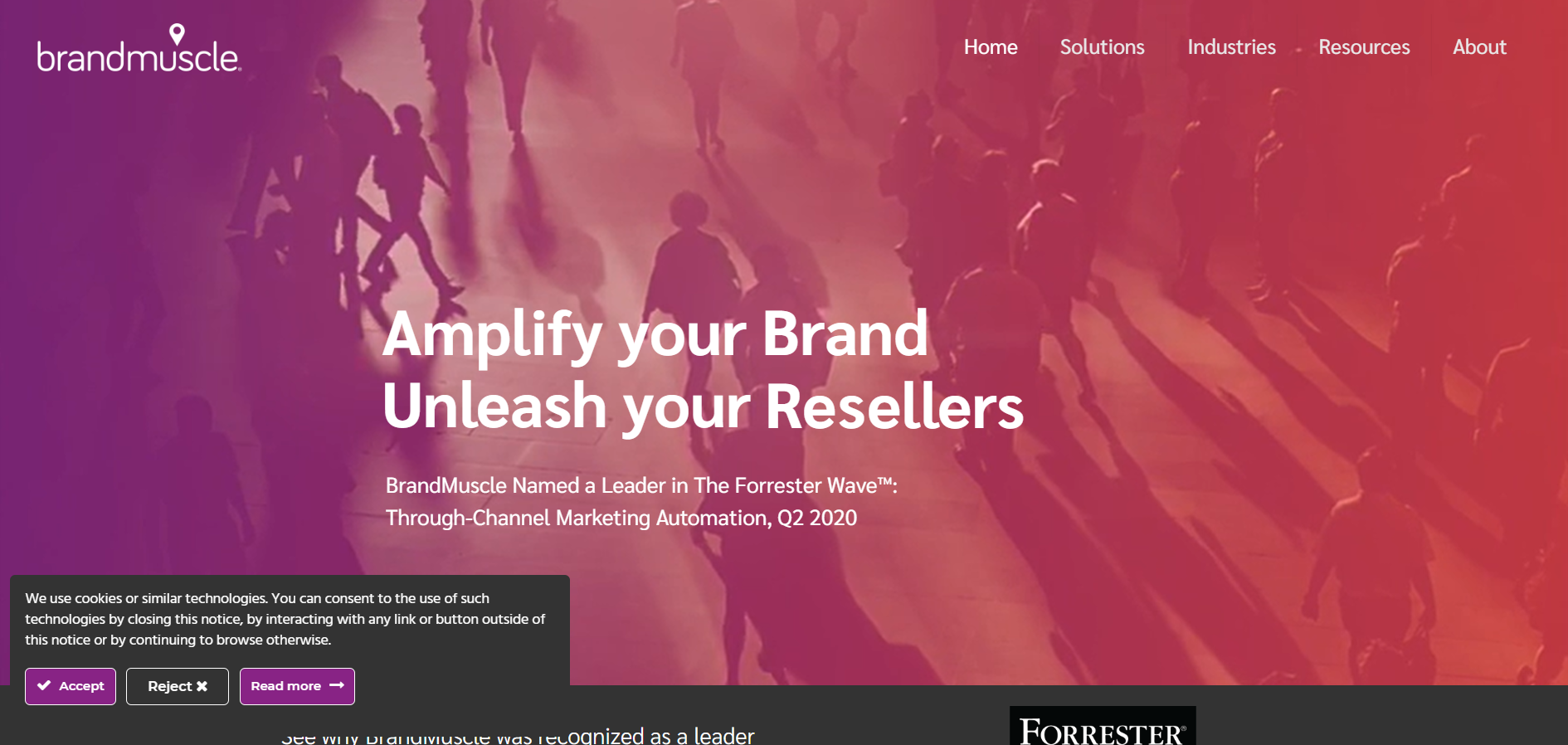 Distribion
The ability to save, retrieve, and locate all of a company's marketing content is provided by Distribion. This integrated sales and marketing system increases efficiency, optimizes distribution routes, and assures compliance with brands as well as legal requirements.
Characteristics and Advantages:
Administration of access and authorizations
Multi-channel campaign management and execution
Dynamic templates
Contact management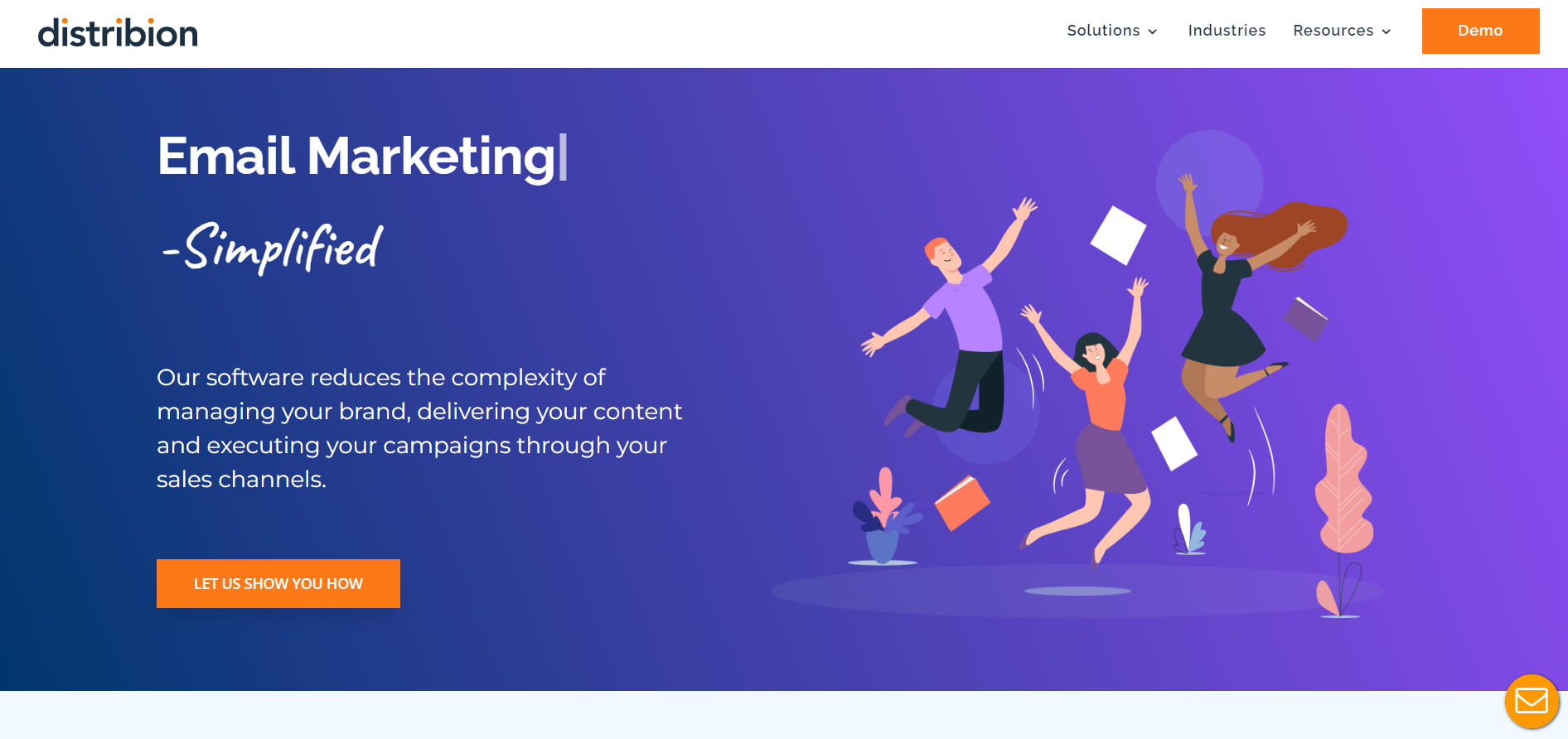 Conclusion
Marketing automation tools have been around for a long time, but if you haven't used one yet, it's probably time to start looking at which marketing automation systems are suitable for your needs.