A/B Testing in Marketing: How to Optimize Your Conversions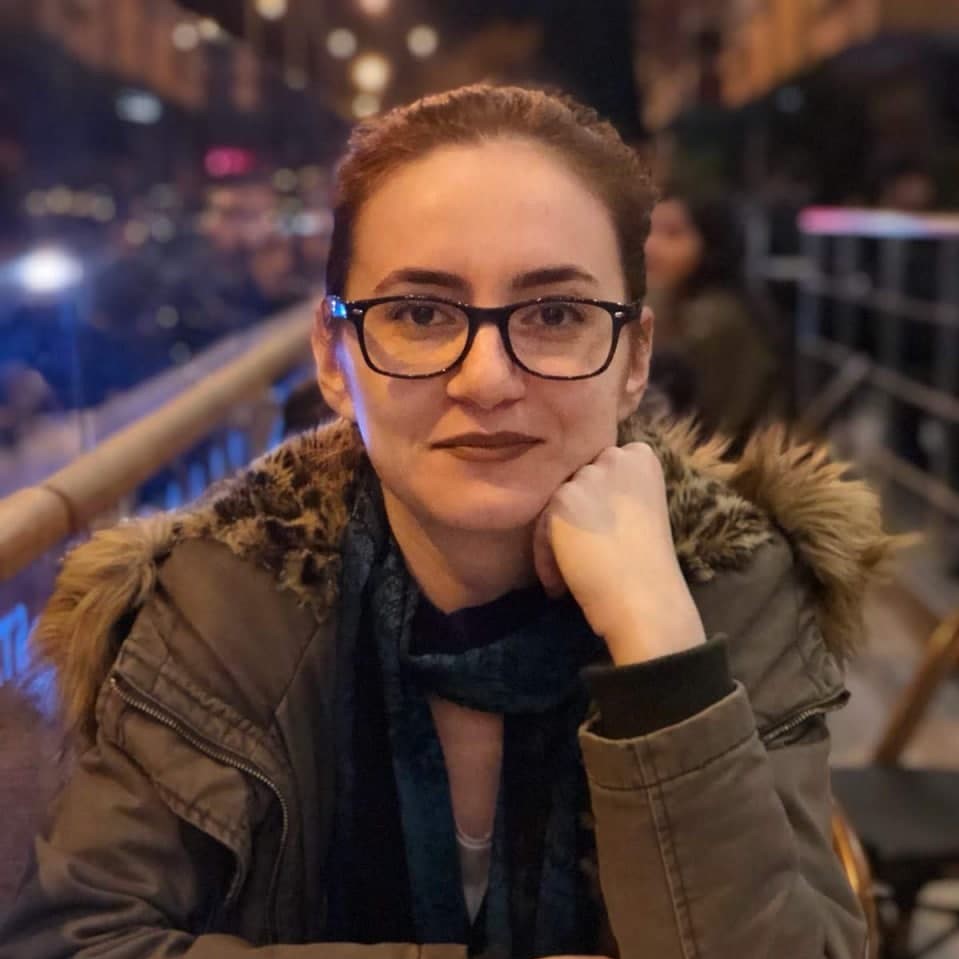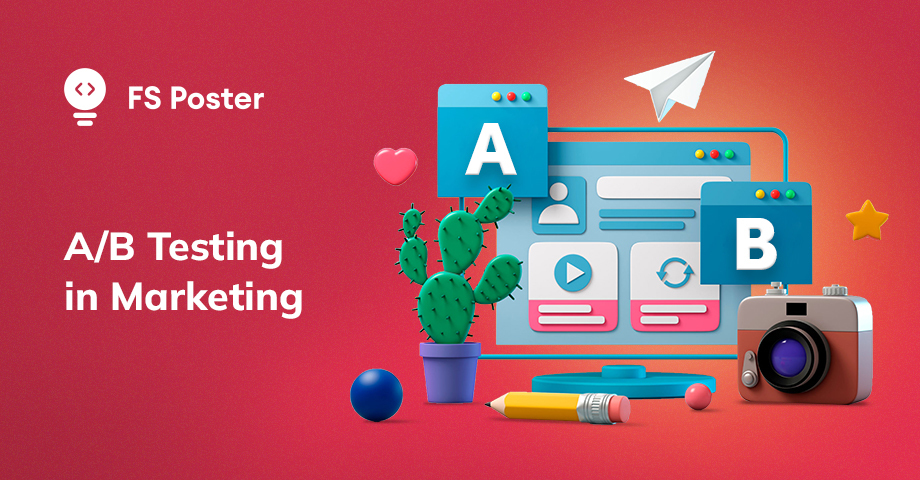 Digital marketing tips
Apr 14, 2022
A/B testing is one of the most important aspects of conversion optimization. It allows you to test different versions of your website or marketing campaign to see which one performs better. This blog post will discuss how you can set up an A/B testing campaign and how to optimize your conversions using the results in this A/B testing guide.
What is A/B testing, and how does it work?
A/B testing compares two versions of a website or marketing campaign to see which one performs better. A/B testing is also known as split testing or bucket testing. To set up an A/B test, you will need two versions of your website or marketing campaign. Version A is the control, and version B is the variation.
You will then need to determine which metric you want to measure. This could be conversion rate, click-through rate, or any other metric that is important to your business. Once you have decided on a metric, you will need to set up your test to send half of your traffic to the control (version A), and the other half be sent to the variation (version B).
You will then need to wait for a sufficient amount of data to be collected, and then you can analyze the results. The version that performs better is the winner, and you can then implement that version on your website or marketing campaign.
A/B testing in marketing is an essential for any business that wants to optimize its conversion rate. By testing different versions of your website or marketing campaign, you can find the version that works best for your business. If you are not currently doing A/B testing, we recommend that you start today.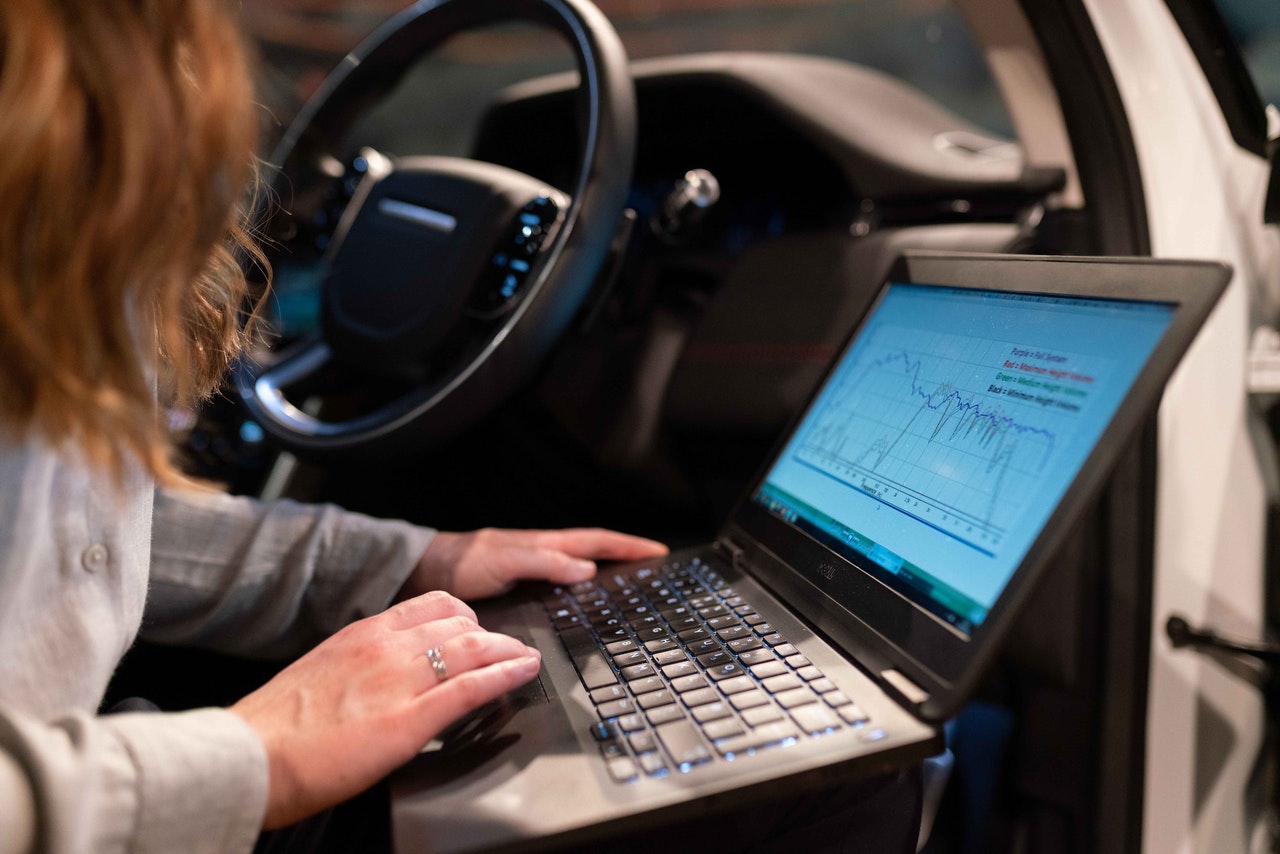 The benefits of A/B testing for businesses
A/B testing can be used to test anything on your website or marketing campaign, from the headline of an email to the design of a landing page. By running A/B tests, you can make small changes that can impact your conversion rate.
A/B testing in marketing is also a great way to learn about your customers. By testing different versions of your website or marketing campaign, you can see how your customers interact with your business. This information can be used to improve your customer experience and increase conversion rates.
How to set up an A/B test?
An A/B test is an experiment where two (or more) web page variants are shown to users at random, and statistical analysis is used to determine which version performs better for a given conversion goal.
There are many different ways to set up an A/B test. The key is to make sure that only one variable is changed between the two versions of the web page. This variable can be anything from the color of a button to the position of an element on the page.
Once you have decided on the variable you want to test, you need to create two web page versions. These versions should be identical except for the change in the variable that you are testing.
Once the two versions of the web page are created, you need to decide how you will measure the success of the test. This is usually done by setting up a goal in Google Analytics.
The next step is to create a plan for how long the test will run. A/B tests can be run for a short period of time, such as a day or a week, or run for a longer period of time, such as a month.
Once the test is complete, you will need to analyze the results to see which web page version performed better.
If you find that one version of the web page outperformed the other, you can then make that version the permanent version of the page.
Tips for getting the most out of your A/B tests
When setting up your A/B tests, there are a few things that you can do to increase the chances of success:
- Test one variable at a time. This will help you isolate the effect of each change and make it easier to interpret the test results.
- Make sure that your sample size is large enough. A/B tests usually require a large number of visitors in order to produce reliable results.
- Run the test for a sufficient amount of time. This will help to ensure that you are getting accurate results.
- Make sure that your goals are measurable. This will help you to determine whether or not the test was successful.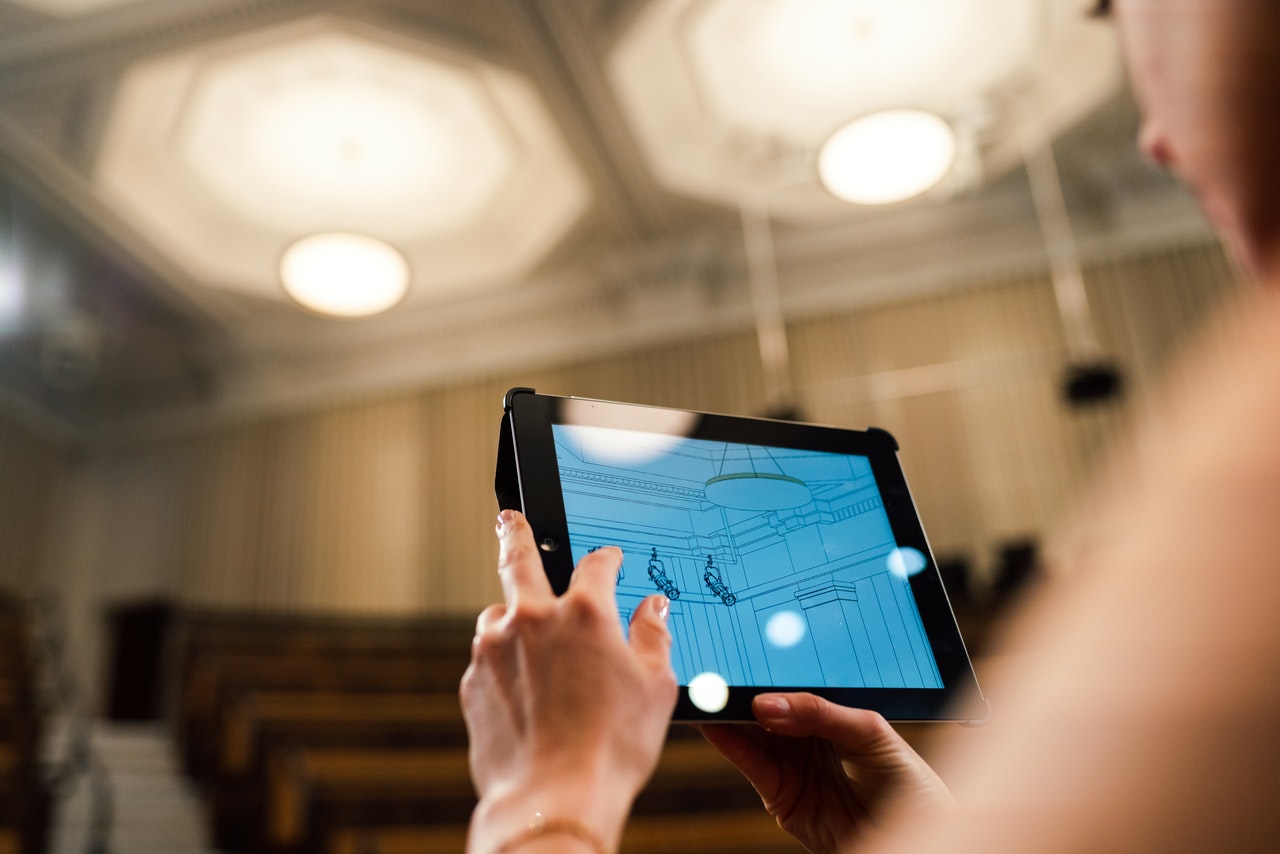 The following types of websites are appropriate for A/B testing
Due to the fact that every website has a "cause for existing," and that purpose can be quantified, A/B testing is beneficial to every website. Whether you own an online store, a news website, or a lead generation website, you want to increase your conversion rate, regardless of the type of conversion you are trying to achieve.
Lead
The term "lead" is used to refer to a sales lead or a prospective client in the business world. Emails sent in order to increase sales are particularly significant in this context. This type of A/B testing takes advantage of information about the people contacted, such as their gender or age range, to help them make better decisions.
Media
When discussing "editorial A/B testing," it is more appropriate to use the phrase "editorial A/B testing." A/B testing is commonly used in companies that have a tight relationship with the media to determine the performance of a certain content category – for example, to determine if a particular product is a great fit with the target audience. In this case, as opposed to the last one, A/B testing serves an editorial role rather than a sales function. A systematic approach follows A/B testing content headlines in the media sector.
E-commerce
The goal of employing A/B testing in an e-commerce scenario is, as you might expect, to determine how successfully a website or online commercial app is selling its products. A/B testing is used to discover which version performs the best based on the number of completed purchases. When evaluating a website, it's critical to pay close attention to the home page and the design of the product pages. Still, it's also a good idea to analyze all of the visual aspects involved in making a purchase (buttons, calls-to-action).
What type of A/B testing should you conduct?
A/B testing in marketing can be available in a variety of formats. You should select the one that is most appropriate for your specific scenario. A/B testing is a classic technique. The typical A/B test gives users two different versions of your sites accessible from the same URL. You will be able to compare two or more versions of the same element in this manner.
Tests can be divided or redirected. The split test leads your website visitors to one or more different URLs based on their behavior. If you're hosting new pages on your server, this could be a good route.
MVT stands for the multivariate test. Finally, multivariate testing assesses the impact of various modifications made to the same web page at the same time. You may, for example, change the color of your banner, the font used in your content, the layout of your presentation, and more.
In terms of technology, you may do the following:
Websites should be subjected to A/B testing. A/B testing on the web allows you to compare two different versions of a web page. Following that, the results are examined in accordance with predetermined objectives, such as clicks, sales, subscriptions, and so on, before being reported.
A/B testing should be used when developing native mobile applications for the iPhone or Android; A/B testing should be used. When it comes to apps, A/B testing is more complicated. This is due to the fact that after an application has been downloaded and installed on a smartphone, it is not feasible to offer two separate versions of the program. There are workarounds available that allow you to update your application on the fly. You may quickly make changes to your design and immediately assess the implications.
APIs can be used to do server-side A/B testing. An API is a programming interface that allows a computer to communicate with an application in order to exchange data. APIs will enable you to construct campaigns or variants from stored data in a standardized manner.
Top 5 the best A/B testing software
Performing A/B tests is a no-brainer if you're serious about making data-driven decisions, and selecting an A/B testing platform is frequently the first step in any successful optimization program.
However, several platforms are accessible on the market, and choosing the finest A/B testing tools may appear daunting. Which providers, among many others, should you pick from? Examples include AB Tasty, VWO, Google Optimize, Maxymiser, Adobe Target, and many more.
AB Tasty
This product, AB Tasty, returns us back to the more affordable and straightforward side of conversion optimization tools. As the name implies, the platform is mostly focused on A/B testing. This is where it excels, despite the fact that it also includes additional capabilities such as heatmaps, page flow analytics, and rudimentary personalization.
Testing tools include the standard A/B, split, and multivariate testing options, and a unique funnel testing function allows you to experiment with changes across many pages.
The drag-and-drop editor makes AB Tasty so enjoyable to use, which allows you to create beautiful recipes in minutes. Sure, there are a plethora of editors like this available on the market today, but AB Tasty's editor is simple to use and does not interfere with your productivity.
Furthermore, these tools are not restricted to the execution of A/B testing, split tests, or multivariate tests. In some way or another, they all have customization tools that allow you to tailor your website, content, and messaging to certain target groups. Due to the blurring of the lines between A/B testing tools and Personalization platforms, you have even more options to consider, including Qubit, Dynamic Yield, Monetate, and other similar products. Some of them also have flag management tools, such as on/off toggles and progressive deployment, which you may use to customize your experience.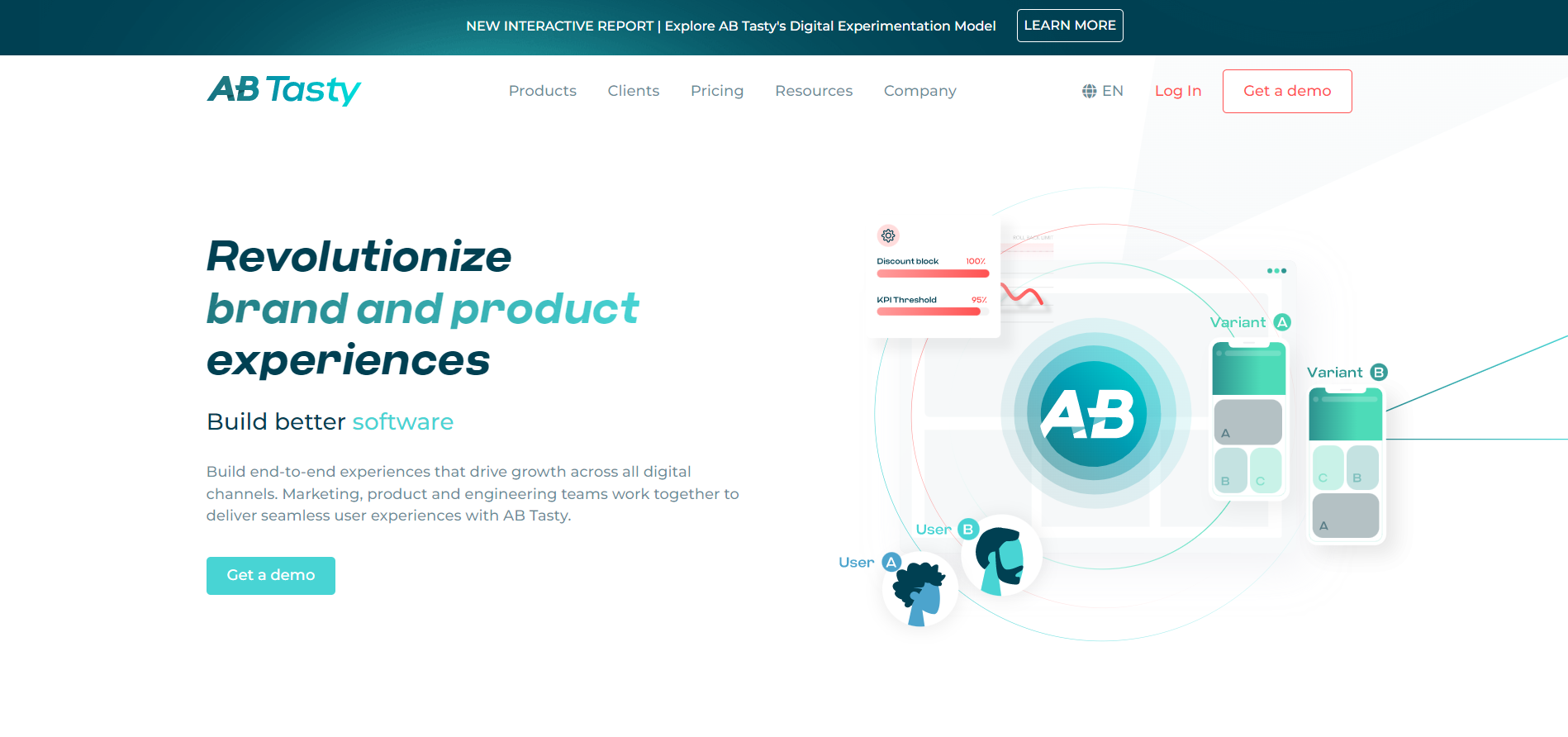 VWO
VWO seeks to deliver a comprehensive suite of conversion rate optimization tools in the same manner as Optimizely does, but without the high cost associated with business solutions. You'll find complete testing tools for A/B, multivariate, and split URL tests, a visual editor for creating variants without having to write any code, and powerful targeting and segmentation capabilities.
Even more importantly, the behavioral segmentation feature of VWO allows you to target audiences in a way that many more expensive technologies do not.
The use of asynchronous coding, which increases the efficiency of your tests and helps you avoid the slow loading times and flickering that is typical with a lot of A/B testing software, is another corporate feature that VWO offers.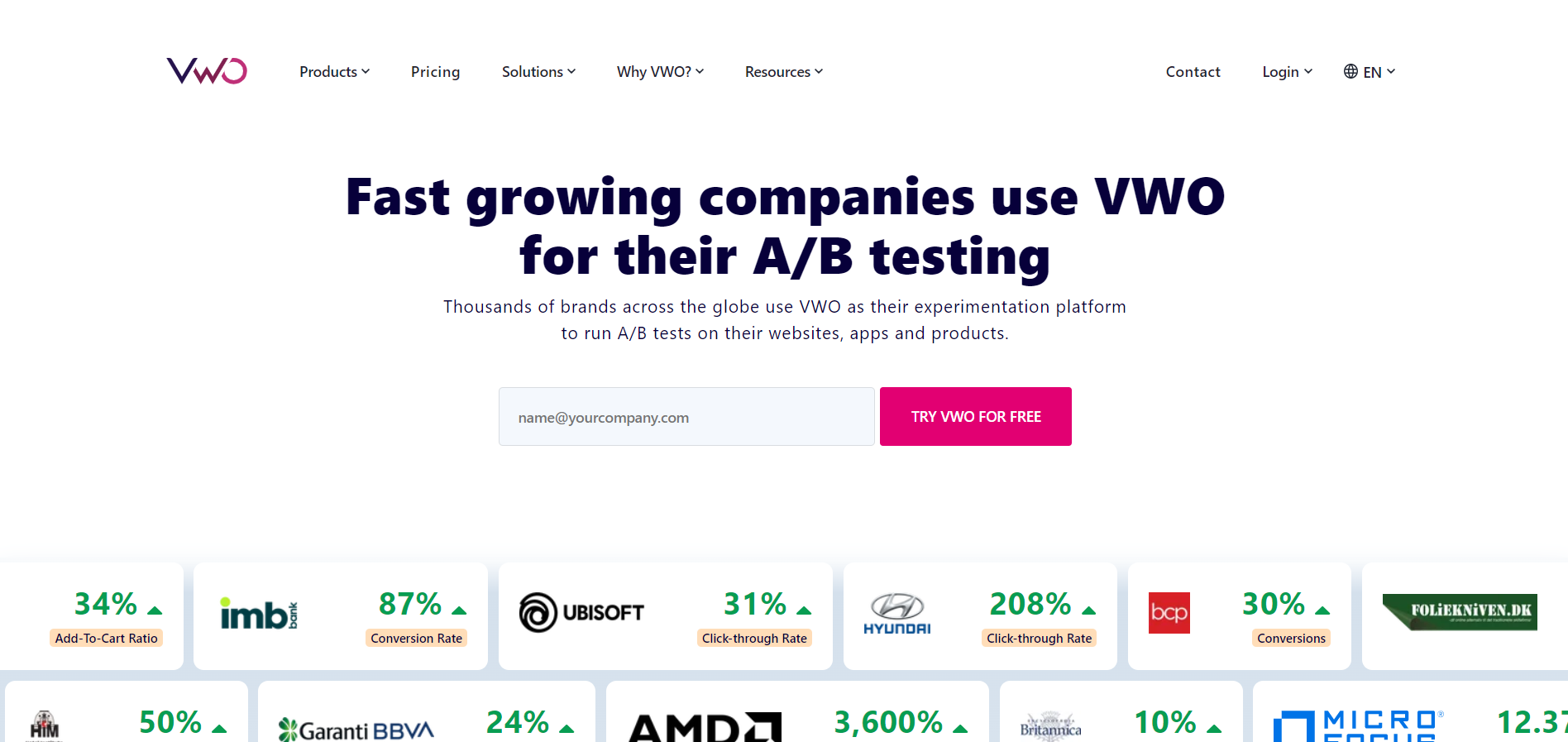 Google Optimize
Google Analytics and Google Optimize are two of the most powerful data collection and A/B testing systems available. You can get almost all you need for free with Google Analytics and Google Optimize. Enterprise firms with huge teams will likely want to sign up for the Google Analytics 360 package – which includes Optimize 360 –but it's surprising how much you can do with the free versions of these products.
In terms of functionality, there isn't much you can't accomplish with Google's services. When it comes to sophisticated tracking, they are significantly more competent than the other tools on our list if you have the right engineers on board who know how to put it up properly.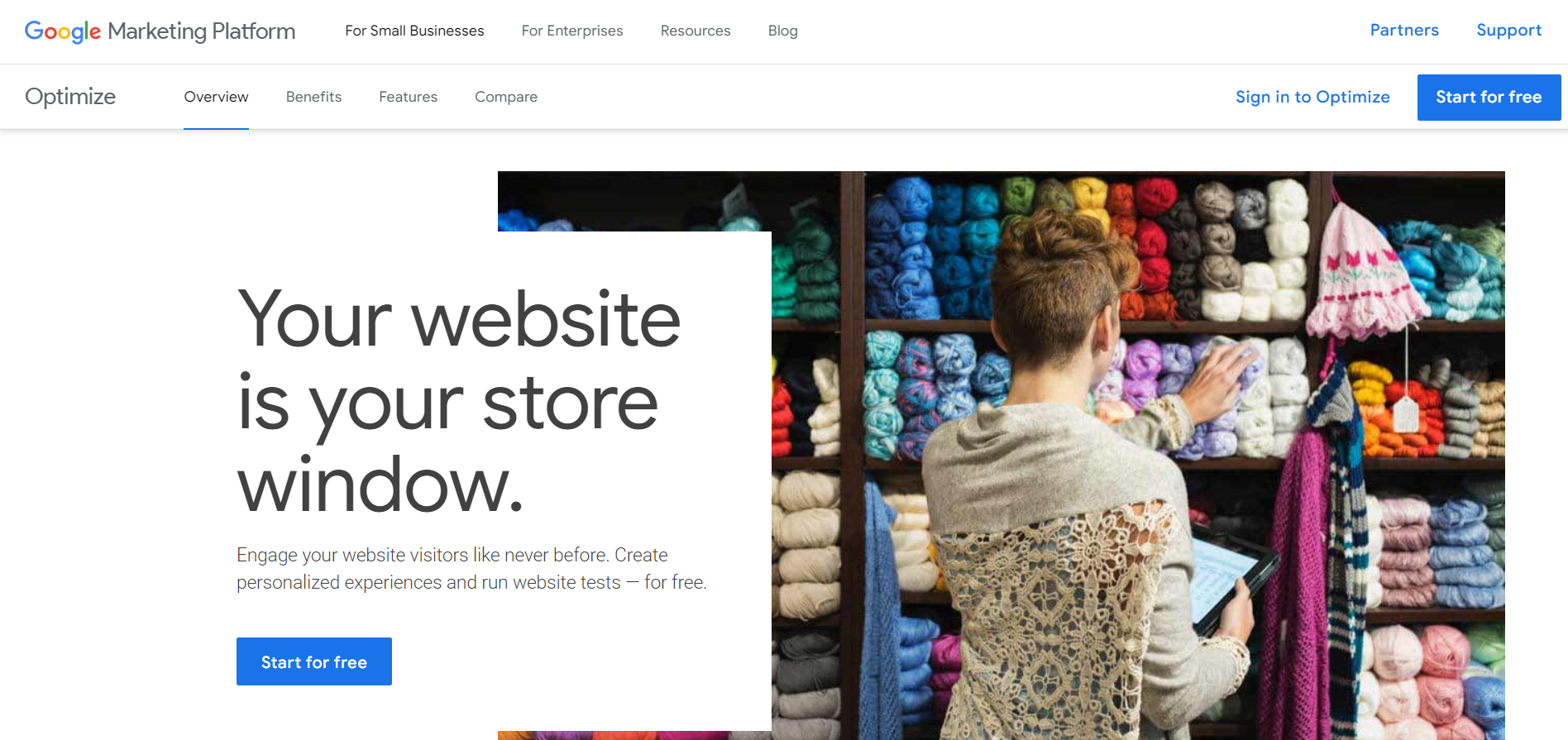 Oracle Maxymiser
Oracle Maxymiser is a testing and experience optimization system that is a component of the Oracle Marketing Cloud software suite. It was developed by Oracle. This was one of the first platforms to let non-programmers participate in testing. It continues to deliver some of the industry's most innovative conversion optimization and customization features.
On the other hand, Oracle has a propensity to fall behind the times when it comes to upgrading its interfaces and specific functionality to stay up to industry standards. For example, the visual builder might need an upgrade, and the recommendations generated by the machine learning algorithms are rudimentary at best. Still, they do assist you in making progress with your project.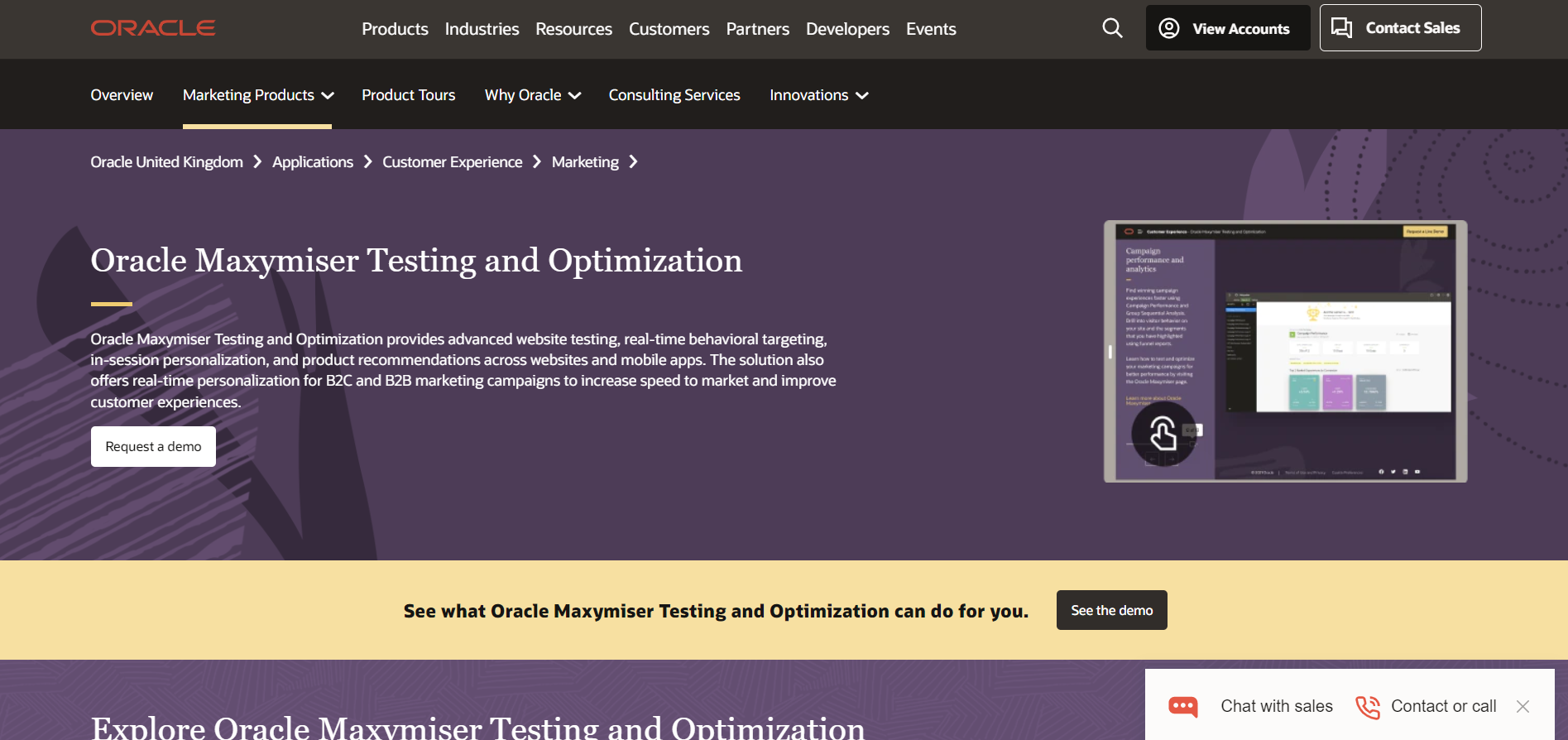 Adobe Target
Adobe Target is a personalization tool for enterprises, and A/B testing is included as part of the package. Also included are automatic personalization, mobile app optimization, and suggestions based on the behavior and data collected from your clients.
To put it simply, the platform walks you through a three-step experimentation process in which you design your variation, select your audience segment, and then customize your goals and parameters for the test.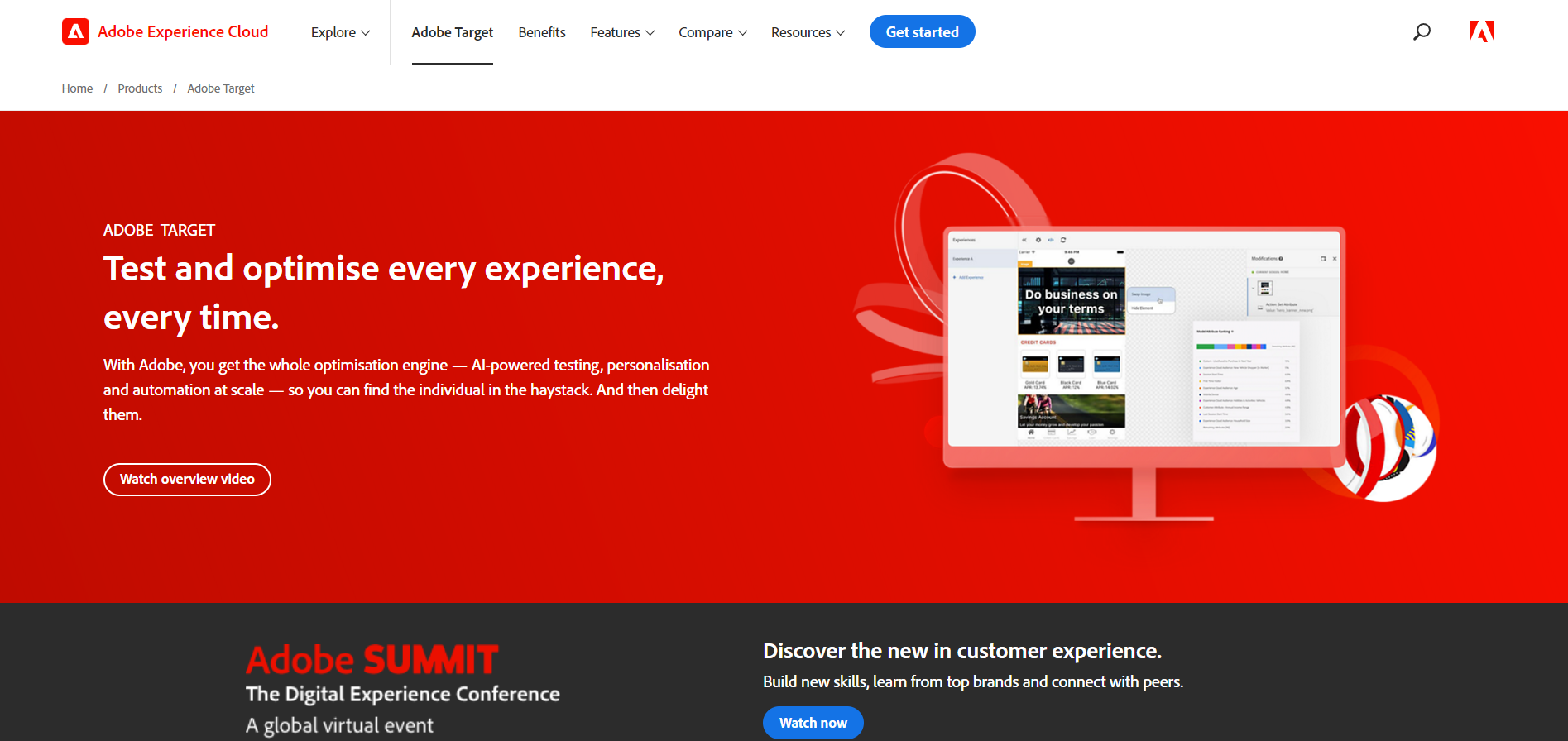 Several important characteristics to consider when picking A/B testing software
How do these players compare to one another when it comes to the features listed above? We won't evaluate all of these A/B testing tools thoroughly because each has a distinct emphasis and addresses a particular set of requirements. Additionally, each is tailored to a unique customer tier (Enterprise, Small and Midsize Business - SMB), and, as a result, each has a different price point and pricing plan to match. A/B testing software evaluations may be found on TrustRadius and G2 Crowd.
Furthermore, characteristics that are very reliant on your firm, such as your maturity level, prior experiences with other software, technical skills or access to IT resources, budget, team organization, and so on, should be taken into consideration.
Conclusion
A/B testing is a valuable tool that can help you optimize your website's conversions by trying out different versions of your pages and measuring the results. We have tons of posts on our blog about how to improve your marketing strategy. We also have listed the best A/B testing softwares for you. So what are you waiting for? Start optimizing your conversions today!