Social Media Intelligence vs Social Listening: What's the Difference?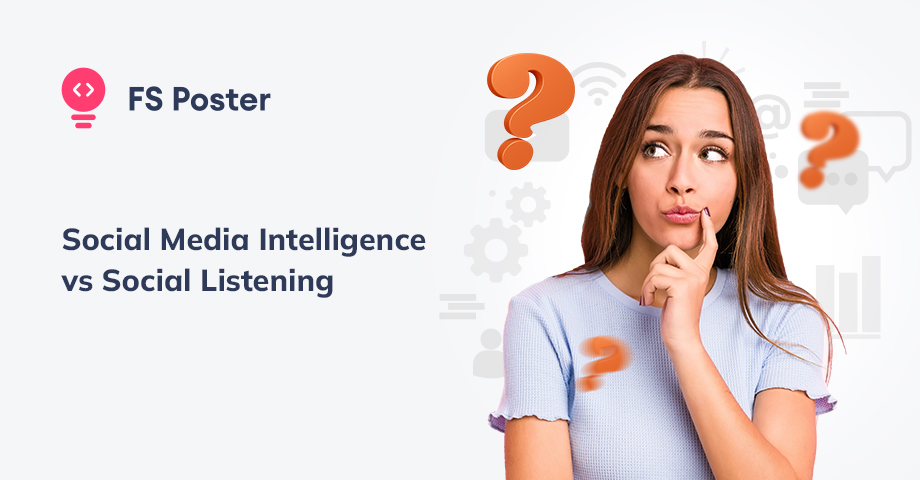 Social Networks
May 06, 2022
There is a lot of confusion between social media intelligence and social listening. Many people use the two terms interchangeably, but they are actually quite different.
In this blog post, we will discuss the differences between social media intelligence and social listening and show you how each can be used to improve your business.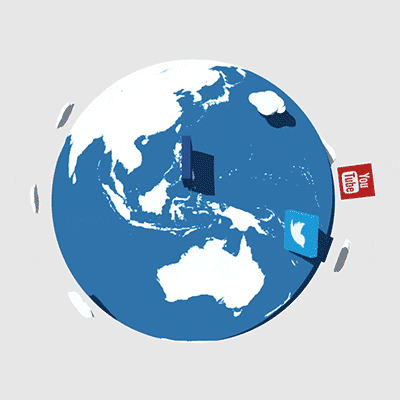 What is Social Media Monitoring?
Social media monitoring identifies and determines what is being said about a brand, individual, or product through different social and online channels. Social media monitoring can give you a glimpse into what's being said about your brand in real-time, gathering publicly available data and organizing it in a way that works to your advantage. You can use social media monitoring to gauge how people talk about your brand online.
Why is Social Media Tracking Important?
The answer is simple: because your customers are talking about you, your competition, and your industry on social media, you need to be in the know.
Social media monitoring (also known as social listening) is the process of tracking, analyzing, and responding to conversations happening across the web. This includes everything from public forums and review sites to Twitter, Facebook, and Instagram.

Understanding the difference between social media intelligence (SMI) and social media monitoring (SMM) is important. SMI goes beyond just listening to social conversations; it also analyzes internal data sources like CRM systems and call center logs. This provides a complete picture of the customer journey, including every customer's interaction with your brand.

On the other hand, SMM only looks at external data sources like social media platforms. This means you're only getting half the story—you're missing all of the internal data that could give you valuable insights into your customers.
That's why social media monitoring is so important: because it gives you a complete picture of what's happening with your brand on social media. And when you have all the information, you can make better decisions about how to engage with your customers.

What is Social Media Intelligence?
Social media intelligence is the process of turning social media data into actionable insights.

This can be done by tracking metrics such as hashtags, mentions, and sentiment. Social media intelligence can also help brands detect emerging trends, understand customer tribes, and track their equity in greater detail.
This helps brands make better marketing decisions and understand how to interact with key audiences online.
Social Media Intelligence Tips
There are numerous tools and software available for SMI, and you can choose from them based on factors like price, features, and scale. This is an important process that requires time and research. Another alternative is to consult social intelligence organizations such as Germinate to help you with the best-suited, customized solutions.
Expertise in online reputation management (ORM) and the use of various research methods equips such companies to help you connect better with your audience, develop products suited to customers' requirements, and offer optimized customer service.
• Establishing clear objectives: You need to have a clear idea of what you want to achieve through social media intelligence. This will help you choose the right tools and methods.
• Identifying the target audience: It is important to know who you want to target with your insights. This will help you focus your research better.
• Deciding on the budget: Various paid and free options are available for social media intelligence. You need to decide on a budget that suits your needs and objectives.
• Collecting data: Once you have decided on the above factors, you can start collecting data from various sources such as social media platforms, surveys, customer feedback, etc.
• Analyzing data: This is an important step where you need to analyze the data collected to extract insights. This can be done using various methods such as text analysis, sentiment analysis, etc.
• Reporting and decision making: The final step is to report the findings to the relevant stakeholders and make decisions based on the insights obtained.
Best Social Media Monitoring Tools
1. Hootsuite Insights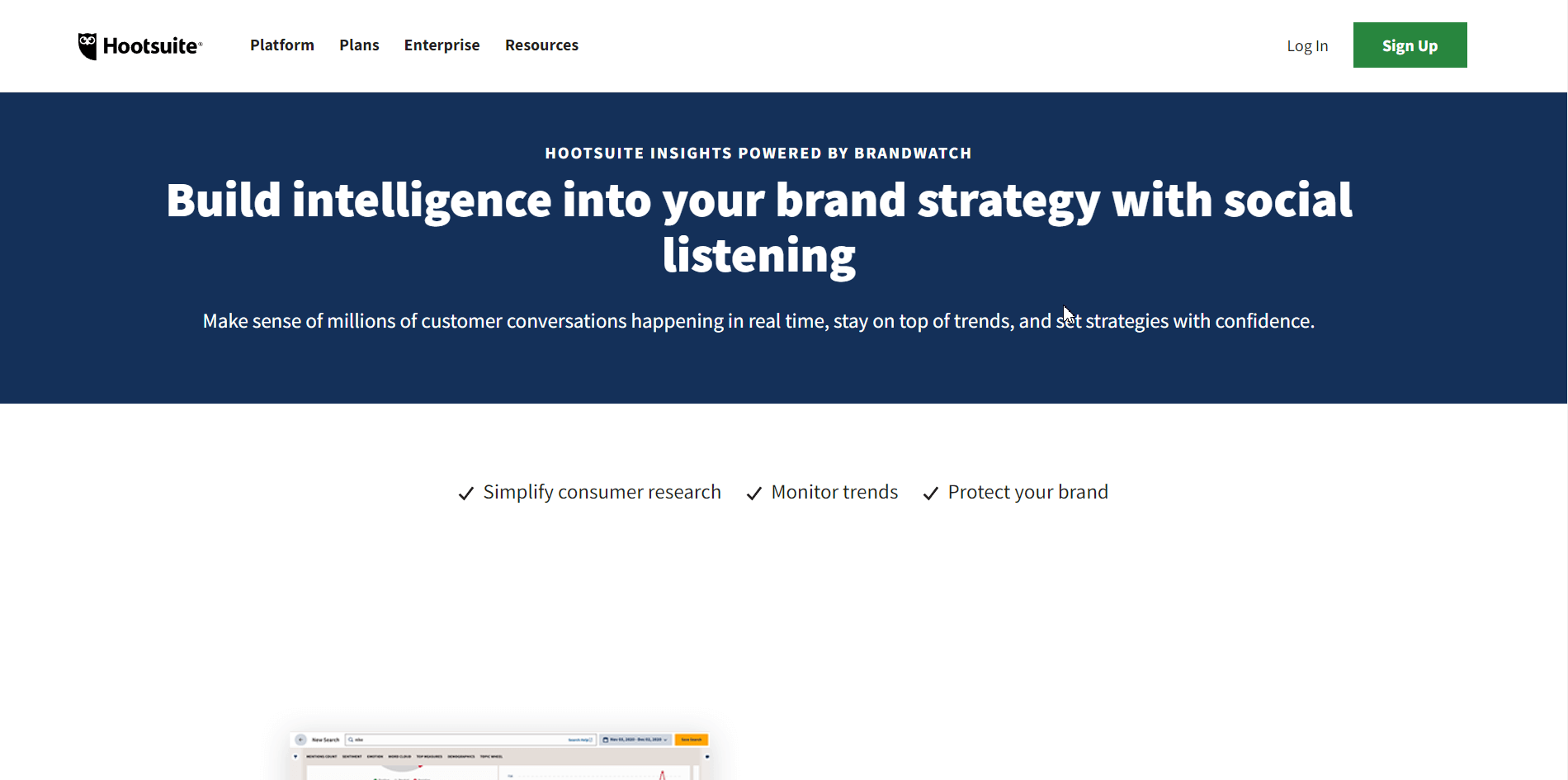 Hootsuite is the social media monitoring and reporting solution that provides you with valuable data and insights to inform your social strategy, build more effective campaigns, and measure success over time. It's designed to help you track, analyze, and report on your social media performance.
With Hootsuite Insights, you can:
Monitor conversations about your brand or industry across the social web
Analyze sentiment to understand how people feel about your brand
Benchmark your performance against competitors
Identify influencers and track their reach
Generate detailed reports to share with stakeholders
2. Keyhole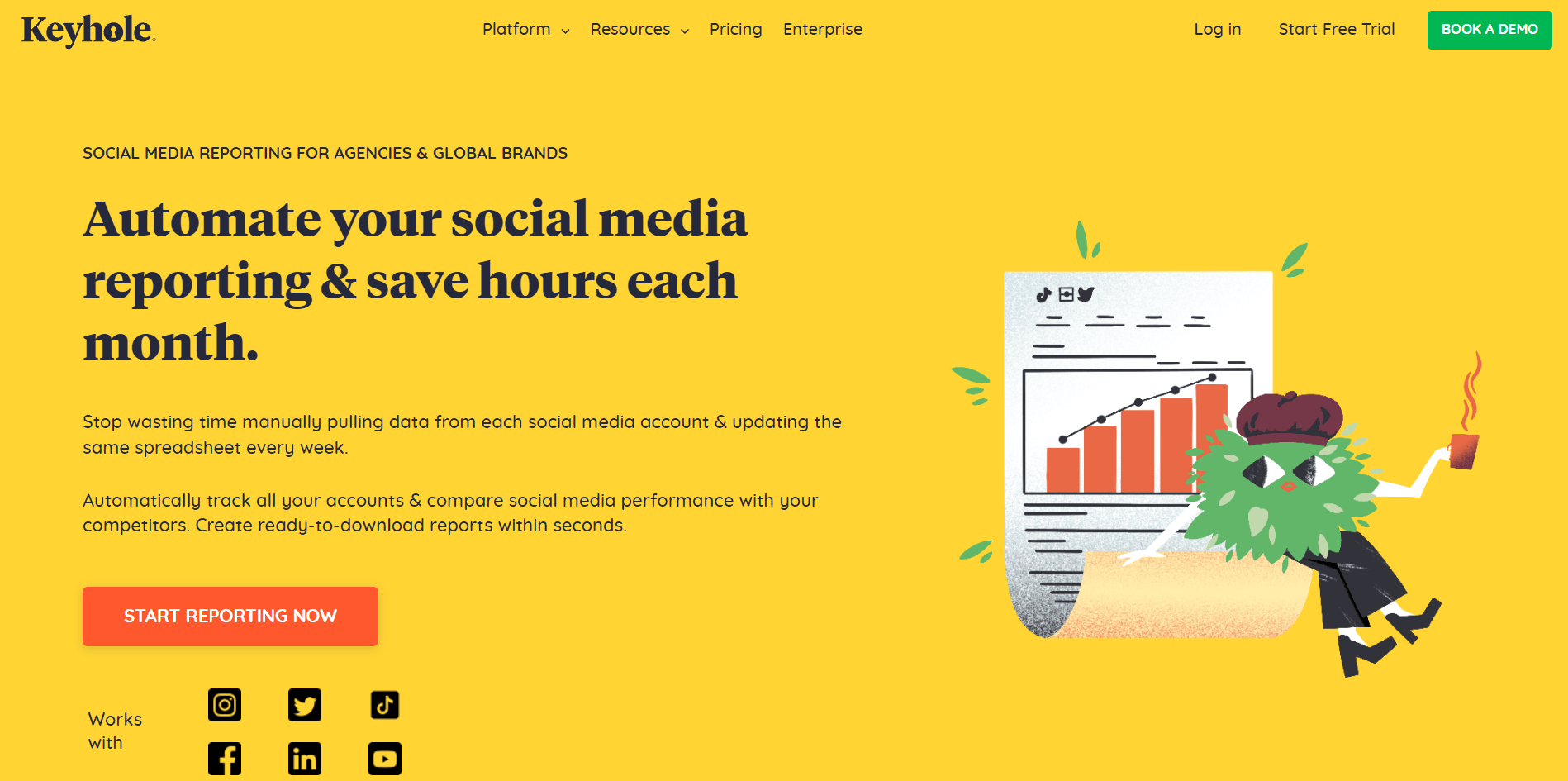 Keyhole is an example of a social media intelligence platform, which is a tool that goes beyond social listening. Social media intelligence platforms provide in-depth data and analysis about your brand on social media, helping you to make informed decisions about your social media strategy.
With Keyhole, you can:
Monitor your brand's social media performance
Analyze competitor social media strategies
Uncover insights about your target audience
And much more!
3. Sprout Social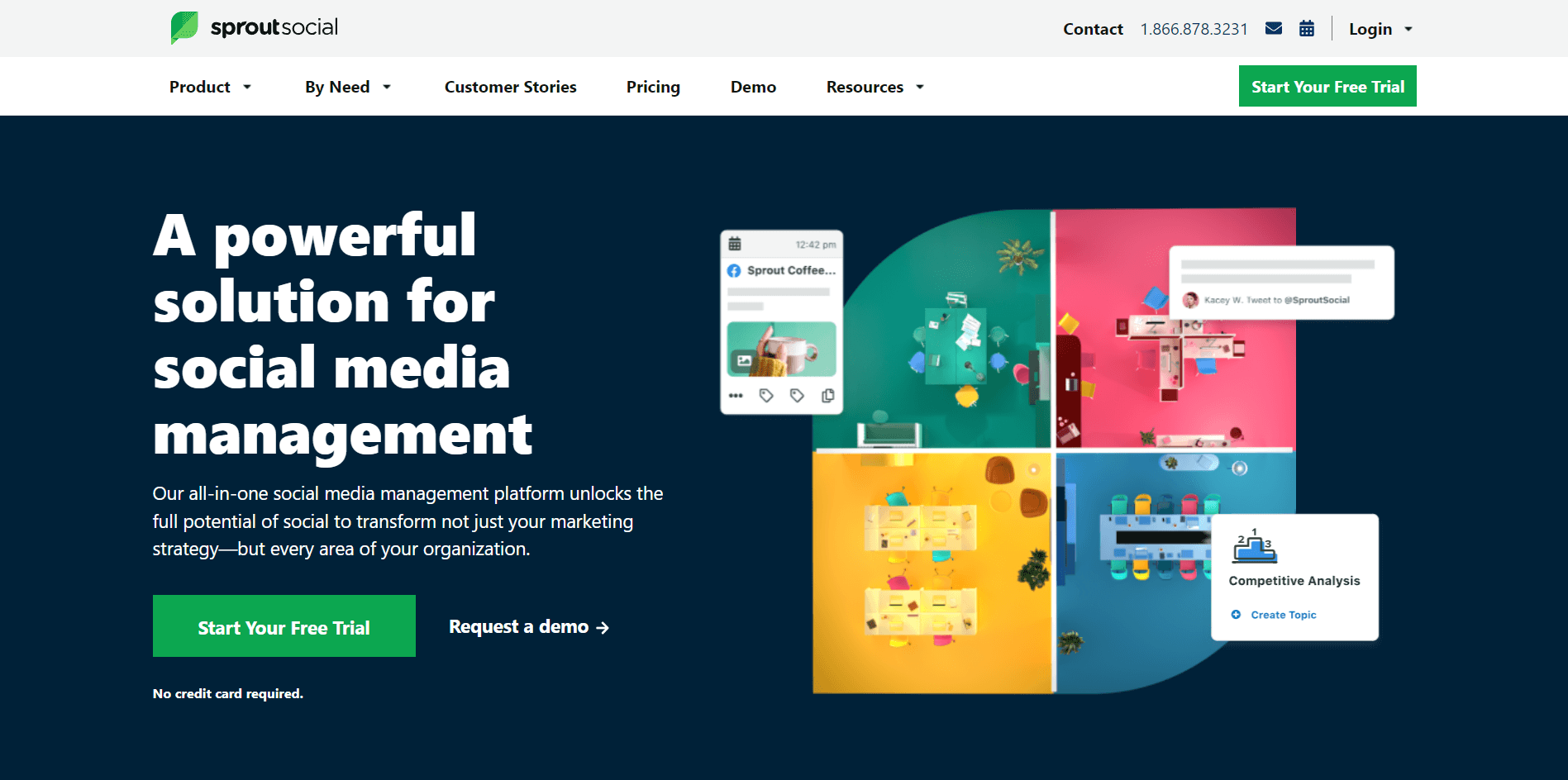 Sprout Social is the best social media monitoring tool. You can use it to track your brand's social media performance, engage with your audience, and measure your results.
Sprout Social, you can:
The Smart Inbox
Discovery Feature
Platforms supported: Twitter, Facebook, Instagram, LinkedIn, and Google+
Prices (per user): $99 per month, $149 per month, and $249 per month
4. Meltwater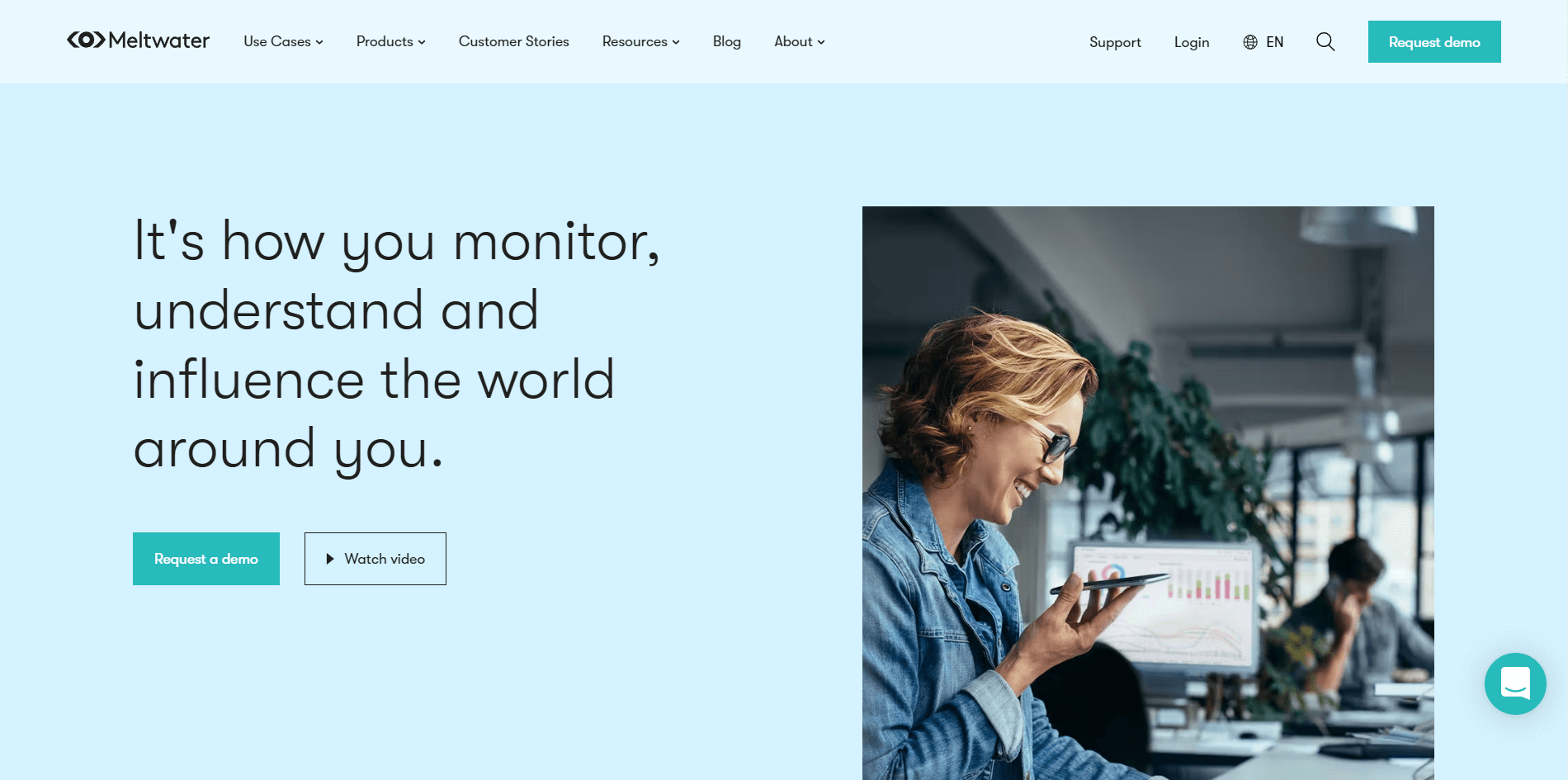 Meltwater also gives you the ability to measure your brand's share of voice, track competitor activity, and find social media influencers in your industry.

If you need a more comprehensive social media monitoring toolkit, Meltwater should be at the top of your list.
With Meltwater, you can:
intuitive, highly customizable monitoring dashboards
the ability to measure your brand's share of voice
track competitor activity
find social media influencers in your industry

What is Social Listening?

Social listening is the process of identifying and assessing what is being said about a company, individual, product, or brand on the internet.
Conversations on the Internet produce massive amounts of unstructured data. Because of that, it's important to know what an organization wants to achieve with a social media listening initiative.
Depending on the goal, the right tool might be a series of free Google Alerts or an expensive software suite that includes ad hoc analysis and full integration with legacy customer relationship management (CRM) applications.

Both social media and person-to-person information-gathering have value, but social listening is quickly becoming an important customer intelligence tool.
Social Listening Tips

The following social listening tips can help companies effectively monitor social media:
Monitor multiple channels. Don't just rely on one channel to give you the whole story. Each platform has its own way of handling data, so it's important to use various tools to get a well-rounded view of the conversation.
Filter out the noise. There will always be some noise in the data, but it's important to focus on what's relevant. By using keywords and other filters, businesses can make sure they're only seeing the most relevant information.
Look for trends. When looking at social data, it's important to look for trends over time. This could be changes in sentiment or spikes in mentions during certain times of the year. By understanding these trends, businesses can adjust their strategies accordingly.
Be responsive. It's important to be responsive to what people are saying on social media. If there are negative comments, reach out and try to resolve the issue. If there are positive comments, thank the customer and let them know their business is appreciated.
Why Social Listening Is Crucial to Your Business?

By understanding what your customers are saying about you online, you can make better business decisions. Maybe they're unhappy with a particular product or service.
Or they may be having trouble using your website. Listening to social media gives you a way to address these concerns and improve the customer experience quickly.
In addition, social listening can help you identify new opportunities for your business. For example, if you notice that people are talking about a problem that your company could solve, you may have found a new target market.
Finally, social listening can give you insights into what your competitors are doing well – and what they're doing wrong. By keeping an ear on the competition, you can stay one step ahead.
Social Media Intelligence vs Social Listening | What's the Difference?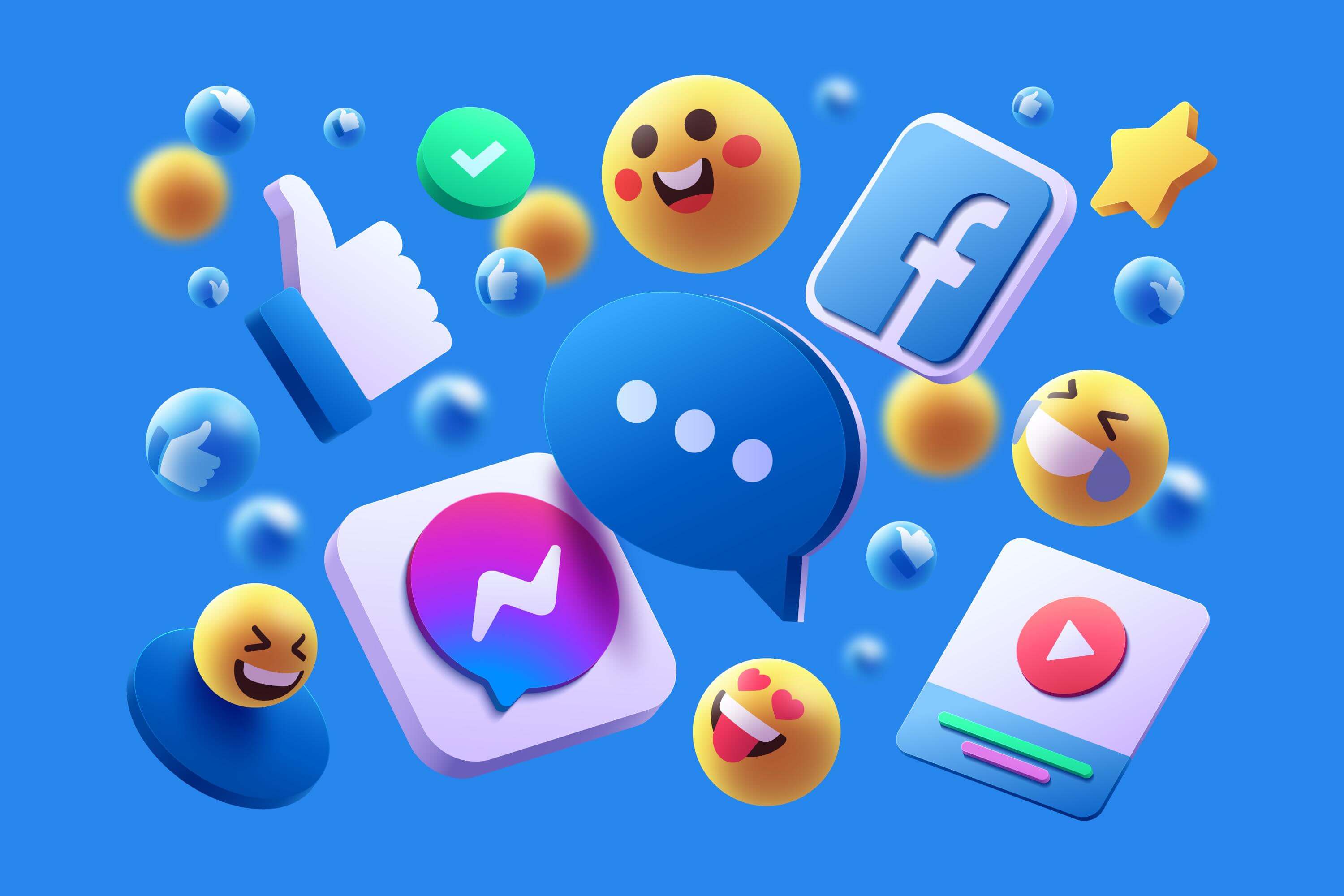 It's no secret that social media has become an integral part of our lives. We use it to stay connected with friends and family, share news and experiences, and even promote businesses and products.
But what many people don't realize is that there are actually two different types of social media: social media intelligence and social listening. So what's the difference?

Social media intelligence is all about gathering data from social media platforms to gain insights into customer behavior, trends, and other important information. On the other hand, social listening is all about monitoring conversations on social media to understand better what people are saying about your brand or product.
So which one is better?

Well, it really depends on your needs. If you're looking to gather data and insights, then social media intelligence is the way to go. But if you're more interested in understanding what people are saying about your brand, then social listening is the way to go.
In the end, it's important to use both types of social media to get a well-rounded view of what's going on in the world of social media.
Conclusion
Social media intelligence and social listening are important for businesses, but they serve different purposes. Social media intelligence goes beyond just monitoring conversations to understanding the sentiment around a brand, product, or topic to take action. On the other hand, social listening is about detecting and analyzing specific topics or keywords mentioned on social media. It's essential for all businesses to understand the difference between these two terms and know which one will work best for them. For more information on SM intelligence and how it can help your business, please visit our blog, where we have written extensively on this topic. We hope you enjoyed this article and found it helpful! 🚀