Best keyword research tool for Youtube in 2023 | Youtube SEO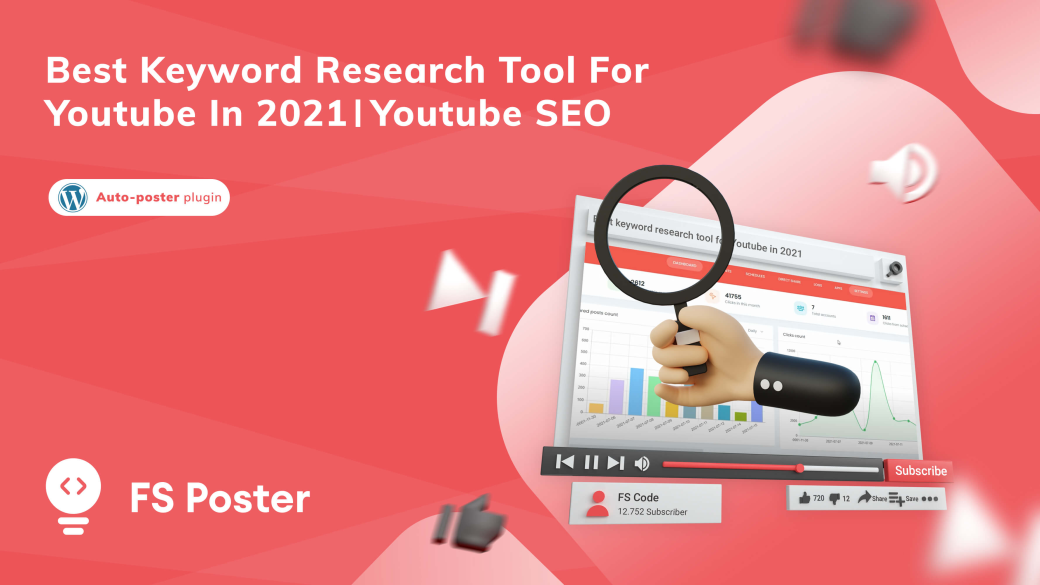 Social Networks
Feb 18, 2022
Updated at: Dec 26, 2022
If you manage to find the best keyword research tool for YouTube you will optimize your videos around trending topics and bring your videos in front of the target audience. This blog will talk about those tools and how they help you to create high-ranking videos.
With over 2 billion active users, YouTube is the second most used social platform right behind Facebook. It is a lucrative avenue for bloggers, brands to showcase their expertise, promote their products, and reach a larger audience through visual content. It is social media users' most favorite social network for branded content. 46% of viewers mentioned they actually made a purchase after seeing a branded video.
Like Google, Pinterest, YouTube is a search engine requiring separate marketing strategies, thus keyword analysis. And, like Google, it constantly changes its algorithm and policies to bring the best content to viewers and provide the best promotion opportunities for advertisers.
If you are sitting there to film a video, there are things you have to know. Creating must-watch video content is halfway down the road. Unfortunately, the quality of your content does not determine your success, well, at least at the beginning. You need to run YouTube SEO analysis to optimize your videos according to its algorithm.
Forget about making money on YouTube if you will upload random videos every now and then. YouTube requires dedicated work, including idea generation, content creation, and presenting it to followers.
To increase followers and show up in search results, you need to constantly upload new videos. New videos attract subscribers' attention and give them chances to engage with them in real time. Also, YouTube favors newly uploaded videos when displaying search results. The timing of your uploads is also important in this case. The first 48 to 72 hours of going live are crucial for the further spread of the video.
Creating content, on the one hand, and waiting for the best time to upload them, on the other hand, can make things complicated. With scheduler software, you can upload your videos and pick the right to post videos. There are lots of tools for the automation of social media. If you have a website on WordPress, you can easily manage to post your videos with social media auto posters. FS-Poster is social media scheduler plugin integrating with 14 social networks. With FS-Poster, you can schedule an unlimited number of posts and focus on the creative part of your job. Check Demo to see all features.
Metadata is a big part of SEO optimization. YouTube metadata comprises information that describes the video uploaded to the platform. It includes the channel name, video title, description, thumbnail photo, tags, and video duration. Metadata informs viewers, uploaders, and YouTube itself on what the video is about.
The description and title of your video are critical to find your content and get clicks. You need to include certain keywords to accurately describe your content. Furthermore, include add as many tags as possible and using them to create playlists.
In other words, you have to find the keywords that people use to search for videos and optimize your content around those keywords to increase the chance of appearing on the top search results.
How to research keywords for YouTube?
When it comes to YouTube keyword search, there are lots of paid and free YouTube SEO tools you can check, depending on your needs.
YouTube autocomplete
Autocomplete is the list of autosuggest queries of people's searches on YouTube. When you search for a certain topic on YouTube, it suggests the drop-down list YoiTube search volume of for that word. Autocomplete gives the list of the most popular keywords that people use to find videos related to your niche, products, or interests.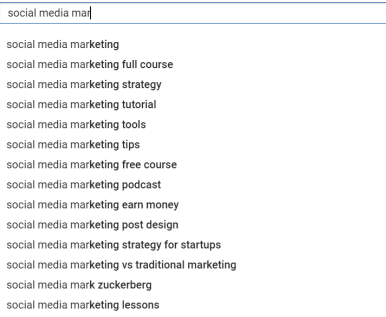 Apart from keyword suggestions, autocomplete gives you ideas on how to curate video content by listing down the various keywords. The problem here is that because autocomplete mainly suggests the highest-ranking keywords, it can be challenging to target those competitive keywords in your title or description and rank higher.
If you are new to YouTube or not familiar with marketing tools, YouTube autocomplete can be the best free keyword research tool for YouTube. The best part of using this method is that you will not lose time thinking about how to do keyword research for YouTube.
YouTube Analytics
How about analyzing your channel traffic for keyword research? YouTube analytics is another best free keyword research tools for YouTube that gives you real results. To get that, sign in to YouTube Studio and head over to the Reach tab. It shows the exact keywords that viewers search to land on your videos.
While analyzing, you will come up with keywords that you did not purposefully target.
Competitor analysis
If you are curious about which keywords actually work, you can look at your competitors' performance. Consider channels that are your equal on subscriber size and the niche you are in. For precision, filter the most viewed videos. Look at those videos' titles and descriptions and make a list of them.
If you want to dig deep into the technical sides of competitors' keywords, you will need to look at the HTML.
Hit CTRL + U to visit the HTML code
CTRL + F and enter "keyword" to the search bar
You will surface the list of all the keywords that you may not detect by looking at the video title.
This is the best free keyword research tool for YouTube if you want to beat the competitors with their own rules. At the same time, it is not the most accurate keyword research tool. It does not provide data about keyword difficulty, search volume, or expected clicks for those keywords. These are essential metrics to know before creating a video. They tell you much about what kind of video content to create, and which keywords to target for higher rankings.
Best keyword tools for YouTube
Google and YouTube have distinct user experiences, thus prioritizing different types of content or sites for search queries. This is why you need a keyword planner tool for YouTube SEO. We brought the list of best paid and free keyword tools for YouTube that will give accurate results on the keyword search.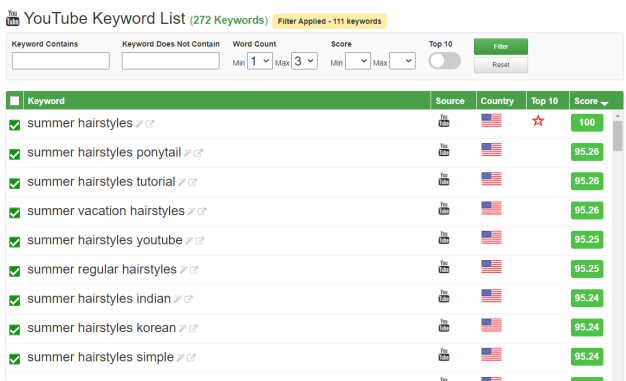 KTD is a multi-purpose keyword generator for a variety of platforms. YouTube keyword research integrates with YouTube autocomplete feature to list down the most searched keywords to users. Plus, to YouTube's suggestions, KTD brings the top 10 unique words by a frequency that are related to the keyword.
It also lists down the top 10 keyword suggestions that are popular around the seed keyword. With one time payment of $49.99, you can get an unlimited amount of YouTube keyword searches and video ideas to improve your rankings. If you are at the start of YouTube and not sure if you will stay there, it is a decent tool to pick as the best keyword research tool for YouTube.

Keyword Tool uses YouTube autocomplete feature to grab the most searched keywords. Bringing up to 750 long-tail keywords, the free YouTube keyword planner positions itself as the best free keyword research tool for YouTube. Plus, to be a search tool, it is a YouTube ad keyword tool allowing you to optimize your paid video campaigns. It allows localizing the result for 100 countries and 80+ languages that YouTube supports. The best part is you do not need to create an account for the free version.
With the recommended keywords, you can generate ideas for creating videos, include them in tags and hashtags, and use them for YouTube ads. Depending on the type of Premium accounts, they provide two times more keyword suggestions along with their search volumes, CPC, and ad competition data. Suppose you want to know how to see search volume on YouTube and get a full YouTube keyword planner. you can go with this.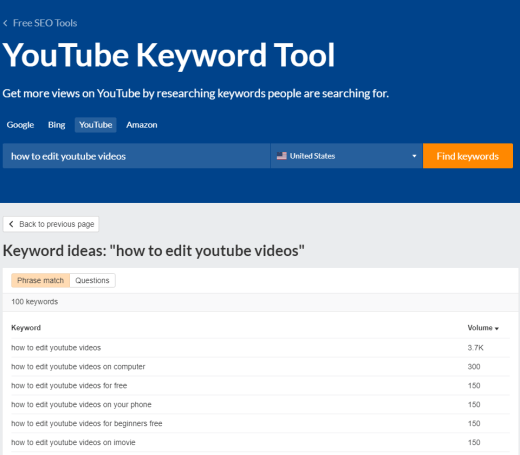 Being a great SEO optimization tool, Ahrefs YouTube keyword explorer has a separate keyword checker for YouTube. With the free version, you can get a list of matching keywords and their search volume based on 229 countries.
It has different results pages for keyword ideas, newly generated keywords, and audience questions. It also provides accurate results for keyword difficulty, clicks, clicks per search, and returns rate and also gives options to include or exclude certain words for precision.
You can purchase the tool starting from $99 and use Ahrefs for YouTube keyword checker as part of your overall SEO. It is the best keyword research tool for YouTube if you want an extensive analysis of keywords and a view of their estimated performance.
It is a free browser extension and mobile app that integrates with YouTube to bring data for the highest keyword search on YouTube rankings. A full-scale YouTube marketing tool offers various solutions, including keyword explorer, social media publishers, auto translator, and thumbnail generator tools. A keyword checker gives data about the number of videos for the keyword, their search volumes, competitiveness, and optimization strength.
To enable the extension, you have to connect your YouTube account. With the free account, you can access the limited features, including 25 keyword searches and 3 results per day. To get advanced features like A\B tester, search ranking, and publish to Facebook, you need to pay $15.20 per month.
Overall, the tool is perfect if YouTube is your number one platform where you can optimize your content with extra features.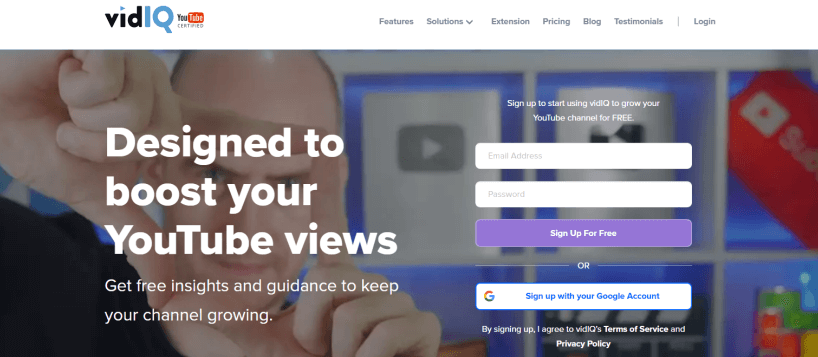 vidIQ is one of the dedicated SEO tools for YouTube videos. Keyword checker itself comes with different types of tools that show what the audience is looking for and which keywords competitors help to create better content with the results. Users can research keywords on Youtube and see the average and highest views per keyword, their search volume, competition score, and the number of subscribers for each keyword.
The keyword inspector tool analyzes the root keyword, brings the relevant videos, and identifies whether the keywords seem promising or not. With so-called inline keywords, you can automatically view the competitor tags and copy the appropriate ones for you. It also comes with a keyword planner and translator that helps to create the best content and reach larger audiences.
To use keyword research, you have to purchase at least a Pro account for $7.50 per month. If you are investing in YouTube to grow your business, it can be the best keyword research tool for YouTube.
Wrap up
Optimization of YouTube videos starts before uploading the video to the platform. You need to prepare the list of keywords, make the titles and descriptions ready, and then make the video. To find the best YouTube keyword research tool, you have to dig deep into the features and price bundles of different products. You can take our recommendations into account and pick the best tool that is most compatible with your needs.
Look for the best keyword research tool for YouTube if you want to rank high on search results