How to promote affiliate links on Pinterest | Quick Guide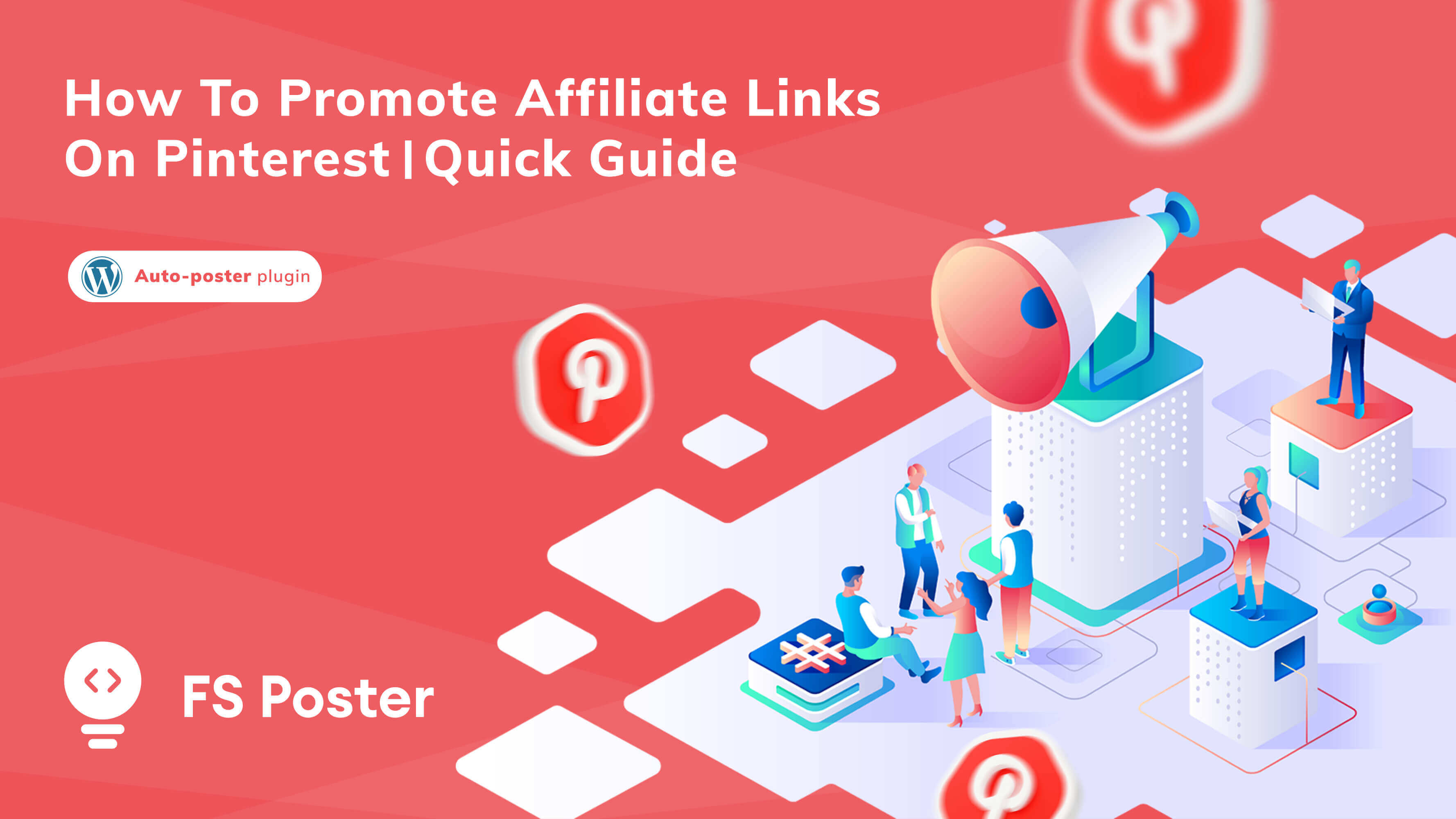 Social Networks
Aug 05, 2021
You are on your lucky day if you are scratching your head to understand how to promote affiliate links on Pinterest. The good news is that we collected the best practices for Pinterest affiliate marketing that will reward bloggers and website owners for the precious efforts they put on Pinterest. Follow the halo!
A quick recap on affiliate marketing
Affiliate marketing is a cost-effective promotion strategy where companies compensate third parties like influencers or product advocates to drive website traffic, generate high-quality leads, and sales to their products. It is an authentic way of creating ad content and increasing brand awareness over affiliates. Approximately, 15% of digital marketing revenues account for affiliate marketing. Even more mind-blowing, 65% of affiliate marketers generate traffic over blogging alone. And, the question is...
Best places to promote affiliate links
There are many places that you can promote your affiliate links. However, not all of them will be effective in generating sales for your business. To find the best places to promote your affiliate links, you need to consider a few factors:
-The audience that you are targeting
-The type of product or service that you are promoting
-Your budget
Once you have considered these factors, you can start to narrow down your options and find the best places to promote your affiliate links. Here are a few of the best places to promote affiliate links:
-Social media platforms such as Facebook, Twitter, and Instagram are great places to promote affiliate links. You can share your affiliate links with your followers and fans, and if they make a purchase, you will earn a commission.
-Product review websites: There are many websites that allow users to write reviews of products and services. If you write a positive review of a product or service that you are promoting, potential customers will be more likely to click on your affiliate link and make a purchase.
-Blog: if you have a blog, you can promote your affiliate links in your blog posts. You can write informative blog posts that include your affiliate links, and if readers click on the links and make a purchase, you will earn a commission.
How to promote your affiliate link without a website?
There are many ways to promote your affiliate links without a website. You can promote your affiliate links on social media platforms, blog posts, product review websites, and forums. You can also use email marketing to promote your affiliate links. You can send emails with your affiliate links and earn a commission for every purchase if you have an extensive email list. You can also use paid advertising to promote your affiliate links. You can create ads on Google, Facebook, and other platforms and pay for them to be shown to potential customers. You will earn a commission if someone clicks on your ad and makes a purchase.
Why use Pinterest for affiliate marketing?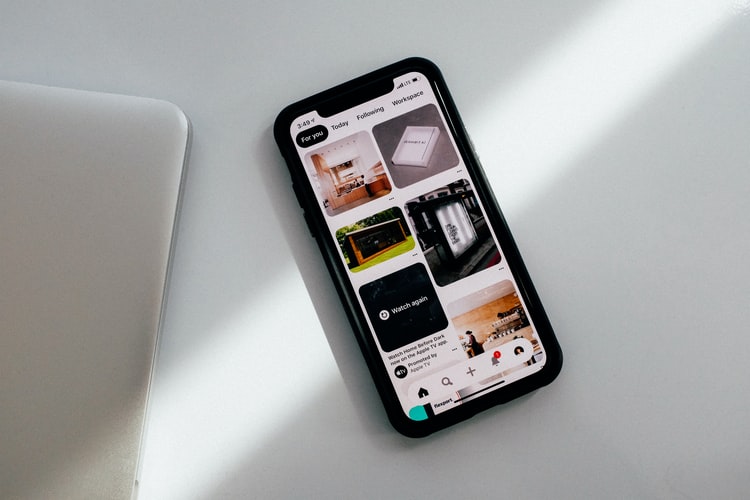 Pinterest is not another social platform where you put content for just visibility. It has the capacity to increase traffic to your website and drive sales with a well-thought marketing strategy. It is a visual search engine allowing businesses of all sizes and backgrounds to market themselves. The platform offers unique ways to expand your reach and expose potential customers around the globe. Learning how to promote affiliate links on Pinterest will:
Grow your popularity through shared pins
Generate more traffic to website or blog
Trigger conversions with product links
As a visual social network, Instagram and Pinterest are effective means of promotion. The difference between how to promote affiliates on Pinterest and Instagram lays down on longevity. What that means is anything you pin here has a chance to be seen in a long time, including your affiliate links.
Instagram users can like, purchase or pass the affiliate link once they see the content. While pinners are more likely to save and share their favorite products with their community, increasing their chances of purchasing down the road. Since effective affiliate marketing targets long-term results, Pinterest outcompetes Instagram in this case.
The common mistake that marketers make is approaching with the same policy. But, Pinterest is a search engine, where well-designed images and curated content always appear high on search results.
How to promote affiliate links on Pinterest?
We want you to have a clean base before switching to how to promote affiliates on Pinterest.
Be specific on your choice. Do not jump for any offer. Do your research about the merchant or program, look for testimonials to assess their credibility. Negativity about the brand or product may impact your profile. You may also approach brands or blogs for collaboration by presenting your portfolio, and Pinterest performance.
Pinterest does not allow using link shorteners. Insert the original link that the affiliate program gave you.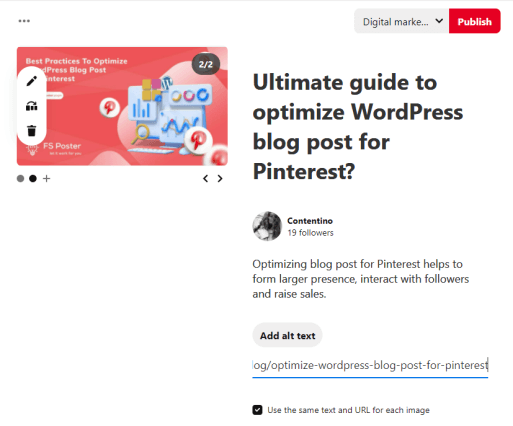 Follow the trends. Knowing how to promote afffiliate links on Pinterest starts with understanding audience interests. Look for similar boards or competitor profiles to see their latest pins and the reaction of users. As a fashion blogger, you may notice neon colors are not trendy among pinners in this season and take that into account while choosing partnerships.
Post consistently. To get affiliate offers or search for the ones you need to have a thorough profile with curated content. If you find Pinterest as some sort of social channel where you come once an era to pin some random post and then disappear, forget about affiliate marketing. You need to dedicate a serious part of your time to Pinterest to get the most out of it and also receive affiliate offers.
It might be daunting to post for every social channel at different times. Thankfully, social media management tools can help. If your website is built with WordPress, you can use plugins to optimize your social media calendar. One of those angel tools is FS-Poster is a social media scheduler and auto poster plugin. It helps to save time on content sharing, achieve flexibility in your content calendar, and boost website traffic with an unlimited post sharing feature. Integration with 14 social networks ensures users to adjust their social media within a single software. Try Demo version to see all features.
How to promote affiliate links on Pinterest that convert?
Making passive income from Pinterest needs a separate affiliate Pinterest strategy.
1. Switch to a Business account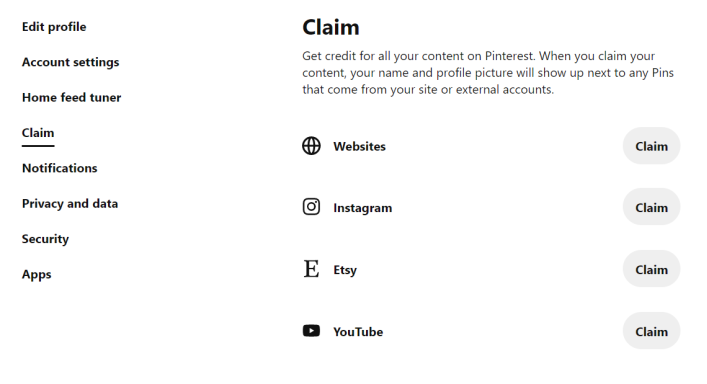 The first step of understanding how to promote affiliate link on Pinterest is having a Business account. You can either create a new business account for an affiliate program or convert your personal account into a business. A business account offers advanced features like story pins, ads, analytics that can be used to optimize Pinterest content and have better interaction with pinners.
Set up your profile by filling in all the necessary fields.
Upload a picture-perfect profile image
Choose a trusty display name that is related to your business and pins
Clearly indicate what your business is about with reachable keywords
Paste your website URL to let users discover more about you
Add contact information where people can easily learn about the product details.
Might sound basic, but these make your profile look professional and reliable when pinners first come across you.
2. Set up an affiliate program
Obviously, to promote affiliate links on Pinterest you need to enroll in affiliate programs. Search for the most relevant ones to your niche, the products that are similar to what you regularly feature on your pins.
If you are in a B2B environment, consider your most liked software, sales & marketing programs, business management courses that can be used for the optimization of business flow. If you are appealing to B2C businesses, you can promote personal development courses, collaborate with e-commerce websites, and join the Amazon affiliate program.
3. Create website content to promote affiliate links on Pinterest
You need website content that will bring a Pinterest audience through affiliate links. Write content that complements the products or services that you are affiliating for. Do not rush to promote what is inside of the link. Organically connect your content with the product, explaining its features and benefits within the context. For example, if you are collaborating with a photography studio, write a blog like "9 things to consider for wedding preparation" and insert the link where you reference the photography section.
4. Create multiple pins for each link
Once you publish the article on your website, the next step is to design various images for pinning. This method helps showcase your content without limiting your creativity. You can use different lines, distinct images, elements to feature the same link. This way, you create more Pinterest posts with the same content.
It also helps to get more clicks as it is exposed multiple times during a day or week. More pins mean greater awareness and more traffic.
Design great visuals that make people engage with the content. If you are posting a physical product, share close-up photography. Follow the visual rules like aspect ratio, color schemes, typography to create eye-catching images. Valuable tools will help you get some inspiration and craft images.
5. Create valuable content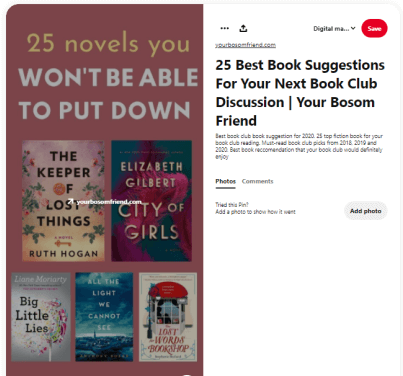 Almost there. Valuable content on Pinterest is a mixture of quality images and explanatory text. If you want to know how to promote affiliate links on Pinterest for B2B, then infographics would be a great idea to open the topic and create curiosity to click the link.
Create a title and description that supplement the message the image delivers. You need to include one main keyword and supporting ones in the title and description to rank on search results. It is crucial to target the focus keyword in the title to optimize affiliate links.
Share that pin on the right boards. Some marketers highly recommend creating affiliate-specific boards to promote on Pinterest assuming that you have to optimize content with reach keywords in board titles, pin descriptions. Since we advocate keyword optimization in each of Pinterest blogs we believe that you already have adjusted your pins on the right boards with the right content.
And, most importantly, disclose if you are putting the direct affiliate link in the destination field. In several countries, including the USA, it is mandatory to disclose sponsored content in the post to protect consumers from information mislead.
How to promote affiliates on Pinterest while disclosing?
You can simply add #sponsored, #ad, #affiliatelink, #affiliate hashtags in the pin description to aware the pinners.
6. Analyze and take action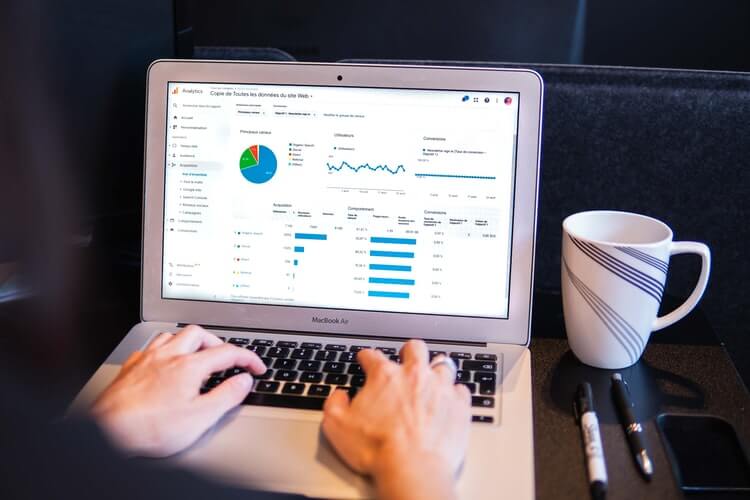 There is no place for an assumption in marketing. Analytics is crucial to evaluate the performance of your affiliate program or in general. Take a look at your pins by clicks, engagement, and reach. See which boards drive more traffic to a website. Try to understand why pins with the highest number of impressions do not have reasonable clicks or why some posts have relatively higher engagement than others. Is it about graphics, keywords, title, or the product itself? Answering these questions will also cover how to promote affiliate link on Pinterest question.
The only way to improve is to measure. You can use Pinterest Analytics or opt for wide-scale tools like Google Analytics, Hootsuite, or alternatives. Use your findings as your guide to future affiliate partnerships and try to close your gaps. Also, save those data to prove your capacity in front of new sponsorship offers.
Ending notes
Pinterest is undoubtedly the place to make money out of your well-curated content. Though it is challenging to fully comprehend how to promote affiliate links on Pinterest without trying, we have gathered best practices to guide you. If you want to hustle affiliate marketing, create a content strategy and put consistency in action. Ready to go!