Best practices to optimize WordPress blog post for Pinterest?
Social Networks
Jul 31, 2021
It is crucial to optimize WordPress blog post for Pinterest for the wider reach of your content across multiple search engines. The platform has a huge influence on the purchase decisions of users. According to the statistics, 55% of pinners are likely to make purchases after seeing a photo or video on Pinterest.
There is an urban myth that Pinterest is for people to get inspiration for the style of their outfits, have new cookie recipes or search for wedding shot ideas. We agree that the platform has unlimited opportunities for fashion, design, food niches to show off their visibility and increase sales. But, we also cannot deny that opportunities are provided for industries out of consumer products.
The fact that outstanding software vendors like IBM, HubSpot, Adobe, GoDaddy, Airbnb use Pinterest marketing to draw audience attention in different places, we assure you that there is enough room for psychology bloggers, tech start-ups, and small entrepreneurs to try Pinterest boards as their next marketing ground.
How to optimize content for Pinterest?
Apart from creating a Business account, you can optimize WordPress blog post for Pinterest by sharing your blog images and videos.
Deliver relevant content
If you wonder how to optimize content for Pinterest develop a powerful content strategy for Pinterest. Because leaving plain links with random images will not make any remarkable changes in your awareness or traffic.
First, identify, what you are expecting from pinning your website content on Pinterest. Is it to bring traffic, is it for increasing sales, or to create awareness of your brand? Once you know your goals, you need to develop a Pinterest-tailored content strategy and images ideas before pushing the pin button.
The Pinterest content strategy that delivers value to users has:
Eye-catching imagery - it is a buzzword for Pinterest, but the quality and design of your images are vital for your success. (Will come to this point later.)
Instructional content that educates pinners to on how to make things, or to learn spesific subjects. As an example, 5 ways to draw more traffic to your website.
Informational content that helps users to learn new concepts or terminology related to the niche. For example, product design terms, 5 benefits of automation in marketing.
Tip. Do not pin informative posts that have nothing to do with your profile. It can have a reverse effect on the credibility of your profile.
Choose your blogs to pin
After reading our first tips, you understand that having an extensive list of articles on your blog does not mean that you have to pin all of them. You are more likely to grow an audience if you put industry-related blogs rather than promotion oriented. To be precise, 97% of popular Pinterest searches are not brand-related.
You will get more reach if you selectively pin your blogs on topics that have an interested audience on Pinterest. The best way to find blog audience interest is to search your blog topics using keywords. Look for keywords in the pin description, board title, and do not forget people's bios. Change your keywords to see if there are other phrases to use in your topic. Make a list of searched keywords and discovered phrases too.
Add a description to your pins
The description of your post is important to drive interest and engagement on your how to optimize content for Pinterest path. It tells the reader what your post is about. Even if you are posting your blog on Pinterest, you need to pay close attention to its description.
Explain what your pin is about in one or two sentences
Use relevant and emotion-driving words to grab viewers' attention
Add industry keywords and hashtags to receive a wider reach
End it with a call-to-action to tempt the reader to click through your content
Create a pin image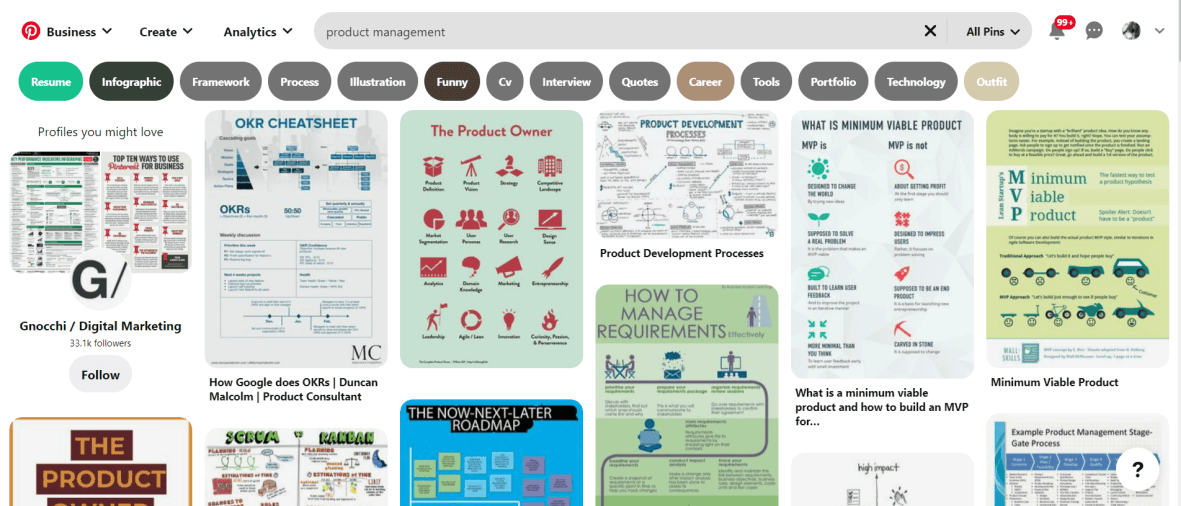 Pinning the right image is crucial to optimize WordPress blog post for Pinterest. It is the first thing viewers come along while scrolling. It has to be related to your blog and tailored to the platform's standards to grab the attention of viewers.
You can use a blog's featured image to optimize content for Pinterest. The plain photo may not explain too much about the blogs' content. Instead, use the same image as a background and add some enticing words that explain your content. It can be numbers or result-based sentences that make it inevitable to click through your blog.
Or, even better, consider designing a new image to optimize content for Pinterest. The size of the pin really matters in this case. The platform recommends choosing 1000 x 1500 px and an aspect ratio of 2:3.
Since 85% of pinners browse from smartphones, the pins need to be optimized for mobile device screen sizes. Longer pins are more favorable since they capture more space in the feed. Some useful tips here:
Use plain and simple backgrounds
Reduce human faces
Prefer light images
Use vibrant colors like red, pink or orange
Keep branding elements to a minimum
Pro tip: If you create a custom image for a pin, add it to your original blog post.
How to optimize WordPress blog post for Pinterest?
Add a Pin it button to your blog
Repurposing your blog on Pinterest gives you chances to increase your website traffic. However, you can optimize WordPress blog post for Pinterest by allowing readers to share your blogs right from your website. Visitors can click on the image and easily pin the post. This gives you an opportunity to create shareable content, in this case, pin-worthy images that call readers curiosity to spread them on their boards.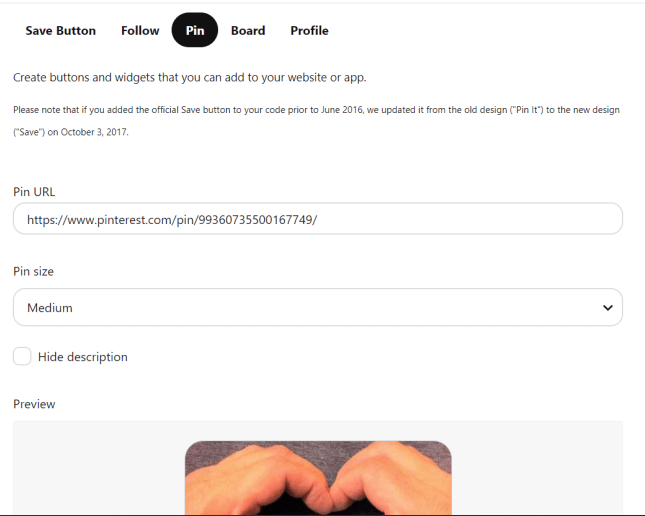 Do the following steps to add the Pin it button to your blog post:
Go to developers.pinterest.com
Head over to Tools > Widget builder tab
Choose your favorite image size
Copy script in the first box and paste where you want the Pin it button to appear on your blog
Copy the bottom box script and paste right before your closing <body> tag
You need to pick the image and add a default description for users to pin from your blog.
Remember. The Pin it button gives your site visitors the opportunity to pin your images, not you.
Use WordPress plugins
A drawback of the Pin it option is that you have to embed it individually for each blog post which is a time constraint for busy blog writers and marketers as well. If your website is built with WordPress, you can make use of plugins to give larger visibility to your blogs. They provide great functionality to schedule pins, use shortcodes for pin description, and most importantly saves time on pinning multiple posts at the same time.
FS-Poster is one of the best WordPress scheduler plugins for social media. It has a Pinterest sharing feature while integrating 13 other social media platforms as well. The platform lets users auto post an unlimited number of posts on multiple accounts, groups, boards. You can filter your blog posts like previous or new, set posting intervals and sleep time to receive a higher engagement.
And, do not worry about your custom-made blog pins. You can either save them in the WordPress library for direct sharing or add them to the original blog for easy posting. With the analytics, you can get insights about the impressions and engagements per pin. Check Demo for a detailed overview of the features.
Keep track of your Pinterest performance

You won't know how to optimize content for Pinterest without giving it a try. Once you start pinning your blog posts, create multiple boards you need to keep track of their performance. Pinterest Analytics gives in-depth data of the performance of your pins including audience demographics, devices, save rates, and outbound clicks.
You can also opt for other marketing tools to compare the effectiveness of Pinterest marketing to other social platforms.
Wrap up
With a 35% increase in the new boards, Pinterest is a fast-growing market to organically increase your brand awareness, bring website traffic and raise sales. If you want to achieve great results consider our list of recommendations to optimize WordPress blog post for Pinterest. Create a Pinterest account and start to pin your content without further delay.