Top 5 tips to execute successful Pinterest keyword research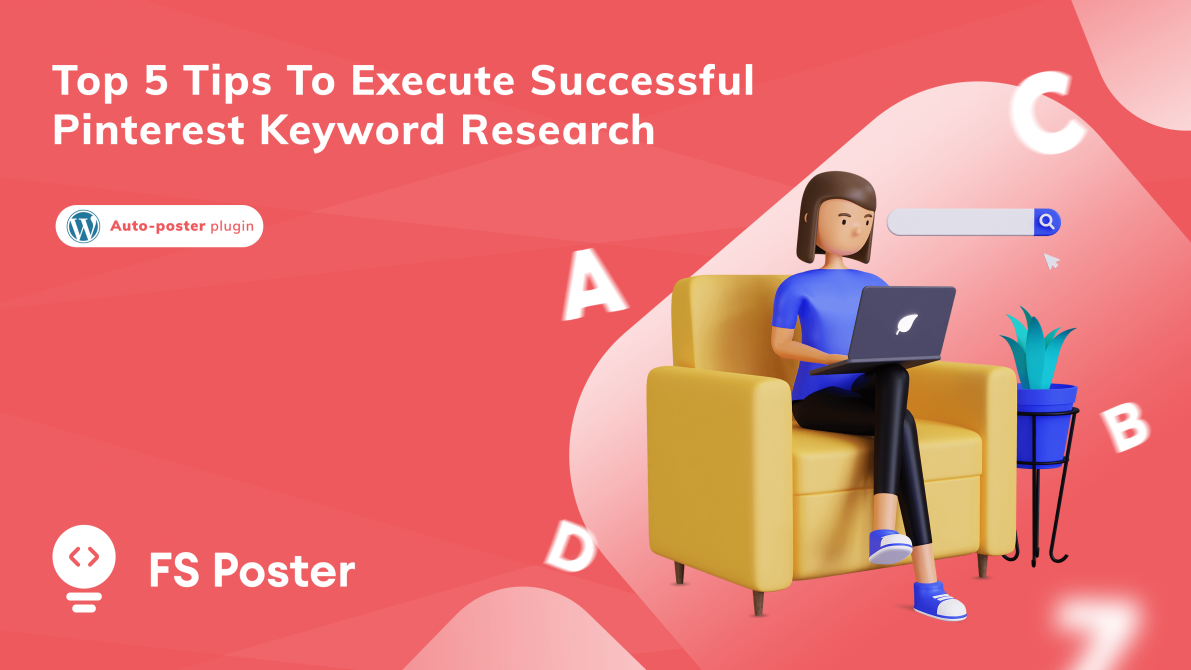 Social Networks
Aug 26, 2021
Optimization of your Pinterest marketing starts with Pinterest keyword research. The platform provides a distinct spectrum to showcase creativity and storytelling while bringing new ideas to reach your audience. It allows you to increase your brand exposure and promote your content through:
Increasing brand awareness - by visualizing your content you can showcase your brand personality to reach a larger audience
Driving website traffic - it has undeniable potential to generate traffic via direct website links
Growing audience - when you frequently pin posts you gain more popularity. As users repin your posts to different boards your chances of expanding to potential clients also increases.
Why do you need Pinterest keyword research?
Before diving into Pinterest keyword research tips, we want to quickly explain the role of keywords on Pinterest. As you may already know on top of being a social network platform, Pinterest is a separate search engine allowing users to search and discover information. Like Google, YouTube, Yahoo, Pinterest uses its own algorithm to categorize accounts and rank content. And, how does Pinterest generate search results?
Keywords. These are words that pinners type in the search bar to collect information, find inspiration. Pinterest's search engine processes the frequency of those words to determine the relevance of content and its ranking. Through keyword optimization, you target a specific group to find and engage with your content.
The visualization part is to grab the attention of pinners and make them engage with your content. But keywords are the route for people to land on your content. Until showing up on their feeds you have to run thorough Pinterest keyword research to effectively curate your content.
Additionally, when you pick the right Pinterest keyword, your content will show up on Google search as well as on Pinterest.
How to do keyword research for Pinterest?
There is not a single answer to how to do Pinterest keyword research. We will look at tools, steps that have to be considered for keyword optimization.
1. Know your audience
The goal of running Pinterest keyword research is to target your audience. If you are not sure about whom you are appealing to you will struggle with growing your profile here. If you are at the beginning of promoting your business, start with prototyping the person you envision to click on your pin, visit your website, and purchase your product or service. You can refer to Pinterest statistics for location demographics, interests, or age to identify the potential customer profile. After that, you can come up with a list of keywords that will help that target group.

Or, if you have some built-in presence here, you can touch on your analytics. To use this feature you need to create a Business Account first. I want you to specifically look at the Impressions because it will tell you the frequency of your pins appearing on users' feeds. When you dwell on the dates you can figure out which posts got the highest impressions. Yes, it will not give you the exact keywords, instead, it will direct you on your future content creation. You will identify what type of content people reach through you and what you can create to appear on search results.
2. Use a Pinterest keyword tool
OK, this part is going to take some time. Grab a cup of tea and let's start.
Search bar
The best thing about Pinterest SEO is that it offers you a variety of options for creators to optimize their content and for users to find the best pins.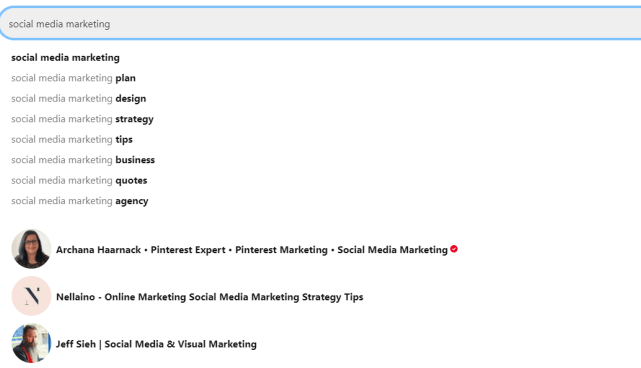 The Pinterest search bar is the first place to grab keywords. Type your base keyword and see what other keywords Pinterest suggests on the drop-down lists. These are the highest-ranking keywords users search. That means if you choose the relevant keywords with your content you are definitely going to show up in search results. It is a free keyword research tool for Pinterest available for personal profiles and business accounts.
Guided search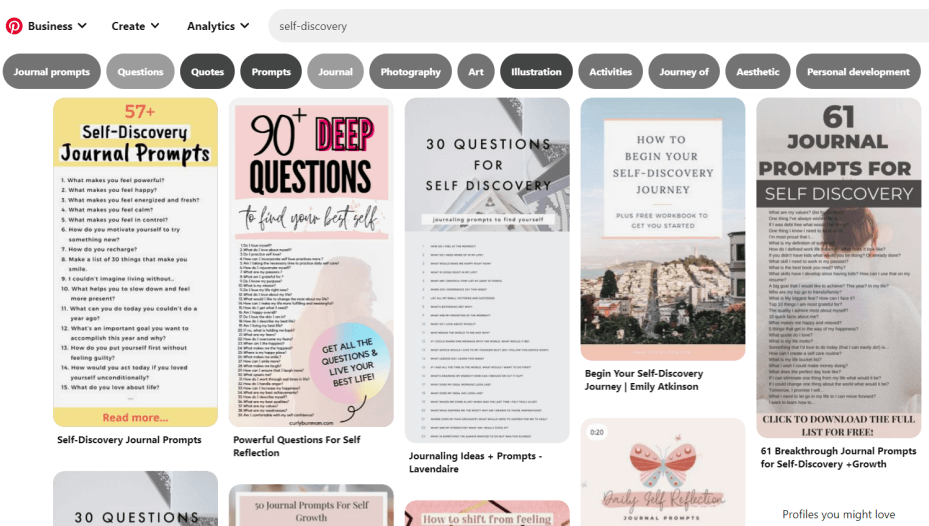 Pinterest guides are colored boxes that appear under the search bar. They are refined keywords based on your core keyword. It helps to understand how users expand their search and discover new ideas through Pinterest search. To use Guided search type your main keyword on the search bar and launch the search. You can click on the boxes to discover long-tail keywords.
Suggested boxes dynamically change upon trends and user engagement on topics. Also, these results can change depending on the user preference, location, gender. The purpose of using this Pinterest keyword research tool is to explore more ideas and applicable areas that are related to your content.
Pinterest Ads
Finding a reliable third-party keyword research tool for Pinterest can be tedious and costly. Fortunately, Pinterest offers its own keyword research tool for free. Pinterest Ads majors on search volumes of keywords that you cannot find with previous methods.
To access Pinterest Ads you need to create an ad account within your Business Account. After that, you can go to Business Hub > Ads > Create Ads to get keywords. On the Promoted Pin creation page, choose Traffic as your campaign objective. In the Keywords section, enter your main keyword and see what other keywords Pinterest Ads suggests. You will discover lots of popular keywords that are viable for the purpose of your campaign. The great news is, you don't have to actually create a paid campaign to get the list of keywords.
If you want to be more precise on your keyword choice the Pinterest Ads is the best Pinterest keyword research tool to go.
Pinterest Trends
As said earlier, Pinterest refreshes keywords throughout the year based on trends. It allows you to keep track of what is happening around your industry and quickly respond to it. You can also compare the search volumes of keywords.
I'd like to stress that trends are not the best Pinterest keyword research tool since they do not provide an extensive keyword list. However, you can use it to amplify your creativity to catch up with your trending keywords.
To get them, click on the Trends on your Analytics tab.
3. Use Pinterest keyword research efficiently
Now we are done with how to do Pinterest keyword research, it is time to cover how to use those keywords. For a platform with visual priority, Pinterest provides enough space to incorporate keyword strategy into visual content. The key here is to get keyword optimization done in the right way.
You need to add your keywords in the following sections of your account:
Your profile is the best place to introduce yourself and make contact with the visitor. Here you have two places for keyword targeting. The first is your business name. You have to include your main keyword that describes your content or business field.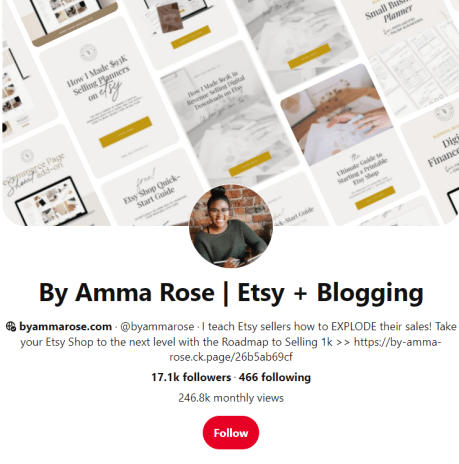 And, the second place is the profile description. Using multiple keywords explain how your content will help visitors.
Pro tip. Avoid keyword stuffing on unnecessary occasions.
Board title. The name of a board is important to target people. It is also one of the places Pinterest uses to determine the relevance of your content. You can use multiple keywords as well as your base keyword to name boards.
Board description. Here you have more freedom to optimize keywords. You can include multiple keywords to let the followers know what they will find. 2-3 sentences are enough for board description.
Pin title and description are super important for Pinterest to categorize your content and rank for search results. You can use description to target long-tail keywords. As we advised on our promoting blogs for the Pinterest article, you can create multiple pins to get more traffic to a single page. By creating multiple pins you can also target variations of the main keyword for the same blog post.
When you are pinning a WordPress blog, you can pin inside visuals, blog banners to directly post to Pinterest. Scheduling plugin can help you to post multiple pins without over-exhausting your content creation. You can use the FS Poster WordPress plugin to auto-post unlimited pins to your Pinterest boards. Plus to blog visuals, you can use the Direct share panel to pin individual images along with descriptions from your WordPress site. Check Demo to view all available features for optimizing your digital marketing.
Pin URL. One of the things people avoid on Pinterest is adjusting their URLs. As a search engine, Pinterest prioritizes post URLs to categorize your content. Inserting your main keyword to post URL will definitely help you to rank high on search results.
Congratulations on coming this far! From now on we will cover the secondary tips that will help to increase the confidence level of your content and make the best of Pinterest keyword research.
4. Organize your boards
How to do keyword research for Pinterest is an open-ended question. Keyword research is an endless process requiring to be regularly done in regard to changing algorithms. Interests of users change so does keywords' search volume. It is a high probability that your previous high-performing keywords may not contribute that high results today. What are you going to do with your existing boards? Rule out? Delete? How about optimizing them?
There are a couple of ways to revive your old Pinterest content after the results of Pinterest keyword research. One of them is replacing old keywords with new keywords in your pin descriptions, titles. The same applies to your board descriptions.
Or, you can repin old content with new keywords in the description. Since Pinterest hashtags favor recent pins, you can add branded hashtags or keywords to repins instead of editing old Pin descriptions.
5. Collaborate with other boards
Just like other social networking platforms, there are common places on Pinterest where you can promote your content. One of them is group boards or collaborative boards. A group board is a collection of photos or videos contributed by multiple users. They are owned by one person who can invite other users to contribute. Group boards are great to build community and drive more traffic in less time.
You can use Pinterest Group Search to find out the best group boards in your niche. Also, check out your competitors' group boards to see where they are contributing to. The tricky part is that group boards are filled with spammers. To check their actuality you need to visit those boards one by one and pick the most appropriate ones.
If you already joined group boards you can check their status by looking at Pinterest Analytics. Scroll down to the Top boards section to see how many of your group boards are top-performing.
One more chance to optimize your Pinterest keyword research is collaborating with Pinterest influencers. When you enter a keyword you can find out the most popular names on Pinterest's People search. Because they are known by the Pinterest community and their content shows up for that specific keyword. Influencers may have a better idea to present your content. Their acquaintance with Pinterest anatomy and user behavior can be more effective for expanding your reach and promotion of content.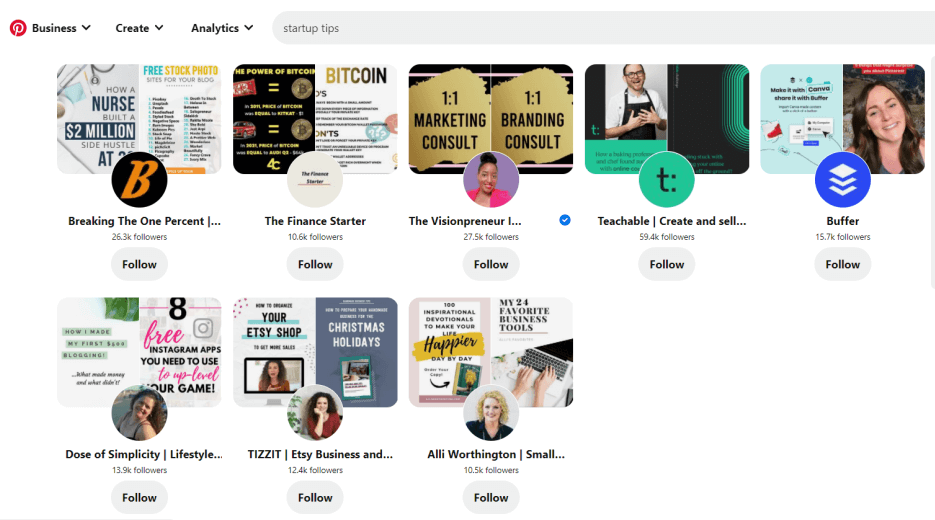 Pin time
So, these were our tips for optimizing your Pinterest profile and making the most out of your experience. Though Pinterest keyword research seems a bit intimidating at the beginning, it gets simple once you where to start. Follow these tips to quickly make your Pinterest account stand.
If you want to get more social media marketing tips be sure to check out our blogs.