Top 6 Sprout Social Alternatives for Your Social Media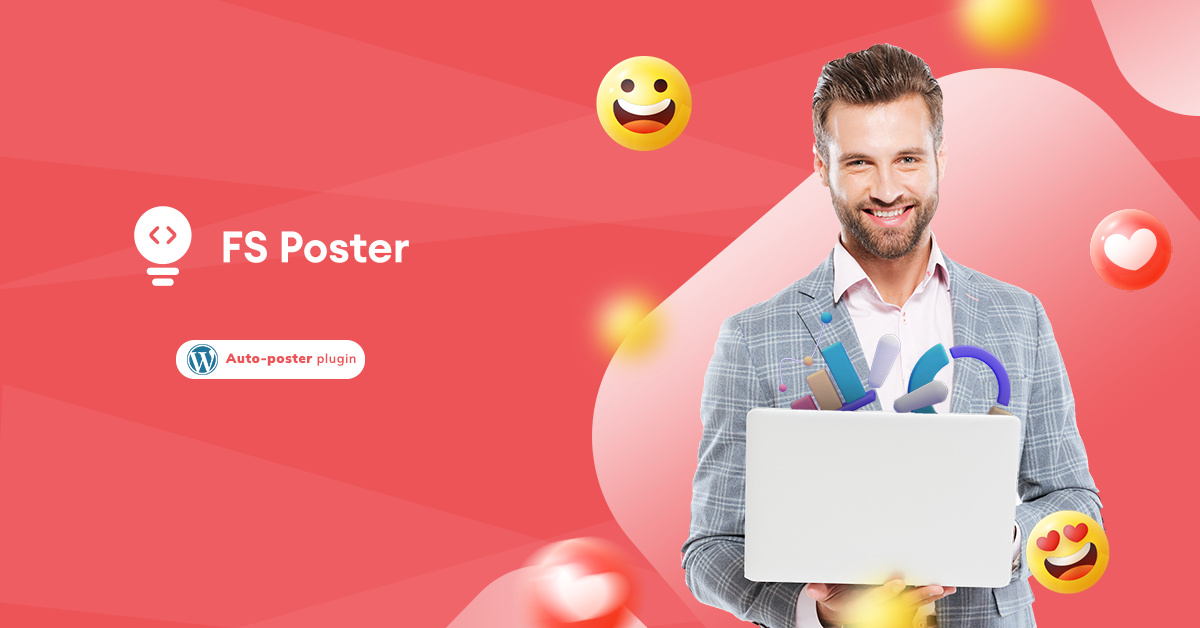 Social Networks
Oct 22, 2021
The important factors to consider when researching Sprout Social alternatives are affordable pricing, intuitive user interface, effortless posting, customizable dashboards, and simple social monitoring.
Sprout Social is a complex tool to solve social media management tasks at one go. It combines post scheduling, ads management, social listening, and analyzing solutions into a single platform. But it may not be the best tool for businesses with budget constraints, large social networks, complicated reporting tables, and other reasons.
Thankfully, there are a number of alternatives to Sprout Social that will provide similar features as well as the ones that are not given by it.
Top 6 Sprout Social alternatives to look at now
1. FS Poster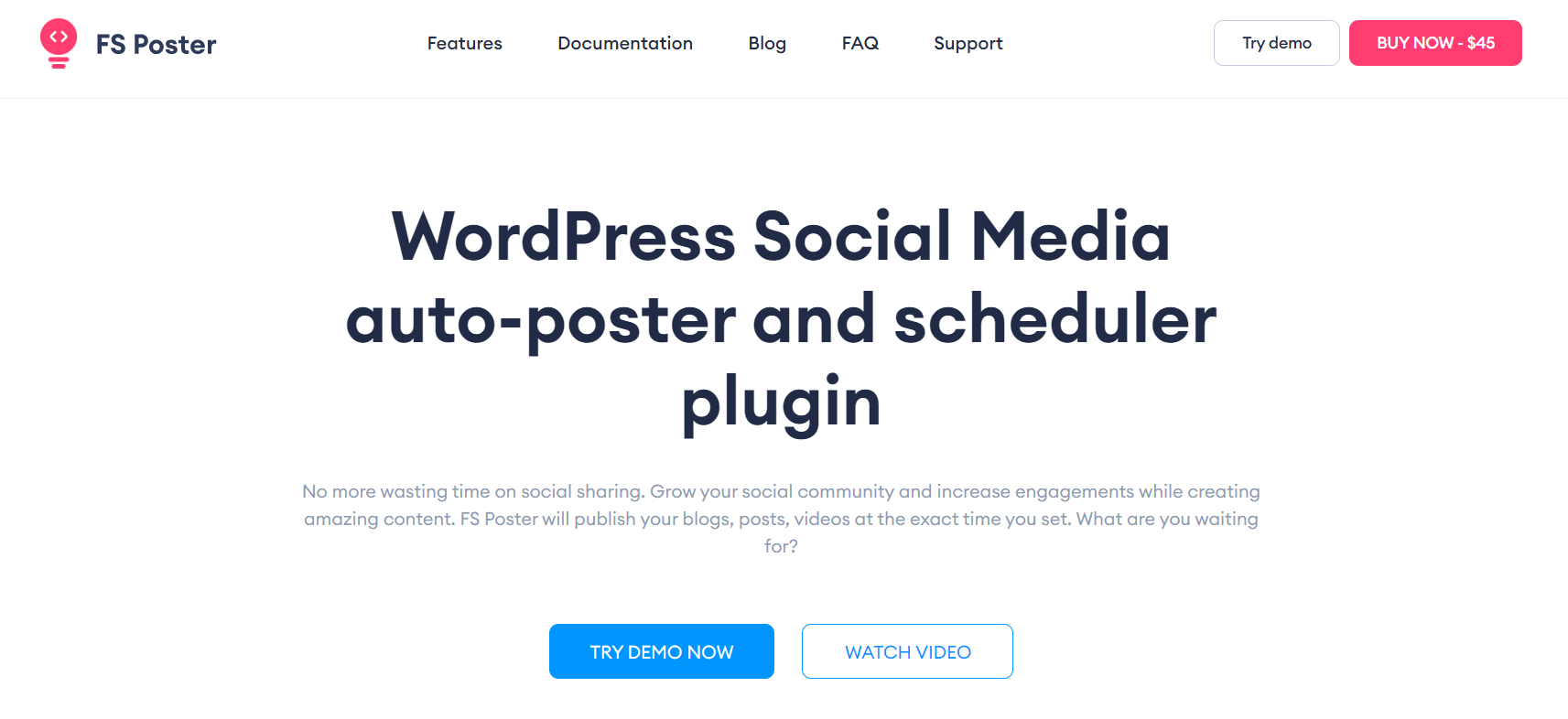 With scheduling, monitoring, and reporting features, FS Poster is WordPress alternative to Sprout Social. It is a dedicated social media scheduler developed for scaling the social media experience of WordPress users.
Compatibility with 15 social networks ensures you warrant a stable and consistent digital presence. The plugin can be used for scheduling WordPress blogs, custom posts, or auto-posting WooCommerce products across different platforms.
You can schedule featured images or videos and add the custom message when you schedule posts on visual-oriented platforms like Instagram or Pinterest. A bulk schedule enables users to auto-publish unlimited posts to social platforms. This helps to keep your social media feed fresh while you concentrate on the content creation part.
When you publish too many posts from the same IP, social networks may accept them as a duplicates. To avoid this you can create custom URLs for each post. This way you can include your post keywords to get more reach around your post.
Unplanned posts like anniversaries or achievements may not be published on site as common posts. For those occasions, FS Poster has an individual post feature. Increased posts will further help to boost awareness of your site, raising organic traffic and site rankings on search results.
The dashboard panel gives comprehensive reports of the scheduled posts' performance. You can see the number of scheduled posts for each platform, view the click counts of posts, and compare various networks. Through the Logs panel, you can view the engagement metrics of each post and click the post link for easy access.
Price: For a Sprout Social alternative, FS Poster charges a very decent amount. By paying $45 one-time payment, you can get all the existing features and future updates. To know more about the plugin, check the Demo version.
2. Hootsuite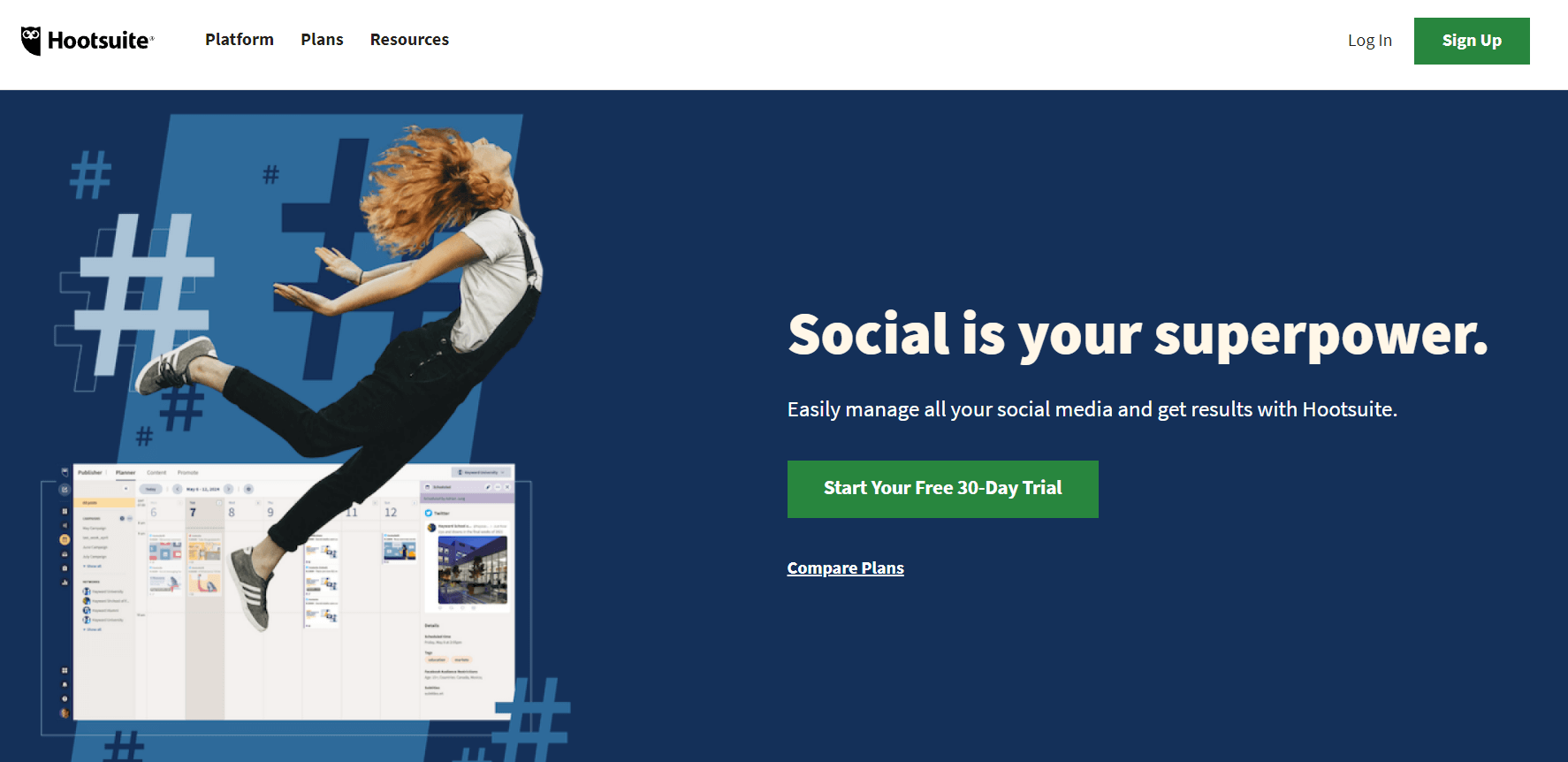 Trusted by 18+ million users, Hootsuite is an all-in-one social media management tool. Meeting the rising needs of digital marketing, Hootsuite provides an extensive list of features to scale the work of social media managers.
By offering over 150 third-party integration in its App Directory, Hootsuite overtakes many Sprout Social alternatives in the market. With the help of these tools, you can unite your employee management, sales, CRM, design, and customer support systems for the best social media experience.
Using its bulk composer, you can schedule up to 350 posts at different time zones. Its customizable dashboard allows to view brand mentions, keywords, follower engagement where each board can be added or removed at the click of a finger. Just like with Sprout Social, you can boost your social media posts, monitor market trends, and analyze results within its dashboard.
Team collaboration helps to protect your brand by pre-approvals and automatic compliance. Amplify is one of its unique features that help to spread your employee advocacy programs with pre-approved content.
There might be two probable aspects that you wouldn't like about Hootsuite. The first is the limited native integration channels. Possibly, large businesses are scattered around more social networks rather than limiting their potential to the most popular ones. The second is the complicated interface. If you run tons of social accounts and have many app integrations, you might end up with an overwhelming interface.
Price: when we compare the pricincing, Hootsuite got 6 different plans depending on the size of teams and social media needs of the users. The free plan offers 2 social media accounts, 5 post scheduling, and basic free apps to integrate into your dashboard. While with the high-tiered plans, you can request custom solutions tailored for your specific social media needs.
It is among the best alternatives to Sprout Social, if you appeal to a wide portfolio of clients or own a large-scale social media presence.
3. Sendible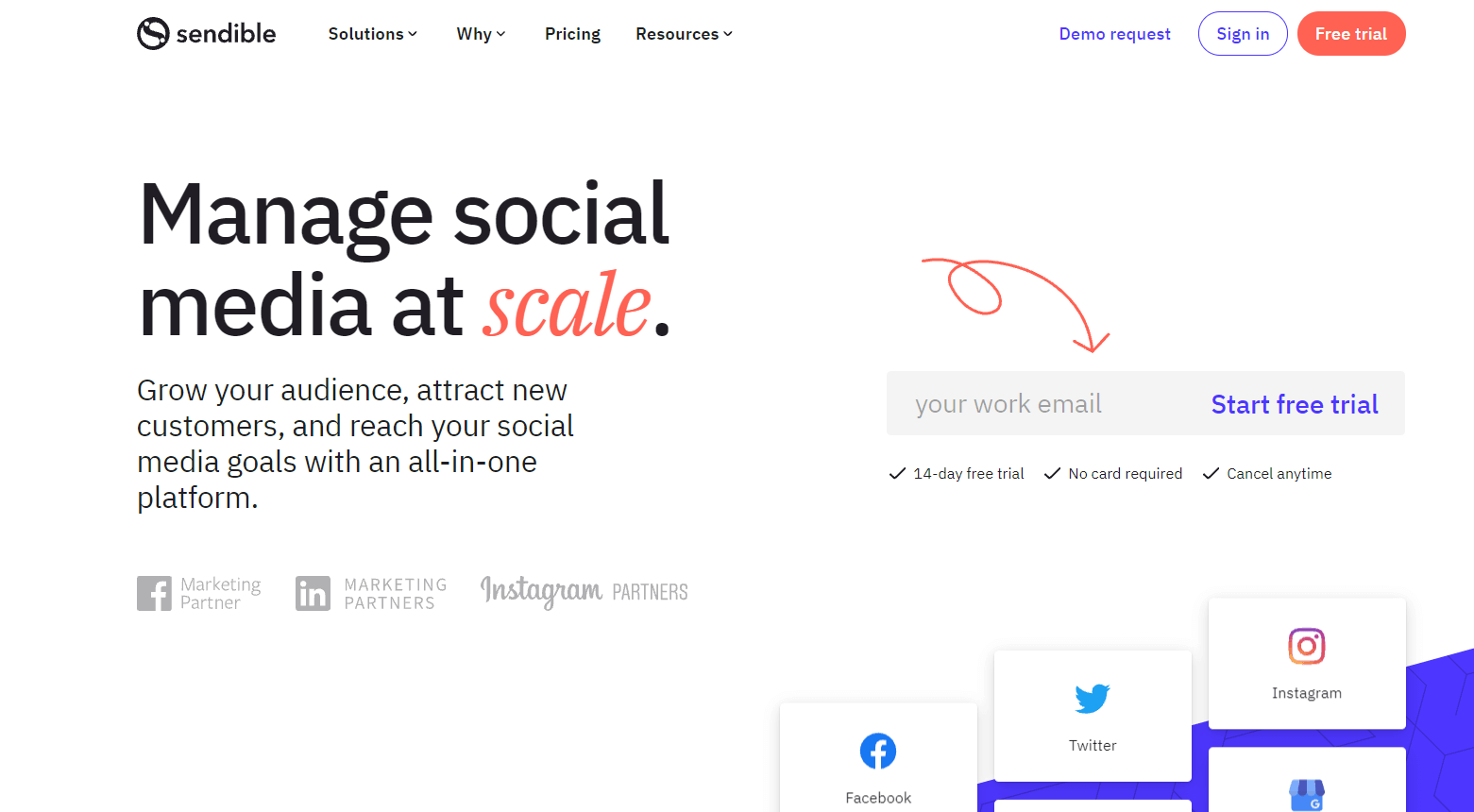 By bringing popular social networks together, Sendible helps digital marketers to grow their online presence. Unlike many alternatives to Sprout Social, Sendible integrates with Google My Business helping you take care of your overall look on the internet.
Its content composer helps to prepare social media calendars in advance, schedule posts individually or in bulk, and group certain posts into a campaign for spreading your evergreen content. Using specific algorithms, Sendible helps to curate and recommend the best content for the platform and audience, helping to increase engagements.
It also has a collaboration manager helping to assign tasks and preview posts prior to publishing. By monitoring with hashtags and relevant keywords, you can quickly respond to the hot trends and stay ahead of your competitors. Providing sentiment analysis, Sendible helps to spot brand mentions from posts, comments across different platforms, and protect brand reputation.
Informative dashboard gives dynamic insights into each social media platform's performance and categorizes based on the performance metrics. Straightforward interface helps users to easily navigate between boards.
Pricing: It has 4 different pricing plans billed both annually and monthly. The basic plan starts at $29 for one user where you can connect 6 social media profiles. The higher plans are good for marketing agencies where they can create custom reports for their clients.
4. Falcon.io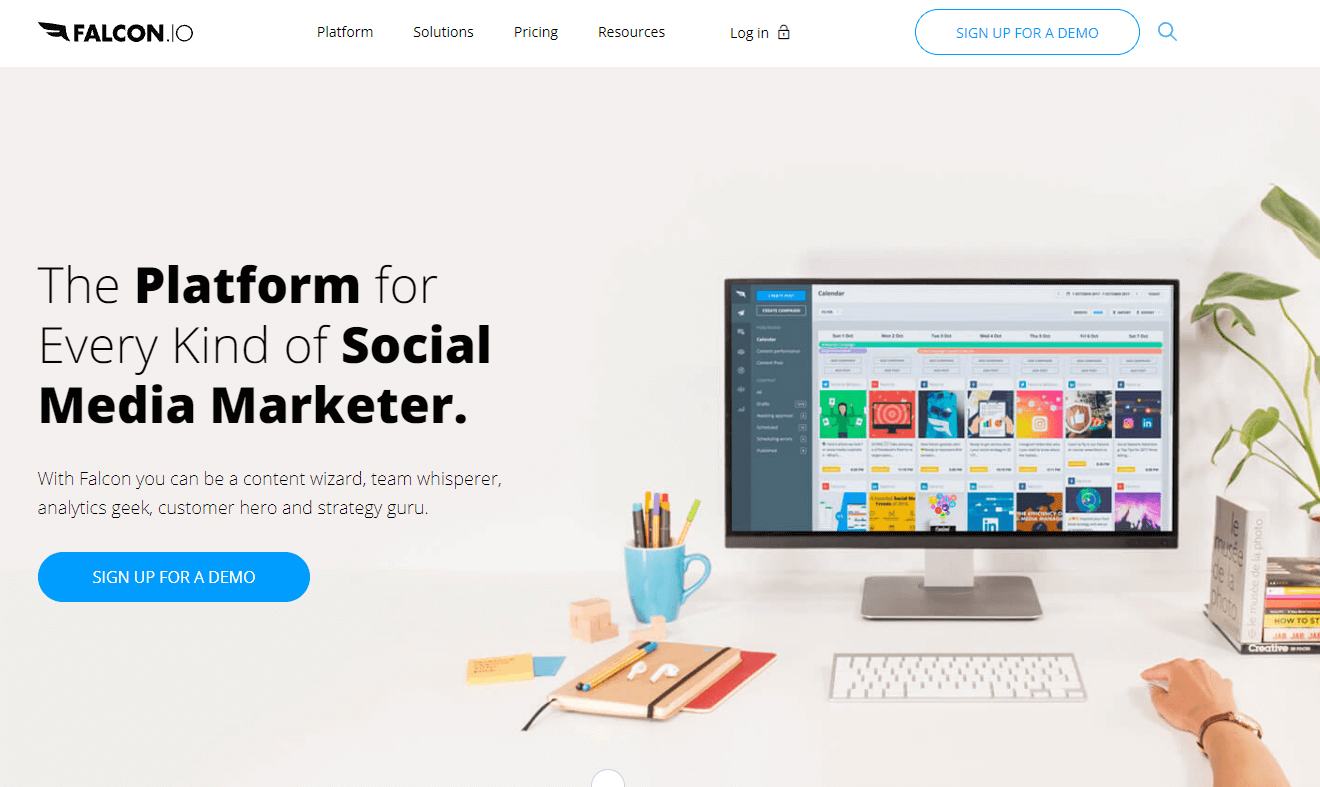 An alternative to Sprout Social, Falcon.io makes it easy to plan, modify, schedule posts to social profiles, view their statistics. By combining marketing and customer management solutions, it helps businesses to take the full potential of digital marketing. Its social listening capabilities can be used to enhance customer service.
With the unified calendar, you can plan, schedule, edit your social media posts, see native platform previews to make sure everything is alright. Content pool is a unique feature that is not provided by many Sprout Social alternatives. It gathers the related content and automatically saves them for repurposing them in the future.
Through comprehensive reporting, you can filter cross-channel insights and major KPIs in real-time. Additionally, it allows you to create quick and custom reports and scale them to be sent to the emails of clients or executives in your team.
Yet, Social inbox is the strongest feature that makes it superior to other alternatives to Sprout Social. All the comments and messages from all feeds are saved to a single inbox making sure that you don't miss any important message.
Another customer experience facilitator is user profile cards. Whenever a user engages with your content their data like location, genders, social media profiles will be saved to individual profile cards. Audience profiling helps to personalize customer experience and provide aggregate segments when you target them.
Pricing: Falcon.io stands high among Sprout Social alternatives, charging $108 per month billed annually. This can be associated with the customer service facilities that are provided as part of holistic marketing. So, if social media takes up a huge space on your customer service, you can give it a try.
5. MavSocial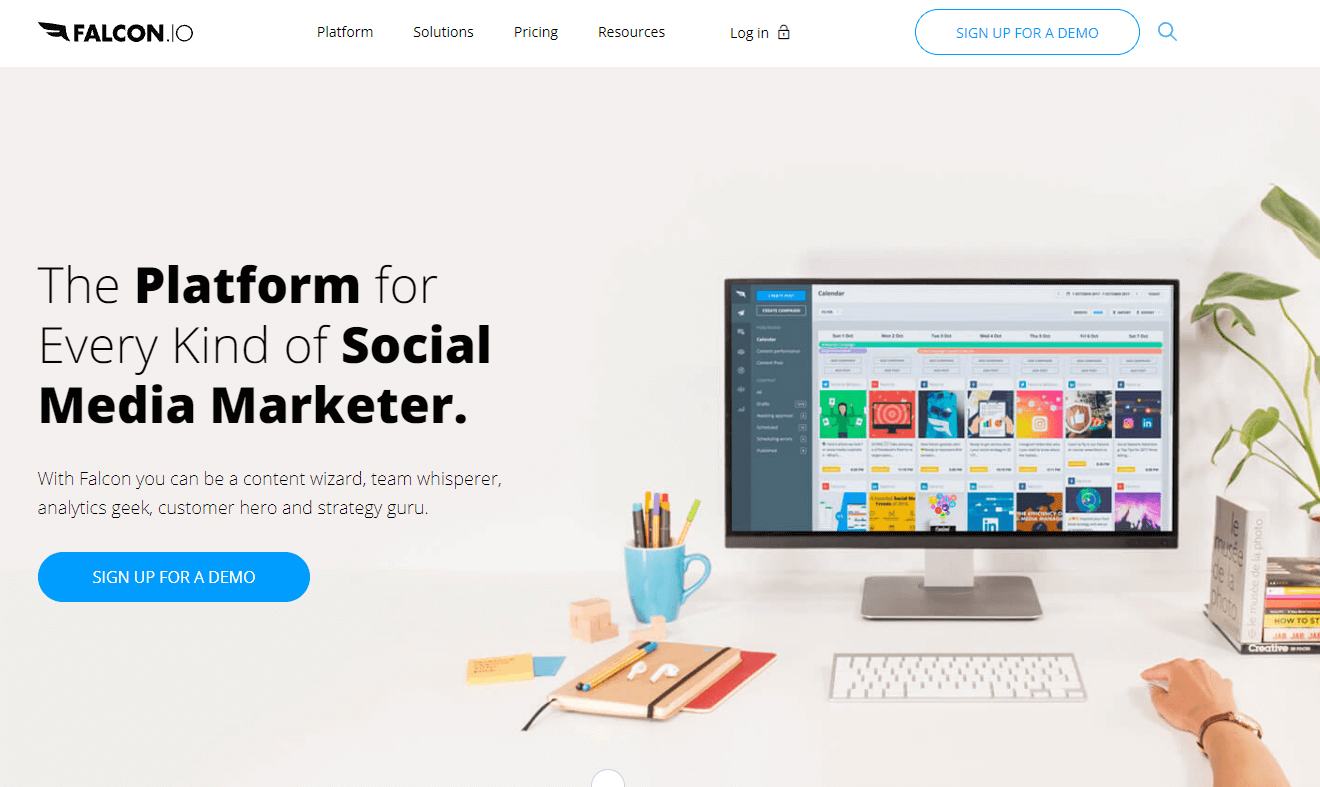 MavSocial is a 360-degree social media management tool for brands and agencies. Bulk publishing across multiple platforms helps to schedule posts tailored for multiple time zones. Smart content manager handles your content creation pains by gathering tons of posts from user-generated content, keyword or hashtag search, RSS content manager, free and paid stock images. RSS Content Manager organizes your feed by filtering based on their name, date, or category, and allows you to automatically post them by scheduling.
By asking for permission on Instagram and Twitter, it also saves time on gaining permission for organic posts about your brand. Using the collaboration manager, you can set up teams based on brands, client accounts, geographic regions. This also enables to give permissions to certain extents, assign tasks, approve posts, and track KPIs across different teams.
It also has a social inbox for gathering comments, ads comments, and messages into a single communication management tool. You can respond to online reviews on Facebook or GMB, see how many requests you answered through the community management report.
To support the content creation process it includes a media library for storing visual content like infographics, videos.
When it comes to ads, MavSocial enables you to control and edit your ad spend, budget limits on various platforms, and test different ad sets on Facebook. For these campaigns, it gives reports for each account or brand.
Price: Starting at $19 \ month, MavSocial offers 4 pricing plans. It is great for businesses that heavily rely on visual content as part of their social media management.
6. SocialPilot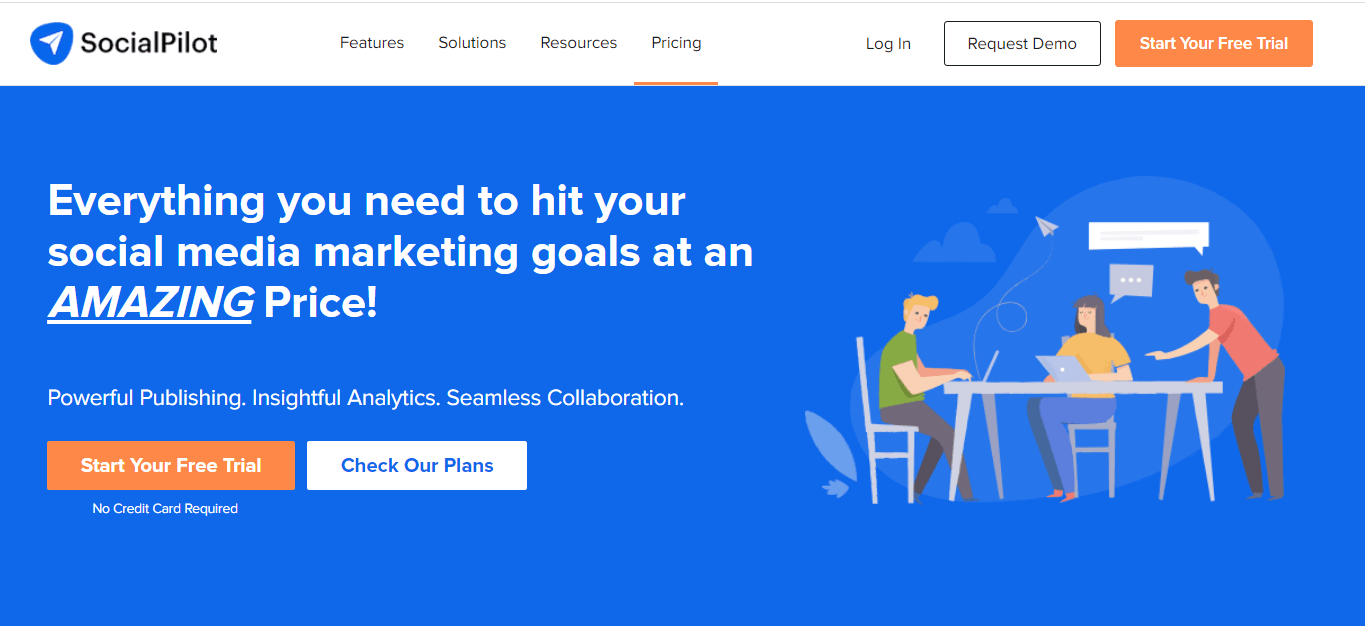 Developed for varying purposes, SocialPilot is a comprehensive social media management tool for small agencies and brands. You can schedule your posts to social media pages and groups, adjust them for different time zones. To avoid chaos, it has multiple filters on the calendar where you can view posts by accounts or team level. The calendar further allows you to replicate identical posts, do modifications to them, or reshare your evergreen content with a single click.
Its content manager ensures that users never run out of content ideas. When you enter the keyword to the search bar, it brings relevant content across different platforms where you can save them for further check.
Its schedule browser extension is the most distinguishing feature from the rest of the mentioned alternatives to Sprout Social. By clicking the icon on your screen, you can enter the text and visuals and easily schedule while you continue to surf the internet.
With an ads manager, you can set ad parameters, targeting options, and control your ad budget from its interface. SocialPilot provides comprehensive analytics for understanding follower behavior, post engagements irrespective of whether they posted from it or not. On top of that, it identifies your social fans who are actively engaged with your posts.
You can simply add users through email invitations. Customer onboarding & training facilities users over the control of the tool.
Price: With the cheapest plan at $25, you can access 1 user and 10 social media accounts along with the major social media management features.
Conclusion
As you would tell, all these Sprout Social alternatives offer similar functionalities and integrate with almost the same networks. But the major difference lies in the pricing options. The names listed offer versatile pricing plans helping businesses of all sizes to benefit from the advancements of social networks while scaling their experiences.
As we do in all of our posts, these were our picks based on ranging customers' needs and price categories. Sure, there are other great alternatives to Sprout Social that will carry the common requirements of the average digital marketer.
Before picking the social management tool, pay attention to the scale of your social media and social media KPIs that the tool will hand you.