6 reasons why FS Poster is the best WordPress plugin for social auto posting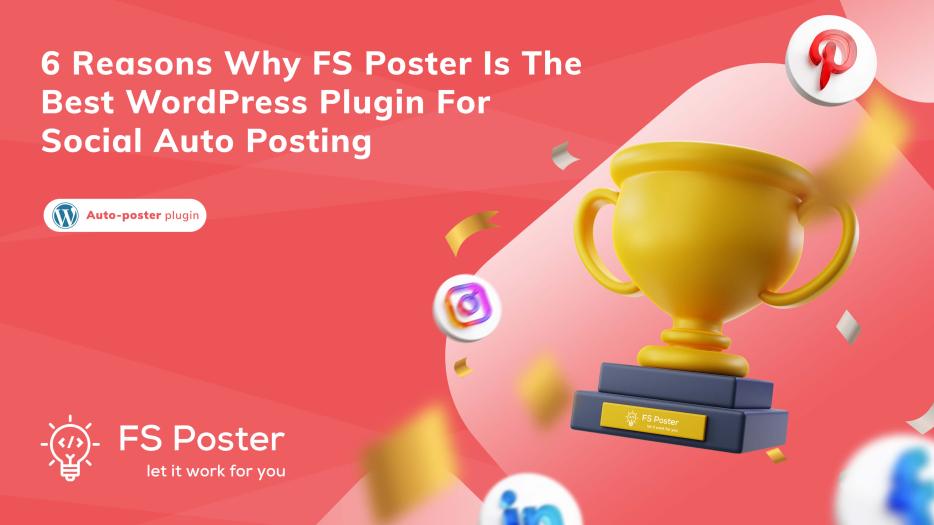 Plugin for WordPress
Jul 27, 2021
The best WordPress plugin for social auto posting allows you to maintain a consistent experience for your brand and audience as well. With this, you can reach your target at their peak times even if that time is inappropriate for you.
As content writers, marketers, and content consumers we all are aware of what role social media plays in our day-to-day lives. According to the latest data, approximately, 4.48 billion world population use social network platforms which makes more than half of the world. And, the average time a person spends on social networks is 2 hours 24 minutes a day. The data from Statista shows the list of most used social platforms in the world.
By the date of July 27, Facebook is the number one used social network in the world. The interesting fact is social networks like Telegram, Reddit, Pinterest outcompete giant platform Twitter in the number of users. If you are not on these platforms yet, consider a way out.
But the question is Can you be there all the way around?
Social media never pauses, but you do. Sparing your whole time to post on different social platforms boggles the mind. The rational person will search for a solution which is social media auto posting in this case.
What is social media auto posting?
It is the practice of scheduling your content to be posted at a particular date and time to your social media accounts. The best WordPress plugins for social media auto posting help you achieve your marketing goals with the offered enhancements. The importance of scheduling is that:
No stress over performance blocks like internet connection, physical unavailability
More time to curate and create content for followers
Presence in multiple locations at the same time
More time to interact with followers
Less distraction in workload
More website traffic with wider locale and rich content
6 reasons why FS Poster is the best WordPress plugin for social auto posting?
There is a range of scheduling plugins that allow you to post your posts in advance. We come up with several evidential reasons that FS Poster is one of the best WordPress plugins for social media auto posting.
1. Easy-to-use
The very first reason to use FS Poster is its intuitive design. A simple user interface makes everyone easily understand and use the plugin. Creating a seamless user experience is challenging work for product developers. With a customer-centered user interface, FS Poster provides a seamless and relevant user experience.
Adding accounts to the plugin is a piece of cake with clear design elements. When it comes to networks with apps, you are free to choose the API policy for the app or the cookies method for the desktop to set up the plugin. Once you authorize your social profiles to the plugin, all your pages, groups, boards will be automatically added.
A clean interface makes it easy to navigate through the tabs, check your schedules, and accounts.
2. 18 integrated social networks and services
FS Poster has a wider coverage of social networks under its umbrella. You can auto post articles, links, photos, or videos to social networks Facebook, LinkedIn business pages, profiles, groups at the same time.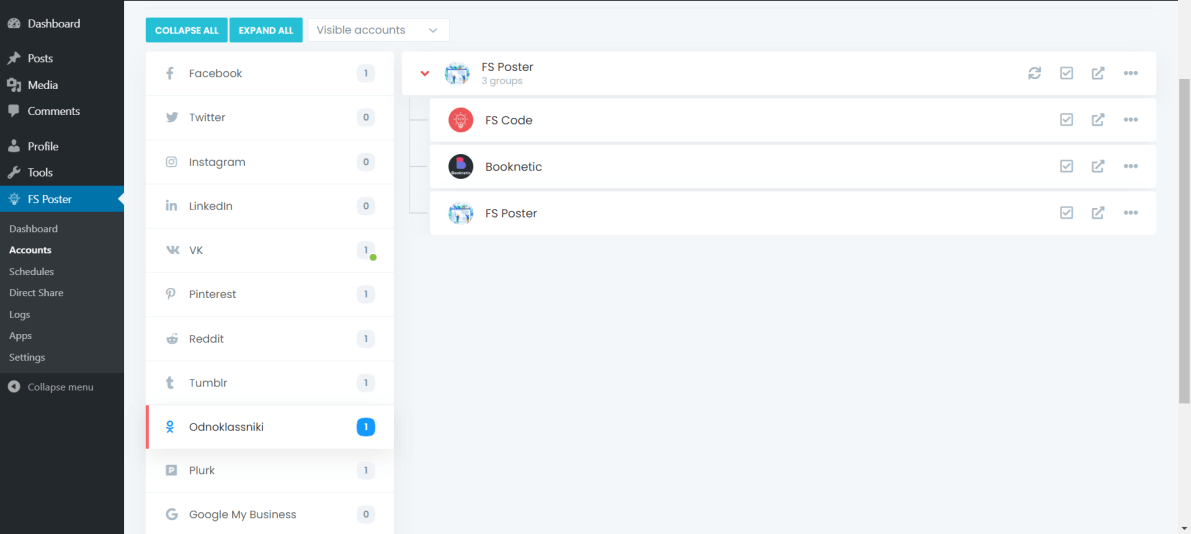 All you need is a visual element like a featured photo or video to reach visual discoveries like Instagram, and Pinterest. You can always be on top of trends by joining discussions on Twitter, Plurk, Tumblr.
You can enlarge your content areas to target written content consumers society Medium blogs, WordPress sites and communicate them on Quora, Reddit discussions.
The best WordPress plugin for social auto posting contributes to your business profile in search engines. Apart from social networks, you can share your content images, links to Google Business Profile to update visitors about the latest news.
Integration with Telegram, Vkontakte, OK.ru makes sure no friend or contact will miss any update.
Save the best for last. What is greater about wide integration channels is you can add an unlimited number of pages, profiles, or groups to a single account.
3. Customization in automation
You have some privacy, no worries. Among the best WordPress plugins for social media auto posting, FS Poster developed enormous features to automate all your posting by enabling customization of posts on your own. At the end of the day, you know what time is the best for you, what posts should be shared.
You can customize your articles by:
Setting intervals between shares
Putting sleep time
Order the scheduled posts
Add custom messages
Share customs posts like Woocommerce products
Customize your post URL to easily track its performance

Customization lets you treat each social network and community within its own culture and standards. For example, you may not add the same post description for your Instagram story and Twitter post. First, due to a character limit and also follower sentiment is pretty much unlike between the two.
4. Competent customer service
The cohesive documentation empowers users to understand the design, maintenance, the use of the plugin with video, photo, and written materials. A clear and comprehensive explanation helps to:
Minimize risks
Lead smoother scheduling experience
Ensures posting consistency
In customer support, we swear.
With 24/7 customer support, you are guaranteed to receive accurate responses promptly. In fact, we are nominated as the best WordPress plugin in CodeCanyon. If you think we blow up, check the link to see how FS Poster got 4.98 ratings from real users.
5. Increased online presence
Just as auto posting your content saves you time, it also improves your online presence. By increasing the number of posts, you improve the engagement rate and connect with your followers outside of business hours. Instead of sharing posts on a daily basis, you can schedule posts on all social media channels weeks or months ahead, use bulk scheduling for certain content, and let the auto posting do the rest.
Sharing content across various platforms, groups, or pages also widens your reach to larger audiences. Accessing your audience in different places does not only strengthen your presence on these sites, moreover impacts your SEO performance. Through clicks and followers' shares on multiple platforms, bring your content to the front pages of search results and increase the domain authority of your website.
6. Discerning analytics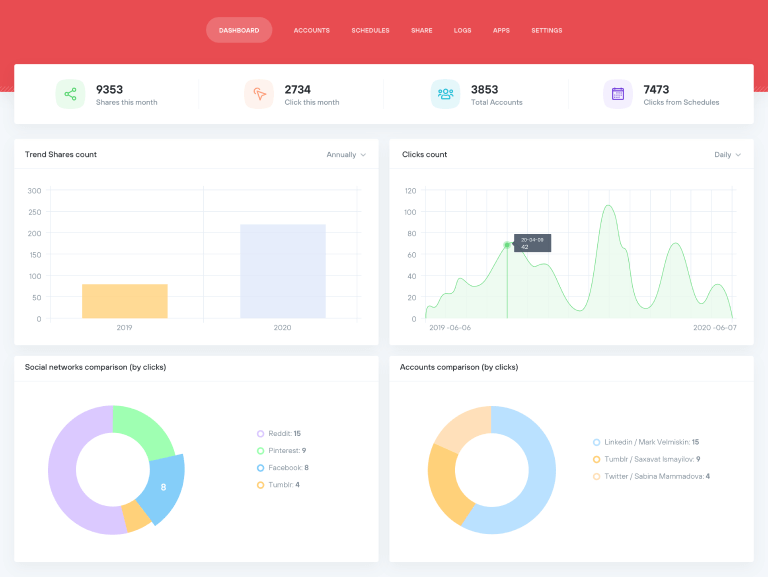 Apart from scheduling your content, the best WordPress plugin for social auto posting provides insight into the shared posts. Analysis helps to understand the pattern in engagements showing impressions, likes, comments, shares, and create personalized content across each platform. You can evaluate your better-performing channels and accounts via visual network comparisons.
By analyzing daily or weekly shared posts and their click counts you can develop a content calendar and advance your content strategies that will in the end bring more website traffic and boost your business performance. Real data helps to get to know followers in action, see their interests that have a direct influence on product development.
By now, you may be wondering how much it takes to get the best WordPress plugin for social auto posting. Hold your hat! With just $45, you can access all features, benefits, and customer support. One-time payment to upgrade your social media and content marketing.
Wrap up
Your road to success in online business crosses content creation. One of the best ways to improve your content strategy and increase site SEO is consistency in content publishing. The social media scheduler tool is what you need to achieve your marketing and business goals on this path. FS Poster as one of the best WordPress plugins for social media auto posting offers a range of features and benefits to utilizing your social media and overall content strategies. Check Demo to try all features we could not squeeze into this blog.
Also read:
Shares your thoughts with us in the comments below.