Top 10 WordPress YouTube Plugins to Make Your Videos Viral
Social Networks
Oct 07, 2021
Actually, in the modern world's demands, video content is considered as one of the powerful ways to attract consumers. Everyone knows that YouTube is the most popular online video-sharing and social networking site.
The phrase "viral video" is now widely used. This alludes to a video of people who enjoyed it so much that they sent the URL to millions of others on social media. Companies have recognized that they can use this capacity to reach out to potential consumers and have set up their own YouTube accounts to upload adverts and other marketing videos.
There is a key point to making your videos go viral. YouTube videos provide a plethora of modification possibilities in WordPress. Many of the functions, unfortunately, are not integrated into WordPress. As a result, you will want WordPress YouTube plugins that can add particular functionalities.
When it comes to the best YouTube plugin for WordPress, there are several alternatives to choose from. As a result, we have created a list of some of them:
1. Your Channel
Your Channel is one of the simplest methods for displaying your YouTube videos on your website. Try adding your YouTube login and channel ID, and it will create a video gallery on your website. You may embed videos into your posts or use a lightbox to display them.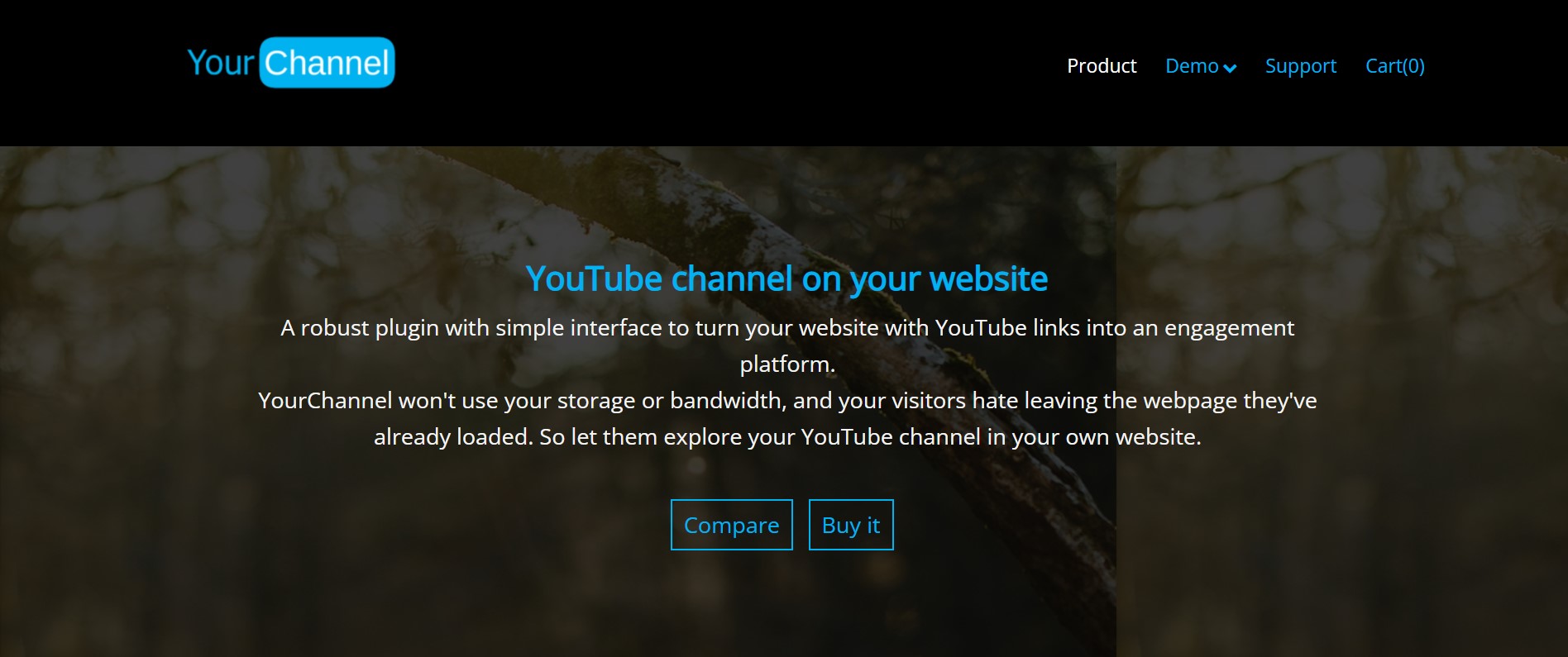 Use one of the 7 attractive thumbnails it provides to make your clips more engaging. If necessary, you may additionally include a seamless transition option. The plugin is ready for translation and also supports RTL. Among the major features are banner choices for simply displaying your personal image and username, playlist support, autoplay settings, lightbox support, caching options, and more.
Your Channel offers both free and paid versions with enhanced capabilities along with pricing ranging from $19 to $89.
2. ARVE – Advanced Responsive Video Embedder
ARVE - Advanced Responsive Video Embedder is one of the advanced, adaptable, and best WordPress YouTube plugins available. It also allows you to display videos from other sites, including YouTube, Vimeo, Vine, and TED Talks, using iFrame embed codes.

The plugin is SEO friendly since you can use it to customize Schema.org markup's title, descriptions, and upload data. This makes it easy for search engines such as Google to index the material. This alone sets it apart from the majority of WordPress video plugins.
It also offers WYSIWYG, which eliminates the need to deal with complex shortcodes when uploading videos to your website. Simply insert a YouTube video URL into a new line in your WordPress post editor. However, if you like to use shortcodes, you may do it natively though.
Advanced Responsive Video Embedder is free to use, on the other hand, it offers advanced features with a Premium version - $35/annually, and a Lifetime plan of $500.
3. Video Gallery by Total-Soft
As seen from its name Video Gallery is the best YouTube plugin for WordPress for gallery building. This software requires an easy-to-use editor, a modern lightbox, and 16 video gallery layouts. The plugin also works with Vimeo, Wistia, and plain old MP4 files.
Video Gallery is the plugin you require if you want to present your videos in a tidy and straightforward manner. It has an easy-to-use editor that allows you to quickly and easily construct your galleries. You also have complete creative control over your visual display using Video Gallery. You may change the name of the gallery, add special effects, and enter custom links.

This plugin is available in both free and premium editions. The Premium version is $15 for a personal license, $29 for a business license, and $50 for a developer license.
4. OptinMonster
Another best YouTube plugin for WordPress to increase your YouTube subscribers is OptinMonster. Using this plugin, you can easily create exit-intent popups that appear when a visitor moves their mouse away from your website.
You can, for instance, construct a lightbox video popup to appear on your website. To add a YouTube video to your popup, use the plugin's pre-made Theatre theme. This video may be the intro for your channel or your most famous YouTube video.
You may also personalize your message using OptinMonster. You can encourage your visitors to subscribe to your YouTube channel by including a call-to-action text in your popup, such as "Subscribe Now".
The Basic OptinMonster plan costs $9 per month after the free version. The Plus plan, which costs $19 per month, and the Pro plan, which costs $29 per month, are also available.
5. YouTube Gallery/Yottie
Youtube Gallery is another best-seller and premium one in a ton of WordPress YouTube plugins list. Vimeo, YouTube, Wistia, and MP4 are all supported by the plugin.
Yottie includes all of the functionality you'll ever want to present YouTube videos on your WordPress site. You have the ability to handle any number of YouTube channels, playlists, and videos.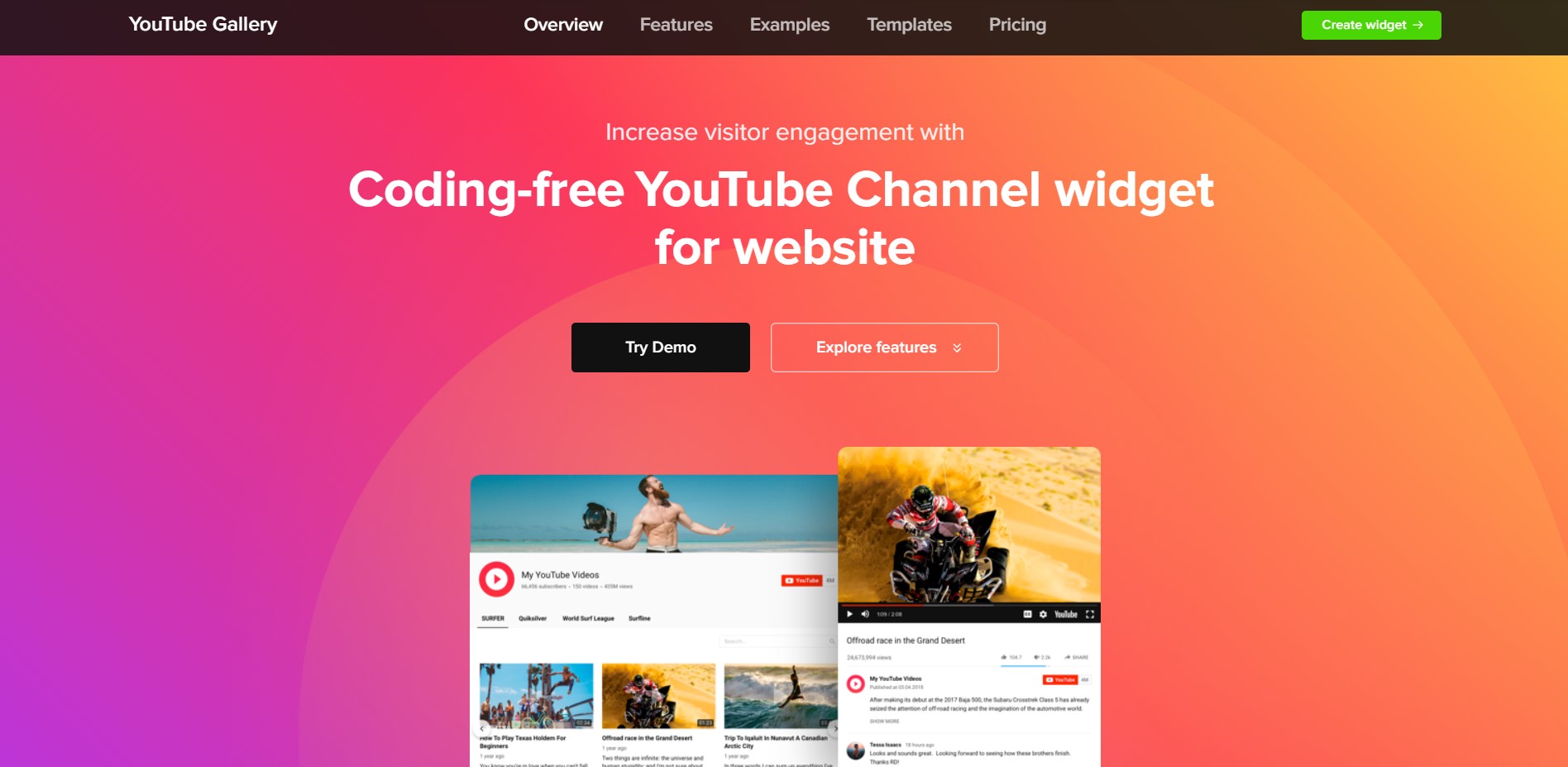 This plugin lets you customize a video preview to your taste. You can select one of three preview layouts: cinema, traditional, or horizontal. In addition, you may choose whether to display or hide some information while your videos get played, such as the title, description, length, and views meter. It also allows you to promote your video by connecting it to your AdSense account.
It is free, but lifetime updates come with $49 on the CodeCanyon marketplace.
6. YouTube Showcase
YouTube Showcase not only lets you add a video gallery, but also a video grid layout. If you choose the gallery option, this plugin will display video thumbnail navigation at the bottom.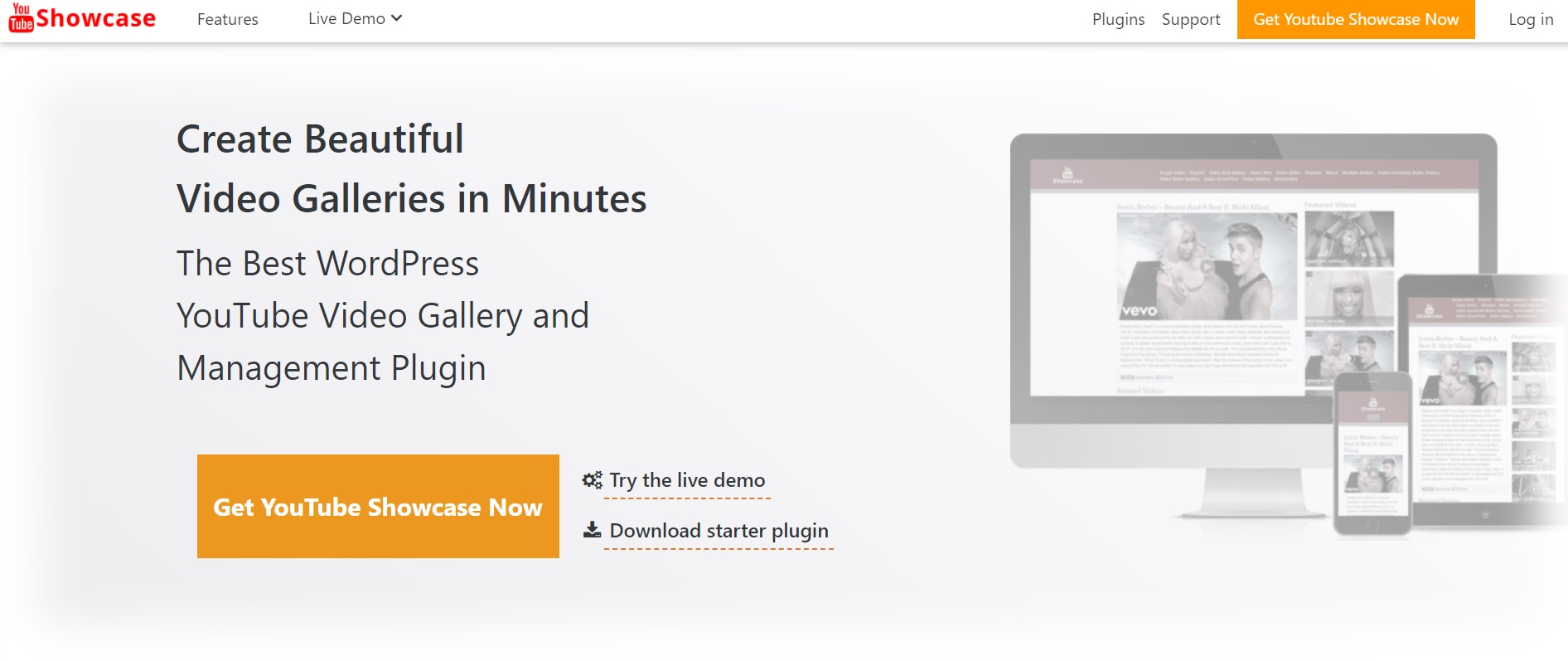 As it is a gallery plugin some key features include manual excerpts, flexible shortcodes, categories and tags for videos, and so on. The plugin also includes two sidebar widgets: the Featured Videos feed widget and the Recent YouTube Videos feed widget. To show these ready-made widgets on your website, simply drag & drop them into the sidebar section.
It is completely free to use.
7. Envira Gallery
There are the best photo gallery plugins, as well as best WordPress YouTube plugins and Envira Gallery is one of them. So it is not restricted to simply presenting YouTube galleries. You can also use the plugin to integrate video galleries from other popular video services such as Vimeo, Wistia, Dailymotion, and others.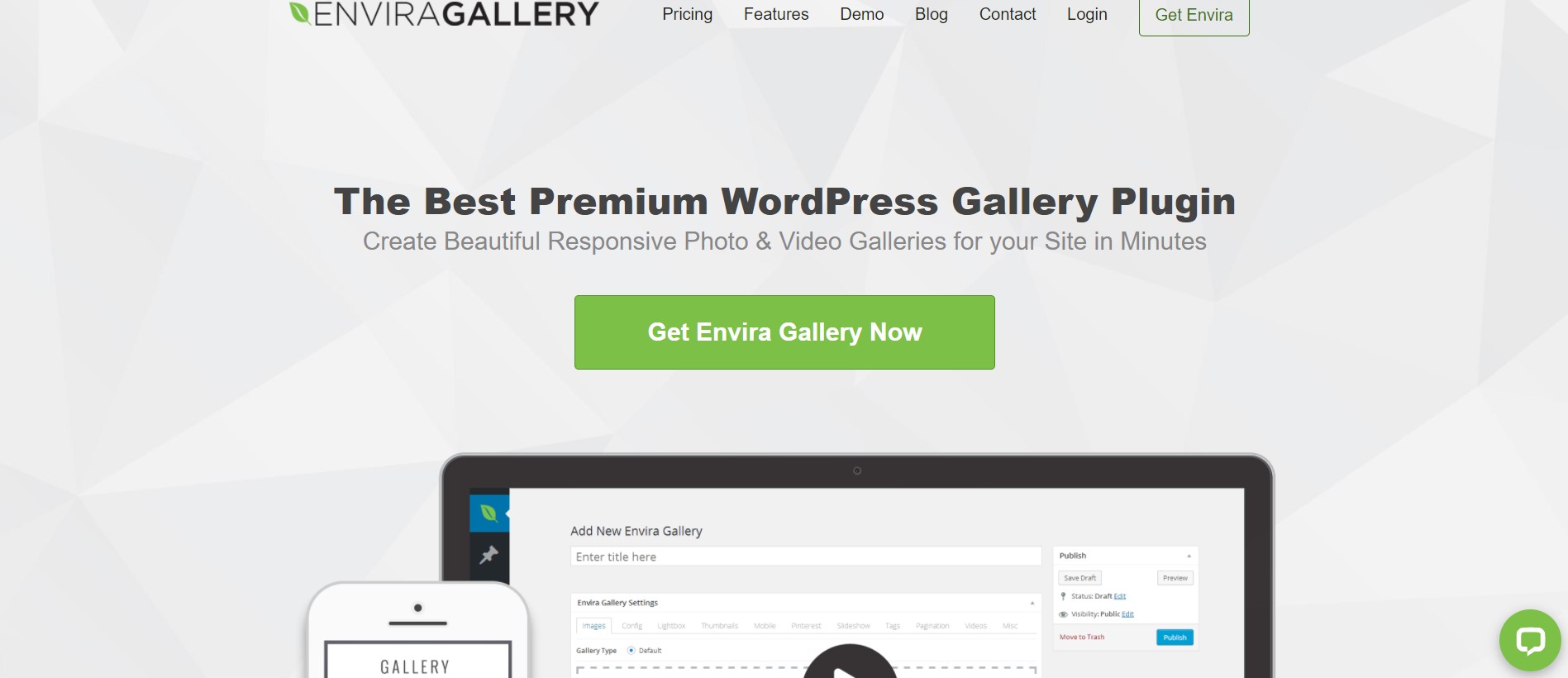 Envira Gallery's strongest point is its drag-and-drop builder, which allows you to quickly design picture and video galleries. You may place the plugin's widget in the sidebar, footer, or other widget-ready parts of your website. You can also swiftly personalize your galleries with its pre-built layouts and give them the appearance they need.
It begins at $26 for Basic, $62 for Plus, $89 for Pro, and $269 for Lifetime.
8. Embed Plus
Embed Plus is known as a fantastic and best YouTube plugin for WordPress that lets you embed so many types of content as individual videos, playlists, galleries, channels, and live streams.
Basic and advanced data on the WordPress Dashboard are yet another Embed Plus capability. You may see how many times your video is viewed each day, can see the preview of its daily impressions, and make a comparison to rival videos.
Furthermore, you may enable JavaScript deferral, which means that the plugin's scripts will only begin to execute once a page has been loaded. This reduces the time it takes for your pages to load, which improves the user experience.
The premium edition costs $39.99 as of the writing of this article. This plugin also includes an Analytics Dashboard, Blocked Country Alerts, and Deleted Video Alerts. These features, too, will cost $49.99 for a one-year subscription.
9. WP YouTube Lyte
If your web pages are taking too long to load because of YouTube videos, WP YouTube Lyte is ideal for you among WordPress YouTube plugins. When clicked, it will just launch the massive YouTube player. As a result, video rendering is significantly faster, even when many movies are displayed on the same page.
It's crucial to remember that in order to use the plugin's full capabilities, you'll need to obtain a YouTube API key. The WP YouTube Lyte plugin can contact the YouTube API and obtain the thumbnail, title, and description of the videos you add using a key.
It is also one of the free and best WordPress YouTube plugins.
10. Smash Balloon YouTube Feed Pro
The plugin is simple to use and allows you to automatically display YouTube videos in a gallery format.
You can use the plugin to display as many feeds as you like, either on the same page or on various pages of your website. You may also show your YouTube videos in one of four stunning layouts: grid, list, gallery, or carousel view.
Smash Balloon's YouTube feed plugin also allows live streams and might even display a YouTube live stream, as well as any forthcoming YouTube live broadcasts, on your WordPress website.
Prices are starting from $98 Personal plan for one site to $598 for All Access Bundle for unlimited sites. It also offers a 30-day money-back guarantee.
In Conclusion
So, you have met our list of nest WordPress YouTube plugins, their benefits, prices, and characteristics. The majority of them assist you in embedding your video on YouTube, while some are useful in organizing your gallery, SEO optimization, and many more tasks are mentioned for them. Hopefully, our suggestions will come to your help. Good luck!