10 Ways to Grow Your YouTube Channel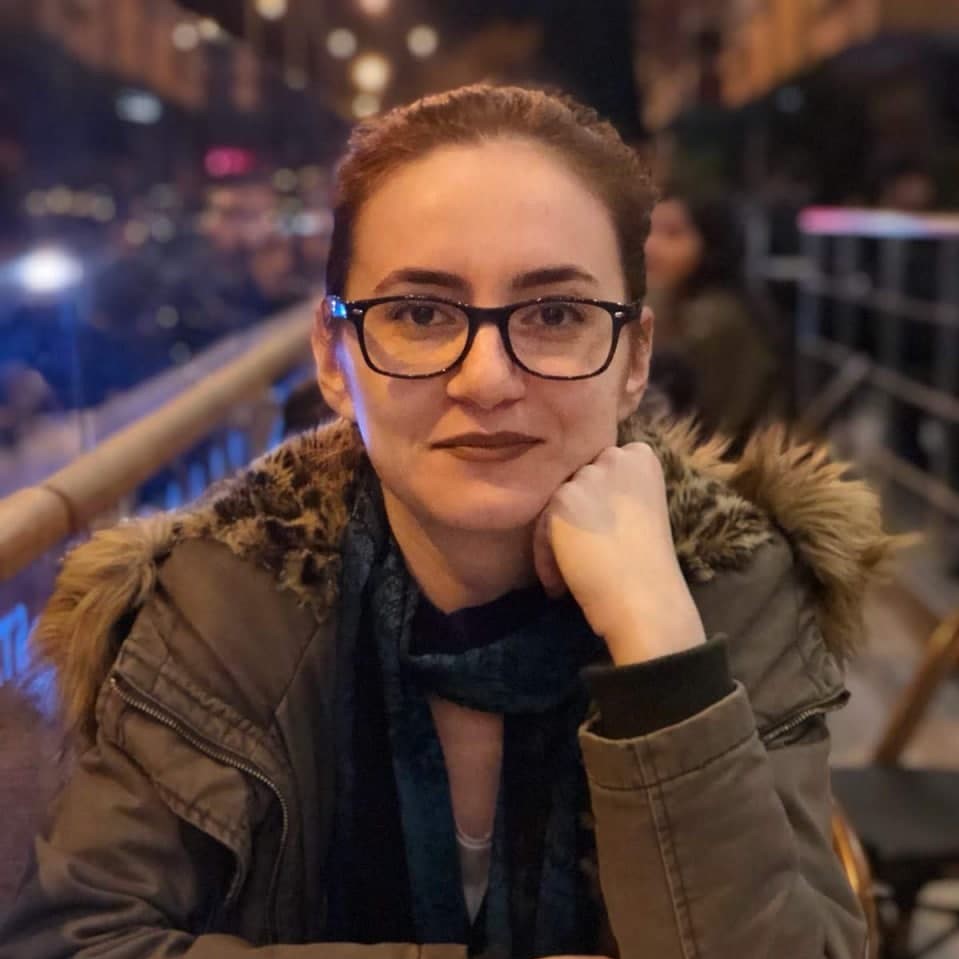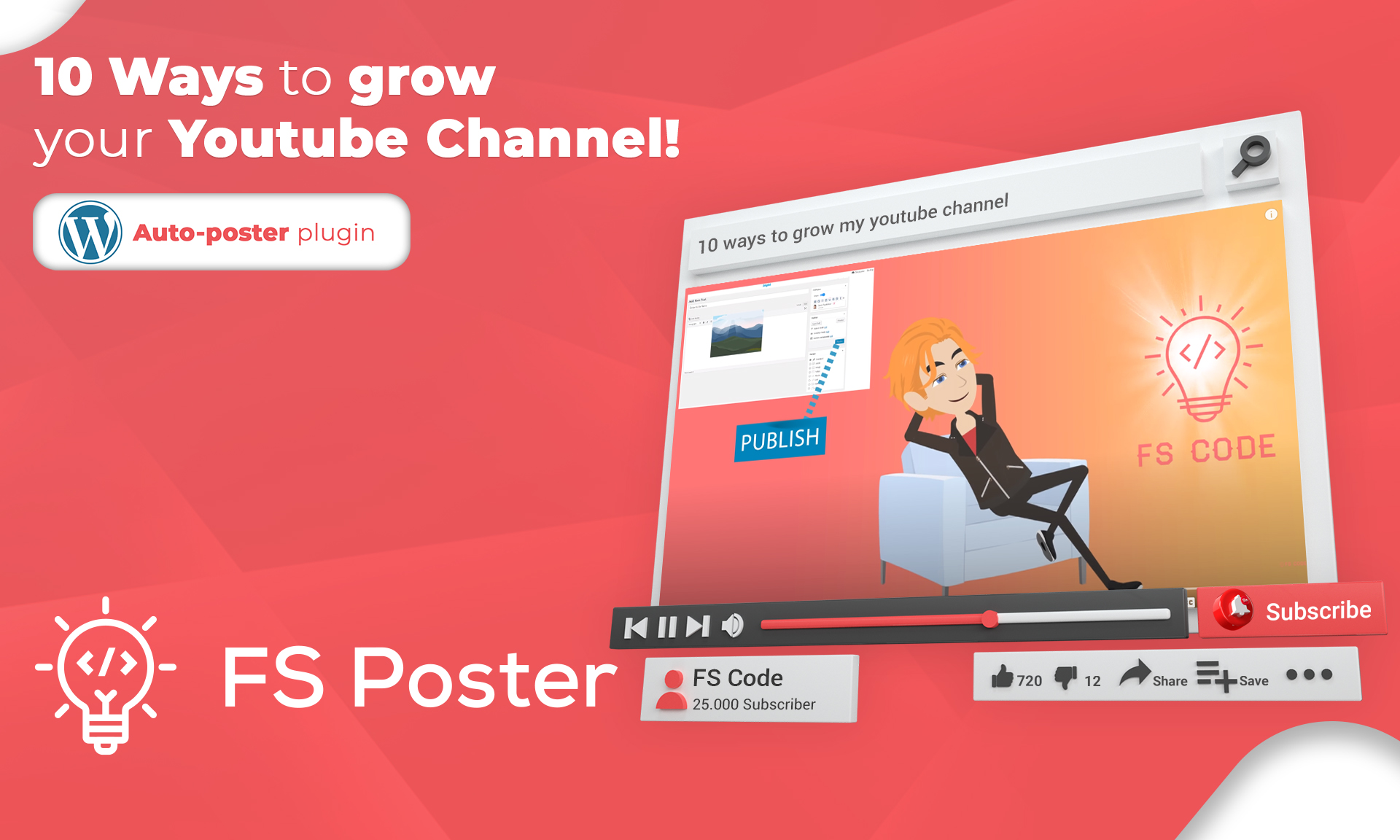 Social Networks
May 01, 2021
There's no doubt that video marketing has been increasingly common and available for businesses in recent years. Although famous platforms like Snapchat, Facebook, Instagram, Twitter, and even your website are fantastic ways to invest, YouTube remains the market leader. Individuals spend a billion hours per day on the network viewing content. YouTube, dubbed the world's "second biggest search engine," will help the videos be discovered quickly and deeply interacted with if you know a few tricks. Here are 10 ways to grow your YouTube channel:
Commit to posting on YouTube at least once a week
According to recent studies, YouTube channels that upload more than once a week do significantly better and get substantially more suggested views.
Try to post a video to YouTube three or more days per week, if you're just getting started and trying to create an audience. Maintaining a consistent posting schedule of several posts each week will quickly boost your channel's ranking in the algorithm.
Creating a large amount of content on related subjects at the start would help the channel do well in the algorithm and build a catalog of content that will guide viewers from one video to the next, increasing your viewing time and giving them an incentive to subscribe.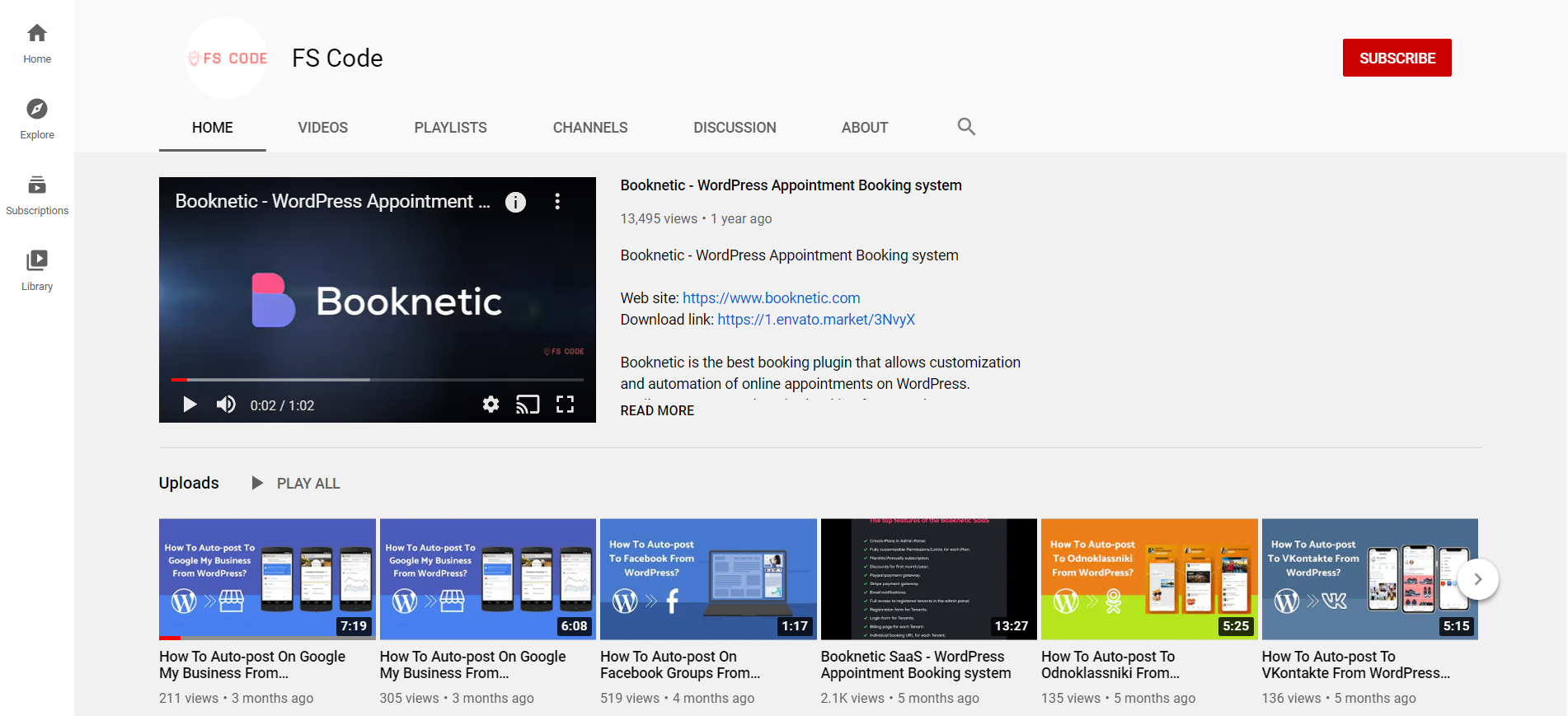 Create a workflow for video production that will last
You may be making Oscar-worthy short films and videos, but if each one takes six months to complete, your YouTube channel isn't going to expand. People come back for more because there are regular video uploads at predictable times.
Choose material that you can produce and build daily for any videos you choose to make and find ways to streamline the production process, whether it's by setting up a workshop, developing an editing prototype, or recruiting assistants or a production team. Continue to fine-tune the topics and production workflow until you have a well-oiled system on your hands.
Start each video with a captivating hook
It is up to you and your material to hook audiences. Present the final product first if a video features a project of some sort. A spectacular outcome piques people's curiosity in learning how you got there. This method works well in DIY and makeover episodes.
Another way to pique viewers' attention is to tell a story. People are born with a need to tell tales. People would naturally want to hang around to see what happens if you launch your video with a plot. Furthermore, personal experiences endear the host to the audience and serve as a valuable transition to more complex concepts.
It would be best if you held titles and opening credits short
The average person's attention span is just a few seconds. People may lose interest in a video if it starts with a long title or credit sequence. People don't want to repeat the same long series repeatedly, so a long opener discourages binge viewing.
Make the opening title and credits brief and snappy instead. Make the opener last for more than 5 seconds.
Add end screens to your videos, channel, or website to promote them
End screens are interactive graphics that direct viewers to a different video, playlist, channel, or web page or encourage them to subscribe to your channel. You can only include end screens in the last 20 seconds of the film, as the feature name says, so you'll need to consider where they'll start.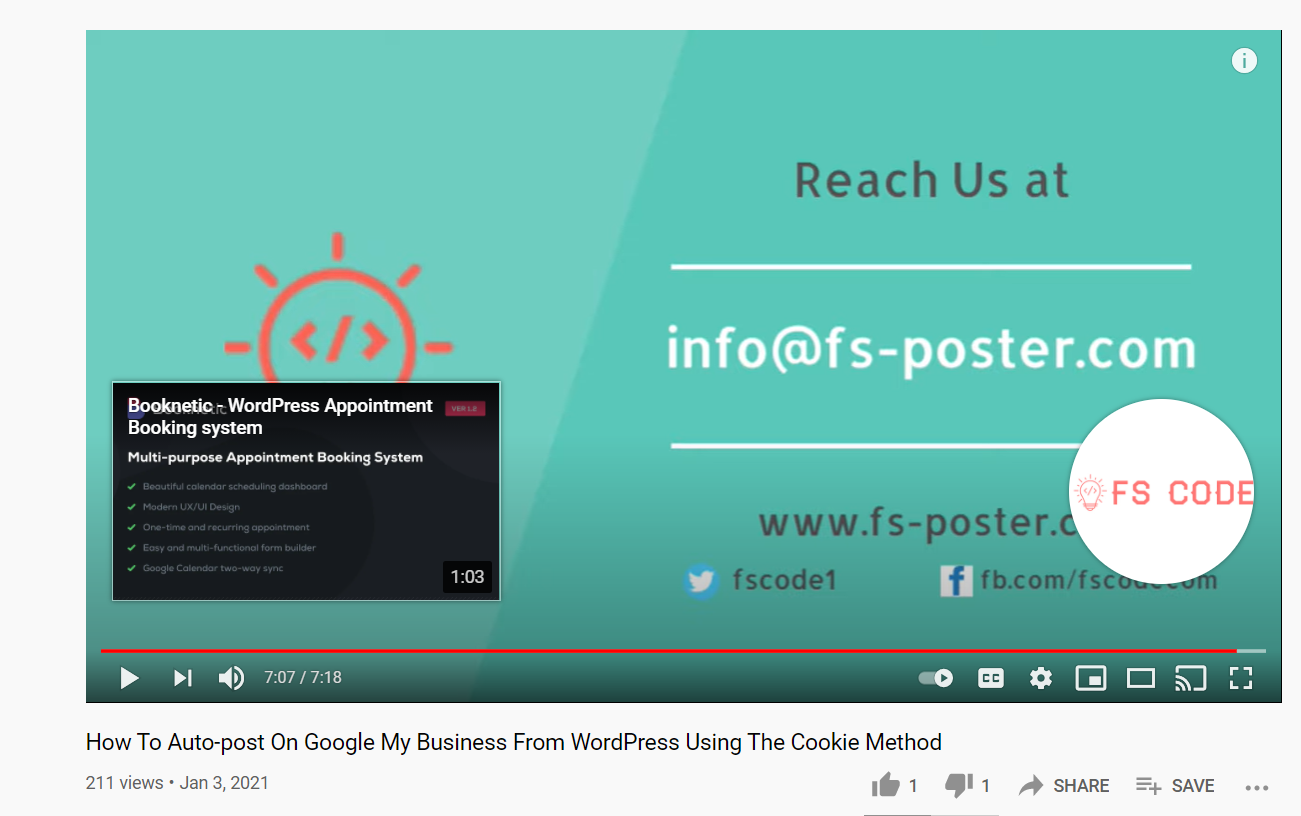 One choice is to frame your video's topic in such a way that end screens are available. Talking over the end screen will keep the viewer's attention.
Alternatively, you should install a slate with an icon or logo where the end screens will be placed. If you don't want the end screen to mess with your content, choose this choice.
Create thumbnails that YouTube users want to click on your video
Thumbnails, more than any other aspect, have the power to make or break your YouTube career. What is the reason for this? Suggested videos.
On YouTube, suggested videos are the most popular source of organic traffic. When someone watches a video on YouTube, the video thumbnail has to stand out when it's in the correct sidebar as a recommended video. When your video is recommended, YouTube is essentially promoting it by implying that anyone watching another video might enjoy yours as well.
Make the thumbnail appropriate to the title and content of the video. A video that has nothing to do with the thumbnail is the fastest way to get viewers to click away. The audience feels tricked. You'll not only alienate the viewers, but you'll also have insufficient watch time, which is the most critical factor for the YouTube algorithm.
With your thumbnails, try to say a plot. Show a picture that sets the scene or teases it. Let the audience be curious about what will come next or what has happened before.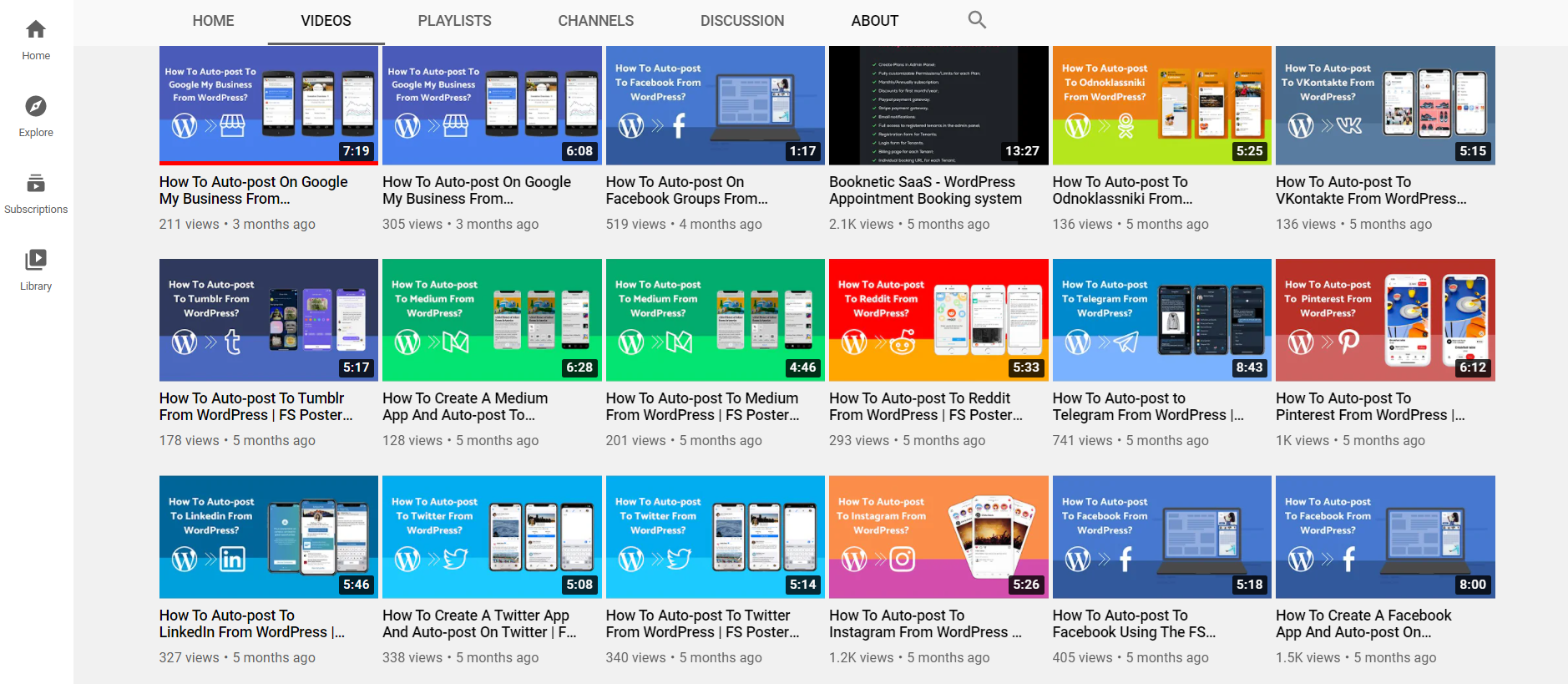 Many people use YouTube's recommended video thumbnail size of 1280 x 720 pixels. The photographs are beautiful, but no one on YouTube ever sees a thumbnail that size.
FS Poster is one of the best auto-posting plugins which has many features. You will be able to post your blogs directly from WordPress to 13 social media networks. Try our demo version.
To increase the amount of time people spend watching videos, make them longer
Make your actual video content as long as it makes sense for your subject, even if you want to keep your credits short. Given the notoriously low attention times online, making long videos seems paradoxical. Shorter videos were deemed to be better. On the other hand, longer videos equal more watch time, which increases the content in the algorithm.
Finally, the ideal video length is only long enough to convey all of the detail without being too long. You will lose fans if you make a video longer simply for the sake of making it longer. However, you should plan your video material with longer videos in mind. In general, videos that are between 7 and 15 minutes long perform better.
Try going live to grow your YouTube channel
Live-streaming is an intelligent way to get a lot of material out without putting in a lot of effort. While live-streaming has a steep learning curve, it is the simplest way to produce video content once you've mastered the format.
In all social media sites, live streaming is widely accepted. Since you can speak directly with your viewers in this video style, it offers outstanding interaction opportunities. Long watch times are also a feature of live video.
To begin broadcasting live footage, you can use your smartphone or a webcam. And comparatively inexpensive webcams will provide high-quality footage.
Team up with other YouTubers
Collaborations are videos created by other content providers and are among the most effective ways to grow your YouTube following. Acting with another content producer, whether you're a brand or a YouTuber (or both! ), will open your channel to viewers who may not have heard of you otherwise.
People are influenced by social evidence in a big way. When one content developer collaborates with another, their viewer sees it as a recommendation. It can only take a viewer a few seconds to try out your channel, and if they like what they know, you've gained a new subscriber.
People often forget the fact that YouTube is first and foremost a social media platform. And through collaborating and cross-promoting, some of the most well-known developers became well-known. When you see a platform gaining more exposure or expanding faster than yours, it's tempting to let your competitive side take over. Instead, continue to see their success as a chance for you to develop alongside them.
Ask your fans who else they love watching and search for names and shared videos in the comments if you want collaborators with familiar audiences but different material.
Collaborations don't have to be exclusive to two people. For animations, different producers may collaborate to gain exposure to various viewers.
The bigger your platform gets and the more partnerships you create, the more chances you'll have for multi-creator collaborations. Many of the more popular YouTube channels do this regularly, simply because these other producers become friends with them and hang out with them in real life.
Create a series of videos
Binge-watching is a great way to extend the viewing time. Finally, you want to give your fans a "lean back" feeling when they move from one video to the next. One of the great ways to do this is with series playlists, an underutilized option on YouTube. You'll need a sequence to use them, however.
You may create a series focused on well-performing material. Indeed, several favorite YouTube channels have several episodes, each with its unique subject emphasis and thumbnail picture type.
You can build a series playlist when you share videos of your series. When you use a sequence playlist, YouTube can add the next video in the playlist to the Up Next segment at the top of the suggestions automatically. If autoplay is activated on a viewer's computer, the videos in your series playlist will play one after the other.
Conclusion
You must create YouTube content with your audience and the algorithm in mind to grow your YouTube channel. Make sure your thumbnails catch the attention of audiences and deliver on what you've promised. Start your videos with a good hook and keep the material interesting by editing it. Overall, you want to create an atmosphere that would entice audiences to continue viewing.
Fortunately, increasing the number of clicks and keeping audiences engaged increases the exposure of your videos and, as a result, your website, thanks to the YouTube algorithm. Engaging content that gets viewers to press and results in a long watch period and session length will help the videos get more views on YouTube.
In this blog, we shared some Youtube channel growing tips for you. You may would you like to read these blogs too: