Buffer vs IFTTT: The Best Way to Automate Social Media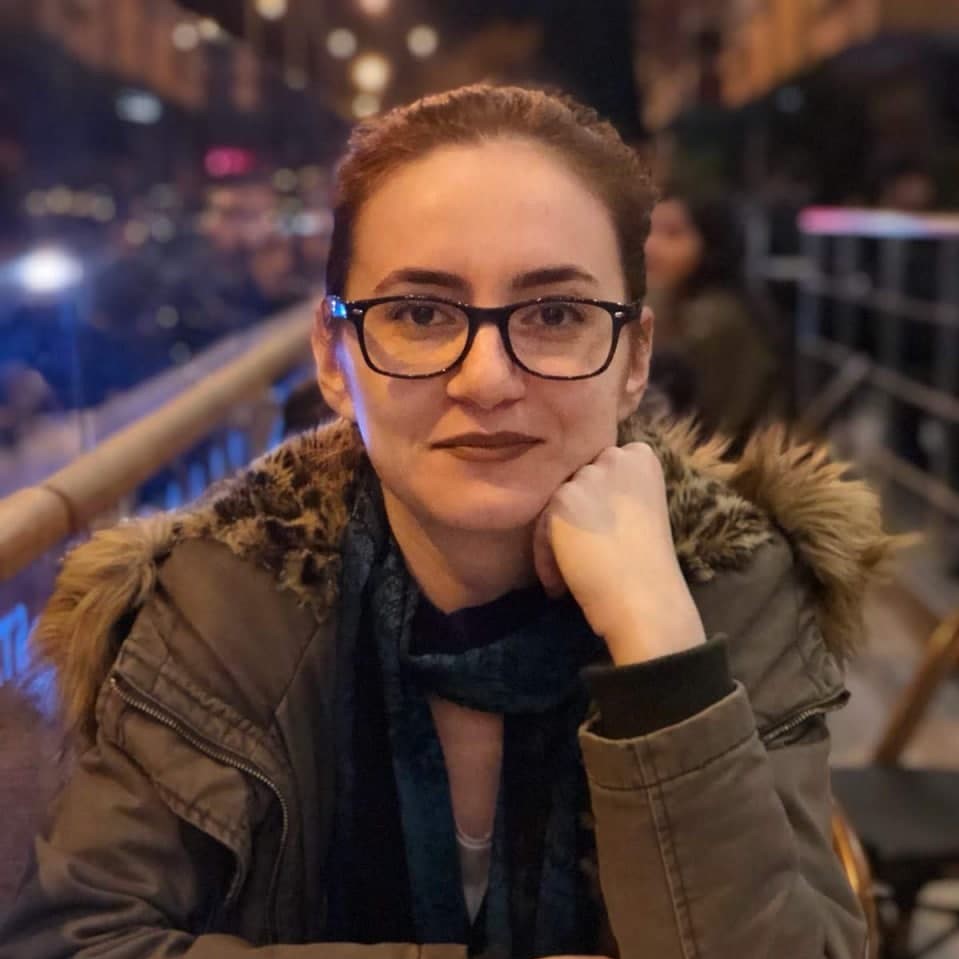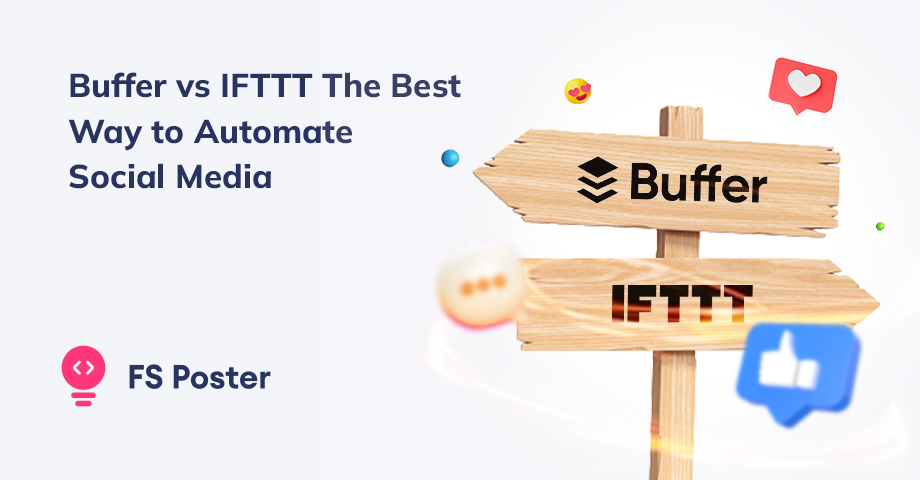 Digital marketing tips
May 27, 2022
If you're looking for a way to automate your social media posts, you've probably heard of both Buffer and IFTTT. But which one is the best? In this blog post, we will compare Buffer and IFTTT and help you decide which one is right for you.
Buffer vs IFTTT: Overview
Buffer is a social media management application that enables organizations to plan and post content across various social media networks. These platforms include Twitter, Facebook, LinkedIn, and Instagram. In addition, Buffer gives its users access to analytics tools, which allow them to evaluate how successful their social media marketing efforts are.
"If this, then that" is the rationale behind the integration solution known as IFTTT. Its name comes from this logic. That implies that anything you create with IFTTT will have two parts: a trigger, which will initiate your integration, and an outcome, which will provide the desired impact. Therefore, if you constructed an IFTTT integration, also known as an applet, to automatically send you an email whenever a new task is assigned to you in a platform such as Asana, the email would be considered the result. In contrast, the newly assigned work would be considered the trigger.
This solution integrates with a wide variety of tools, operating systems, and electronic gadgets through its extensive range of available integrations. The most common connections offered by IFTTT include:
Recording work hours in Google Calendar.
Automating social postings.
Even receiving a notice on your phone whenever the International Space Station passes over your location.
Buffer vs IFTTT: Key Features
The current iteration of Buffer consists of three separate components, each of which may be acquired on its own. Even though it's a novel approach, this method adds an extra layer of complication to the situation.
Let's dissect the features into these three primary components and see how they stack up against one another:
Buffer publishing: Using this application, you can manage your social media content calendar on a computer or a mobile device, publish content, and schedule articles in advance. The fantastic Pablo tool, which helps produce new content for social network postings and other uses, is included as part of the Buffer Publish package.
Buffer engagement: The application known as Buffer engagement is utilized in order to monitor social media, delegate work to members of a team, and manage communities. Buffer Reply is an excellent tool for doing analysis on Twitter; however, its use on Instagram is limited.
Buffer analytics: Utilizing Buffer Analytics, you can optimize for performance reporting, gain marketing insights, and conduct data analysis. Even while this component of the Buffer product suite has a lot of potential, at the moment, it is not as developed as the other two elements of the suite.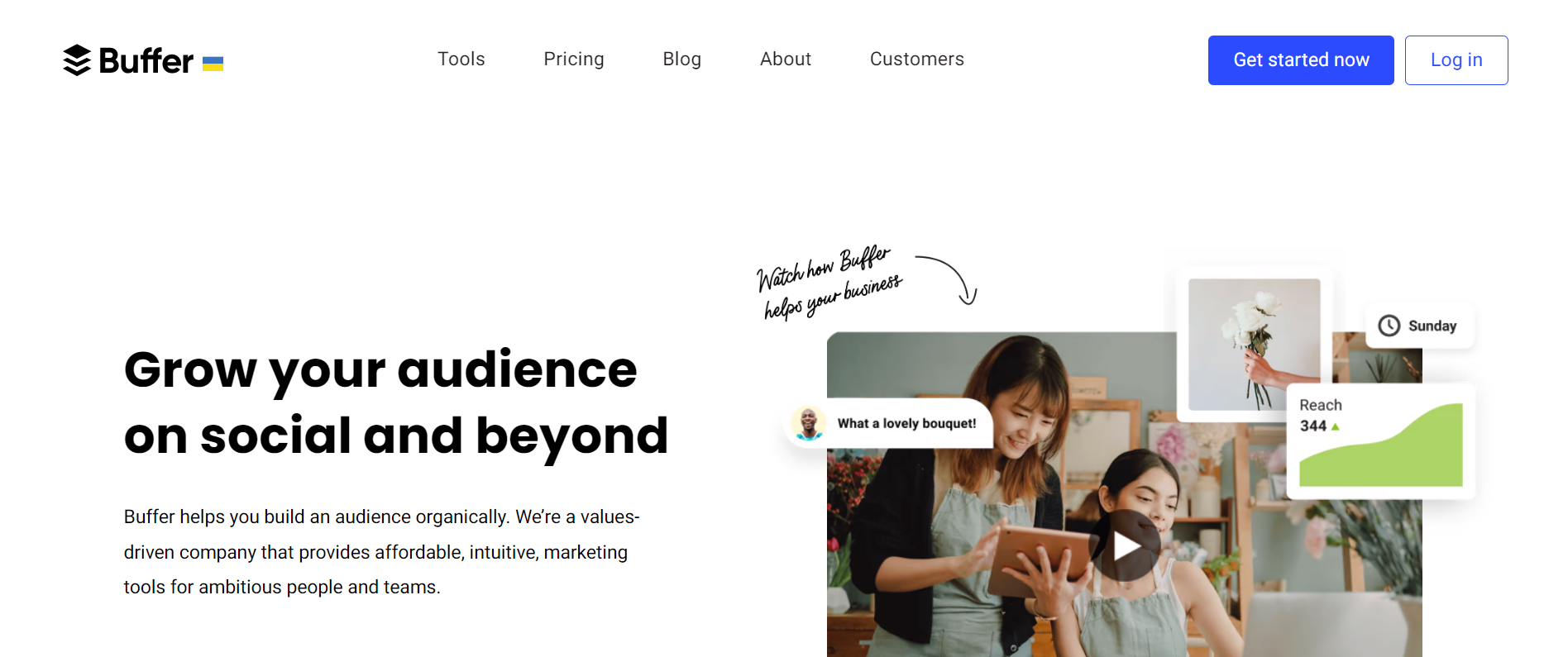 IFTTT has a lot of features for using. Let's take a look at them:
Accessibility Improvements: Quickly activate hundreds of features and triggers without any hassle. Choose from more than 600 different applications and devices, and take advantage of weekly upgrades to existing services. Use the open application programming interface to create basic applications. You may position and advertise applets and services by using a set of marketing and brand tools.
Automation: Increased work efficiency, both personally and professionally, is one of the primary benefits of automation. Experience the convenience of a smart home while also simply connecting additional services and creating new actions without needing to know how to code. Fill up the gaps between the smart home devices that are already accessible and the experience of automation.
Integrations: Integration that is optimized involves synchronizing the numerous items of a company with their respective applications. Simply clicking a button will make it possible to integrate with any software ecosystem's services. Develop an applet and seek collaboration from a variety of companies. Establish a connection between your goods and third-party applications running on Windows, Google, Android, and iOS.
Support: If you need assistance, you may contact support to get answers to your questions from knowledgeable support and account management teams.
Applets: Applets let you select what you need from a central library of applets and services. Modify existing applets or build your own from the ground up. If you have a pro membership, you may customize how applets run and run by using multi-step queries and filter codes.
Compatible: Use on any device, including computers, phones, tablets, and more. Compatible with all operating systems.
Personalization: In order to support tailored experiences for customers, it is helpful to gain meaningful data on product usage and how people relate to them.
Maintaining consistency requires posting information or material concurrently across several platforms in order to save time and effort.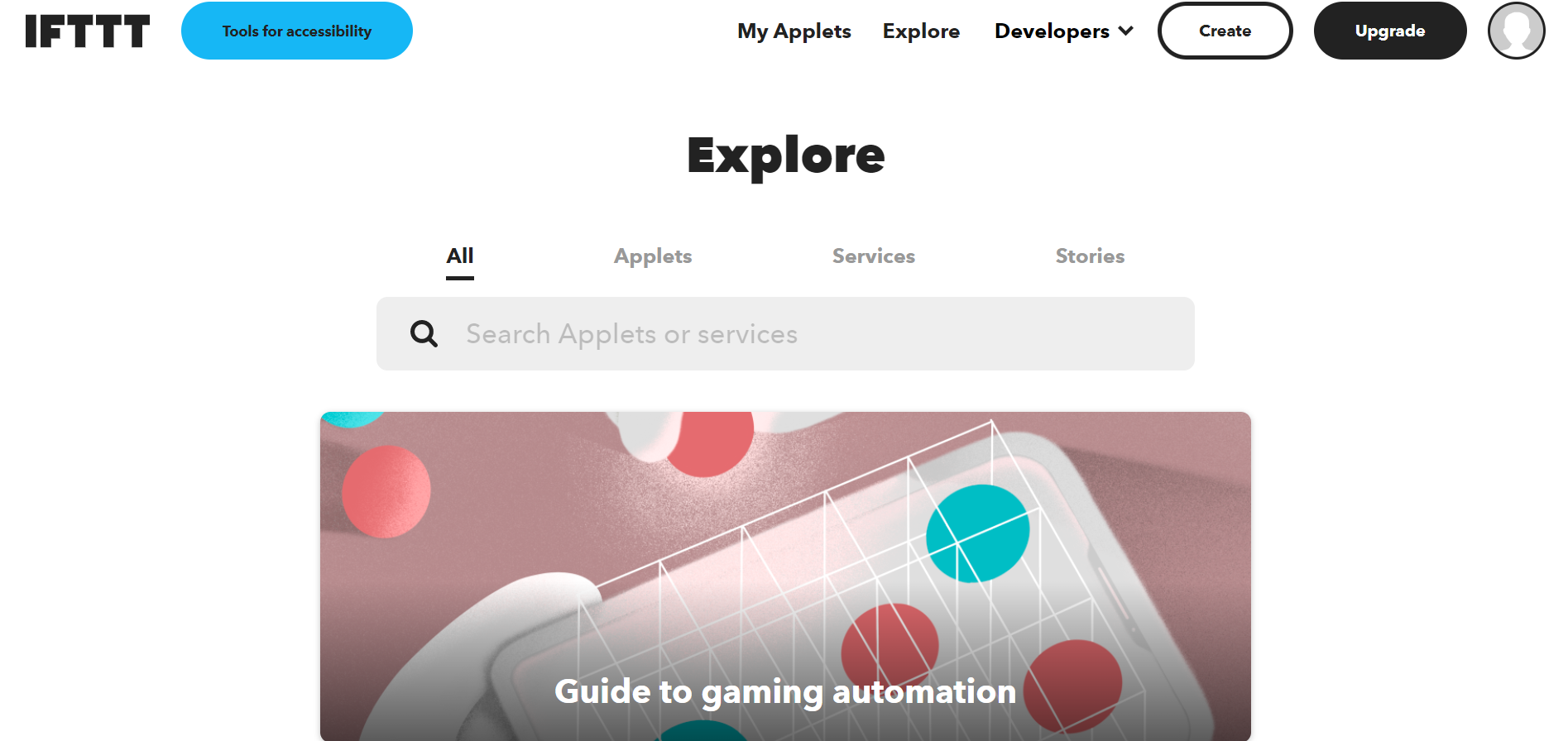 Buffer vs IFTTT: Integrations
Before deciding on a solution, you need to determine whether or not that solution will be able to support the workflow that you have in mind.
IFTTT is compatible with over 700 different applets across a wide variety of app categories. It is possible to link a number of your tools, like Slack, Asana, and Trello. Having said that, there are some glaring omissions. One such instance is HubSpot. Jira is another option.
You may utilize any plugins and extensions packaged with Buffer on the web browsers and applications of your choice by downloading and installing them. Even if you're using another social site at the time, you won't have any trouble sharing material thanks to these extensions. When you enter into Twitter or Tweetdeck, for instance, if you have the Buffer extension loaded on your browser, you will have the ability to submit tweets to Buffer or schedule retweets anytime you access either of those services (you also have similar features for Facebook).
Buffer vs IFTTT: Pricing
Buffer has monthly and annually payment options. There are four different price levels available for each payment option on Buffer: free, essentials, team, and agency. The cost of using Buffer starts at $5.00 per month for a single user. Buffer gives users a choice between the following three alternatives:
The monthly cost of essentials is $5.00.
Each user pays $10.00 each month for a team membership
A charge of $100.00 per month is due to the agency.
In addition, Buffer offers a free plan that has feature limitations.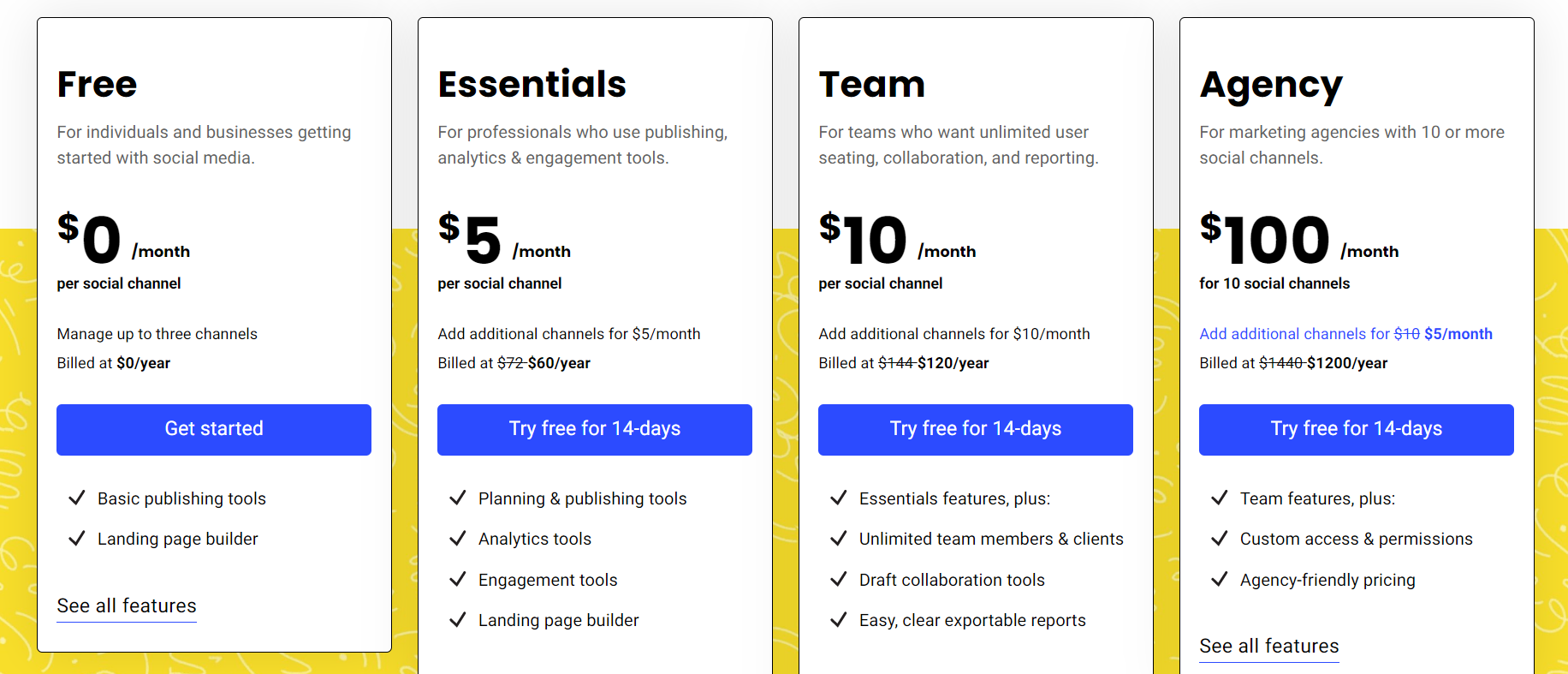 There are just three different plans for IFTTT:
Free: This plan is free and allows for up to 5 applets and independent automations. Applet speed is also standard. Take note that the pace of each applet is different. It might take fifteen minutes to a few hours to complete each one.
Pro: The IFTTT Pro subscription restricts the number of applets you may create to 20, increases the speed they run, permits multi-action applets, and provides access to built-in customer assistance. All of this for only $8.5 per month.
Pro+: On top of everything you currently get with the Pro plan, the Pro + upgrade gives you additional benefits such as no limitations on the number of applets you may use, the option to link multiple accounts, access to development tools, and priority customer support. This plan costs $17 per month to maintain.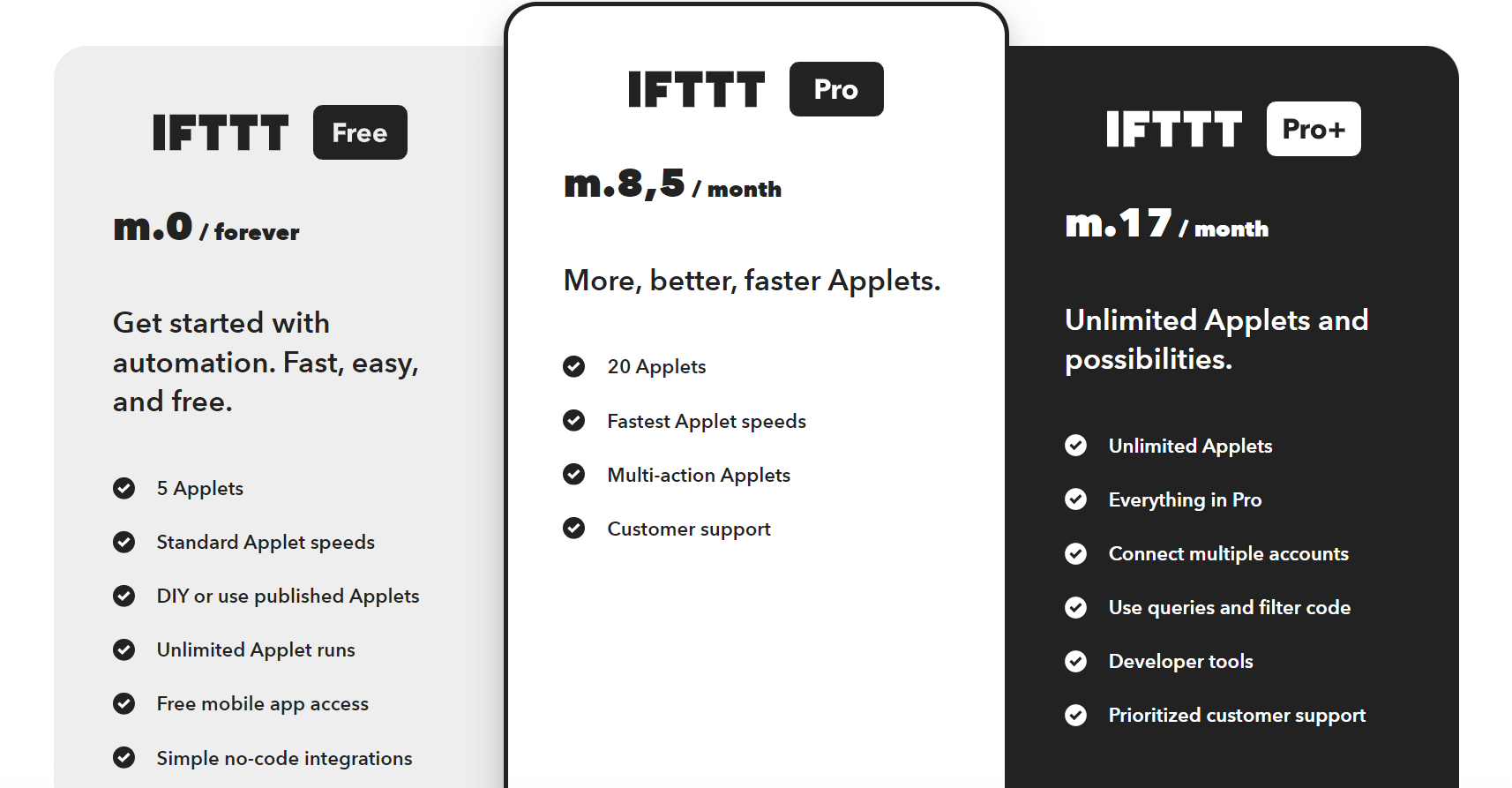 Conclusion
So, which is the best social media automation tool for you?
FS Poster is also a social media auto posting plugin that can be added to websites that use WordPress and offer extensive functionalities. On the other hand, FS Poster is compatible with fifteen social networks. It does not place any limits on the number of accounts that can be added, in contrast to the alternatives mentioned above.
The best part is that you only need to make one purchase to have access to all of the features and any updates in the future. You may get FS Poster Lite for free by downloading it from our website, or you can pay $45 to have access to it forever.
This in-depth comparison of Buffer vs. IFTTT and the FS Poster breaks down the features and pricing with the purpose of assisting you in selecting the solution that is most suitable for your company or brand.
Buffer or IFTTT? It depends on your needs. If you want to automate posts and scheduling, Buffer is a great choice. But if you need more flexibility in what you can automate and want to connect with other services and apps, then IFTTT is the better option. Whichever tool you choose, visit our blog for more tips on how to use it effectively!