Buffer vs. Sprout Social vs. Zoho Social vs. Social Bee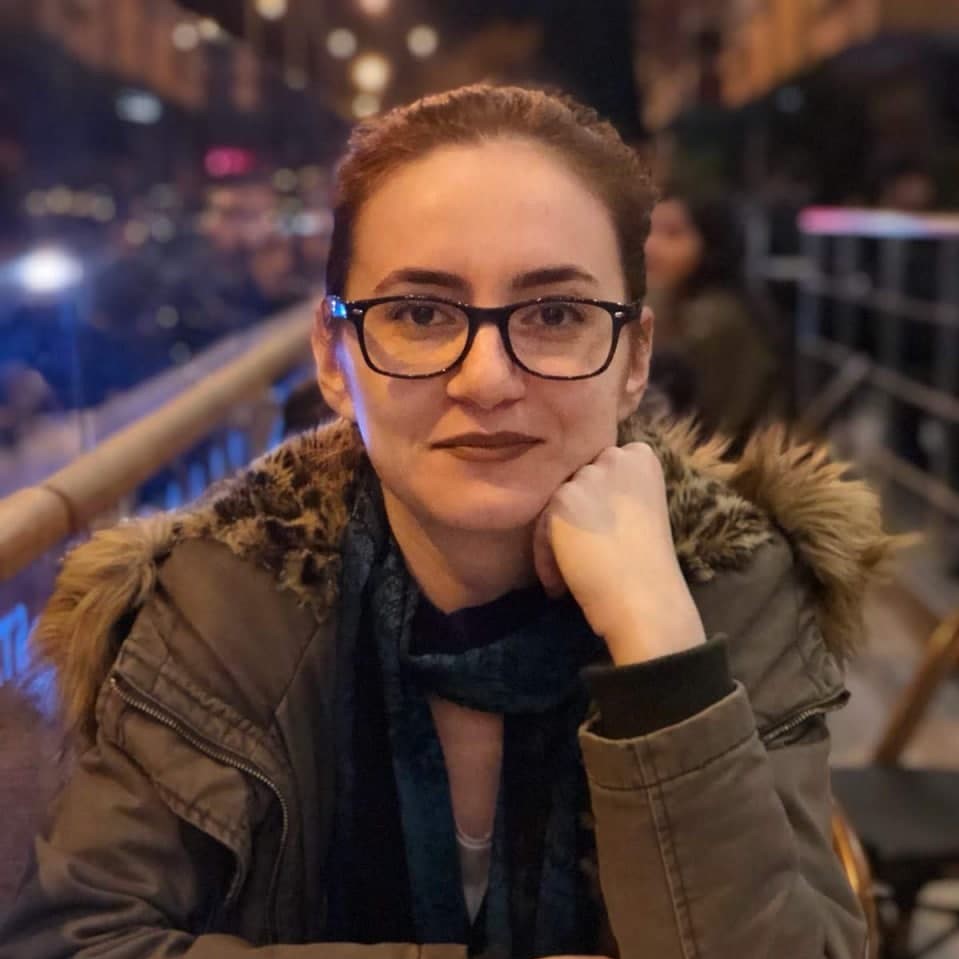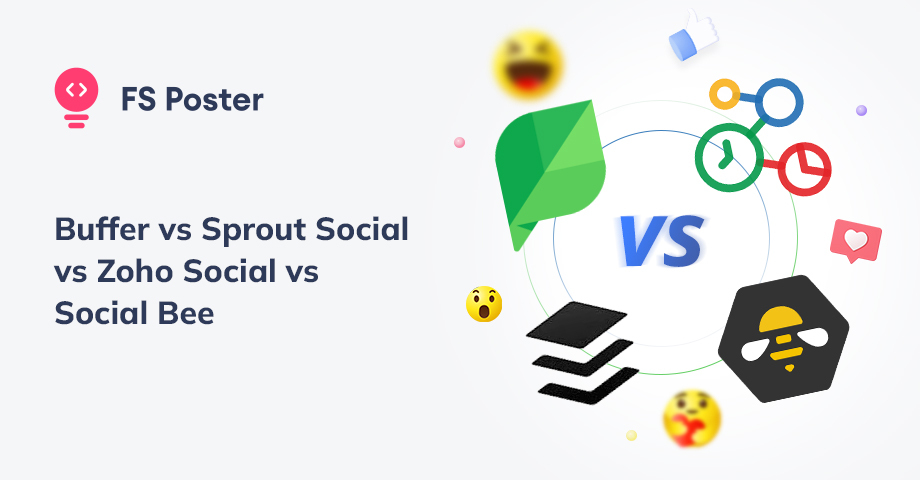 Social Networks
May 10, 2022
There are a lot of social media management tools on the market these days. So, which one is the best? This blog post will compare Buffer vs. Sprout Social vs. Zoho Social vs. Social Bee and help you decide which tool is right for you. Each tool has its unique features, so it can be tough to decide which one is the best fit for your business. Let's look at each tool in more detail and see how they compare!
Buffer vs. Sprout Social vs. Zoho Social vs. Social Bee: Overview
Buffer is a social media management tool that enables businesses to schedule and publish content across multiple social media platforms, including Twitter, Facebook, LinkedIn, and Instagram. Buffer also provides users with analytics tools to help them measure the performance of their social media campaigns.
Sprout Social is another social media management tool that helps businesses grow their social media presence. Sprout Social provides users with tools to publish content, engage with their audience, and measure the performance of their social media campaigns.
Zoho Social helps businesses connect with their customers and grow their social media presence. Zoho Social provides users with tools to create and manage social media campaigns and tools to measure the performance of their social media campaigns.
Social Bee helps businesses save time and grow their social media presence. Social Bee provides users with tools to schedule content, publish content across multiple social media platforms, and engage with their audience.
Buffer vs. Sprout Social vs. Zoho Social vs. Social Bee: Key Features
Buffer currently consists of three distinct items, each of which may be purchased alone. Although this is an innovative technique, it does provide an additional degree of complexity.
Let's break down the features into those three major items and see how they compare:
Buffer Publishing: This tool is for publishing material, scheduling articles in advance, and managing your social media content calendar on a computer or mobile device. Buffer Publish also includes the wonderful Pablo tool, which aids in the creation of fresh material for social network postings and other purposes.
Buffer Engagement: In order to listen to social media, give tasks to team members, and manage communities, Buffer engagement is used. Buffer Reply is a fantastic tool for Twitter analysis, but its use on Instagram is restricted.
Buffer Analytics: Optimize for performance reporting, marketing insights, and data analysis with Buffer Analytics. Even while this element of the Buffer product suite has a great deal of promise, it is currently less developed than the other two parts.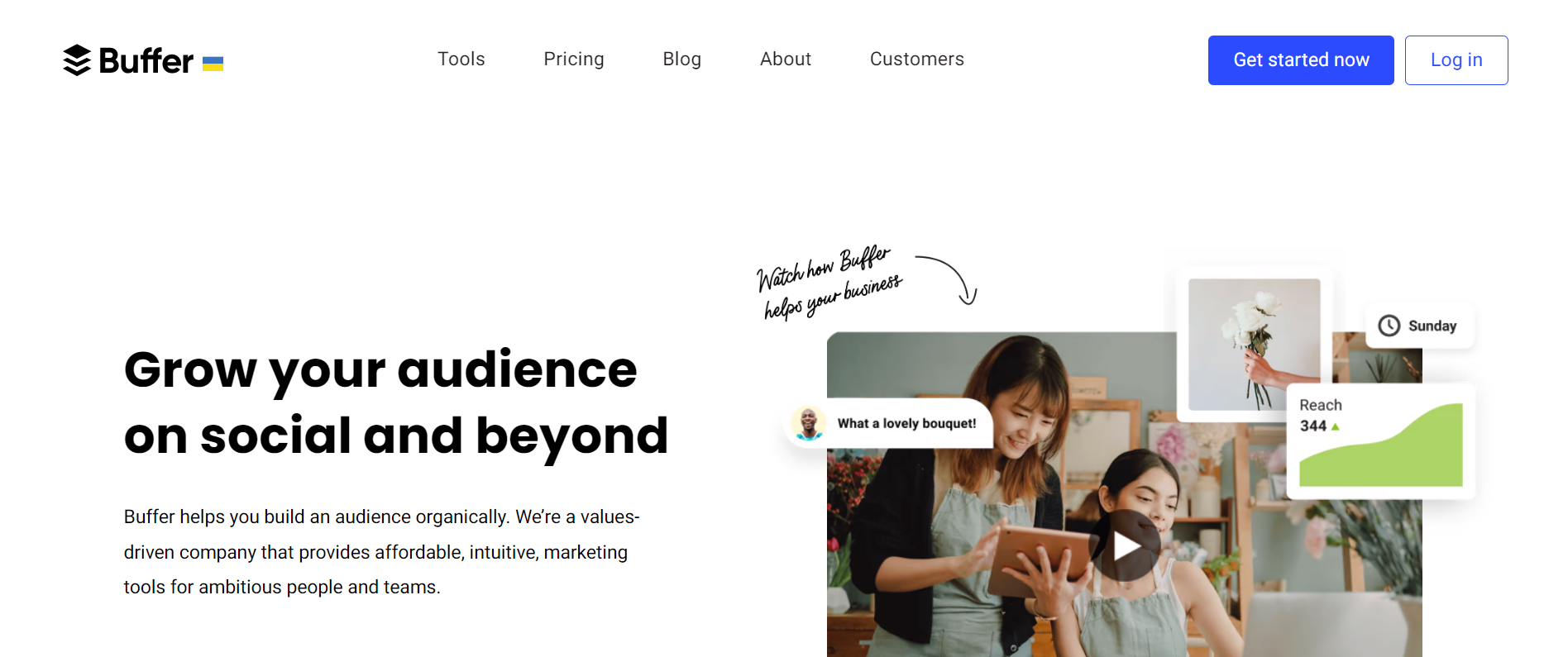 The Smart Inbox is the main point of the Sprout Social interface, and it is responsible for bringing all incoming messages from all social networks together in a single feed.
Even while this isn't the most eye-catching feature in the program, it is quite helpful for community management. It illustrates Sprout Social's ability to reduce the complexities of social media administration in general.
Sprout Social consists of five different products. Here are these features:
Engagement: The customer engagement solutions provided by Sprout enable you to connect with consumers quickly and efficiently, allowing you to answer their requirements better and increase brand loyalty.
Publishing and scheduling: Sprout's intuitive publishing and scheduling tools make providing social content a breeze, freeing up your team's time to concentrate on improving strategy and interacting with consumers more effectively.
Analytics: Sprout's Analytics solutions expedite data capture and delivery, allowing companies to concentrate on the key performance indicators, guide strategy, and demonstrate ROI.
Listening Tools: Companies may use Sprout's Listening capabilities to tap into worldwide social discourse in order to extract meaningful data, find industry gaps, and enhance their brand's health.
Employee Advocacy: When your workers use Bambu by Sprout Social, you can boost reach, enhance engagement, and attract more quality sales leads by allowing them to share curated content across their social networks in a straightforward manner.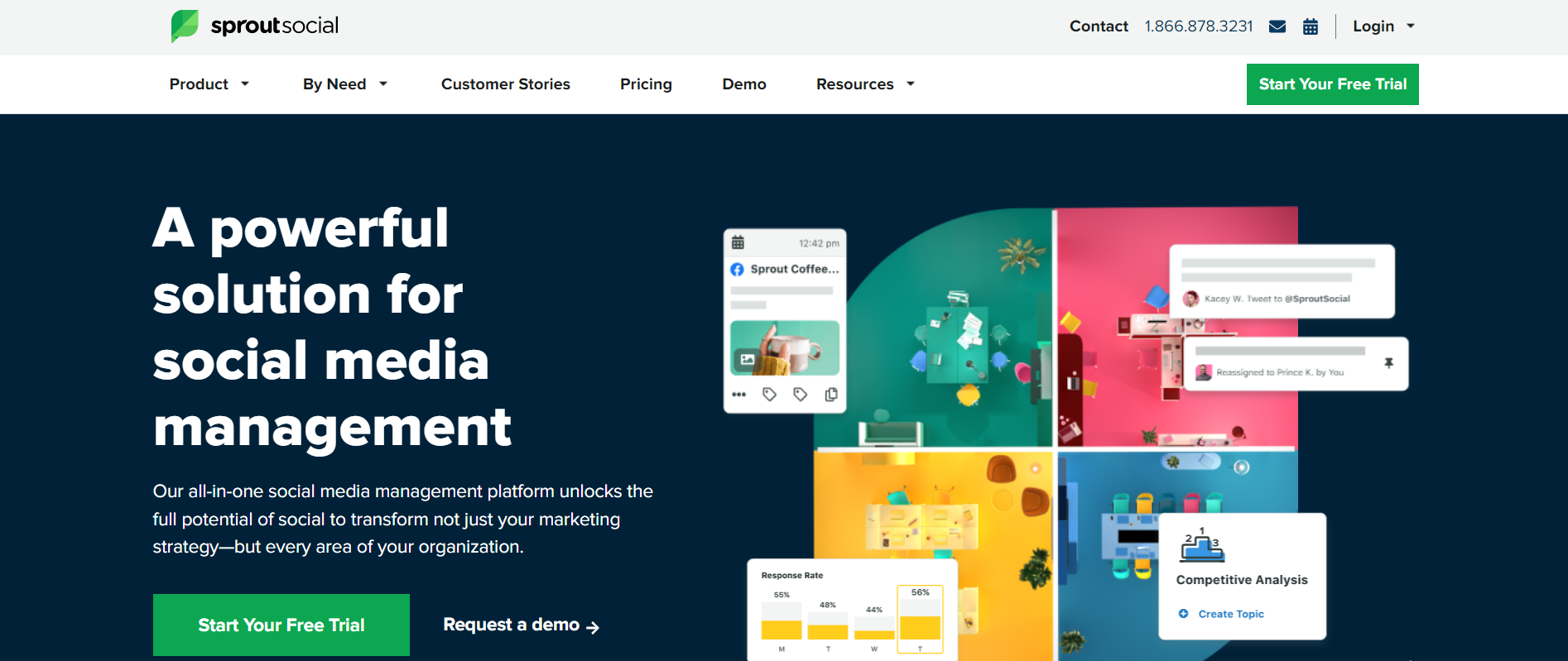 Zoho Social has a lot of key features. Here are they:
You can see your planned articles, drag & drop to reschedule them and manage your content pipeline from a single interface.
You may set up listening columns to keep track of brand reviews, @mentions, and brand keywords, among other things. Trends are being identified, and industry discussion participants are invited to join.
Chat, audio, and video calls allow you to hold conversations with peers, discuss reports and engagement, and collaborate on drafts while communicating with them.
You have the ability to create a timetable, select the frequency of delivery, and automate the delivery of reports to your team at a time convenient for you.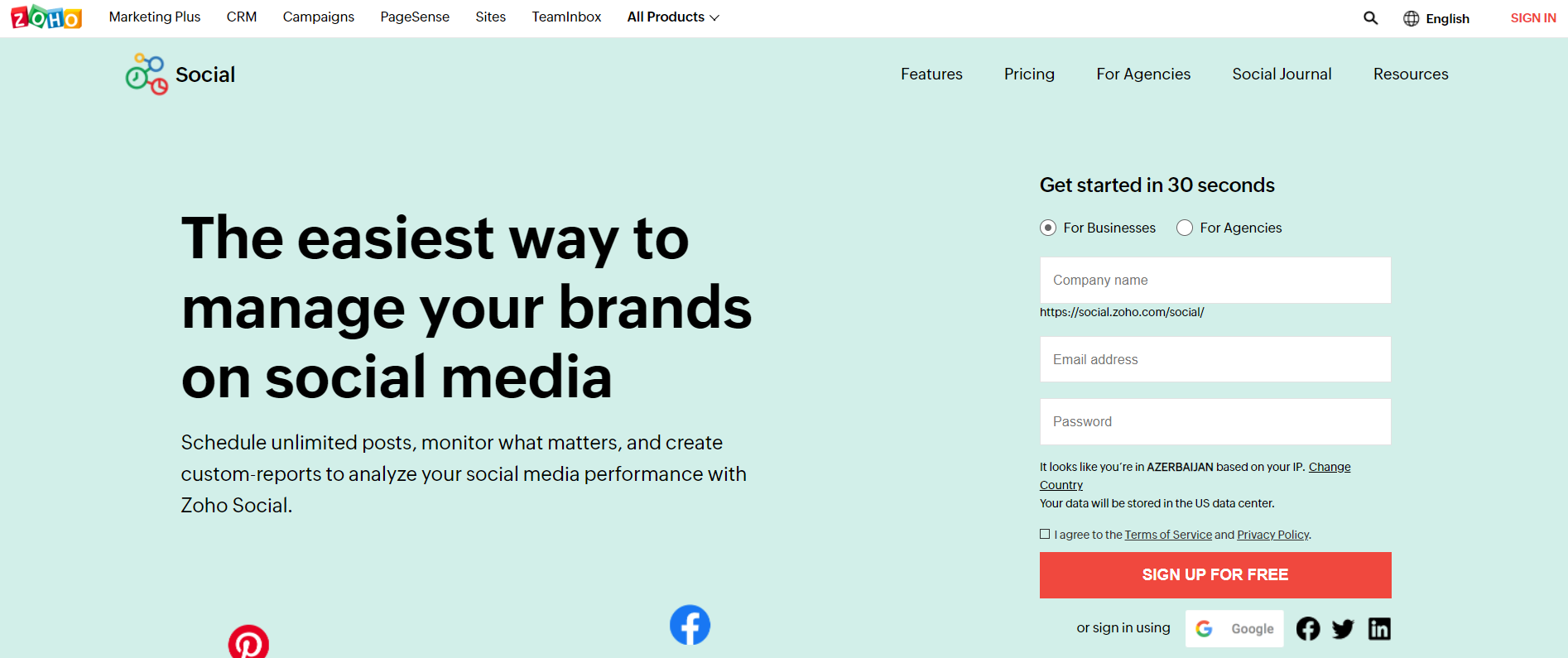 Social Bee has a lot of specific features. Here are they:
SocialBee helps you organize your social media posts into categories based on the sort of information you provide on a regular basis on your social media channels. This makes it easier to plan your posts more efficiently.
Using SocialBee, you can set the publication schedules of your content categories, allowing the software to know when to post information in your categories to your social network accounts.
You may want to find out who is following your top rivals on social media to try to gain their favor to help you grow your social media following.
Using SocialBee's Audience capabilities, you can access their social media platforms and extract the most engaged followers from their accounts.
Specifications of the work environment
SocialBee allows you to add users and restrict their access to roles and permissions in your account if you are working with a group in your company or agency.
Analytical and reporting tools
In order to help you build your business on various social media platforms, it is critical to understand whether or not your approach was successful. The Analytics dashboard in SocialBee provides you with the information you want to make sense of how your social media plan has turned out.
The concierge services provided by SocialBee are arguably the most distinctive aspect of the company.
The SocialBee in-house team can assist you if you're a solopreneur and need assistance developing a social media marketing plan and campaign.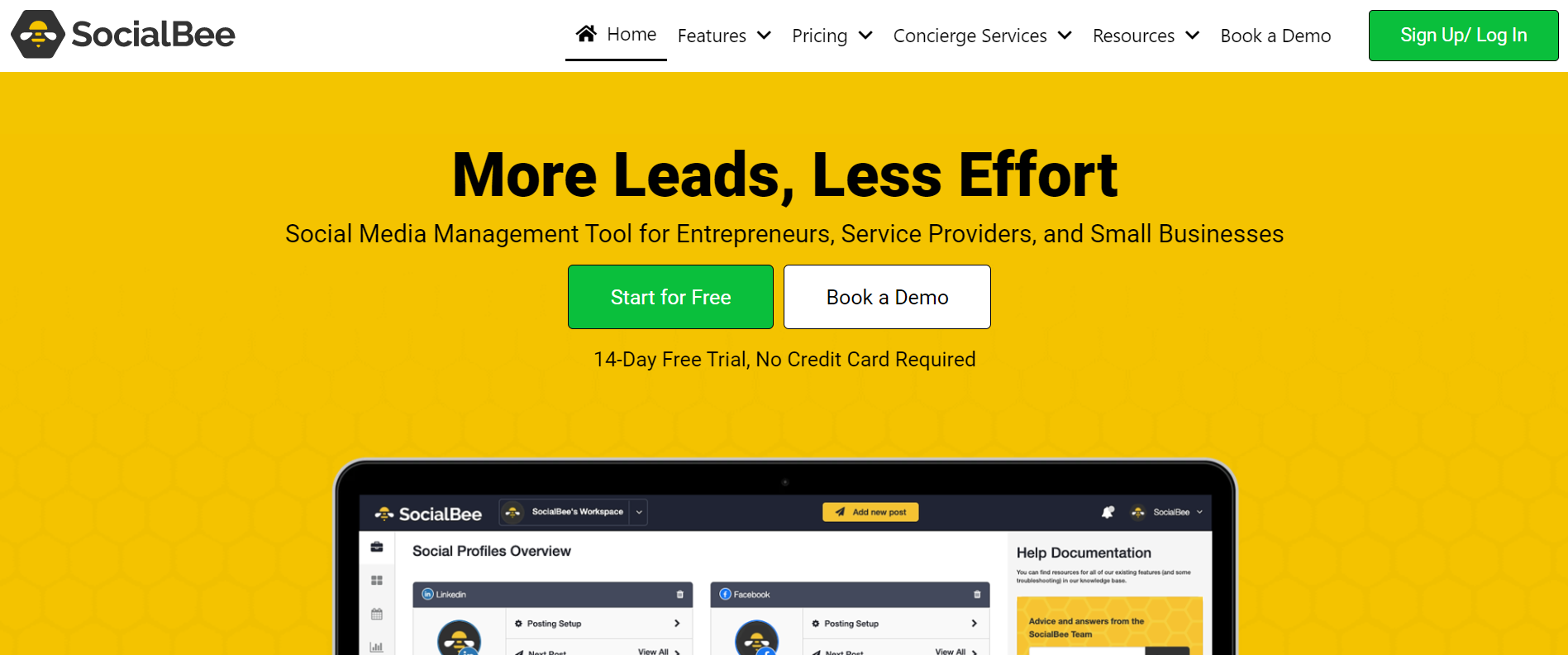 Buffer vs. Sprout Social vs. Zoho Social vs. Social Bee: Pricing
Buffer has four pricing plans: free, essentials, team, agency. Buffer's price begins at $5.0 per month for a single user. Buffer offers three alternative options:
Essentials are available for $5.00 each month.
Team membership is $10.00 per month per user.
Monthly fee of $100.00 for the agency.
Additionally, Buffer provides a Free Plan with restricted functionality.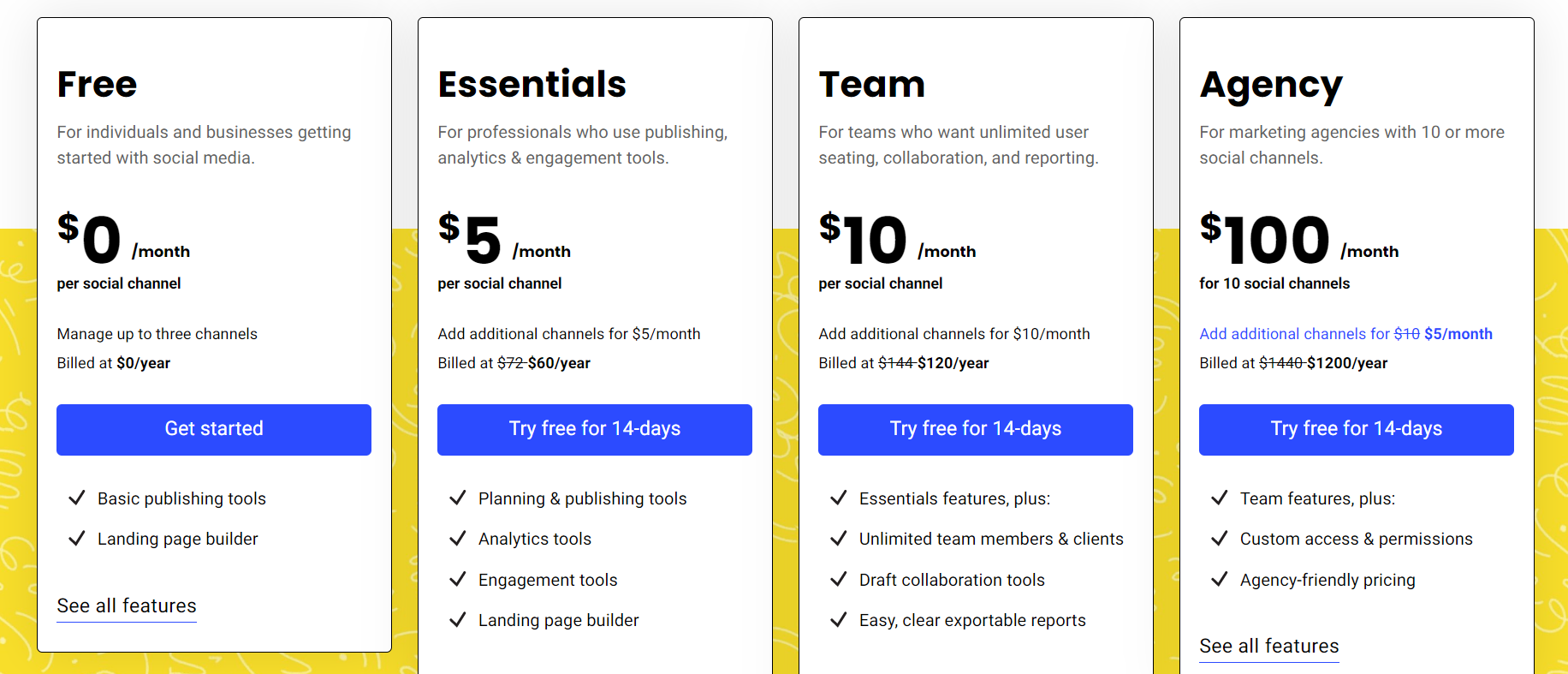 Sprout Social price starts at $99 per user per month for the Standard plan, which allows you to manage up to five social network profiles. It also provides a Professional plan, which costs $149/user/month and manages up to 10 social accounts. An Advanced plan costs $249/user/month, has the most comprehensive features, and supports unlimited users.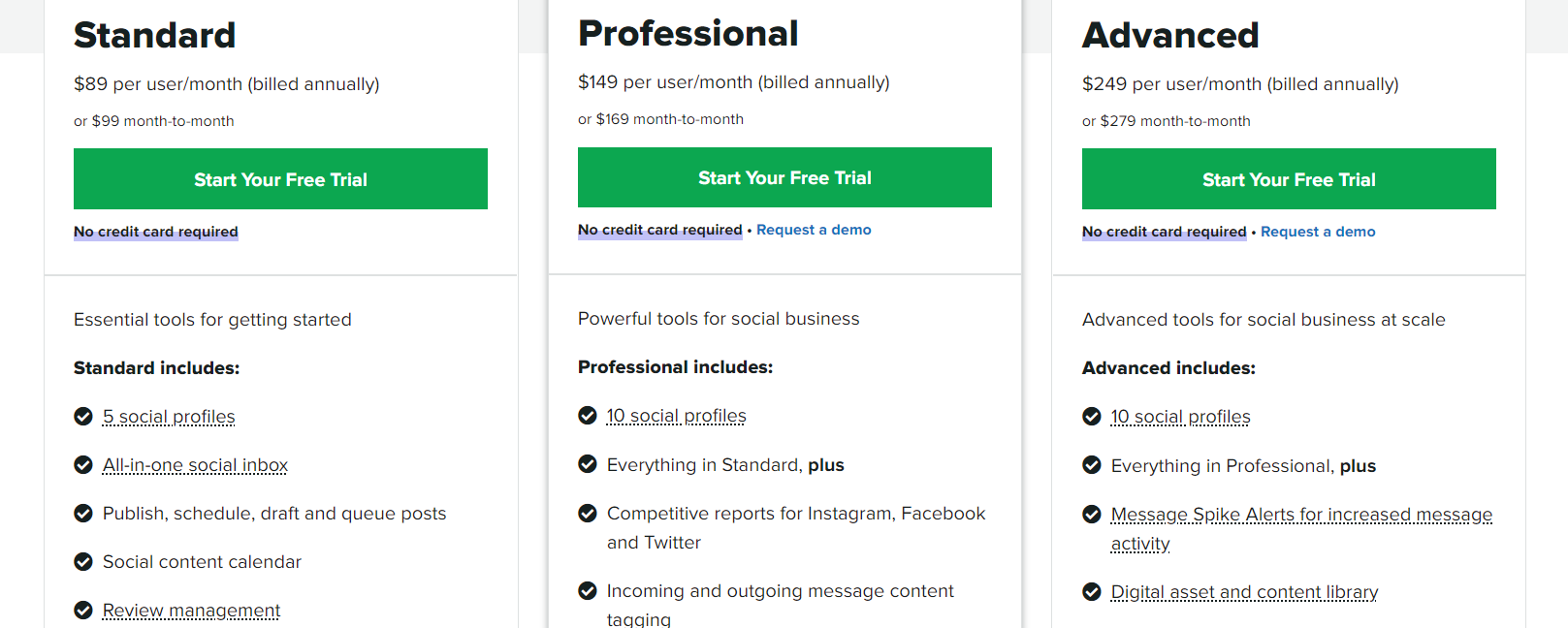 When paying yearly, Zoho Social costs $25 per month, or $35 per month if paying monthly, and is the second paid tier among the platform's premium tiers. Like the previous tiers, the Professional plan gives a single user complete management over a single brand over seven channels. On the other hand, this tier brings an abundance of additional features.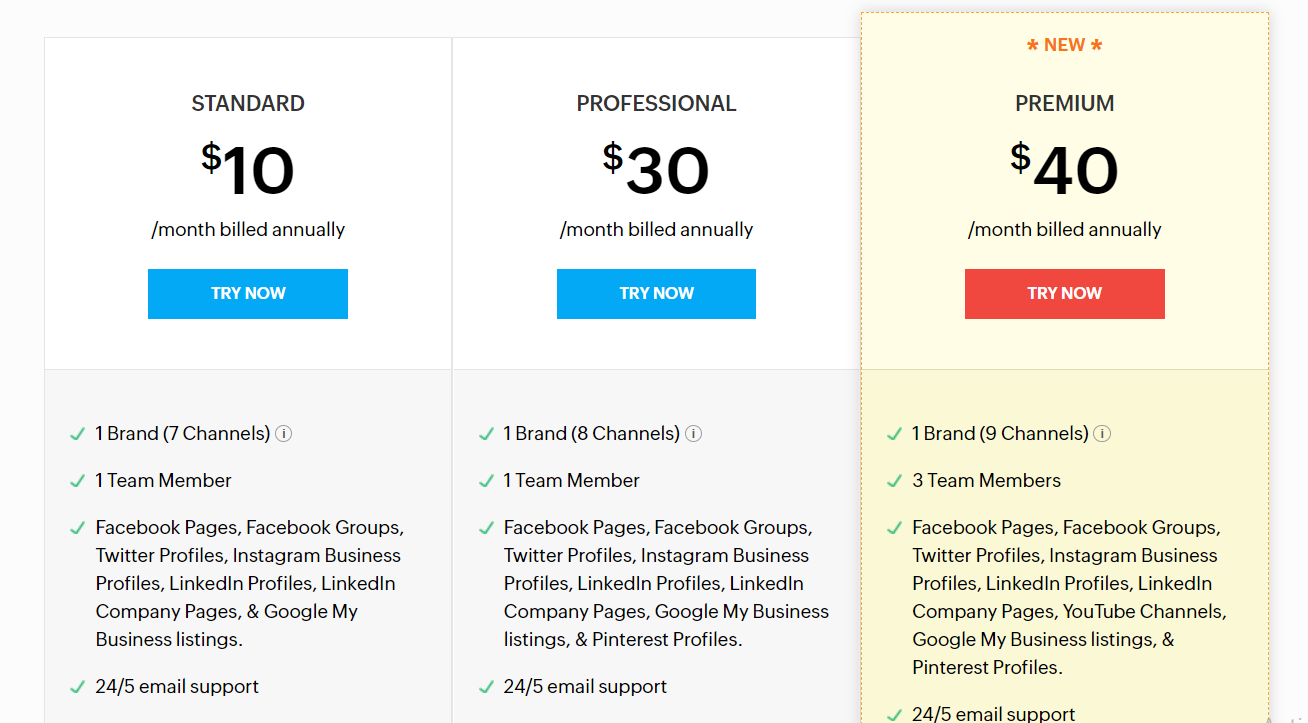 Social Bee offers three different subscriptions, the most affordable (Bootstrap) at $19 per month.
There is just one workspace, only one user per workspace, five social profiles, ten content categories, ten RSS feeds, and 1,000 posts per category available with this subscription.
The Accelerate plan is available for $39 per month. It has the same workspace limitations as the free version, but it also includes 10 social accounts, 50 content categories, 50 RSS feeds, and 5,000 articles in each category.
The Pro plan is $79/month. This package provides access to five workspaces, three users per workspace, 25 social profiles, an infinite number of content categories and RSS feeds, and a maximum of 5,000 posts per category under consideration.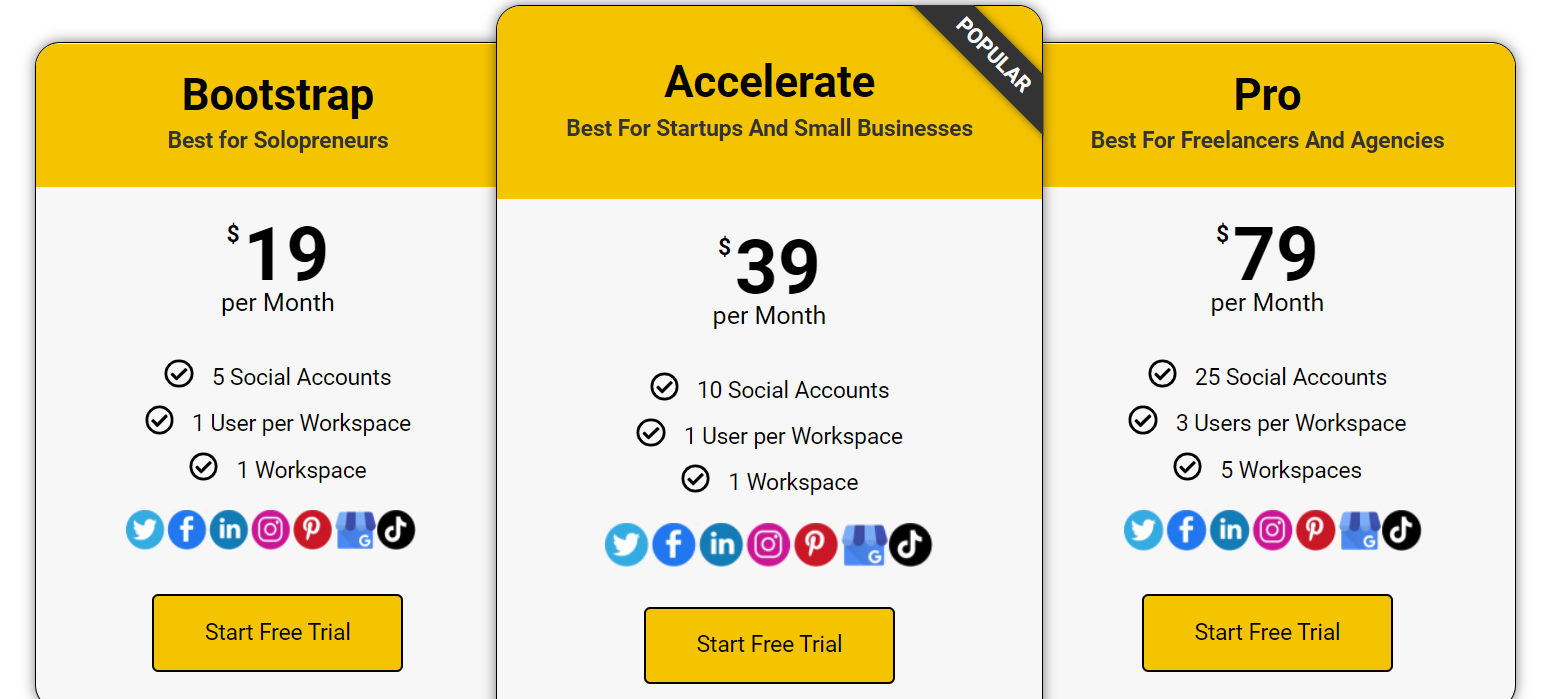 Conclusion
As you can see, there are a lot of great social media management tools out there. Each has its own strengths and weaknesses, so it's important to research and find the one that best suits your needs.
While FS Poster, a social media auto poster plugin for WordPress websites, provides a complete set of capabilities. In contrast to these solutions, FS Poster supports 15 social networks and does not impose any restrictions on the number of accounts that may be added.
You may plan or automate the posting of an endless number of posts to social media platforms, filling your social media feed while tracking their success. As a result, users may maintain active social media profiles while concentrating on other vital duties.
The best aspect is that you just have to make a single payment to access all features and future upgrades. You may download FS Poster Lite for FREE or purchase it for $45 to have lifelong access.
This in-depth Buffer vs. Sprout Social vs. Zoho Social vs. Social Bee and the FS Poster broke down the features and costs to help you pick the best option for your brand or business.
We hope this comparison was helpful, and we invite you to visit our blog for more in-depth comparisons of different software products as well as tips on how to use them effectively. Thanks for reading!