FS Poster vs. NextScripts | Which is better for you?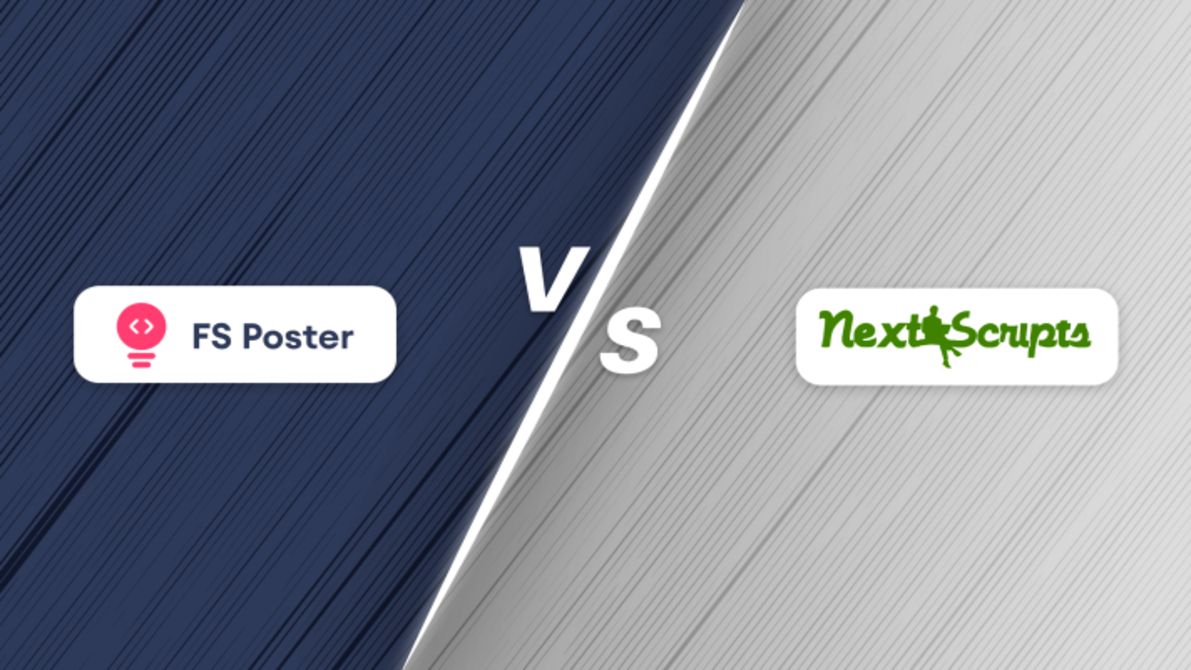 Social Networks
Aug 24, 2021
As a social media manager, what is their one day in a nutshell? Sharing posts, stories, answering comments, messages, organizing and controlling ads, KPIs, calculating ROIs, reporting, and even many more. Here comes the most effective tool for all of them.
Using a social media scheduler, businesses may automate the posting of their blogs, republish old material, bulk schedule numerous articles, and immediately post to social networks. There is a feature in WordPress that allows users to post blog pictures, infographics, or videos visually.
Today, we are going to benchmark two of them for WordPress: FS Poster vs NextScripts.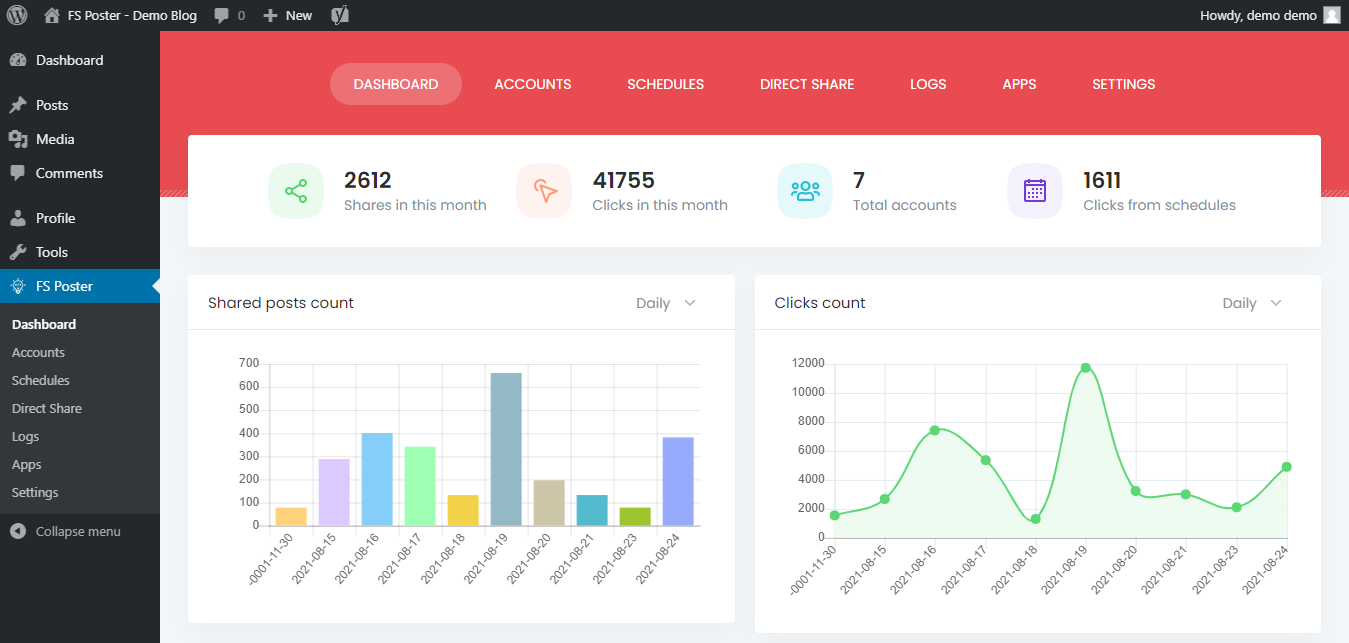 FS Poster
By automatically sharing your WordPress content, FS Poster enhances your online community and engagement.
With the aid of a WordPress auto-posting plugin, you may save time by automatically publishing your freshly written posts. Creating a publishing schedule where you may reshare your previously published blog pieces will also help you maintain a regular social media presence.
Also, you may configure the posts to be shared on a recurring basis so that new followers can appreciate your older material. You'll still have active social media profiles even if you skip a day or two of actively publishing material on social media.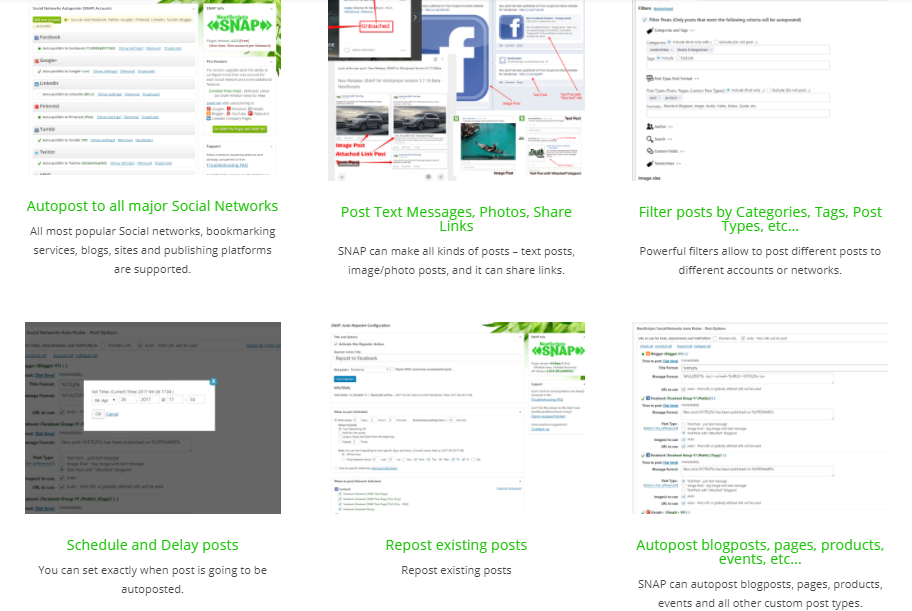 NextScripts
With the help of this plugin, your blog articles will be automatically published to so many Social Networks and more. The entire procedure is fully automated, from top to bottom. Just make a new post and it will be published to all of your chosen social networks, either the whole article or a nicely structured notice with a hyperlink. In order to reach the largest audience, you should inform all of your friends as well as all of your readers and followers about your new blog entry. Work with profiles, company pages and other types of social networking sites. Messages may be completely customized and adapted to each network's needs and specifications.
FS Poster vs NextScripts similar key features:
1. Auto-Posting
As normal, create your blog post typically, and then publish or schedule it for later publication. You may pick which social networking platforms you wish to share your newly published post on when you schedule it.
You may share your post on up to 15 other social networking networks, on FS-Poster such as Facebook, Vkontakte, Reddit, Telegram, Plurk, Medium,Tumblr, Twitter, LinkedIn, Pinterest, Google My Business, Medium, WordPress and Ok.ru.
NextScripts also lets you share your posts on Social Accounts (Facebook, Google+ (Google Plus), Instagram, Plurk, Pinterest), Blogs/Publishing Platforms (Blogger, Google My Business, Medium, Tumblr), Link Sharing/Bookmarks (Diigo, Reddit), Email Marketing (MailChimp), Messengers (Line, Telegram, Yo), Image Sharing (deviantART, Flickr), Forums (vBulletin), even on Youtube. On SNAP Pro version you can automatically repost random posts from certain dates.
2. Filtering
On some accounts, you'll be able to filter automatic publishing of specific category posts. Categories, tags, types, formats, and many more criteria may be used to determine which postings go to which networks.
3. Hashtags
With both plugins, you can categorize posts by using special hashtags for each. It can be the best way to group posts together.
4. URL shortener
You may need to shorten or simplify links that are excessively long, complex, or distracting. TinyURL and Bitly URL shortener services are integrated into FS Poster. And URL shorteners include bit.ly, is.gd, Rebrandly, YOURLS, and the built-in URL shortener in WordPress in NextScripts.
5. Emoji support
Emojis are a popularly used technique to grab people's attention. To post emojis on social media, just add them to custom messages. All of the rest is taken care of by both plugins.
6. Proxy
When you use a proxy server, the query is sent to the IP you specified in the proxy server. The data you requested is subsequently routed through the same proxy server, which ultimately sends it to you.
As it is in SNAP Pro version of NextScripts and FS Poster offers it in full version.
7. Direct share panel
Many people do not want to publish a blog article, yet they have material that should be shared on social media. If you don't have a blog, you may use both plugins to distribute your material on Social Media.
8. Intervals
You can manage posting frequency by intervals. Through this option, you will be able to query your auto-posts and publish them one by one in defined time intervals.
FS Poster vs NextScripts comparison

NextScripts
1. Auto-import comments from Facebook as WordPress Comments, also auto-import replies and mentions from and Twitter as WordPress Comments.
2. The plugin creates only White Labeled posts. The plugin's main goal is to provide you the opportunity to advertise solely yourself. The plugin makes use of your own applications, and all postings to all networks are made alone by you. There are no "Shared via NextScripts.com" or "Posted by SNAP for WordPress" notifications.
3. WordPress Multisite Network SuperAdmin has a special management module that allows you to control SNAP on sites in the Multisite Network
FS Poster
1. The FS Poster plugin provides an easy-to-use dashboard that allows you to simply monitor how many articles have been shared and how many visits you've had. Insights may be obtained for each day of the week, month, and year as well as clicks from This allows you to alter the schedule and decide which posts should be preserved and which should be removed if they aren't generating enough interest. If you'd like, you may compare each platform side-by-side to see which one has. This allows you to reconsider your social media strategy and stop engaging with sites that aren't generating excellent outcomes for you.
2. FS Poster Schedule allows you to see all scheduled posts in the Calendar view when you utilize the module. On the calendar, you can see when and where the schedule occurs, as well as how many times it occurs in a day.
3. Most of the plug-ins available on the market have an English interface, as we are all aware. Many individuals in non-English speaking nations need to translate their plugins into their native languages. This is made possible thanks to the FS Poster plugin, which allows you to convert it into any language.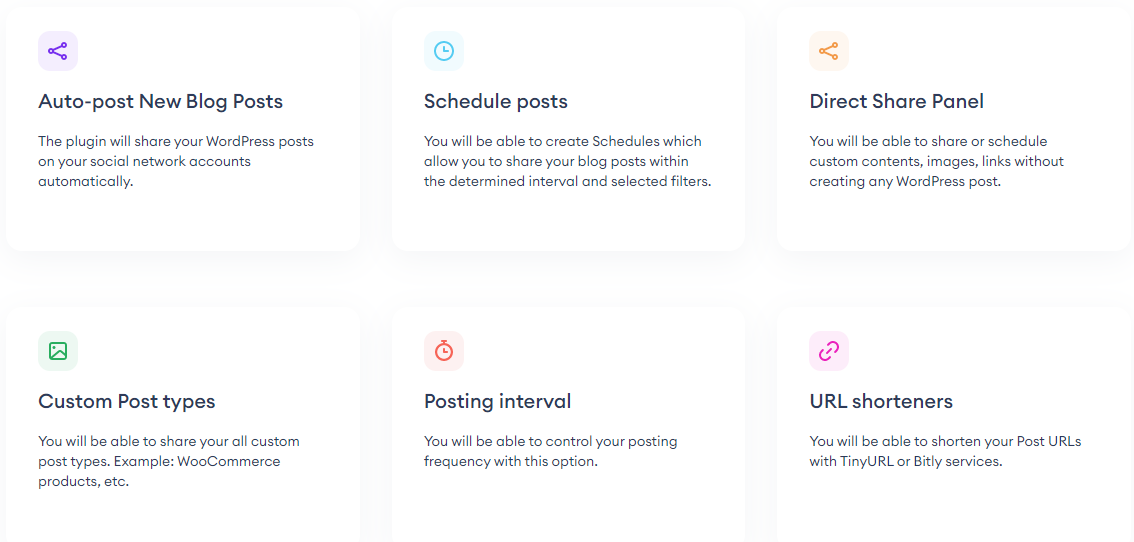 4. Languages such as Arabic and Hebrew read right-to-left (RTL). It's not uncommon for scroll bars, buttons, and more to be inverted in online apps that support one of these languages. As an added bonus, FS Poster supports RTL. As long as you're used to one of the RTL languages, you'll be able to utilize the plugin more easily.
5. Using WordPress Multisite, you can create and manage several WordPress websites from a single WordPress installation. The WordPress dashboard may be used to manage a network of sites. The plugin is compatible with WordPress multisite.
6. In addition, the plugin will automatically share any new posts you make to your social media accounts and keep a log of them so you can keep tabs on them. On the Logs page, you'll see a list of hints, likes, comments, and shares that have been. The Logs tab also provides connections to the shared posts on Social Networks, your Social Network profile links, and the shared WordPress post links.
FS Poster vs NextScripts pricing
SNAP Plugin for WordPress comes in three Editions – Free, Pro and Pro Multiuser.
Free version:
All of the SNAP Free features.
There is only one account per network.
Accounts may only be created by Admin.
WordPress Multisite is only partially compatible (can be used by one user on one site)
Pro version: 49.95$:
It's free with an API subscription.
All of the SNAP Free features.
Extra "SNAP Pro Only" Features
Each network can have an unlimited number of accounts.
Accounts may only be created by Admin.
WordPress Multisite is only partially compatible (can be used by one user on one site)
Multi-user version: 149.95$
All SNAP Free Features.
Additional "SNAP Pro Only" Features
Each network has an unlimited number of accounts.
Any user can create their own accounts.
Fully compatible with WordPress Multisite.
FS Poster is a premium plugin available on CodeCanyon. The plugin is now $45 and comes with 6 months of support and updates. FS Poster is one of the most purchased plugins on CodeCanyon for Social Networking category. It has 4.98 rating out of 5, approximately 2000 comments, and more than 6000 sales in a year.
You may extend the support duration to 12 months for an additional $15. The author's availability to answer inquiries about the plugin, aid with reported problems and challenges, and assistance with third-party assets are all examples of support. You may submit a support request using their support system.
In Conclusion
In this FS Poster vs. NextScripts article, the characteristics of two social media scheduling plugins were uncovered. As a result of this, perhaps you'll be able to choose the best. Even though both plugins offer outstanding benefits for users, FS Poster looks much more customizable along with its feature variety and price advantage. If you're not sure which one to choose, Try Demo to see more.