Buffer vs Hootsuite vs Later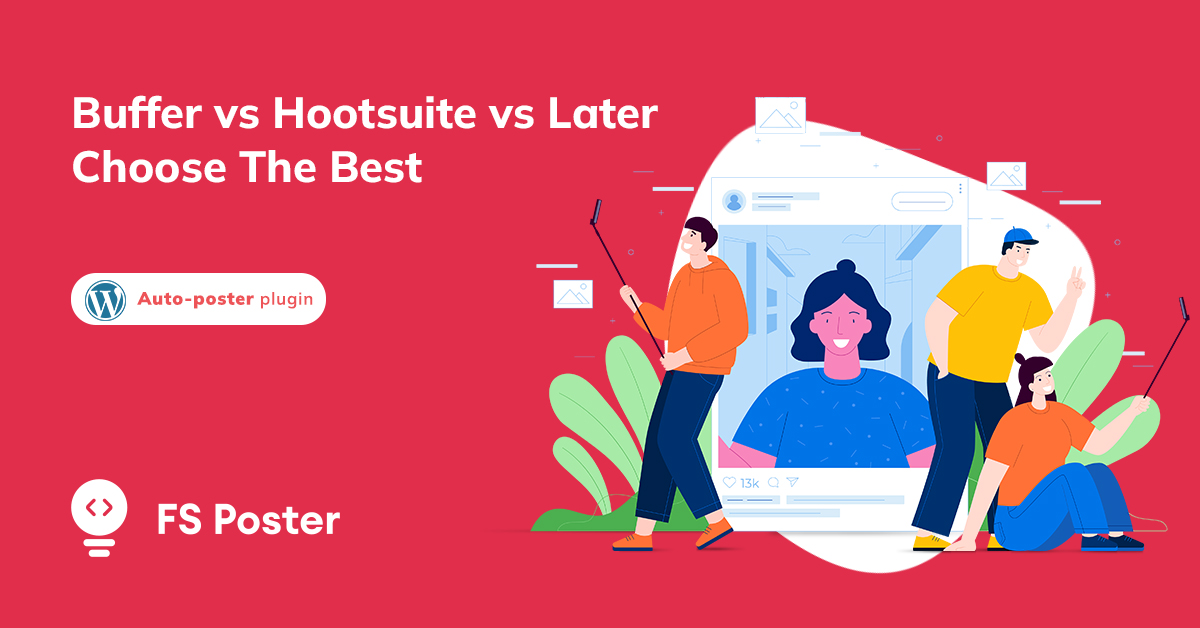 Social Networks
Jan 14, 2022
Updated at: Apr 26, 2023
Looking for the showdown of Buffer vs Hootsuite vs Later? Read this blog to find the price and performance comparison of these tools.
Social media is an inevitable part of gaining success in digital marketing. Depending on the industry, business size Facebook, LinkedIn, Instagram, Twitter, and other platforms carry huge roles in driving engagement, bringing leads, and raising sales.
But keeping up with various social platforms is real trouble for small and large businesses including marketing agencies.
Thankfully, social media management tools help to manage all accounts from one place. This lets you prioritize the product or service that you are promoting on social networks.
In this blog, we will compare and contrast industry giants of social media management tools, and figure out features each one beats others.
Overview of Buffer vs Hootsuite vs Later
Each of these tools was designed to help small businesses, creators, social media managers to harness the power of social media. By offering a variety of automation tools they aim to remove chores from the content creation process.
Although all of these tools contain social media scheduling, their central features and extra features are different from one another.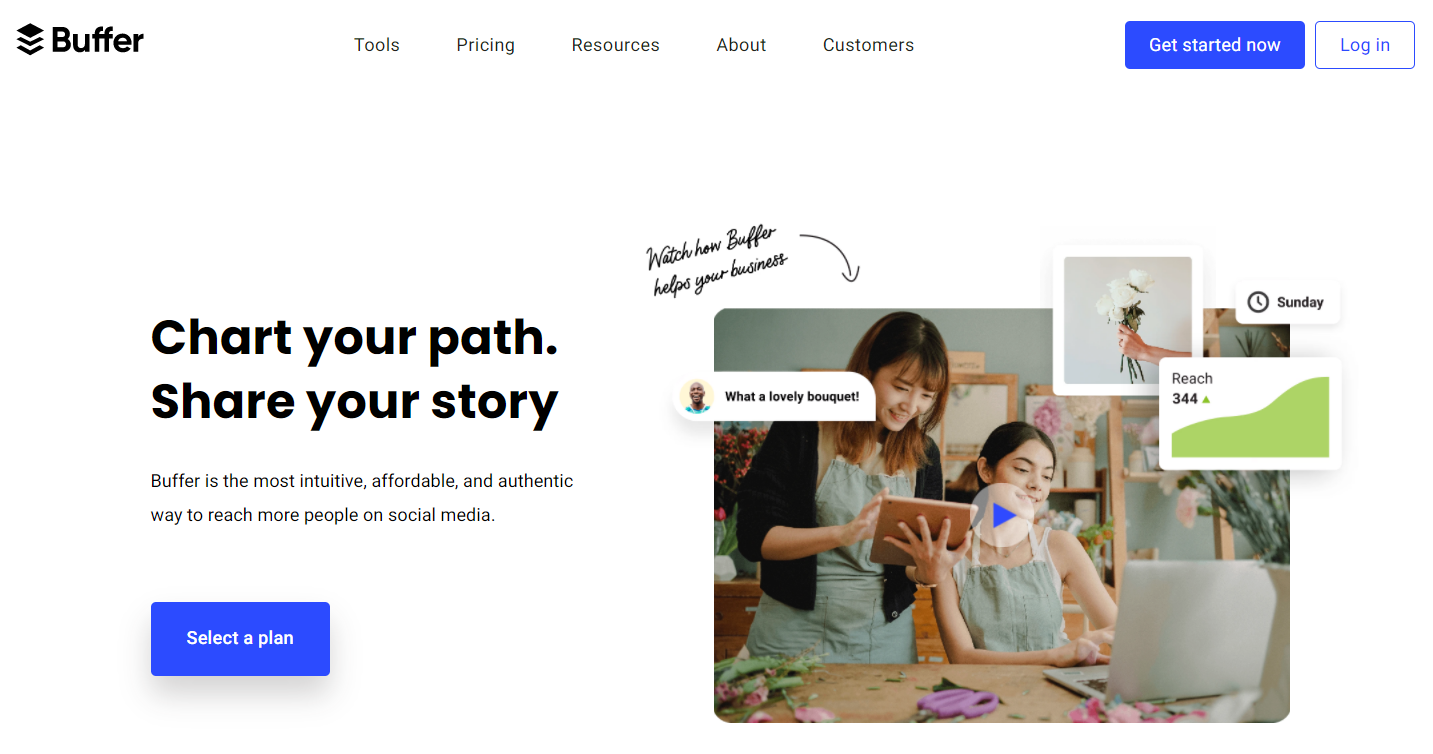 Buffer is an easy-to-use social media tool for managing lots of tasks. Originally started as a social media scheduling tool, Buffer later added engagements, celebration, and analytics features into its kit. In terms of interface, it comes at the top of other tools. The straightforward experience lets users easily find features and navigate through the tool.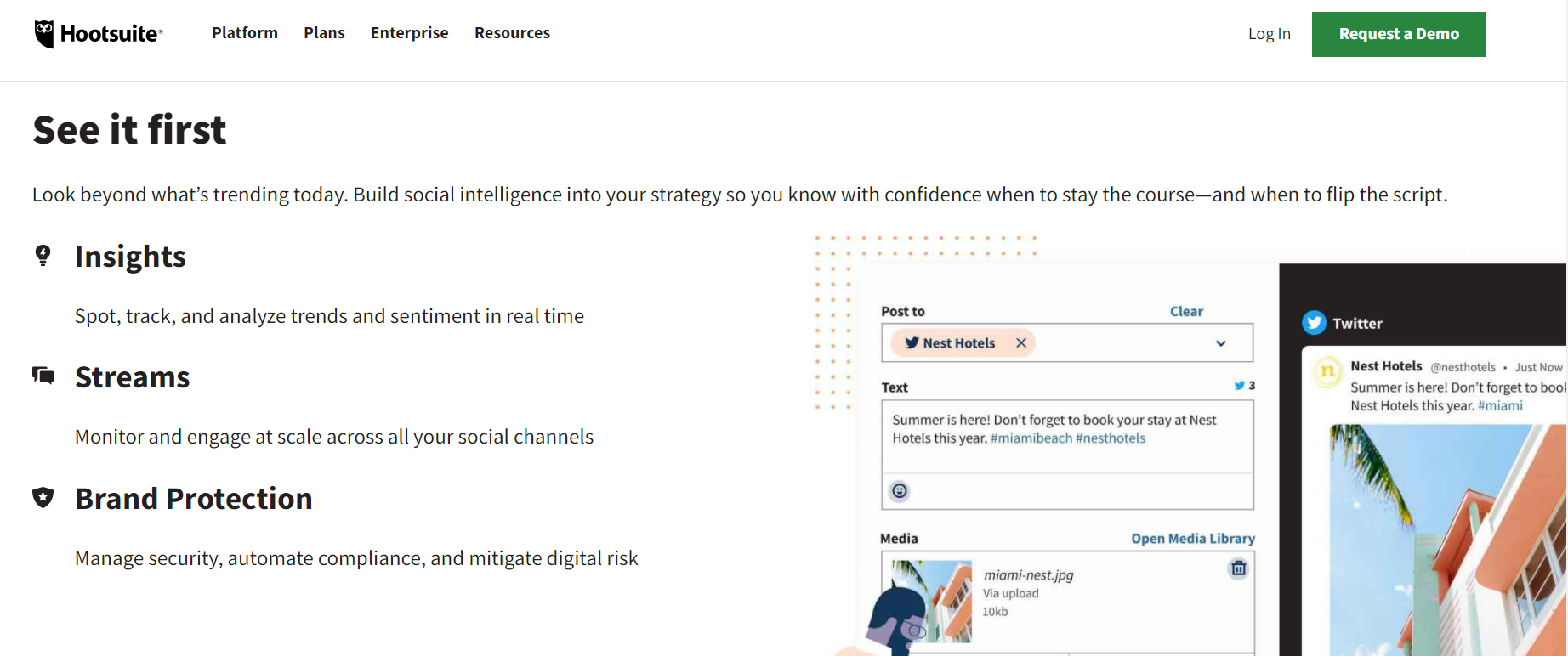 Being in the market for over a decade, Hootsuite provides a holistic approach to social media management. So that you can streamline post-scheduling, team collaboration, employee advocacy, social listening, reporting tasks from a single dashboard.
On top of these, it lets users optimize their search and social ads.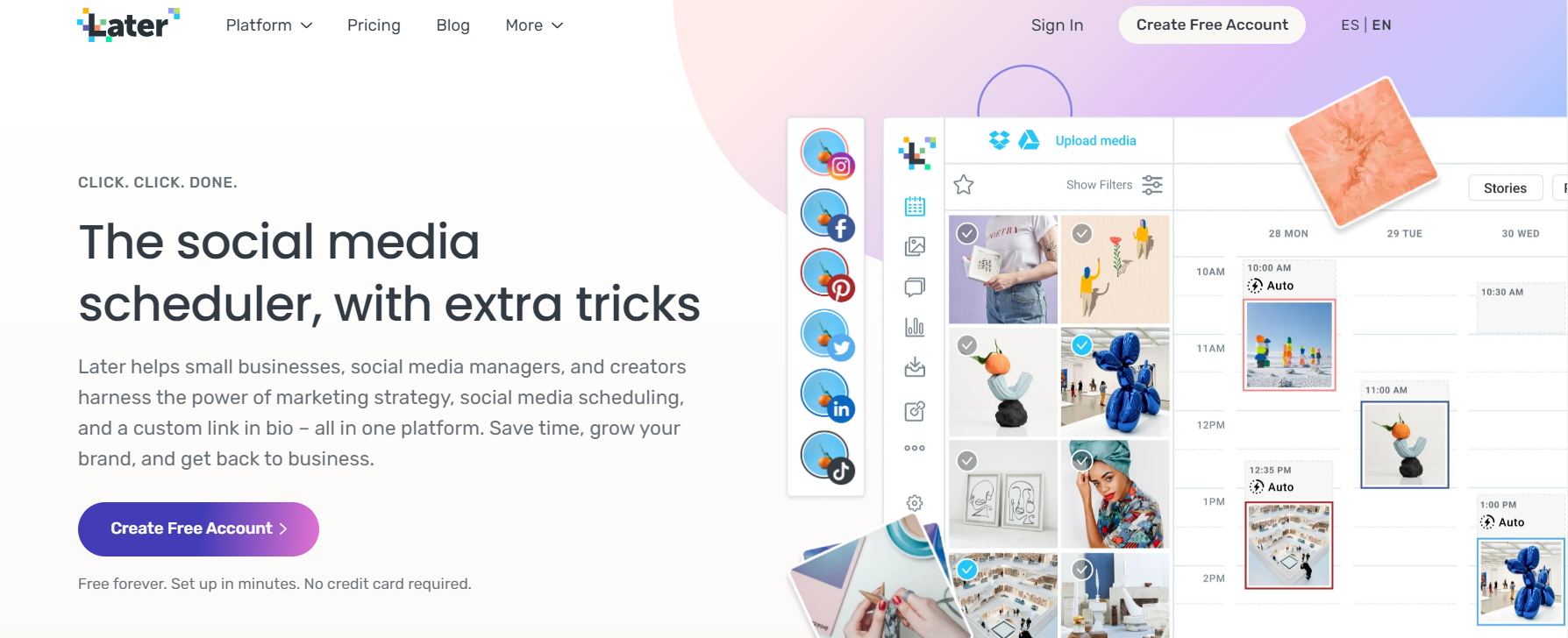 Slightly new in the market, Later is another social media scheduling tool that contains a handful of features. It has content creation, analytics, Linkin.bio features to craft the best content and boost social traffic.
Not surprisingly, Later positions itself as a user-friendly and budget-friendly Hootsuite alternative. But we will test this by the end of this blog ?
Buffer vs Hootsuite vs Later functionality comparison
Supported platforms
This is the most important factor you should evaluate in a social media scheduling tool. Small and medium-sized entities, even individual thought leaders have a presence on more than one social network.
The product you pick supports those networks.
Buffer supports Facebook, Instagram, LinkedIn, Twitter, Pinterest, TikTok, Mastodon, and Google Business Profiles.
Hootsuite has native integrations with Facebook, Instagram, Twitter, LinkedIn, Pinterest, WordPress, Google +, YouTube. You can post to profiles, business pages, groups, boards and track their performance.
Later is lacking in terms of the supported platforms. It has native integration with Instagram, Pinterest, Twitter, TikTok, and LinkedIn. TikTok makes Later stand out from other platforms even though it has fewer channels offered.
Content scheduling and posting
The primary purpose of using a social media tool is to ease the social posting experience. Though each of these tools has that feature, they have a different approach to it. But all of these tools allow you to create customized messages for different platforms.
As mentioned above, Buffer's intuitive design helps users easily schedule posts. It lets you schedule posts even a month in advance. You can create a custom schedule called Buffer Queue. That is, when you add a post, it will fill the next available slot in the calendar. Let's say you set 4 posts in a day on the calendar. When you add another post, it will be automatically added to the first available time in your calendar.
You can still manually schedule posts anytime, but automation is better when you know the best times to post on let's say, on Facebook, Instagram, or LinkedIn.
Hootsuite has a very powerful post-scheduling feature. If you turn on the AutoSchedule feature, it will find the best time to post. A downside of this feature is Hootsuite may share posts in a different order than you submitted them. Have to be careful in RTM or special occasion posts.
If you want to upload a large number of posts, Hootsuite also has a Bulk Composer for that. You can add up to 350 posts to a CSV file and upload it to Hootsuite.
Later has very distinct post-scheduling features than others. You can easily drag and drop content from your media library to Later's calendar. For platforms like TikTok or Instagram, you can trim videos to make them more suitable.
The same as video trimming, you can crop images for Pinterest and create boards from Later. Also, scheduling includes the Linkin.bio feature where you can create a replica of your feed or direct-to-power content.
Content curation
The next important feature in the social media scheduling tool we look at is a content recommendation. This helps social media managers and content creators with potential post ideas.
Buffer does not have a dedicated content curation feature. But it has a Content Inbox feature. This lets you add RSS feeds to your dashboard to find post ideas.
While Hootsuite lets you gather content based on keywords and hashtags. You can use this feature for Twitter and Instagram to discover the latest trends.
Furthermore, you can filter the search results by location, demographics, date to find out the most relevant content. This acts as a social listening where you discover the public opinion
and as a content curation where you get creative post ideas.
Later, on the other hand, has a content curation feature. But this is limited only to Instagram hashtag search. You can enter your main hashtags and Later suggest more related ones on the internet. Also, hashtag search includes hashtag analytics where you can know which hashtags get higher reach, engagement, etc. You can also generate various social media content using Latter's new feature, AI.
Reporting and dashboard
Accountability comes first in terms of time and money when you are assessing the performance of works done.
When looking at Buffer vs Hootsuite vs Later comparison, we see varying reporting offers in each of them.
In Buffer's dashboard, you can view a week of content in a calendar view. It provides reporting on an individual basis. You need to click on each network to see their stats.
But Buffer provides insights and data on Instagram stories which are pretty cool. You don't need to go gather data from different sources for feed and story posts.
While Hootsuite provides customizable reports. You can see multiple social networks within the same view. Also, you can view the stats of scheduled posts as well as the content of external sources. The data can be classified by region, demographic, and in different visualizations.
As Buffer, Later provides network-based reports rather than a whole. But it encompasses social media KPIs and user data like demographics, etc. Also, it gives analytics of Instagram story view and engagement data for up to 3 months.
Third-party app integrations
Another crucial criterion is the ability to integrate with various apps and tools in your marketing stack. This is an important functionality for medium and large enterprises. Small entities can skip this feature at least during initial periods.
Both Buffer and Hootsuite have third-party integrations with other tools. Buffer has over 30 integrations. Most of these tools are for content creation tools rather than marketing dashboard tools.
While Hootsuite's base is much richer than Buffer's From the Hootsuite directory, you can add other platforms like Reddit, YouTube, Tumbler, Foursquare, Vimeo, etc. Moreover, it includes other purpose apps like Zendesk, Canva, Spotify, Asana to sleek content management.
Later does not have third-party integrations yet.
Team collaboration
Which tool works best for team management depends on the size of your marketing team. Buffer has a basic team management feature. Admins can manually assign team members to specific networks. They can either give full posting rights or require approval for each posting. This could be enough for small teams or businesses.
But teams of large sizes or big projects may not be satisfied with these. Hootsuite is especially powerful when it comes to team management solutions.
Here owners can create teams and organizations which are groups of teams for simplified management. Marketing agencies or large teams who collaborate with external agencies can benefit from this feature.
Conversation management
As social media is taking more part in customer support, conversation management features become a key for social media tools. This lets you engage with comments and direct messages and keep them organized.
As posting in different places is tedious for social media managers, replying to queries on different sources is daunting for customer support agents.
Unexpectedly, Buffer has a more comprehensive approach than others in conversation management. It has a Buffer Reply feature that is departed from post-scheduling. This includes assigning teams for replies and pushing content to CRM or other internal communication tools. You can add notes to comments to further remember them.
In the grid view, Buffer shows up posts with unanswered comments. Also, it uses AI to screen questions or negative sentiment and send notifications once detected. If you are frequently asked in comments about your product, this would give you efficiency.
Hootsuite also has this feature: comments and messages. You can view messages in the Hootsuite inbox, assign to members, or filter them under certain categories. Additionally, you can pull chatbots or integrate with CRM for detailed communication.
Later does not have a dedicated conversation management feature.
Content library
As your social media posts need to evolve over time, the availability of a content library feature becomes more important. It saves content ideas and lets them share with other team members.
Buffer does not have a large content library and cloud content integration feature. Which makes it less attractive for large brands that stress social media idea generation.
Hootsuite has a prominent content library. You can curate content, save it in the library, and tag it to see how it was used among other uses. This also simplifies the content approval process as posts are generated from the ideas submitted.
URL shortening
This may not be the top feature you look for in a post scheduler, but having it in your array is a nice extra. Buffer, Hootsuite, Later have their URL shorteners. Both will report on the links and track performance as long as the links are shortened within the platform.
If you add a link you've already shortened in bit.ly it is better to search for stats there. For other URL shorteners, you can integrate them in Hootsuite through third-party integrations.
Free plan comparison
Obviously, these tools offer very limited features in the free plan.
Buffer allows you to schedule 10 posts for each platform. Considering that free subscribers do not have large posting queues, it is a decent number.
Also, Hootsuite discontinued its free plan on March 31st, 2023—existing free users were encouraged to sign up for the $99 per month professional plan instead.
Later's free plan includes 6 social networks with 1 profile per each. And you can schedule 10 posts per platform.
Pricing
Almost there.
Buffer Pro starts at $6 for a single user. Apart from posting, this includes planning and engagement tools.
Although the basic features of Buffer are budget-friendly, it goes up when you add additional features. While adding each social account for this feature costs $10.
Although Hootsuite offers tons of valuable features they still come pricey for businesses. The Pro account, the most affordable option, starts at $49 per single user. This includes unlimited posting, 10 social accounts, and social media inbox that is included in Buffer's more expensive plans.
Teams that have multiple members in marketing or social will definitely need to use the upper-tier plans instead of Pro. Due to price concerns, lots of businesses look for cheaper Hootsuite alternatives.
Later basic paid plans start at $18 per month. Users can add only one account per social platform. Post-scheduling is limited to 30 per platform.
Bottom line
Given the fact that almost all businesses are on social media, their social media practices and needs vary. Some businesses need to benefit from a simple management system, some need to enrich their feeds through scheduling, and some need a holistic approach including team collaboration, content creation, etc.
These tools help to manage what to post and what to post on which platforms. They also let you keep track of those posts in different formats. But their feature sets and price offers are different from each other. It is good to stress that all they share similar features, these tools appeal to different audiences.
While FS Poster as social media scheduler plugin offers comprehensive features WordPress websites. Unlike these tools, FS Poster supports 15 social networks and does not have any limit on the number of accounts to be added.
You can schedule or auto-post unlimited posts to social media, fill your social feed, and track their performance. This lets users have rich social media feeds while they focus on more important tasks.
The best part is that you pay a one-time payment to get all features and access to future updates. You can download FS Poster Lite or get it at $45 for lifetime access.
This extensive Buffer vs Hootsuite vs Later comparison along with FS Poster showed the features and prices down to find the best choice for your brand.