Twitter Alternatives for Business: 6 Platforms to Consider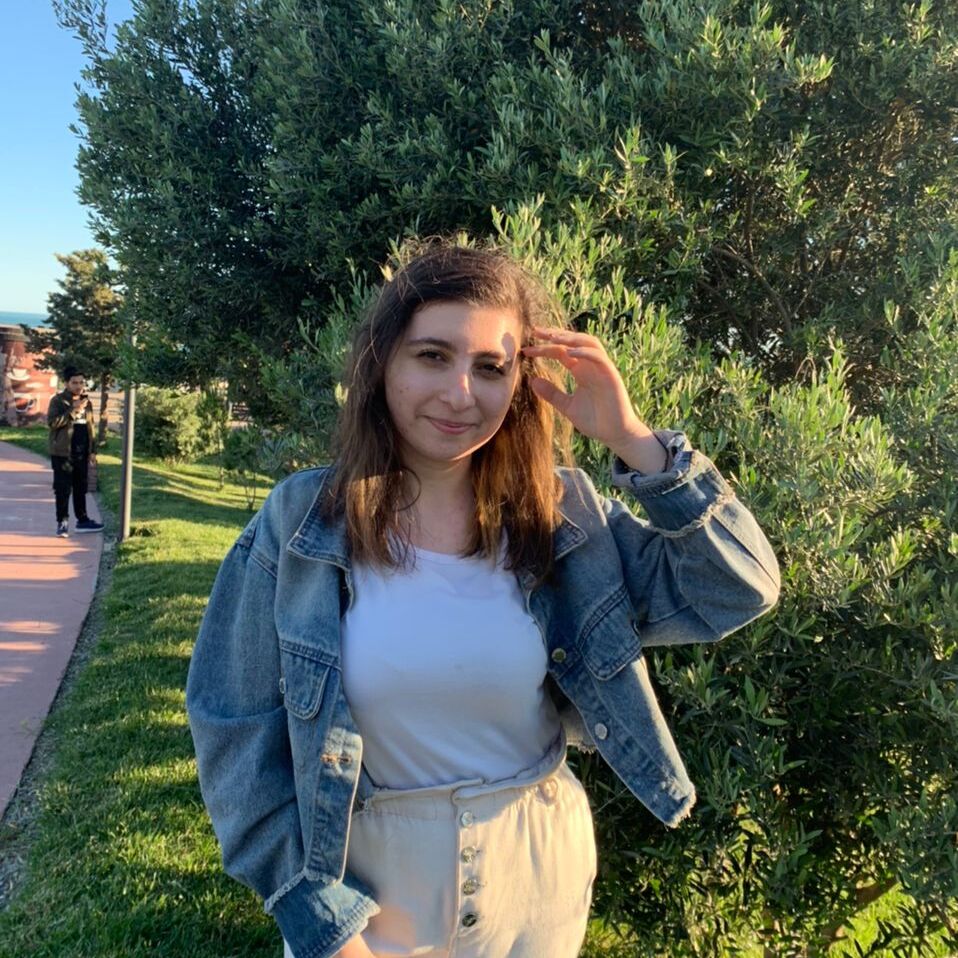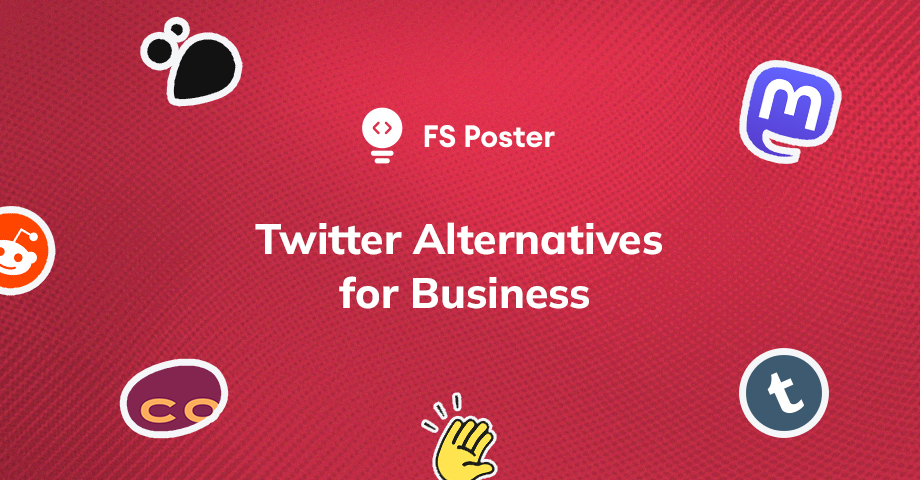 Social Networks
Jan 16, 2023
Twitter is a microblogging social media platform. Here, people discuss more trending events and communicate with different audiences. Twitter currently has 396.5 million active users. This means that Twitter needs to catch up to other social media competitors.
The reason users use Twitter is because of its ease of use. People can easily create a micro-blog and share it with their followers. In this way, their followers increase, and their Twitter engagement increases significantly.
At the same time, Twitter for business marketing is also convenient. Here you can showcase your products and services, as well as use various Twitter influencer marketing to deliver your product to a niche audience. In addition, Twitter has some features that have become a nightmare for users. This is, of course, the limit of Twitter.
First of all, Twitter has a character count limit, which is 280. Therefore, users should convey their thoughts to their followers as briefly as possible. According to the latest TikTok updates, Elon Musk tweeted in his unique style that every user can get a Twitter blue check at an $8 monthly payment. Let's take a closer look at the pros and cons of Twitter.
Pros of Twitter:
Easy to use- You simply type down your thoughts after creating your profile, and voila! The world can view your content!
Hashtag power- If you want to trend any news on Twitter, use Twitter hashtags. Hashtags are the main source of Twitter. Using hashtags in your tweets both increases the number of tweet impressions and brings you a different audience.
Get to the point- Twitter users like short and clear tweets. Therefore, you can express your opinion in just a few sentences.
Twitter Space- Twitter space is simply a feature of Twitter where users can chat with each other by voice. This is a great place to have various conversations and discussions.
Cons of Twitter:
Spam balance- It's easier to get spammed on Twitter than on other platforms.
Twitter limits- It can be challenging for many people to express themselves in so few characters.
Although this situation pleased some users, it could have been more encouraging for others. If you are unsatisfied with some of Twitter's features or are simply looking for a Twitter alternative platform to expand your audience, we have listed the best Twitter Alternatives for Business in this blog. You can choose the best twitter alternatives for your business.
Best Twitter alternatives for business
Various businesses use social media precisely to gain new audiences and increase their sales. The Twitter alternatives for business that we will show are similar to your Twitter features, and it is possible to easily build an audience here.
Mastodon Social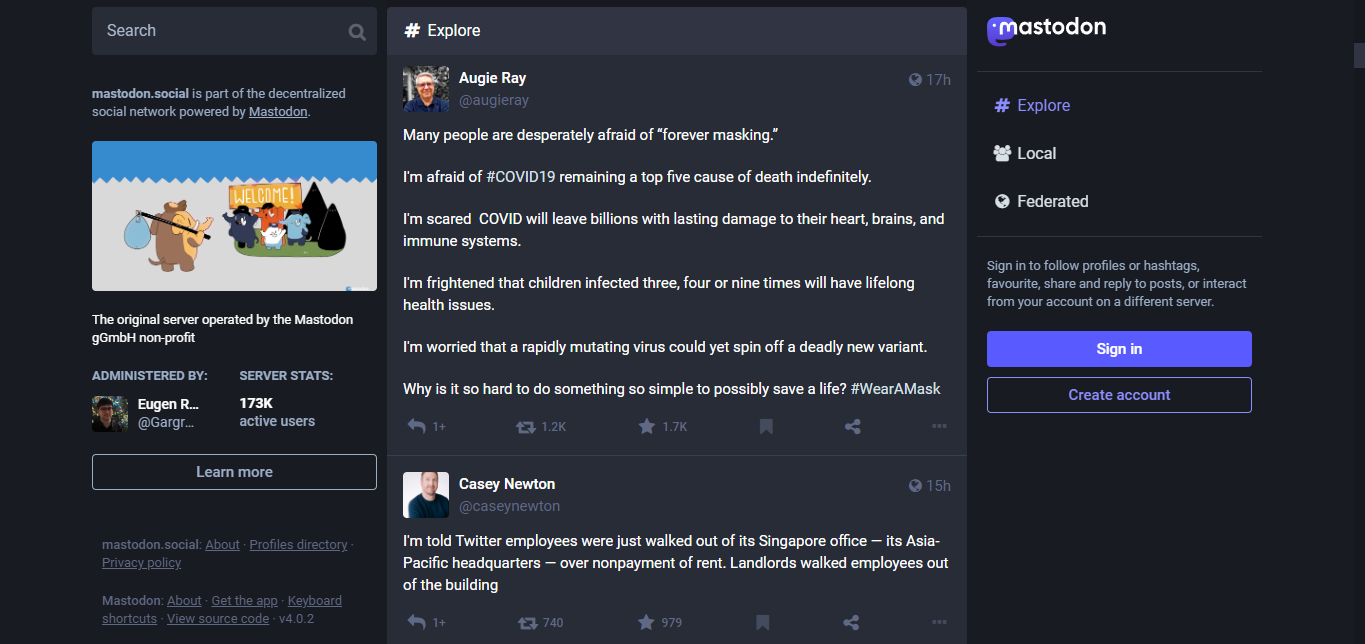 Mastodon is a social media platform that you can use for free and share your writing content with your followers. Mastodon is a free-speech alternative to Twitter.
Twitter vs. Mastodon social has greatly improved the ability to connect with friends and followers online ability. But whether one is best for you will depend on the features you need in a social network. Like Twitter, Mastodon is an accessible, global social media platform. Like Twitter, it allows users to submit brief messages, links, images, and videos. Mastodon is not hosted on a single central server like Twitter but rather on a number of servers (or instances). Accordingly, the platform is secure and gives users more control over their data.
Twitter and Mastodon differ from one another significantly. Mastodon is a "federation" of interconnected, independently run servers, unlike Twitter which is a single platform.
Pros of Mastodon:
No character limit - Compared to Twitter, Mastodon's no character limit feature makes it simpler to express yourself freely.
Greater control over privacy settings – Mastodon allows users more control over who can read their posts and material compared to Twitter.
Encourages deep conversation - Mastodon users can have longer, more in-depth conversations than those on Twitter because there is no character limit.
Cons of Mastodon:
Smaller user base – Compared to Twitter, Mastodon still has a small user base, despite growth.
The design of Mastodon can be more difficult than that of Twitter- because it is targeted at people who are familiar with coding and technology.
Limited content variety - Compared to Twitter, Mastodon may have a smaller user base, which limits the diversity of content available.
Hive Social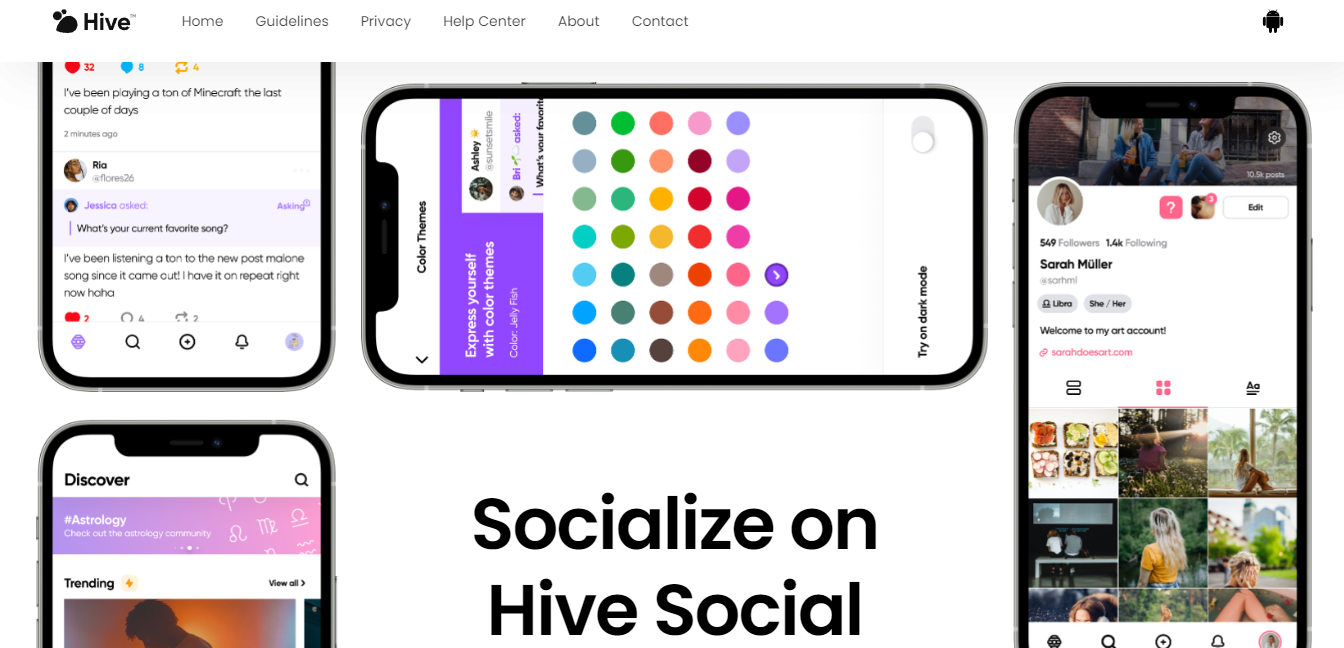 About 2 million people use Hive Social, which began in 2019. Users may scroll around the site and repost material using the mobile-only app, which has a similar design to Twitter. Additionally, users can use hashtags to locate specific audiences or content.
Hive offers a far more straightforward chronological feed than Twitter, as opposed to one that is algorithm-based. Additionally, there is no character limit, allowing for much lengthier messages that resemble Tumblr posts.
Pros of Hive Social:
A user-friendly interface- Hive Social is very easy and convenient to use.
Different content-Users can share a variety of content types, such as text, photographs, videos, and articles.
Notification-Push notifications that inform you when people you follow publish new content.
Edit post available-You can edit your posts on Hive Social.
Cons of Hive Social:
Not exactly free- Some features are available for a fee.
Not web available- But it is possible to use it on the mobile application. Not on the desktop.
Cohost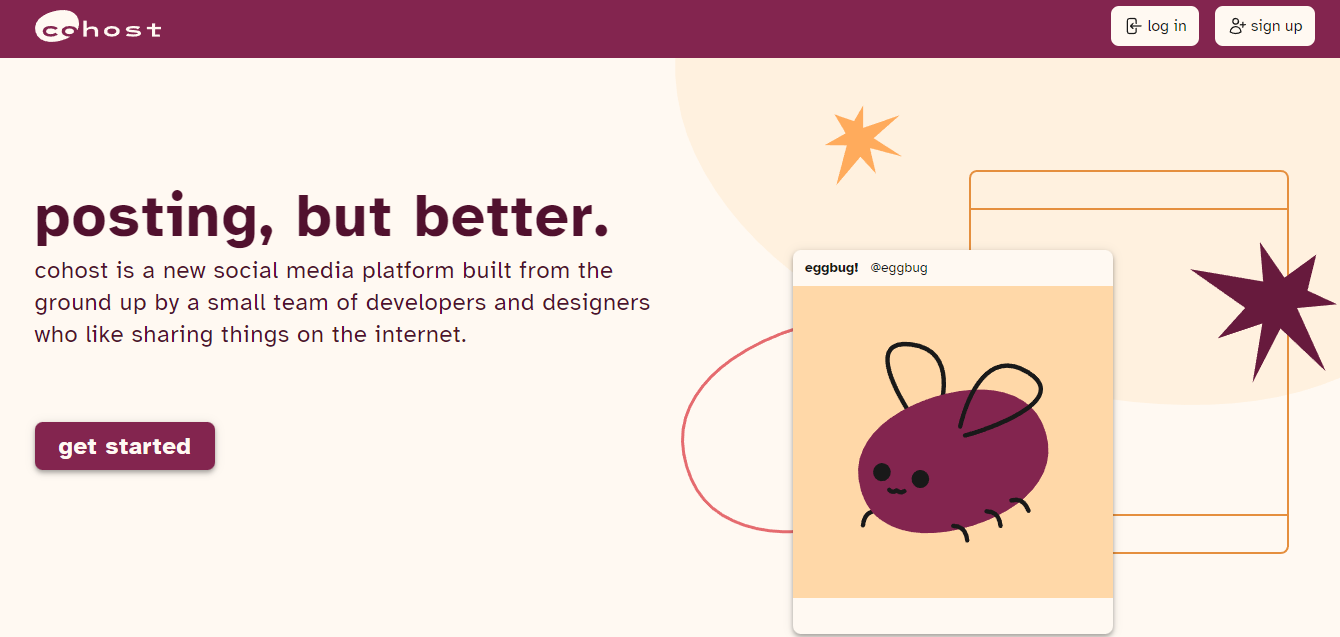 Like Twitter, Cohost lets users follow other users and interact with content by sharing, liking, and leaving comments. Users cannot view who or how many people have liked a post or followed another user in public.
Posts display in chronological order and can be quite long since the site doesn't allow ads, has no character restriction or uses a recommendation algorithm.
Pros of Cohost:
Ads possible-Independent and free of ads.
Different features- Let multiple users run a single page.
Free speech alternative to Twitter- No character limit
Post edit available- Editable posts
Cons of Cohost:
Not have mobile application- Only accessible via web browsers
All plans are not have the same effects- More than getting benefits, a premium subscription is more about showing support.
Tumblr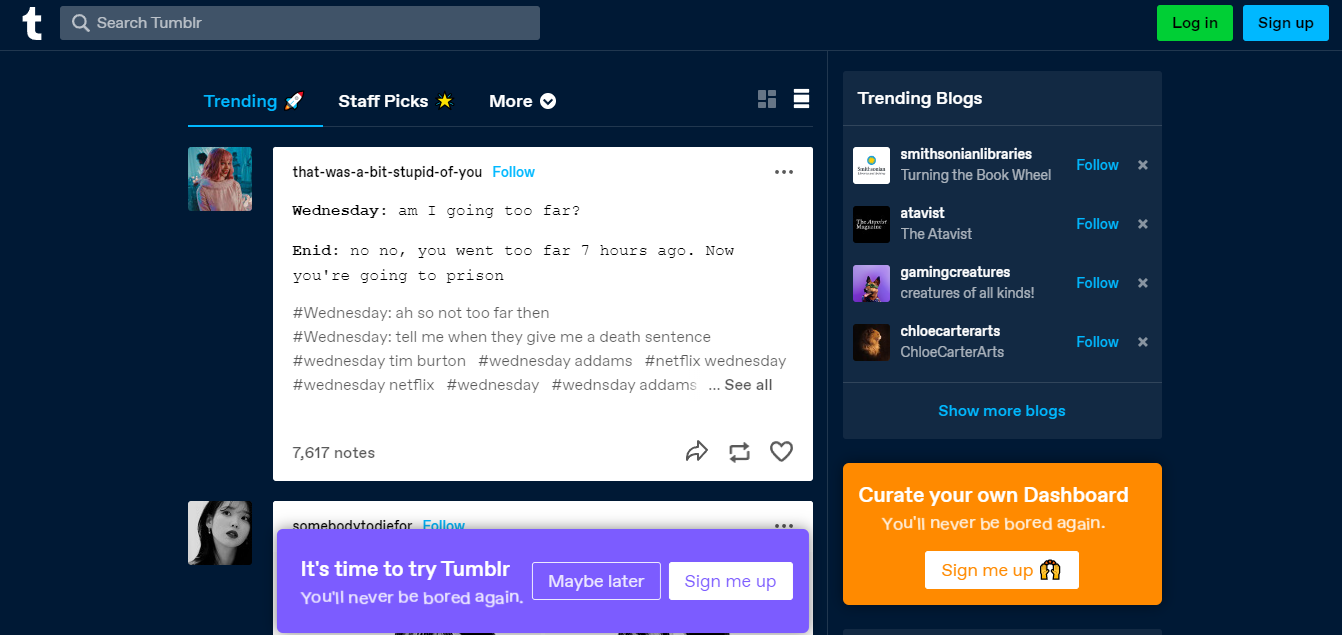 Tumblr is returning, and as a competitor to Twitter, it made the following cheeky thread to entice businesses and creators to use its platform.
Long character limits, free edit features, and the option to delete algorithmically suggested content are all offered by Tumblr.
Pros of Tumblr:
SEO benefits- However, it also provides you with do-follow links, which in the world of modern digital marketing are worth their weight in gold. However, keeping this in mind, it's crucial to use it carefully while choosing your anchor text.
Easy to use- This is the channel you should use if you want to set it up and start watching it while having lunch.
Cons of Tumblr:
Lack of some advantages- This might not be a problem if you're a small start-up business, but for a well-known brand, the lack of formatting options and the scarcity of add-ons could be a bigger problem.
It takes time- Tumblr could seem a little confusing to individuals who are used to posting one update every day on Facebook or Twitter. Users of Tumblr have grown accustomed to and have come to anticipate a consistent stream of original and interesting content, whether it takes the form of text, videos, images, or memes.
Clubhouse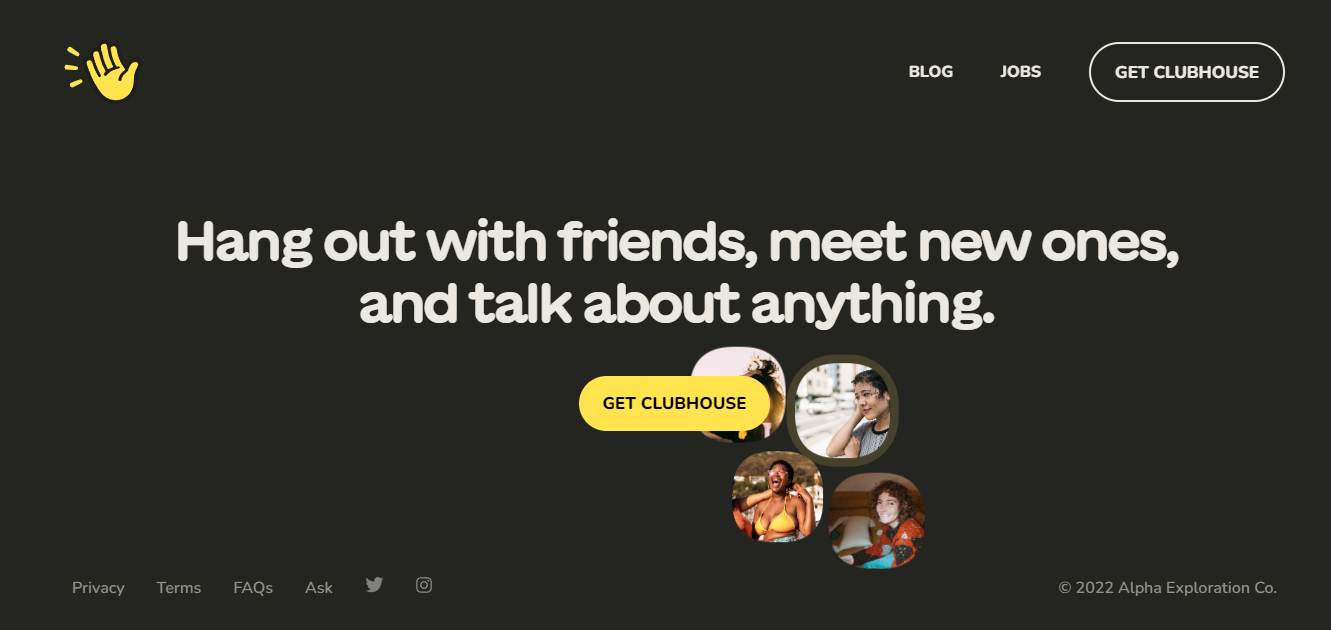 An audio-only software called Clubhouse features a live podcast forum where users may converse with one another. The profile icon of the person who speaks turns on. After signing up for Clubhouse, users can listen to a range of subjects, such as parenting, sports, business, and literature. There are only profile images and voices on YouTube, not videos, images, or text posts like on Twitter.
Pros of Clubhouse:
Interactivity- You can join and host free audio chat groups on the app. Each space resembles an unedited, live podcast.
Networking - You can connect with people who share your interests in a variety of topics that are relevant to your business goals in chat rooms.
Cons of Clubhouse:
Too much noise-You have to search harder as the app gains in popularity to locate decent chat rooms.
Time Wasting- Spending all day developing an app won't help you expand your company or keep your consumers satisfied. You must guard your time and avoid squandering too much of it on useless activities.
Reddit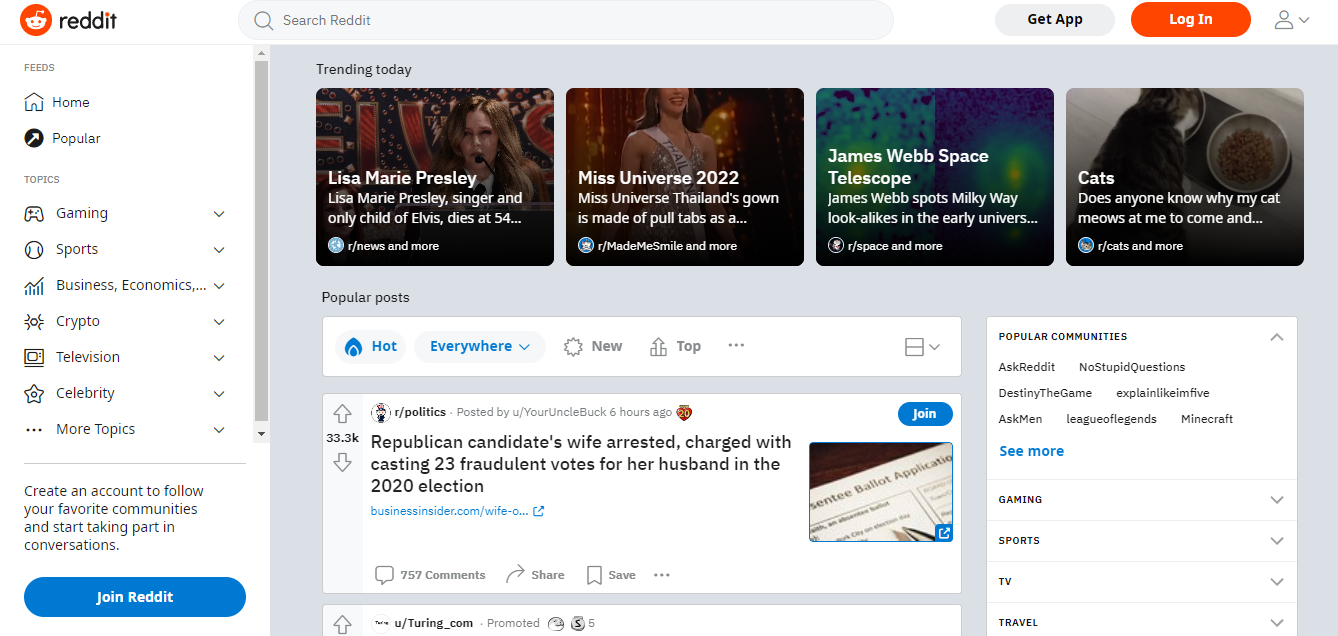 Users can vote on links, images, videos, questions, and other information by uploading it. A post becomes more visible the more likes it receives. A post becomes less noticeable the more downvotes it receives.
Reddit AMAs (Ask Me Anything) is a type of Q&A forum that marketers can use to interact with their audience and respond to inquiries about a good or service. Additionally, marketers can participate in related subreddits.
Many subjects are covered by subreddits, such as hobbies, entertainment, health, news, and business. Anyone can view the content on Reddit, but they must register in order to comment, engage, or start a subreddit.
Pros of Reddit:
Easy to use-It's incredibly simple to use.
Increase traffic-Reddit is extremely effective at driving traffic.
Reddit offers an easy-to-use ranking system that makes it possible to check and assess how well your ads are being received by your targeted audience.
Cons of Reddit:
You must be original- When writing any comments or questions on Reddit, you must be original, that is, not on a fake account. Otherwise, you are more likely to get spammed
Information Overflow- Keep in mind that Reddit is used by millions of users who are simultaneously sharing content. Finding something, in particular, can be difficult as a result, especially if you or someone else has already shared a relevant topic.
Time to Tweet!
The need for social media as a platform to promote businesses is becoming increasingly evident, and Twitter is a great place to start. But even if you're already using Twitter marketing, there may be other alternatives out there that could be more suited to your business objectives.
With a total of 6 viable options in this blog post alone, it's worth exploring all of them and taking the time to determine which one best meets your goals. Just remember to take into consideration both their strengths and weaknesses before you commit. Social networking technology is constantly developing so make sure you keep an eye out for new platforms with improved features.
By using the Twitter alternatives for business we've mentioned, you can reach and advertise your business to different audiences. So, it's high time to think of a new tweet idea!