Bookly PRO vs Booknetic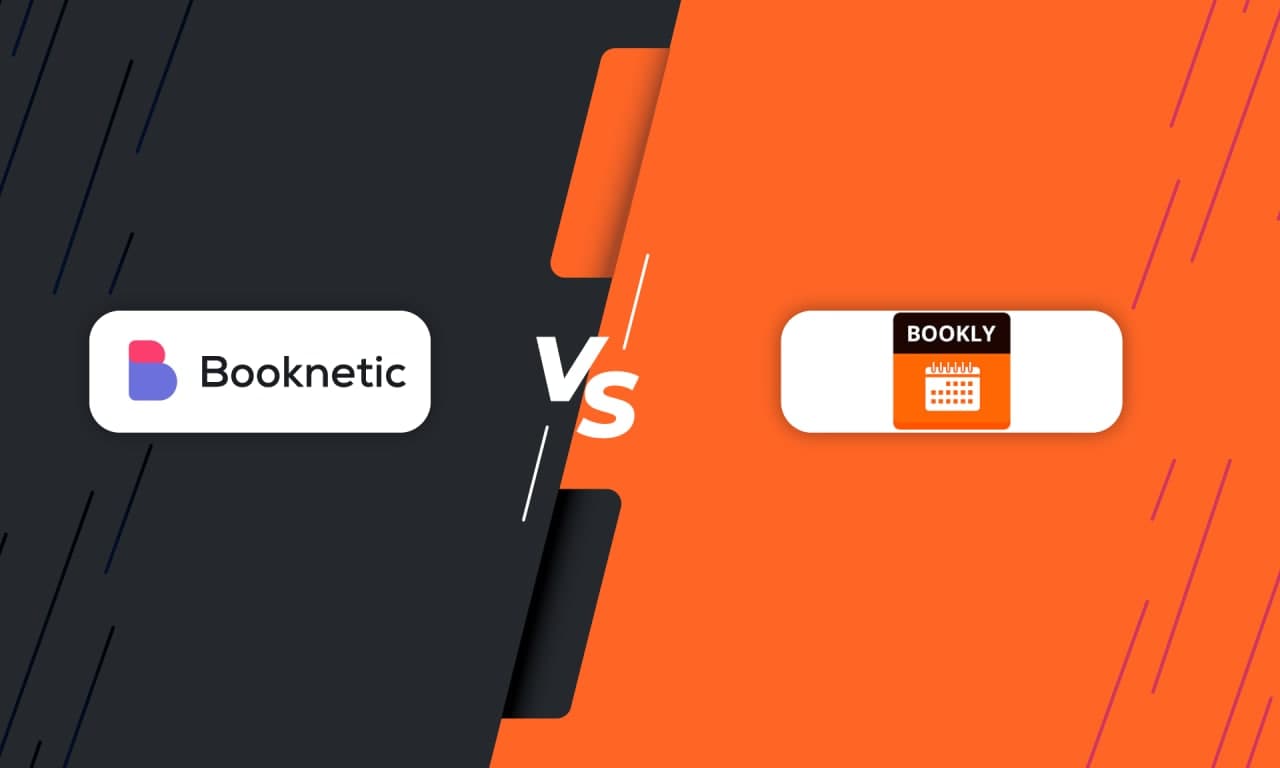 Plugin for WordPress
Feb 09, 2021
There is a lot of online appointment plugin for WordPress websites. We chose the most useful plugins as an FS Poster. This research would focus on Bookly PRO vs Booknetic. We're going to equate them and let the clients choose the most fitting one for themselves. For this Bookly PRO vs Booknetic analysis, we will be using the Bookly plugin's premium edition.
Bookly PRO
For online appointments, Bookly Pro is a booking plugin. This plugin is ideal for rising or small to medium-sized companies and start-ups providing services and automating the gain booking process. The ultimate appointment scheduling software is Bookly, thanks to its rich features.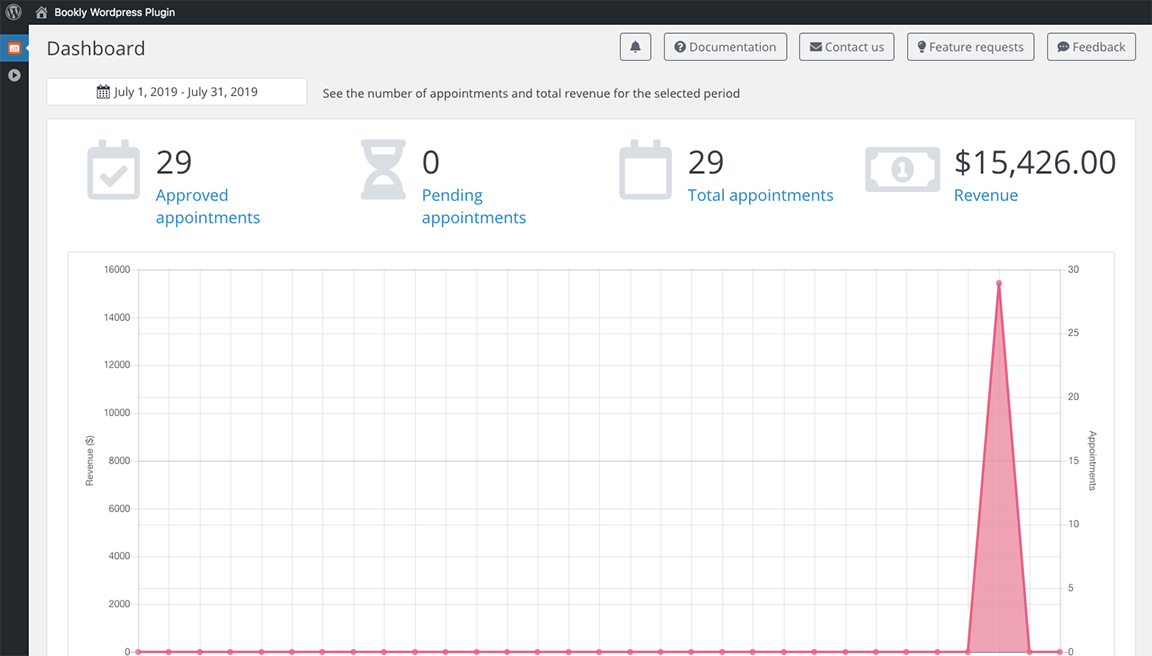 Features of plugin
For any system, you will get a flexible and sensitive booking format for
You can print or upload your reservation list to CSV.
It is possible to apply operating schedules and service rates to
There is no limit on the addition of services. You may also set a particular color for each service.
Bookly PRO has several customized SMS and WhatsApp message templates.
For six months, online and 24/7 customer service
WooCommerce accessibility
Multi-language assistance, 12 languages used
Google Planner integration
In-built PayPal Express Checkout option, list of completed and awaiting payments
You should provide statistics for reservations and payments
The concept of Bookly PRO has been reviewed by thousands of consumers. It will guide your customers through the booking process and easily schedule an appointment. It is fully responsive on any phone, offering your customers the chance to book your services when they are comfortable with any platform.
The Bookly PRO plugin is fully responsive and fits either a computer or a laptop. To handle your booking on the go, the backend also adjusts to your cell phone screen. The front-end connects well with your website, making it convenient for your customers to book appointments, pay online for them, and then manage your timetable for your website.
Through the Bookly Pro appointment scheduling software, you can easily connect the updated booking list to your website. They should sign in with their keys, which are automatically delivered to them by Bookly Pro, whenever your client wants to access their schedules.
Encrypted online payments and cash on sale run together to make the service open to all clients. Paypal Express Checkout is included in Bookly Pro, but for this add-on free of charge in Booknetic, you need to pay extra cash.
This is one review about the consumer service of Bookly PRO:
"The plugin is really awesome, it can be a solution for lots of your booking system because it is very adaptable! The support behind is amazing, as soon as you have a problem you email them and they answer you so quickly with the solution! Really happy with this plugin!"
Price of the plugin
Bookly pricing begins, per user, at $89.00. A free version is available. With an extra charge, add-ons would be available.
Add-ons and prices
Recurring reservations- $39
Add-on to Service Extras- $499
Schedule of Service- $29
Select days on calendar- $39
Special hours during a day- $29
Stripe Add-on- $39
Client Cabinet- $29
Payments for Deposit- $399
Google Calendar for a plugin- $49
Address of Google Maps- $29
Group reservation- $39
Add-on Locations- $399
PayPal Payments for reservation- $39
Book Archives- $29
Bookly bills- $39
Add-on to Bookly Pro- $899
Add-on Coupons- $39
Add-on Custom Fields- $499
PayPal Checkout Bookly- $29
On Bookly Pro, there are a lot of positive and low reviews. You should self-check these ratings.
Booknetic
Booknetic is a WordPress scheduling plugin for online appointments. It is possible to set up and operate this plugin efficiently. For multiple forms of organizations, Booknetic is perfect. The plugin is mobile-friendly and adjustable.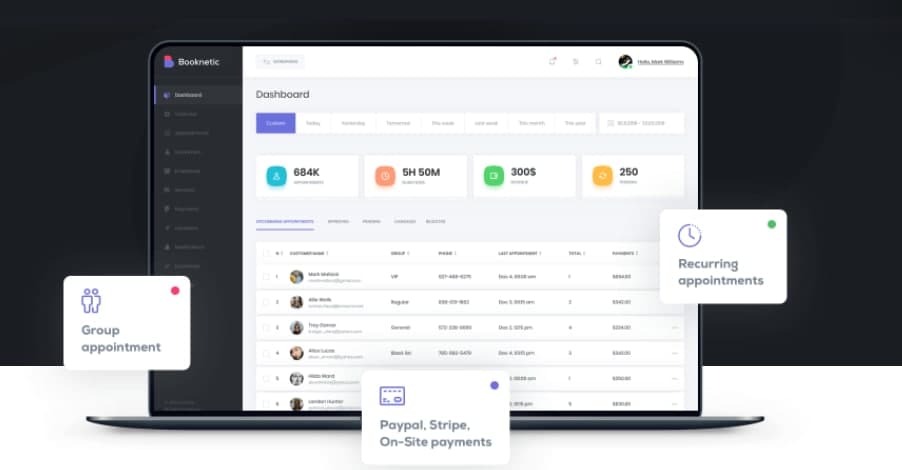 For WordPress pages, Booknetic is a scheduling plugin for appointments. With Booknetic Software, you'll automate the company 100 percent. Booknetic collects your customer base and exposes your market to your customers on 7/24.
The installation and customization of Booknetic in WordPress will take only a few minutes. An elegant interface and comprehensive documentation allow everyone to understand and manipulate all the functions thoroughly. You can tailor this online booking system to accommodate all of your needs.
Booknetic has a modern UI/UX interface that is simple to install and use and is suitable for any form of appointment scheduling. With customizable templates, form-builder, various category levels, and other settings, you may fully configure your business's booking system.
You will not worry about adding a customer to your CRM system again - the booking plugin will instantly systemize and securely process all customer information. The more insights you get from your loyal visitors, the more you use the reservation system online.
Booknetic has a system of 24/7 customer service that satisfies its clients. To explain client satisfaction with customer service, we want to add one review:
"Great customer support. Helped us very well with the problem. You might need to wait a bit but the developers always come with a solution."
Price of the plugin
The price of Booknetic is $79 lifetime, meaning that you have access to free features and lifetime updates at this favorable price. With this amount, you will get support for six months. On Booknetic add-ons will be eligible at an additional fee. Add-ons and their costs:
Email action for Booknetic workflows
Reports for Booknetic
Google Calendar integration for Booknetic- $14 ($29- without discount)
Zoom integration for Booknetic- $14 ($29- without discount)
PayPal payment gateway for Booknetic- $9 ($19- without discount)
Stripe payment gateway for Booknetic $9 ($19- without discount)
Custom forms for Booknetic- $39
Webhook action for Booknetic workflows- $39
Custom status for Booknetic- $29
WooCommerce payment gateway for Booknetic- $29
Customer panel for Booknetic- $29
Tax add-on for Booknetic- $29
Coupons for Booknetic- $29
Giftcards for Booknetic- $19
Amazon SNS for Booknetic workflows- $19
Telegram for Booknetic workflows- $19
Twilio SMS for Booknetic workflows- $19
Twilio WhatsApp for Booknetic workflows- $19
Mollie payment gateway for Booknetic- $19
Square payment gateway for Booknetic- $19
Invoices for Booknetic- $19
Razorpay payment gateway for Booknetic- $19
Features of plugin
Several things are free that Booknetic has. This means that only the lowest expense for the plugin purchase phase will be invested. Let's find out these characteristics:
Zoom incorporation- You can schedule meetings directly with your customers on Zoom
Google Calendar Sync- 2-way synchronization with Google Calendar
Notifications from SMS, email, and WhatApp- Sending messages from SMS, email, and WhatsApp to customers
Reminders- You can alert your customers before or after the appointment by using the Booknetic Appointment Scheduling Plugin Reminder function
PayPal and Stripe payments- PayPal and Stripe are common payment mechanisms. The more precise and famous the online payment system you use, the higher the number of online payments you make. So you can combine PayPal and Stripe with your Booknetic plugin
Local payment- If the client cannot pay electronically, they can pay when they arrive at the appointment
WooCommerce Payment System- With a single click, you can combine WooCommerce and Booknetic Appointment Booking Plugin
Deposit payments- It is easy to accept online deposit payments anonymously. Since clients do not come to meetings, you will not incur financial damage.
Customer Panel- Consumers can see, reschedule and use their profile in Booknetic (GDPR compliance)
Recurring appointments- Customers choose the repetition interval of the appointment in this role when your customers make an appointment on your computer and set up regular plans regularly.
Visual Translation Module- Booknetic helps its consumers to convert Online Appointment systems into the language they want
Form Builder- You can customize your business's custom fields using the Booknetic plugin tool by using the multi-function Form Builder for your Front-end Booking Line.
Customizable design- Clients can develop customizable and responsive designs. The Booknetic plugin supports a sensitive interface. This means your customers can make appointments on any device.
Group appointment- In the Booknetic Appointment Scheduling system, it is now easy to set up group appointments and set the lower and upper limits for the number of members.
Manageable calendar- You will handle the calendar
Multiple locations- With our Multiple Location feature of the Booknetic Appointment Scheduling system, you can manage numerous distributors of your brand.
Breaks, day-off- This function allows you to select holidays and day-offs in the calendar.
Through setting up Google ReCAPTCHA, Google ReCaptcha- Booknetic users would have the ability to stop spam appointments
Coupons, Gift Cards, Invoices, Extras for Service, Multilevel Service, etc.
Booknetic has five stars. On it, there are lots of ratings and reviews. Test to contrast with them.
SAAS version of Booknetic plugin
Booknetic has a variant of SAAS that is special. For those looking to start a company and earn money, the SAAS edition is a great choice. By purchasing the SaaS edition, you can create your own multi-vendor appointment booking service. From the admin screen, you can make schedules depending on the rights and limitations you want and set each schedule's monthly and annual rates. The vendors that will use your service will subscribe to you and create a booking URL for themselves. Each vendor registered with your service in the SaaS version would benefit individually from all the features of the regular version of Booknetic. The SaaS variant also has the following features:
In the admin line, build plans
For each plan, entirely adjustable permission/Limits
Subscription monthly/yearly
First month/year discounts
PayPal portal for payment
Cash Portal Stripe
Notifications by email
In the admin panel, full access to enrolled tenants
The Tenants Registration Form
Login for Tenants type
Each Tenant's Billing Page
Each tenant's individual booking URL
Function with QR Code
And all current and possible functionality of the regular version of Booknetic
Conclusion
WordPress provides a lot of plugins for online bookings. We contrasted Bookly PRO vs Booknetic for our potential customers. When you want to change your appointment booking method to online appointment scheduling services, our blog will help you choose the one for you.
Try demo version if you are interested in the Booknetic plugin.