Top 10 WordPress Social Sharing Plugins 2023
Social Networks
Feb 14, 2022
Updated at: Dec 26, 2022
Make social sharing your social media marketing strategy's best buddy. Another companion of yours must be our WordPress social sharing plugin list, which will assist you in connecting with your target audience.
Social sharing occurs when users share your content on a social networking platform with their groups, friends, coworkers, and so forth. It is the easiest way to get known without any penny. All you have to do is to create screaming content, make it attractive, and click to share. There is one thing missing, having a WordPress social sharing plugin. In fact, there are so many free and paid social networking plugins for WordPress that it might be difficult to select the correct one.
So, let's have a look at the top 10 social media plugins for WordPress:
1. Shareaholic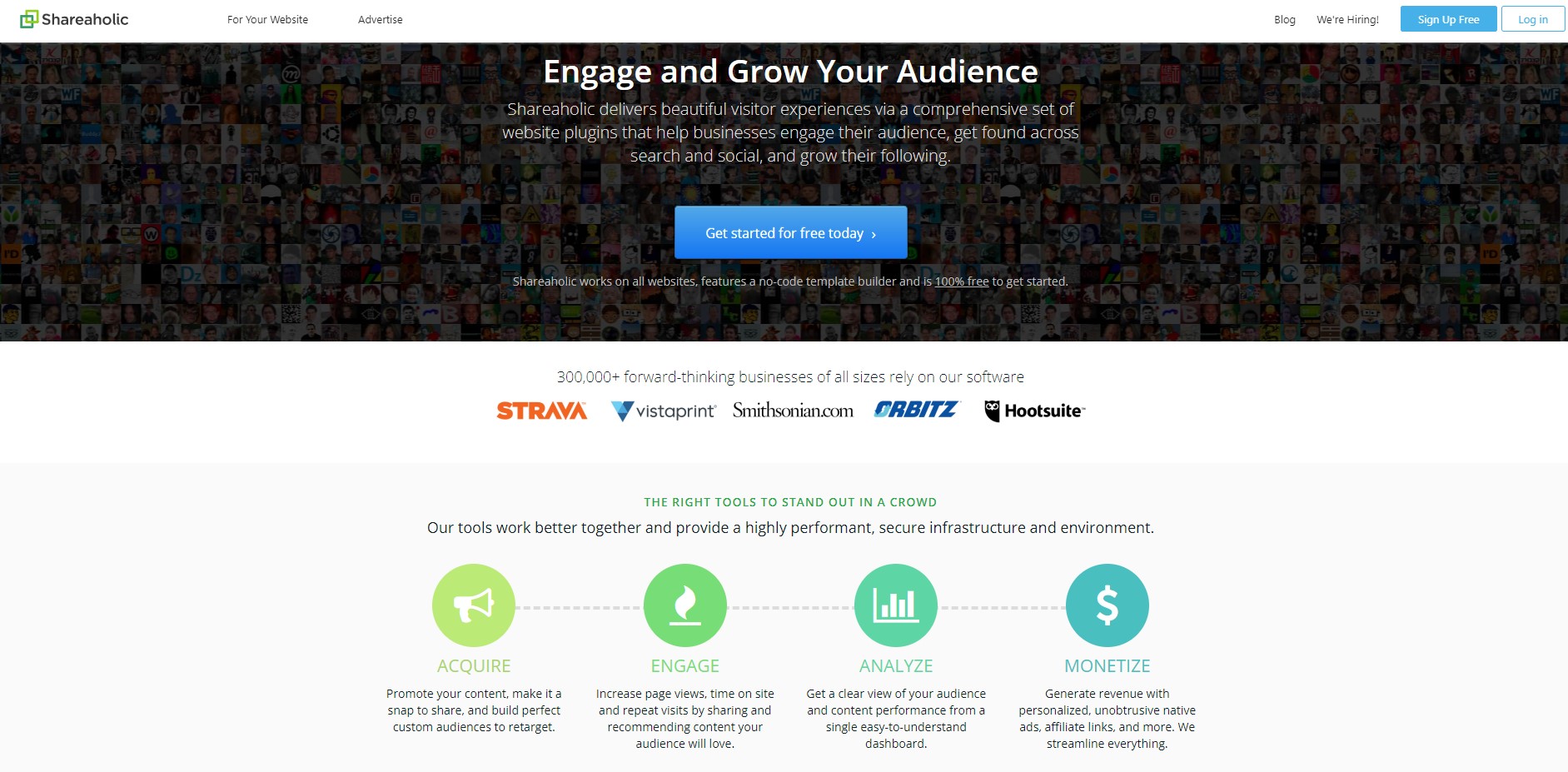 Shareaholic is a flexible WordPress social media plugin that includes over 100 social share buttons for websites and apps. Every layout has its range of useful options, including the ability to support share counts, select certain social networks, and so on.
It is more than just a social sharing platform; it also offers promotion, engagement, analytics, and monetization options. It helps to boost your content, improve engagements by sharing and recommending your posts. Collaboration with Google Analytics gives you insights and performance of your website and monetization option which lets you insert affiliate links, banner ads and promote sponsored content recommendations.
Shareaholic has a basic plan as Forever Free for starters, Professional Plan for $8 monthly, Team Plan for $31 monthly, and Enterprise with Custom pricing.
2. Shared Counts
It is a simply shared content counter and social sharing plugin for WordPress. It supports Facebook, Pinterest, Yummly and Twitter, Reddit, LinkedIn, Email, as well as Print buttons within their shared counts in this plugin.
Shared Counts has lots of options for styling the share button, and it is free to pick one for the design of your website. You can also add share buttons before or after posting.
One of the biggest features that distinguish it from other social media plugins for WordPress is it is GDPR compliant. It means, the plugin does not involve cookies or tracking scripts, nor does it save any user data.
You can download Shared Counts for free from wordpress.org.
3. AddToAny
AddToAny has up to 100 share buttons and that makes it a unique social media plugin for WordPress. Since it comes with a simple code, AddToAny can be simply implemented into any website.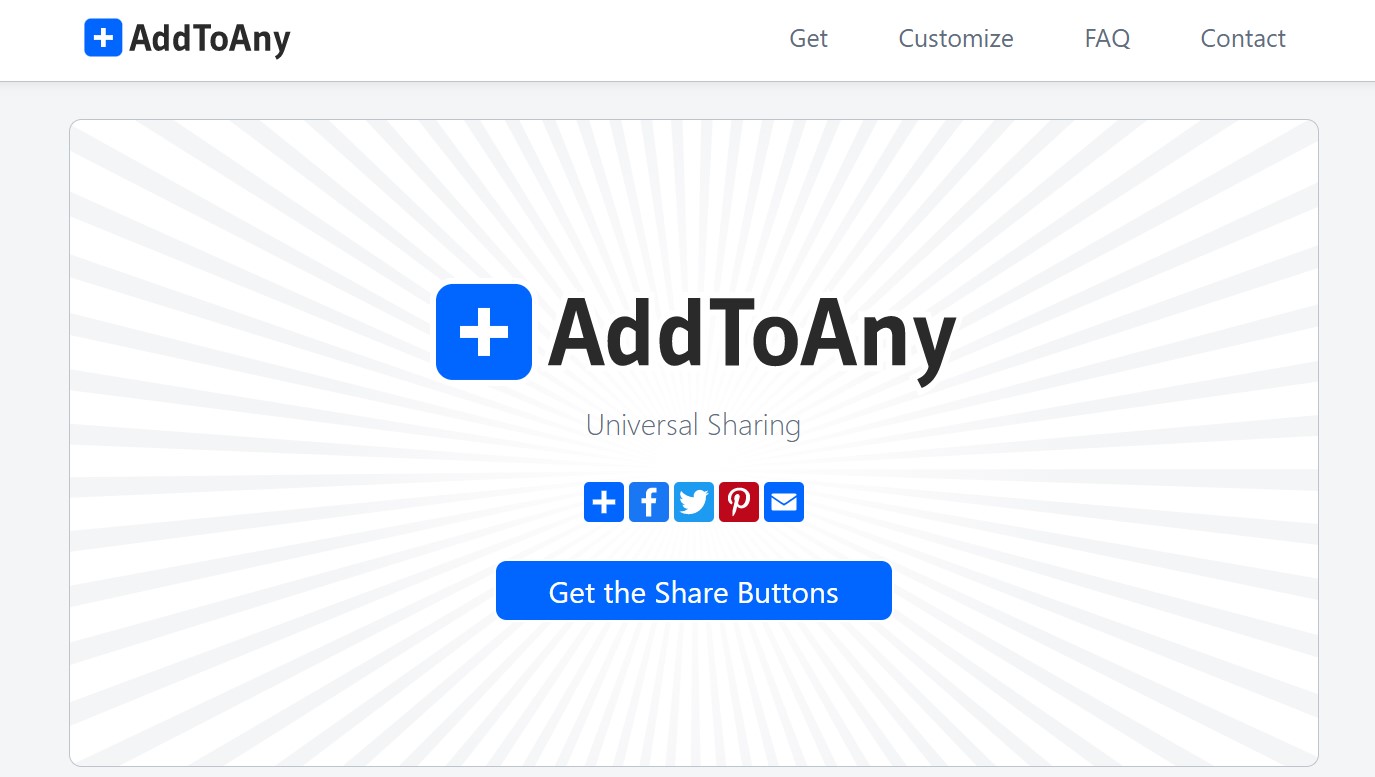 Google Analytics integration allows following insights and metrics with one dashboard. It also features share counts and is compatible with WooCommerce and multisite networks. Additionally, it has a theme support feature, AMP support, and link shortening integrations.
It is also available for free on wordpress.org without the need for a signup, login, or registration.
4. Monarch
Do you know that Elegant Themes have a premium social sharing plugin for WordPress? Monarch allows adding social share icons with over 30 multiple networks and in 5 multiple places.
You may also change the appearance of your buttons and include social sharing counts. Put follow buttons in your sidebar or other widget locations in addition to social network buttons on posts.
One another interesting feature of this WordPress social media plugin is if one post does not have shares that you have planned, you can hide it.
As it also can be seen from its name, Monarch is a premium plugin. You can purchase Yearly access with $89/annually, and Lifetime Access with $249/one-timely. You should purchase Elegant Themes membership to use the plugin.
5. Novashare
Novashare is a fast and petité WordPress social media plugin because it only has 5KB usage. You are able to share numbers from Twitter, Facebook, Pinterest, and Buffer, as well as symbols for 15+ additional social networks.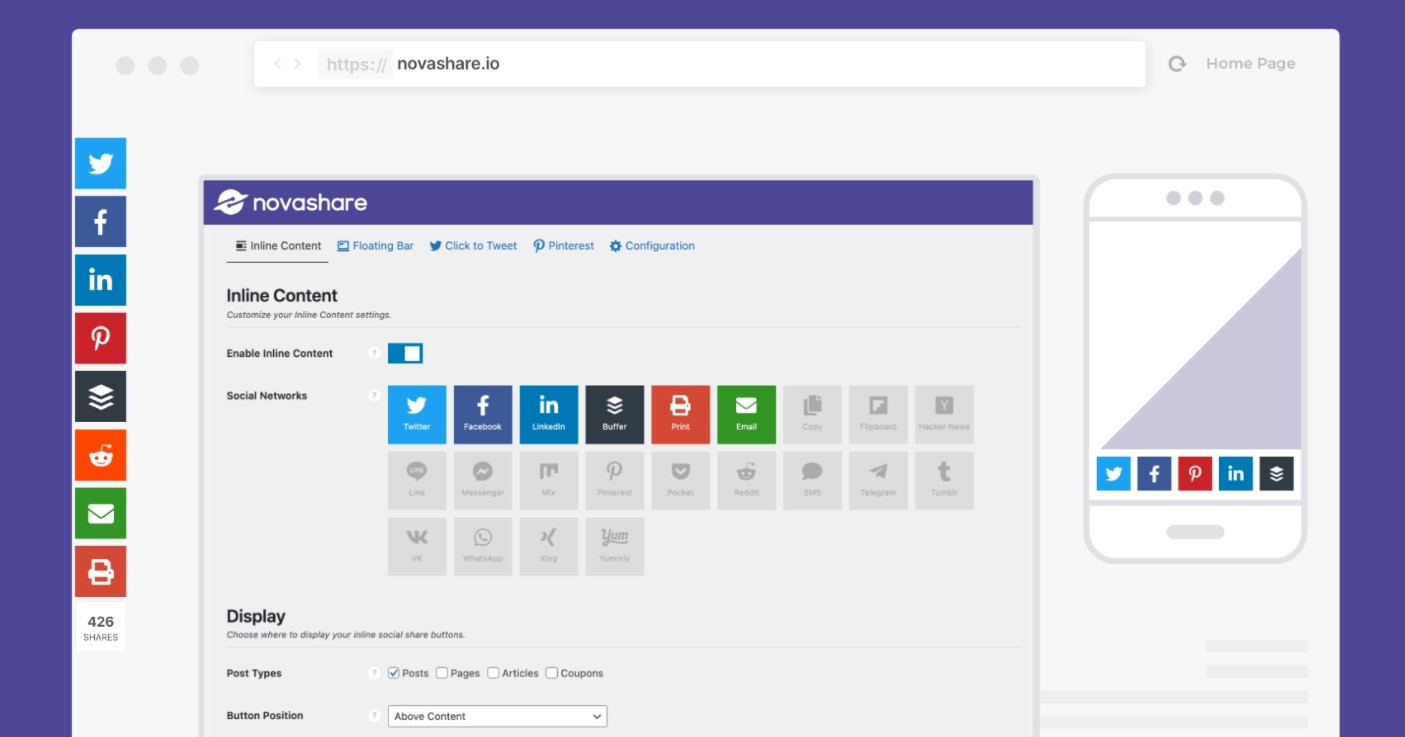 Add the social follow widget to your site's header or bottom to increase your followers. Using the simple drag-and-drop system, select from 52+ buttons and networks. It also has GDPR support.
The plugin settings screen is easy to use. You will show share counts, change button colors, and define the bottom for where you want buttons to appear on mobile devices.
Novashare doesn't have a free version. Purchase is annual, starting from $24.95 for 1 site, $54.95 for 3 sites, and $124.95 for unlimited.
6. Jetpack
Jetpack is not only a social media plugin for WordPress but also a marketing tool for digital marketers. It includes simple design tools to make your customizing task easier. You can easily personalize your site without any existing coding expertise.
This plugin allows admins to share pages and posts with a limited number of social media networks (9 in total), as well as print buttons and email. This plugin supports popular social networks such as Tumblr, Reddit, LinkedIn, Telegram, and Skype.
It also offers analytics solutions to help you to track SEO features and auto-publishing functions on social media.
Prices range from $9.95 per year to $24.95 and $99.95 for full features.
7. Social Snap
Social Snap is a well-known social sharing plugin for WordPress, which is easy to download and work on it. Social Snap allows you to integrate buttons for more than 30 social media platforms in a lot of different places. Aside from the standard placement choices such as inline buttons and a floating sidebar, you also have the option of a "sharing hub" or a "sticky bar."
The sharing buttons come in four various styles and three different sizes. You may also display the overall amount of shares, and you can select to just show the buttons on articles, pages, archives, and so on. It also integrates Google Analytics, URL shortening, page view counting, and analytic capabilities.
Social Snap gives you a 30-day money-back guarantee, in case you don't like the plugin. It has three plans: Plus ($39/annually), Pro ($99/annually), and Agency ($299/annually).
8. Social Warfare
Social Warfare is one of the handy plugins on our listing about social media plugins for WordPress. Its buttons for sharings are cool, and share counts are optional. It means, sharing buttons can be shown in a floating share bar, above and below the content area, or manually inserted using a shortcode or PHP function if you like.
Like social proof, it is possible to define a minimum share count. When a post gets few shares and you don't want it to be displayed, reduce the number to whichever you wish.
Social Warfare can build links for you instantly utilizing your Bitly account, along with setting up Google Analytics UTM and Event Tracking so you can see how successful your social share buttons are.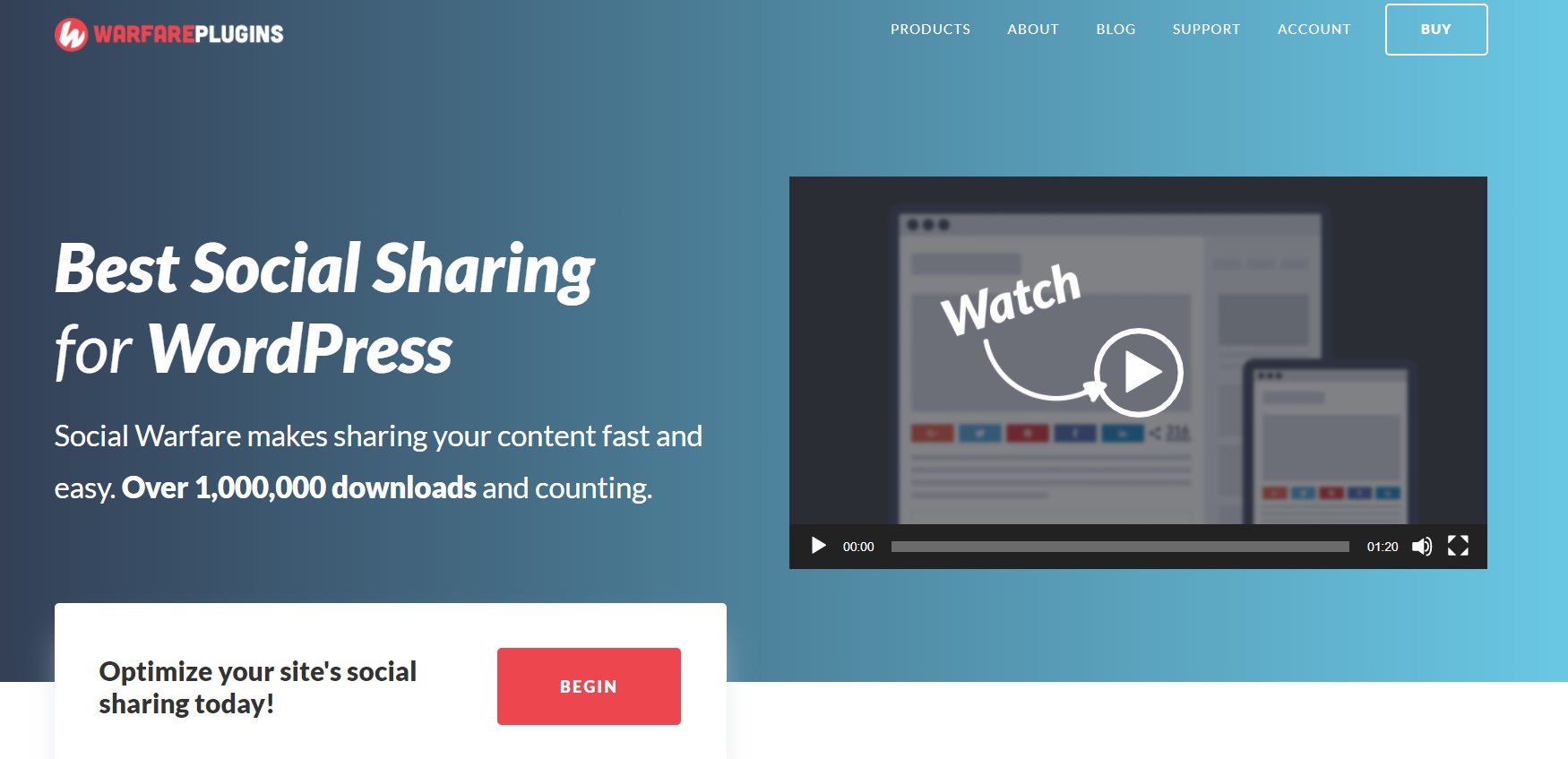 The free version of Social Warfare gives you only 5 social media platforms, Twitter, Facebook, LinkedIn, Pinterest, and Mix. License options with 1 site are starting from $29 to $349 unlimitedly.
9. Social Media Share Buttons Pop-Up & Social Sharing Icons
Another useful WordPress social sharing plugin - Social Media Share Buttons Pop-Up & Social Sharing Icons offers lots of benefits. You may use this plugin to incorporate social networking buttons into your website in a variety of ways.
In fact, you have access to over 200 different social media networks. Among these platforms are the most popular: Facebook, Twitter, Instagram, Tik Tok, Snapchat, Telegram, Pinterest, WhatsApp, and an email sharing button. In addition, these buttons can be float, or sticky.
You can also choose from 16 different styles for your social media share icons. You may add motion to your social network icons to entice your viewers to click on them, too.
It comes with free and premium versions which are starting from $29.98, but if you need additional features, you should pay for it, it all costs a total of $129.
10. Kiwi Social Share
Kiwi- fast and simple WordPress social media plugin, premium-looked, but free! This minimal plugin is compatible with a variety of social networking platforms, like Reddit, LinkedIn, Facebook, Twitter, Google+, and email.
Moreover, the plugin integrates Google Analytics to help you monitor social share counts and provides a "click to tweet" button in the WordPress editor that you can use to put tweet buttons into your blog entries.
You can download Kiwi freely on wordpress.org.
In Conclusion
This list contains ten major WordPress social sharing plugins. Some of them, for example, offer GDPR-compliant functions, some are entirely free to use, while yet others incorporate Google Analytics and even WooCommerce integration. Finally, it is up to you to select the ideal one for you. Hopefully, our list will be useful!