Best WordPress Themes for Influencers to Use in 2023
Social Networks
Feb 02, 2022
Updated at: Aug 16, 2023
Influencer marketing can be a great way to promote your company and reach new markets. With the help of an influencer, you will not only get more eyes on what it is that you do but also make sure they share your message with others!
Having a website moves your marketing strategy ahead. At this time, some best WordPress themes for influencers come ahead, too. You can make and design what you want with these templates!
So, let's don't waste time and start to investigate our list:
1. Influencer Pro
If you are a coach, leader, or motivating influencer wanting to develop a perfectly-designed website without any coding skills, SEO and user-friendly, and most importantly, social media integrated influencer marketing theme WordPress - Influencer Pro would be your ideal fit.
An influencer has full theme instructions to assist you in setting up your website. Simply follow the step-by-step instructions in the manual, and your website will be up and running as quickly as possible.
It has free Pro options, which come with additional features. Prices are starting from $59 to $198, depending on the license and setup service.
2. BuddyX Pro
The BuddyX Pro theme, crafted by Wbcom Designs, stands as an excellent solution to fulfill your specific needs. This theme is specifically tailored for establishing online communities, creating e-learning platforms, managing memberships, and setting up e-commerce marketplaces.
Utilizing the BuddyX Pro theme enables effortless transformation of your community platform into an online store. It seamlessly integrates with WordPress ecommerce plugins such as WooCommerce and Easy Digital Downloads, allowing you to even vend services using WooCommerce.
However, the potential of this theme extends beyond community interactions. With the incorporation of learning management system (LMS) plugins like LearnDash, you can effortlessly expand it to offer online courses.
It has a free version but paid version starts from $59.
3. Love Life - Responsive Personal Blog WordPress Theme
People adore reading happy love stories. Why won't you start to share yours on Love Life, one of the best WordPress themes for influencers? You wouldn't need any background to set up your WordPress personal blog; it's quite simple and straightforward.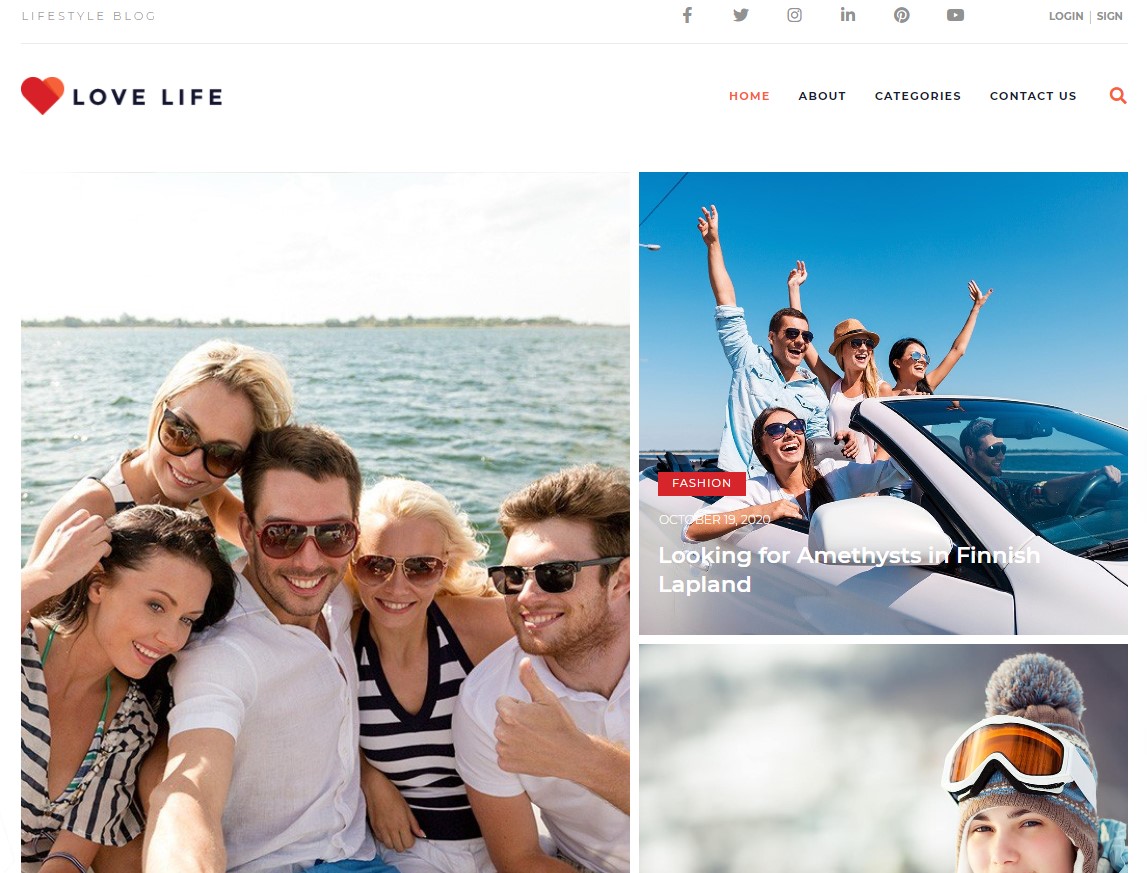 It is built with Elementor with more than 50 extra widgets. And also more than 100 plus additional page builder elements such as Blog, CTA, Icon Box, Map, Promo Box, Slider, Video and so forth.
Love Life is also WooCommerce-ready, as well as compatible with such plugins as WPML Multilingual, Slider Revolution, Instagram Feed, Contact Form 7, etc.
It is $59, but if you want to install some add-ons, you should pay more.
4. Yoha - Fashion Ultra Minimalist WordPress Theme
Yoha is a photographer influencer marketing WordPress themes to exhibit their portfolios. The ultra-minimalist WordPress theme's structure is elegant and targeted at showing your picture projects in a professional manner.
It also provides a collection of free stock photos related to the theme. It also includes simple widgets for framing key topics. For example, mouse parallax-lets you toad motion to the main text, gallery-shows your best photos, banner-increase homepage visibility with pictures and text, and pick an app contacts-helps your customers to contact you easily.
Prices begin at $59, but extra features require additional costs.
5. Societic - Lifestyle Blog Multipurpose Modern Elementor WordPress Theme
Societic is a useful and best WordPress theme for influencers who are into personal, lifestyle, or travel blogging.
The Societic theme features a vibrant aesthetic as well as excellent functionality. You will be able to personalize the website to your liking by utilizing a powerful Jet plugin package for Elementor page builder.
You may indeed add connections to social media profiles, alter copyright information at the bottom, and do other things. Societic's SEO-friendly coding will enhance your chances of ranking at the top of Google.
It costs $75 for one site and $144 for five sites with updates and six months of support.
6. Podcast
It is just one influencer marketing theme WordPress for only creative businesses, such as bloggers, YouTubers, comedians, influencers, radio hosts and so on.
If you're looking for a theme that will help your show stand out, look no further than the WordPress built-in color palettes. The theme comes preinstalled with 7 built-in color palettes that are perfect for all types.
The design supports popular plugins like PowerPress in case listeners want their shows distributed through this method too. Embed your podcast episodes on the following platforms: Spotify, SoundCloud, AppleMusic, and many more.
This is the best WordPress theme for Influencers because it is completely free to download and use!
7. Followers – Fashion & Lifestyle WordPress Blog Theme for Social Media Influencers
Followers is a stylish influencer marketing theme WordPress website-based and best for fashion, lifestyle bloggers, and social media influencers. It contains all of the important features of a successful influencer website, including a beautiful and clean design and the ability to convert social media posts, newsletters, and other social media buttons.
It also has over 600 Google fonts integration, optimized to boost shares on social media, unlimited color options, and is SEO-friendly.
Followers Theme by LaunchandSell is $44 on ThemeForest with 6 months of support.
8. Influence – Bootstrap Admin Panel Template for Web Apps
In a world full of social media influencers, it is no surprise that businesses are starting to take note. At that time, Influence comes to help. Influence responsive admin template is a bootstrap 4 administrator dashboard designed for anyone who wants to create web forms.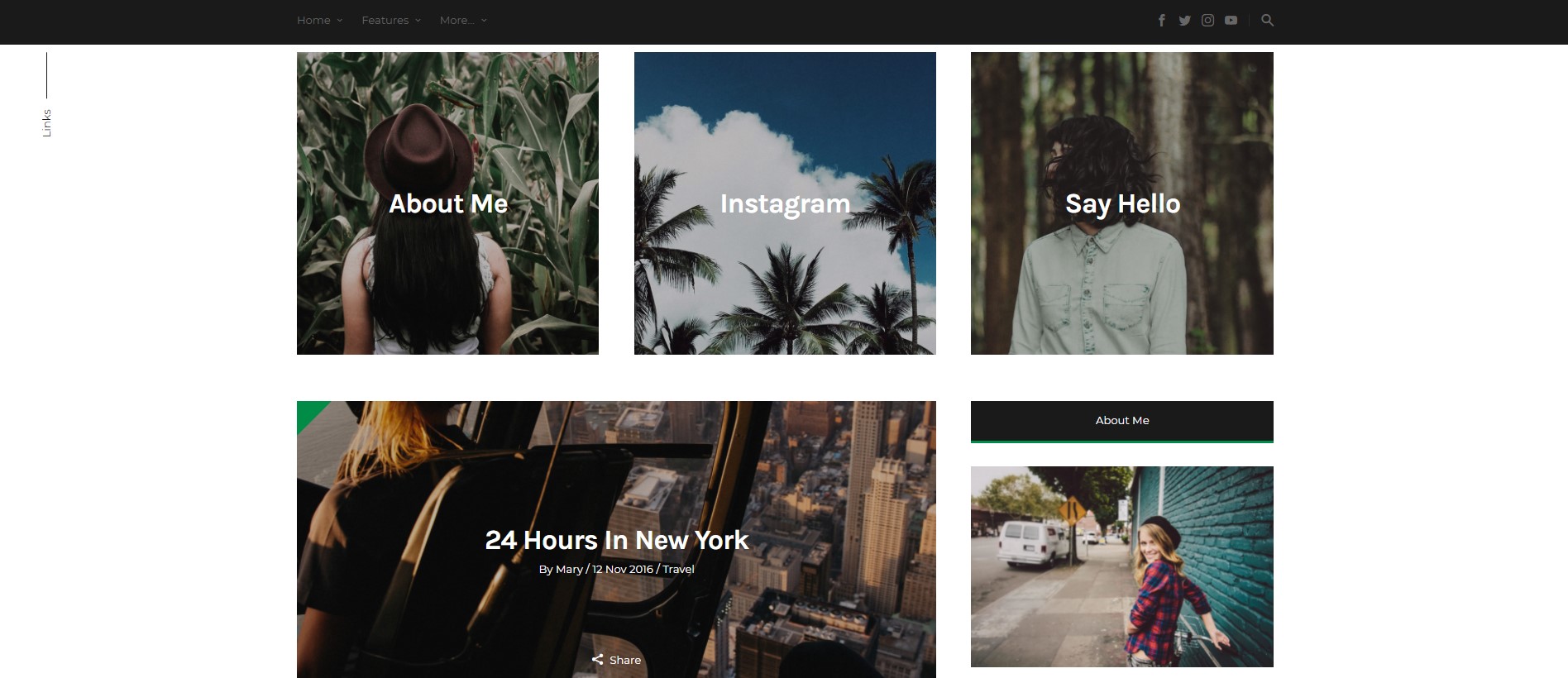 This theme offers over six different admin dashboards, including e-commerce, search for influencers (with their own profile), as well as sales & finance tracking tools - all in one package, so there's no need to go fishing around online looking. It is the perfect Influencer marketing theme WordPress for web pages only, and it gives a full analysis with an influencer profile dashboard and finds relevant influencers for your needs.
It is only $19 on the Envato marketplace.
9. Purple
It is all in together, useful, adaptive, and one of the best WordPress themes for influencers, especially bloggers. It is SEO friendly and has unlimited color, background, and Google font choice.
Using the available drag-and-drop homepage elements, you may customize the layout of your website. Play around with the design of your website until you discover a combination that works for your target demographic.
There are advanced style and theme choices available, including content marketing features such as five relevant post layouts, picture effects, customized author boxes, lightboxes, ad spots, and custom social sharing buttons.
Prices start from $59.
10. Influencer - Magazine & Blog WordPress Theme
An influencer is a simple, elegant, and, finally the best WordPress theme for Influencers, especially social media bloggers in focus.
Magazine & Blog Influencer WordPress Theme is responsive and contemporary, and its WordPress performance is far faster than that of other themes. It is the most searchable Blog / Magazine theme and is Gtmetrix optimized. This theme's biggest feature is its affordability and multi-functionality, which needs to be pointed out.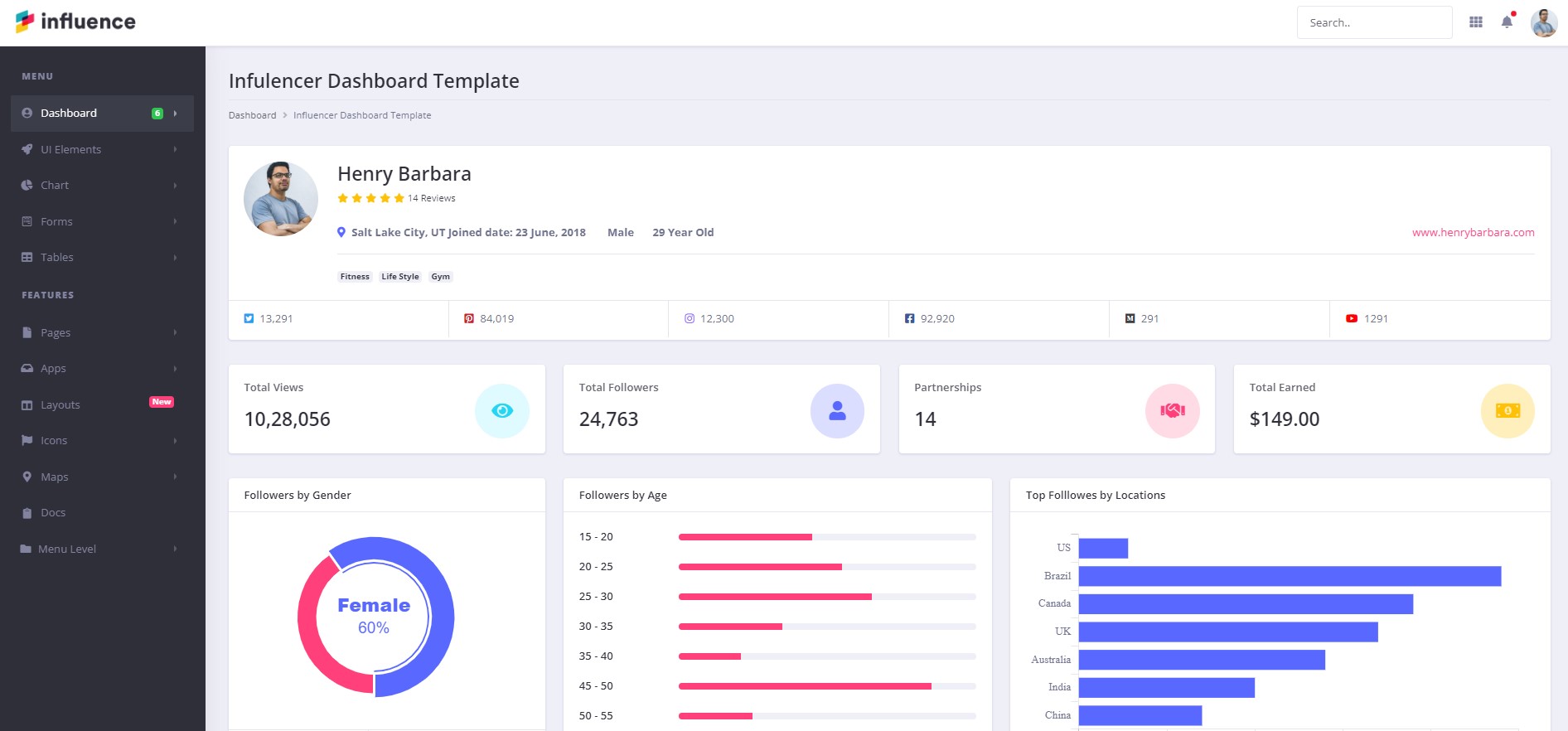 Influencer also comes with two free custom plugins: Websitesmash About Widget and Websitesmash Posts Widget.
This premium WordPress theme is $49 on the ThemeForest marketplace.
To Wrap Up
Finding the proper theme for yourself is critical in order to keep updated, share, and create more. The selection of Influencer marketing themes WordPress only will help you create a one-of-a-kind website for your specific requirements. Our collection includes a variety of themes for influencing and blogging in a range of fields. The majority of them are applicable to nearly any area, although photography, travel, lifestyle, and blogging are the most prevalent. There are also other options available on ScanWP. Hopefully, you'll be able to find the perfect match!