The Role of Infographics in Content Marketing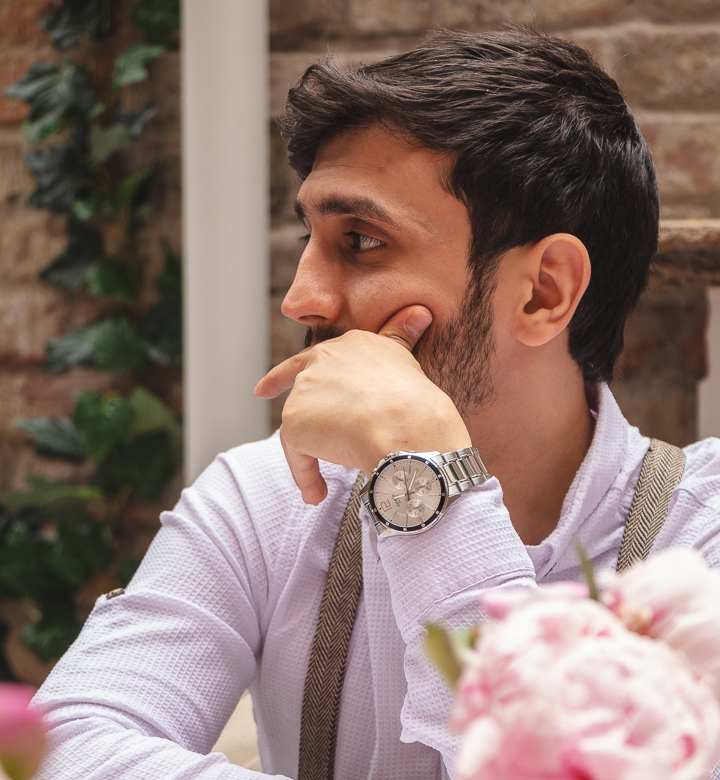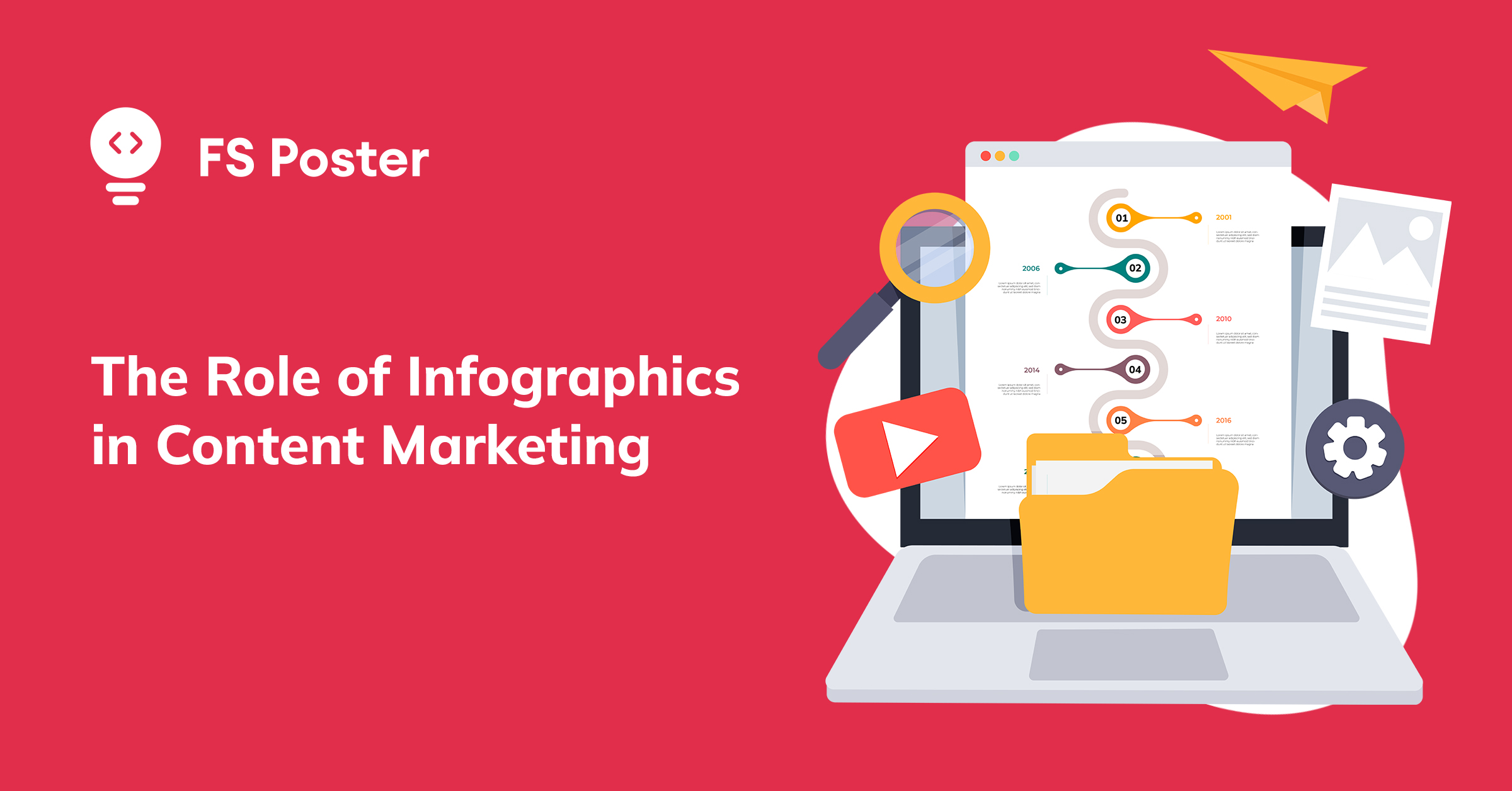 Digital marketing tips
Feb 13, 2022
We cannot talk about the importance of infographics in content marketing enough. There is a reason why most businesses rely on the importance of infographics in marketing for years. According to several pieces of research, our brain processes visual elements more quickly than reading long texts. Our brain remembers the information from graphical images better and pays more attention to this type of poster.
Nowadays, visual content is considered the most informative, entertaining, time-saver, and expressing emotions. As a result, content marketing strategies are revolved around visual content to get more engagement and deliver the messages at the right time. Visual elements are beneficial in digital marketing. They are versatile and use engaging images or videos to communicate with the audience and influence their decisions.
As of today, from government organizations to business entities, marketers prefer to use infographics as an effective tool to deliver the necessary information in a presentable and digestible way. Yes, it is true: words are always powerful, but what about combining words and visuals? Texts and visuals create meaningful, scannable, complex, and quick glance information that people can consume immediately without spending more time processing in their brains.
There is a lot of information available on the Internet, and we need to make sure we reach out to our audience. However, as technology advances, it can be hard for digital marketers and brands to keep up. It might be challenging for your target audience to find you, too. If you want to grow your content marketing results, you should consider using infographics in content marketing.
These short, informative snippets can really help you with your content game!
But...
Before proceeding with infographics, let's find out what is infographics and what are the benefits of infographics in marketing strategies?
What are infographics?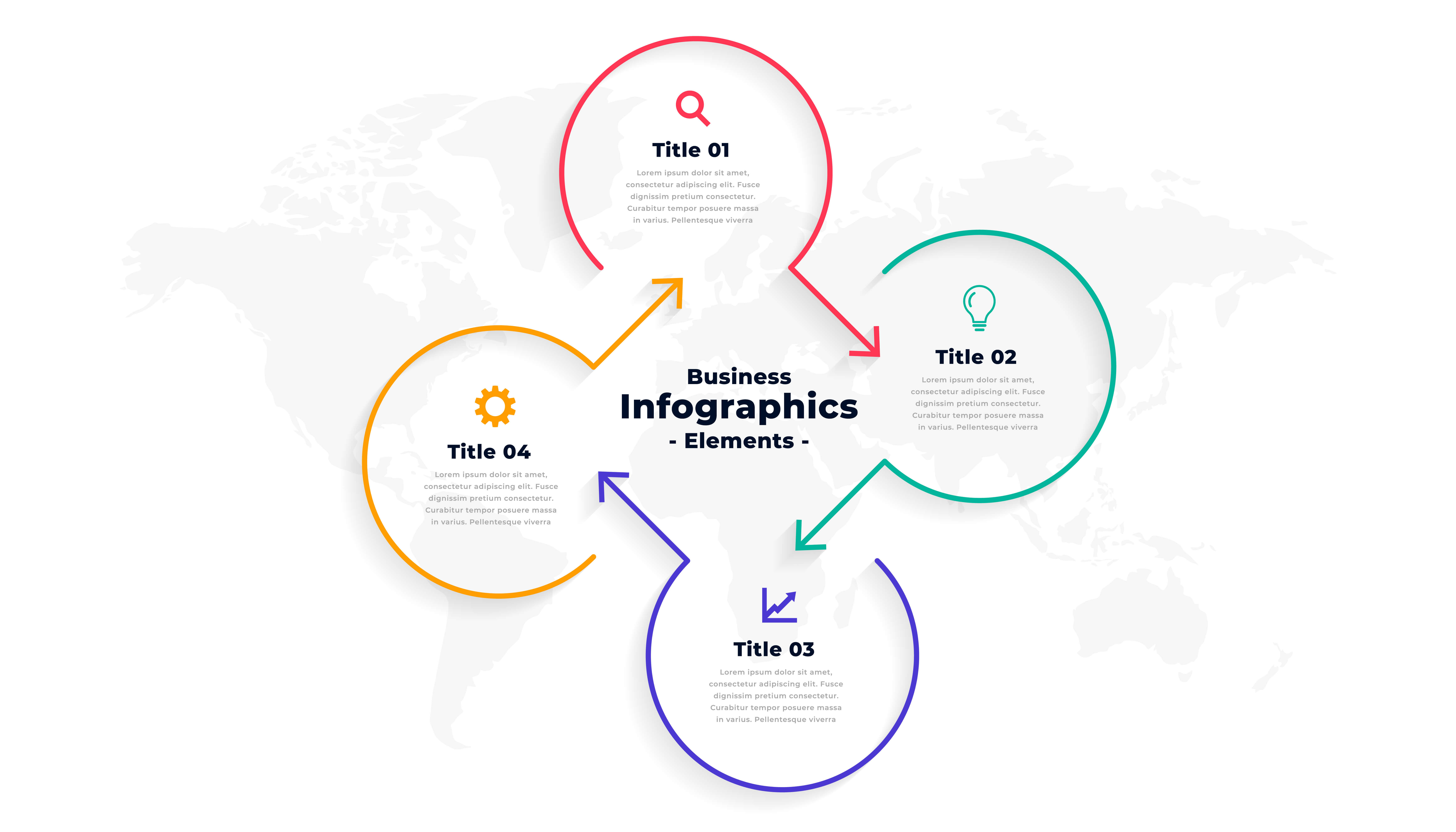 The infographic makes digital marketing easy to visualize and understand any kind of text or information. When a company creates an infographic to do these things, they are making use of a very effective business tool. The visually-compelling nature of infographics in content marketing attracts potential customers and can also build brand name recognition and credibility, generate leads, or increase online sales- those are just a few excellent benefits.
Whether it is a step-by-step on how to install the plugin or the history of the company, information about the products, or sales reports, infographics will boost the engagement rate in the form of interesting visual elements.
For instance, let's take a look at this infographic: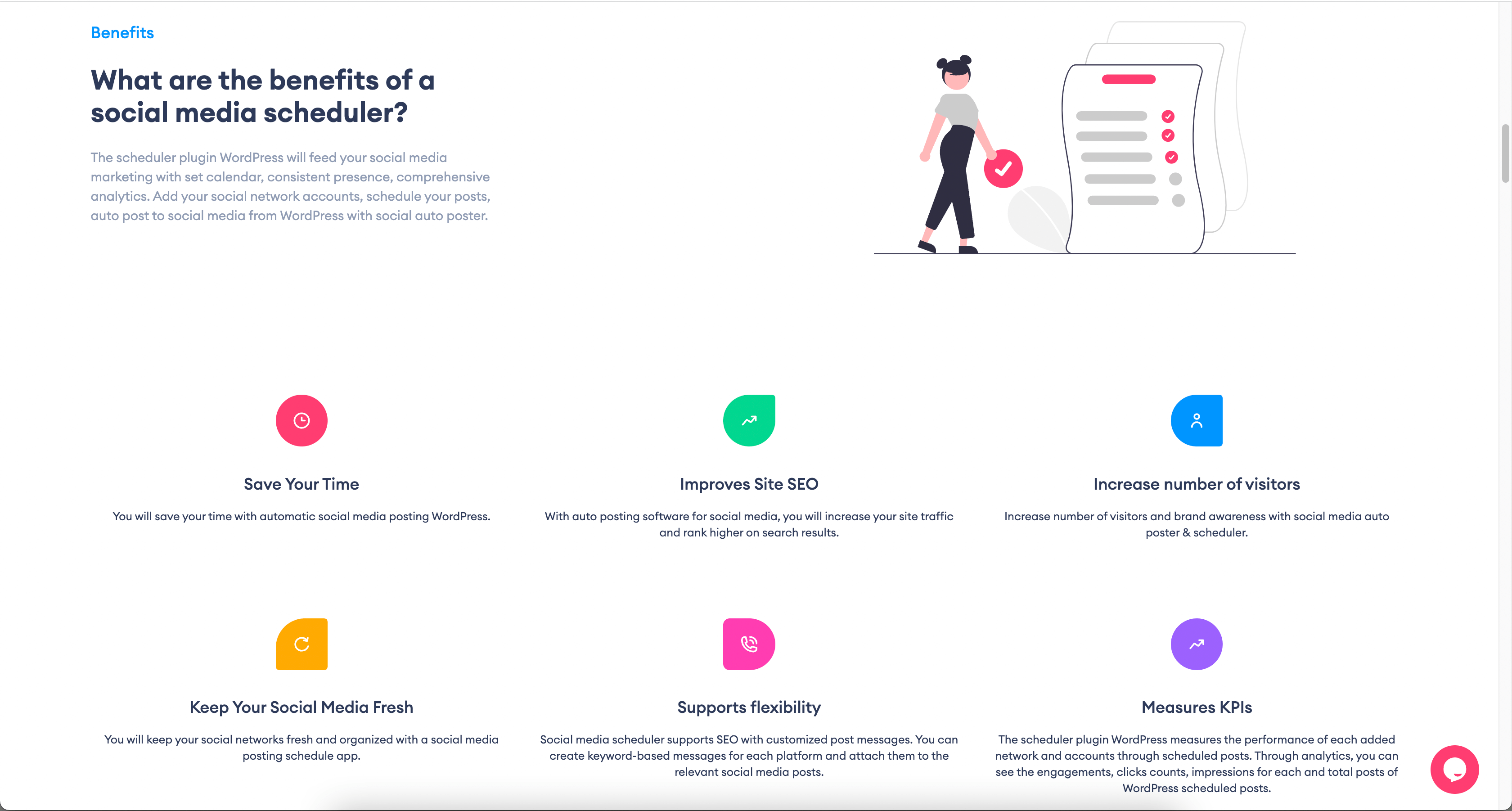 Was this infographic too text-heavy for you? Notice how this design used white space, bright colours, and icons to make data easy to digest. All these features culminated in a visually appealing infographic that was much more engaging. In brief, this infographic breaks down the complex concept of Fs-Poster, summarizes the benefits of social media scheduling, and makes boring data and numbers look good.
There are several ways and types to illustrate the desired content, such as statistics, timeline, flowchart graphics, informational posters, etc. It entirely depends on the purpose of the content and your goals to achieve. But when preparing social media marketing with infographics or any marketing with infographics you have to make sure that it helps educate your audience faster without taking up too much of their time.
What is the importance of infographics in marketing?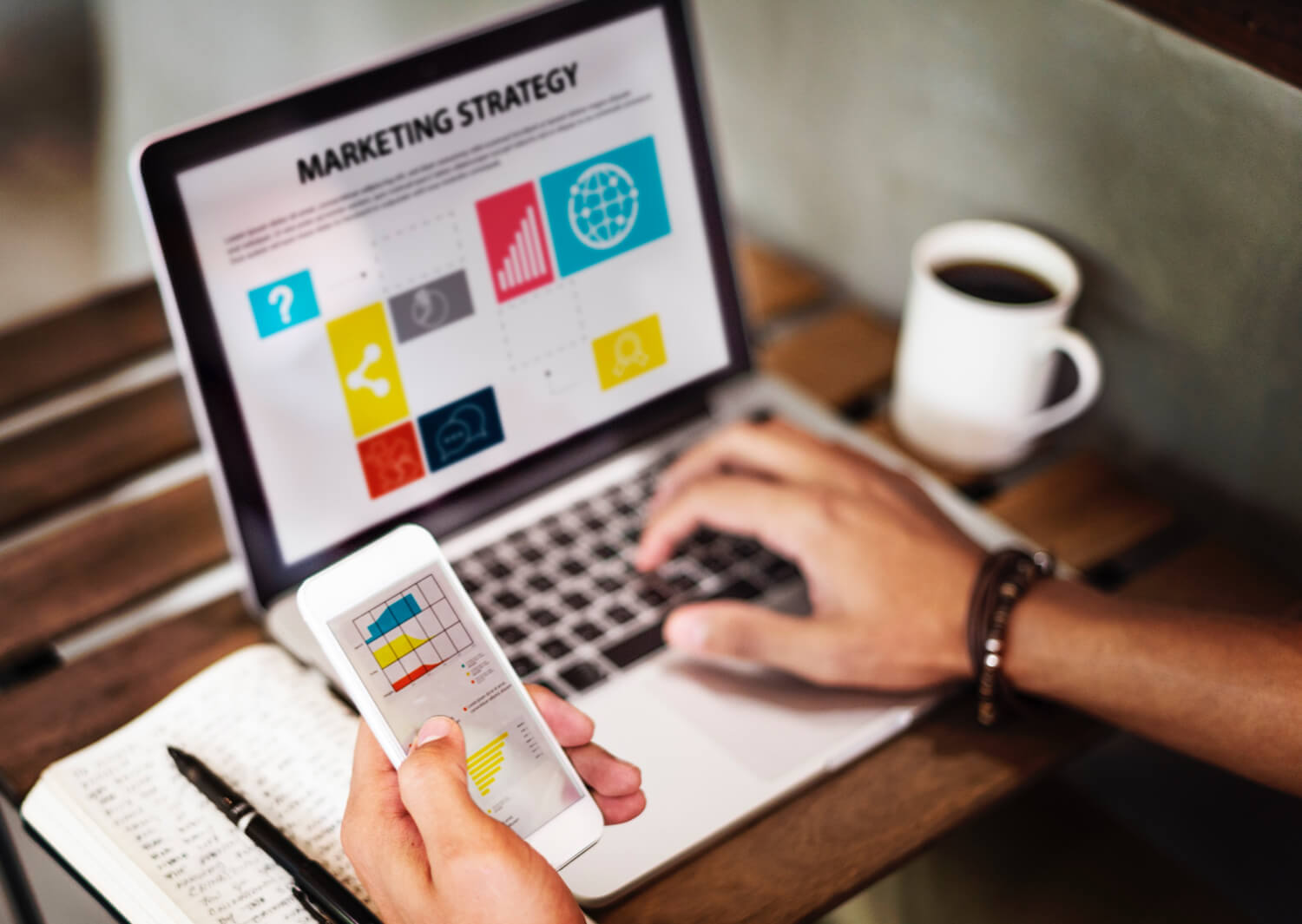 Out of all content marketers, a vast majority (80%) agree that color images make the reader more likely to read the content. Infographics are also 30 times more likely to be read than text-based articles. Marketers and brands have seen massive success with infographics for their marketing campaigns.
Infographics became popular due to several reasons in digital marketing:
Infographics are excellent for summarizing marketing statistics. It helps you convey a message more clearly and succinctly.
Infographics can help brands create content that stands out, which is vital in the age of brand publishing.
Brands know that infographics are an effective way to communicate their message. They can help them show the world how they are different, leadership in their field, and depend on data to back up their business.
Infographics are an increasingly popular way of conveying information. By using powerful storytelling and effective data presentation, you can quickly disseminate information to your audience in a creative and eye-catching way.
In short, infographics let you present data to your audience instantly while also briefly telling them a story about that topic.
To create effective and engaging infographics, you should follow these general rules fist:
Structure a sensible, direct, and easy-to-follow information flow
Use less color combination to avoid creating too distractive visual content
Use similar fonts and styling to catch the attention
Make the text concise and valuable
Create a balance between visuals and text
Make sure it delivers your key message
With that being said, let's dive into recommended tips to create appealing infographics for your business.
Note: These tips can be considered as the benefits of infographics.
Create and use a template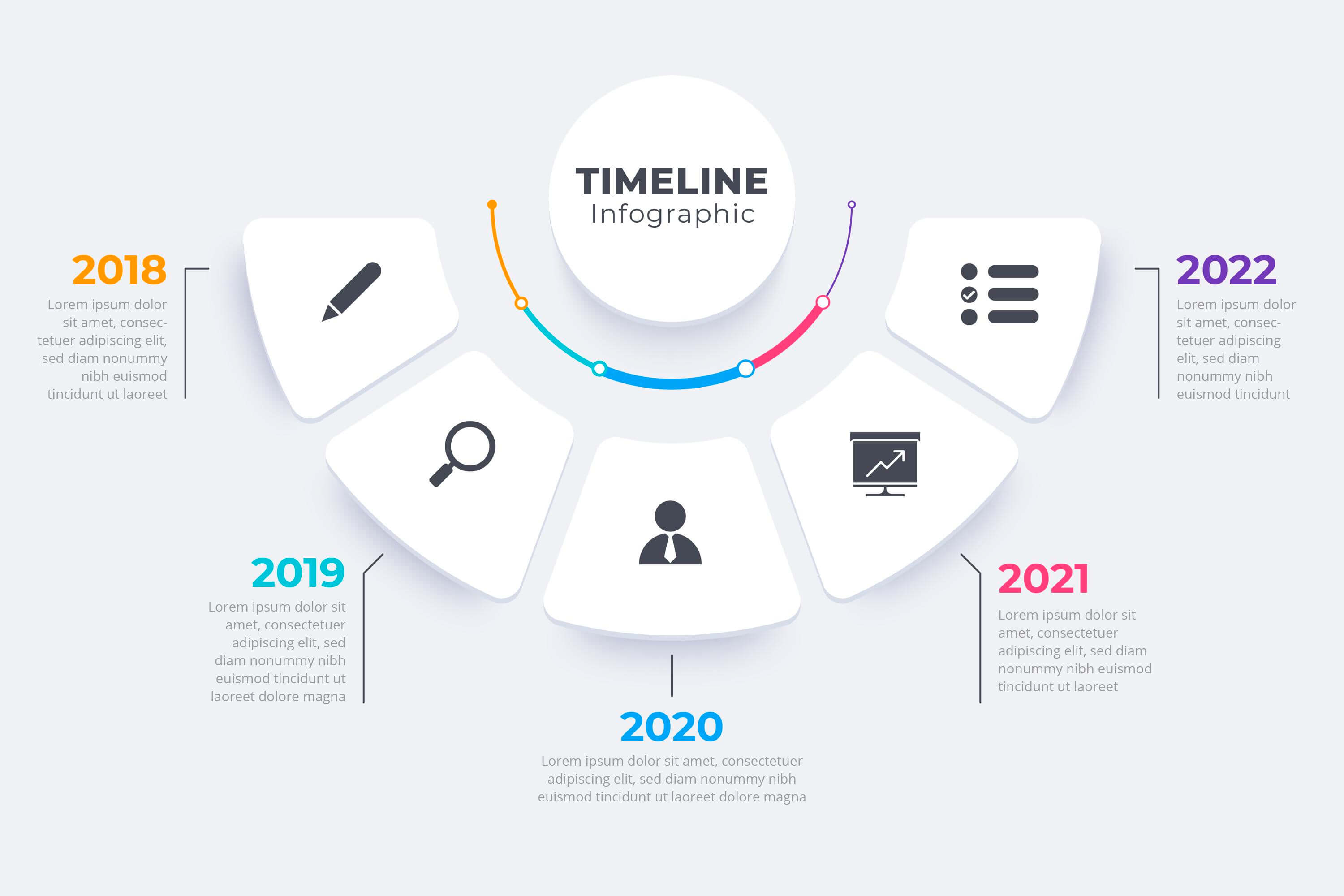 Infographics in content marketing may be one of the best strategies out there, but only if they're done correctly and by following standards and best practices. Advanced marketers or designers always create new designs for each content. However, as you guess, it may be expensive, and if you have a small business or have just started your project, you cannot afford it anytime soon.
Therefore, create a template for your infographics and use it for your future posts. Use the same style, colors, length of the text, and icons in your infographics. There are several free and paid social media tools to create eye-catching, compelling infographics. Usually, they offer affordable plans depending on the usage and purpose.
As an author of this content, I use canva.com for my blog posts to create meaningful infographics. It has a free version that lets you use templates among thousands of designs. If you like the service and want to use more advanced features and designs, you can purchase a subscription to improve your templates.
Besides, almost all these tools come with a drag-and-drop editor. If you don't have design skills and experience, the editors will help you create beautiful and unique infographics.
Create a visual story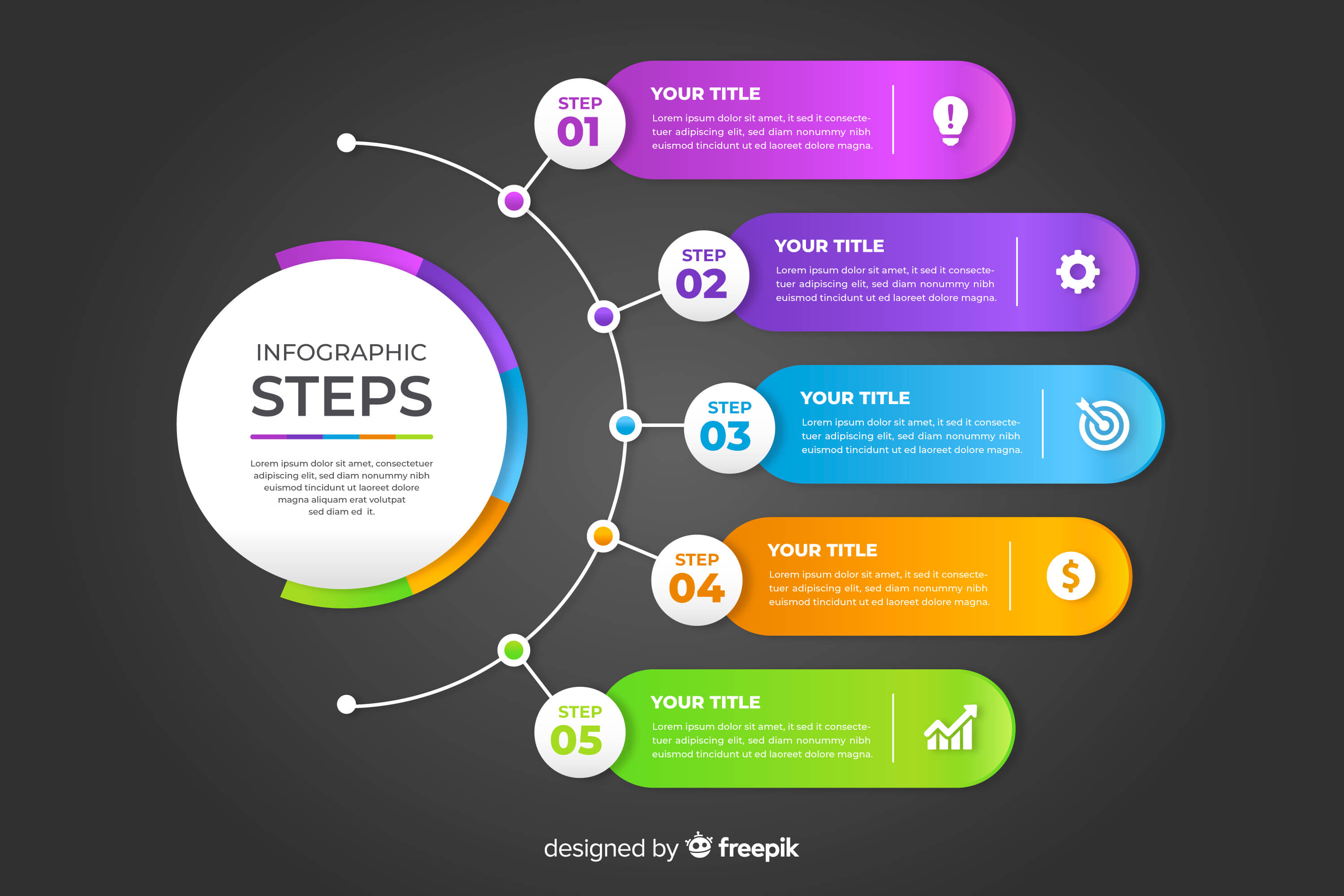 An infographic should represent the story of your goal. A well-designed template includes everything from minor details such as fonts, icons, and placeholders to the key messages and call-to-action elements.
Effective infographics start with a clear idea of what they want to say. Once you have the central message, then you can create an interactive design that speaks to your audience and is easy to read. You can't just throw together some statistics or illustrations with copy and hope it's enough.
Although you create outstanding infographics, make sure you focus on only one topic in your visual elements. Especially social media marketing with infographics can be wasted with too many focus points. When thinking about what sort of infographic you want to create, it should be specific. Broad topics only make cluttered infographics that don't serve any real purpose.
Use specific icons
Modern websites, email listings, blog content, compelling landing pages, and other related digital marketing tools are linked to each other. Even nowadays, your infographic will probably be useless and boring for your readers without icons.
Because when you create infographics, it can be hard to decide where to put lines, spacing, or divide the long paragraphs. This is the exact moment where icons can help you out.
Use Icons to highlight critical points in your infographic, or replace words and subheads with them. This helps balance the visual-to-text ratio and makes it more attractive for readers.
For instance: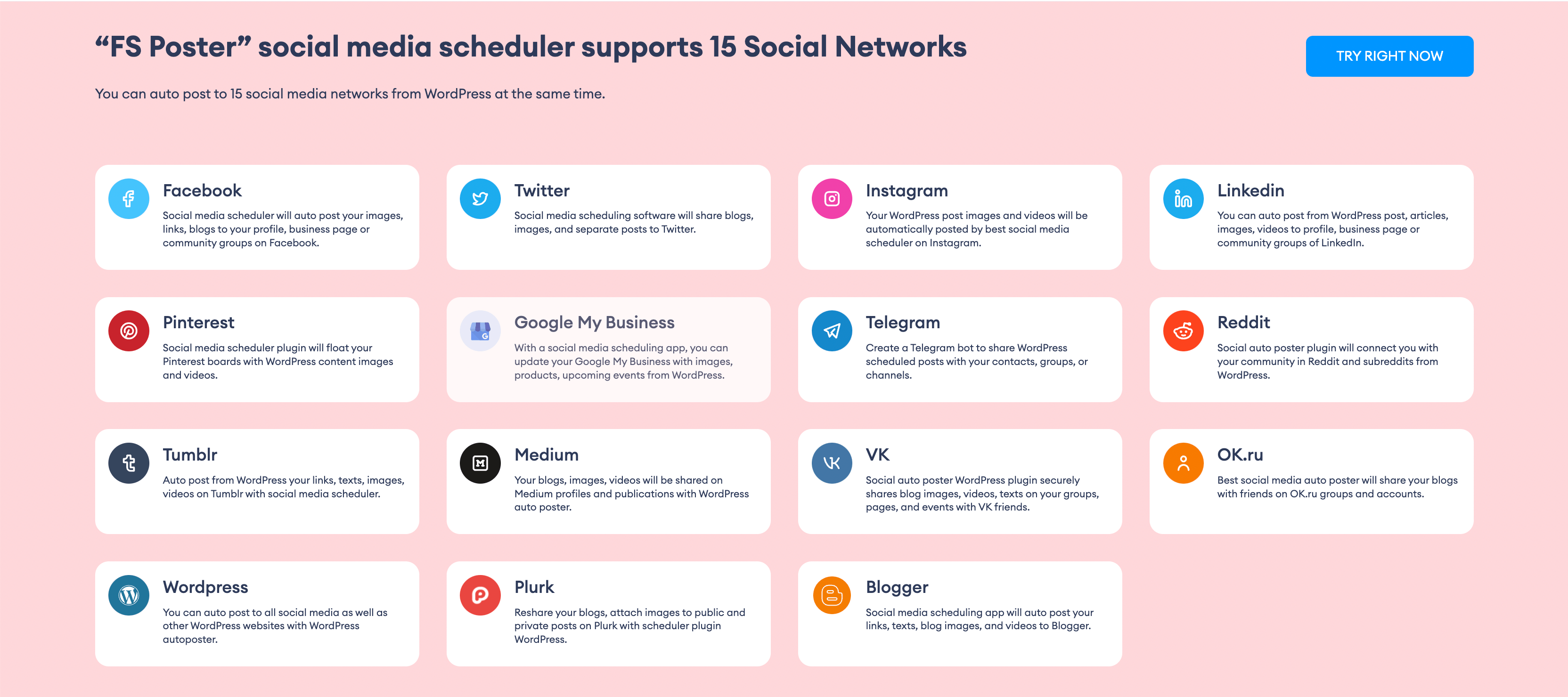 This image illustrates how FS Poster is connected to social media and where you can use the plugin. All social media platforms include their dedicated icons next to the name. It means that you don't need to read the whole text to find out if the plugin works with your favourite social media platforms. The icons do your job efficiently; after quickly scanning the infographic, you will briefly know where the plugin works. If you find it relevant for your business, then you will continue to read the benefits and features. As you can see, the icons made the content easy to follow and understand quickly. This helps you engage your readers more easily and describe your mission with few sentences instead of headlines and descriptions.
Brand your infographics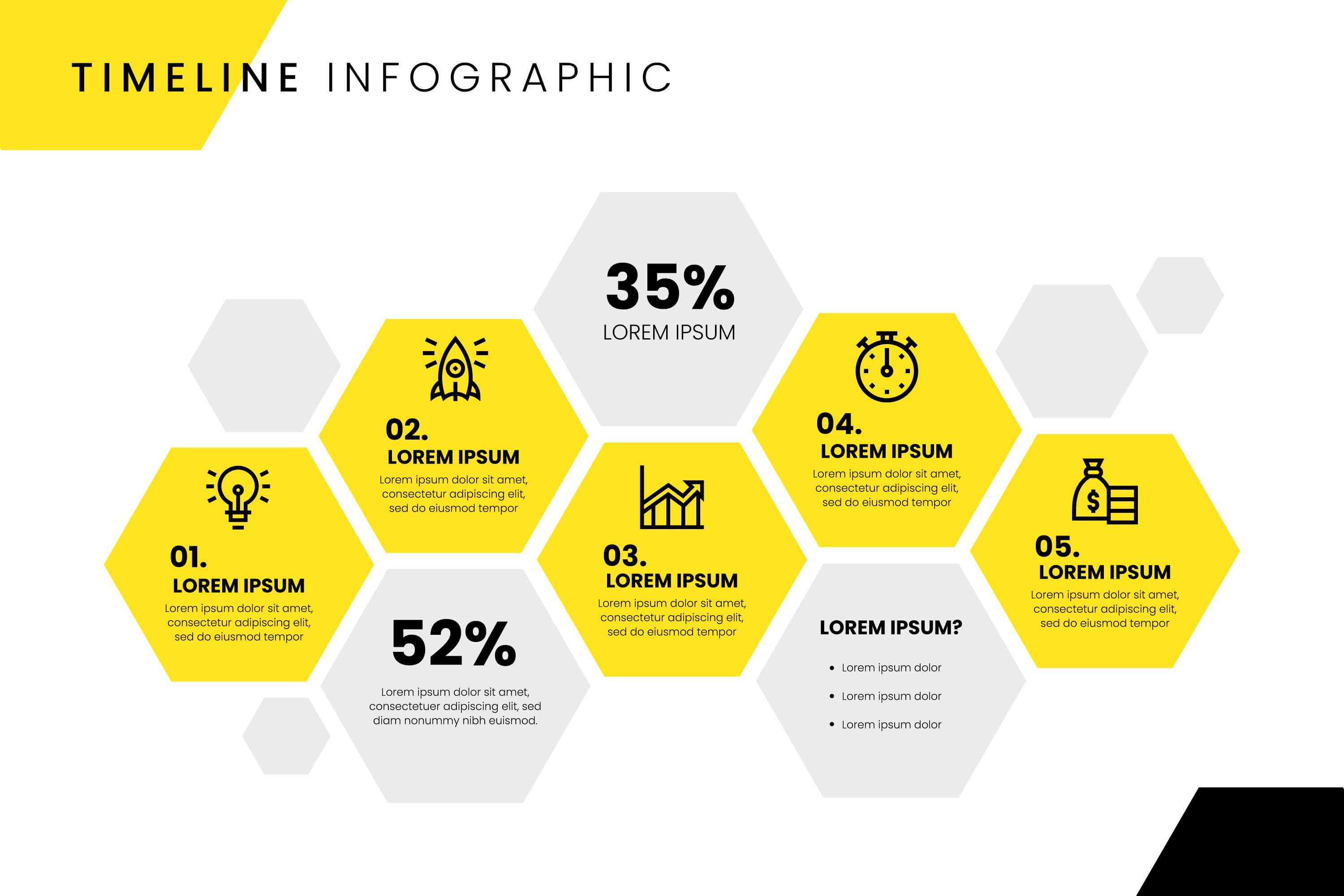 Infographics are a great way to better showcase your visual branding elements. When creating infographics for your content, make sure to use brand colors and fonts (if possible), add your logo, and use the same style as your website or brand visuals.
Infographics in content marketing are the perfect type of shareable content. They make good use of visuals, and people tend to only share interesting, clever, or captivating posts on their personal social media profiles.
Branding your infographics will increase brand awareness on multiple platforms and prevent other people from using your infographics without giving credit.
Include CTA
The primary goal of infographics in marketing is to present data and drive traffic to your website. Once you design the infographics, do not put call-to-action elements with keywords.
Usually, marketers make CTA more significant and more visible than other content to focus on that information. Then, they add the most relevant information around the CTA. This strategy directs viewers to take practical actions on the page and read the content. Therefore, choose elegant, proper, eye-catching, and compelling CTA for your infographics.
Make it interactive
A great way to show all necessary information without taking too much space is to create animations or interactive infographics. Add things like motion effects, animated characters & clickable links to make your gifs more interactive. This will result in infographics that are more likely to capture the viewer's attention. Besides, your audience will see more information about your service or product through short animations or videos.
Add social sharing buttons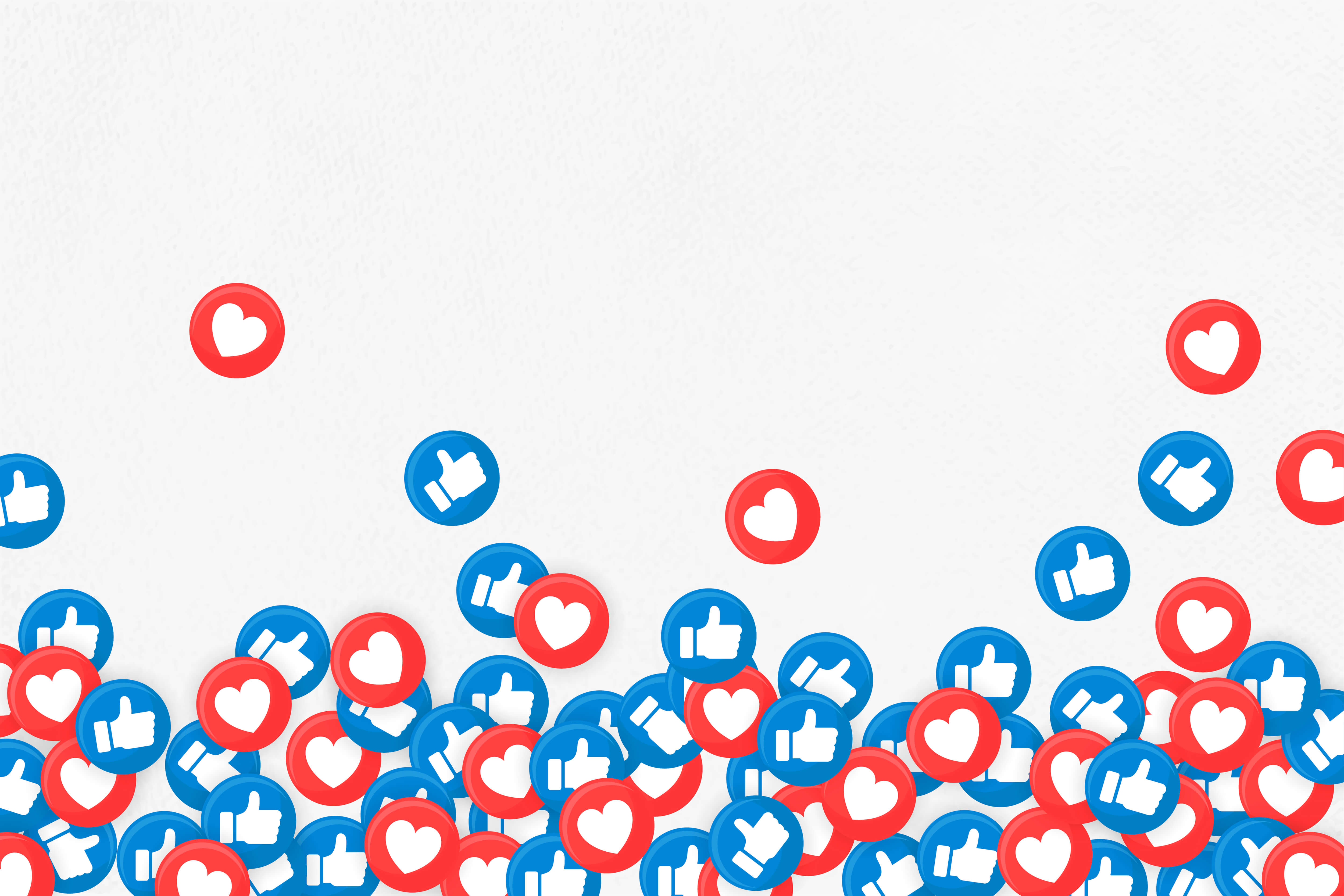 One of the smartest things you can do with your graphs is to add interactive social share buttons in the footer. Make it easy for your viewers to email, tweet, post, and pin!
Social media marketing with infographics requires some unique skills. Not every post needs to reinvent digital marketing strategies, but every social media post you publish reflects your brand. Therefore, good infographics are the sum of a few words and images that put value and promote the intended idea.
If you want to learn more about social media sharing, check out this article.
Final remarks and conclusions
What are the benefits of infographics in marketing?
They make your blog attractive. No matter what type of content you produce, infographics always add colors to your text and turn it into visually engaging content.
They simplify the process. You can write long stories and tutorials about your products. But infographics will make your job easy to educate your audience. They can help you explain the complexity of the process, complicated concepts, and break-down points by illustrating step-by-step.
They visualize complex data and statistics. Success cannot be drawn without statistics and data. And your audience will not rely on you much without seeing numbers to decide whether it is worth it. Using factual data is the foundation of content marketing. But by using more engaging content such as infographics to help visualize numbers, you can help your audience understand why they should trust you.
They look great. Infographics are an excellent way to make even the most boring of topics more interesting. Ask yourself. When you want to convey complex information visually, whether, for a presentation or an article online, the images are more useful. It's easier for people to process images, and they don't have to read long text blocks.
They are easy to digest. Infographics are a great way to communicate complex information clearly and easily understandable. The visuals can help break down topics into simple bits for viewers to find more accessible.
They are shareable. Everyone loves sharing exciting content on social media. Perfectly prepared infographics will lead to more shares, reactions, and comments.
They are suitable for SEO. Google ranks infographics in the images tab. They allow you to rank for your target keywords and help you rank positively in searches that involve images.
They increase brand awareness. Last but not least. Make sure to add your logo, website, and company information to the infographic. This will help you build up brand awareness where it's needed most. ****
We hope this article helped you to learn about the vitality of infographics in content marketing. By applying the rules as mentioned earlier, you will definitely see positive results and growth.
If you want to see more content like this, stay tuned!