How to Use LinkedIn's Follower Growth and Demographic Insights Reports?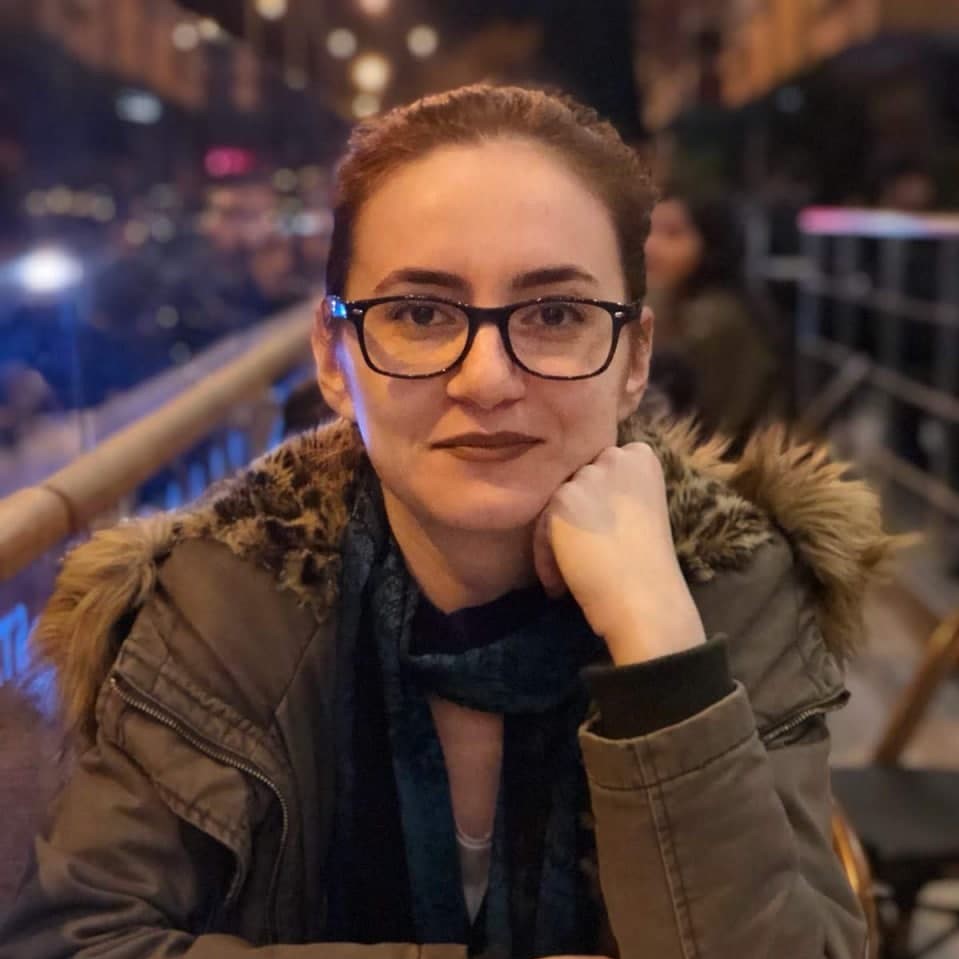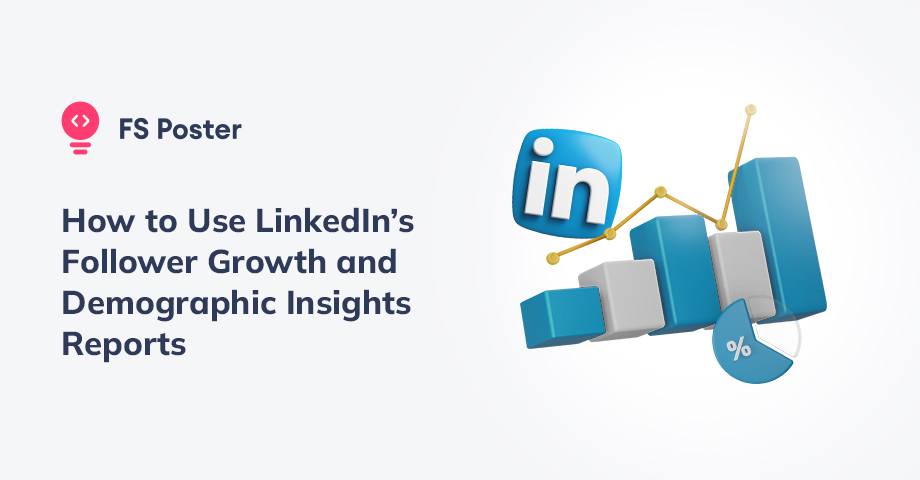 Social Networks
Feb 02, 2023
Looking to boost your presence and build relationships on LinkedIn? Utilizing the platform's Follower Growth and Demographic Insights Reports can be a powerful tool in helping you better understand who interacts with your content, why, and how. From breaking down followers by company size to analyzing their locations and interests, understanding your audience is key in leading more effective networking efforts that will have a lasting impact. In this blog post, we'll take a closer look at LinkedIn's Follower Growth and Demographic Insights Reports and show you specific ways it can help you target new connections.
LinkedIn analytics is a valuable tool for you as it provides valuable insights into the performance of your marketing campaigns, content, and audience engagement.
With LinkedIn analytics, you can:
Track the reach and engagement of your posts and advertisements, allowing you to optimize your content for maximum impact.
Identify the demographics, job titles, and industries of your target audience, helping you to create more targeted campaigns.
Monitor your company page's performance and identify areas for improvement, such as increasing follower growth or improving post engagement.
Analyze the results of your sponsored content and determine the return on investment (ROI) of your campaigns.
Compare your performance against competitors, benchmark your success, and stay ahead in the game.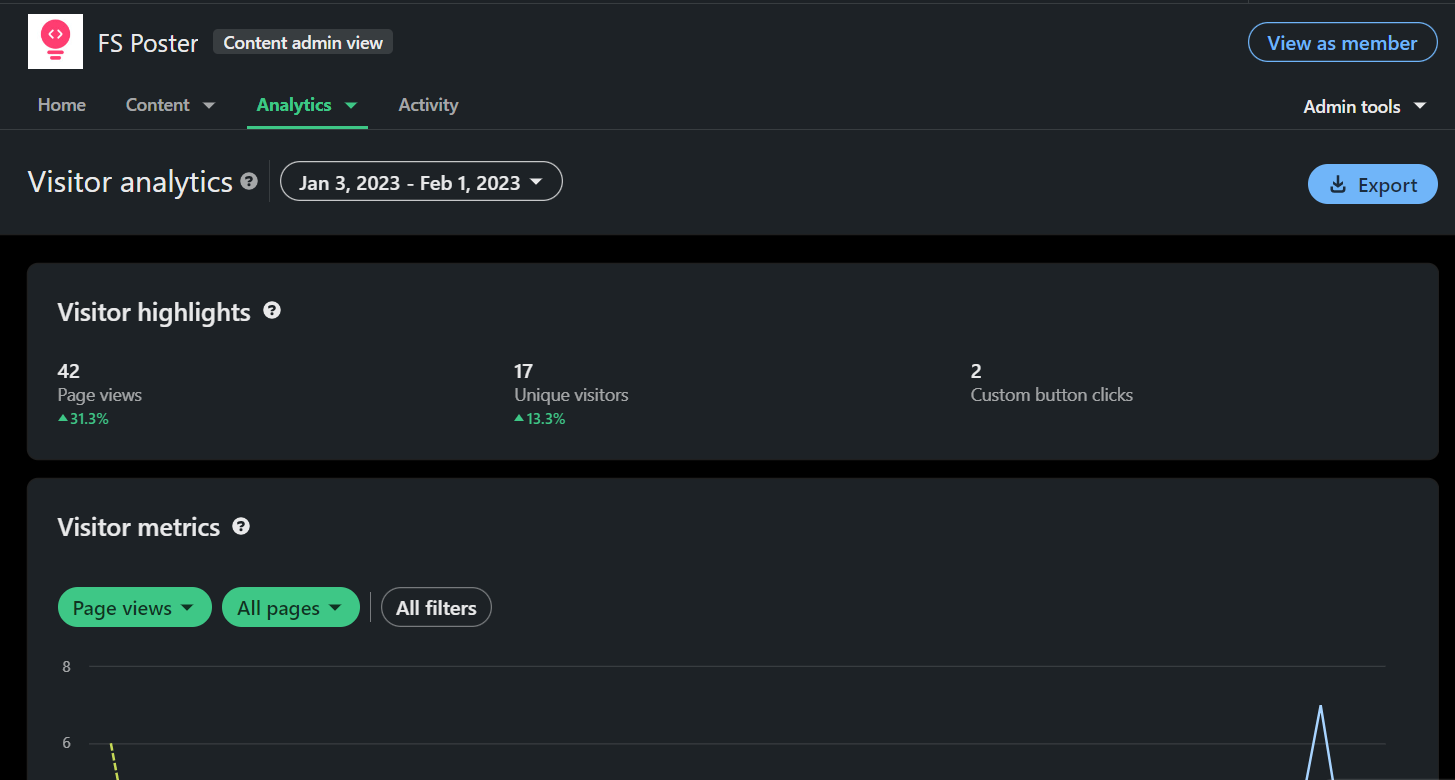 What are LinkedIn's follower growth and demographic insights reports?
Understanding your audience and knowing their important demographics about them are crucial for the content creation process. That's why LinkedIn added new reports about demographics.
In order to assist you in measuring your overall success, LinkedIn gives insights into audience growth over time, comparable to other applications. Let's start with follower growth. Keep an eye on your follower growth to gauge how well your material is resonating and to track your progress over time.
In the Audience tab, immediately below follower growth, there is a new Demographics column. This provides you with a breakdown of the job descriptions, locations, industries, seniority, size, and name of your company's followers. With the help of these specifics, you may learn more about your audience and decide what to communicate next.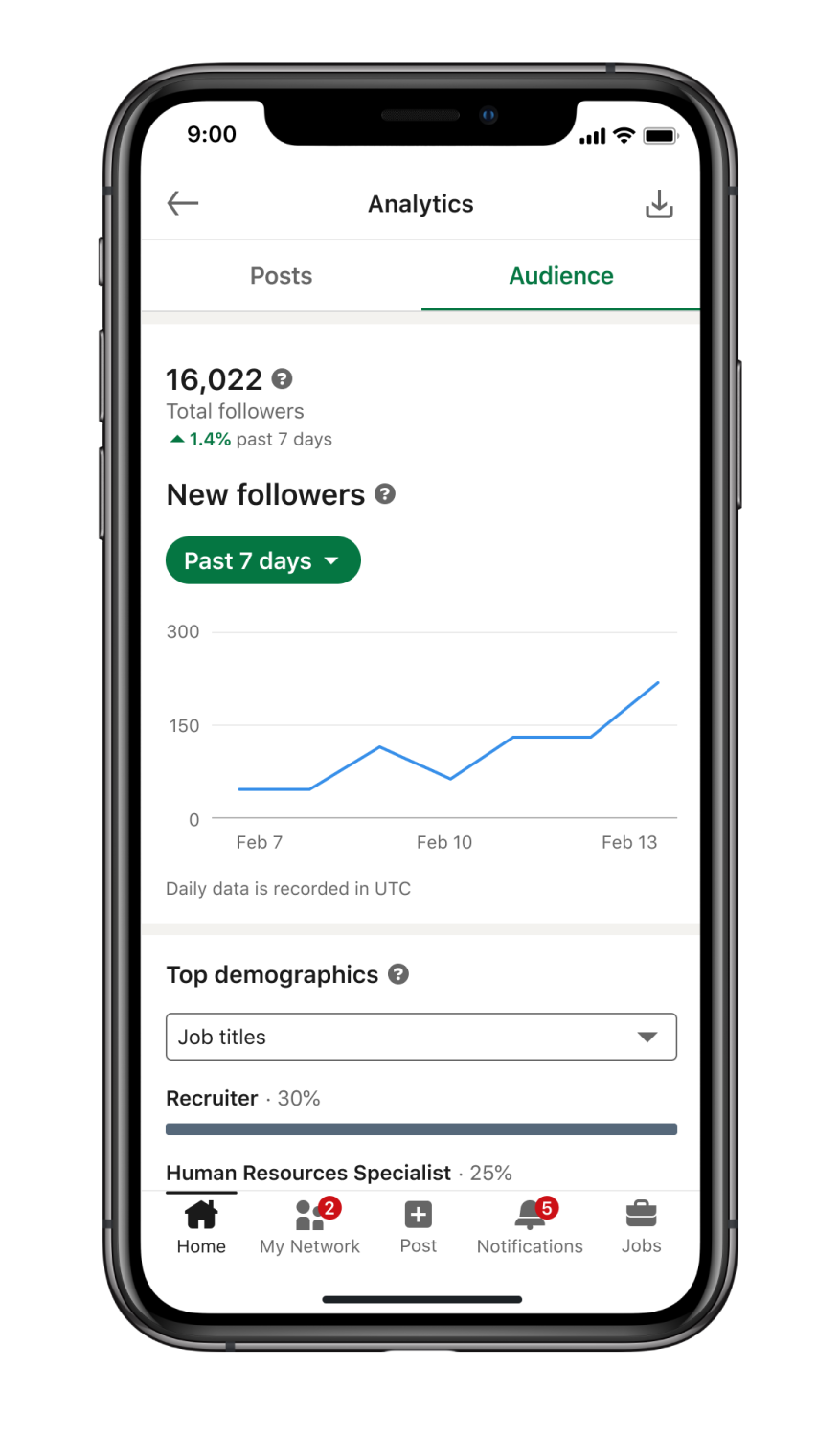 Additionally, the "Posts" tab of the app has a list of your best-performing posts.
Creators can view up to three of their most popular posts based on interaction or impressions for a certain time period. This gives you a clear picture of what your audience finds compelling so you can share more of it.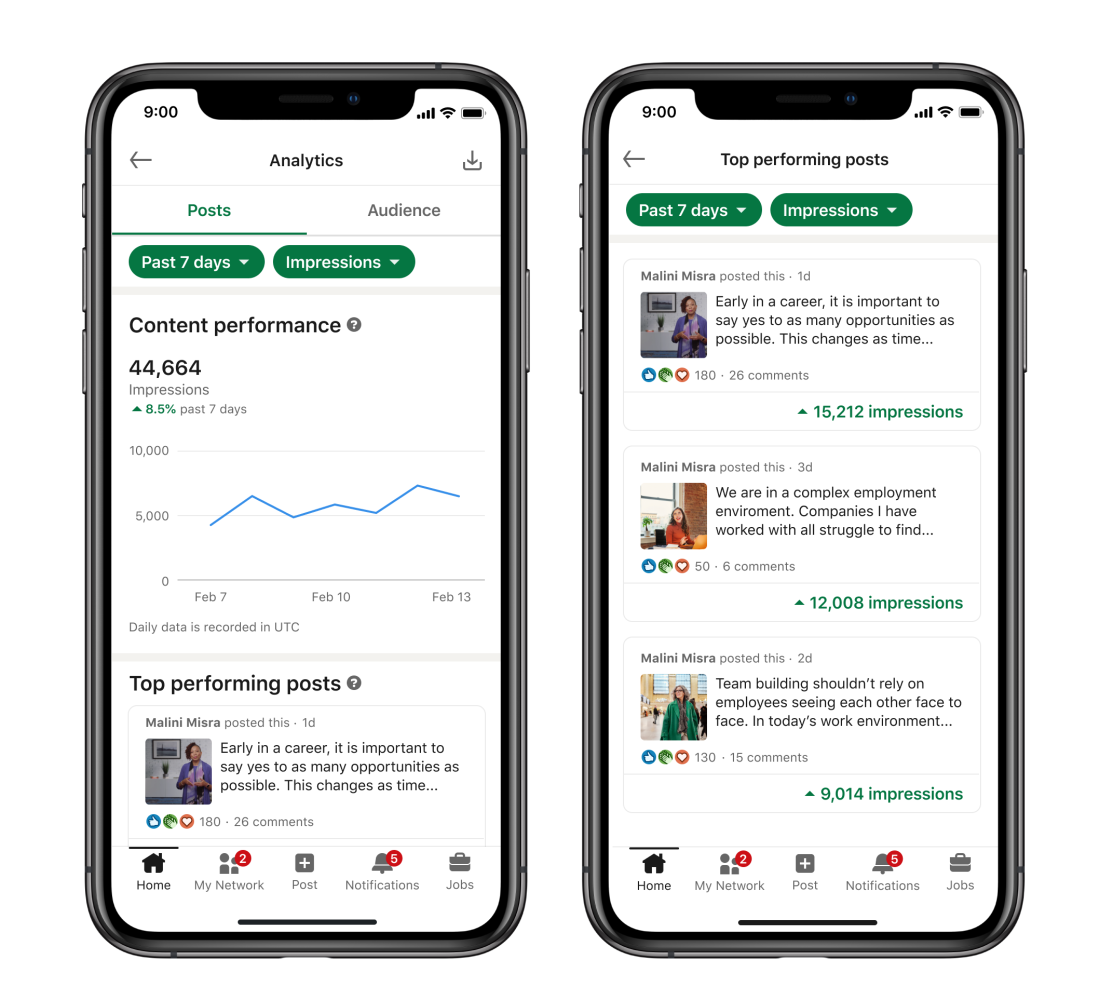 Additionally, you may export your content performance statistics for more in-depth analysis.
How can these reports help you as a marketer?
Whether you work in marketing or have your own business, more data and analytics can only be helpful for marketers.
Check your target audience
The updated Demographics Insights on LinkedIn may help you both better understand your target market and ensure that they are using the site.
Without wasting any marketing dollars on platforms where their audience isn't present, every marketer strives to concentrate intently on those platforms. Now that you have solid evidence, you can decide whether LinkedIn is a good platform for reaching your audience.
Analyze what is and is not working
You can monitor whether or not your audience is expanding with the new Audience Growth Insights. Additionally, insights into your Top Performing Posts will help you identify the types of material and possibly even the formats that your audience prefers.
The two tools operate together to provide you with a clear picture of how well your marketing is doing on this platform.
Create fresh content concepts
All of your posts are displayed in performance order in the insights for the top-performing posts. By looking at this information, you may develop fresh content concepts depending on the needs of your target audience.
Check to see whether videos are more well-liked than articles. Find your most well-liked subjects. Examine what is actually working effectively and generating engagement, and then do more of it.
You can download the analytics report
You may download all of your analytics data to Excel. You may easily download what you want, alter it, and then use it in your reports. This enables you to demonstrate to top management and the board the effectiveness of your tactics and content.
There isn't much terrible news to report. Marketers and content producers have a fantastic chance to research their consumers and the way they behave on LinkedIn. Make the most of it.
There are 2 main ways to track your metrics by using LinkedIn analytics: Native LinkedIn analytics tools and third-party tools.
Native LinkedIn Analytics Tool
The native LinkedIn analytics tool is a built-in analytics platform provided by LinkedIn for companies to track the performance of their LinkedIn presence. The native LinkedIn analytics tool includes features such as:
Visitor analytics
Visitors that come to your page but aren't yet devoted supporters of your brand on LinkedIn are visible to you thanks to visitor statistics! This information may be used to identify traffic trends and personalize your LinkedIn updates for new users.
Update metrics
Update metrics measure the effectiveness of your LinkedIn updates. They can let you know whether or not your followers are reading your updates.
Follower metrics
Follower metrics provide valuable information about the engagement of a company's LinkedIn followers with their page content and updates. This information can help companies better understand their followers and the types of content that resonates with them. By having a clear understanding of their audience, companies can create more targeted and compelling content that speaks directly to their followers. This, in turn, can lead to increased engagement, growth in followers, and improved performance of their LinkedIn presence.
Competitor insights
LinkedIn competitor analytics is a valuable tool for companies looking to stay ahead of the competition on the platform. This feature allows companies to compare their page followers and engagement with those of their competitors. By doing so, they can gain a better understanding of how they stack up against the competition, identify areas for improvement, and find opportunities to differentiate themselves. With competitor analytics, companies can monitor their competitors' activity and quickly respond to any changes in their marketing strategies.
Lead insights
Tracking leads and conversions is an important aspect of measuring the success of a LinkedIn marketing campaign. If a company has a lead generation form on its LinkedIn page, it can use LinkedIn analytics to gain insights into how its campaigns are performing. By looking at metrics such as conversion rate and cost per lead, companies can get a better understanding of the effectiveness of their campaigns and make data-driven decisions to improve their results.
Post analytics
LinkedIn view analytics is a powerful tool that provides insights into the performance of a company's LinkedIn posts. By tracking the number of impressions and engagements received, companies can gain a better understanding of how their content is resonating with their target audience.
Third-party LinkedIn analytics tools
Third-party LinkedIn analytics tools are independent tools created by companies other than LinkedIn to provide additional insights and features for tracking the performance of a LinkedIn presence. There are several reasons why companies might choose to use third-party LinkedIn analytics tools, including:
Enhanced functionality: Third-party tools often offer more robust and sophisticated features than the native LinkedIn analytics tool, such as real-time data tracking, custom reporting, and more in-depth competitor analysis.
Integration with other marketing tools: Many third-party tools integrate with other marketing tools, such as Google Analytics or social media management platforms, making it easier to track and manage multiple marketing channels from one place.
Improved data visualization: Third-party tools often provide improved data visualization and presentation, making it easier to understand and act on the data.
There are a lot of benefits to using third-party LinkedIn analytics tools too. Here are some of them:
Increased efficiency: By using a third-party tool, companies can automate many of the manual processes involved in tracking LinkedIn performance, saving time and increasing efficiency.
Better decision-making: Third-party tools provide more in-depth and comprehensive data, allowing companies to make more informed decisions about their LinkedIn marketing strategies.
Improved results: By using a third-party tool, companies can optimize their LinkedIn presence and campaigns, resulting in better performance and improved results.
Conclusion
Using LinkedIn's Follower Growth and Demographic Insights reports can be a valuable tool for companies looking to understand and grow their LinkedIn presence. These reports provide valuable insights into the growth of a company's followers, the demographics of its audience, and the effectiveness of its content. By using these reports, companies can make data-driven decisions about their LinkedIn marketing strategy, creating content that resonates with their target audience and drives engagement. Whether you are looking to expand your reach, build your brand, or generate leads on LinkedIn, these reports can help you achieve your goals and maximize the potential of your LinkedIn presence. So, if you haven't yet, it's time to start using LinkedIn's Follower Growth and Demographic Insights reports to take your LinkedIn marketing strategy to the next level.