Is Pinterest Right for Your Business? Pros and Cons to Consider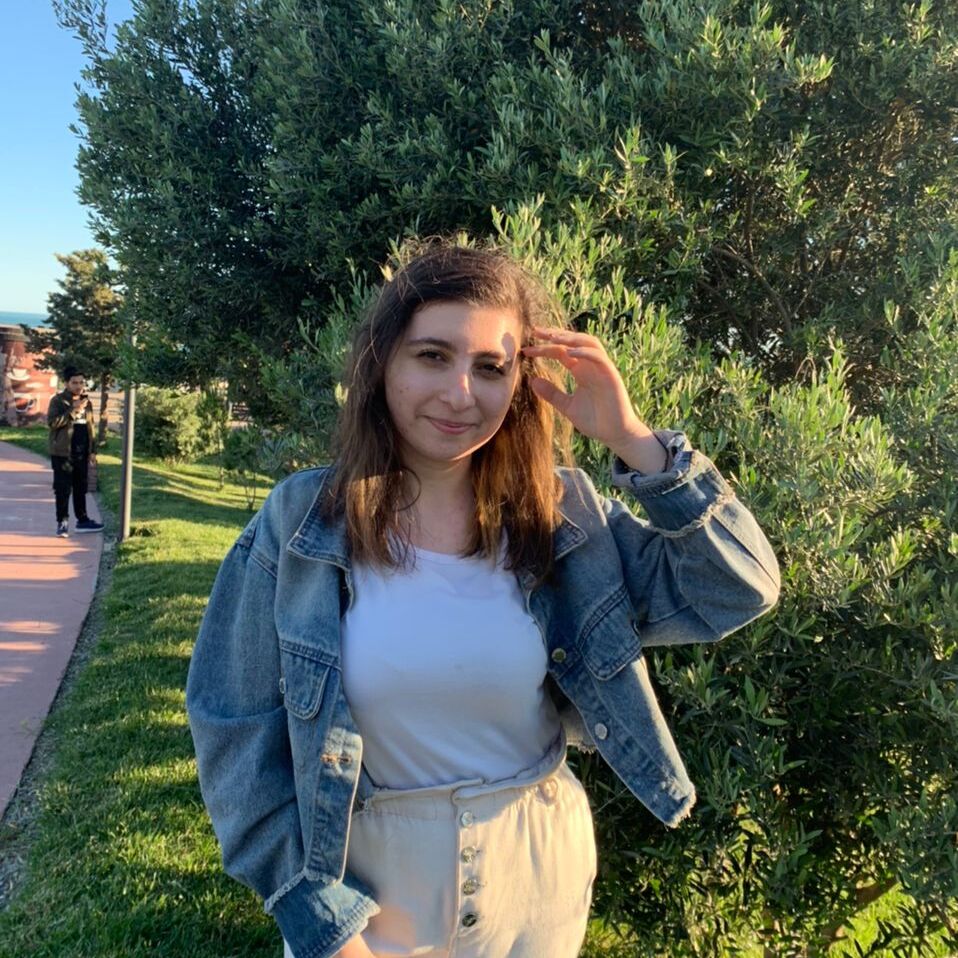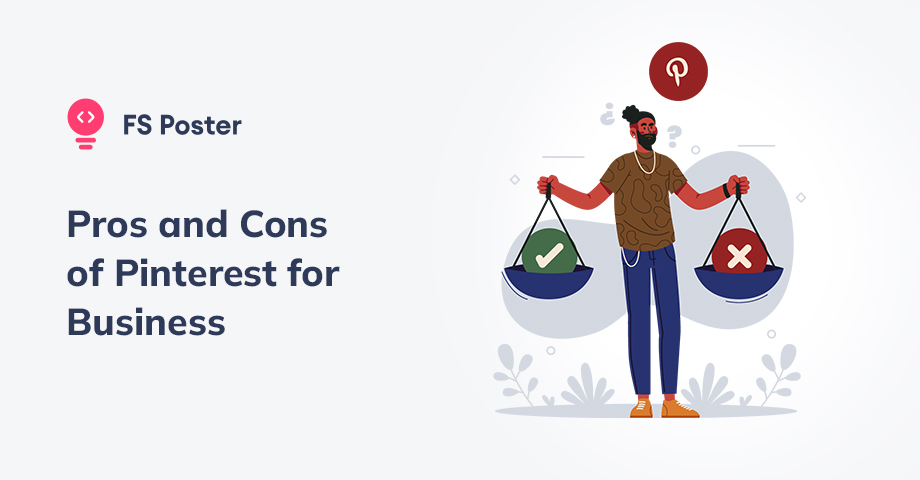 Social Networks
Feb 09, 2023
Do you know why people use Pinterest so much? Your guesswork will probably be like looking for ideas and applying them. Yes, your thoughts are correct. Pinterest is a treasure trove of ideas.
You can get ideas and recommendations on a variety of topics using Pinterest. Thus, you will hardly have time to think of an idea. So what exactly can you do with Pinterest for your business?
Pinterest may be a suitable social media platform for your business, but you need to consider it because your business may not be suitable for it. The benefits of Pinterest to your business are immense.
In this blog, we will talk about the benefits of Pinterest for your business. Let's also explore what types of campaigns get more engagement using Pinterest.
Which business type is suitable for Pinterest business?
To use business on Pinterest, you must have a business in the below-mentioned areas.
E-commerce
Retailers and online shops can use Pinterest to show their products, create shoppable boards, and drive traffic to their websites.
Lifestyle
Brands in fashion, beauty, home décor, and food can use Pinterest to share their products and inspire their target audience.
Travel
Travel brands and destinations can use Pinterest to showcase their offerings and inspire travel planning.
Art and Craft
Artists, crafters, and DIY enthusiasts can use Pinterest to show their work, find inspiration, and connect with their audience.
Weddings
Wedding planners, photographers, and related businesses can use Pinterest to showcase their work, find inspiration, and connect with brides-to-be.
Health and Wellness
Health and wellness businesses can use Pinterest to share healthy recipes and tips and promote their products and services.
Pros and cons of Pinterest for business
As a social media platform, Pinterest has its pros and cons. In particular, you should pay special attention to the choice of the platform when using Pinterest for your business. The advantages of Pinterest for business are so most.
Pros of Pinterest
Large user base: Pinterest has over 445 million monthly active users, making it a potential platform to reach a broad audience.
High engagement: Pinterest users are known to spend more time on the platform compared to other social media, which makes it easier to capture their attention and interest.
Visual-driven platform: Pinterest is a highly visual platform, making it an ideal platform for businesses in visual-driven industries such as fashion, interior design, and food.
Search engine optimized: Pinterest uses an algorithm similar to search engines, making it easier for businesses to reach users actively looking for products and services.
Cost-effective: Pinterest ads are cost-effective compared to other advertising channels, making them an affordable option for small businesses to reach their target audience.
Cons of Pinterest
Limited demographic: Pinterest's user base is primarily female, which can limit the reach of businesses targeting a male audience.
Competition: As more businesses flock to Pinterest, competition for visibility and engagement can intensify, making it harder for businesses to stand out.
Long-term commitment: Building a presence on Pinterest takes time, effort, and consistency, which can be challenging for businesses with limited resources.
Learning curve: The platform's algorithm can be difficult to understand and navigate, challenging businesses to reach their target audience effectively.
User Intent: Pinterest users primarily use the platform for inspiration rather than to make immediate purchases, which can limit the immediate impact businesses can have on sales.
Benefits of Pinterest for business in 2023
Pinterest for small businesses is a very affordable social media platform. You can sell your own products or advertise games on Pinterest. Even more different, you can give ideas about these products. Here are 6 benefits of Pinterest for your business.
Increase brand awareness
Pinterest increases your brand awareness. To do this, you need to use various Pinterest for business tips. If you have a business of the type mentioned above, you can develop your brand on Pinterest.
Drive traffic
Pinterest has a handy feature. If you share any pin, you can link to the image part of that pin. Thanks to this Pinterest feature, you can increase your social media engagement by linking to your social media platforms, blogs, and websites. With this, users who see your pin will go to the link you mentioned and see your other post or blog. You can use this way to increase your site traffic through Pinterest.
Long-term engagement
Pins have a long lifespan, as they can be repinned and discovered months or even years after they were first published. This can result in long-term engagement and reach for businesses.
Target audience
On Pinterest, social interaction is still crucial since it increases your visibility to other users and gives your audience access to more exciting boards. You can share ideas and plans with others using the Pinterest feature known as group boards. They are a great technique to boost traffic to your website.
Visually-driven
Pinterest is a highly visual platform where users browse and save images and videos to their boards. This makes it ideal for businesses that can effectively showcase their products or services in a visual format.
Improve your reach
97% of the most popular searches on Pinterest are unknown brands, indicating that users use this visual search engine as a discovery tool. And 98% of those who find it try these new activities.
If you can get your goods and services in front of your target market, users don't simply pin the things they love; they also spend money on them. This presents a significant opportunity to generate sales and conversions.
Increase Sales
Let's imagine that you have an art brand and share it with your followers on the appropriate board on each Pinterest. Here you can present this art to your other followers as an idea, and you can write the details in the Pinterest description as a sale. Thus, Pinterest will help you increase sales in your business.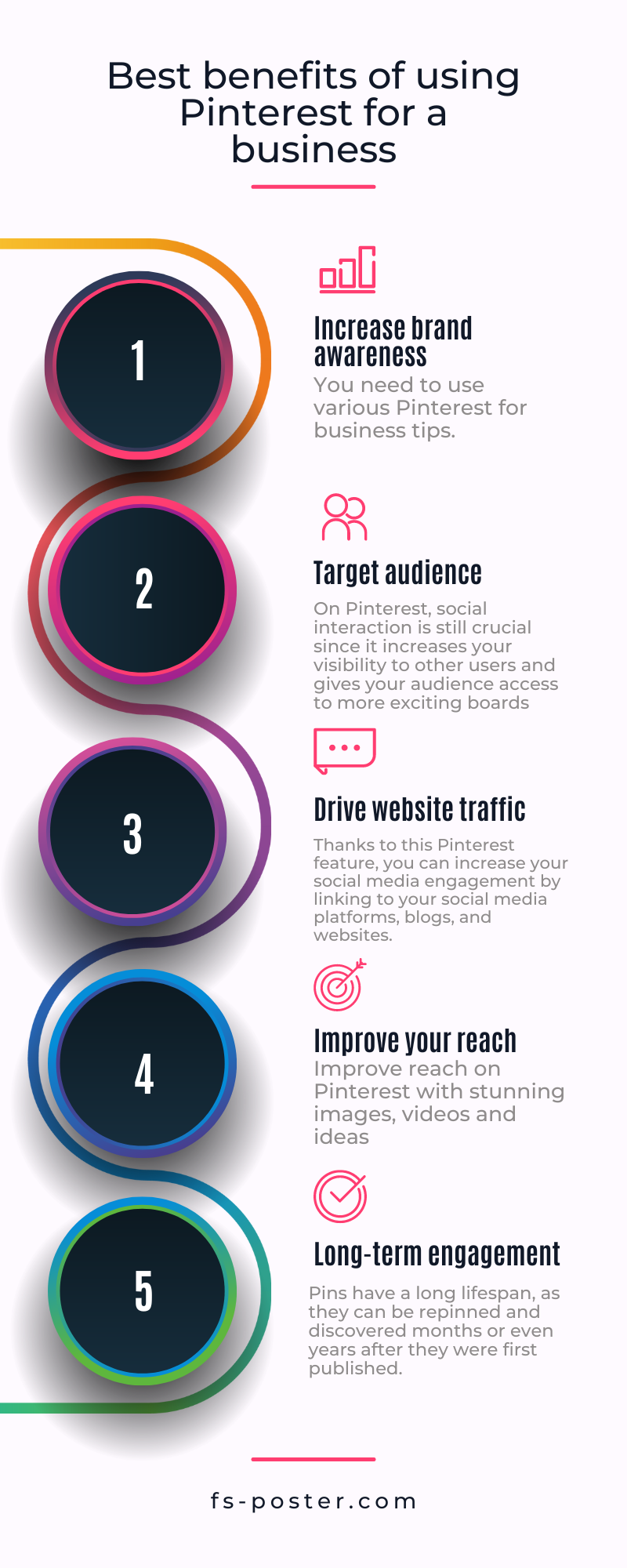 How to use Pinterest for business: 8 tips and tricks
Create a Pinterest marketing strategy
Here are some steps to create a Pinterest marketing strategy:
Define your target audience: Determine who your ideal customers are and what their interests and needs are.
Set specific goals: Determine what you want to achieve with your Pinterest marketing efforts, such as increasing website traffic, generating leads, or boosting sales.
Research your competition: Study what other businesses in your industry are doing on Pinterest and identify what works well for them.
Optimize your profile
Ensure your business profile includes relevant keywords, a clear description, and a professional profile picture.
Complete your profile information: Fill out all fields in your profile, including your business name, description, location, website, and profile picture.
Use keywords in your profile: Include keywords related to your business and products to make it easier for users to find you.
Choose a profile picture representing your brand: Use a high-quality image that represents your brand and is easily recognizable.
Make sure your profile is public: A public profile is more discoverable and will reach a wider audience.
Add a call-to-action: Encourage users to follow your profile or visit your website by adding a call-to-action in your profile description.
Verify your website: Verify your website to show users that you are a trusted source and increase the visibility of your pins.
Connect your other social media accounts: Connecting your other social media accounts can increase your exposure and reach on Pinterest.
Create eye-catching boards
Organize your content into boards that reflect your brand and products, and use visually appealing graphics and images. Here are some tips for creating eye-catching boards on Pinterest:
Choose a clear theme for each board: Each board should have a clear theme and purpose related to your business and products.
Use descriptive and keyword-rich board titles: That accurately reflect the board's content.
Pin high-quality images: Pin high-quality images that showcase your products and are visually appealing to users.
Mix up your content: Mix up your content by pinning your products, related products, and inspiring images.
Use cover images: Choose a cover image for each board that is visually appealing and represents the board's theme.
Pin high-quality images
Pin high-quality images of your products, along with descriptive and keyword-rich captions.
Engage with your audience.
Respond to comments and messages, and interact with other Pinterest users by commenting, liking, and repinning their content. In this way, your Pinterest engagement will increase, and ultimately, it will affect your sales and customer numbers.
Use keywords
Use Pinterest keywords in your boards and pins to make them more discoverable to users searching for related content. On Pinterest, you need to use the maximum number of keywords and the most relevant ones. Because users search with keywords in Pinterest's search tab. We present to you the most popular hashtags on Pinterest.
#pinterest #pinterestinspired #pinterestwin #pinterestfail #pinteresthair #thankspinterest #mypinterest #pinterestquotes #thankyoupinterest #pinterestideas #pinterestwedding #pinterestsuccess #pinteresting #pinterestworthy #pinterestphoto #pinterestrecipe #pinterestnails #pinterestproject #pinterestaddict #pinterestmom #pinterestfind #pinterestidea #pinterestinspiration #pinterestgirl #pinterestinspo #pinterestmarketing #pinterestfashion #pinterestdecor #pinterestparty #ilovepinterest #viapinterest #pinterestforthewin #pinterestbr #pinterestpic #lovepinterest #pinterestfinds #pinterestart #pinterestrecipes #pintereststyle #pinteresthome
Run promoted pins
Consider using Promoted Pins to reach a wider audience and drive more traffic to your site. You can advertise your pins using a Pinterest business account. Promoted pins also reach a larger audience. It's also the work you need for your overall Pinterest business strategy.
Measure and track results
Regularly measure and track the results of your efforts to see what's working and what's not, and make changes accordingly. With Pinterest analytics, you can track the movements of your business. For example, you can find out how many impressions, clicks, and likes your pins received here. This means that you can determine the age range of your followers and from which region they are following you, which is essential for Pinterest for small businesses.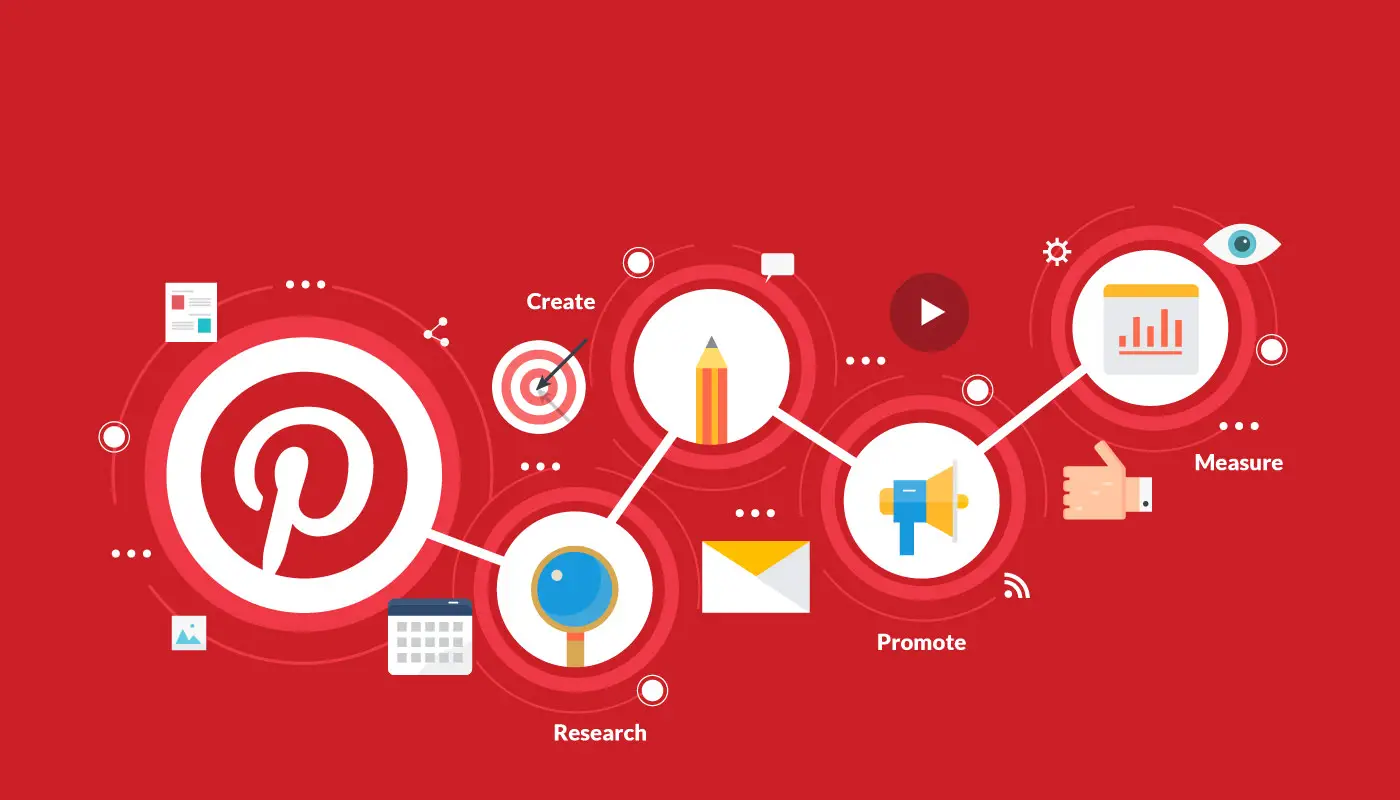 Time to do business on Pinterest!
Pinterest can be a valuable tool for businesses looking to reach a large, visually-driven audience. With over 445 million monthly active users, businesses have the opportunity to reach a broad audience.
With the platform's high engagement and search-engine-optimized algorithms, businesses can effectively reach users actively seeking products and services. However, it is essential for businesses to understand the limitations of Pinterest, including its primarily female user base and the intense competition for visibility and engagement on the platform.
Pinterest can be a valuable tool for businesses. Still, it is essential to approach the platform with a clear understanding of its limitations and a well-thought-out strategy. By following Pinterest best practices and taking advantage of the benefits of Pinterest for business, businesses can effectively reach their target audience and achieve their marketing goals.