The Best Buffer Alternative for WordPress Users in 2023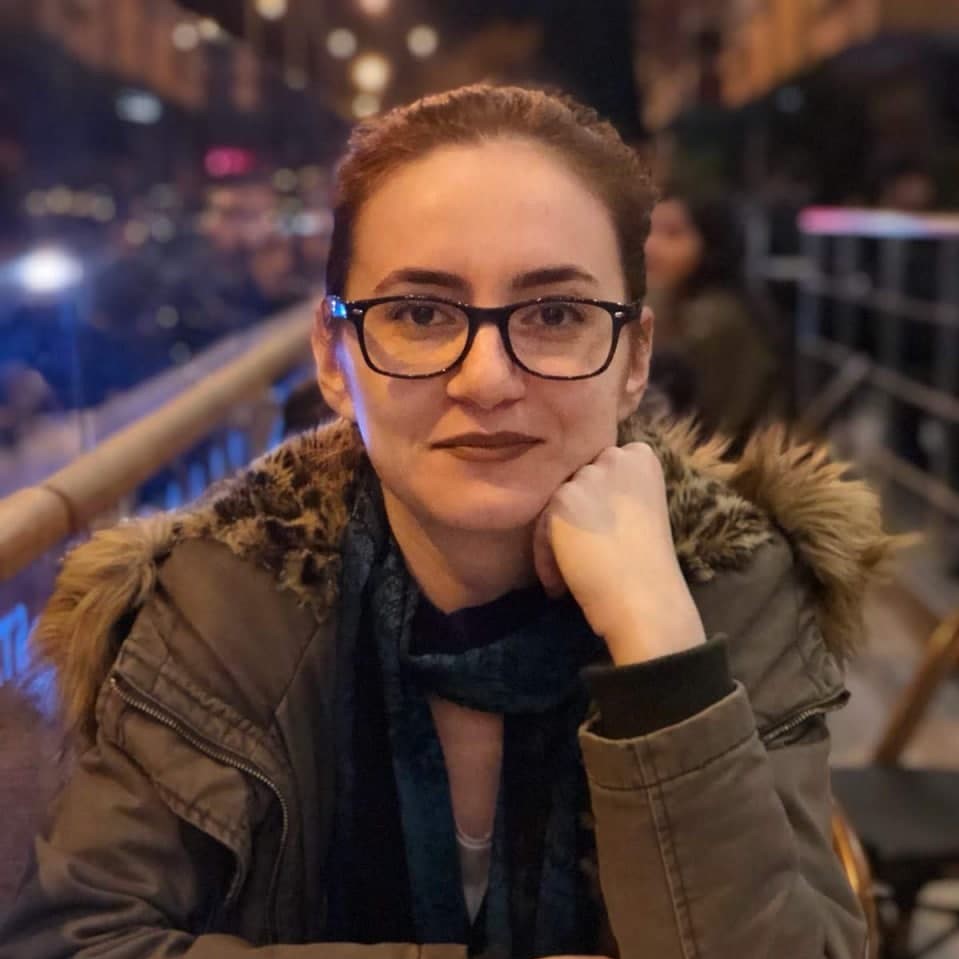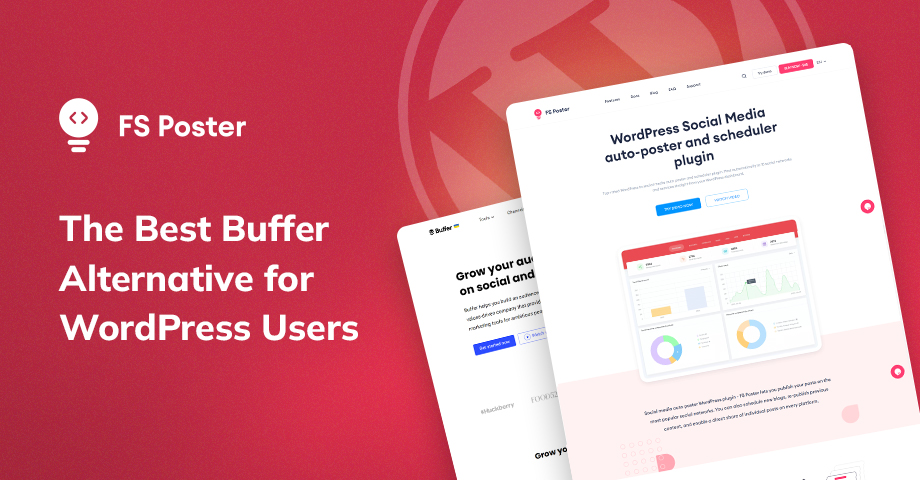 Plugin for WordPress
Nov 04, 2022
As a WordPress website owner, you should consider many aspects when looking for alternatives to Buffer. The most essential things to keep in mind are pricing that is reasonable, a user interface that is simple to understand, publishing that is easy to do, dashboards that can be customized, and social monitoring that is straightforward.
Buffer is a social media marketing software application that may be used for a variety of purposes. It is sometimes known as "Bufferapp." The most crucial function of Buffer is that it enables users to create and schedule posts that can then be shared on many social networks, such as Facebook, Instagram, Twitter, LinkedIn, and Pinterest. In addition, Buffer provides capabilities for reporting and tracking activity on social media.
We have created "Buffer vs. Hootsuite vs. Later", "Buffer vs. Sprout Social vs. Zoho Social vs. Social Bee", "Buffer vs. IFTTT", "Cheaper Hootsuite alternatives" blogs before and compared tools. But today, in this blog, we will talk about the Buffer alternative that is available for WordPress. This plugin is the FS Poster social media auto poster plugin. I made a detailed comparison of these 2 tools for everyone who is interested.
Is it worth using Buffer?
Buffer is more suitable for use by smaller businesses that are only interested in a scheduling solution that comes with a few other capabilities. Buffer is one of the best affordable option for non-WordPress website owners.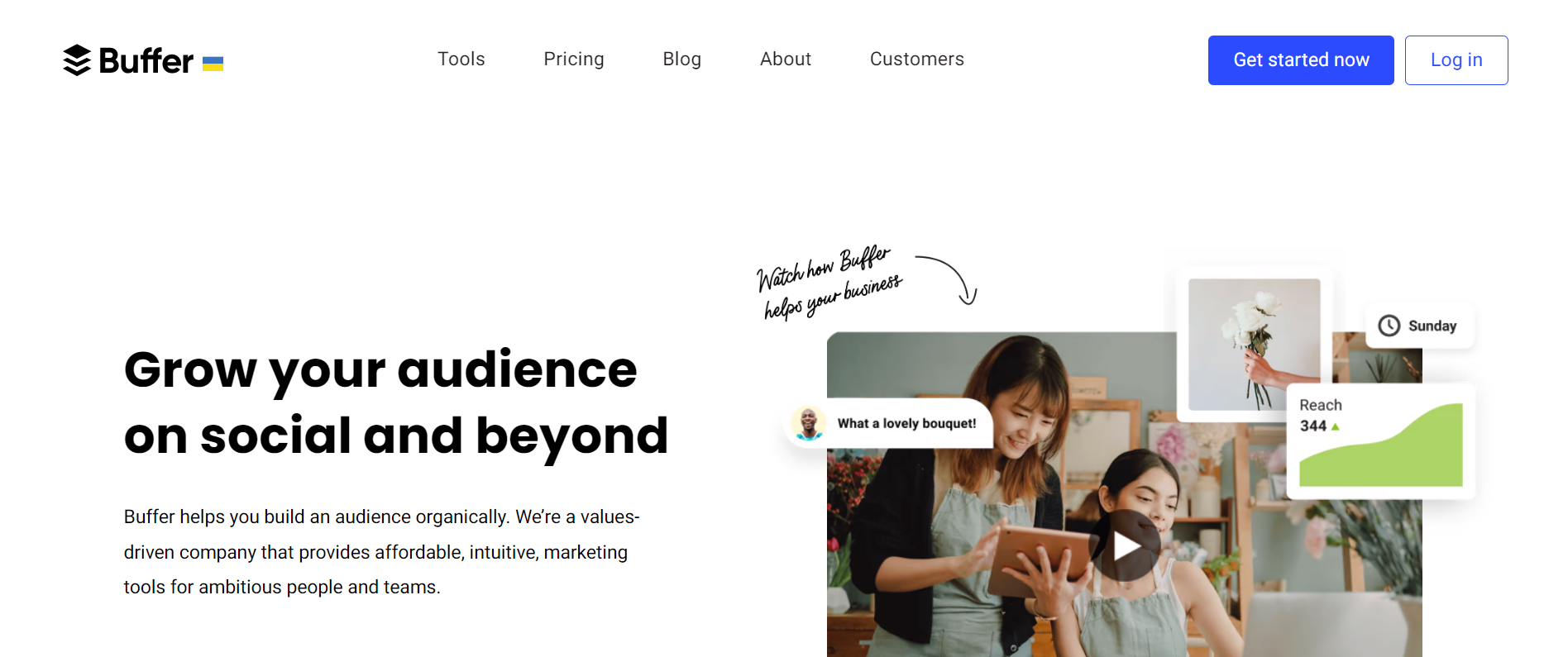 But is it worth using FS Poster?
You may think that, ok, you are a marketing specialist on FS Code, and of course, you have to praise your product. But believe me, I don't have to do it. Because of FS Poster's customer reviews, I can praise FS Poster.
FS Poster is a lifetime plugin, and you get a lot of handy features by getting it. So if you are looking for a Buffer alternative for WordPress, FS Poster is one of the best options.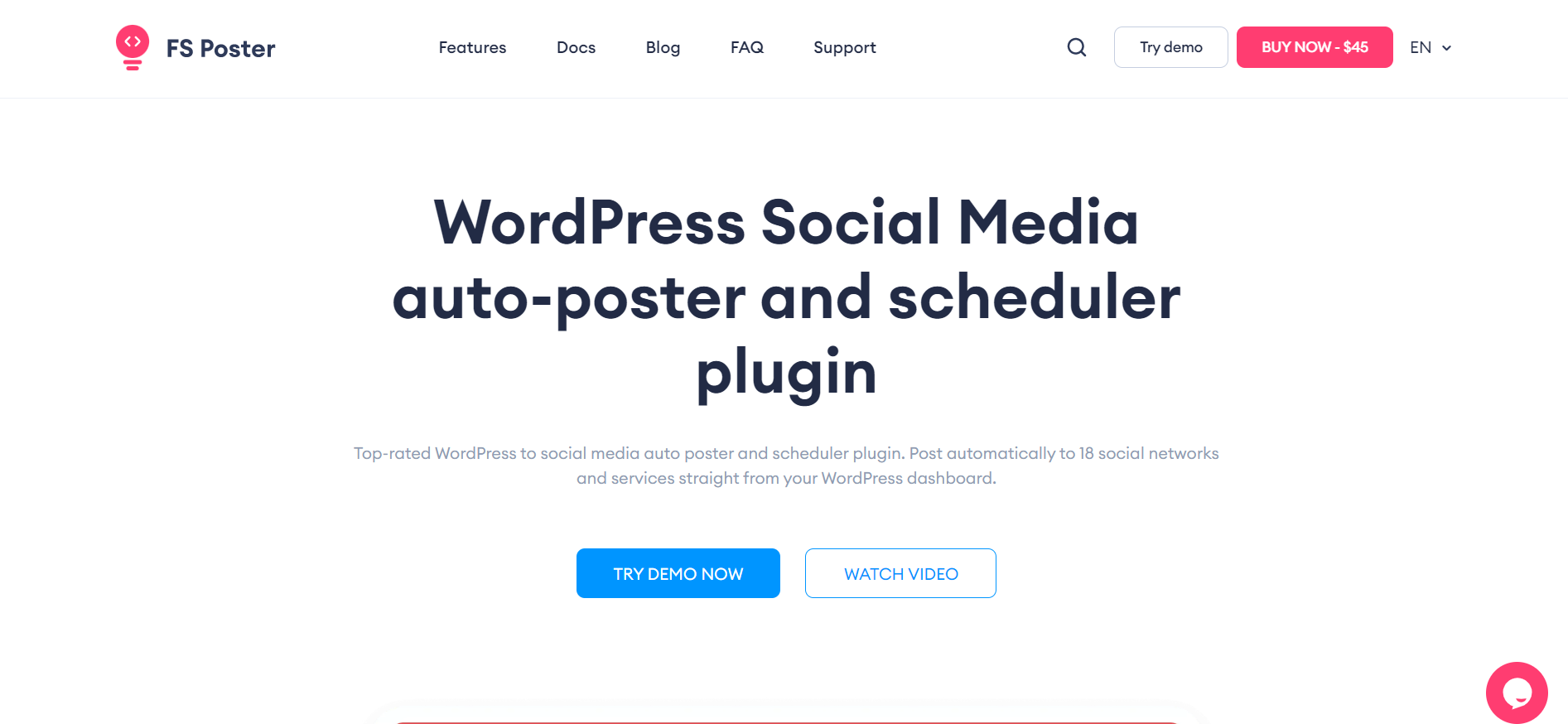 Features
Buffer has 3 main features: Publishing, analytics, and engagement.
Buffer's publishing feature lets you plan and publish your post to Instagram, TikTok, Facebook, Twitter, Pinterest, and LinkedIn.
As Buffer's alternative FS Poster also lets you schedule and publish your posts to social media networks. But you may ask, what makes FS Poster different? FS Poster lets you share your posts to 18 social networks and services. Also, you can integrate more social media networks to FS Poster via Webhook easily.
Buffer's analytics feature lets you measure the success of your social media accounts, produce beautiful reports, and obtain advice to expand your audience, level of involvement, and number of purchases.
Here are Buffer's other main features:
Browser extension
Text & images
Perfect timing
Analyze and recycling
Compare your stats
Sort your history
Apps & extras
Import RSS feeds
FS Poster's insights feature lets you examine the visits made to your posts, compare social networks or social accounts based on link clicks, and more. You will also be able to track post link clicks as well as weekly or monthly clicks and compare your social networks.
Here are other features of FS Poster:
Custom post types and post messages: The plugin lets you create custom post types and post messages.
Posting interval: With this feature, you can control posting frequency.
URL shorteners: You can shorten your post URLs with TinyURL or Bitly and self-hosted URL shorteners.
Configuration of unlimited social media accounts: If you are an agency or freelancer, you can add unlimited social media accounts to FS Poster
Bulk schedule feature: You can select multiple WordPress posts and schedule them with this feature
Proxy support: FS Poster lets you use different proxies for each account.
Emoji support: Emojis are a must in social media marketing, and you can use emojis in your posts while using FS Poster
RTL support: If you are right to left language user, you can use FS Poster easily
Instagram carousel scheduling: With this feature, you can schedule and share up to 10 photos on your Instagram account.
Instagram link in bio: FS Poster lets you to schedule a website post link to the Instagram bio
First comment feature: This feature is one of the best features of FS Poster. First comments are important aspects of engagement, so you may want to share the first comment by yourself too. The plugin lets you do it too.
Facebook comments on website comments: You can display Facebook comments on your website comments.
Pros and cons of Buffer and FS Poster
Here are the pros and cons of Buffer:
Pros: The dashboard in Buffer is very user-friendly and easy to use. Excellent for publishing posts and scheduling them at the same time.
Free account available.
Cons: Limitations in the capabilities of the technology when it comes to social listening. There is no customer support accessible by phone or by live chat at this time. If you require a large number of subscriptions, the overall cost might rise really rapidly. It's not a plugin and is not available for WordPress websites.
Here are the pros and cons of FS Poster:
Pros: FS Poster is a plugin and is available to use for all WordPress website owners. The plugin has a free version, too (with limited features). If you are interested, you can check the detailed comparison post of FS Poster vs. FS Poster Lite.
When you purchase an FS Poster, you are, in essence, paying for it to endure for the rest of your life. To use FS Poster without any limitations, you will just need to pay $45 one time.
Cons: FS Poster doesn't have the Chrome extension that Buffer has.
Pricing:
There are four distinct pricing tiers for the Buffer app, and they are as follows: free, basics, team, and agency. It will cost you a minimum of $5.00 each month for a single user to make use of Buffer. Users of Buffer have the option to select one of the following three available alternatives:
The cost of necessities on a monthly basis is $5.00. Essentials are accessible.
In order for a user to become a member of the team, they will be required to pay a monthly fee of $10.00.
The monthly fee for using the agency's services is $100.
In addition, Buffer has a free plan, albeit it is restricted in terms of its features.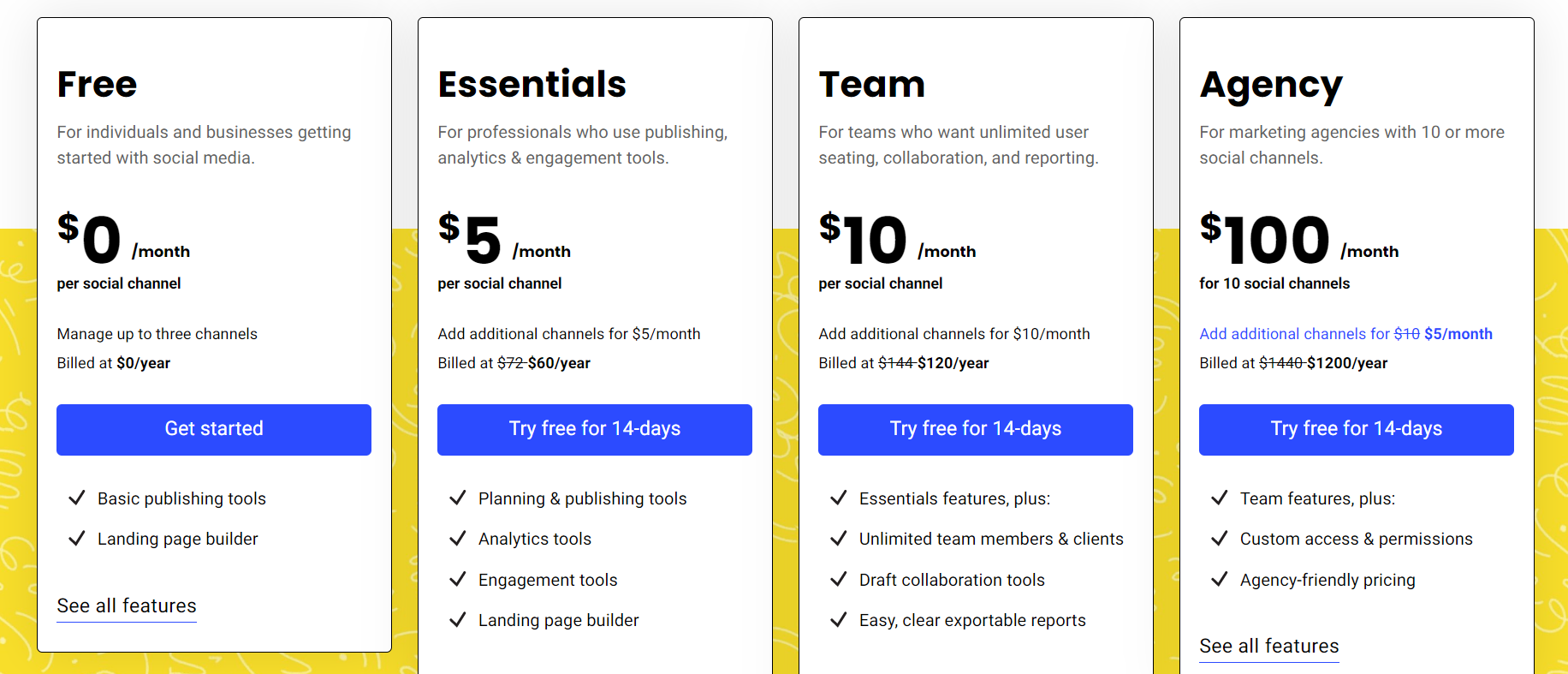 The FS Poster plugin is an auto poster and scheduler for WordPress that is offered as a freemium service. You can use the free version of the plugin, FS Poster Lite, by going to the WordPress website and following the instructions. The free edition of FS Poster has limited features compared to the paid versions (5 posts per day).
If you wish to share additional posts throughout the day, you will need to upgrade to the premium version of your plan in order to do so. The Premium edition of the FS Poster costs $45, and this one-time payment covers your future purchasing and use needs for the rest of your life.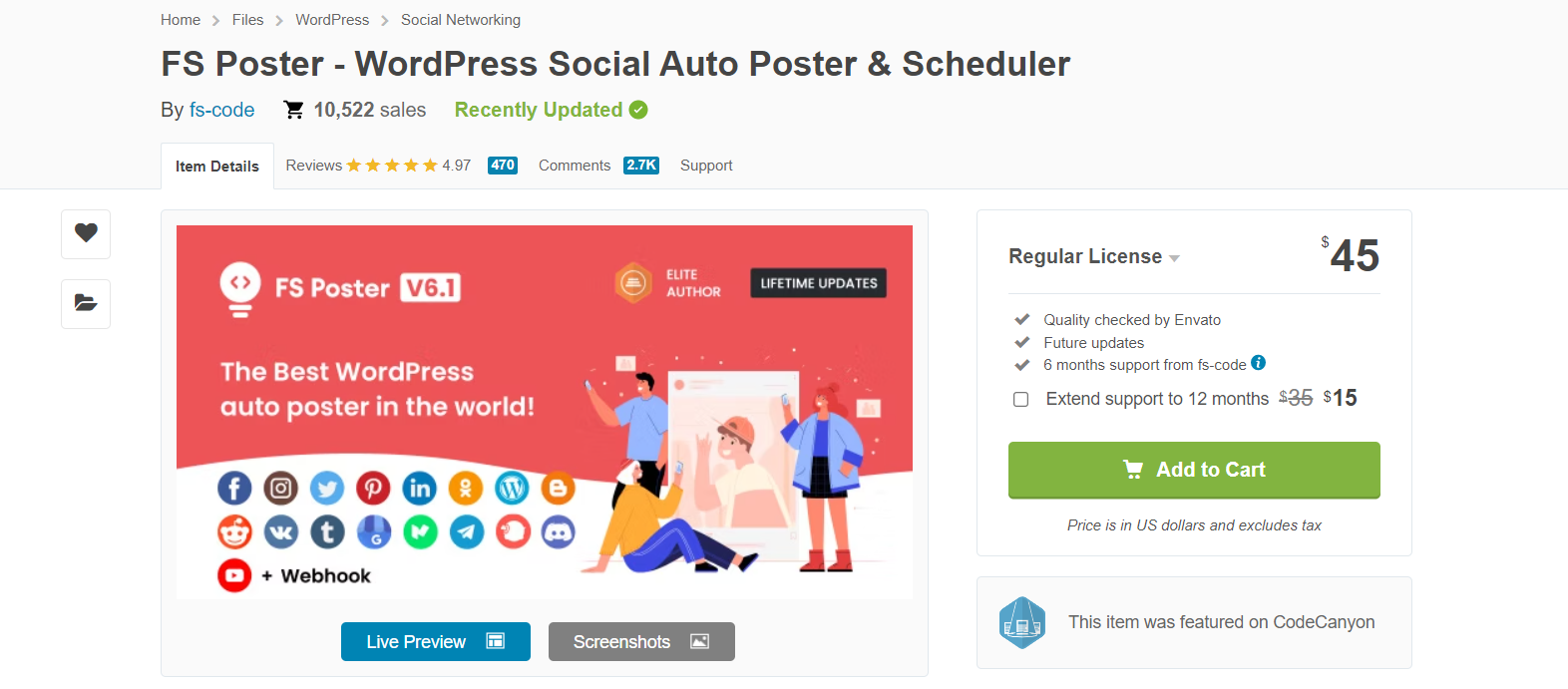 Reviews of Buffer and FS Poster
Here are some of the positive and negative reviews about Buffer:
"What do you like best about Buffer?
Easy to use for a beginner. You can also connect up to 4 Social Media Accounts for FREE. The paid version provides much needed analytics and great for multiple accounts.Review collected by and hosted on G2.com.
What do you dislike about Buffer?
Sometimes Facebook disconnects, and I don't need all 4 profiles sometimes I want to use the app for just my twitter accounts."
"What do you like best about Buffer?
Appearances are the best to integrate a good social media team to get sales, this software gives us a bit of that and contributes to social media management. It is extremely solid and has a very competitive interface. The price is highly accessible and without a doubt, it works wonders. It is highly recommended to easily manage the social networking accounts of your clients or company.Review collected by and hosted on G2.com.
What do you dislike about Buffer?
The program does not have very fast performance, sometimes it slows down when I have multiple accounts in automatic management."
Here are some of the positive and negative reviews about FS Poster:
"What do you like about FS Poster?
FS Poster is the best auto posting plugin on the market in my opinion. Since the first license worked so well I purchased two additional licenses for other sites. I recommend this product 100% and wish I could rate it 10 stars.
Also, the Customer Support is GREAT!
What do you dislike about FS Poster?
I love the plugin, and it is very useful for me. Everything is perfect. Thank you, guys."
"What do you like about FS Poster?
Reliability is the name of the game. When FS Poster works, it is awesome! Love the accessibility in the main admin panel. Very intuitive.
What do you dislike about FS Poster?
Needs better documentation for users with more than one website (like me) - but overall, a great plugin that I am buying for all our sites."
Conclusion
Although Buffer is a great tool, it may not be the best for everyone. We've provided an overview of some of the best Buffer alternative - FS Poster for WordPress users in 2023. If you want to learn more about any of these tools, be sure to visit our website, where we have created detailed reviews and comparisons.