Facebook vs LinkedIn for business | Which one is better?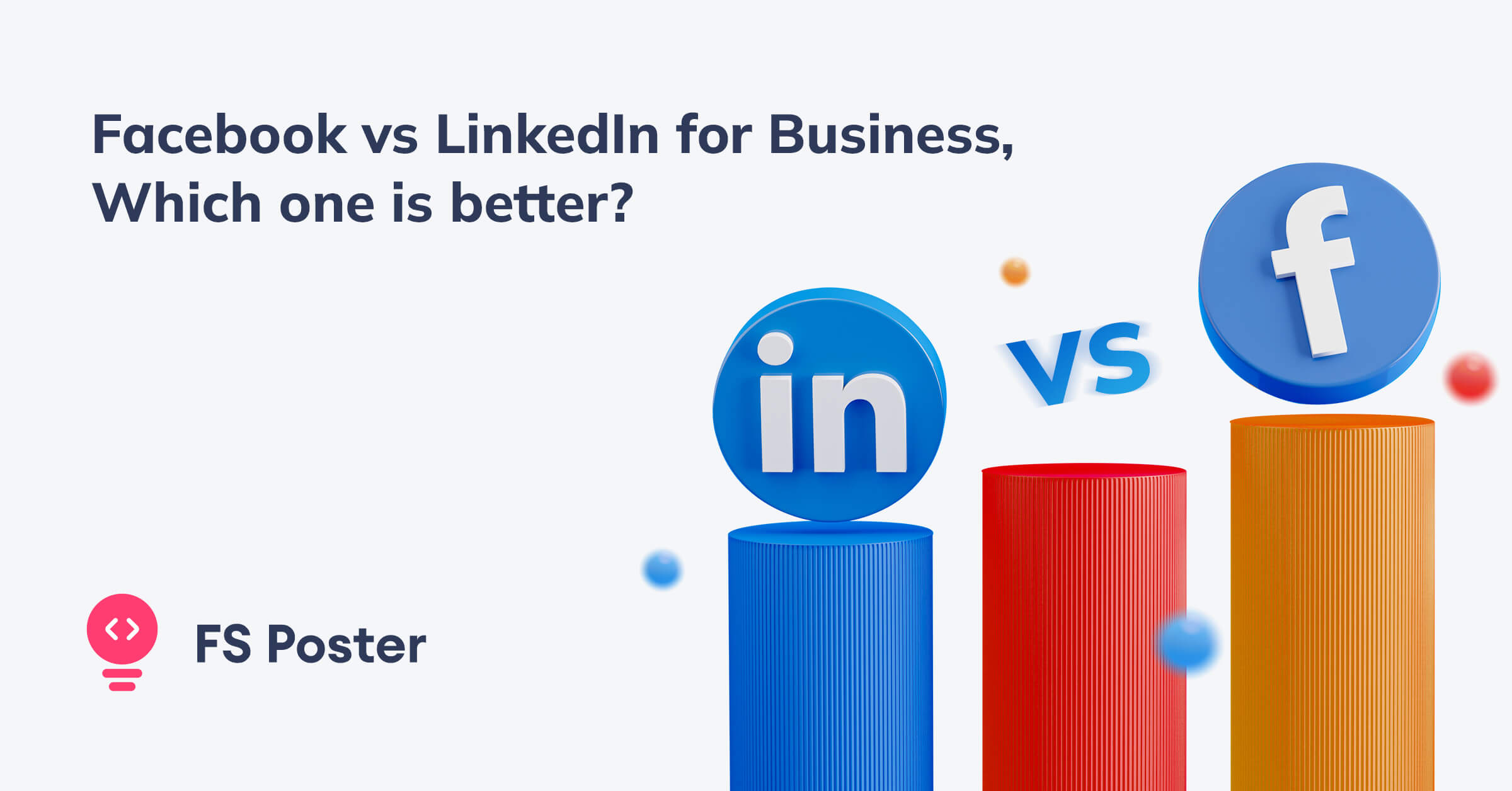 Social Networks
Feb 07, 2022
Updated at: Nov 18, 2022
You cannot make a destined decision on Facebook vs LinkedIn for business quarrel without a handful of analyses. Which is what this blog is about.
Cutthroat competition and saturation of Facebook and LinkedIn leaves us a good question: which one is better for business?
Sharing the same business sentiment, Facebook and LinkedIn have been competing over business intelligence for their corporate users.
It is quite difficult to decide which one to use for marketing. Although Facebook and LinkedIn essentially appeal to different audience interests, they share similar opportunities when it comes to business perspectives.
In this blog, we will go through some of the comparisons of Facebook vs LinkedIn for businesses and decide their feasibility from businesses' perspectives.
Facebook vs LinkedIn for business | User experience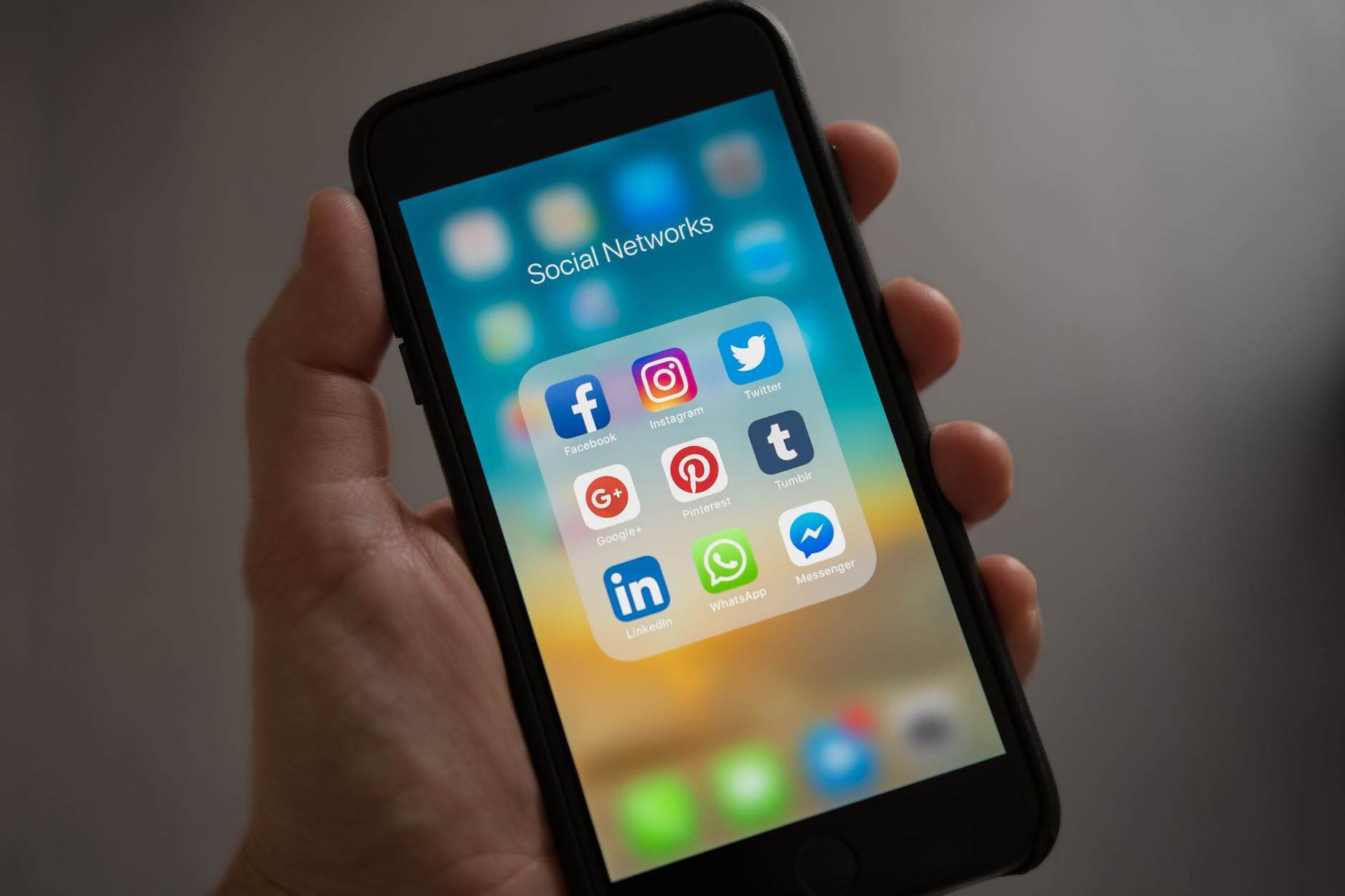 Before we dive into the details, let me ask you a question. Which platform do you open first to get business news: Facebook or LinkedIn?
A quick recap on both platforms.
LinkedIn is a business platform that was initially made for recruitment purposes. Now, it has many features that are presented in entertainment-based platforms like videos, private messages, and stories.
On the other hand, Facebook is a social networking platform that was originally made for connecting with people. It also went beyond itself by acquiring new features and other platforms.
LinkedIn and Facebook both share similar features like groups, ads, content sharing, reactions which help to connect with like-minded people.
Alongside common features, they are two distinct platforms.
Numerically, Facebook dominates the market by the number of active users. According to Statista, Facebook had 2.9 billion monthly active users in 2021. But numbers do not say it all. Lots of matters come into consideration when we dig deeper.
When it comes to demographics, 26.5% of Facebook users fall into the 25-34 age group. While 59% of LinkedIn users are among the 25-34 age group. The numbers are also different when we look from a geolocation perspective.
Two platforms vary in their major user sentiment as well. According to Facebook's survey, 74% of American users come to the platform to discover new products or brands. Instead of 41% of users who visit the brands' websites. While in LinkedIn, users are more likely to look for job opportunities or post job openings.
On Facebook, the average person approximately 35 minutes browsing her feed. LinkedIn users spend an average of 17 minutes of screen time per month. Job seekers spend up to 30 minutes a day on the platform.
From a branding perspective, creating a Facebook business page helps to join ongoing conversations, share updates, prove credibility. While businesses create LinkedIn pages to post job openings, nurture conversations, connect with the business community, and generate leads on LinkedIn.
But sole purposes of businesses and as well as individual users are changing as both platforms are evolving. On a reciprocal basis, these changes reflect the expectations of users, their rising needs, and of course, immense competition.
Facebook groups vs LinkedIn groups for business
Group is a shared feature that gives businesses a chance to socialize and connect with prospects and allies. But, users' motives for joining these groups can change based on the platform, group tyes, and the group owner.
What is the difference?
Two offer different features within groups. On Facebook, users can share multimedia, create an event, host a live, conduct polls, and share how they are feeling. On LinkedIn, members can share job openings, open discussions, and select an icon.
There arises a group post visibility factor in Facebook groups vs LinkedIn groups for business comparison. Facebook sends activity notifications and brings groups posts directly to the users' feeds.
LinkedIn group posts are only visible on the groups' homepage. Though the platform sends notifications to active members, you need to manually seek posts to find them. Which is very limiting for posts' engagements.
About user habits, on LinkedIn groups, members are motivated to share work-related mindsets and knowledge. While on Facebook, members are more likely to share their personal perspectives and experiences. Certain companies choose to use Facebook groups as part of their customer support.
For consumer goods, Facebook groups are a direct way to get customer sentiment and also connect with them. While LinkedIn groups are fit for more complex products.
But in general, Facebook groups are the preferred channel of networking among SEO, product, tech, and entrepreneurial communities. So does LinkedIn. You can find lots of communities for the same interest groups.
In the comparison of Facebook groups vs LinkedIn groups, both work for businesses. Depending on your niche, you can prioritize one platform over another.
Facebook ads vs LinkedIn ads for business, which one is better?
Thankfully, they provide a range of ad types for businesses to fulfill their social media goals. You can run photo, video, or carousel ads on both platforms. If we purely lean on the number of users, Facebook has the capability of reaching out to more people. If your goal is to increase awareness, then Facebook seems like a reasonable choice.
But, targetting is quite different when examining Facebook ads vs LinkedIn ads for business. Facebook uses demographic and interest-based targeting. Understandingly, LinkedIn uses professional factors like job title, industry, even a company to target.
76% of B2B marketers use LinkedIn as the primary paid channel. LinkedIn has multilayered targeting. Plus to common ad formats, you can run ads targeted to increase website traffic or page followers. Sponsored Messaging and special Lead Gen Forms that are intended to nurture the lead generation process.
Facebook ads vs LinkedIn ads difference also rise on the price factor. Facebook has the lowest CPC (cost per click), which is an average of $1.72 across industries. While LinkedIn has the highest around $5.58 CPC.
The price of LinkedIn ads is assessed by the fact that one ad click is 500% more likely to convert a quality lead. You can get into details of Linkedin ads tips and tricks to get the most out of them.
Despite its low-cost targeting, Facebook is capricious for advertising. Ad account blocking is one of the biggest Facebook business page problems businesses face. Most of which are left unknown to marketers.
The comparison of Facebook ads vs LinkedIn ads leaves us that LinkedIn ads are more suited for the B2B sphere while Facebook ads are for B2C.
Facebook vs LinkedIn for business, which is better for thought leadership?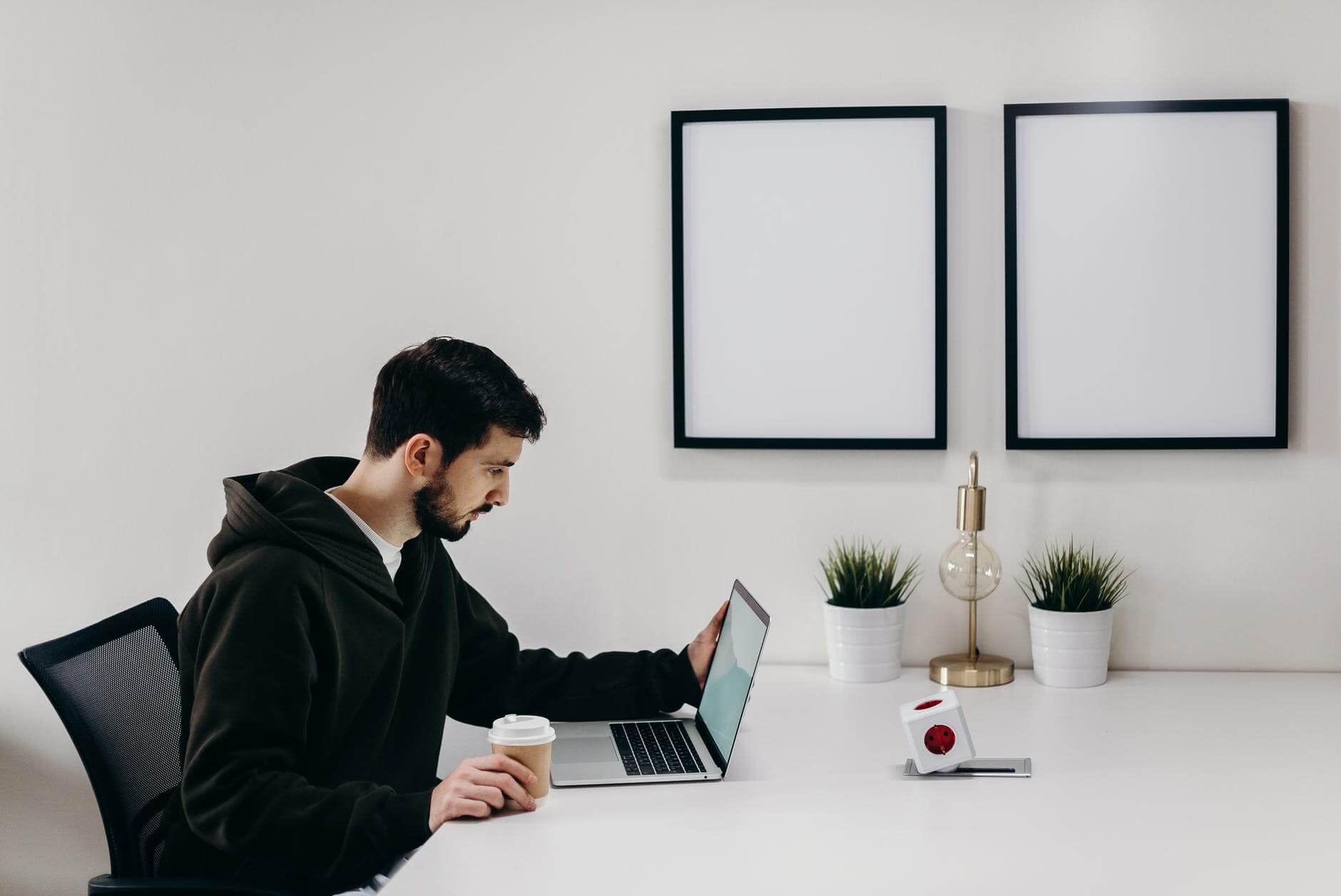 Keeping all things constant, thought leadership is a separate marketing strategy in itself. And LinkedIn excels in thought leadership. LinkedIn is a hub of conversations especially around a product, career, or business development.
A thought leader is an individual or a company that is recognized as an authority in a specific field. It is a type of content marketing that the author taps into her skills, experience, and knowledge to address the questions of her audience.
A thought leader's role is to educate and encourage her audience to drive action. Not surprisingly, many businesses leverage the power of thought leaders on LinkedIn to give light to their company.
From such a perspective, LinkedIn drives authentic conversations. LinkedIn takes a notable step in appreciating its content creators. They select 500+ thought leaders across the globe who are dedicated to sharing valuable information with their connections.
Facebook also has room for sharing insightful information. But as mentioned earlier, the user's intent is toward a more personal subject rather than a business.
Relevant content and eye-pleasing imagery win in every platform. Through content, you can build relations and reinforce existing ones. And consistency is an essential element of keeping all this together.
FS Poster social media auto poster can help you to share your WordPress blogs and posts and engage with your community. You can auto-share written content and visuals to personal and private accounts and groups and analyze their results. To know more about its benefits, check out the features.
Brands can pursue thought leadership experience by themselves or leave it to their employees on their behalf. Either way, it is effective to increase website traffic, followers, media mentions, and more.
Facebook vs LinkedIn, which is better for B2C?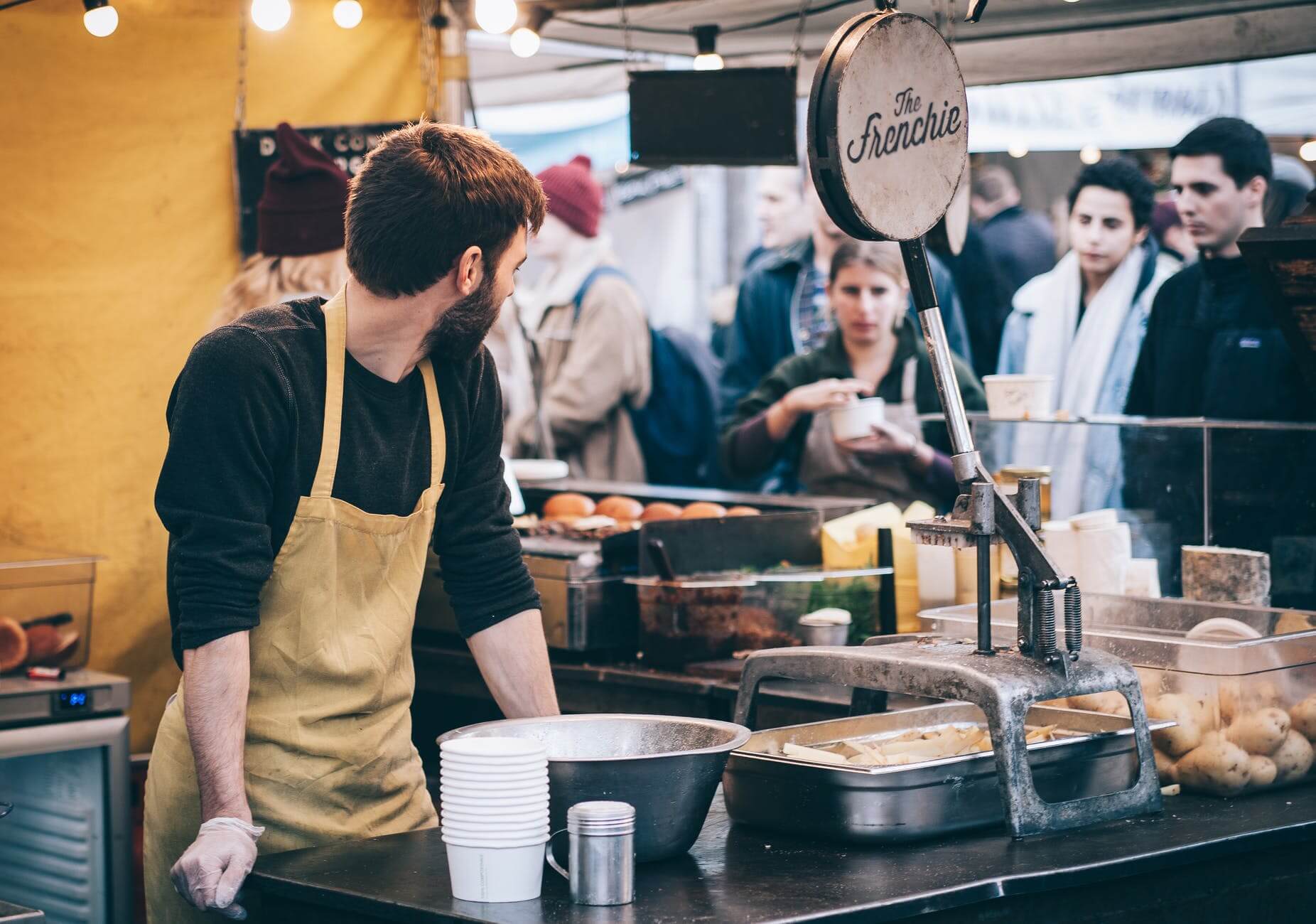 By nature, B2C consumers are more tempted to make purchases by themselves.`A buyer journey is more straightforward than in B2B. In a sense that it does not require going back and forth between emails, calls, forms. It definitely goes through a sales funnel but is less complicated than in B2B.
Naturally, the focus of Facebook vs LinkedIn for B2C analysis shifts towards Facebook. It takes relatively less time to convert customers to purchase a product for personal use.
Statistics say that 97% of B2C marketers use Facebook and 72% of them use Facebook ads. The same survey reveals that 46% of B2C marketers use LinkedIn to promote their business.
Facebook is a great choice to increase awareness, website traffic, and sales in a very short time. It is not to say that LinkedIn is useless for B2C businesses.
LinkedIn's study in 2020 revealed that the platform is doing well at driving considerations and subsequent purchases of consumer goods. This holds true specifically for luxury goods and automobiles. Electric vehicles also grab one of the highest interests among the LinkedIn community. There
In Facebook vs LinkedIn for the B2C examination, Facebook has a leg up on marketing consumer products.
Facebook vs LinkedIn, which one is better for B2B?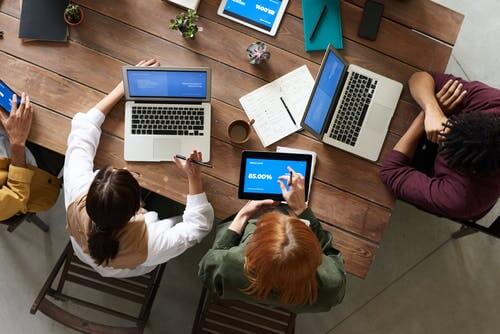 OK, onto the most requested part. Facebook vs LinkedIn for B2B.
Opposite to B2C, decisions on companies are made by a group of people or key players in the team. LinkedIn acquired 61 million senior-level professionals and 65 million decision-makers. Of which 6 million decision-makers are from the IT sector.
94% of B2B marketers use LinkedIn as a content distribution platform and also for promoting their businesses.
Plus to promote your product, you are talking to decision-makers to purchase your product. The platform provides ongoing opportunities to reach out to those decision-makers in a direct or indirect way.
Either organically or through paid options, you can connect with users by their job title, company, or industry to introduce your brand.
Since decision-makers are more likely to investigate the offer, they are more likely to get into business details than individual buyers. So, the content here is concentrated on the business side.
Since business relations are built on a long-term ground, LinkedIn provides bigger opportunities to network and build strong relations. Not all marketing steps are taken for direct sales, professional relations evolve the B2B community. Connecting people through meaningful content and continuous conversation opens doors for bigger projects.
On the other hand, Facebook's larger user base is its strength over LinkedIn. This makes it more effective for business growth. It gives you more room to find prospects and generate leads.
Its ad diversity and big data can help businesses to hyper-target their ads and remarket their campaigns. Businesses can leverage its features to expand their reach and grow engagement.
Final verdict
Facebook and LinkedIn are two of the biggest social networks for businesses and provide enormous opportunities to reach a target audience. Both are loaded with impactful features that are made around customer needs.
We can roughly accept that LinkedIn responds to the needs of B2B companies more thoroughly than Facebook do. And the opposite for B2C companies. But in some cases leveraging each platform at different phases of the sales funnel, you can get most of both platforms.
No matter which one you choose, there is always a place for creativity and authenticity. Disrupters always come up with unusual and change the narrative.
Who is your winner in Facebook vs LinkedIn for business?