21 Tips Guide On Video Marketing For Beginners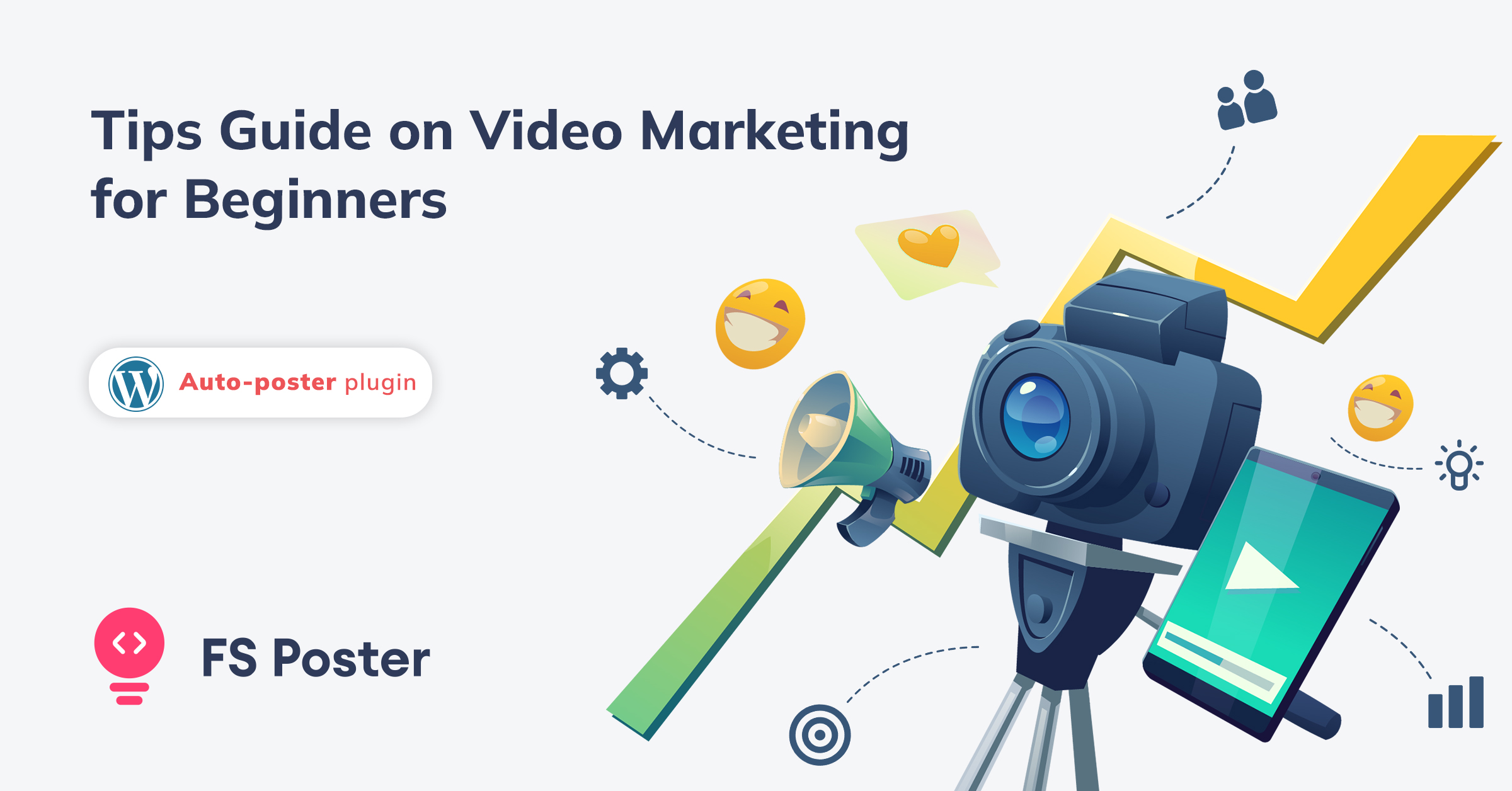 Social Networks
Jan 12, 2022
Updated at: Jan 10, 2023
Lost in a myriad of tips on video marketing for beginners? I got your back.
The importance of video marketing for beginners important?
Simply put, video marketing is using interactive videos to promote your products and tell your brand story. However, crafting effective video marketing has never been easy. It takes so much effort and analysis to reach the audience and deliver your message.
According to HubSpot, a video is the number of content that customers want to see from their favorite brands.
Video marketing is a way to pursue relations with existing customers and gain potential customers. Videos offer the transparency we are all searching for. Whether it is about a product, training, service, a person, anything.
The rise in the number of video platforms underpins the fact video marketing is here to stay. Especially the growth of YouTube, TikTok amid pandemic stress on the importance of videos in our lives.
But still, lots of brands and creative individuals are hesitating to start video marketing. The reason why they still avoid video marketing is that appearing in videos can push them out of their comfort zone. Especially the odds like me. But since videos are taking the most part of our daily digital content consumption, we are facing the reality.
So, This blog will give you all the tips and tricks on video marketing for beginners.
Essential tips on video marketing for beginners
1. Define your audience
Just like written content, the first and foremost element of video content strategy is knowing whom to appeal to. The audience will indicate the type ofa content and which social platforms to post videos.
Discovering your target audience will take some time investment. Because, to be more specific you need to go outside of demographic data like age, gender, or geolocation. Understand their psychographics like fears and daily challenges. This will help you to define elements that have to be incorporated within videos, not just the overall video marketing strategy. Like picking your tone of voice, setting visuals, telling the exact words that evoke emotions, and finding how often to post.
To devise a dynamic video marketing strategy, you can create a social media persona and empathize with her social media habits.
2. Set your video marketing goals
It is open to discussion whether the audience comes first or goals, but let's say the audience. Successful campaigns always start with clear goals to accomplish. If you don't know why you are spending so much time on creating videos, you won't be able to assess their impact on your company or yourself.
I highly suggest using SMART goals as your guide on video marketing for beginners. Which are:
Be specific on what you are trying to achieve
Be measurable, so that you can assess your progress towards goals
Be ambitious but achievable, setting goals beyond your potential can indeed discourage you down the road
Be relevant on goals and product
Set time-bound to be realistic on your progress.
3. Decide on the type of video content you will create
This is a huge part of the puzzle. To ace the competition you need to have a diversified strategy. Having how-to videos are great, but what other videos can you make to build stronger bonds with your viewers?
Using an easy video editor, you can create a variety of content such as product demos, explainer videos, and video testimonials that will educate, entertain and inform your audience. Any kind of video has directly\indirectly promo vibe in itself. Try crafting videos that will entertain viewers within promos or ads.
In explainer type of videos, you explain what you are doing, how you are doing. The purpose of these videos is to drive conversion. This is why these videos contain a link to a website or social media page for further engagement. The better you deliver the message, the more traffic you will get.
Customer testimonials are also powerful video marketing for beginners. Here you let the custom who was in pain before knowing you explain how you helped her to heal. Large brands like HubSpot, Slack, and Zoom nailed video marketing with customer testimonials.
Sure, there are more types of videos we will cover later in the article.
4. Have your video script
We have seen it. A video without a script is a real mess. The narrator forgets words, dances around random topics has a banal approach, etc. if you skip writing a script beforehand, you will end up losing more time in editing the video.
So, it is a must to have a script before jumping in front of the camera and speaking. You don't actually need a professional scriptwriter for that. You can jot down the ideas you will cover in a video and put them in the right order.
Some narrators like to put bullet points and improvise the statements. While some prefer to put every single sentence. The last is pretty effective if you will do voiceover videos. The key is to put words that are relatable to your audience. Definitely, have your script in your hand if you don't want to stumble during the demo product launch.
Do not skip your main message or the purpose of the video until the last seconds. The near beginning you put the trigger, the more inclined your audience to pull that trigger.
Pro-tip. Do not use your blog content as a pure video script. You can repurpose blogs but not copy-paste them completely.
5. Find relevant topics to cover in your videos
Beyond the type of video content, you will also consider the topic. The topic which is valuable and timely for your audience and has a meaning to your brand. Unfortunately, no matter how important the information you deliver your video is effective only if it is watched by the people.
Outdated or complicated topics that the audience avoids paying attention to will inevitably be passed over.
6. Create a content calendar
Regardless of the type of video, you create and the social platforms you will post it is vital to take a consistent approach. Putting some random videos on here and there won't make you get there.
The golden rule of video marketing for beginners and pros is to set up a content calendar. This will not only save you from last-minute fails but also have a fulfilled content marketing strategy.
If you find it difficult to track video marketing and website content consider scheduling tools. Easy-to-use features let you stay on top of your marketing with consistent posting.
As a social media scheduler, FS Poster helps WordPress users to remove hassle posting to different platforms. It lets you auto-post unlimited posts to 15 social networks. Using its features, you can schedule website videos to Instagram, Facebook, LinkedIn, Plurk or auto-post them without posting on the website. Check the link to know more about its features.
7. Decide where to put the video
For the best results, ensure those videos fit within each social platform they are posted. For example, if the video aims to attract people to your event, create a short introductory video and post with a link to the event's landing page or registration page.
There are different ways to craft a single video on social platforms. You can create a behind-the-scenes, 30 seconds teaser, full video, highlights on different platforms with the link to the main video. Firstly, it will enrich your social media feed, and second help to gather more eyeballs around your content.
For example, short teaser videos work well for Twitter while teasers around 3-5 minutes are better for Facebook.
8. Make sure they reach the audience in a right way
The definite way of knowing what works and what does not is by tracking your progress. The first video metrics you will use during the initial time are video views and subscriber counts on video platforms. Subscriber count can be decisive once you grow your profile.
Later on, you can focus on the subscriber growth rate, conversion rate, and how people discover you. Because if the majority of viewers find you beyond the platform itself, there is something wrong with your strategy.
Also, experts recommend not to draw a distinct ROI from a single video. First, because it is difficult from a research point of view and second videos are constantly getting viewed by users. Your findings would be statistically insignificant.
I'm sure you have a ground knowledge of video marketing for beginners. Now it is time to move towards insights into social platforms.
Website video marketing for beginners
Videos are more than creating entertainment for viewers. They transformed the way businesses market themselves and the purchase behavior of customers.
Videos on landing pages are likely to increase conversion rates. With all being said, it is important that you craft your videos before putting them on the sales page. Users are more inclined to take action after watching an explanatory and insightful video rather than reading plain text.
The main difference between videos on your website and other channels is their focus. Try to emphasize customer pain points and your solutions in all your website videos.
The types of video marketing for website
9. Demo
Putting demo videos on landing pages is pretty effective to increase conversions and prompt sales. Taking a tour of software or unboxing videos, they explain to users how your product works.
10. Brand videos
Brand videos are created on-high level to showcase the vision of the company, its story by mentioning its USP (unique selling proposition). If your goal is to increase awareness and attract people, you can consider brand videos.
11. Event videos
If your company is hosting or sponsoring a large conference, round table, or fundraiser you can declare this with a nice video trailer. A short intro of speakers by mentioning the purpose of the meeting would be great.
YouTube video marketing for beginners
12. Do YouTube keyword research
As a search engine, YouTube is more competitive than other video hosting platforms. Constant policy changes and algorithm updates make the platform more difficult to enter.
To capitalize your video marketing for beginners, you need to have solid YouTube keyword research. At the basic level, you can use YouTube itself for keyword research. Or, consider keyword research tools for YouTube.
Other than that, any type of video content and subject works well on YouTube. You can create Shorts, hold webinars, and upload all your videos.
But, do not turn YouTube into your digital video storing folder. If you pursue YouTube marketing, then all of your videos have to be accompanied by your video marketing strategy
13. Create YouTube trailers
Apart from large explanatory videos, you can do other posts by creating trailer videos of upcoming events or meetups. This will keep the audience informed about future activities and stick them to your social channels.
You can include key info and keep viewers enticed by the event. 🤩
14. Team member interview
Team interview is another video type that works especially well for YouTube. Because interviews contain much information to be talked about thus learned from. The guest can be the CEO, CTO, product manager, marketing director, a product designer who takes the lead in the production process.
Depending on the role you choose, the video topic can also change from the company vision, product design, firm financing, etc. These videos can also be featured to target potential customers at the bottom of the sales funnel. You can link those videos to your sales emails or partnership offers.
So, here is a great example by Airbnb about their latest updates.
Facebook video marketing for beginners
If you have a multichannel online presence, it is imperative to know the basics of Facebook marketing for beginners.
Data says that vertical videos do 40% better than landscape videos. Given the fact that 98% of users access the platform via mobile devices. Videos must capture the viewer's attention within the first 3 seconds. Two-thirds of people who view the first three seconds are likely to watch at least later 10 seconds.
Videos for up to three minutes also perform well.
Facebook lives significantly generate high engagement. But to maximize engagement for posts, you need to find out the best time to post on Facebook.
And one very important fact is native Facebook videos get more reach and comments than videos shared from YouTube.
As with YouTube, all types of videos content works well on Facebook, there are certain types that you can ace especially here. Such as
15. Ads
As videos drive more engagement innately they are effective for advertising as well. You can either boost high-performing video posts or prepare ad videos for higher conversions and clicks. But make sure to keep ad videos short and to the point so that viewers don't get bored.
16. Customer testimonials
Nielsen's Study found that 66% of customers trust and rely on online customer reviews. This gives the opportunity to repurpose positive customer reviews as your video marketing strategy. Since negative reviews are a big Facebook business page problem testimonials would help for that as well.
When customers explain their favorite product and why they love it, potential customers can also relate to the fact.
Instagram video marketing for beginners
Things change a little when you move from business-related platforms to entertainment-based ones. Keeping things short and sweet is always better than uploading large video files. If you find difficulties at the beginning, consider repurposing YouTube videos and creating short trailers out of them.
Instagram video marketing for beginners
Things change a little when you move from business-related platforms to entertainment-based ones. Keeping things short and sweet is always better than uploading large video files. If you find difficulties at the beginning, consider repurposing YouTube videos and creating short trailers out of them.
17. UGC
Instagram video marketing for beginners draws great results when it has user-generated content. This lets product users share their genuine views on the product and boost word-of-mouth marketing. You can ask your loyal customers to share the videos of your products and tag your page.
But if you newly started a business you can reach out to influencers and offer deals. Regardless of your video marketing experience, influencer marketing will be at the heart of your marketing efforts.
18. FAQ
FAQ is a smart way to boost the awareness of your products. Instead of limiting FAQ to your website page, you can create a customized FAQ in your Instagram stories and save it for later views.
They save customers from continuously searching for information and contact your team.
TikTok video marketing for beginners
As TikTok is sharply increasing its number of users, we couldn't bypass it. No matter what your business is, there are endless TikTok account ideas to master here. If your business has a formal style of communication try to go outside of it here. Authenticity and entertainment is the real reason why users pick TikTok.
These are the video types that will instantly grab users' attention:
19. Behind the scenes
These videos give people the feeling of exclusivity. Providing people behind-the-scenes of your life or work life will give them an idea of how things happen at your office. This could be about a regular day, team meetings, special campaign prep, etc.
20. Unboxing
Unboxing videos are also going viral these days. People love to see what is going to come from the box. Great for small businesses that develop physical products. Be sure to include the sound of unpacking to deliver that unboxing effect.
21. AR videos
Augmented Reality videos are also on-trend on TikTok and elsewhere. They add a digital layer to what people are viewing in the world. AR gives people the feeling of excitement over the realities of their world environment.
Bottom line
You may have a great digital experience with written content. You also need to keep pace with ongoing opportunities. Sticking to what's worked in the past can undermine your business perspectives and marketing efforts.
Don't be overwhelmed by the number of tips I gave you. Starting video marketing can seem daunting at first as you will be switching between idea creation, video shooting, editing, etc.
But with patience and practice, you will soon discover your way of doing it and create high-quality videos true to your brand. Use these guides on video marketing for beginners to elicit higher views and engagement.