How to Use Facebook Events to Market Your Business and Boost Attendance
Rachel Ann Tee-Melegrito
Author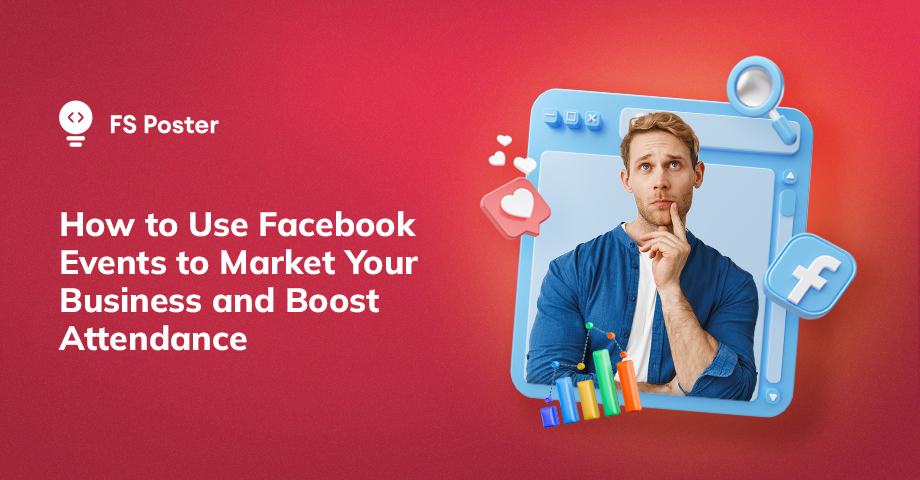 Social Networks
Mar 31, 2023
Updated at: Apr 02, 2023
There's no doubt that Facebook is the right social media platform for you.
In fact, it's the #1 social network most frequently used by marketing specialists. 90% of marketers worldwide promote their businesses on Facebook.
But what if we told you that Facebook Events could actually change the marketing game for your company?
Over 37 million events have already been created by business Pages on Facebook.
Why should you also turn to Events for Facebook marketing and how to grow your attendee list?
Follow this guide to find out everything you should know about Events on Facebook.
What Are Facebook Events?
Events is Facebook's feature that allows users to create scheduled events, whether online or offline. It's one of the social media post types that helps you offer a specific kind of content to your audience.
An occasion itself can be literally anything:
Webinar
Festival
Workshop
Livestream
Giveaway
Celebration (new location opening, anniversary, holiday, and so on)
Sale, etc.
Check how Miik Inc., an eco-friendly clothing brand, announces a virtual happy hour and end-of-season sale.
Here's an example of a grand opening organized by 7 Brew Coffee.
Why Facebook Events Are Essential for Business Marketing?
Let's take a look at the advantages that are in store for you.
Enhanced brand visibility
The number of Facebook's monthly active users is increasing rapidly with time. In 2022, there were already 2.96 billion of them. Among all social media marketing platforms, Facebook is responsible for 34% of brand awareness.
With Facebook Events, you can make your company more visible and recognizable on the web.
Effective audience engagement
An event is a perfect way to position your brand on social media as less commercial but more engaging. E.g., Facebook Events helped OSCPA engage attendees with its conferences more effectively without being too pushy or over-promotional.
High communicative potential
In fact, 64% of Facebook marketers used Events to inform their audiences about offline or online events, making this feature a far more widespread tool than advertising.
Low ad budget?
No worries, you can market your business absolutely for free with the Events feature.
Over 6,000 books in just half a day.
That's the result achieved by Bryan Cohen, a bestselling author and founder of Amazon Ad School, who took advantage of Facebook event marketing.
How to Boost Attendance of Your Facebook Event: 7 Must-do Tricks
Ensure your event success from the very start using the below tips.
Craft an outstanding title
You should remember the three fundamental characteristic features of any event title:
Explanatory (it should explain what the occasion is about)
Memorable (it should be sticky enough for the audience to remember it)
Exclusive (it should be interesting and extraordinary or even "wow" your audience)
In order to entice your audience to attend, use some powerful words and attention getters like as follows:
Step-by-step
Celebrate
Fun
Growth
Join
Master/learn/discover
Limited
Secrets, etc.
For instance, Women Who Explore and Alyssa Heuberger used the power words "secrets" and "discover" in their event title Discover the Secrets of Yellowstone with Alyssa.
However, you should be extremely cautious when creating Facebook Events' titles.
Mark Pierce, CEO of Cloud Peak Law Group, gives a warning note:
"Words of abuse, threat, or defamation are out of the question in the names of Events. You should also avoid words and phrases that may be interpreted as a violation of rights and get you into serious legal trouble. There were cases when companies were sued for copyright infringement.
As for formatting, always capitalize the first letter of the title. You should mind, though, that all caps can be used only for abbreviations and acronyms.
It's also worth knowing that an event name on Facebook has a 64-character limit."
Describe your event as clearly as possible
In your description, try to cater to the needs of your social media persona and provide all the necessary information that can drive interest to your event.
Specifically, focus on answering the top five questions:
Who?
What?
When?
Where?
How much?
Take a glance at the description of a workshop by Julyen Hamilton.
It gives all the details about the workshop: who → Julyen Hamilton; what → working with time; when → 10 am – 4 pm, 3rd– 7th April 2023; where → Contemporary, Prague, Czech Republic; how much → 150 EUR; and some additional info about registration.
Do keyword optimization
Researching keywords is one of the strategic approaches to SEO in social media marketing.
"Facebook heavily relies on tags and gives event recommendations, using interest-based algorithms," says Priyam Chawla, Marketing Manager at Jolly SEO.
"When creating an event on Facebook, you should make a list of keywords and add those in the tags section. Stick to the principle of relevancy and select keywords that are directly related to your occasion and your brand.
Let's say you organize an online math class. Then, you should use such keywords as math, mathematics, math classes, math tutor, and the like. Don't forget about additional keywords related to a variety of topics in mathematics: algebra, geometry, trigonometry, etc.," she explains.
Why not get the most from SEO tools to find the perfect keywords for your event?
Make an attractive image
Did you know you have only 2.5 seconds to capture the attention of a Facebook user in the News Feed? That's on the desktop. When it comes to mobile, you've got even less time – only 1.7 seconds.
That's why it's crucial to make an event photo highly noticeable and attractive.
"For grabbing the attention of potential event participants, you should use colors that attract and convert," recommends Anthony Martin, Founder and CEO of Choice Mutual.
"A color is a superb way to trigger action. The top three colors with the highest positive emotional impact on customers are: red, green, and blue. In fact, blue is the number one preferred color by all ages, ethnicities, or genders.
As our customers at ChoiceMutual are mostly seniors, we choose warm colors for visuals to inspire the feelings of security and coziness, which the elderly usually prefer, or rich colors like orange, gold, and yellow that evoke happiness and confidence," he shares.
Indeed, you can increase conversions using the color psychology and emotional triggers of colors.
Here's how BIBIBOP Asian Grill invited customers to their grand opening celebration.
The restaurant placed a delicious-looking bowl in the center of the image and used the red color, as well as highly-converting words like win and free.
You should also give due importance to image quality. The recommended size for a Facebook event image is 1920 x 1005 pixels. If you upload a wrongly sized photo, Facebook will automatically adjust it. It will be either enlarged or cropped to fit, and then you may have a distorted picture.
The below tools will help you make a stand-out Facebook event cover:
Canva
VistaCreate
Fotor
BrandCrowd
PhotoADKing
BeFunky
PosterMyWall, etc.
Collaborate with special guests and influencers
According to Max Wühr, co-founder & CGO at FINN, "Influencer marketing can help you organically grow your Facebook Events attendee list.
Besides, well-known figures or micro-influencers in a particular field can help you increase your brand awareness and get more people interested in your service/product. Hosting an event with an influencer on board, you automatically draw more leads to your business and expand the pool of potential marketing collaborations and affiliate partnerships."
You can partner with field experts or reach out to influencers suitable for your audience to get your event in front of more prospective attendees.
For example, TODAY organized a special read and a chat with Jessica George, the debut author of Maame, for the #ReadWithJenna book club.
Use the best promotional strategies
Below are some useful methods that can help you generate more buzz around your event and boost its attendance.
Make your event visible on your business Page
For example, you can place it in the Featured section to highlight it right at the top of your Page. In such a case, your visitors will see it immediately.
E.g. GIRLe Boutique did so with their Galentine's Celebration.
Take advantage of Facebook Ads
You can advertise your event right from your Facebook Page. For this, click "Promote" on your company's Page and choose "Boost an event."
A Facebook Business Suite can make it even easier for you. It helps effectively manage both Events and Ads with the Events Manager and Ads Manager correspondingly.
Share it on your website and other social networks
Don't shy away from publishing event announcements on your company's website as well. Besides, you can automate the sharing process and post to multiple social media platforms simultaneously.
Starbucks Malaysia, for instance, posted the announcement of their Digital Coffee Chat on both Facebook and Instagram.
Create teasers and reminders
For even more productive event marketing, you might want to send reminders or launch teasers of your upcoming occasions.
At this rate, it's beneficial to harness the power of post-scheduling and save much time with a social media auto-poster and scheduler.
Encourage early birds to register
An early-bird promo, discount, or freebie is usually offered before the traditional buying timeline. It allows people to purchase tickets to your event at a discounted price or get some additional perks if they register much earlier. Due to the fear of missing out, a person is more likely to buy a ticket.
E.g., Michael Mamas, a visionary and developer of Mount Soma, used an early registration discount as a lead magnet to increase meditation retreat sales.
Engage with your audience on the event page
You may start interacting with your potential attendees in the Discussion section.
Answer their questions, if there are any, or start a discussion yourself.
Check how Kelly Slessor, a digital marketing expert, and eCommerce coach, expressed excitement about her upcoming ChatGPT for Ecommerce Masterclass.
Ready to Use Facebook Events?
In this article, you've looked at some surefire ways to leverage Facebook Events. Now, you can put these tactics into action for marketing your business and driving attendance at your events.
Go ahead and promote your business more efficiently on Facebook.
In addition, you can auto-post to Facebook and increase social media marketing success with FS Poster.
Save your time and keep your social profiles always fresh.